Do want to know what to wear with navy blue clothes? This easy guide will teach you the best colors to wear with navy blue and the perfect ways to style them.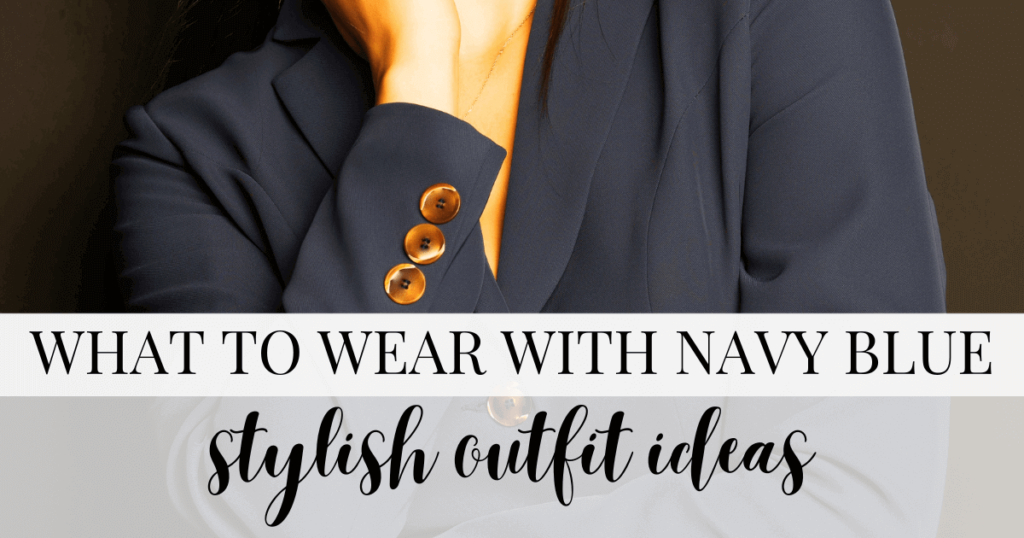 What to wear with navy blue? This question certainly tops the list concerning today's great mysteries of fashion.
Navy blue is one of the most elusive colors to style, although it falls into the list of neutral colors. Often considered a color reserved for business attire and uniforms, navy blue has sadly not earned the recognition in the fashion world (or our closets) that it deserves.
This article delightfully debunks the myths and uncertainty surrounding this beautiful color, which has become one of my favorite colors to wear these days.
You will learn the most stylish colors to wear with navy blue and how to style them to look your best. These simple tips guarantee you won't make any more fashion mistakes when wearing this color again!
This post is all about what to wear with navy blue.
What To Wear With Navy
BLACK, Black, And More Black
Yes, we're addressing the most controversial color to wear with navy blue first. Black. Why is there so much controversy between these two colors anyway?
There are certain things we hear in our youth and they stick (and basically dictate the rest of our lives or at least until some mid-life crisis occurs).
"You can't wear navy blue with black."
I don't remember who spoke those words to me as a teenager, but a voice in my head didn't let me forget them whenever I considered wearing or purchasing navy blue clothes. I realized later in life that there is no truth to that statement.
We only have to go outside and see the proof that navy blue and black make the perfect combination. In nature, a silhouette of trees against a midnight sky showcases the mystery and beauty of these colors. A cityscape against a dark sky is equally as beautiful. A killer whale jumping out of a deep blue sea is also breathtaking in feat and in the beauty of these simple colors.
City-chic or smart casual is the perfect aesthetic to style navy blue with black.
Related Post: What To Wear To Work Casual | How to Dress Casual and Still Look Professional at Work
Navy Blue With Black Outfit Ideas
In the left photo below, I wear a black turtleneck with silk navy blue trousers and black booties. In the second photo, I wear the same look, but I put a black blazer on top.
White And Ivory
White is the most classic pairing for what to wear with navy blue because of the nautical aesthetic, a style found on hot summer days or in many beach houses (or themed powder rooms).
Navy blue paired with white or ivory is the perfect color combination for daytime looks and can be styled year-round (not just in summer). Accessorize with shoes, belts, and bags in camel or beige.
Related Post: 11 Amazing Summer Wardrobe Essentials You'll Wear Year After Year
In the left photo below, I wear an ivory chiffon blouse tucked into navy blue paisley printed palazzo pants, with a waist belt. In the second photo, I wear a simple ivory cardigan tucked into dark slim jeans with beige derby shoes.
Blue TONAL COLORS
What used to be known as monochromatic dressing is now known as tonal dressing. Tonal dressing is where you style head-to-toe with one color or multiple shades of the same color, including or excluding accessories.
When tonal dressing is done correctly, the colors blend well together and a budget outfit can look expensive.
Opt for two shades of blue for your main outfit and a potential third shade of blue in an accessory. Stick with darker colors on top and lighter colors on the bottom (or vice-versa) if you're unsure how to style. Throw in a matching scarf, belt, or handbag to really elevate your look (and wow the crowd).
Don't forget your nails, if that's your thing. I always receive compliments when my nail polish matches my outfit.
Related Post: 7 Amazing Style Tips For Women To Try Right Now
Navy blue outfits for ladies in blue tonal colors
In the left photo below, I wear a navy blue t-shirt with a belted navy blue maxi skirt, paired with teal pointed-toe Mary Janes. In the right photo, I wear a navy blue t-shirt tucked into navy blue trousers with a dusty blue blazer on top.
Camel, Of Course
The color camel is what enticed me to start wearing navy blue outside of the business casual office.
Navy blue pairs exceptionally well with gold hardware. Because camel has gold (or yellow-gold) undertones in it, the color similarly pairs nicely with navy blue. Camel is versatile enough to pair with many other colors, making it a smart choice for investment purchases such as coats, blazers, bags, and shoes and smaller accessories like belts, hats, and scarves.
If you don't already own a pair of camel shoes in a heel or ballet flat, please add it to your wishlist.
Camel outfits to wear with navy blue
In the left photo below, I wear a navy blue shirt with a camel suede midi skirt, styled with a matching scarf and tan pumps. In the right photo, I wear an ivory roll-neck jumper with belted navy blue paisley palazzo pants and a camel suede jacket.
What Colors Match With Dark Blue Clothes?
Medium Green And Dark Green
We only need to look to the quintessential black watch tartan, to see that green looks fantastic paired with navy blue (and black!). Both the Princess of Wales and Megan Markle have been seen wearing this color combination.
If you aren't a fan of plaid, no worries, as these colors can be color-blocked as well. Look at the wonderful pairings of blue and green in nature, and the male peacock for example.
Navy and green can be paired together for daytime or evening looks. Darker green with navy is perfect for evening attire while medium green and navy are perfect for daytime looks.
Related Post: Where To Shop For Clothes | Best Online Clothing For Women
Medium/dark green outfits to wear with navy blue
In the photo below, I wear a silky green blouse with navy blue silk trousers and black loafers.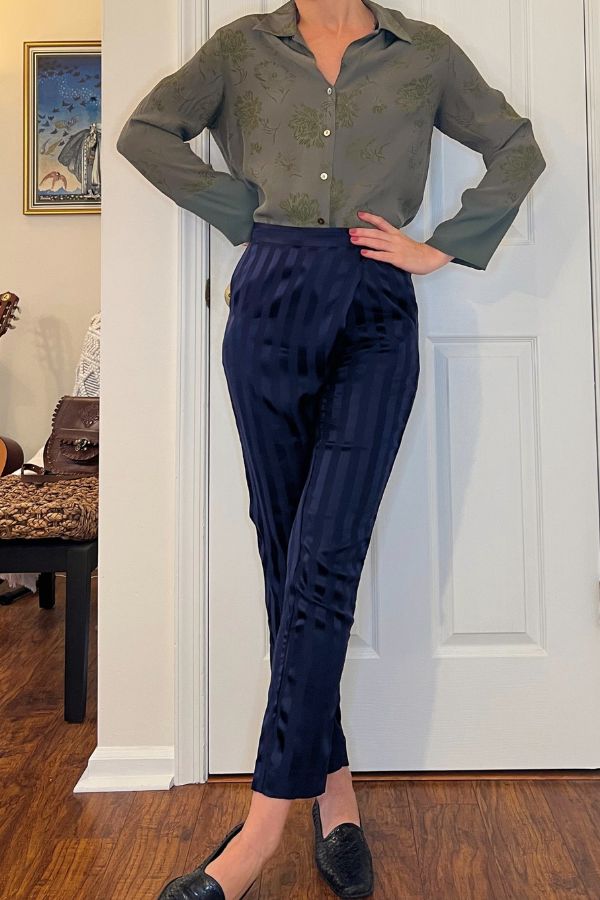 What's your favorite color to wear with navy? Comment below!
This Post Was All About What To Wear With Navy Blue
Related Posts: