Do you want to know the best style tips for women right now? These quick and easy suggestions will instantly upgrade your look and have others craving your style secrets in no time!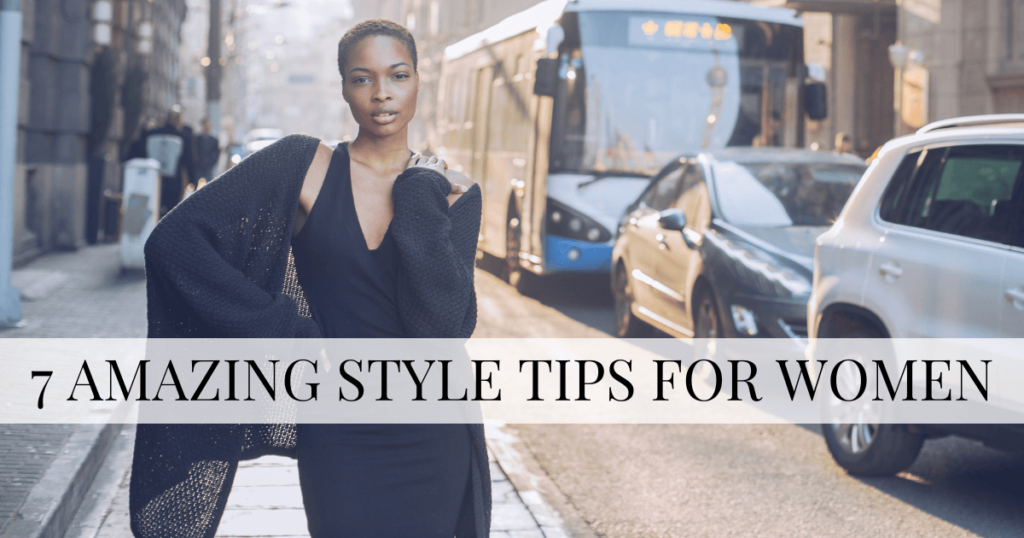 The key to amazing style tips for women isn't running to the store or buying the latest fashion trends online.
It's actually all in the details and it starts with your very own closet.
Downsizing my wardrobe while living on a tight budget forced me to get creative with my style a few years ago. Since then, I've mastered the strategy of having great style without relying on trendy clothing and accessories.
You will learn the key techniques to elevate your style quickly, easily, and on a budget.
This post is all about the most amazing style tips for women to try right now.
Best Style Tips For Women
1. Keep It Simple
Traffic intersections are busy; your outfit shouldn't be. When you have too many interesting details in your outfit, it tends to look overdone.
The easiest way to look busy is by wearing too many accessories or statement pieces.
Choose one item of clothing or one accessory to wear as a statement piece (the piece that pops). The rest of the outfit should complement rather than compete with your statement piece. If your statement piece is an article of clothing, go conservative on the accessories.
Mixing prints and patterns can also cause style issues. Beginners should stick to one print or pattern per outfit, in a particular piece of clothing or accessory.
Mismatched colors or too many colors make an outfit look incohesive. Tonal looks are exceptionally chic if you stick with the same undertones. Click here for an excellent video on fashion color theory.
Also, be mindful of your fabric combinations. For example, don't pair a velvet blazer with a velvet pair of pants; or a leather jacket with leather trousers. Choose one or the other for your outfit.
The key to keeping it simple is to treat every interesting detail in your outfit as an accessory (e.g a faux fur vest or shirt with an adorned collar).
Simple Style Tips for Women ExampleS:
The woman in the left photo below has gone overboard. The statement-making striped pants and the purple top are more than enough to carry the look, so the necklace should go. Alternatively, she could swap the striped pants for white jeans and keep the necklace. The tassel earrings don't match the look so they need to go, too. The updo is very chic, so I would downsize the giant sunglasses or take them off completely.
The woman in the right photo nailed it. The textures in both the handbag and turtleneck add enough detail to look stylish and elegant, with her hair worn down. If I had to add something, small diamond studs or a dainty ring would work.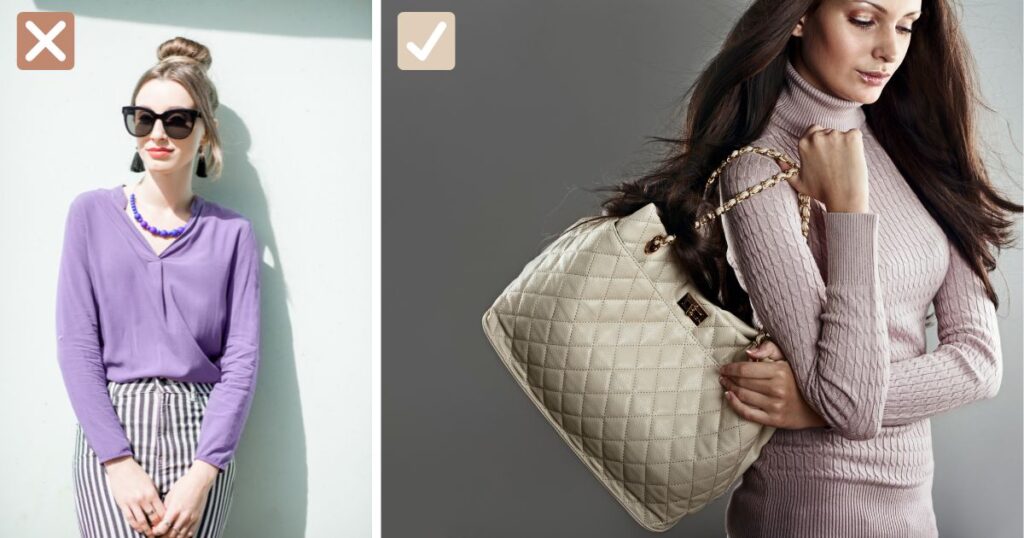 When it comes to fashion, "less is more" has always been and always will be one of the best style tips for women.
Related Post: French Style Tips | 10 Essential Rules To Live By
2. Jewelry Is Not A "Must"
Trendy jewelry is fun, but unfortunately, it's a gimmick of the retail industry. While a single piece is affordable, constant purchases add up (in your drawer, also) and don't always enhance your style.
In my early adult life, I was under the impression I needed to wear a necklace, pair of earrings, bracelet, and ring with almost every outfit. I was constantly buying jewelry and running out of space to store it.
After I downsized my wardrobe, I only had a handful of pieces remaining, mostly some vintage gold jewelry from my grandmothers and a few artisan pieces I picked up on trips. Initially, it was frustrating because I wore the same pieces on repeat. As time went on, I came to realize how simple and easy it was to pair this jewelry with my outfits.
I also receive many compliments on these pieces, which feels better than being complimented on a trendy piece that has no significant meaning or value behind it.
Most days I wear a pair of gold hoop earrings and a ring. I'll wear my vintage gold bangle if my arms are showing because long sleeves would hide it or show it up. A necklace goes on if it won't interfere or get lost in my shirt; although I've noticed wearing a lower-cut shirt without a necklace has more intrigue.
Jewelry Style Tips For Women Examples
The woman in the left photo below is wearing too much jewelry. The sunglasses are a statement piece and look amazing with her hairstyle and the tonal shirt. However, don't pair a necklace with a mock-neck top because it overpowers the top.
The round watch is also competing with the sunglasses, so that needs to go too. Actually, the stacked rings are enough, so both the watch and bracelet can go.
The woman on the right nailed it. The round, translucent sunglasses look amazing with her face, skin tone, and hair. The dangly earrings hit at about the same level as her hair, so they look very chic. And she left the collared shirt open with no necklace. Good job.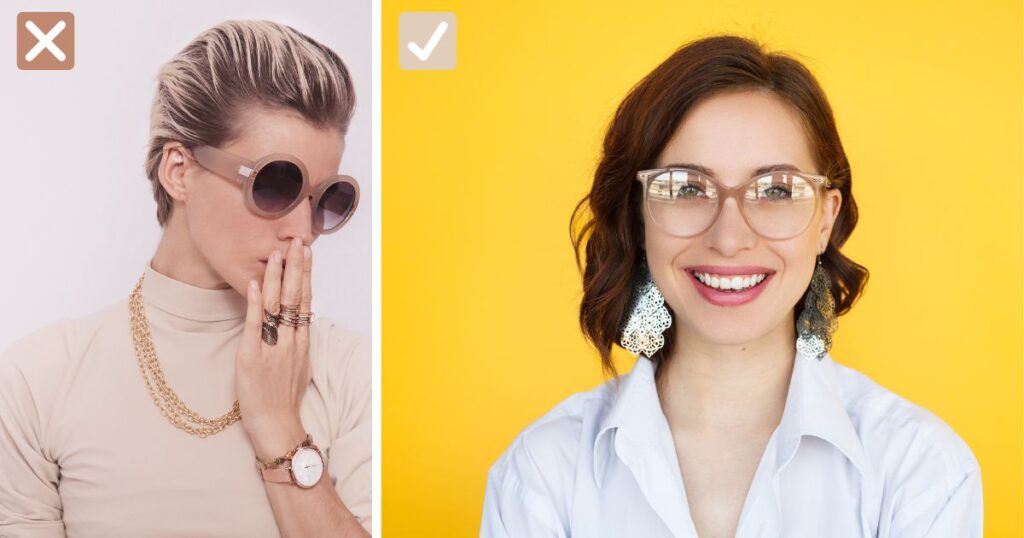 My recommendation for jewelry is to invest in higher-quality, gold or silver pieces. You won't get bored with these pieces but instead, grow to love them as a defining part of your personal style.
Check Etsy for amazing artisan, vintage, and budget-friendly finds.
3. Pay Attention To Your Nails
Style goes beyond clothing and accessories. It's about paying attention to details, your nails being one of them. Whether you go to a nail salon, paint your nails, or wear them bare, proper nail upkeep is one of the essential style tips for women.
People pay attention to nails and toenails, so they will notice if they're unkempt. All nails should be clean, shaped, and feminine looking, with calluses trimmed.
No biting, okay?
Trim and file natural nails so they're even (i.e. thumbnail length is the same on both hands). Use a nail buffer to create a smooth and shiny look as if nails were painted with a thin top coat.
Create a weekly nail ritual as part of your self-care routine. Remove old polish and wash nails with soap and water. Then trim, file, and buff to create a smooth, shiny surface on each nail. Add a colored polish and a clear coat and allow time after each coat to dry.
Proper maintenance will ensure nails remain healthy, with less chipping and breaking.
If you go to a salon for your nails, the same rules go with routine appointments (and emergency visits) to keep them looking beautiful.
My weekly nail ritual happens every Saturday morning while I'm catching up on my shows. I consider my nails a part of my personal brand these days, so they always must be on point.
Pro tip: Bonus points for matching your nail color with your outfit.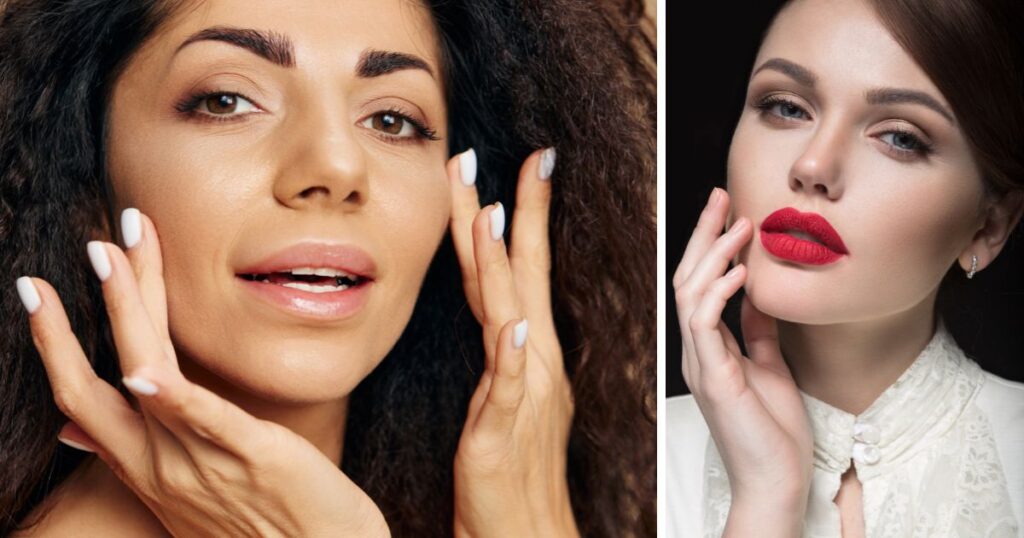 Shop my favorite nail care items:
4. Do Not Show Your Undergarments
This could be considered the "golden rule" of style because it's related to etiquette. It's a rule we've all broken, many times unintentionally.
Undergarments such as bras and panties should be hidden under your clothes. No one wants to see them and as soon as that bra strap hangs out, it's game over for your stylish outfit.
Follow these rules to ensure you don't make these mistakes again.
Bras Style Tips For Women
Strapless bras should be worn under tanks, sheer tops, cold shoulder pieces, halters, one-sleeve pieces, tube tops, tube dresses, and anything a bra strap could potentially peak out of. A thin satin or silk cami under a sheer top will hide a strapless bra underneath.
Purchase bras in the proper size to avoid gaping that shows through shirts and straps that fall off your shoulder. I still have trouble finding bras that fit me, so this is why strapless bras are my favorite.
Dark-colored bras go under dark-colored garments. Nude-colored bras go under light-colored garments. The end.
Panties Style Tips For Women
Purchase panties that fit you, seriously. If the seam of your underwear digs into your skin (is there anything more obnoxious?!), you need to size up. Cotton panties might shrink in the first wash, so take that into consideration when shopping for a size.
Wear seamless underwear under all jeans, pants, leggings, dresses, skirts, and shorts. A seamless thong is the best choice under form-fitting bottoms.
If your skirt or dress is see-through, wear a slip underneath.
Dark-colored panties go under dark-colored garments. Nude-colored panties go under light-colored garments. Notice a trend, here?
If you're wearing leggings or stretchy pants to exercise in, make sure they're opaque. I experienced many legging faux pas when I used to teach yoga.
Performing a double-check in the mirror to ensure your undergarments are seamless each morning is one of the most crucial style tips for women.
Related Post: 7 Amazing Plus Size Style Tips To Look Your Best
5. Ensure Your Outfit Has Fluidity
Most outfits are put together based on color and style but factoring in the proportions of each piece and how they work together is often forgotten.
For example, don't style mid-calf boots with dresses, skirts, or shorts that reveal your bare legs. Your legs will look chopped off and shortened due to where the shaft of the boot begins.
Encourage outfit fluidity by ensuring the bottom of your skirt, dress, or shorts is even with the top of your boots. Pair shorter skirts or dresses with tall boots (knee-high for midi and pencil skirts; over-the-knee for short skirts).
A pair of opaque tights can create the illusion of fluidity (i.e. black tights with black boots).
An outfit that has too much skin in separate places also looks choppy. For example, pair a crop top with a set of trousers or a maxi skirt instead of a mini skirt.
Fluidity Style Tips For Women Examples
The woman in the bottom left photo looks chopped off at the knees due to the contrasting light jeans and black boots. Fix this look by trading in light jeans for black jeans.
The women in the center nailed the look. Dark, cropped denim with dark boots, no skin showing.
The woman on the right also nailed the look. Her pants stop mid-calf, but she's added a dark sock or tight to hide the skin and it flows beautifully down into the ankle boots. Love.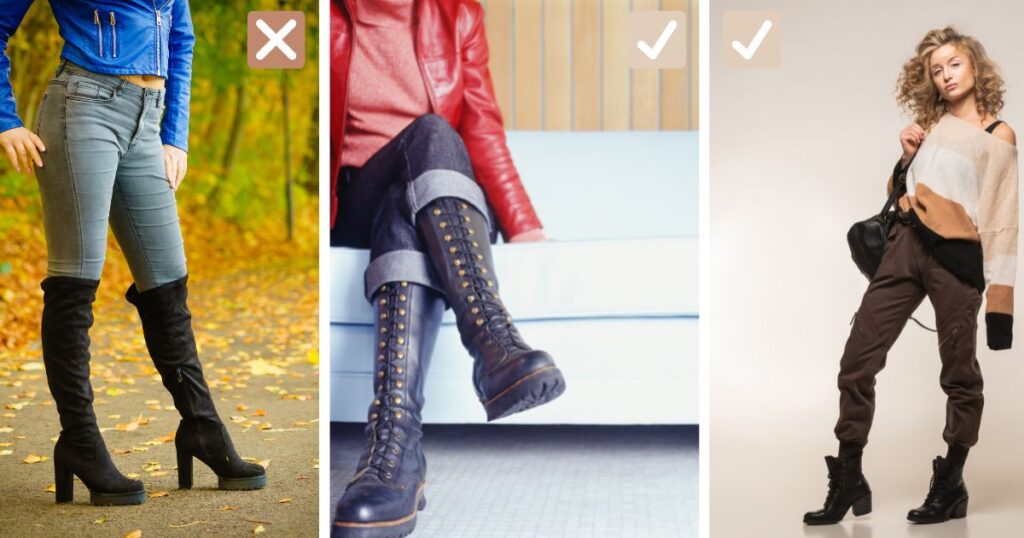 This is one of the more advanced style tips for women, but if you start putting it into practice, it will become second nature when you're getting dressed.
6. Easy Style Tips: Invest In An iron Or Clothing Steamer
Unless your wardrobe exclusively consists of travel clothing, you're going to need an iron, clothing steamer, or both.
It doesn't matter how expensive your outfit is; if you show up with wrinkles and creases, your look is immediately downgraded (and some people will even downgrade you, unfortunately).
Related Post: 11 Simple Style Tips To Always Look Good
If you have an iron, get into the habit of ironing your clothes right after they've been washed. Choose a day of the week to do a bulk ironing session if you have a lot of laundry. Don't wait on it because you won't have time when you need that collared shirt and have to be out the door in 20 minutes.
Steaming has become increasingly popular and is a great choice for more delicate and higher-quality fabrics. If you travel often, investing in a travel-size steamer is a great option.
On my two-week trip around Spain, I made sure every hotel and Airbnb I stayed at had an iron ready to use in the room. This ensured my cotton and linen dresses looked fresh and neat whenever we went out.
Linen clothing is the only fabric you can get away with having wrinkles. Even so, I recommend steaming or running a light iron over these pieces just to freshen them up.
Here are some top-rated steamers to suit every need:
7. Outerwear Is Part Of Your Outfit
Viewing outerwear as part of your entire look is one of the best style tips for women. It makes outerwear more enjoyable. It's like you're adding the final touch to a beautiful work of art rather than simply throwing a coat over it.
If you're running errands, a smart coat can elevate a more casual outfit underneath. Formal coats should be worn with formal attire when you're going to weddings and other upscale events.
Matching your coat to the rest of your look ties it all together. Full-on tonal colors look incredibly chic. A coat or jacket in contrasting colors is a great option too.
Related Post: 15 Perfect Bar Outfits For Your Next Night Out
Colors aside, the fluidity concept applies to outerwear as well.
The most stylish way to pair a coat with a dress or skirt is to match the bottom hem lengths of the coat and dress or skirt. A long dress or skirt with a longer-length coat, cropped jacket, or waistcoat will also look nice. Coats that hang above a long dress or skirt, but below the waist will look like you've just thrown something on without much thought.
There's more versatility when it comes to wearing coats with trousers.
Lengths don't matter as much. However, belting a bulky coat or jacket with slim pants will make your outfit more cohesive.
If a coat comes with a belt, it usually looks best belted. Switching a cheap-looking belt to a leather belt will make your coat look more expensive. Try adding a belt to a loose blazer (my favorite!).
Outerwear Style Tips For Women Examples
I don't like light gray, but the woman in the lower left photo went for a tonal look and did it well. Except for the white watch, which downgrades the look and should be removed (wink!).
Keep accessories minimal when belting blazers.
The woman on the right correctly wears a long coat over a short dress. I also like how she's used over-the-knee boots with a short dress to maintain fluidity, as mentioned two sections above.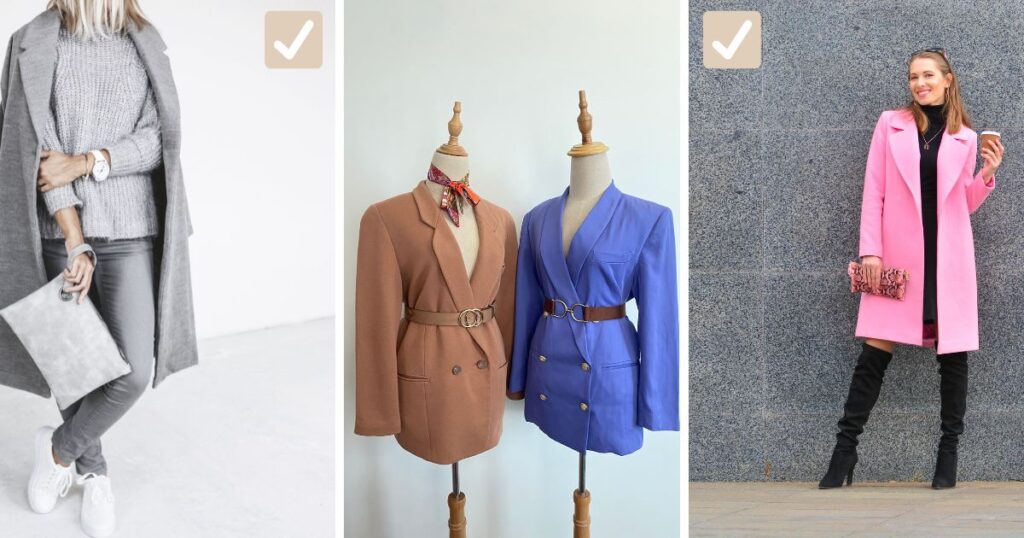 This Post Was All About The Best Style Tips For Women
Related Posts: