Do you want to know the best fashion tips and tricks to style up your basics? These simple but effective ideas will upgrade your look instantly!
Are you looking for new and exciting ways to wear your favorite basic styles, but are fed up with ridiculously hard-to-follow fashion tips and tricks? There's nothing wrong with a pair of blue jeans and a basic white tee (except that's what EVERYONE wears).
If you're anything like me, your clothing should represent who you uniquely are, but that doesn't necessarily mean you need a bold outfit to do so.
You will learn the most simple and effective fashion tips and tricks to help you style your basics in a way that represents you. And, we're not just talking about how to style a white t-shirt, though this is included.
This post is all about fashion tips and tricks.
Best Fashion Tips And Tricks
1. EveryDay Fashion Tips: De-Wrinkle Your Clothes Before Wearing
The most important of all fashion tips and tricks for styling anything is to remove all wrinkles in the fabric before wearing it. T-shirts are meant to look casual, but wrinkly T-shirts look sloppy.
This seems like such an obvious tip, but most people throw on an outfit and walk out the door without thinking twice about this simple step. First impressions (and second, third, etc.) are a big deal and although life is messy at times, there's no need to add to the mess!
Use an iron or steamer to remove any creases and instantly freshen up your look. Ironing and/or steaming should become part of your weekly tasks after doing laundry. Portable steamers provide a quick refresh while getting dressed in the morning.
Yes, this should be done with your T-shirts too! Items with creases from prior wearings should be fixed. A little bit of effort will take your look a long way.
Related Post: 11 Simple Style Tips To Always Look Good
2. Simple Fashion Tips: Tuck It In, Tuck It In!
The second most important of all fashion tips and tricks for wearing basics is to tuck shirts into your pants or skirt. Tucking in automatically elevates the look of the shirt and also provides shape to your body.
Play around with a tight tuck or a loose tuck to see what works best with your shirt. Make sure your shirt is tucked in from all sides. While the half-tucked-in look may work on a forward-facing video conference call, it looks very sloppy from the sides and back when in person.
If the shirt is too short, opt for higher-waisted bottoms or pair it with a jacket.
These days, I prefer to tuck almost all my tops in to elevate my look. My current go-to is to tuck a buttoned-up cardigan into high-waisted jeans or a belted midi skirt. You'll need a shorter cardigan to do this. This look is great for cooler weather without needing a long bulky sweater!
I don't recommend pairing a basic t-shirt with leggings as it will look awkward tucked in. Opt to pair tees with jeans, trousers, skirts, and shorts for the most stylish look.
Find the perfect basic tee to tuck into your look:
3. Chic Fashion Tips And Tricks: Put A Vest Over It
Vests are one of the most underrated fashion tips and tricks, in my opinion.
Pair vests with t-shirts, turtlenecks, blouses, button-downs, and even sweaters and tighter sweatshirts, if you're crafty.
I seriously love vests.
Except for puffer vests. Sorry.
I just don't understand them or like how they look. There are more flattering options, listed below if you're looking for warmth.
Here are some of the different types of vests you can wear with basics:
Fur Or Faux Fur Vest
Fur vests add instant glam (and warmth!). Wear short vests with trousers, jeans, and skirts, and wear long fur vests over leggings and skinny jeans. If you're wearing faux fur, a realistic animal pattern or all-black looks the most stylish.
Fleece Vest
Yes, fleece is making an appearance as a stylish winter wardrobe essential. A winter white fleece vest over a turtleneck can look apres-ski chic and a classic black fleece vest goes with everything.
Fleece is a great layering item as it doesn't provide too much bulkiness.
Avoid patterns in fleece as they tend to look childish.
It always seems like fleece wears so quickly, but did you know there's an easy way to care for the fabric to keep it looking new? Use a fabric shaver to remove any pills and a lint roller to remove clingy bits from your fleece vest.
Related Post: Winter Wardrobe Essentials: 7 Key Items That Will Keep You Warm and In Style
Leather Or Suede Vest
A leather or suede vest (and its faux counterparts) will instantly upgrade your basics.
A smooth leather vest can add an edgy vibe or streetwear aesthetic. A suede vest looks very high-end and softens a look. Fringe vests add that boho or rocker vibe and are perfect to wear to a concert.
Browse second-hand stores for more cost-effective options.
I found a gorgeous black leather vest at a vintage clothing store in New Orleans for $20. Seriously. It fits like a glove. I pair it with turtlenecks and skirts or pants.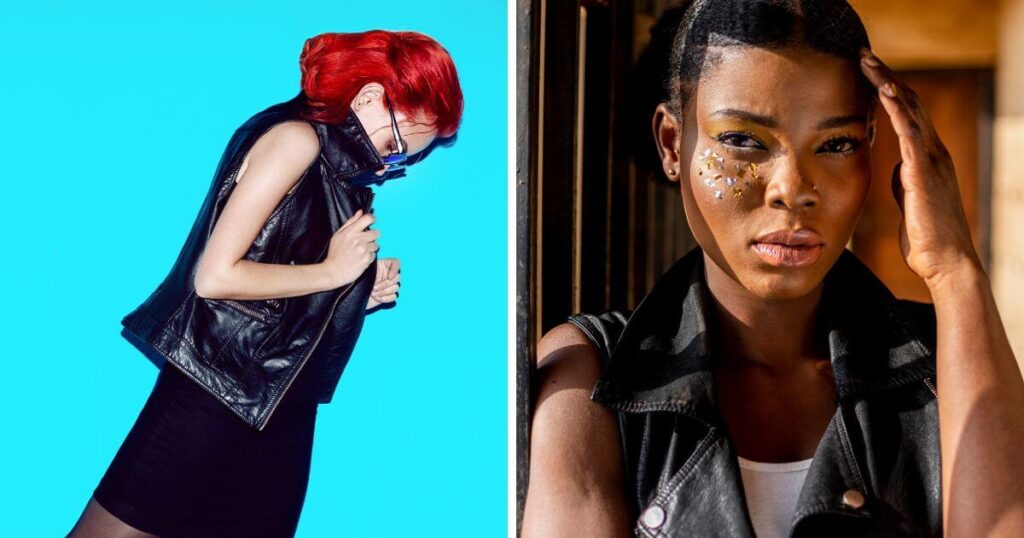 Menswear Vest
Menswear vests are dressier vests that could pair with suiting separates, but look incredibly stylish paired with basics. A waistcoat vest instantly elevates an outfit, making it perfect for a smart casual office.
Related Post: What To Wear To Work Casual | How to Dress Casual and Still Look Professional at Work
Dress a white t-shirt up or add some interest to a button-down shirt with a pinstripe vest. A tonal vest over a turtleneck (for example navy blue on navy blue) keeps the look simple but incredibly stylish.
There are many other styles of vests out there, but choosing a vest that pairs with multiple items in your wardrobe is the most important option.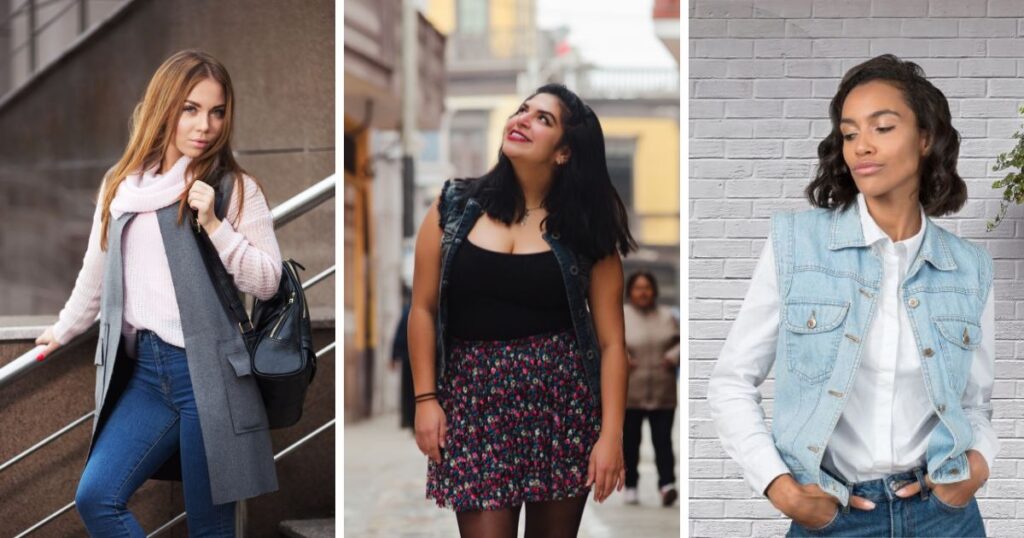 Find the perfect vest to style up your basics with:
4. Style With A Scarf
Scarves are a great way to add a pop of color and intrigue to your basics. Wear them around your neck, head, wrist, or handbag to add interest to your look.
The best way to dress up a t-shirt is with a silk scarf tied around the neck, Audrey Hepburn style. This is my favorite trick and it updates any outfit.
Another great idea to dress up basics is to wear a head scarf instead of a baseball cap. Cover grays or a bad hair day with something beautiful and lightweight.
Fashion scarves are something that will always be in my style arsenal. My mom-mom (grandmother on my mom's side) was an exceptionally well-dressed lady. She had a scarf for every outfit, in every color and print a girl could want.
Find the perfect scarf to style up your basics with:
5. How To Dress Simple But Stylish: Belt Your Denim
Adding a belt to your jeans is one of the easiest fashion tips and tricks out there. Belts not only make your outfit look put-together but also enhance the fit of clothing while hugging your curves.
Instantly elevate the casual look of a t-shirt and jeans with a nice leather (or leatherette) belt, shirt tucked in, of course.
Go tonal by styling white jeans with a white or ivory belt or black jeans with a black belt.
Don't be afraid to pair a chain belt with a white button-down shirt and blue denim jeans. This look is very chic and perfect for dressing up with heels for date night or dressing down with boots for lunch with friends.
Related Post: Denim Style Trends | The Best Jeans For Your Body
Styling with a belt is one of my required final touches when I get dressed. I don't wear belts with every look, but I treat every outfit like it might need a belt because I just adore them (and my hourglass body shape loves them too!).
Wear a belt like a piece of jewelry, a detail that stands out in your look. This way, you let the belt do most of the talking while keeping the rest of the look casual.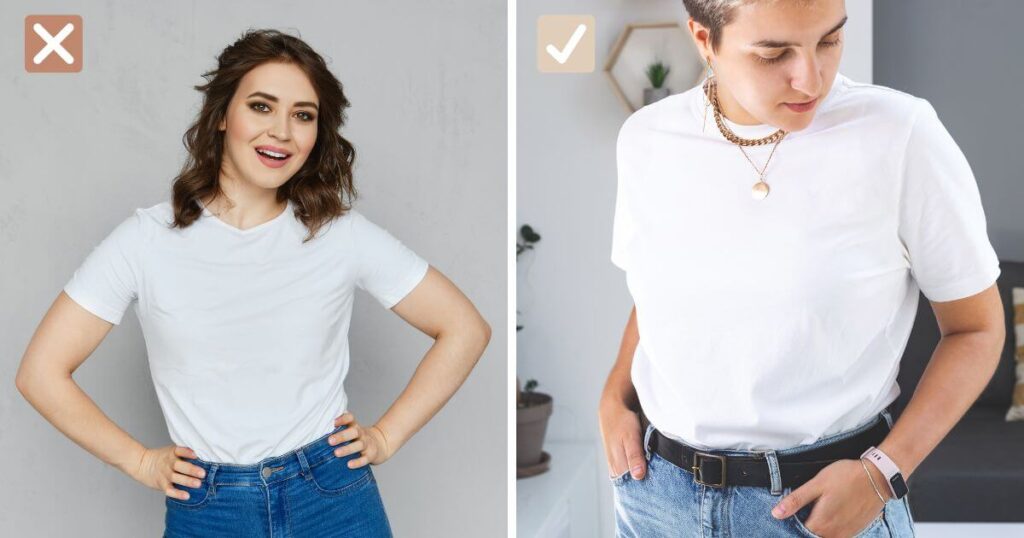 Find the perfect belt to elevate your denim:
6. Add Interesting Layers
Understanding the power of layering in the cooler months elevates both your comfort level and the versatility of your basics. Learn how to layer and you won't always reach for that oversized cardigan to wear with everything.
Well-placed layers is one of the fashion tips and tricks that make an outfit look nicely put together. This is why I consider the turtleneck to be the layering queen (cashmere thermal knits are the layering kings, just in case you wondered).
There is something incredibly feminine about a classic ribbed turtleneck. It's flattering on all body types and looks stylish under a button-down shirt and jeans. Add a touch of elegance by styling with a small neck scarf.
Ribbed turtlenecks in jewel tones add an element of boldness to a simple look.
Cashmere or wool turtlenecks or crewnecks will keep you warm and also look great under shirts. This way, you can continue to wear cotton and silk button-down tops into winter.
Layer with a lace turtleneck or crewneck to add feminity to a t-shirt or button-down. Lacey-black long sleeves under a band tee, anyone?
The most important point of layering underneath is that the first layer should be form-fitting, so it wears seamlessly under your top.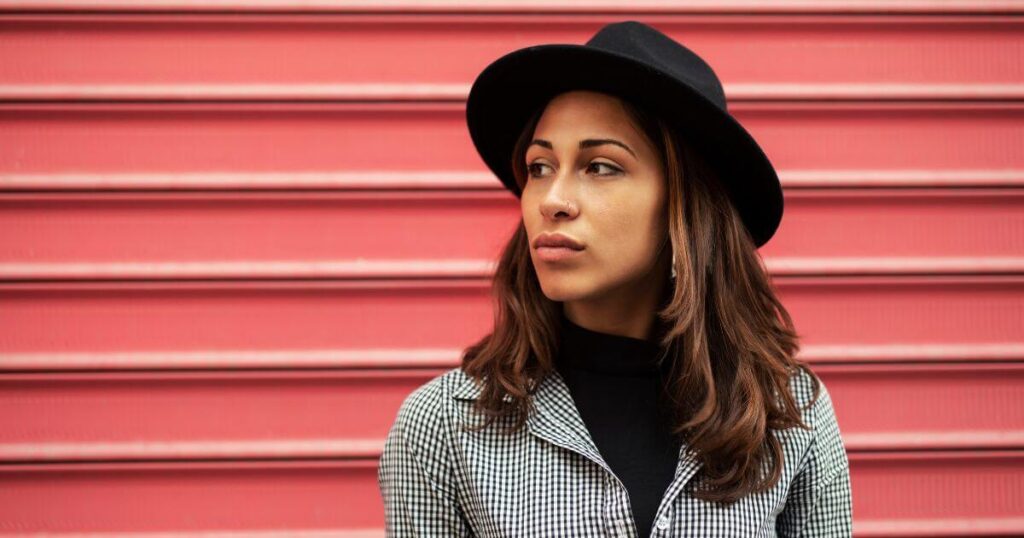 Find the most beautiful turtlenecks for layering here:
7. Fashion Tips For Ladies: Add Statement Earrings
Another incredibly simple tip to dress up your basics is with a pair of statement earrings.
Adding a pair of beautiful earrings to a super basic look gives off the notion that "you tried", without actually trying. Earrings are somewhat magical in that way.
And, you don't need to risk enlarging your piercing holes with a huge, gaudy, heavyweight pair of earrings to pull this off. Those days are over for me. Who's with me here?
Statement earrings are earrings that look beautiful – they make a statement. They're earrings you want to show off because they make you happy. They can be small, medium, or large in size. They can be costume, artisan, or luxury jewelry.
My favorite basic look involves wearing a belt and a pair of statement earrings and letting them do all the talking. My hair is usually tied or clipped back. And everyone's eyes are on the earrings.
Don't ever underestimate the power of a pair of classic gold hoops.
Find your perfect pair of statement earrings:
8. Mind Your Shoes, Please
The final detail of every look should be styling it with the correct pair of shoes. All things considered, shoes are the make-it-or-break-it component of an outfit.
Studies show that people form impressions of others based on their footwear, regardless of whether it's true or not. Think twice before grabbing that pair of grungy sneakers, worn-out Uggs, or flip-flops.
An unwritten rule I like to follow is if I'm wearing a basic or casual outfit out, I always wear a dressier pair of shoes. For example, a nice pair of Chelsea boots will always look better with jeans than white sneakers.
Boots with a heel (even a low heel) will upgrade a look by elongating your legs.
Ensure casual shoes are in good shape. White sneakers should be WHITE, leather should be shined and scuff-free, and heels shouldn't be falling apart. Get more wear out of your shoes by taking them to a shoe repair shop.
I bought a stunning pair of vintage leather 4-inch D'orsay pumps for $3. They were my favorite heels until the plastic part of both heels fell off on the same day (no lie!). I had a shoe repair shop replace the heels for $15.
That brings my total investment of a one-of-a-kind pair of shoes to $18! And these heels look amazing with my favorite black flare jeans and a basic top.
What are your favorite fashion tips and tricks to dress up your basics?
This Post Was All About Fashion Tips And Tricks
Related Posts: