Don't know what to wear for apple shape body type? These fashion tips and tricks will teach you how to successfully dress an apple, circle, or oval-shaped body!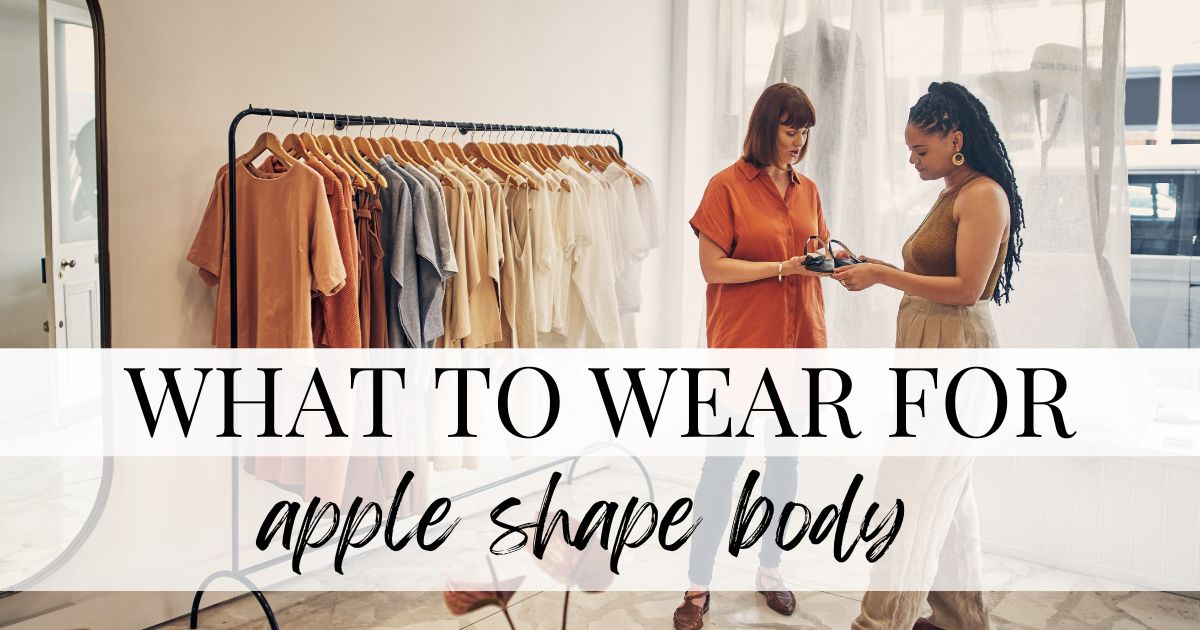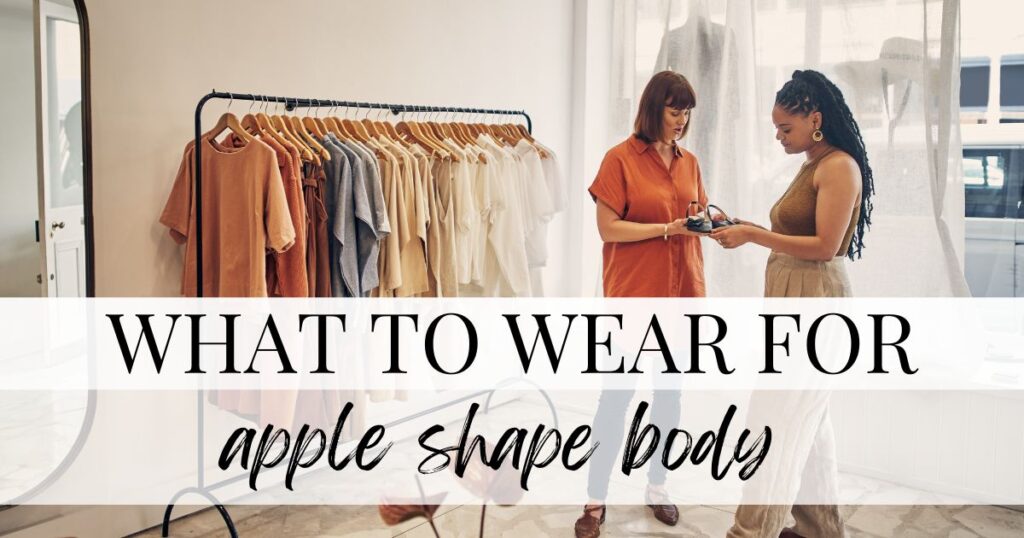 If you've had trouble with what to wear for an apple shape, oval shape, or circle-shaped body you're not alone. The fashion and retail industry has catered to certain body types for a long time. While that's slowly changing most body shapes remain underrepresented, which makes it difficult to find clothing and style inspiration to look your best.
And, while it's a beautiful thing to be free to express yourself and wear whatever you want, not all styles look good on all body types. It's like bad lighting–it just doesn't work.
Thankfully, I'm sharing the best tips and tricks for how to dress an apple-shaped body. You will learn the most flattering clothing and styles to showcase your figure confidently.
This post is all about what to wear for apple shape.
What To Wear For Apple Shape
What is an apple shape body?
Determining your body shape is important if you want to learn what to wear for an apple shape. An apple-shaped body is one of the five most common women's body shapes and is also referred to as a circle or oval shape.
When you notice a woman with great legs, she may have an apple shape.
A woman with an apple-shaped body has her shoulders, chest, and waist relatively the same in width. While her midsection lacks definition, her bust is her defining factor, which can be average to very full in size. Broad shoulders lead to slender and shapely arms. Her hips may be the same width or more narrow than her waist, with a flatter butt. Like her arms, her legs are also slim and shapely (e.g. calves are well-defined).
Like all body shapes, an apple shape is based on the body's skeletal and muscular structure, which determines where the body holds the most volume and where it gains weight. This means that any woman can be born with an apple shape, or grow into one as her body changes. There are slim, plus-size, tall, petite, and average-sized ladies with apple-shaped bodies. Apple shapes typically gain weight in their midsection (bust and waist) first while their arms and legs remain slim.
Not all apple-shaped women are alike and your body shape could also include aspects of another body type, which means the best clothes for your body are subjective to your body's features. Keep this in mind as you review this guide. Experimentation is best when learning to dress for your body type.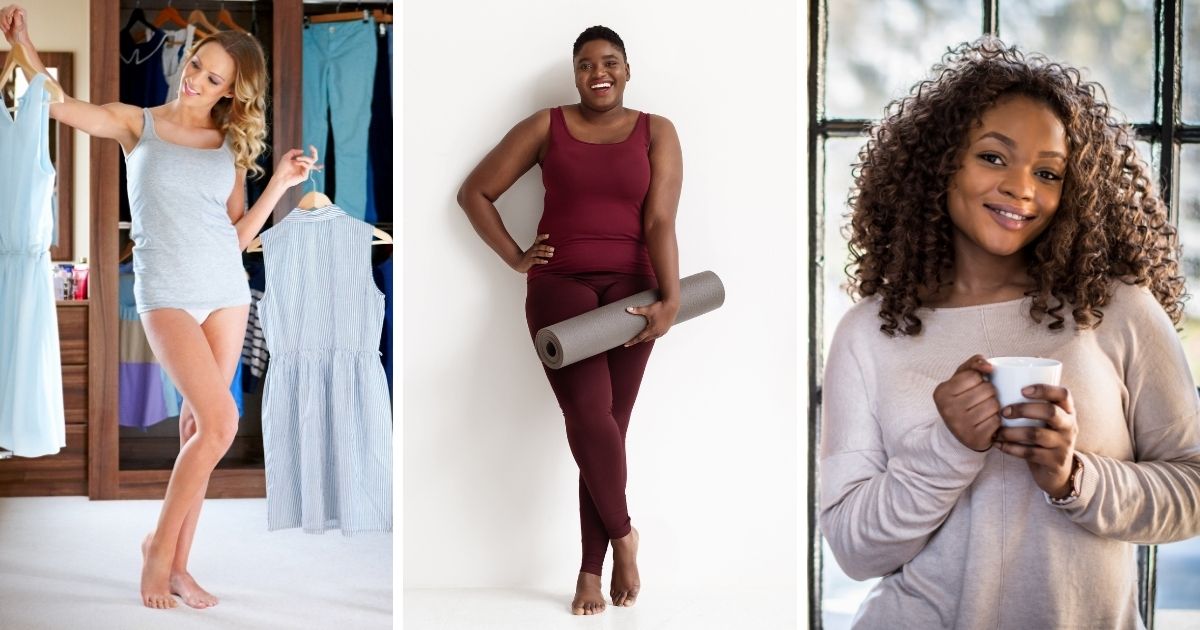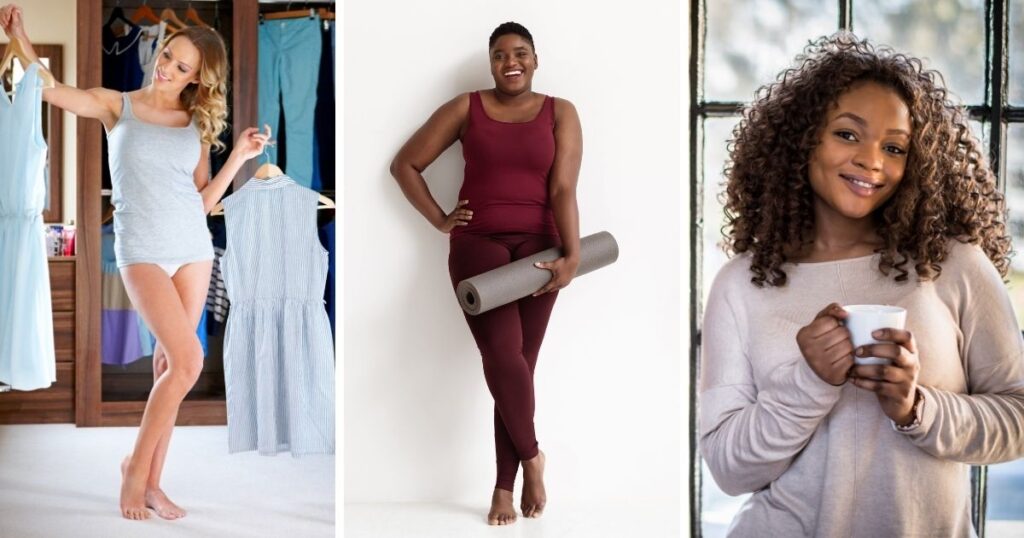 What clothes to wear for apple shaped body?
Because apple shapes carry volume in their mid-section, the best styles for them perform any of the following:
Balance proportions by drawing the eyes upward and away from the midsection, like in a 'V' shape
Balance proportions by drawing the eyes downward and away from the midsection, like in an upside-down 'V' shape
Create length in the midsection
Create shape through properly placed embellishments below the midsection
Show off their beautiful arms and legs
The following clothing styles accomplish this:
Styles that cinch above the waist and below the bust (ideally at your slimmest point)
V-neck that shows off the decolletage and creates length
Scoop necks (moderate to deep)
Asymmetric lines at the waist create the illusion of curves
A full-tonal look in a deep color creates length (try slightly darker on top or layer with a darker jacket or cardigan)
Long flowy or drapey fabrics add movement and length
Long-line styles in cardigans and jackets that are left open to create length
Hemlines that hit at the hips (not the waist)
High-rise or mid-rise bottoms
Fabric that flares downward and outward (waist-length or longer, peplum)
Short sleeves that stop at the mid-upper arm or higher without accentuating the shoulders (sleeveless is great too!)
Longer sleeves should hit below the waistline in a looser cut
A well-fitted, supportive bra
These factors are what an apple shape woman should work into her clothing and styling choices. The main idea is to break up the volume in the mid-section and redistribute it elsewhere. In other words, balance out proportions, which is the key to dressing any body type.
Related Post: How To Shop Your Closet The Right Way
What not to wear for apple shape?
Before we dive into some specific examples of what to wear for apple shape, let's review what not to wear.
Avoid these styles:
Full bodycon looks (tight top, tight bottom, etc.) that accentuate the wrong areas of the body
Oversized, baggy styles that make you look big and hide everything good
Chunky tops, sweaters, jackets, and vests
Cinching at the waist, which draws all attention to that part
Hemlines that fall at the waist
Horizontal lines at the waist or bust
Sleevelines that fall at the waist
Cropped styles in tops, jackets, cardigans, sweaters, and vests (all cropped styles up top)
Cropped styles that cut off the leg, making you look shorter (e.g. flare or boot crop)
Low-rise bottoms
Bright colors on top (unless paired with a dark high-waisted bottom)
Tonal dressing in light colors or the same light color
High necklines (unless you strategically layer a long jacket or cardigan over top)
Cold-shoulder styles as they enhance the shoulders
Embellishments that draw attention to the waist (e.g. wide waist belt, ruffles)
Related Post: 7 Amazing Plus Size Style Tips To Look Your Best
Dresses for apple shaped body
Empire-style dresses that cinch below the bust are perfect for an apple shape because they emphasize the chest and balance the volume on top with the lower body. Grecian goddess dresses with a plunging neckline are beautiful on an apple-shaped body, as long as the cinching is below the bust (and not at the waist). The drapey fabric draws the eyes downward creating movement and shape. Opt for a classic sleeveless style to show off your arms (and not add volume to your midsection).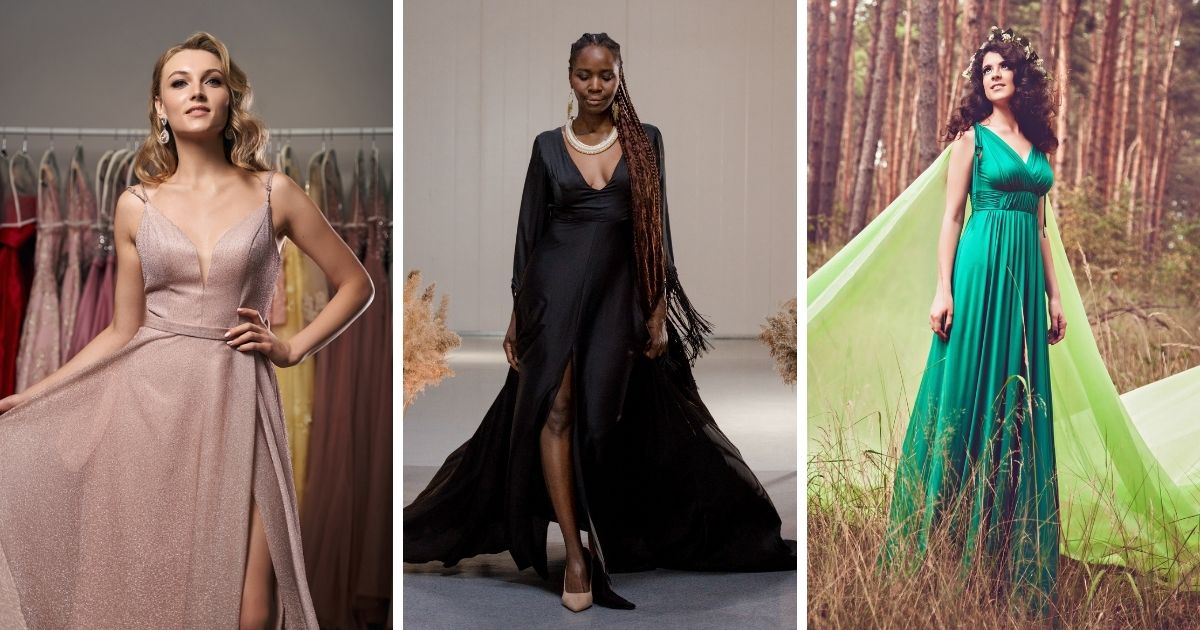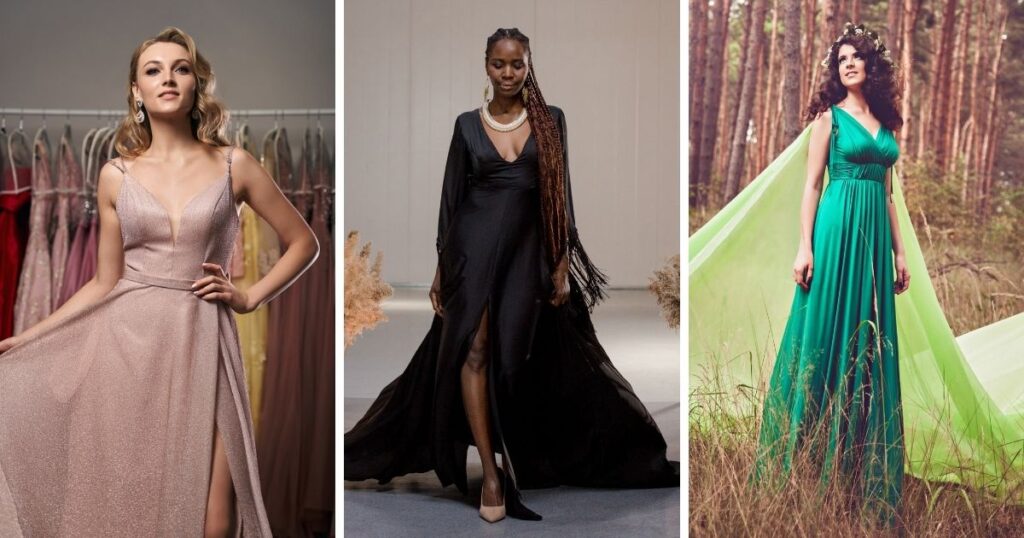 Wrap-style dresses that can be tied above the waist are super-flattering on an apple body shape due to the deep v-neckline and the illusion of a smaller waist below the bust. Look for more structured fabrics such as cotton, linen, knits, or drapey fabrics that flow and move. Tie the belt in such a way that it falls below your waist and ensure the belt is the same color as the dress (or blends in).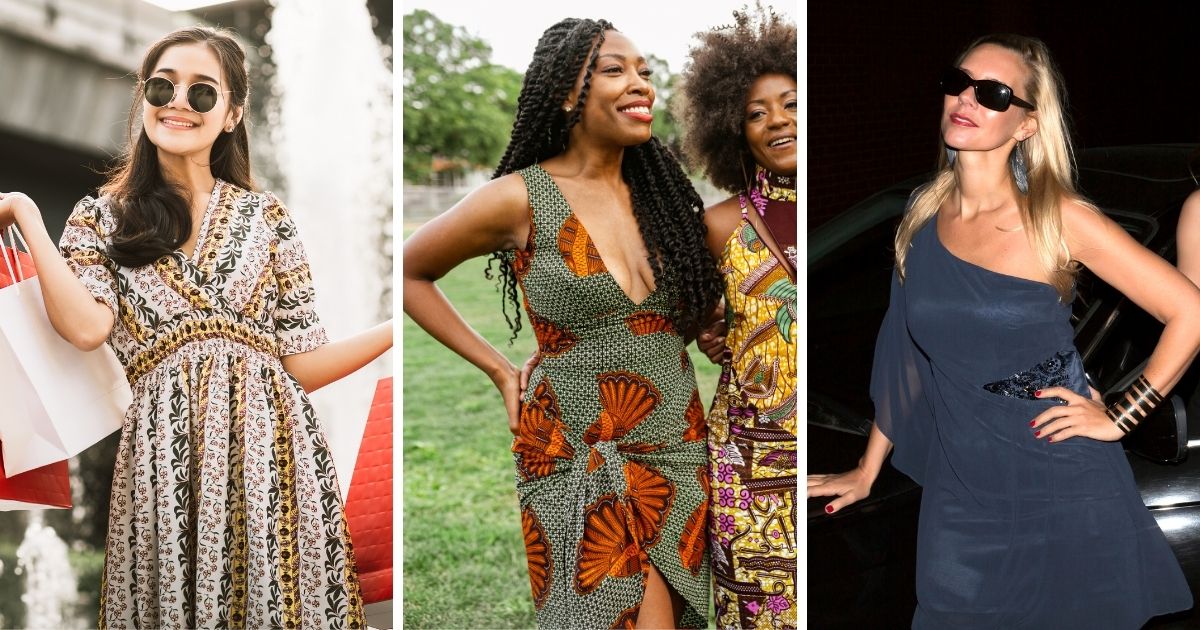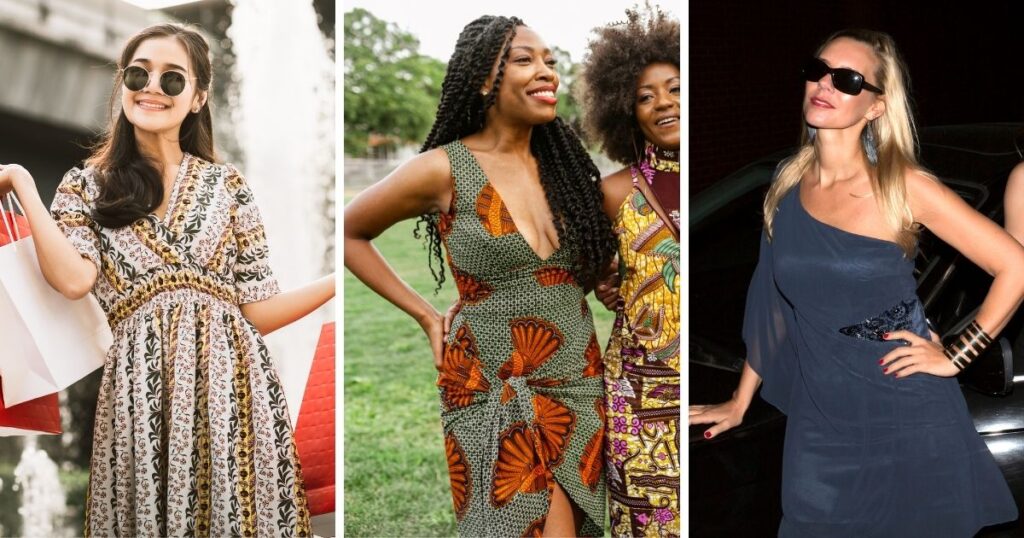 Fit and flare dresses show off your best parts as they are fitted up top and flare out from below the bust. Opt for shorter lengths (above the knees) and wear a cute pair of heels to create additional length.
Sheath dresses with peplum detail help create curves. Ensure the skirt isn't too fitted.
Ruched dresses create curves through their asymmetric detailing and texture along the waist.
A shift dress can create an elongated, column effect with your legs on display, or with a pair of leggings.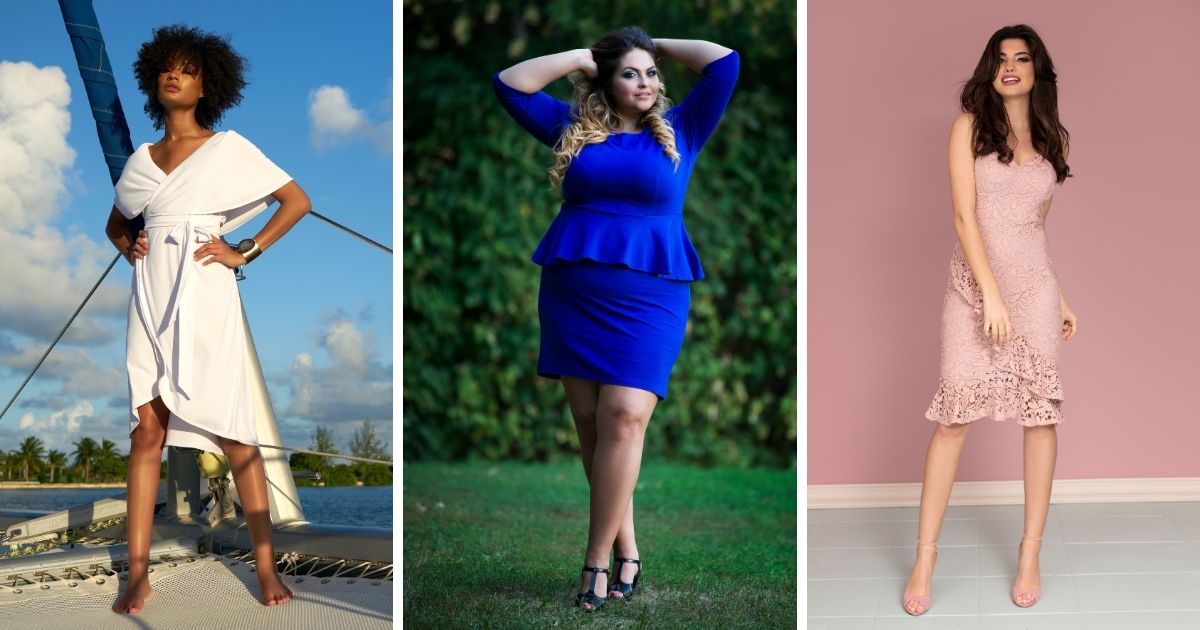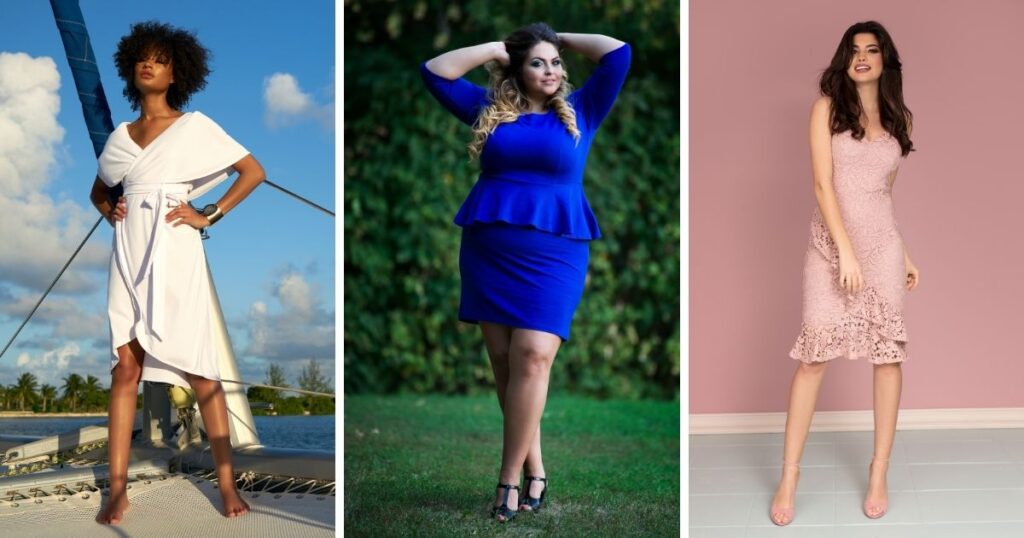 What pants to wear for apple shape
The best pants to wear for an apple shape are structured, and high-waisted, with minimal embellishments in the front, such as pleating and pockets. Good tailoring is key to elevating the lower half of an apple-shaped body, so budget for higher-quality pants (as opposed to tops) so you can get that wow factor in both length and balance. Pair long pants with a heel or wedge to create additional length.
High-waisted trousers create length and add volume to the lower half of the body, which balances out proportions. Straight-leg, bootcut, flare, and wide-leg (not overly wide) are the best apple shape body pants Look for trouser-style pants in heavier-weighted fabrics such as wool, cotton twill, and synthetic blends with a bit of stretch for a good fit. Trousers that close with a side zipper instead of a button front are your best bet.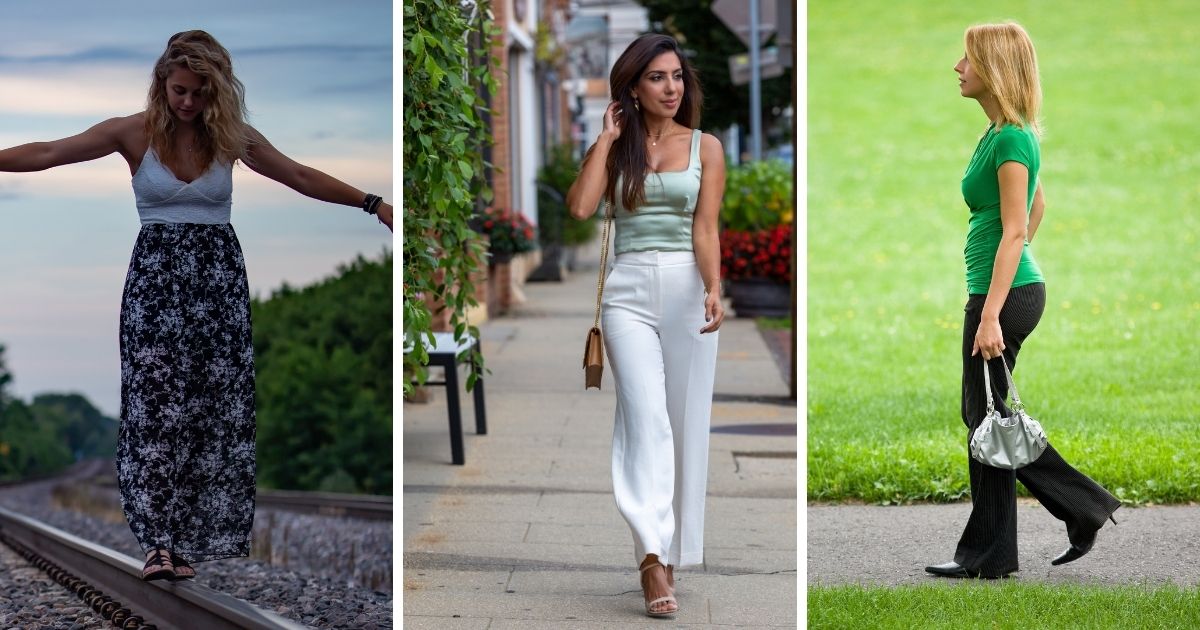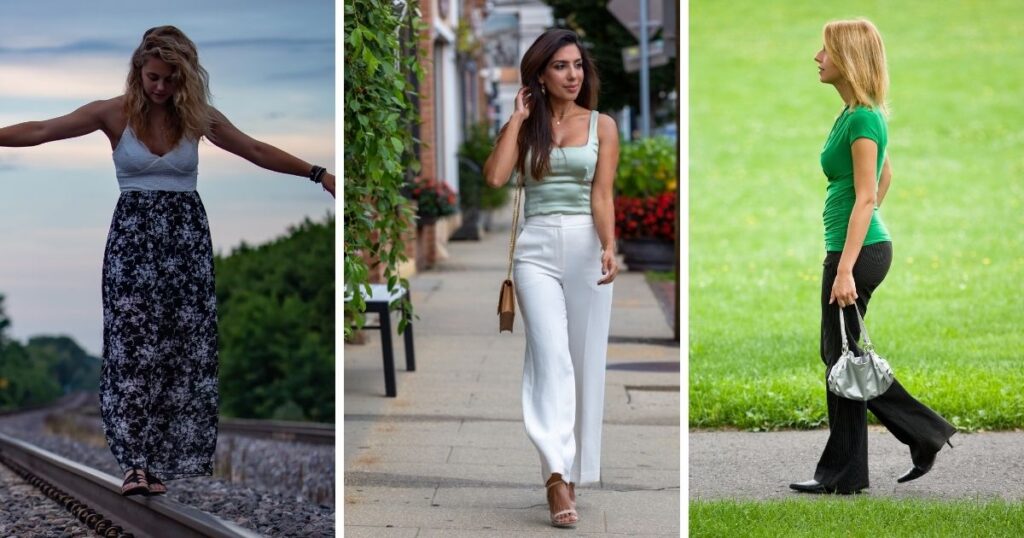 The best jeans to wear for apple shape are also straight-leg, bootcut, flare, and wide-leg at full length. Ensure jeans have some stretch to maintain their shape and fit (not overly stretchy). Pull-on style jeans without any pockets or buttons are a great option.
Related Post: Denim Style Trends | The Best Jeans For Your Body
Wear skinny and slim pants or jeans with tunics, cardigans, vests, and jackets that fall at the lower hips to help balance proportions. This includes leggings. This style can be worn slightly cropped to the mid-calf, but no higher.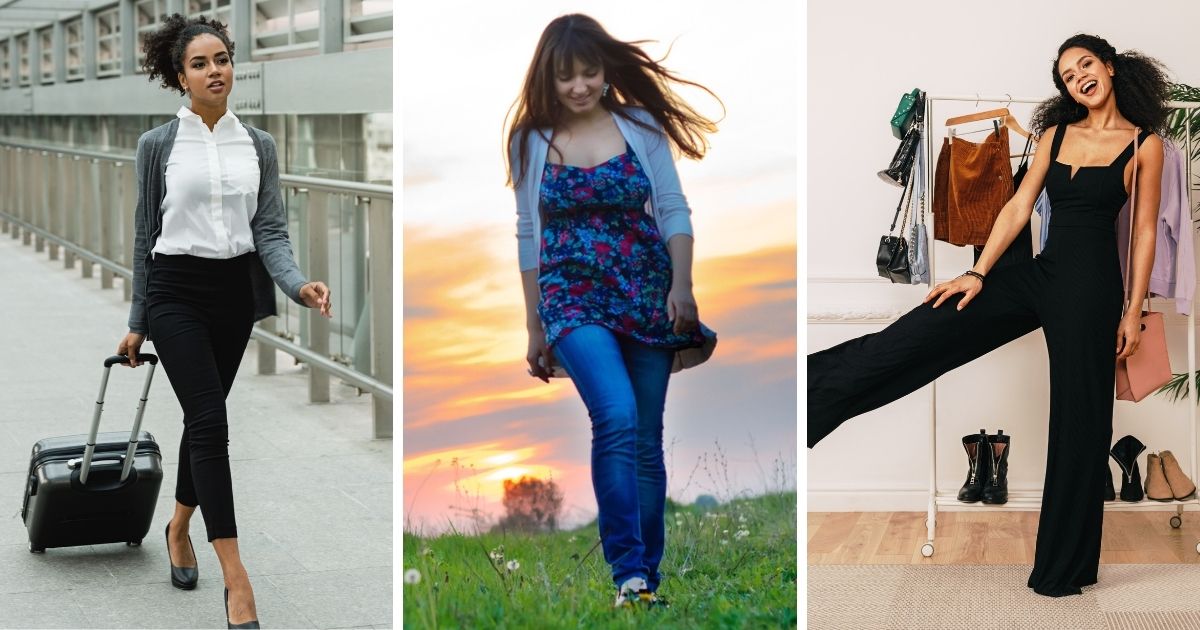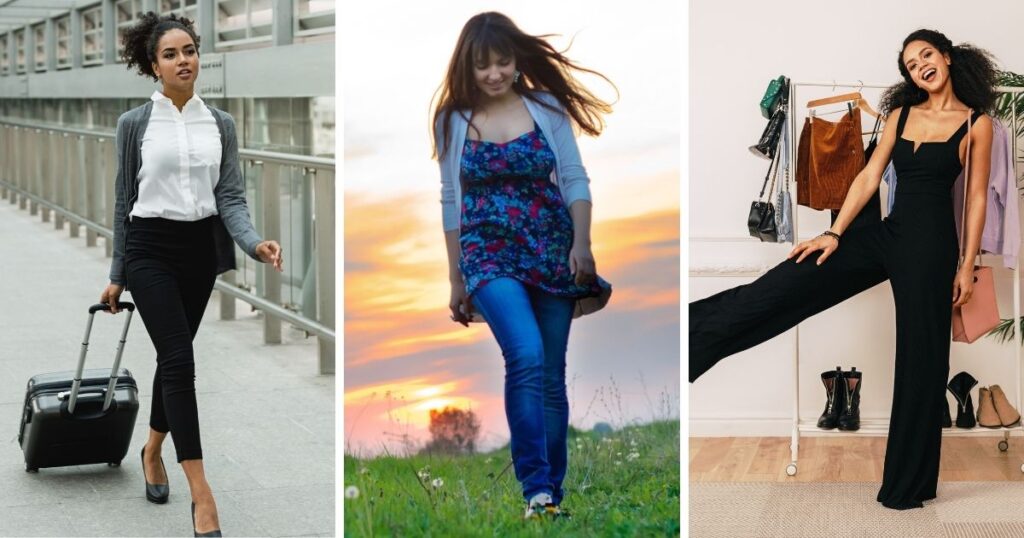 If you're styling with a belt, try to match it to the color of the pants to blend in with the length you're creating. Dark-colored and patterned pants help hide a big belly. Light-colored pants add volume.
In terms of shorts, high-waisted, longer styles look best. Avoid tapered legs. Instead, opt for legs that slightly flare out.
Skirts for Apple Shape
The best skirts for apple shape women add volume to the lower half, without drowning it. Structured and flowy fabrics work best, so avoid stretchy materials. Again, this is where it makes sense to invest in higher-quality bottoms to create a wow factor and balance. Opt for high-waisted styles.
A-line skirts that flare out from the top hemline are perfect for creating symmetry on your bottom half.
Asymmetric skirts, tulip skirts, and bias skirts all help create curves.
Pleated skirts and flowy skirts create movement.
Mini skirts are the chef's kiss for those legs of yours, but ensure they're not too tight.
Look for a knee-length pencil skirt in a heavyweight fabric like tweed or leather or choose one that has peplum detail that cascades down. Ensure the skirt isn't too fitted.
Dark-colored and patterned skirts help hide a big belly.
Related Post: What To Wear To A Concert | Best Concert Outfits For Every Season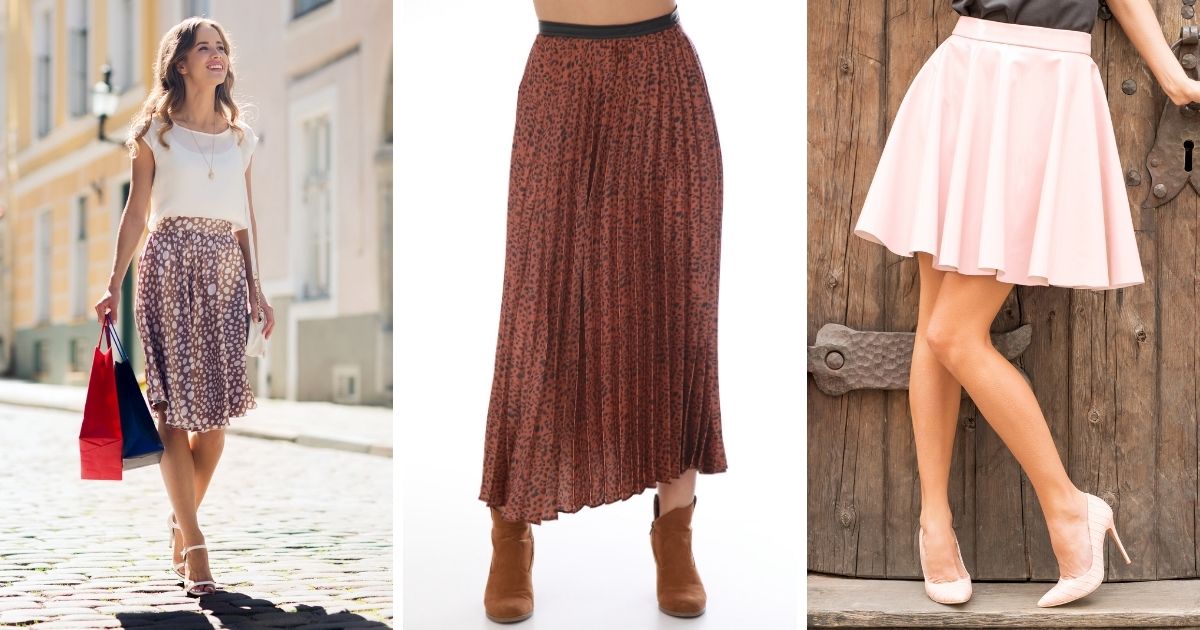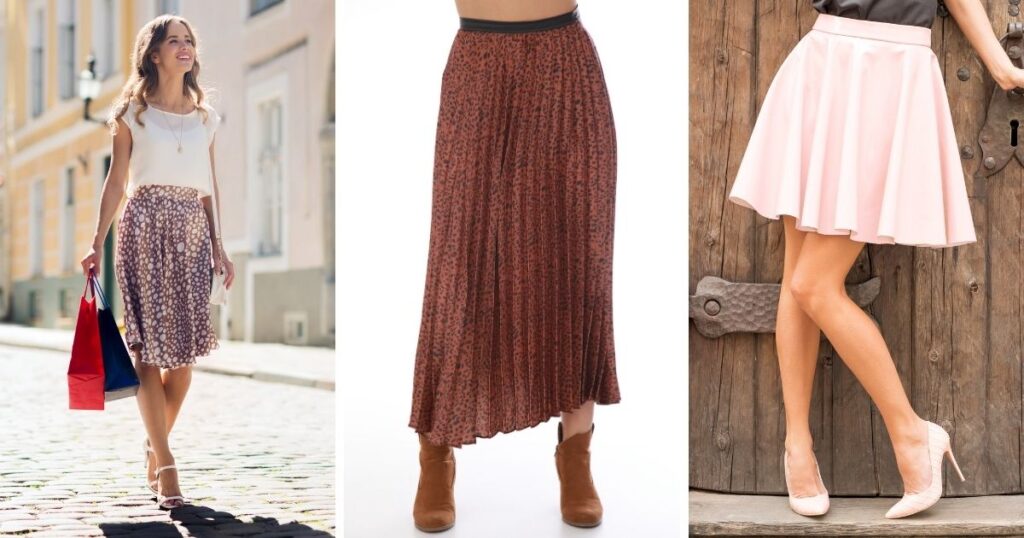 Tops for apple shape
The most flattering tops for apple shape women are ones with a v-neckline. This draws the eyes to the decolletage and upward, creating a wow factor. The bottom hem of a top should fall at your hips if you're leaving it untucked. Else, tuck the top into your pants or skirt. A v-neck top with flouncy sleeves is gorgeous too. Ensure the sleeve hems do not stop at your midsection.
Additional necklines that are flattering for the apple-shaped lady are a sweetheart, scoop neck, square neck, off-the-shoulder, and low cowl.
Opt for sleeveless tops or looser sleeves on tops such as flared, flutter, split, flowy, blouson, and bishop. Peasant tops in baby doll styles are great for this.
Similar to the dress style, wrap tops look amazing on an apple body shape. The style top is perfect with a v-neckline, fitted around the chest, cinched below the bust, and drapes nicely over the midsection. Surplice tops cinched in the proper area below the bust are another option.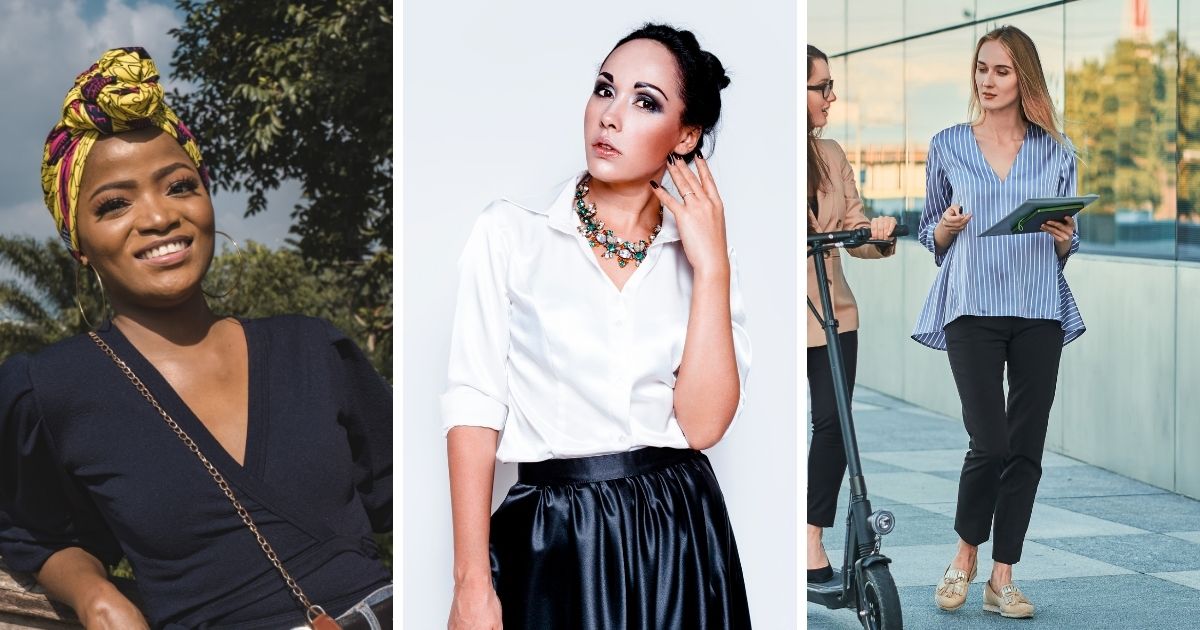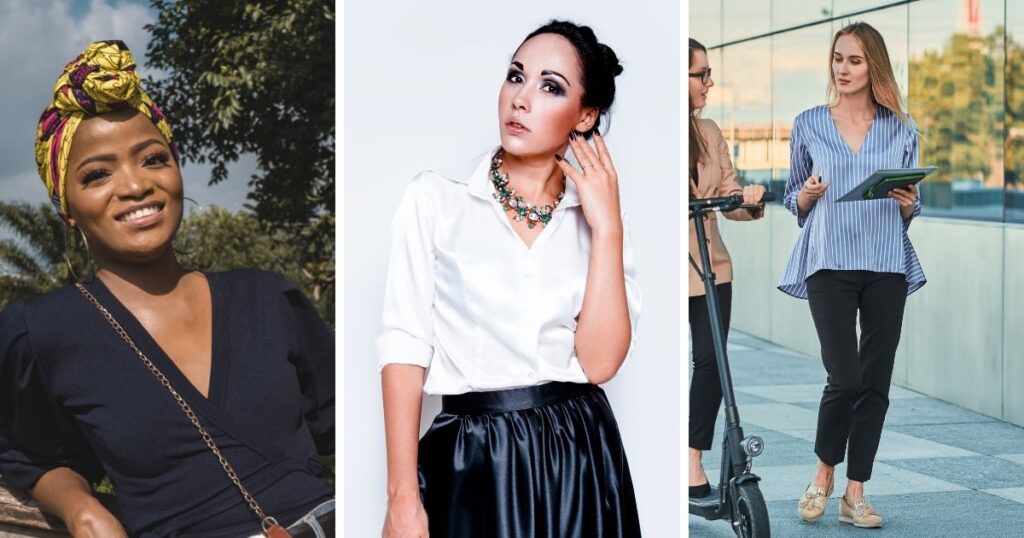 Collared shirts can be worn in several different ways. Style a classic-fitting top by leaving a few buttons undone to create a v-neck and tuck the shirt into a pair of high-waisted bottoms. Pair a long shirt with leggings or skinny jeans and wear tunic-style, partially unbuttoned on top and bottom to create a vertical line, adding length to the body. Lastly, layer a collared shirt over a form-fitted top that's tucked into a pair of pants to create a casual, slimming style (shirt hem shouldn't be shorter than hip-length).
Related Post: French Style Tips | 10 Essential Rules To Live By
Asymmetric tops and styles with ruching do wonders to create shape and disguise the midsection.
Lastly, long tunics and trapeze-style tops paired with skinny jeans can create length and slim the midsection.
Cardigans and sweaters for apple shaped body
What to wear for apple shape women when it comes to sweaters and cardigans? The key is to avoid chunky, oversized styles that add bulk to your top half. Rather, the perfect sweaters for an apple shaped body draw eyes upward, and downward, and create length.
Similar to tops, v-neck sweaters and wrap-style sweaters look the most flattering on this body type. Finely-knit materials and ribbed styles look luxurious and slimming. Avoid extra embellishments such as fringe, tassels, and knotting that draw attention to the midsection.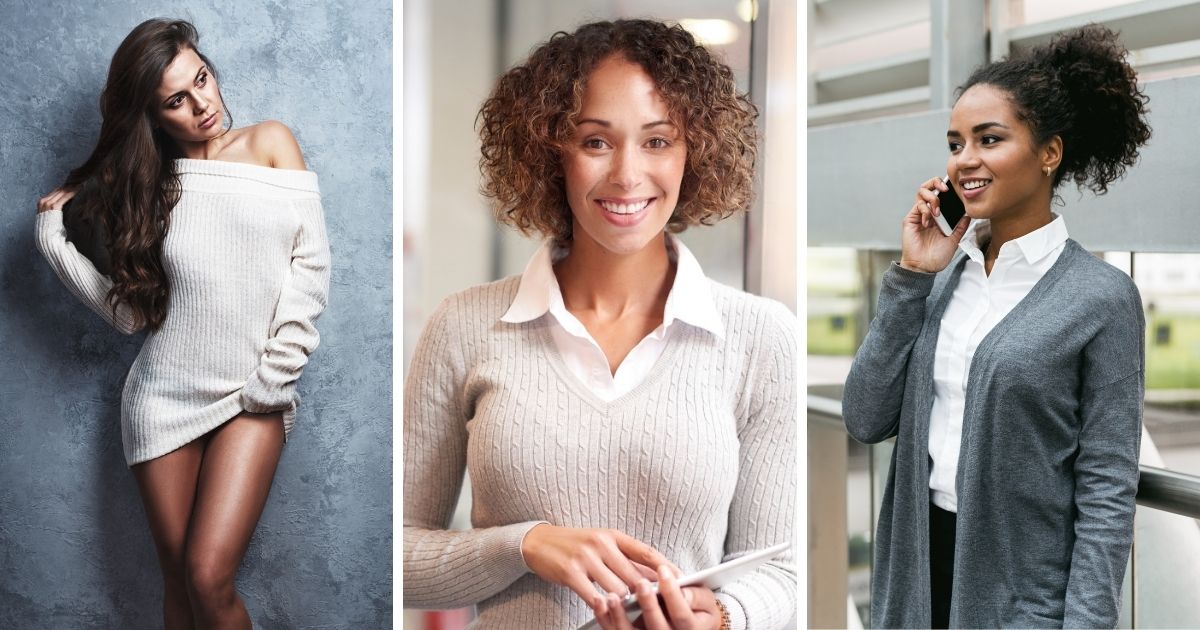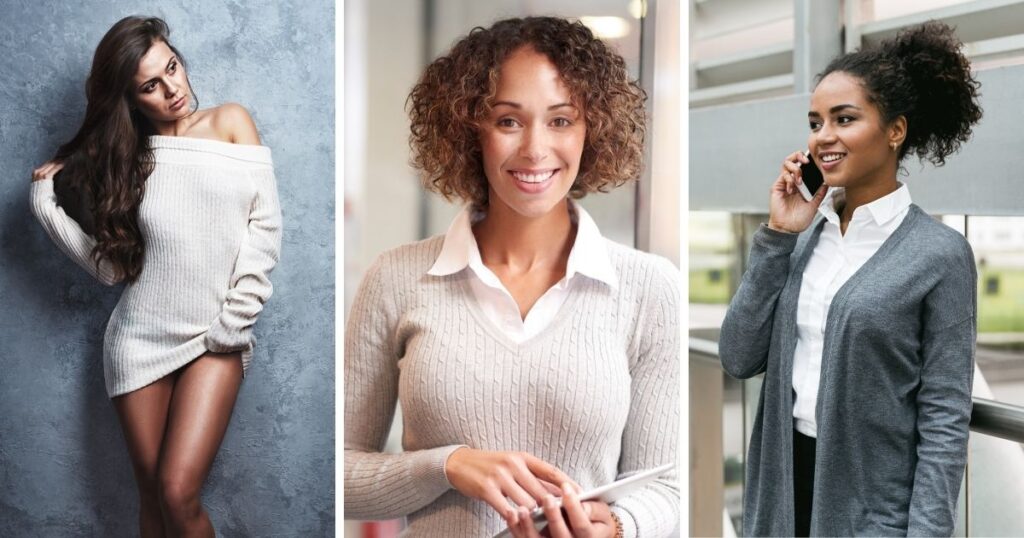 Cardigans are the keys to creating length in the body. Opt for minimalist longline cardigans, left open. Waterfall cardigans that cascade down the body through the hip also create length and add shape and fluidity.
Long, drapey cardigans are also a weapon in your arsenal, along with asymmetric ponchos. Always ensure the hemlines are at hip level or lower, otherwise, it will have the opposite effect and you'll look short and bulky.
Related Post: 11 Wardrobe Staples Every Woman Needs In Her Closet
Coats and jackets for apple shaped body
Structured jackets and coats are the best styles for an apple shaped body. Ensure the garment hem does not fall at the widest point of the body and avoid double-breasted styles. Collar openings and lapels that create v-shapes are your go-tos.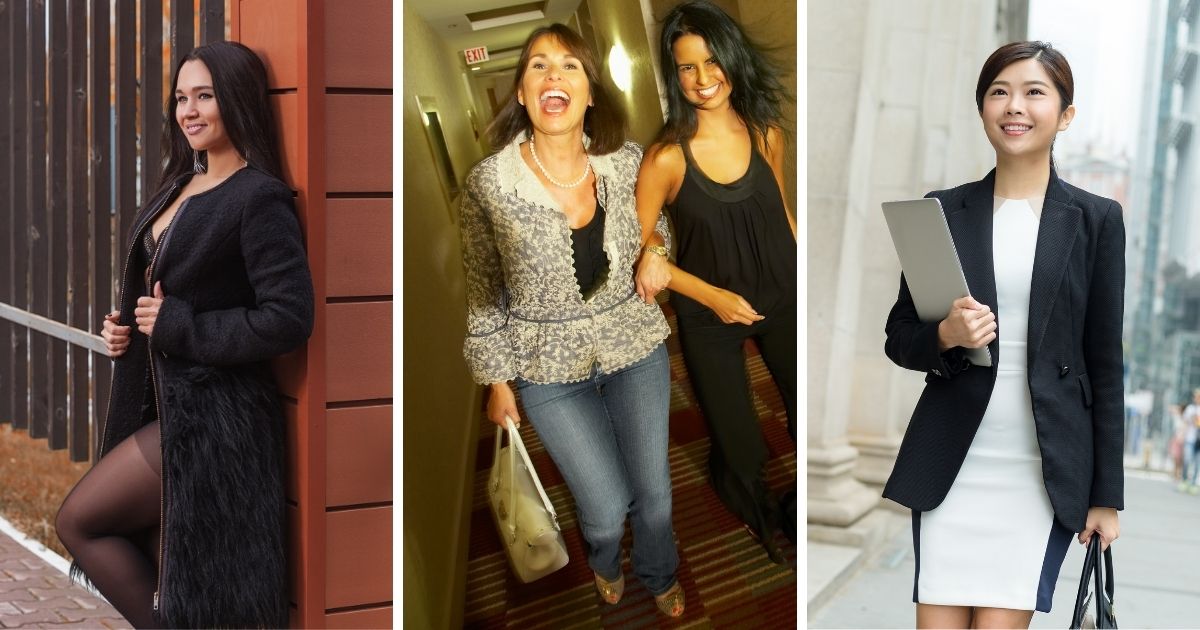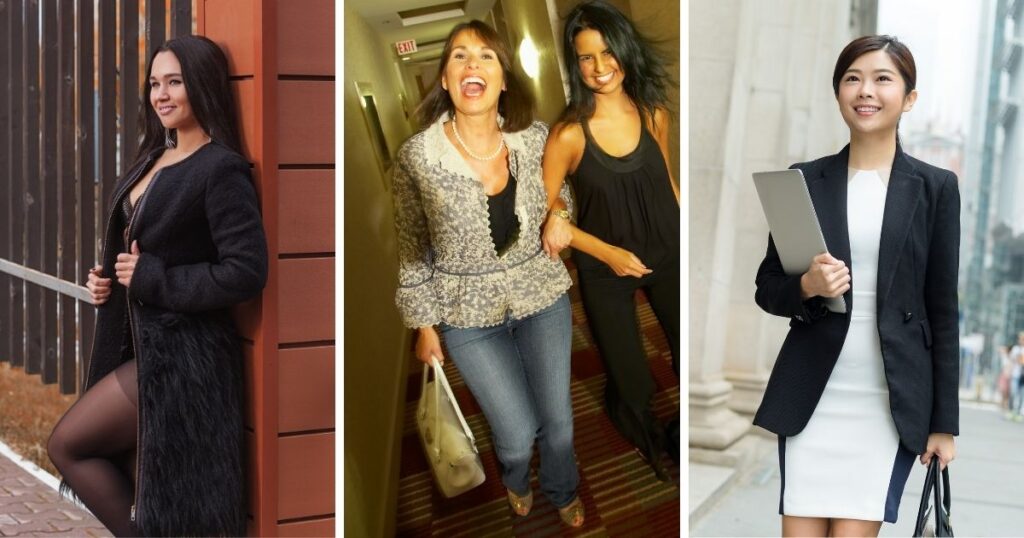 Choose a structured jacket that fits perfectly at your shoulders. This includes blazers, leather jackets, moto jackets, draped jackets, and jean jackets. The jacket should be slightly fitted or straight cut (e.g. no bomber jackets). Avoid belted styles on shorter jackets.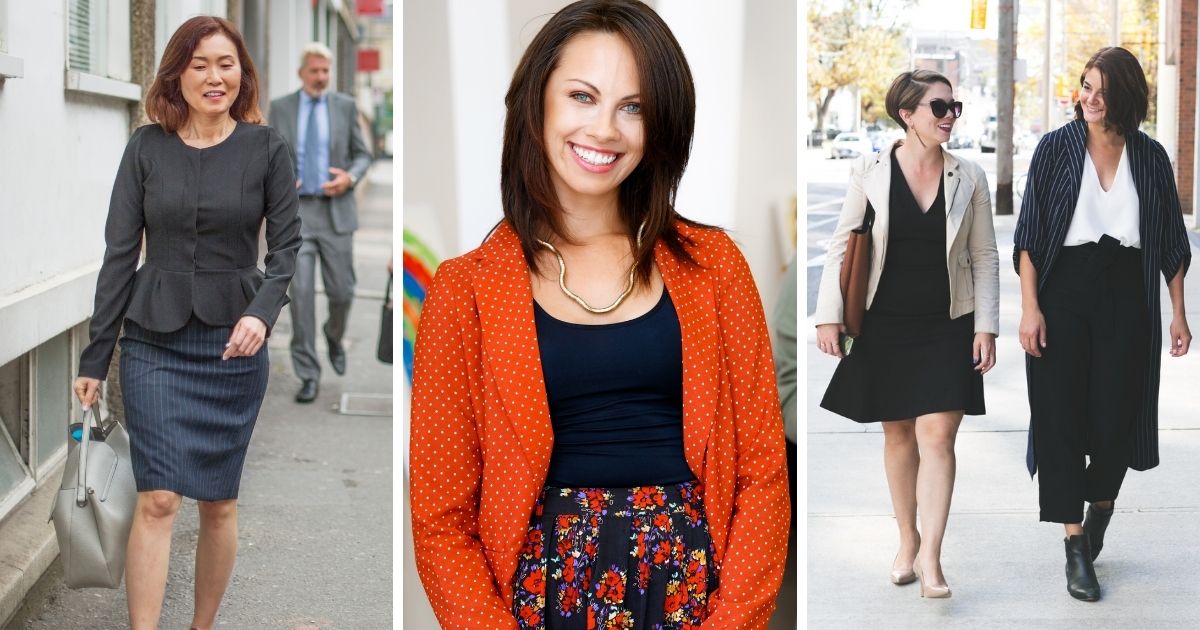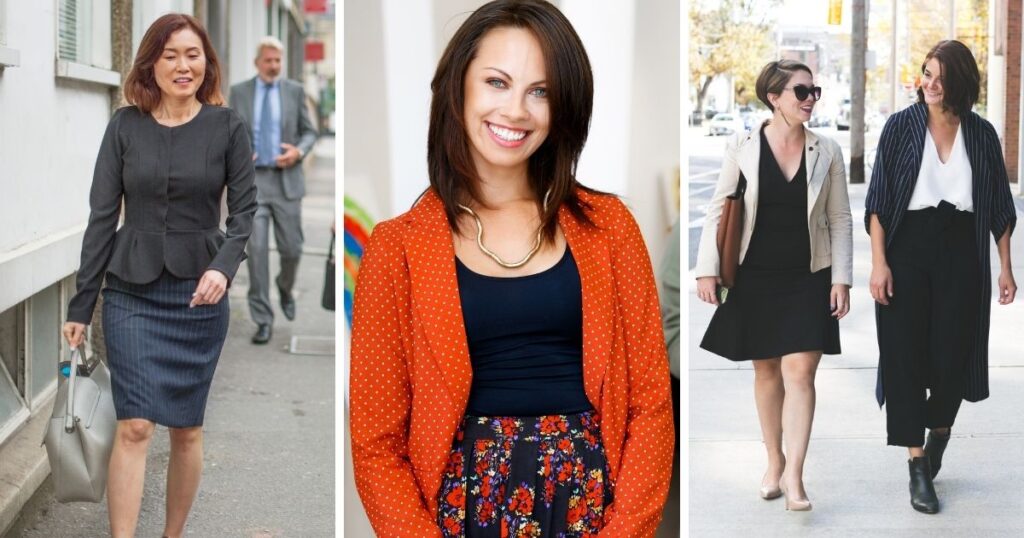 Opt for long coats that fall below hip length to elongate the body. Princess cut, a-line, and single-breasted styles provide a slimming effect. Belt long trench coats to add curves, but ensure the belt matches the color of the coat.
Asymmetric styles with a cutaway at the bottom hem, exposing your hips and legs help balance volume between your lower and bottom halves. Peplum at the hips adds the perfect amount of emphasis to a jacket or coat.
Cape coats are also beautiful on an apple-shaped body.
Related Post: Winter Wardrobe Essentials: 7 Key Items That Will Keep You Warm and In Style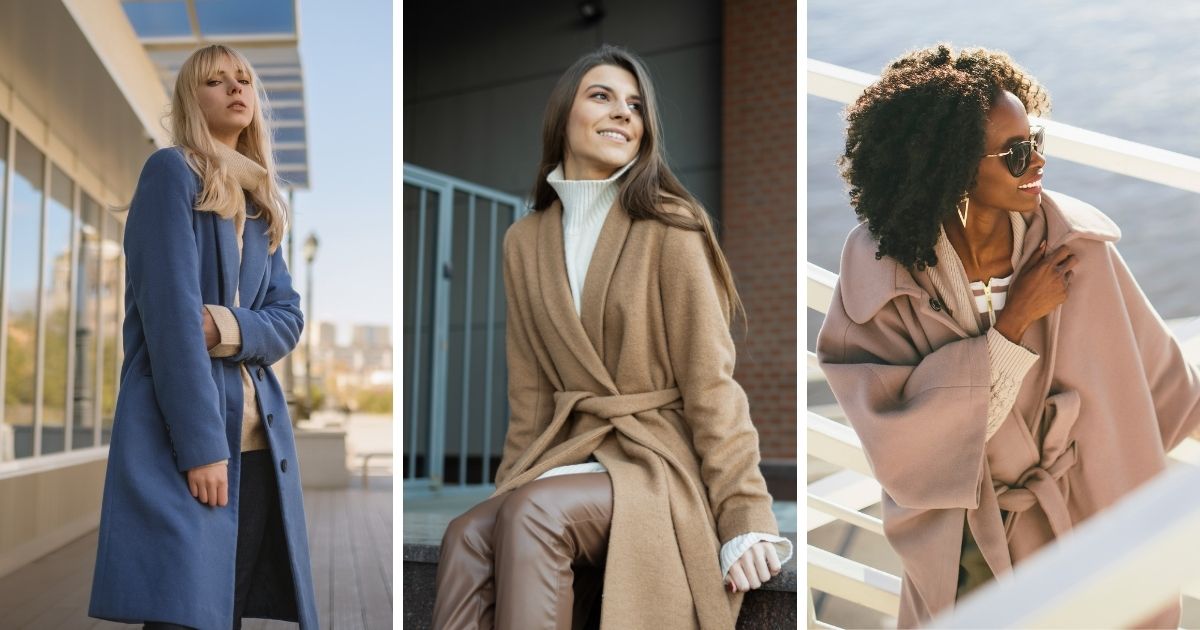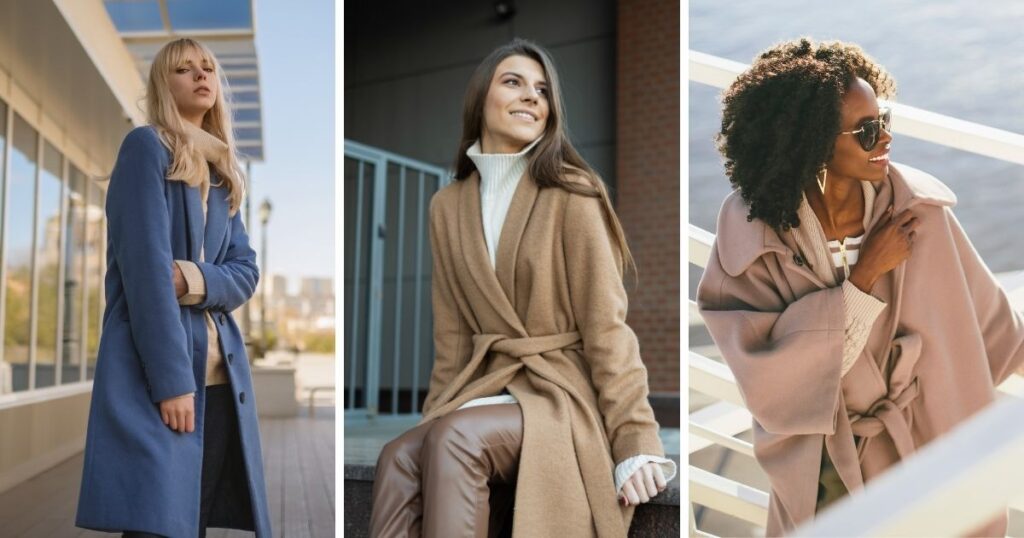 Shoes for apple shaped body
The right shoes for apple shaped body depend on the entire outfit. You can wear any style of shoe, but ensure it balances out with the rest of your body.
Long pants can be paired with any shoe, but a heel, wedge, or platform will create additional length. Avoid lug soles with long pants as that's too much volume on the bottom. For example, if you're wearing wide-leg trousers, go for a streamlined style like a heeled Chelsea boot.
Related Post: What To Wear To Work | 5 Workwear Trousers That Will Complete Your Office Wardrobe
Wear shorts or short skirts and dresses with strappy heels, sandals, or ballet flats to show off slender ankles. Slim tall boots with a lug or platform sole help balance the weight on your bottom half but should be worn with a pair of tights to match the color of the boot, so your legs don't look shorter. Ensure wrap-around ankle straps don't make your legs look shorter and opt for a color neutral to your skin tone to prevent this.
Pair leggings and skinny jeans with sneakers, slouchy boots, or chunky loafers to balance proportions.
Pair longer skirts and dresses with streamlined flats, mules, wedges, platforms, tight boots, sandals, and pumps. No chunky or slouchy styles here.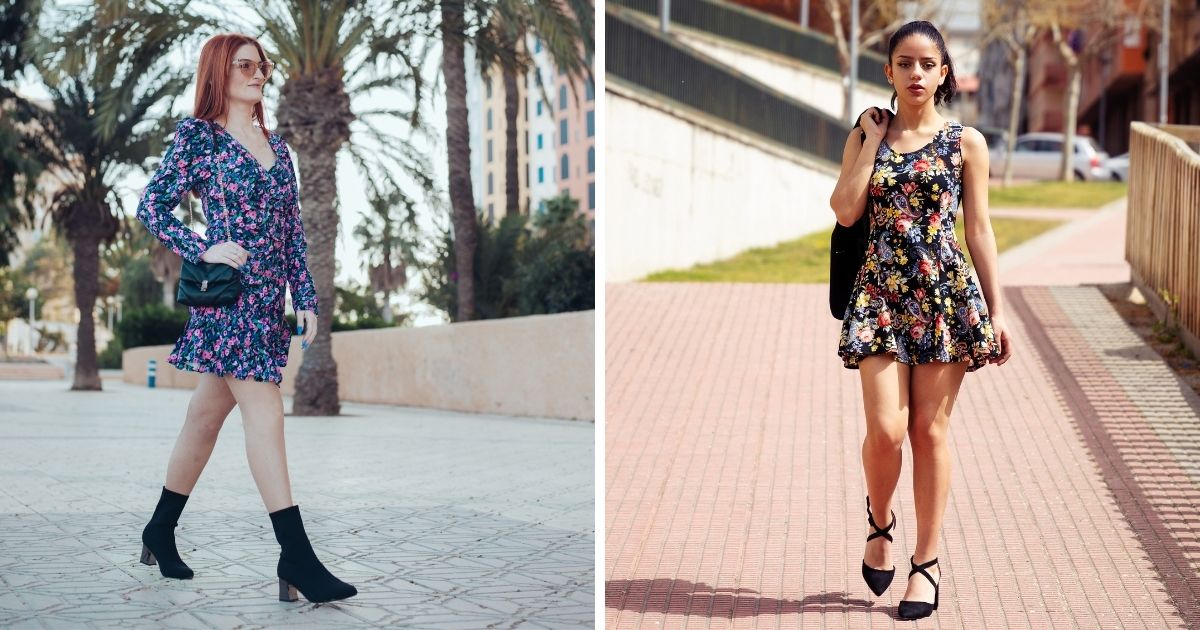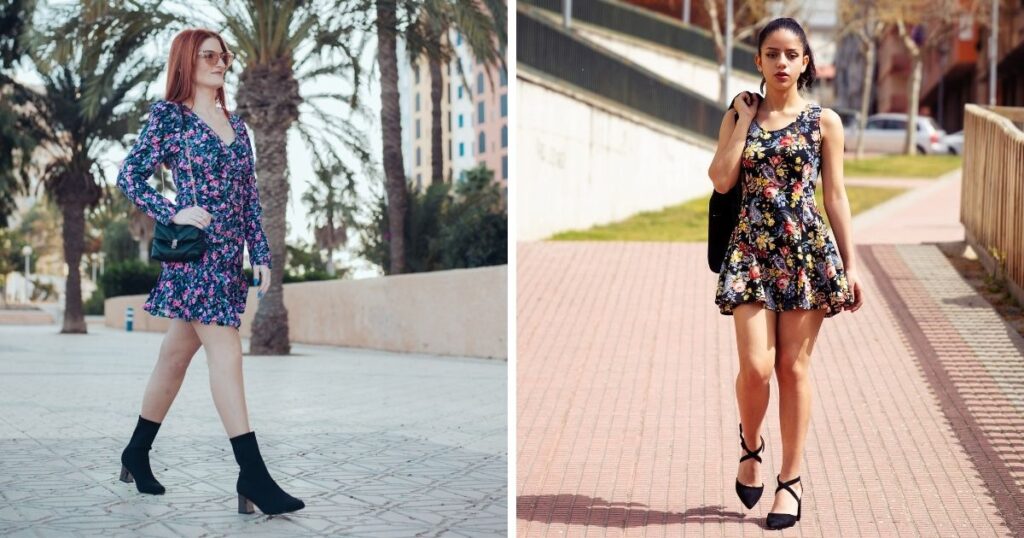 Accessories for apple shaped body
Accessories for apple shaped body look best when they draw the eyes away from the midsection. Try statement earrings, big sunglasses, headbands, and hats.
The best bags for an apple shape are structured, medium-sized, and can be worn on the arm. Top-handle bags and tote bags are perfect. Small rectangular bags with a long, thin strap (e.g. chain strap) that hit at your waist are also a good choice. And lucky you as these are the most elegant and classy of all handbag styles! Avoid shoulder bags and cross-body bags that draw attention to the midsection and make you look wider. Don't hold a clutch under your arm; instead, carry it in your hands.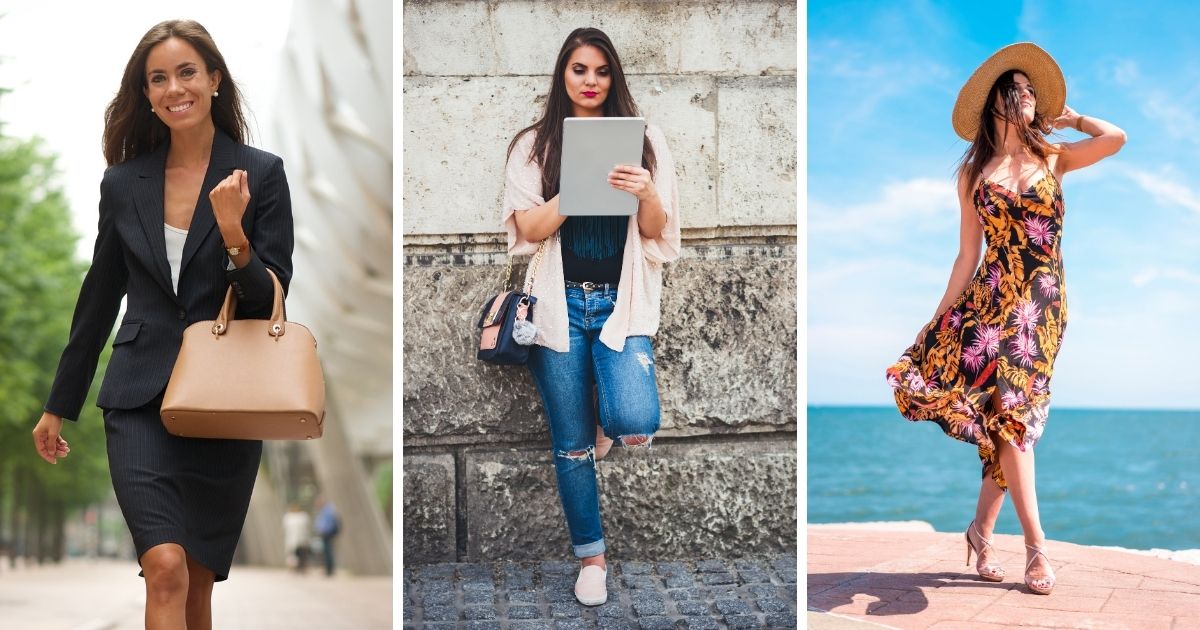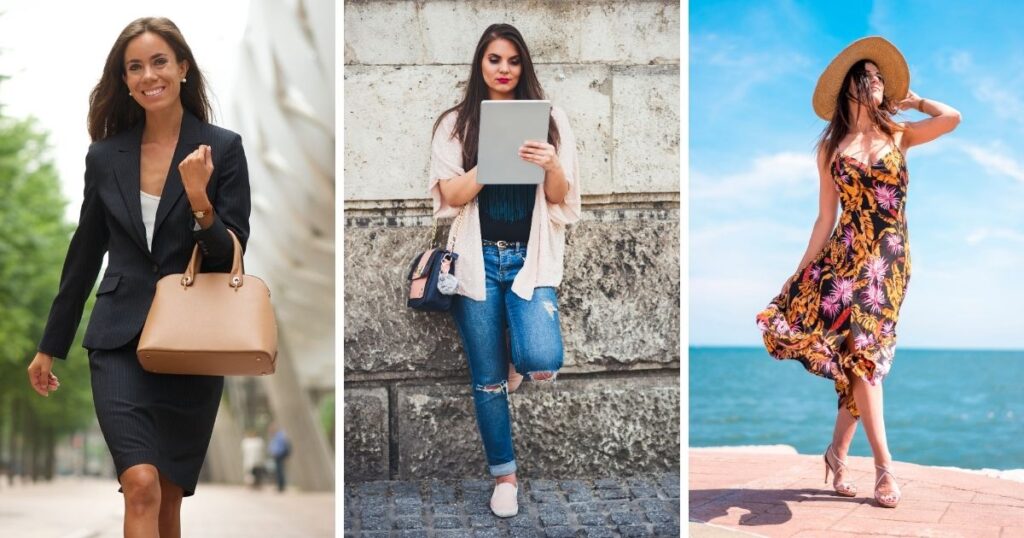 Long flowy scarves create length and long lines. Avoid neck scarves as they add too much volume up top.
Keep shorter necklaces on the dainty side unless you have a wide open neckline, then you can add a statement necklace. Avoid long necklaces if you have a big belly.
Rings, watches, or bracelets are perfect when showcasing bare arms.
This post was all about what to wear for apple shape
Related Posts: