What are the best styles for pear shaped body? These looks for pear-shaped women are all about flattering your body without being restrictive!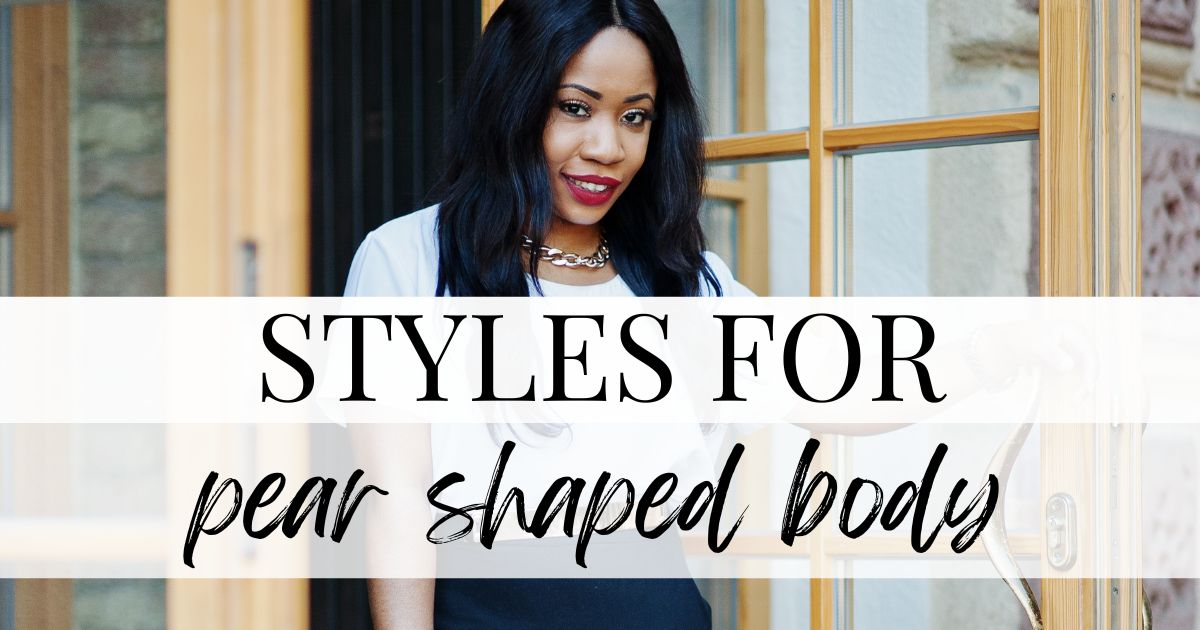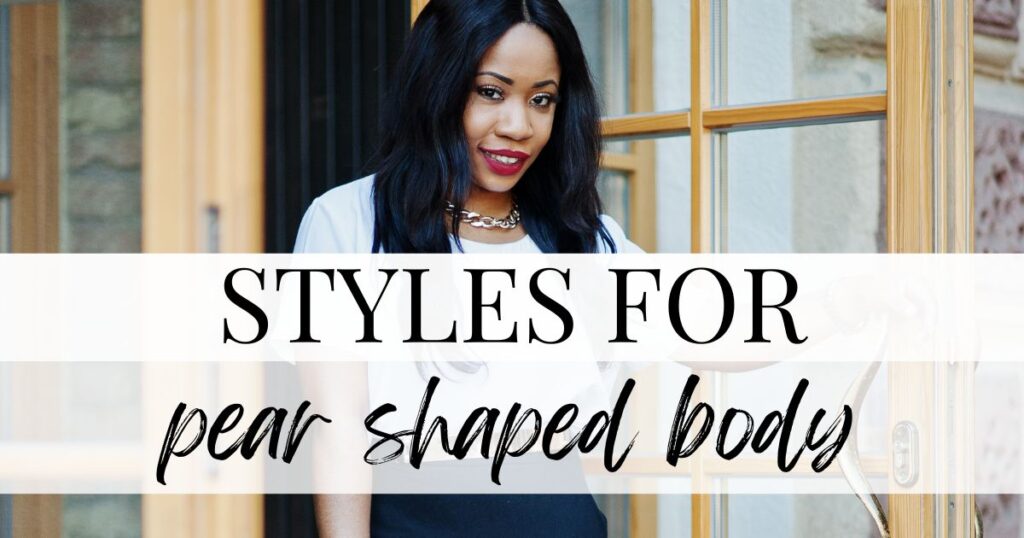 The best styles for a pear shaped body work with your beautiful curves and balance out the volume on your top half. It's not always about the specific clothing you choose, but how you style your outfits to create a cohesive look.
Whether you want to highlight your curves or balance them out with the rest of your body, these style tips for pear-shaped women will help you master how to dress for your body type.
This post is all about styles for pear shaped body.
Best Styles For Pear Shaped Body
What Is A Pear-Shaped Body?
Before diving into the styles for pear shaped body, let's answer the question: what is a pear-shaped body?
A pear-shaped woman carries the most volume in her hips and upper thigh area, which is wider than her waist, bust, and shoulders. If you trace this body type, you get a silhouette resembling a pear shape (thus the name). The pear body shape is also known as a triangle, which is a bit of a misnomer because pear-shaped women definitely have curves!
The narrow shoulder, bust, and upper waist areas curve outward into larger hips and thighs. The legs of a pear-shaped woman can be muscular or simply carry more weight than her slender arms. Her waist may be defined due to the curvature of her hips, but she may carry some weight in her lower abdomen. Weight gain typically happens in the hips and thigh area first.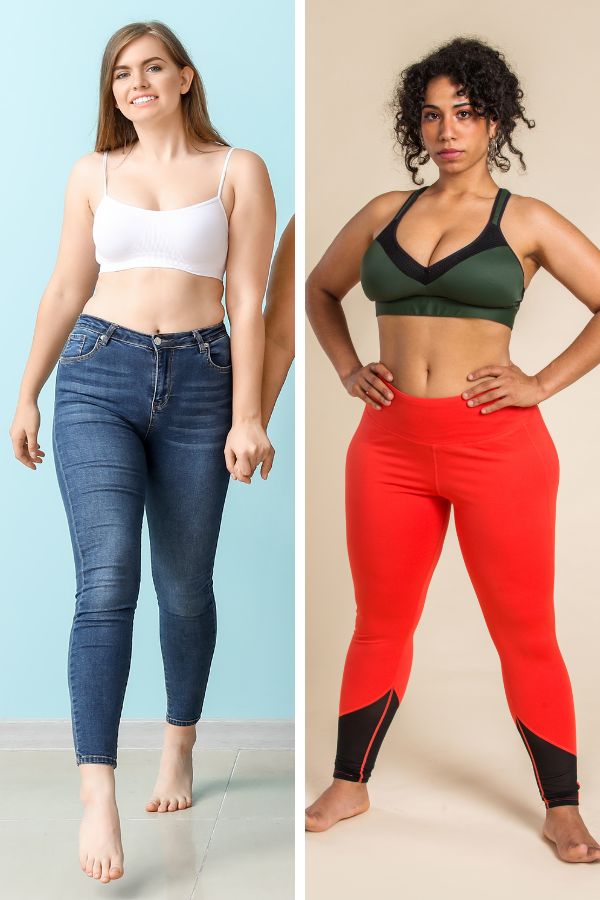 Pear-shaped woman can be petite, average, plus-size, and everywhere in between. Their curves can be quite dramatic or very slight, but what's common among pear-shaped women is that the volume and weight gain are always focused on the hips and upper thigh area. This is because all female body shapes are based on bone structure and the way the body naturally distributes weight.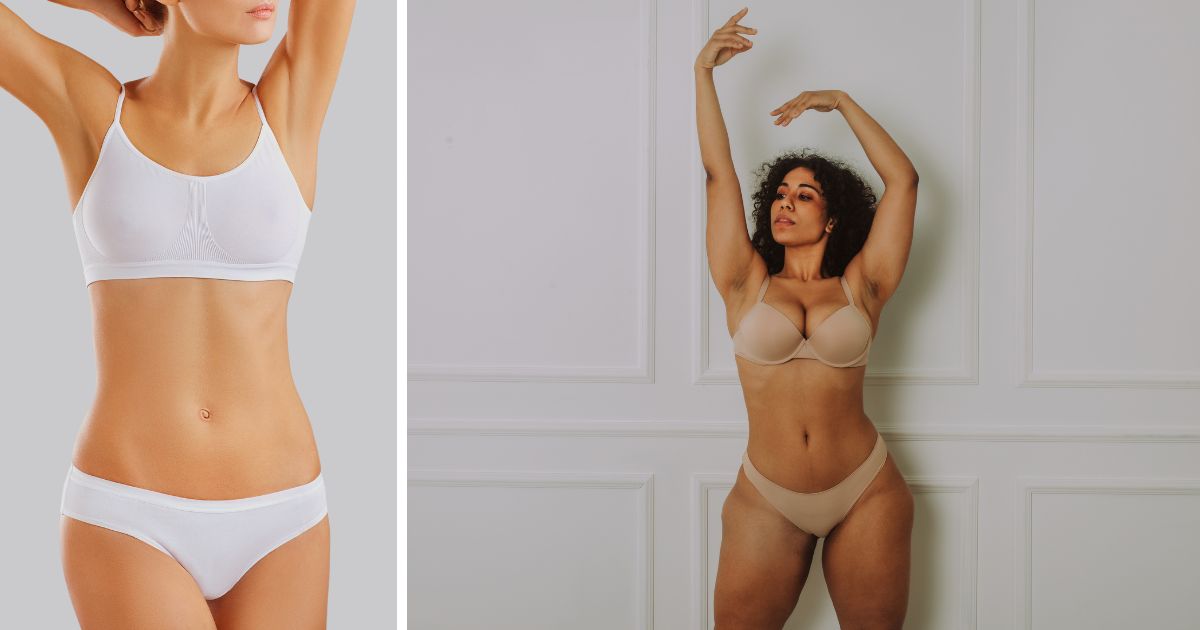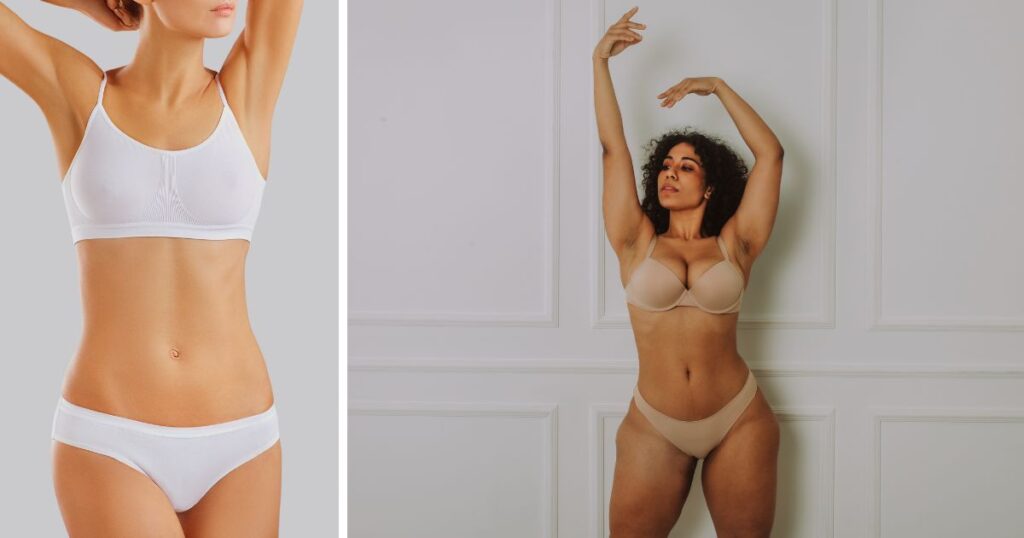 A very slim pear-shaped woman might look like an hourglass, if she has a larger bust. However, as she fills out into her natural figure, the true pear shape will emerge. Pear shapes can have a very defined waist or less-defined depending on where their natural curves begin. No pear shape is the same (as is no body shape the same), which is why it's important to study yours when learning how to style clothes.
How To Dress For Pear Shaped Body
Now that we've covered the characteristics of this body type, let's move on to how to dress for pear shaped body. The emphasis for dressing a pear-body shape is based on the goal of the look you want to achieve. Do you want to emphasize your curves or do you want to balance your volume? A little bit of both?
Let's break down the different methods:
Method One: Emphasize Curves
The best way to emphasize your curves is by showing off the natural curvature of your body through form-fitting styles that don't minimize or hide your silhouette. You're probably familiar with a few famous pear-shaped sisters who've mastered the art of emphasizing their curves.
This look is achieved with stretchy materials and body-hugging styles that move with your curves and keep their shape. Waist belts cinch the waist and create further curve emphasis.
We'll discuss all the ways this can be done with different styles. However, if this approach doesn't fit with your style aesthetic or lifestyle, there are other ways to dress a pear-shaped woman.
Method Two: Balance Proportions & Volume
Balancing proportions or volume is a great approach to dressing a pear-shaped body because it helps to redistribute the weight from your hips and thighs to the other areas of your body. While method one has your hips as the star of the show, this method allows you to showcase other parts of your body and outfit. This creates more outfit fluidity and a balance of proportions if you want to look less bottom-heavy.
Achieve volume balance through certain styles of clothing, fabrics, and accessories that create volume in the top half of your body. Proper placement of vertical and diagonal lines creates the illusion of length, minimizes curves, and establishes fluidity in your look.
Colors also help achieve volume balance on your top half or lower half. Dark colors minimize volume while lighter colors add volume. Loud prints also add volume when styled correctly. A monochromatic look elongates the body while also balancing volume, especially with a darker color.
Related Post: 3 Personal Style Tips To Consider Every Day
Tops For Pear Shaped Body
The best tops for pear shaped body depend on the look you want to create. Decide if you want to enhance your natural curves or whether you want to balance proportions or volume.
Enhancing Curves With Tops
The first way to enhance your natural curves is with a form-fitting top that's tucked into your bottoms or the hemline is at or above the hemline of your pants or skirt. Don't stretch or pull a tight top over your pants as that will detract from your natural curves if the hemline of the top stops below your natural waistline.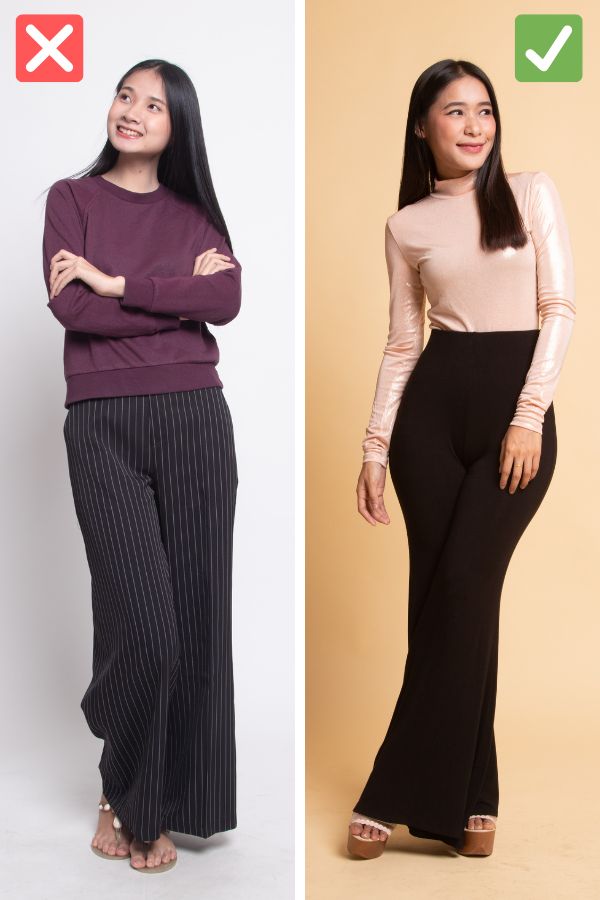 High necklines such as turtlenecks and mock necks emphasize the gentle curves on your top half. If you have a short torso, opt for a top that lengthens your upper body such as a slim-fitting turtleneck with a dangly pair of earrings. Thin horizontal lines add both volume and balance to curves. Lightly puffed, padded, or ruching at the shoulders is great to balance out the tightness of a top.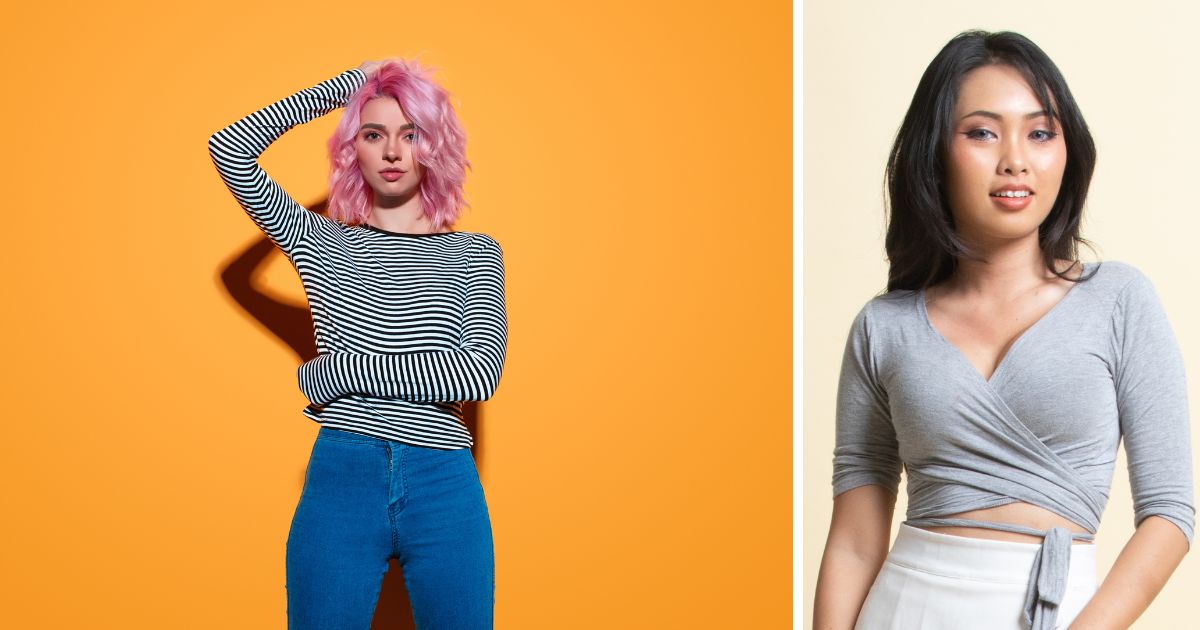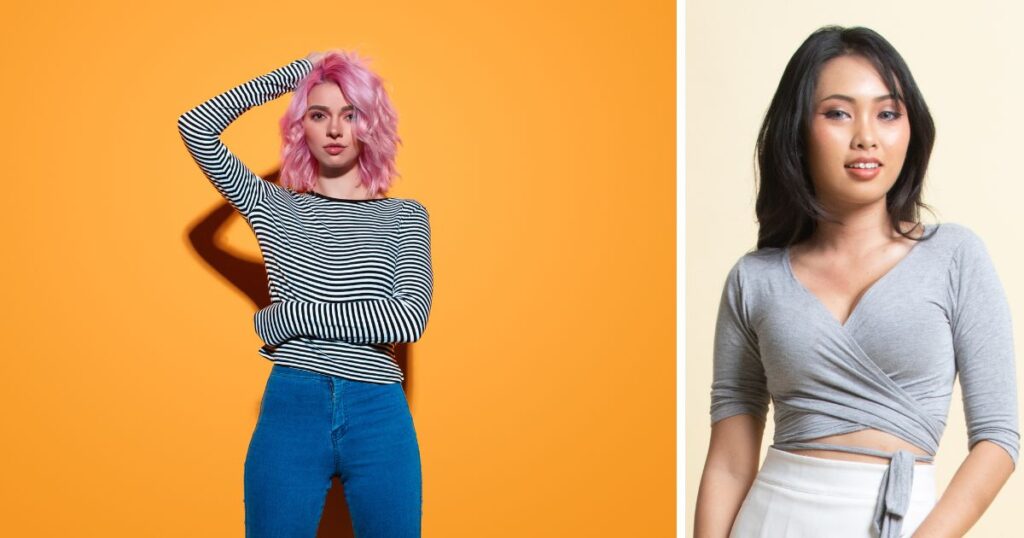 Create additional curves by drawing attention upward and out, toward your shoulders. Puff sleeves, cap sleeves, flutter sleeves, dolman sleeves, and structured shoulder tops are perfect for this.
Styles for pear shaped body include wide necklines such as bateau, ballet, boatneck, sweetheart, off-the-shoulder, and square neck tops draw the eyes up and out.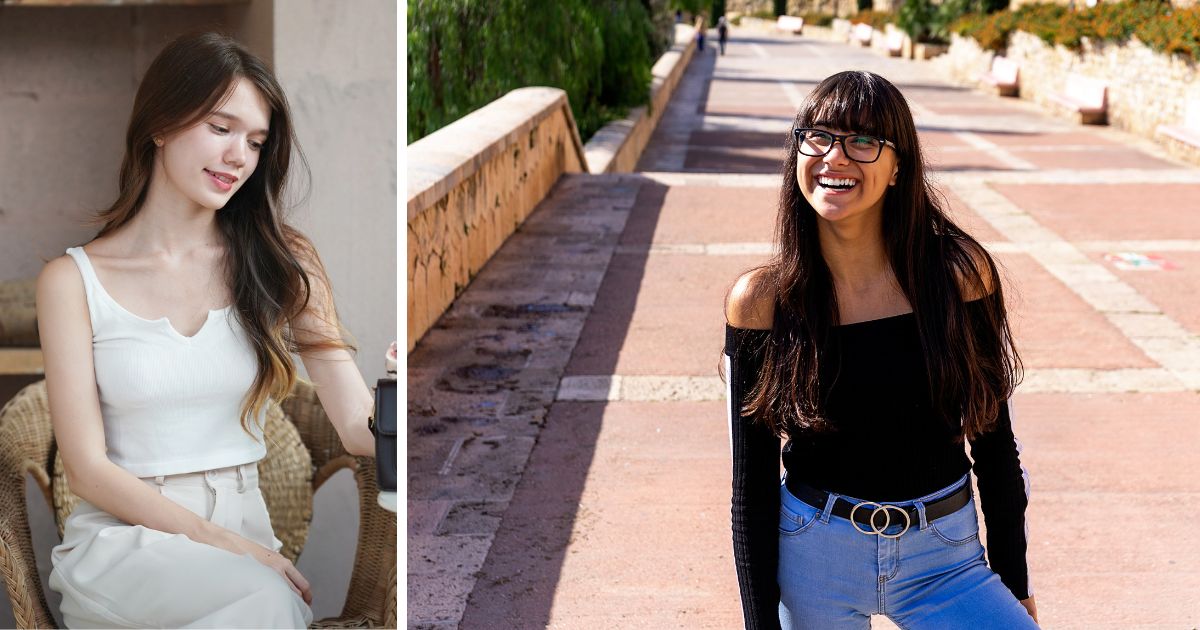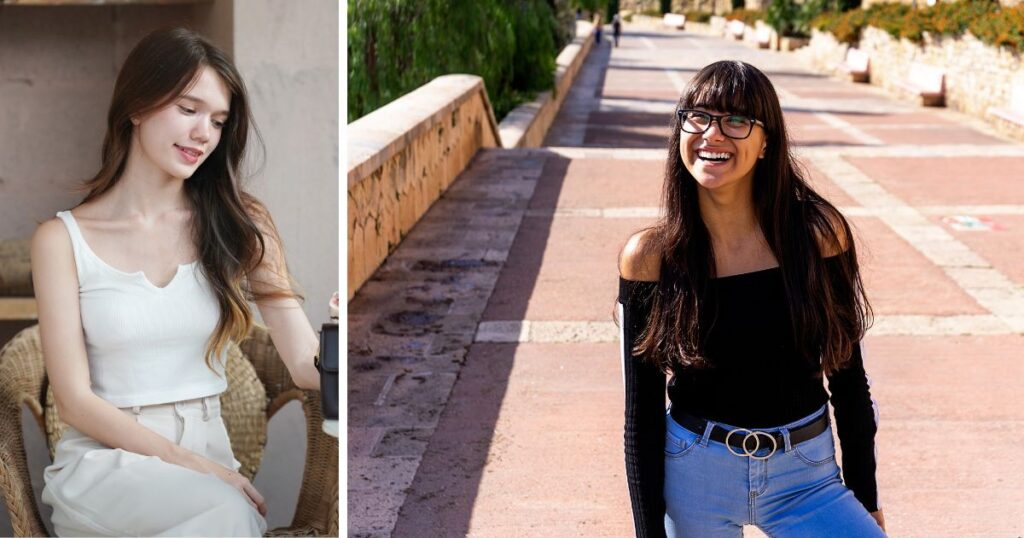 Avoid form-fitting tops that draw the eyes inward toward the center of your body, which overly enhances your curves (extremely off-balance top half and bottom half). Skip v-necks with thin straps or thin necklines, halter tops with thin straps, and tight tube tops.
Balance Volume with Tops
Balance volume with your tops by opting for any of the following: lighter colors, bold patterns, shoulder embellishments, neckties, or puffed sleeves. Cowl necks are a great way to add volume without additional embellishment.
Essentially, you add volume to your bust, neck, or shoulders so a shape similar to an hourglass is achieved. Depending on the strength of your natural curves, you might come close to an hourglass if you add enough volume on top. An hourglass shape is not the end goal; a balanced look on top and bottom is what you want.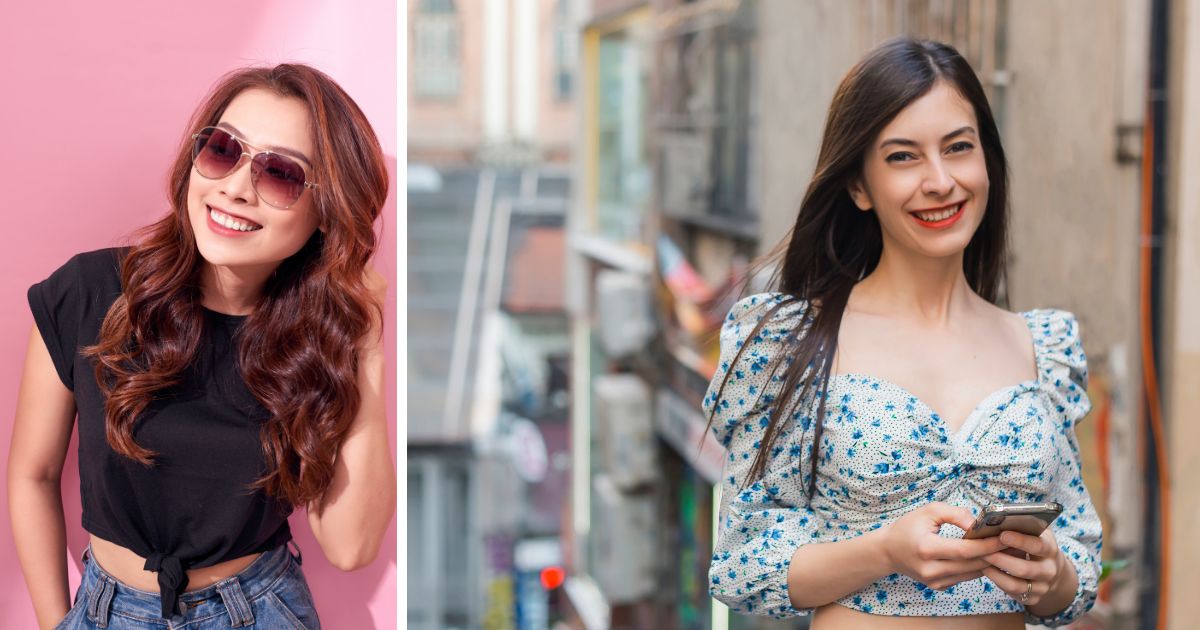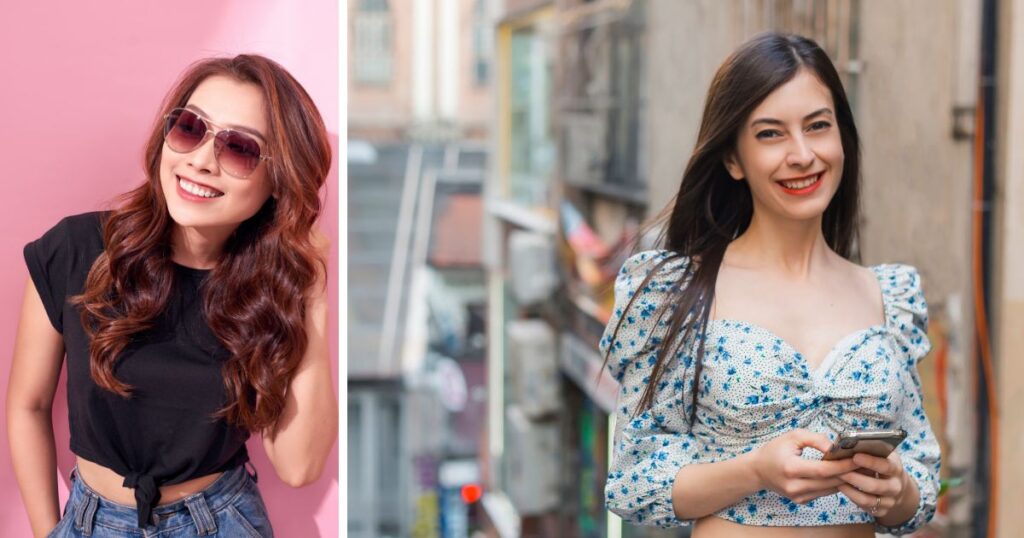 Balance for a pear-shaped body requires the waist to be cinched, so three sections are emphasized: shoulders or bust, waistline, and hips. Wrap-style tops and other tops that tie at the waist are perfect. Avoid boxy and oversized tops because that will take away any shape and minimize your natural curves (AKA frumpy). Tuck your tops all the way in and avoid a French tuck or half tuck which can bunch up at your hips.
Related Post: Fashion Tips And Tricks | 8 Super-Chic Ways to Style Up Your Basics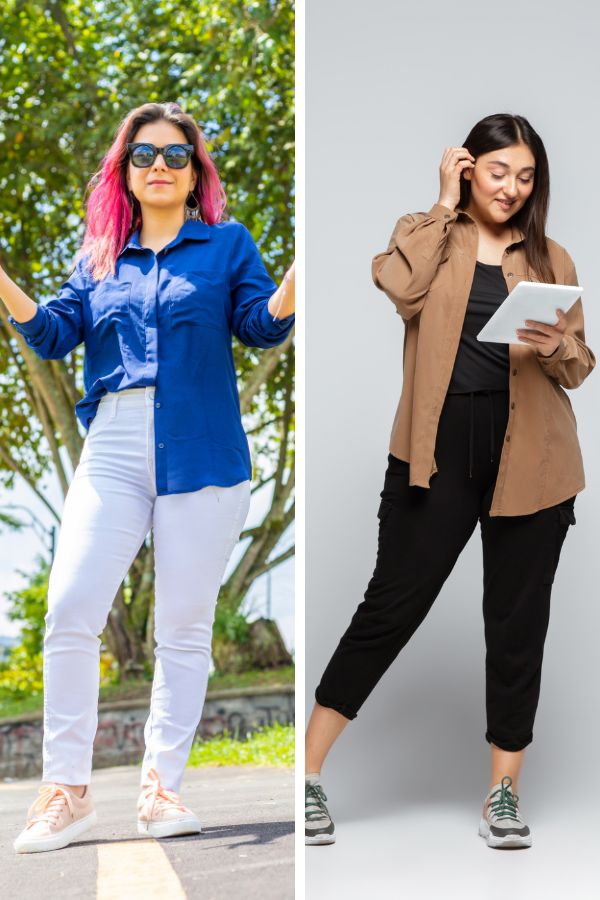 If wearing long sleeves, choose fitted sleeves, 3/4 sleeves, or styles that taper in at the wrist such as on a collared shirt. Avoid bell sleeves and dramatic blouson or bishop sleeve tops.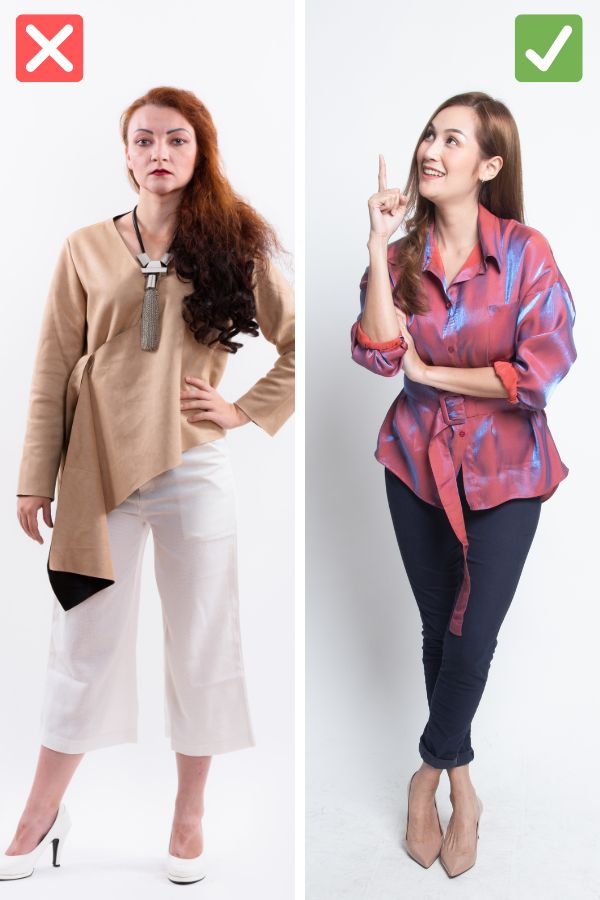 Dress Styles For Pear Shaped Body
Let's continue our theme of choosing to emphasize curves or balance volume with dress styles for pear shaped body.
The best dress necklines draw the eyes upward and outward, towards the shoulders. Avoid styles that draw the eyes inward, such as halter styles, tight tube dresses, and thin straps.
Dress hemlines depend on the characteristics of the woman. If you carry a lot of weight in your thighs, you may opt for hemlines that are knee-length or longer to draw the eyes downward. However, a fuller skirt or more structured style will work for a shorter dress.
The fabric of the dress should drape nicely over your body as opposed to bunching or getting stuck around your hips or backside (sorry, no shift dresses ladies!). Avoid loose fabric that clings and overly structured fabric that adds too much weight to your bottom half (e.g. heavy pleats, empire dresses, tent dresses, or trapeze dresses). Steer clear of embellishments around the waist such as pockets, drop waists, and heavy peplums as that adds volume to your hip area throwing your look off balance.
Let's dive into the best styles for pear shaped body.
A-Line Dresses For Pear Shape
The A-line dress is a classic style that works for so many body shapes, especially a pear. The dress is cut in the shape of an A that is semi-fitted to fitted on top, with the skirt gently flaring out from the waist down. Look for a style with an obvious waist definition or that cinches with a tie or belt. Structured shoulders and embellishments on your top half help to balance volume.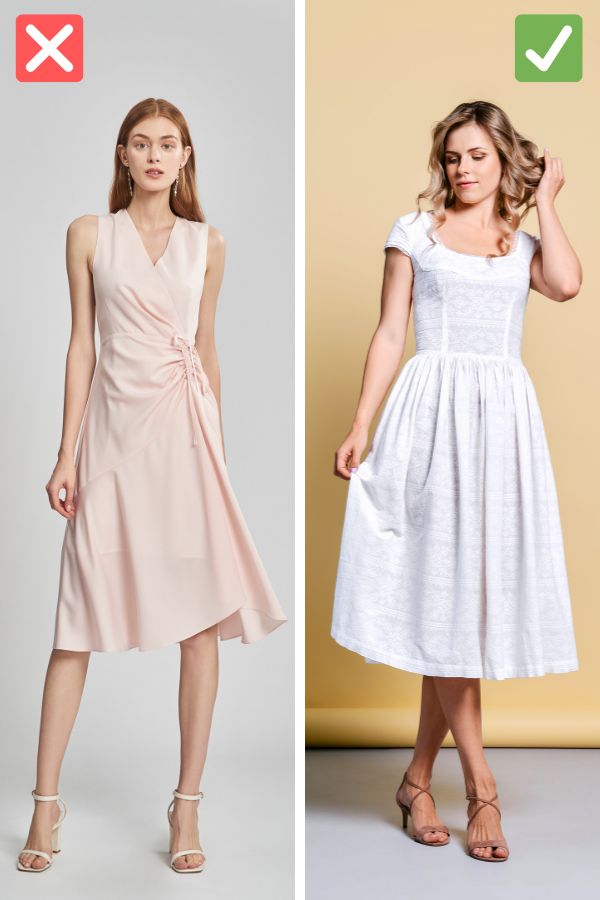 Ensure there's enough fabric and flow in the skirt to drape over your hips, but not in excess so there's no overflow of volume. This style of dress shouldn't be tight, clingy, or too bulky around the hips.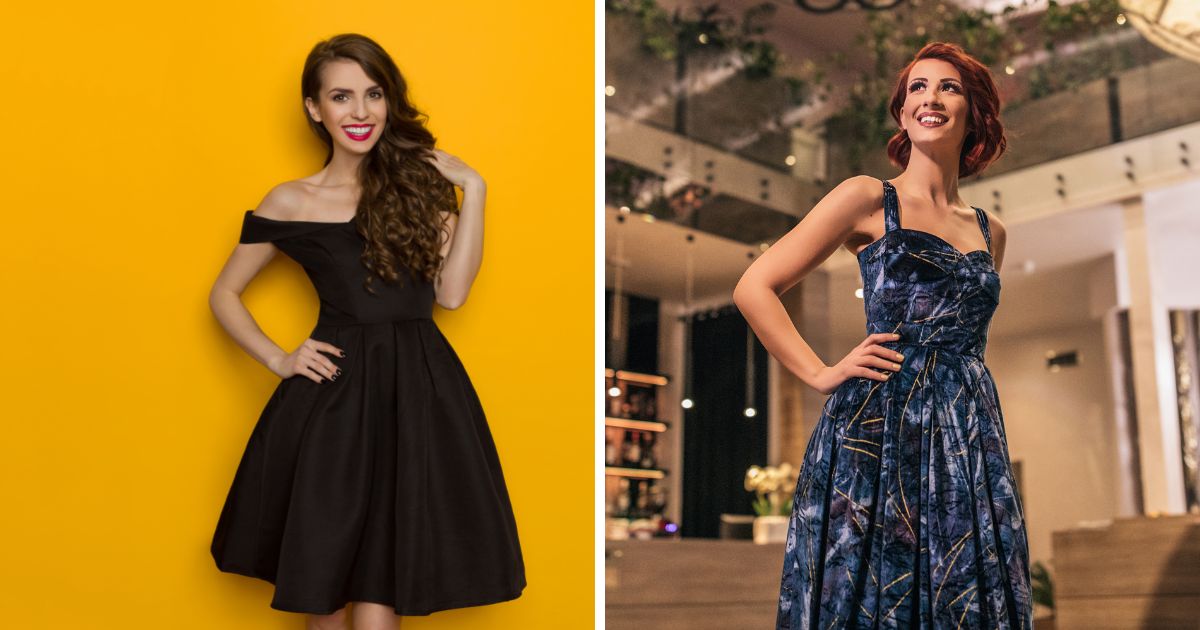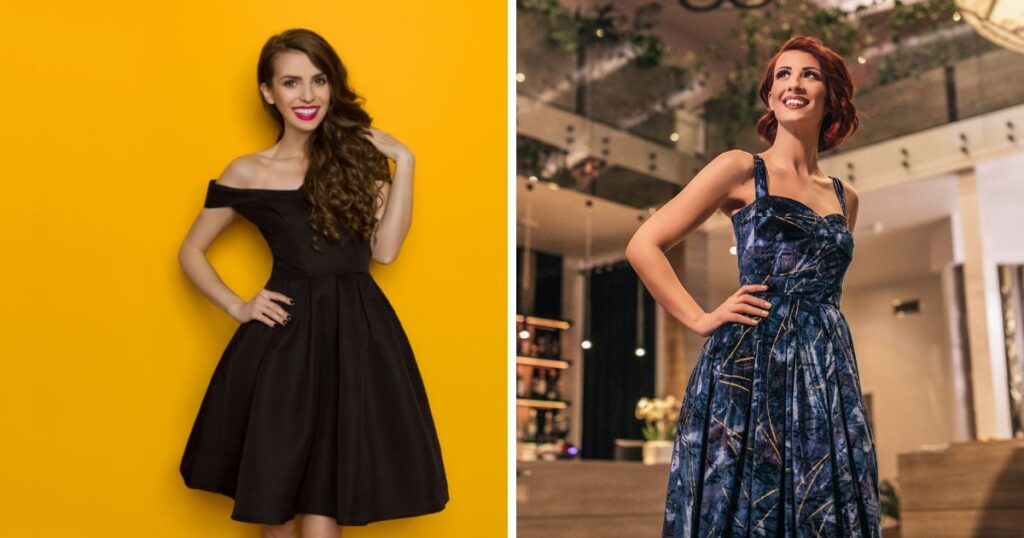 Evening Gowns For Pear Shape
The best style of evening gowns for pear shape is an A-line silhouette. Avoid mermaid-style gowns that over-accentuate your bottom half, plus the train may give you a bottom-heavy look.
X-shape silhouettes are beautiful and help distribute volume on top and bottom.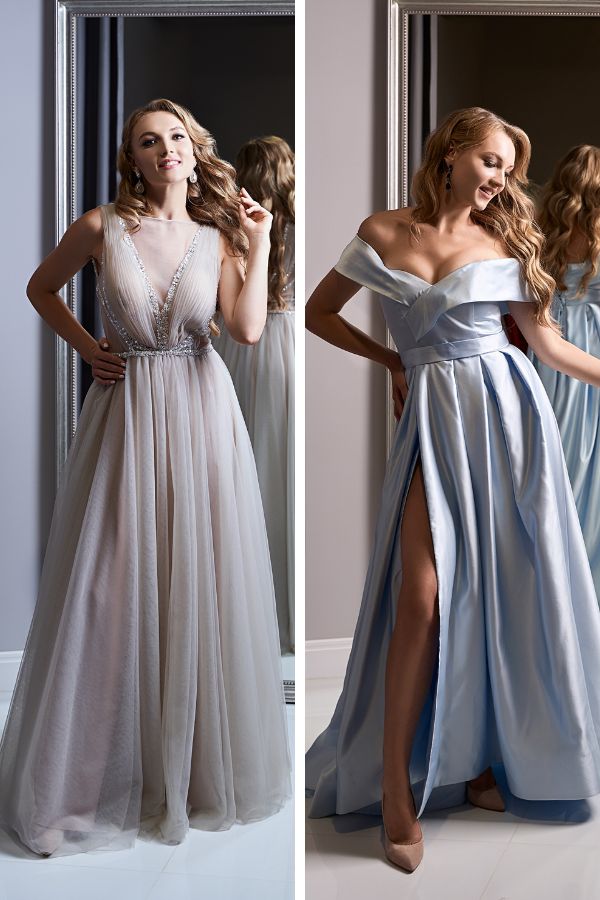 Related Post: What To Wear To A November Wedding
Fit And Flare Dress For Pear Shaped
The fit and flare dress is similar to an A-line dress, but always fitted in the bodice and has a more dramatic flare over the hips. Ensure your dress flares out from the mid-waist and not lower.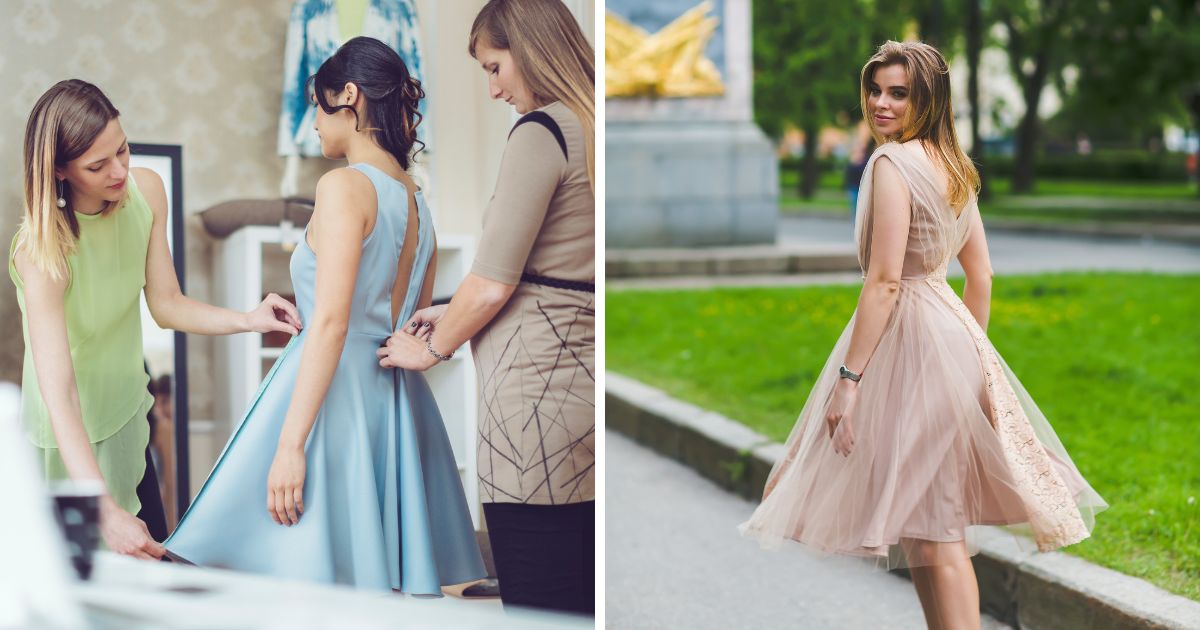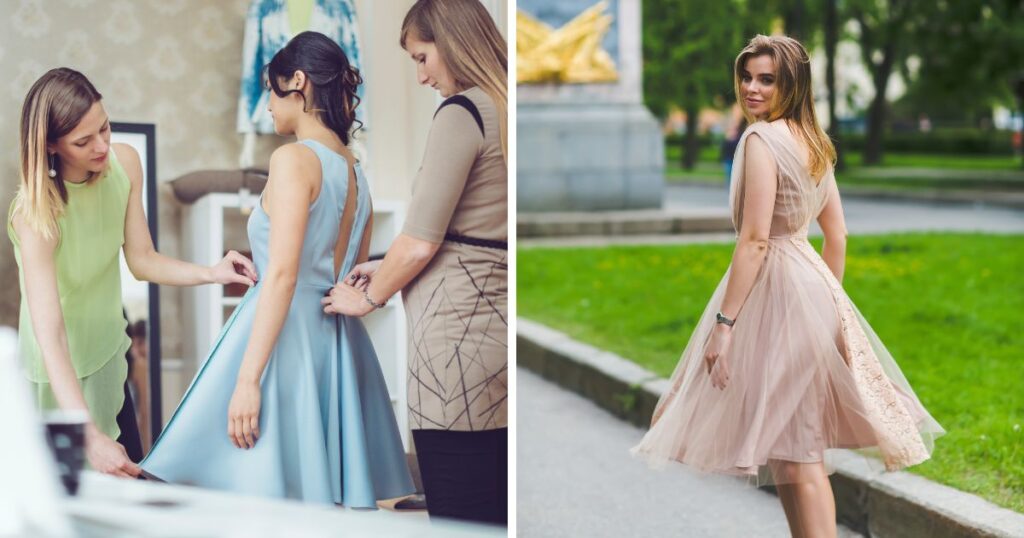 Wrap Dress For Pear Shape
A wrap dress essentially gives an A-line silhouette in a more comfortable style. Short-sleeve wrap dresses give the perfect balance between the volume on top and bottom. Ensure the wrap is around your mid-waist and cinch it tight.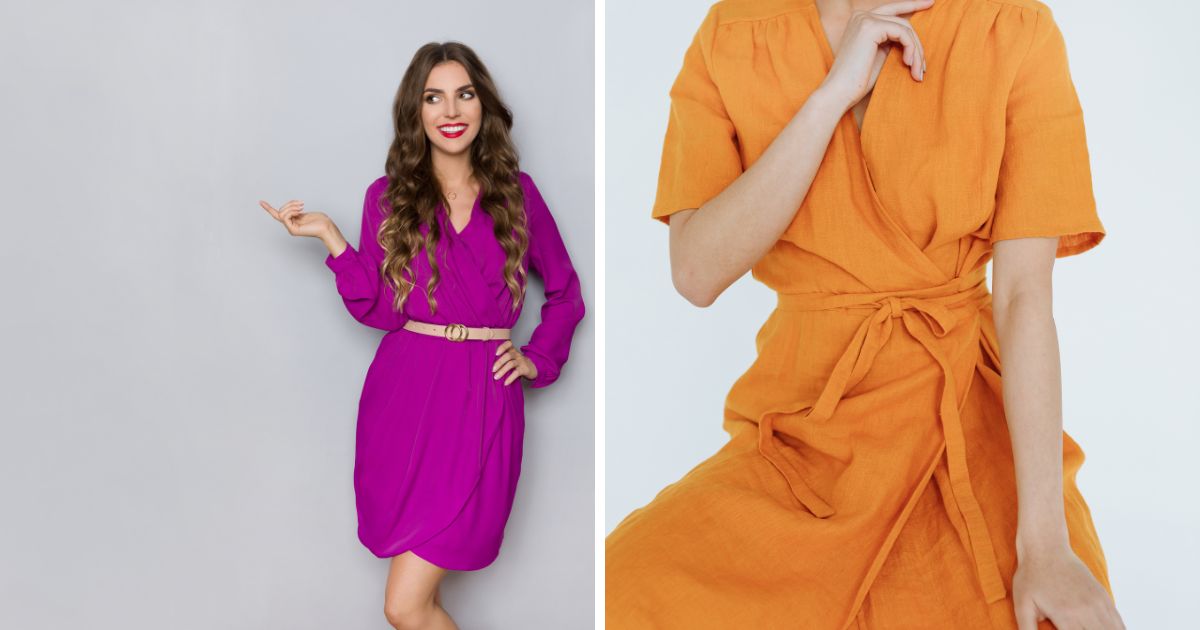 Fitted sleeves and a bodice in a floral print are a beautiful way to add volume while the wrap cinches the waist and effortlessly falls over the natural curves.
Shirt Dress Pear Shape
A shirt dress cinched at the waist is similar to a wrap dress in that it gives an A-line shape. Avoid clingy fabrics and opt for either a crisp cotton poplin that will drape over your curves or luxurious silk that will glide over your curves. An asymmetric hemline will break up the volume on your bottom half.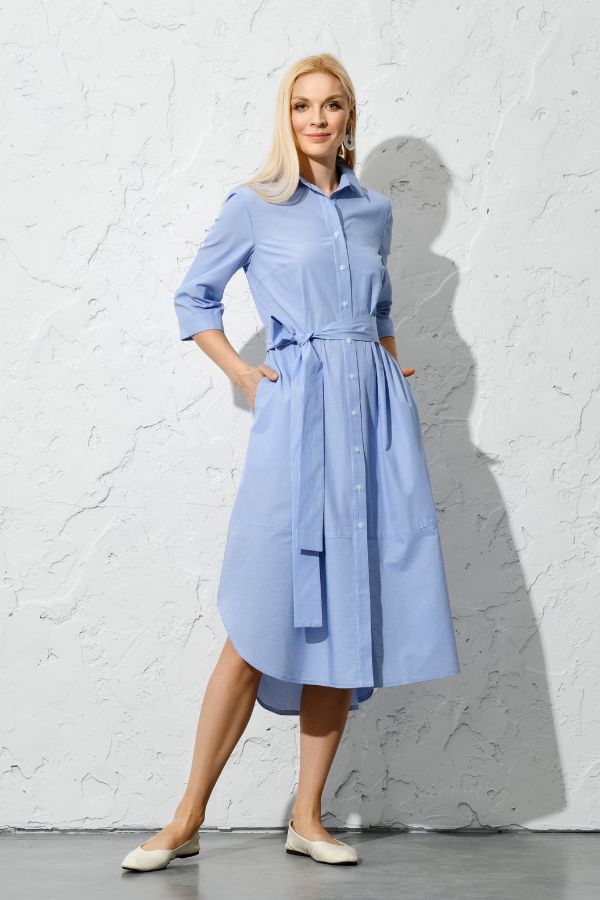 Can A Pear Shape Wear A Sheath Dress?
Great question, especially for those ladies who want to show off their natural curves! The answer is yes, but you'll have to shop around. Look for a sheath dress in a stretchy fabric that's not too restricting on your bottom half. Opt for a style with sleeves that extend upward and outward, in a "V" shape. Banding at the waist also helps emphasize curves.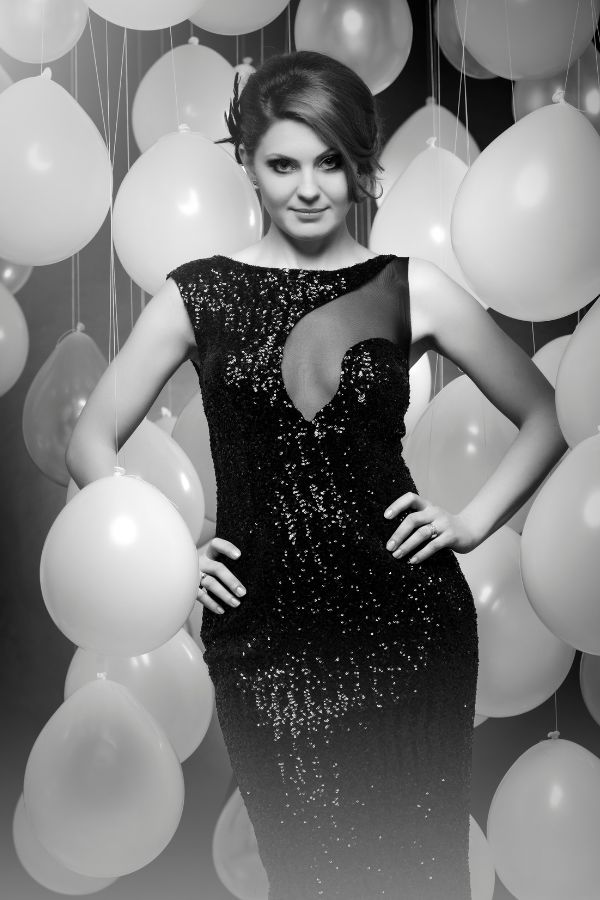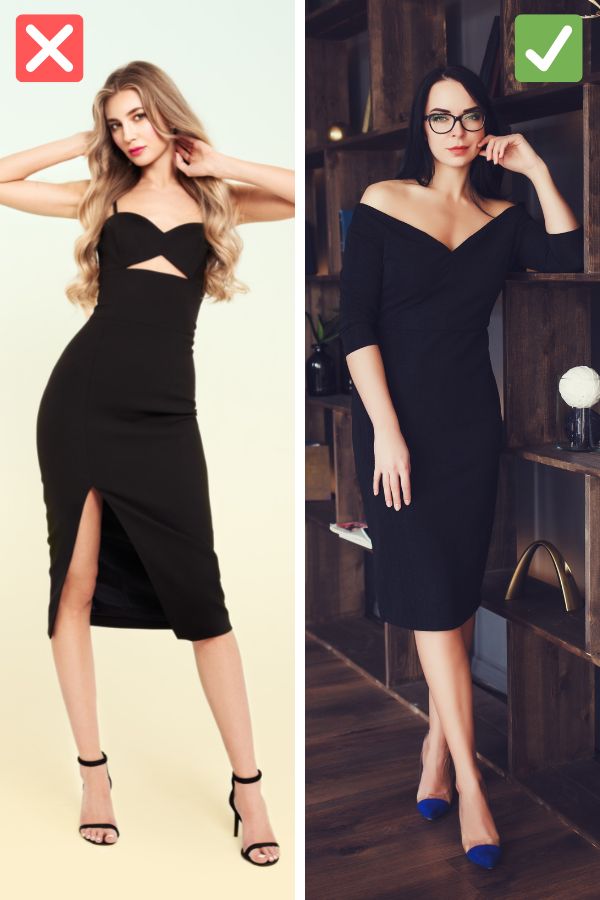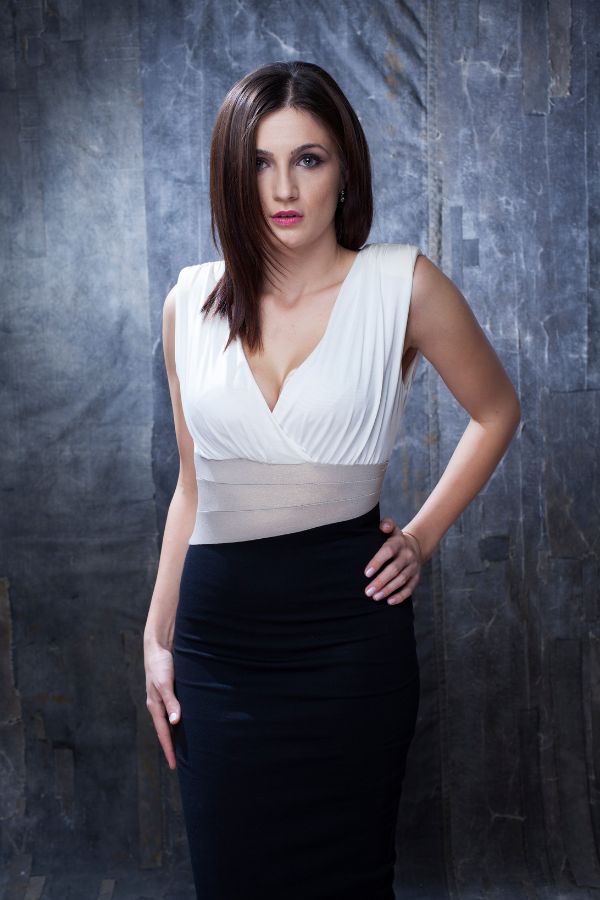 Maxi Dresses For Pear Shaped Body
Maxi dresses are beautiful on a pear-shaped body. Opt for styles that cinch at the waist, with wide necklines and flowy skirts. Slits are perfect to break up the volume on the bottom and asymmetric hems help do the same.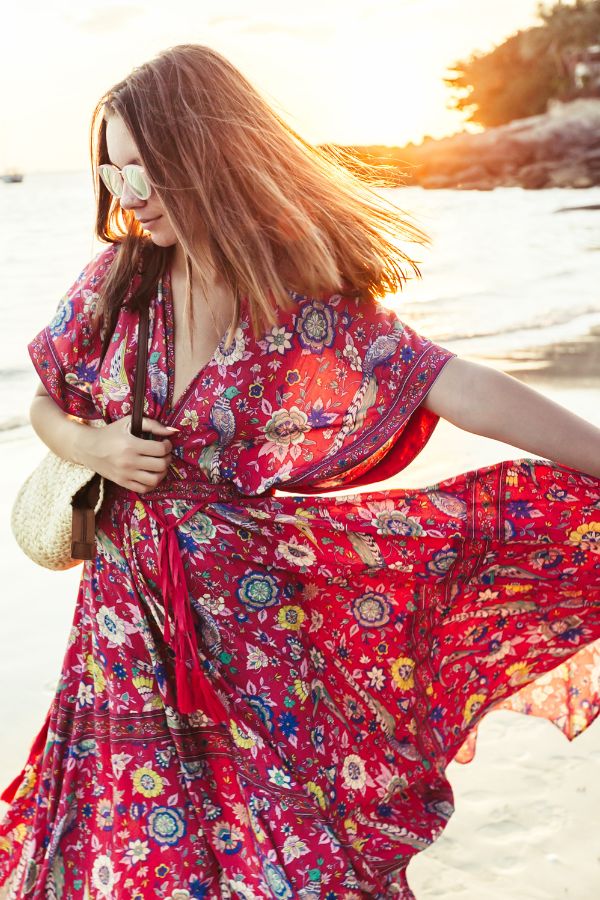 Related Post: What To Wear To A Concert | Best Concert Outfits For Every Season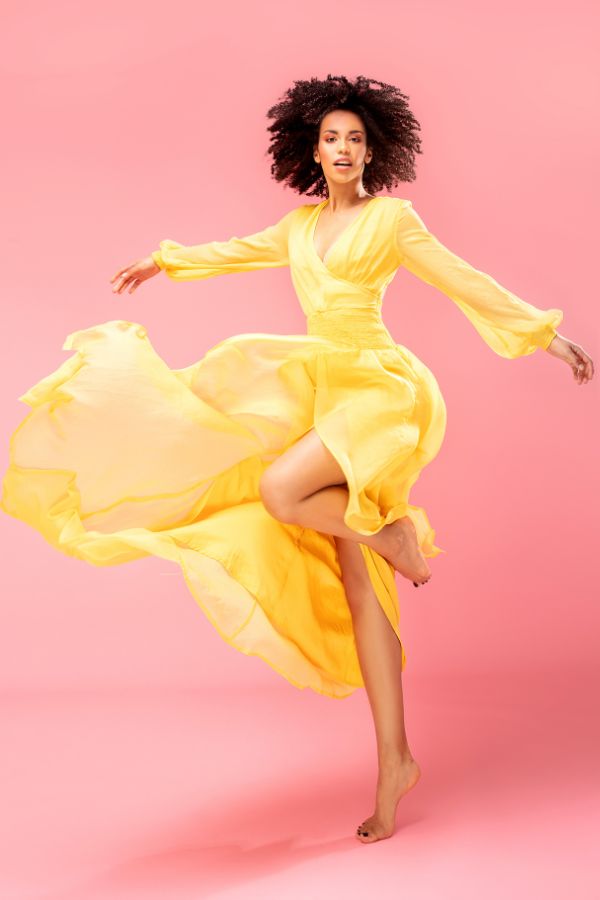 Casual Dresses For Pear Shape
Casual dresses can sometimes look loose and frumpy on a pear-shaped body. Look for something semi-fitted to fitted in a darker color, which will create a column effect and lengthen your curves. Pockets and details on the bust and shoulder area are good for your shape. Avoid any embellishments and pockets around the hip and thigh area.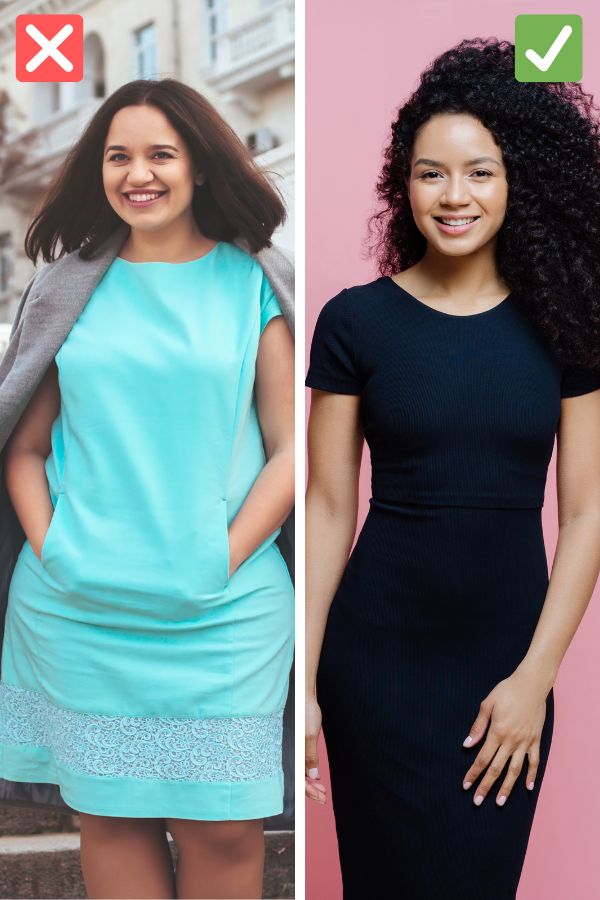 Jumpsuit For Pear Shaped Body
Last, but never least in the "dresses" category is the jumpsuit. Often times we don't want to wear a dress to an event. Jumpsuits look most flattering on pear-shaped bodies when they are in an "X" shape, with a balance of volume on the top and on the bottom. Do this through wide necklines or embellishments on your shoulders, a cinched waist, and sleek pants that skim your curves.
Skirts For Pear Shaped Body
The best skirts for pear-shaped body work with your curves, whether they drape over them or skim (gently hug) them. Avoid any style that bunches, catches, or hangs awkwardly at the hip area. Stay away from embellishments at the hip area such as pockets and peplums that add extra volume.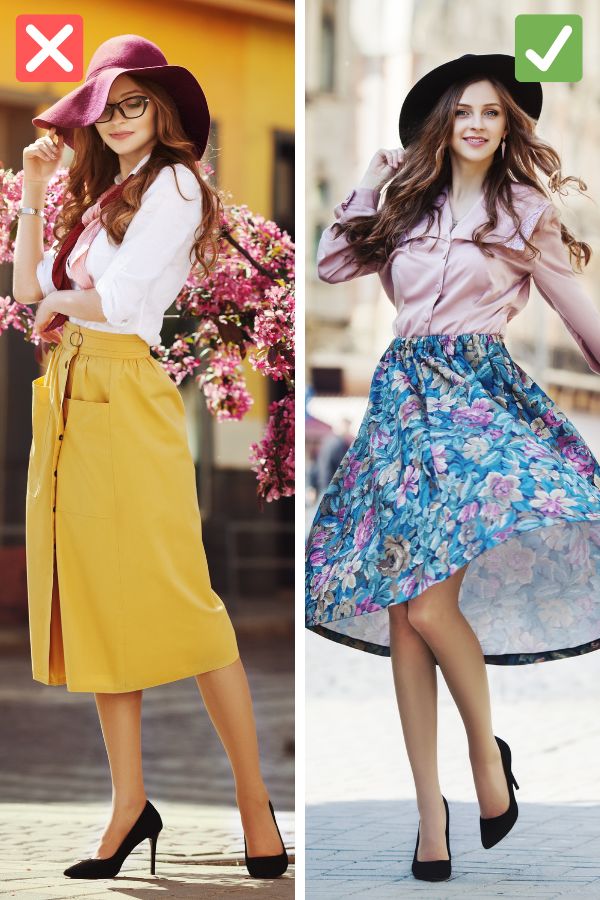 Waistbands are great to emphasize a smaller waist. Look for wrap styles and tulip skirts that drape nicely over the hips and keep your shape.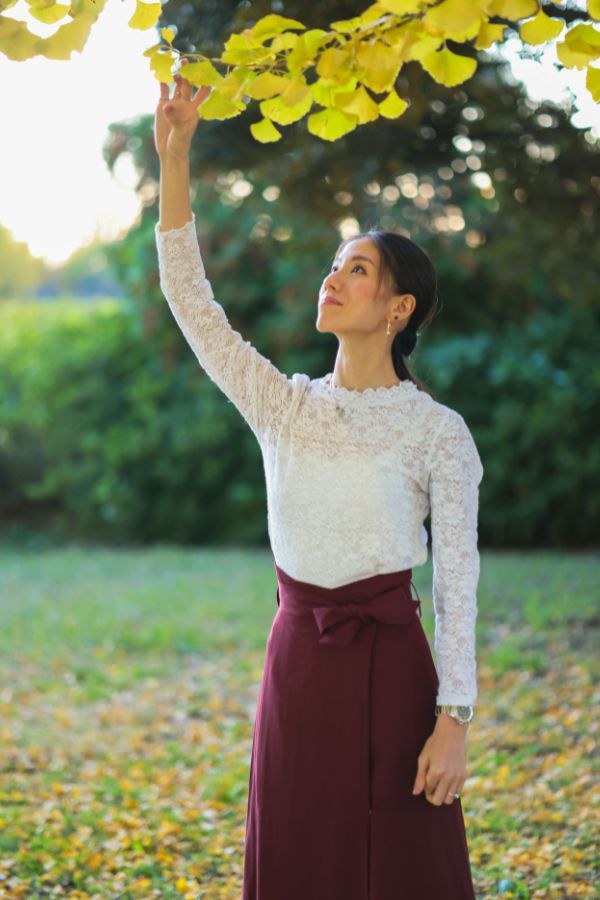 If going for a fuller skirt that drapes over your curves, such as an A-line or fit and flare style, opt for a fabric that doesn't cling. Full fabric can give a ball gown or ballerina look, which is beautiful and feminine.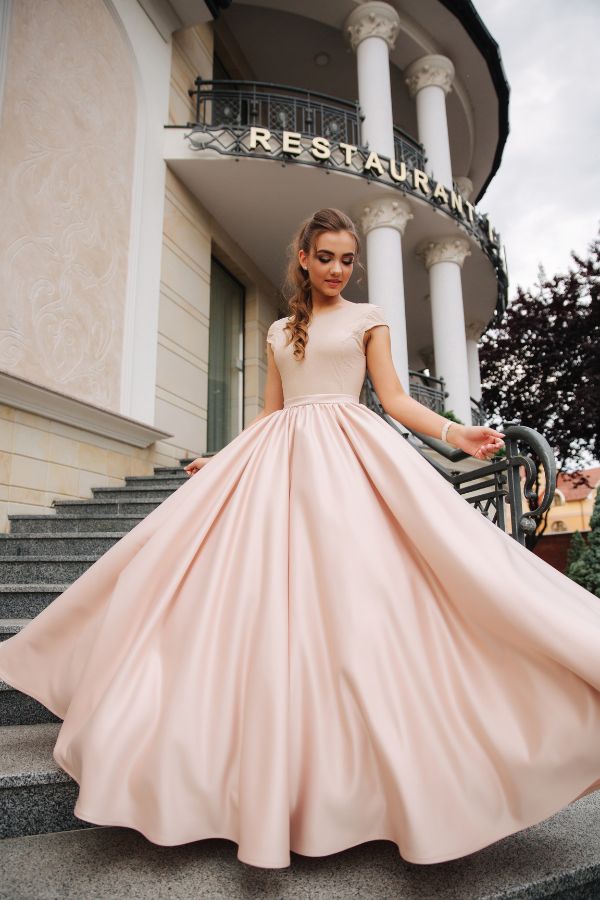 Pencil skirts might not always work for a pear-shaped woman because they are restrictive. However, if you want to show off your curves, look for a style in a stretchy fabric that flares out. Only go for a slit if it isn't stretched out or busting at the seams. Balance your proportions with a cropped jacket or embellished top such as a blouse with ruffles or a pussy bow, or a knit top with puffed short sleeves.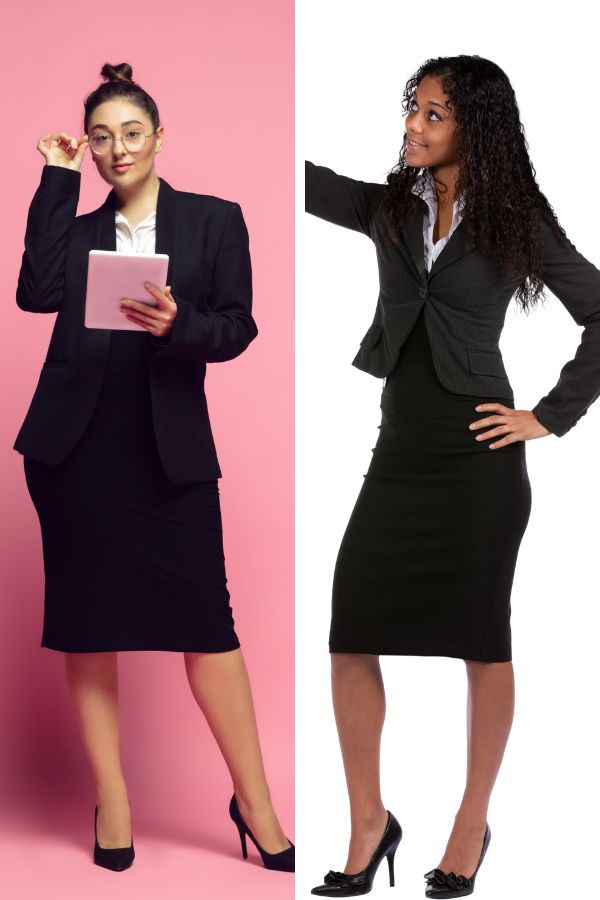 Darker fabric is best for tighter skirts. Avoid light and bright designs that will overaccentuate your bottom half.
Related Post: 15 Perfect Bar Outfits For Your Next Night Out
Pants For Pear Shaped Body
The biggest issue pear-shaped women have is finding pants that fit at both the waist and the hip area due to the difference in width. Waist belts sometimes help, but only if they don't add extra bulk to your slimmest area. Pants and trousers that offer an elastic band or elastic in the back might fit better on your slim waist.
Look for denim and trousers in a "curvy fit" that is specially cut for women with curves. However, having a trusted tailor or alteration service can help resize the waist to ensure a proper fit for your pants. No one wants an extra step, but including the cost in your budget any time you're shopping for pants is worth it to achieve a perfect fit.
Denim with a little stretch in the material will ensure the best fit. 100% cotton has a tendency to grow upon each wear (until you wash), so avoid this material.
Best Pant Style For Curvy Figure
Both jeans and trousers look best in a high-waisted style where you can cinch your waist to emphasize your natural curves. Pinch waist styles are great for ladies who have a tiny waist, but definitely look for a "curvy" cut. Paperbag waist styles are also great for cinching the waist with a belt or tie.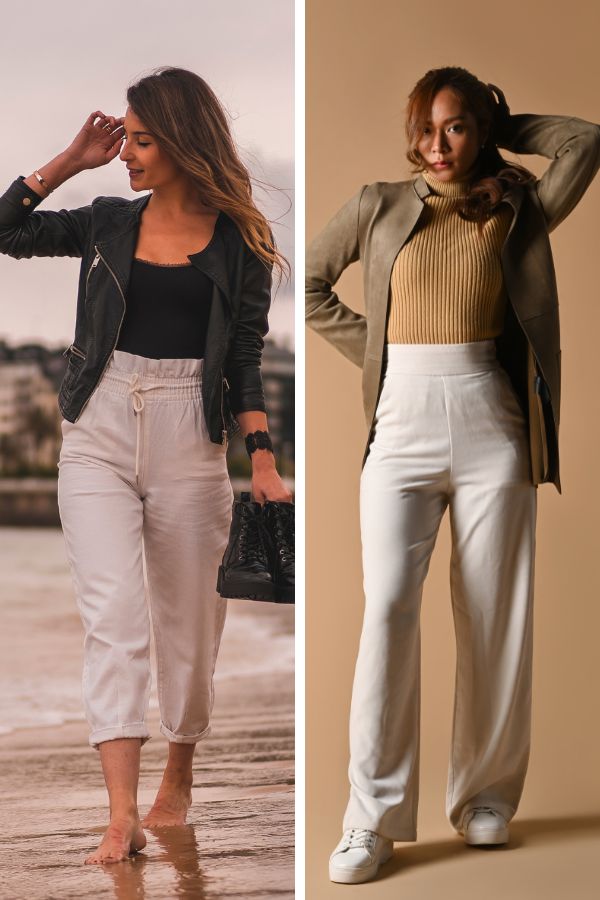 Wide-leg trousers and jeans are great if you want something that will skim your hips without being tight. Opt for high or mid-rise. A barrel-leg jean is a wide-leg that's slightly tapered, which will look great over your hips and legs.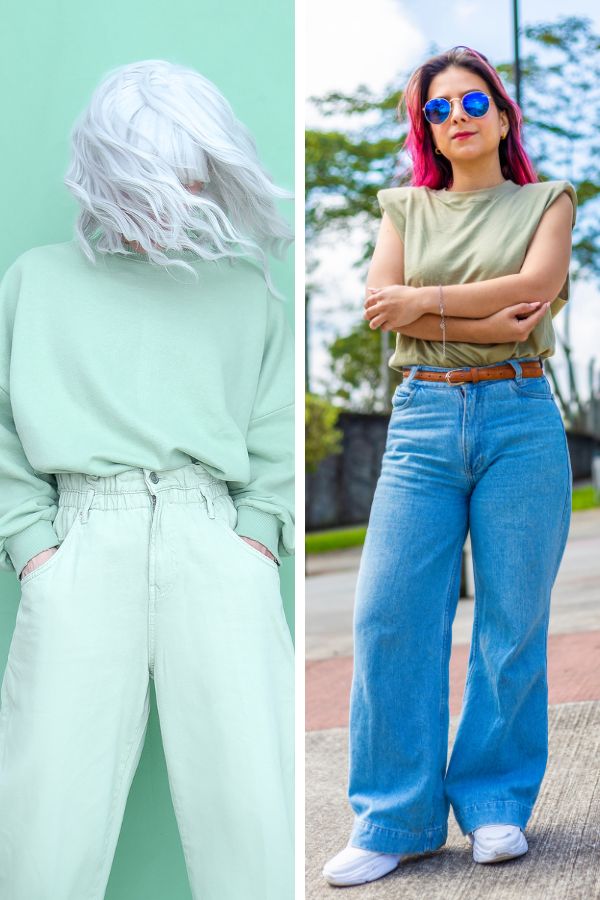 A pant that's semi-fitted to your body looks beautiful as it skims the lines of a curvy pear. High-waisted, tapered styles are great for showing your curves, as are curvy slim jeans. Opt for styles with only a zipper in the back and no pockets or belt loops for a sleek look.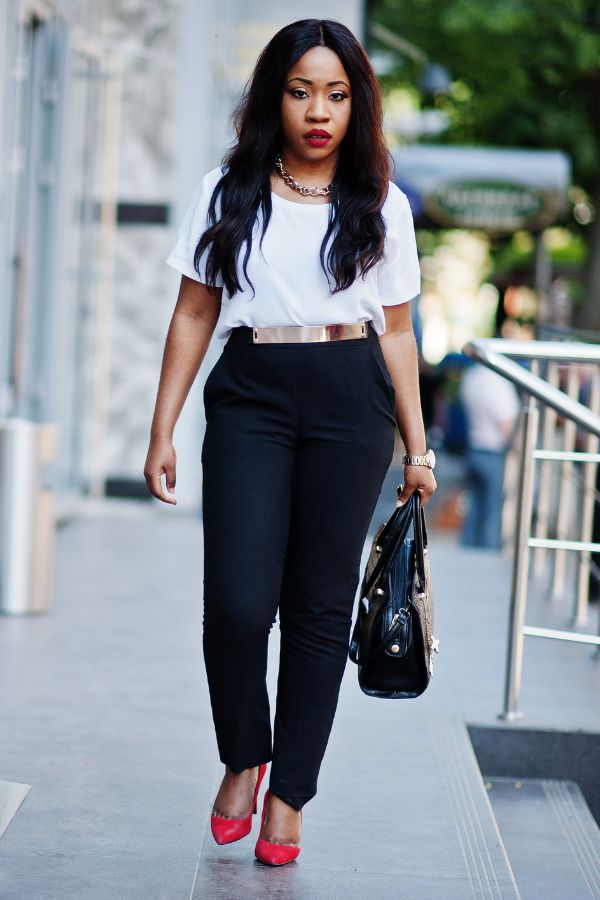 Don't forget flares styles for pear shaped body, which enhance the curvature of your figure nicely. However, avoid bootcut styles that hug your calves. Opt for a mid to high-waisted stretchy material without pockets to create sleek curves down your body.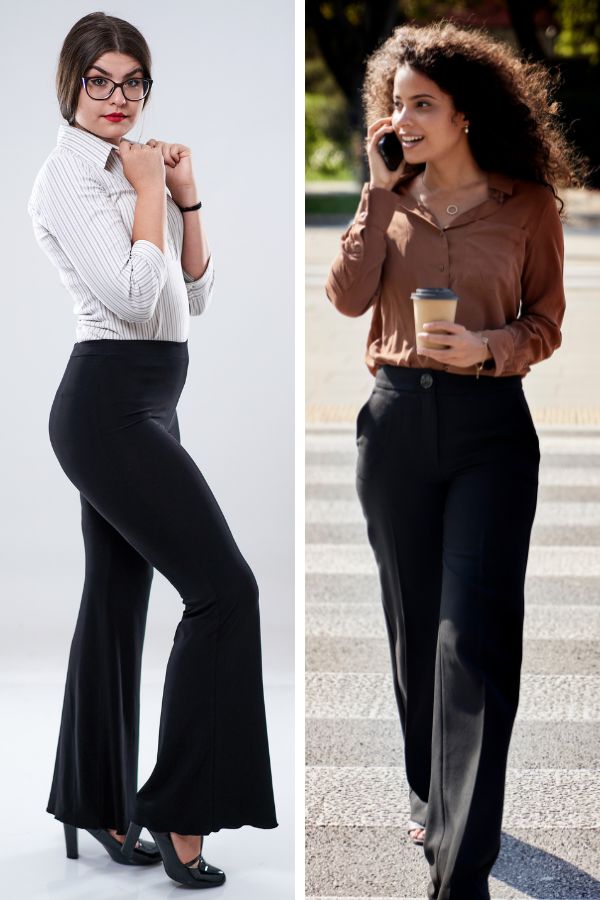 Palazzo pants that are mid to high-waisted look amazing on a pear-shaped body. Style them with a wide-neck top and a short, fitted jacket for a chic look.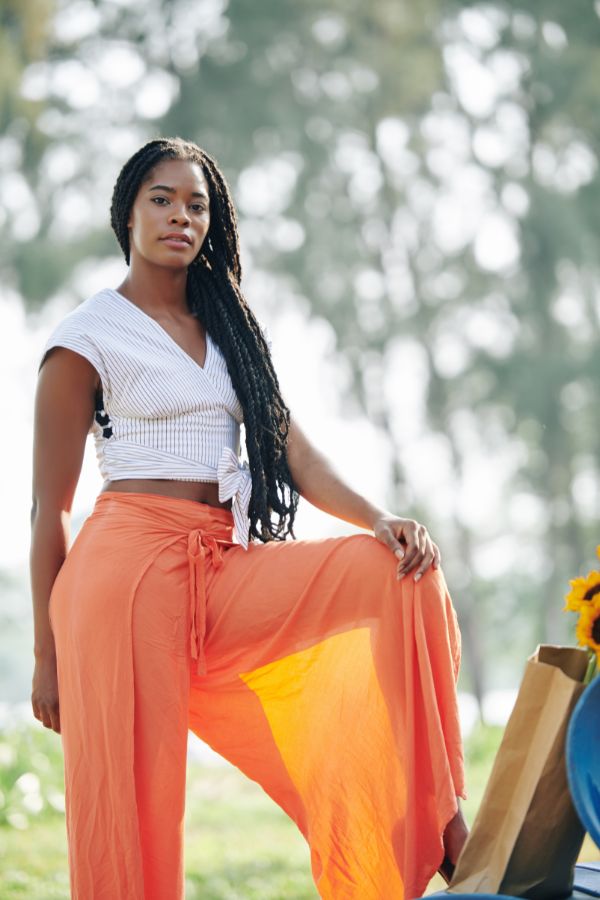 Pants Pear Shapes Should Not Wear
Rigid or non-stretch materials can be tricky to fit if they're not loosely cut. Avoid low-rise styles that will chop your body in half and might not give the coverage you want.
Steer clear of extra embellishments at the hips such as giant pockets, pleating, designs, and beading as this can add extra emphasis to your hips.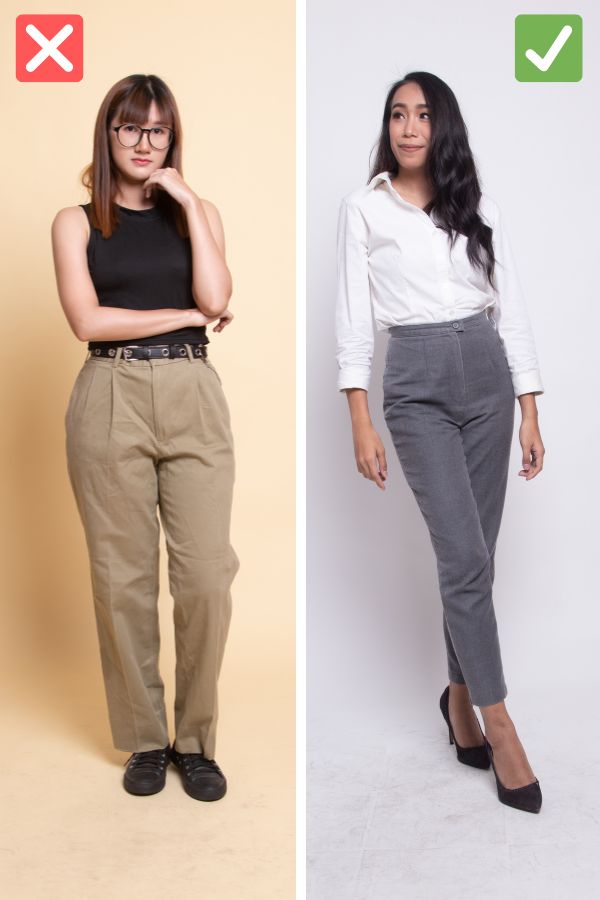 Some denim jeans have large hip pockets (i.e. there's excess material if you stick your hand in your pocket). I cannot understand why any woman would want all that pocket space, so avoid these styles as they add unnecessary bulk to your hip and waist areas.
Related Post: Denim Style Trends | The Best Jeans For Your Body
Shorts
The best shorts styles for pear shaped body are ones that flare out from your waistline. Avoid any embellishments or pockets that add bulk to your hips. Go for sleek trouser shorts that are fitted in the waist, but flare out so your thighs aren't constricted.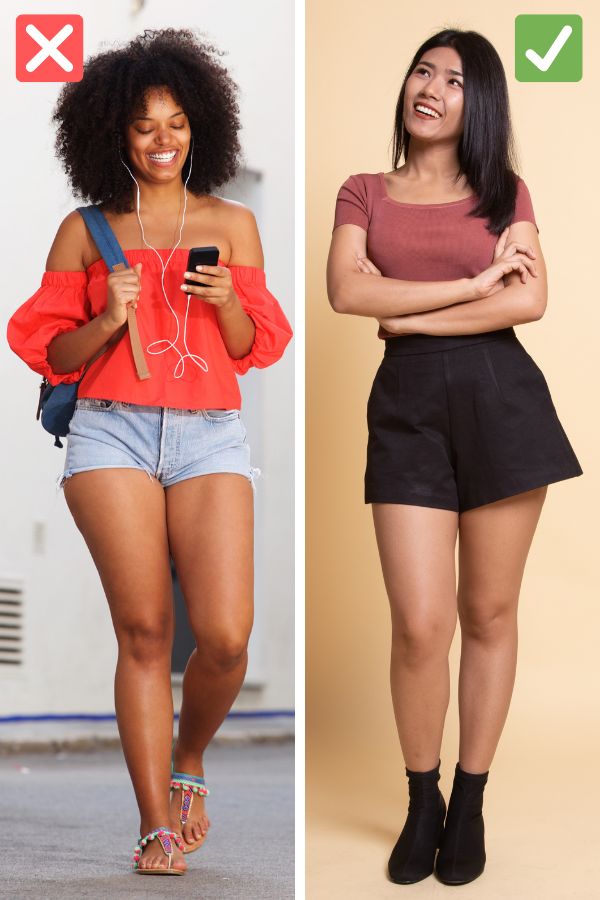 Sweaters And Cardigans For Pear Shaped
Sweaters for pear-shaped women should help balance the volume of your lower body. Similar to tops, opt for styles with puffed shoulders and embellishments at the bust, neckline, and shoulders. Try a cropped style with a pair of pants cinched at the waist.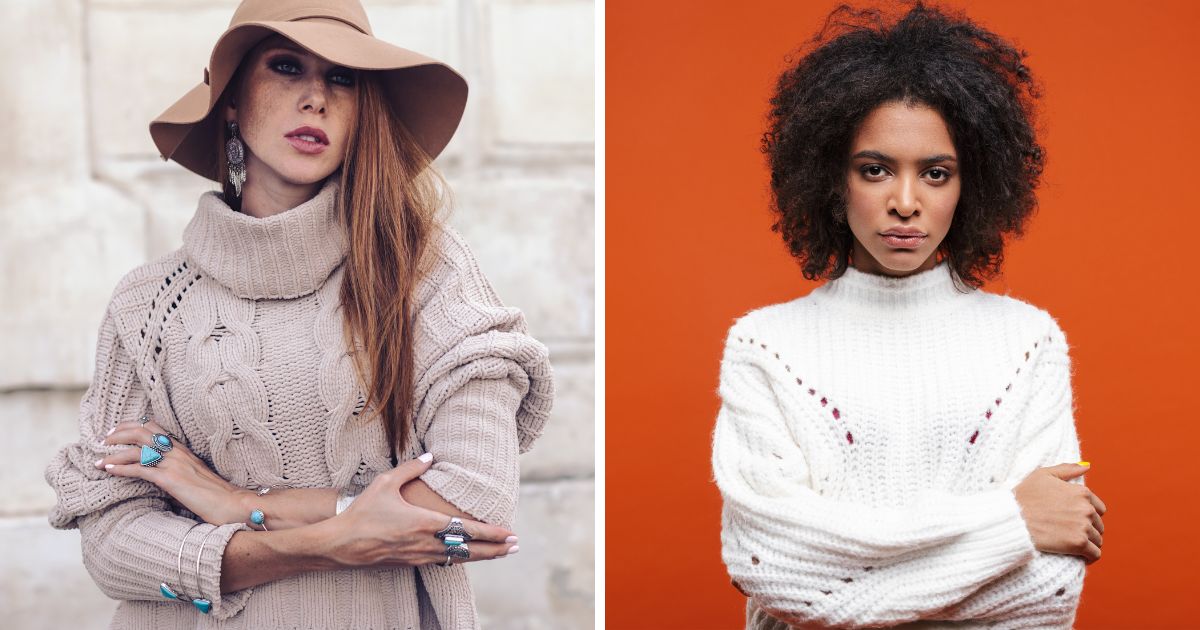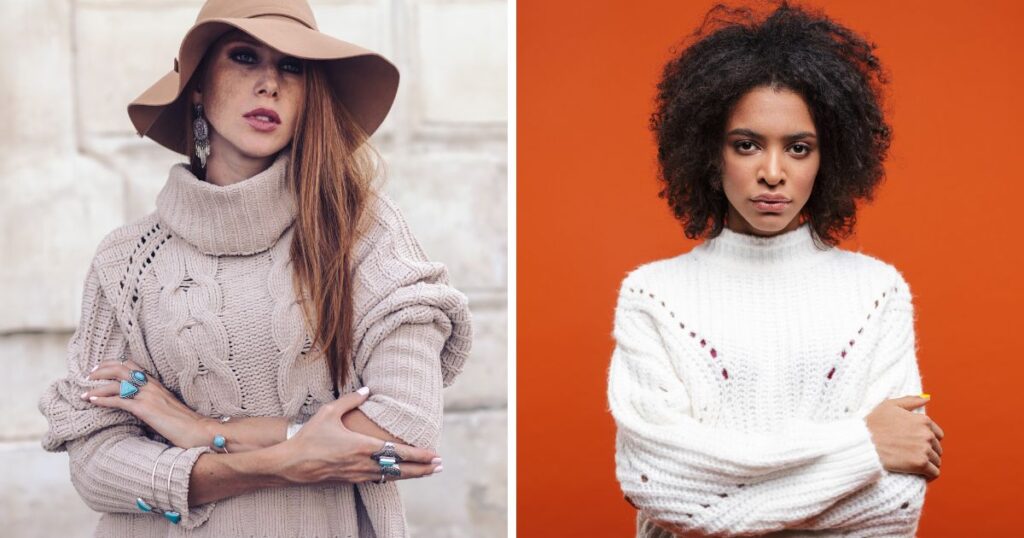 Wide necklines create an "X" shape with your body, balancing proportions. Alternatively, slim-fitting styles can help emphasize your waist and natural curves.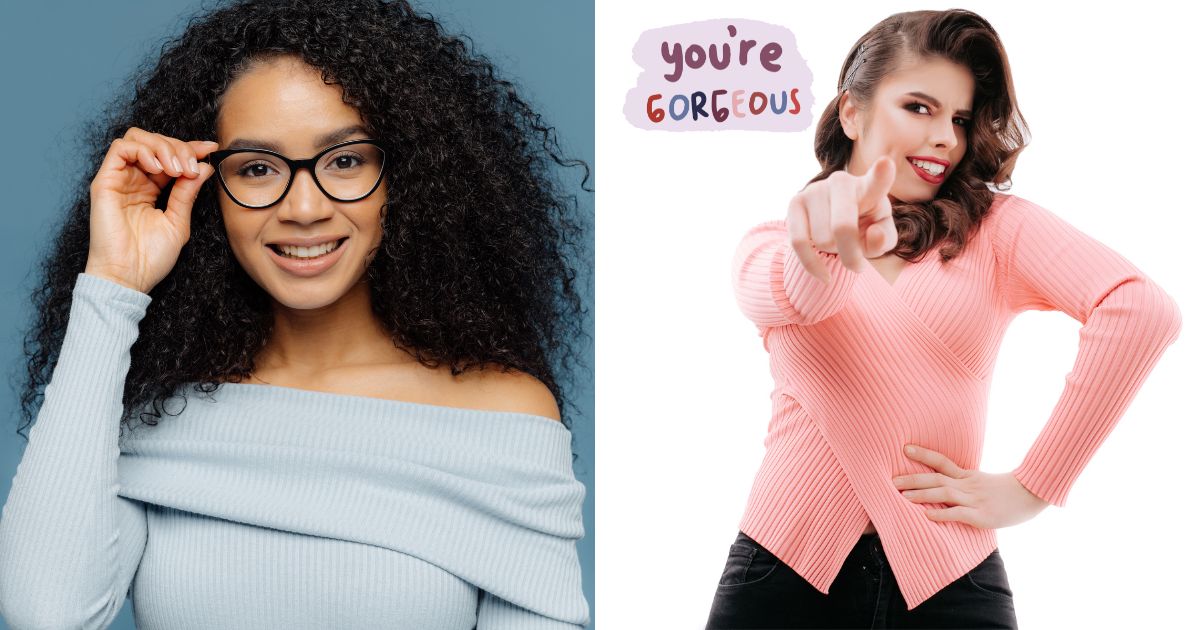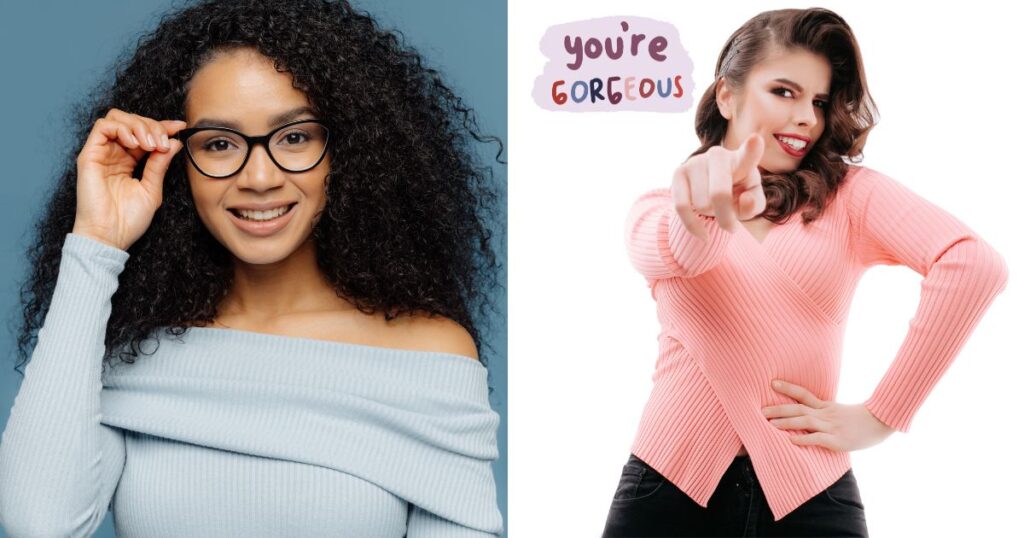 Avoid oversized and boxy cuts that stop at your hips, the widest part of your body. This style actually takes away from your beautiful curves and looks frumpy. Even when tucked in, oversized and super chunky styles can look bunchy.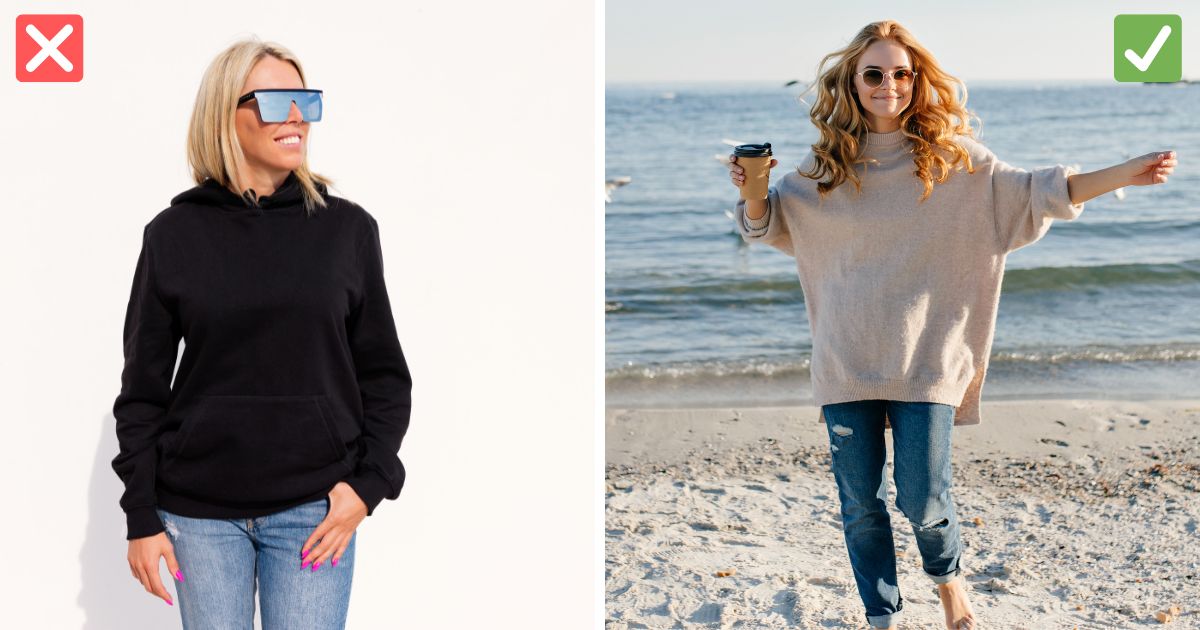 Be sure to tuck sweaters into a pair of jeans or trousers or cinch with a waist belt to avoid widening the hips, unless the sweater is at a tunic length and falls nicely over your body.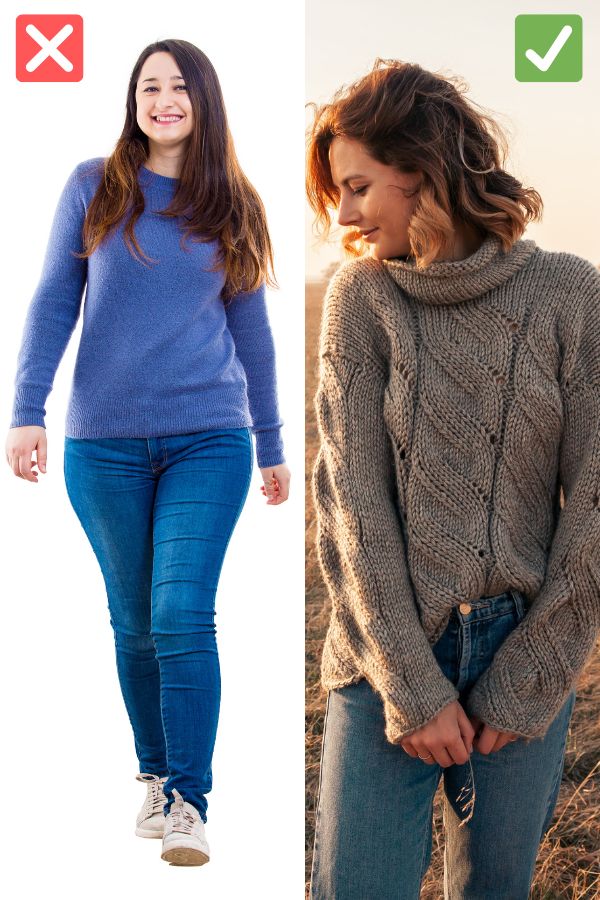 How To Style Cardigans For Pear Shape
Focus on balancing volume for shorter cardigans with embellishments at the shoulders and wide, open collars.
If going for a short, fitted cardigan, opt to wear it open with a cute tank underneath; or wear partially buttoned and tuck the hem into pants. Ensure your hem hits near your waistline rather than the widest part of your body. Use a waist belt to cinch shorter cardigans with skirts.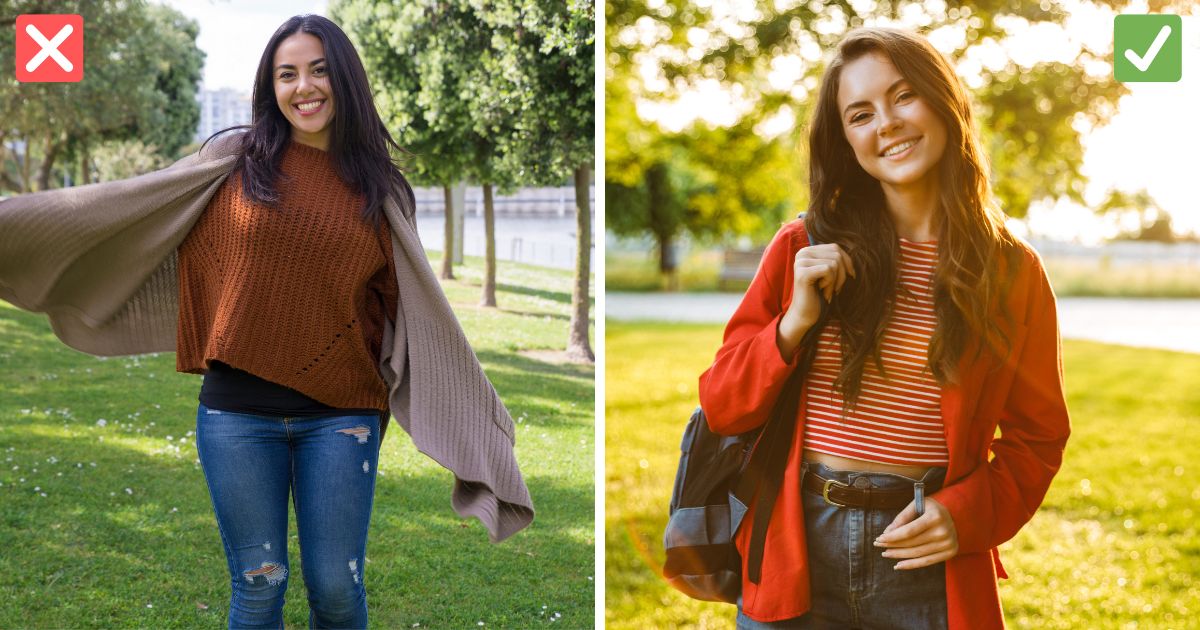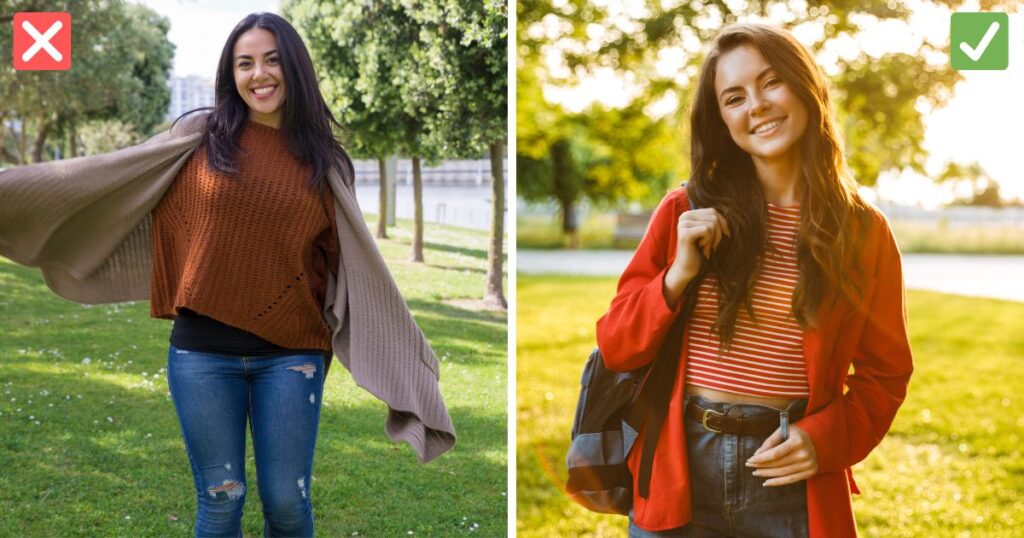 Try a tonal look to create a lengthening, column effect down your body.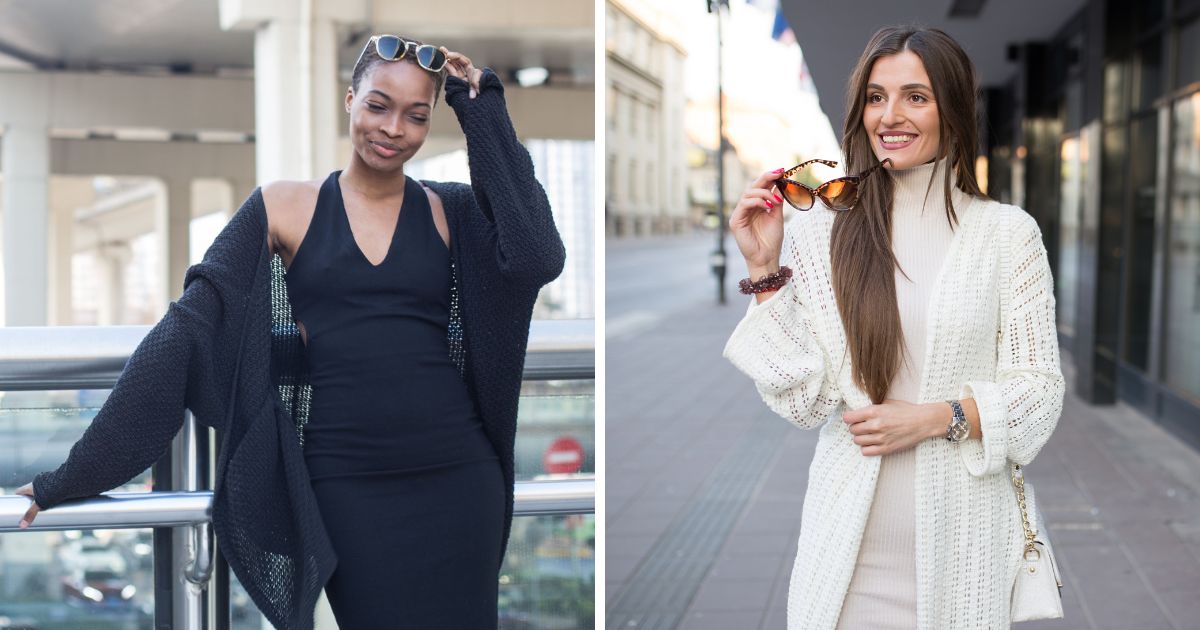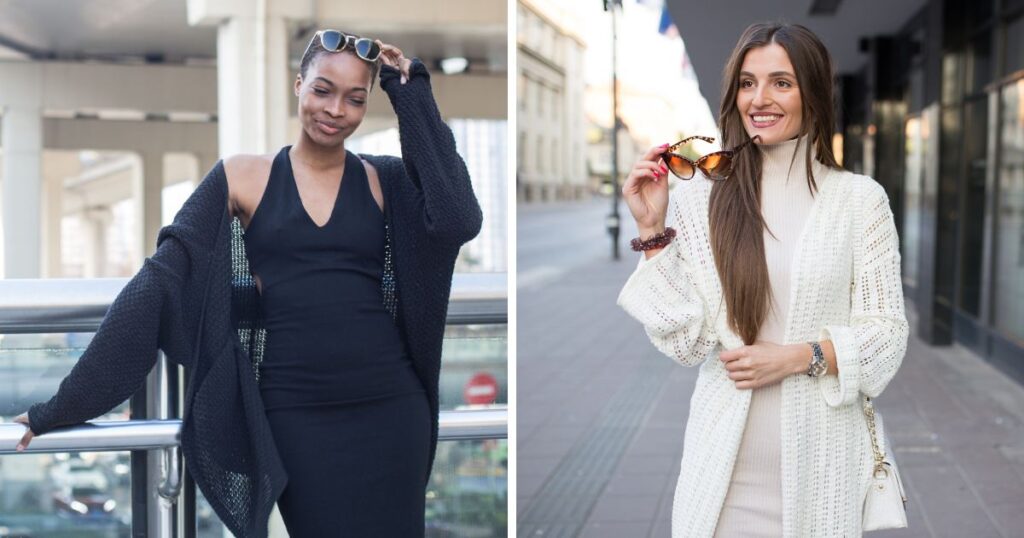 Related Post: Style Types: 5 Beautiful Pieces For Romantics
A long, fitted cardigan looks great in a solid color; or work with strategically-placed stripes that balance your top and bottom halves.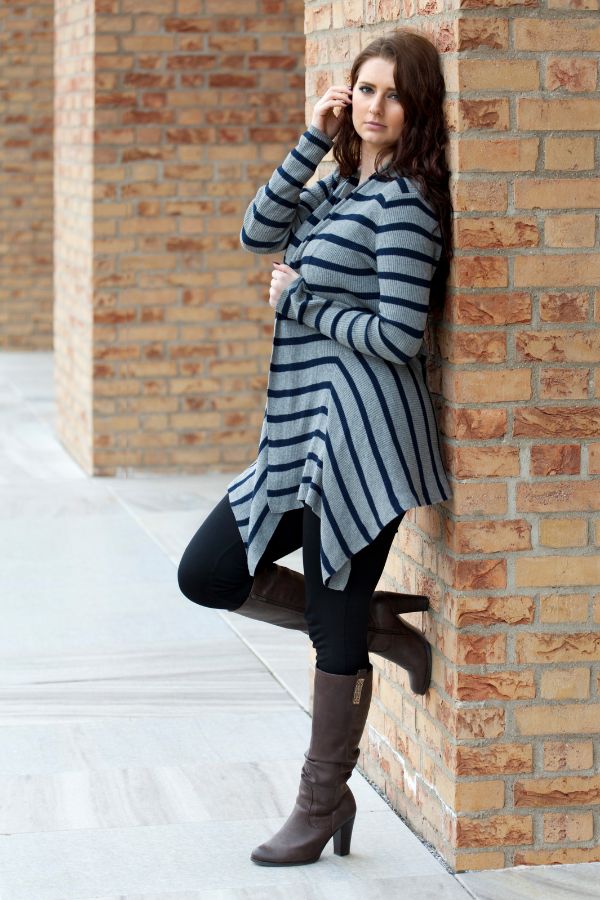 Long cardigans help create length and detract from the widest areas of your body. Avoid embellishments at the hips. Ties and belts at the waist can create a balanced effect on your top and bottom halves.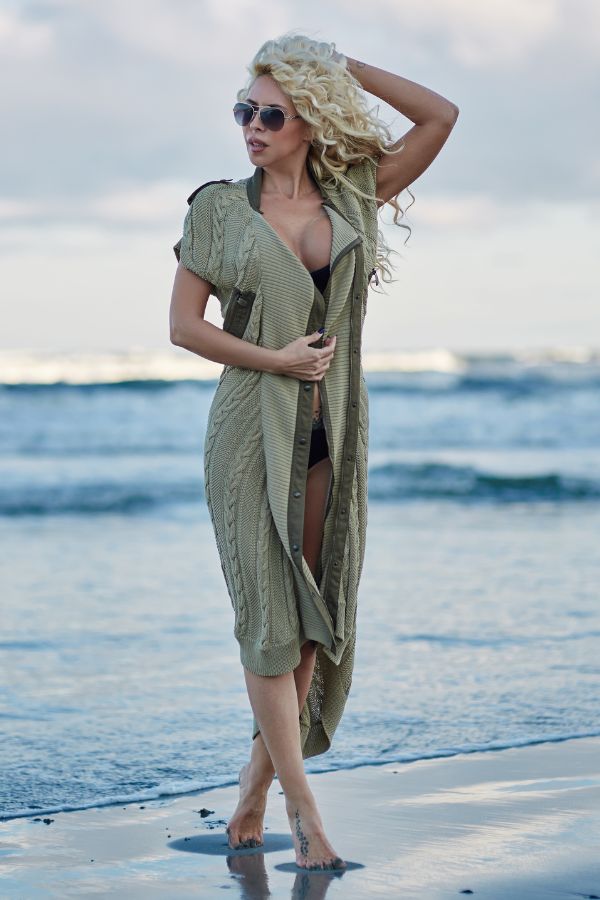 Jackets For Pear Shape
Jacket styles for pear shaped body should balance the volume on your top half. Look for structured shoulders and padding to add volume. Patterns and bright colors against darker pants or skirts also help balance. Cropped jackets and bolero jackets add volume up top, too.
If you're looking to emphasize your curves try belted styles that cinch your waist or have a gentle peplum that flares out to your upper hip area.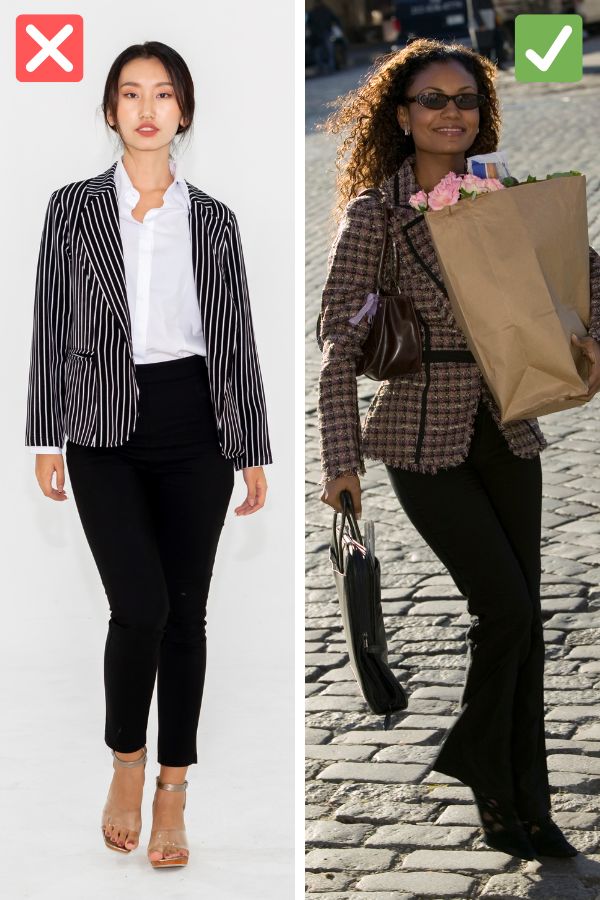 Jackets that are naturally tailored or semi-fitted at the waist are also a great choice.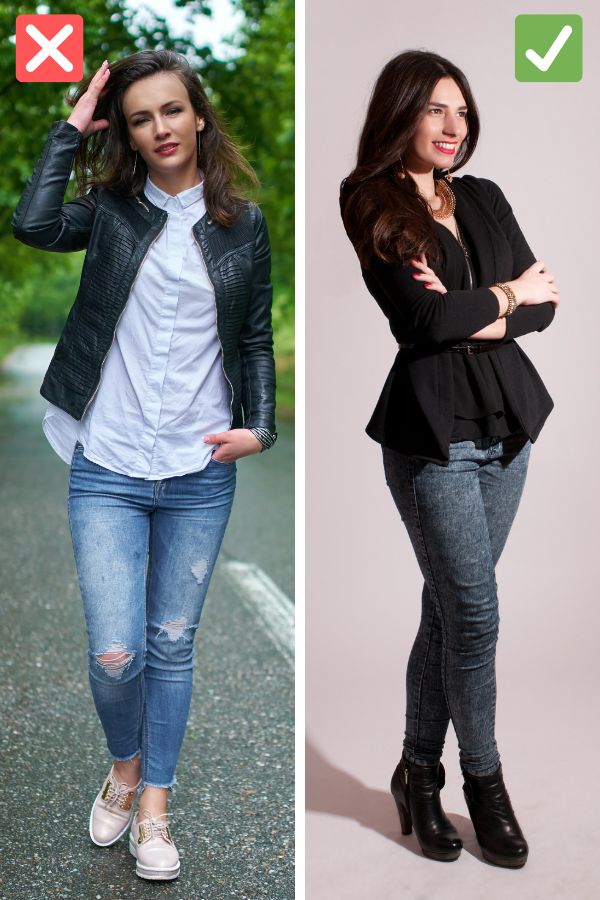 Keep hemlines at your top-hip area or below the mid-thigh area (away from the widest part of your body).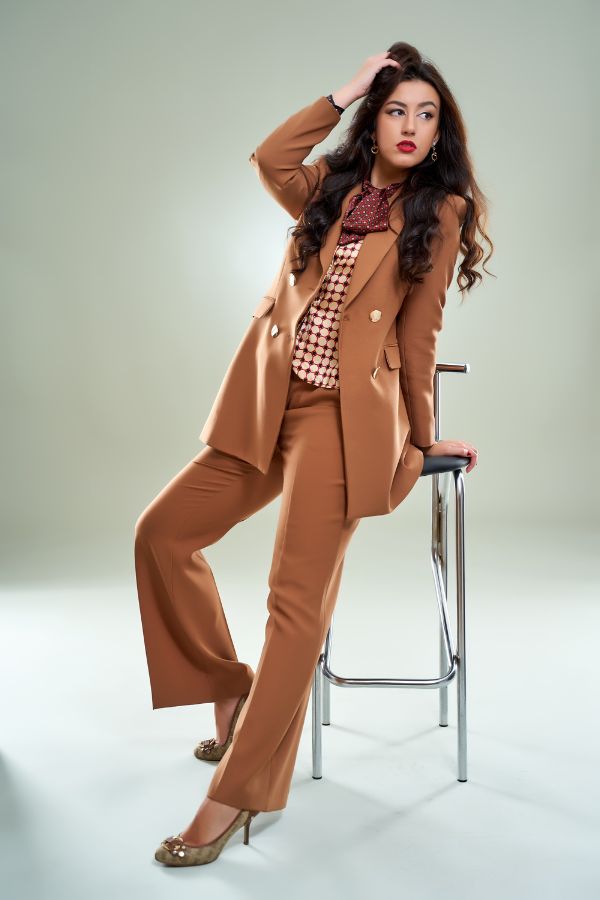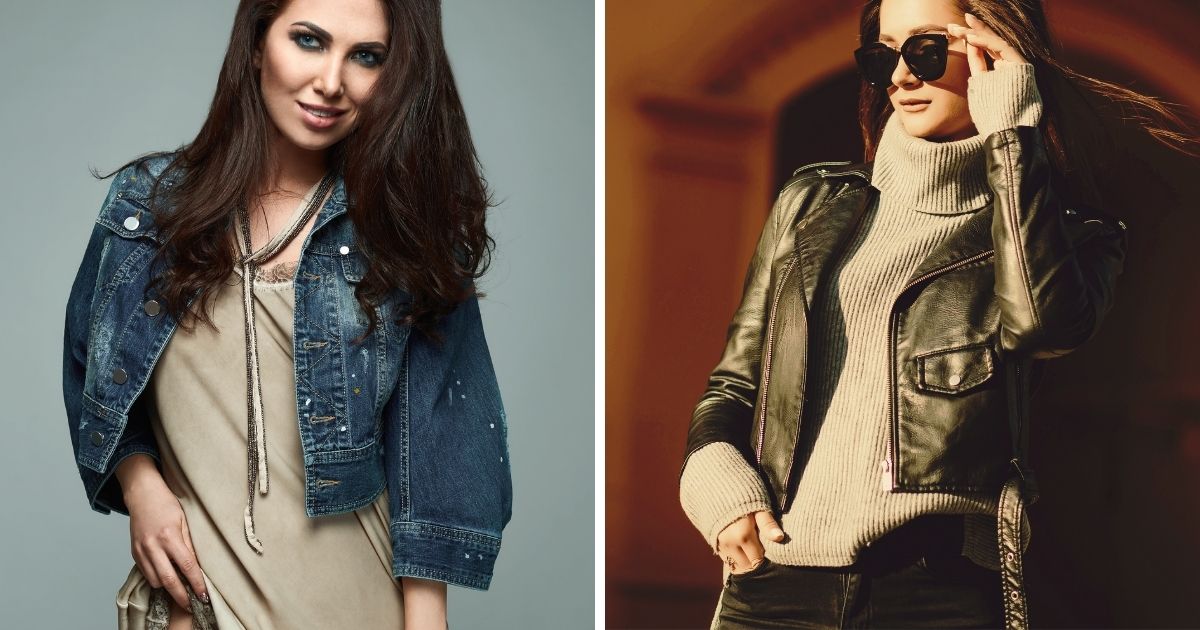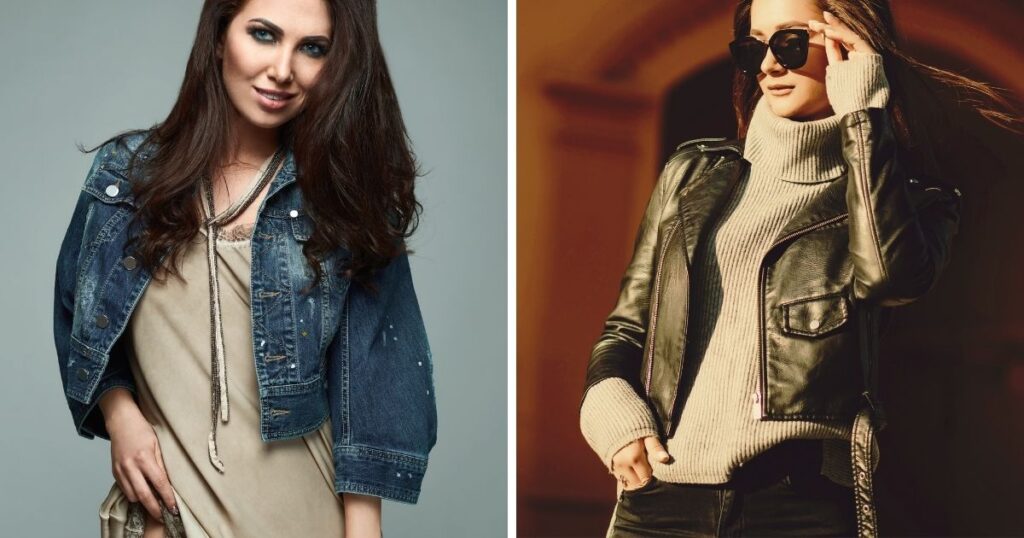 Best Coats For Pear Shape
The main idea with coats is to create an A-line down the body by either cinching the waist or choosing a coat with an A-line cut. Coats should be longer than your lower hips for the most flattering look.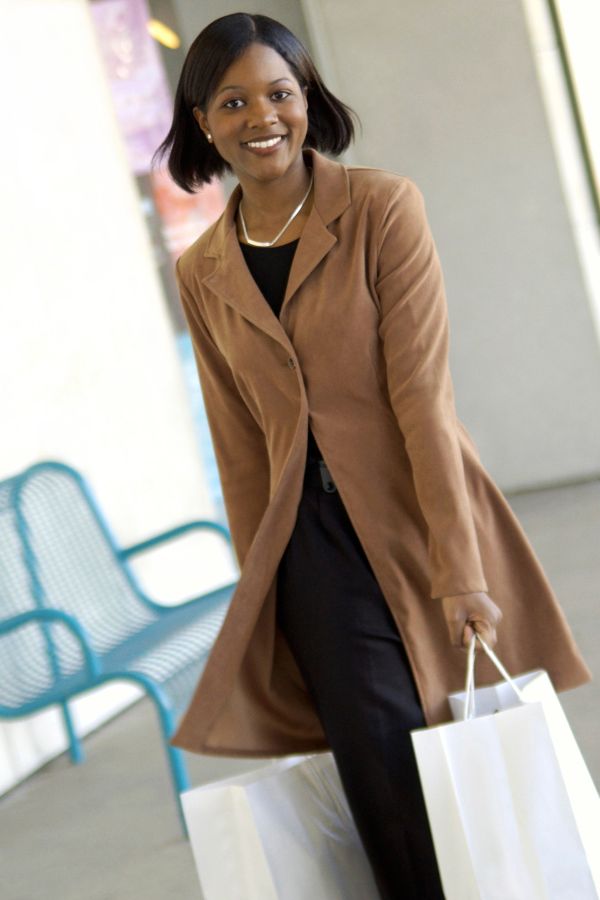 Opt for longer trenchcoats that tie or belt at the waist to create a full figure. Subtle pockets are okay if near the hips due to the length of the "skirt".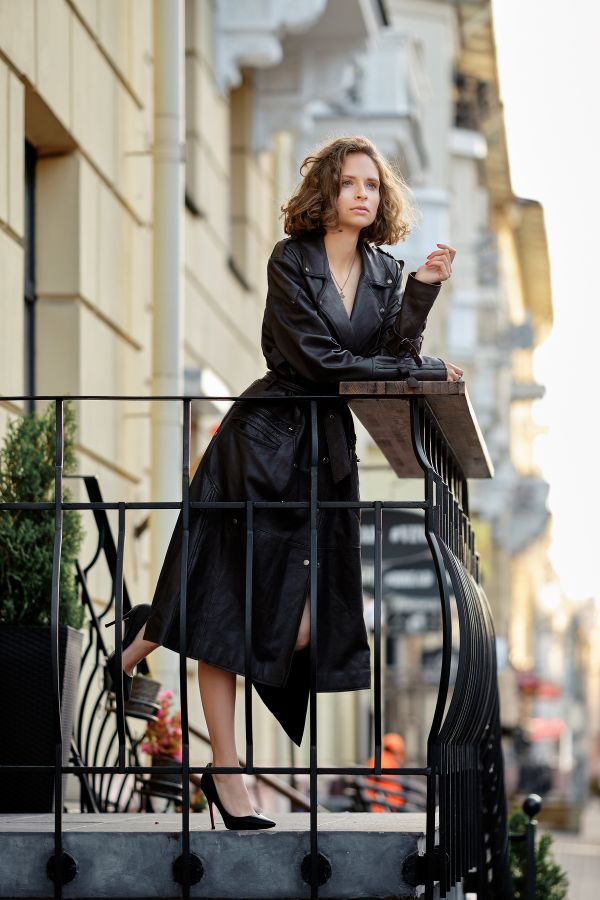 Related Post: What To Wear In October | New York City Edition
Opt for a single-breasted style that's tailored to your body for the best fit.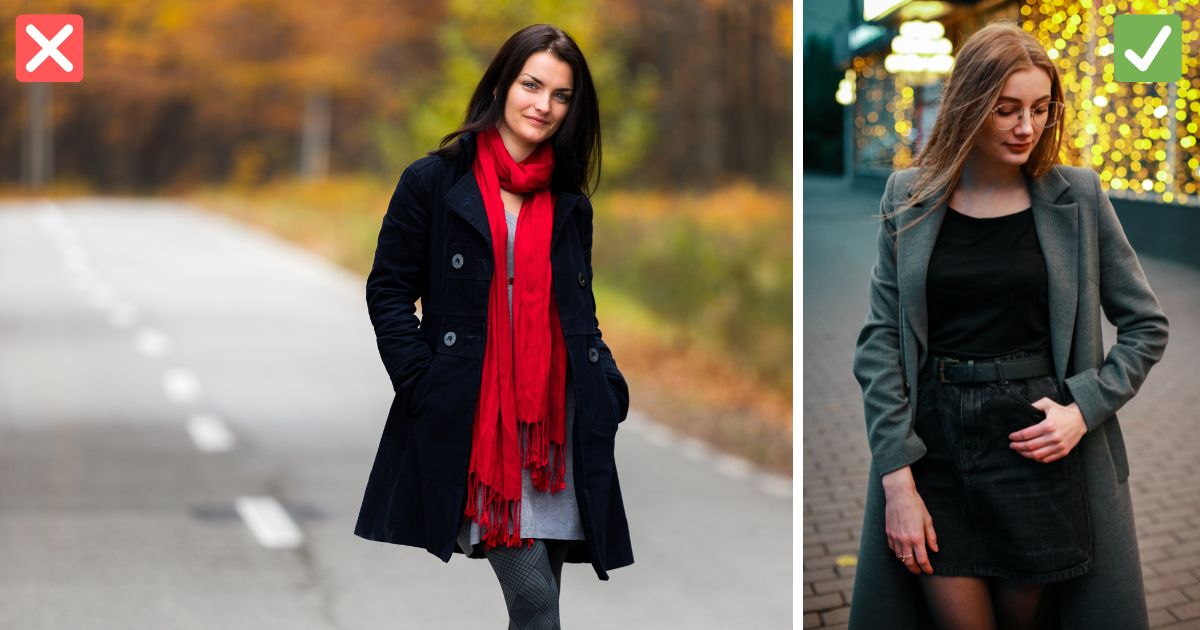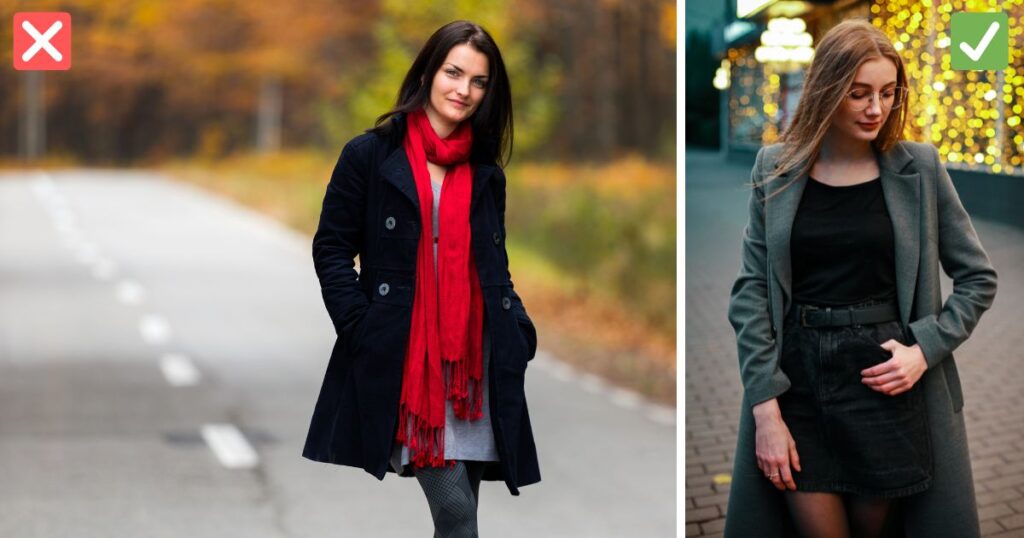 Princess coats will enhance your curves with a cinched waist and a dramatic skirt. This style is meant for a pear-shaped woman!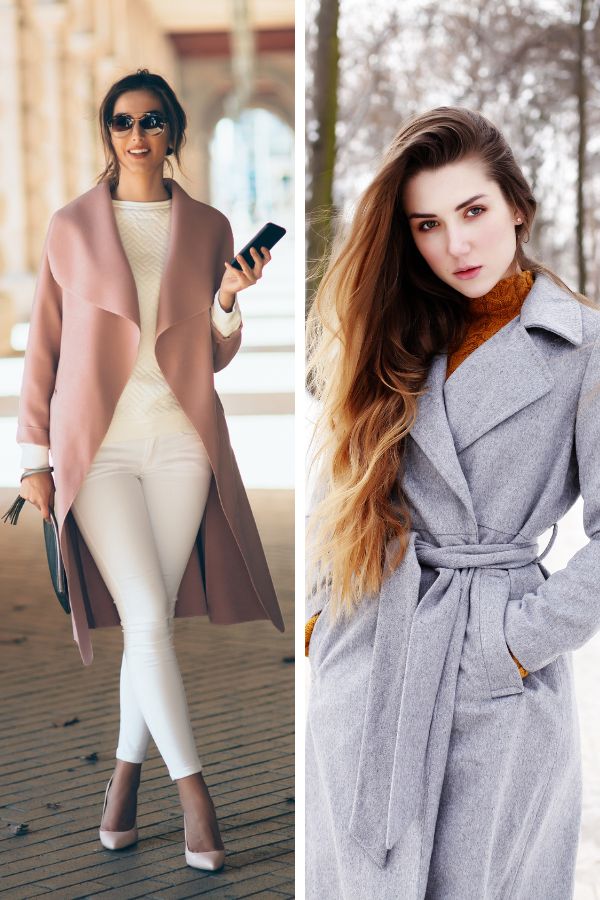 Don't miss out on trying coats with 3/4 sleeves, or cape coats that balance volume and enhance your curves at the same time!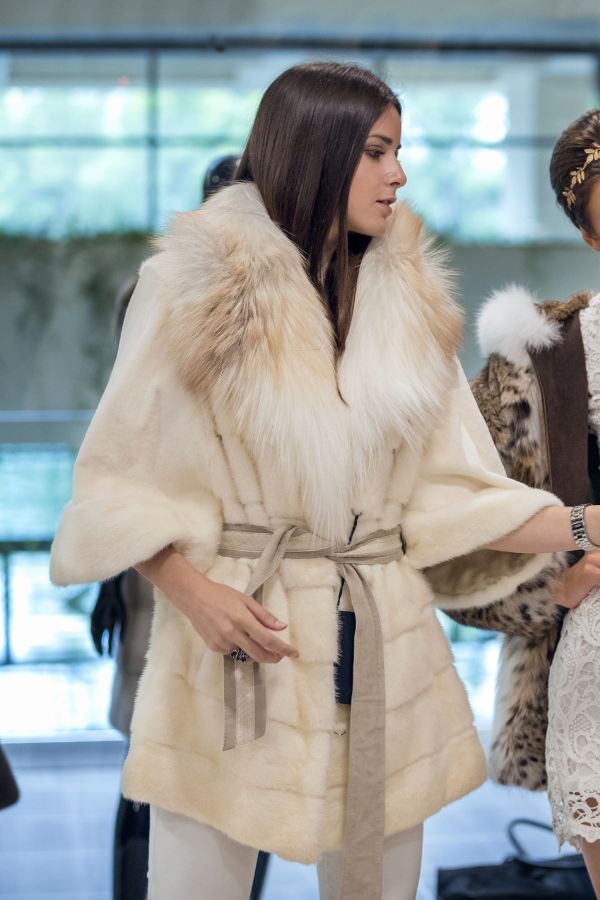 Accessories For Pear Shaped Body
Accessories are like the cherry on top of a sundae, giving it that added balance. They can create length, balance volume, or add structure to your look. Let's look at the best styles for pear shaped body.
Shoes
Most pear-shaped women are known for carrying weight in their legs or having extra muscular legs. Because there's already volume in this area of the body, your shoes should complement the volume and/or help to elongate the legs.
Pointy-toe pumps and flats are the best styles to create length in the legs. Match your shoes to your skin color or pantyhose to create additional length.
Look for embellishments on pumps and sandals to balance volume as opposed to minimalist styles. Colors that pop help draw the eyes down your body creating length.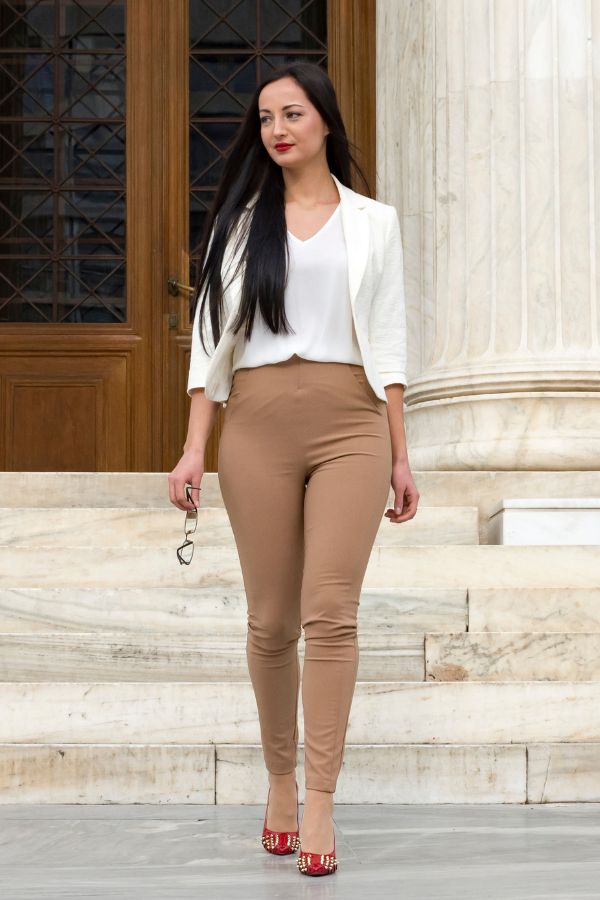 Related Post: 5 Petite Style Tips You Might Be Missing Out On
Skip dainty stilettos and skinny heels for more balanced shapes such as a traditional heel, block heel, or heeled platform. Fun, structural heels are playful and definitely work with the shape of your legs. Avoid chunky lug soles which, unfortunately, add more volume.
Avoid ankle boots that can chop off your legs, making them look shorter. Thick ankle straps are also a no-no. Avoid slouchy boots that add volume. Instead, choose a sleek style that's wider around the ankle.
Pair mid-calf or tall boots with a matching stocking (e.g. black with black) to create a lengthening effect. Or, ensure your pants or skirt hem hits the same length (or longer) as the top of your boot shaft, so no skin shows. This is called outfit fluidity and no body parts are randomly chopped off.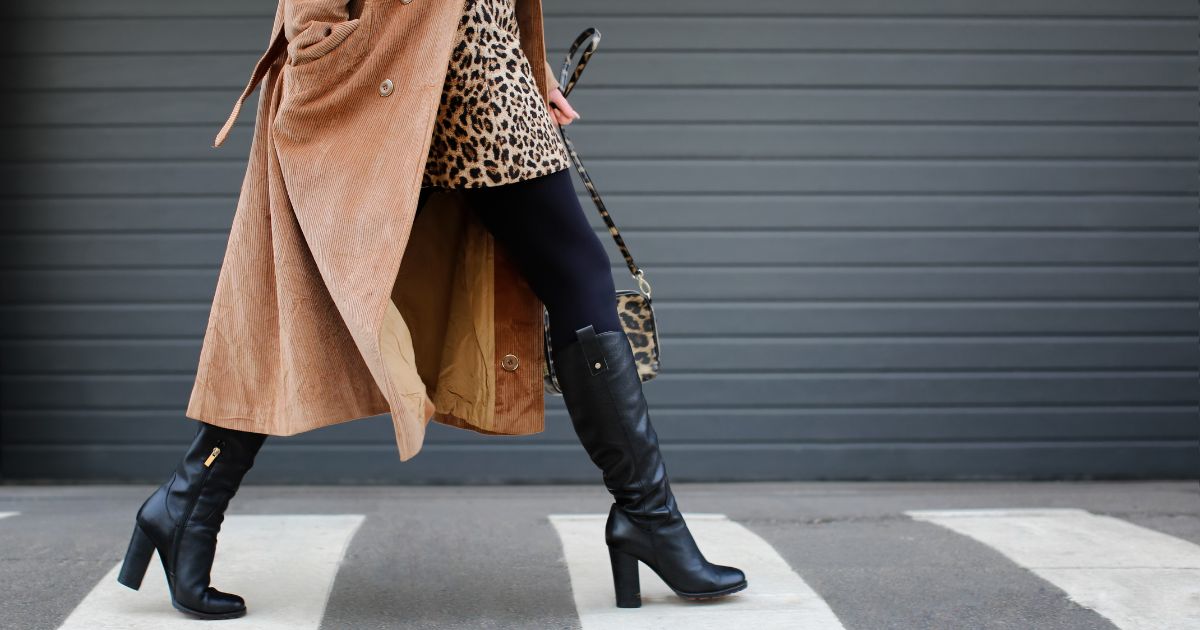 Jewelry
You can have a lot of fun with jewelry as a pear-shaped woman! Earrings draw the eyes upward and dangly styles can create length on your top half if you need it. Keep necklaces no longer than your bust area (or higher if you have a large bust). Don't be afraid to style with statement necklaces!
Chunky bracelets and watches draw attention to your hip area, so keep that in mind. Opt for minimalist bracelets and rings.
Hats, Scarves, And Belts
Hats are a perfect way to draw the gaze up the line of the body. They also help balance volume by adding to the top half of the body.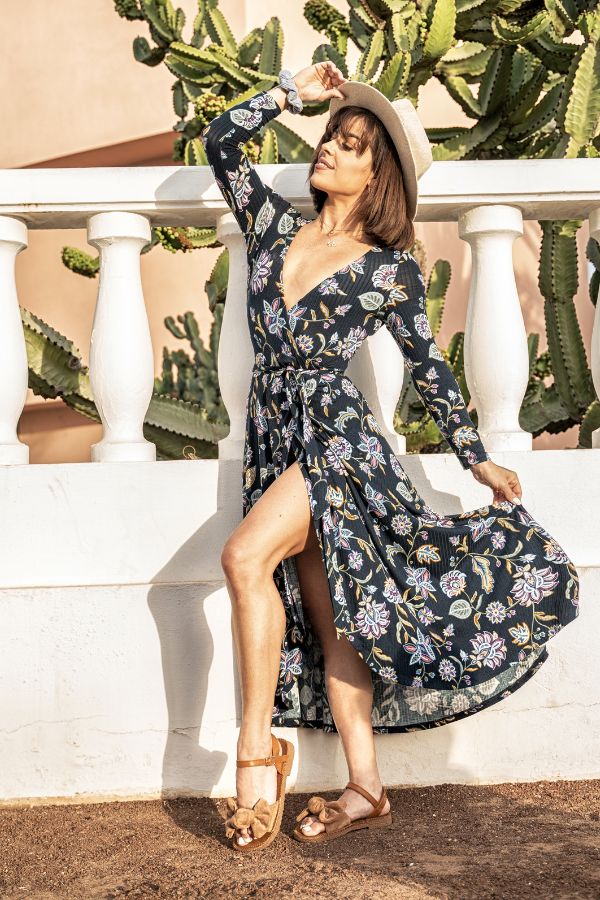 Scarves are always a great option to add volume to your upper half whether it's a chic neck scarf, an infinity scarf, or a cashmere winter scarf. Style your scarf so that it falls above or below your hips.
We've already spoken about waist belts many times in this post, so no need to re-hash. Opt for skinny or medium-width styles to avoid adding bulk to your waist. Hip belts add bulk to your hip area and should be avoided.
Handbags
The best handbags for a pear-shaped woman do not hang at her hips. Shorter handbags and totes that go over the shoulder are very stylish. Hobo bags and slouchy satchels that can be thrown over the shoulder are also great choices. Don't shy away from a stylish backpack that looks cute and functional.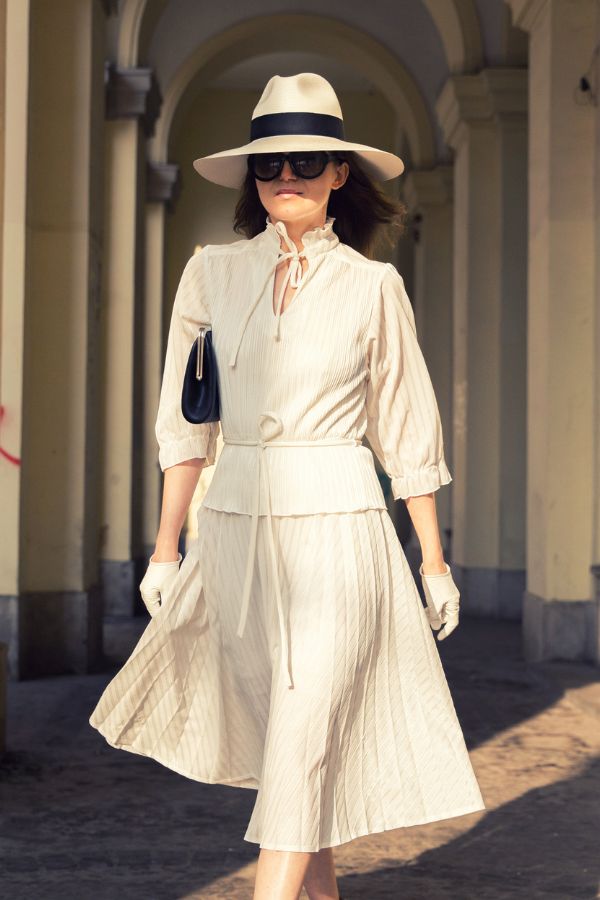 Avoid crossbody bags that fall at your hips. Sometimes you can adjust these to a shorter length, which is a good hack. Top-handle bags that can only be carried on your arm will hang at your widest part, so keep this in mind.
What's been your biggest style hurdle as a pear-shaped lady? Comment below!
This post was all about styles for pear shaped body
Related Posts: