Interested in fashion for romantic style types? These feminine pieces will soften up your wardrobe and make you feel beautiful!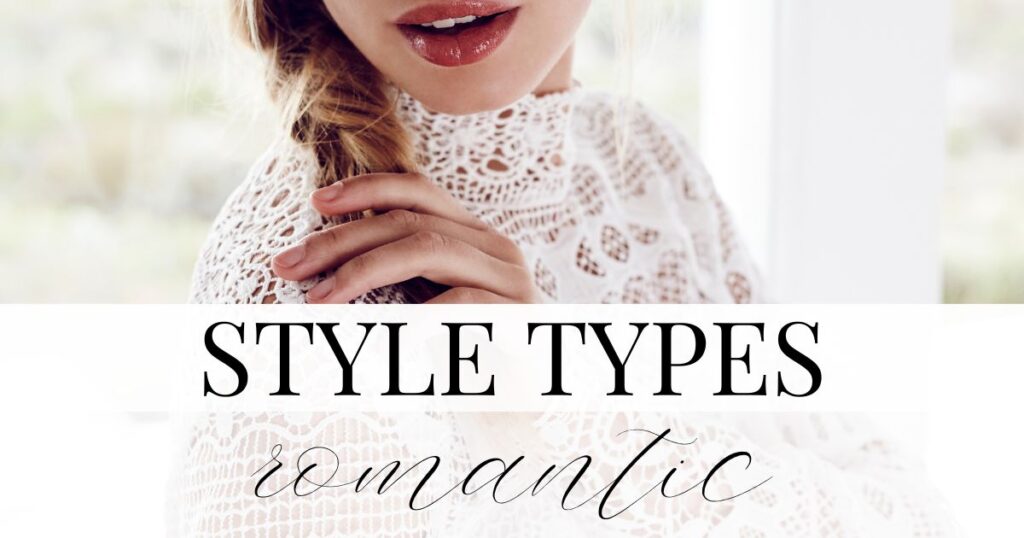 Romantic style types embody femininity in their clothing to evoke emotion, drama, and surrealism. A romantic aesthetic takes you out of the mundane world and into a more beautiful place.
Soft lines, flowy fabrics, and feminine details make up the style of a romantic.
Here are five perfect pieces every romantic should have in their wardrobe, whether you're a seasoned fashionista or a budding beginner to this aesthetic.
This post is all about style types (romantic).
Romantic Style Types
1. Parisian Style Cardigan
The cardigan is a must-have wardrobe staple for all style types these days. French fashion brands and fashionistas alike have elevated the cardigan to this status with feminine details like pearls or wearing it as a standalone top.
The cardigan originally started out as a military garment in the 19th century and didn't gain its status in the fashion world until Coco Chanel designed pieces for everyday womenswear.
Tuck the front of your cardigan into your favorite pair of denim and leave the top few buttons undone for a classic Parisian-style cardigan look. Or try my go-to look by tucking it into a midi skirt and adding a waist belt to create shape.
Related Post: French Style Tips | 10 Essential Rules To Live By
Leave it to Vince to create this luxurious lace-stitched cardigan. Slung over the shoulders on a summer evening, or styled with a pair of palazzo pants, this is a summer staple for any romantic. Click here to view the Lace Stitch Cardigan from Vince.
I'm crushing hard on this beautiful blue cardigan with embellished buttons. If the deep v-neck is too low to wear on its own, I'd style it with a lace or silk cami for the ultimate romantic vibe. Click here to view the Deep V-Neck Button Front Cardigan from Lattelier.
2. A Flirty Tee Is A Romantic Style Types Clothing Essential
For those off-duty days where a casual dress code is essential, a flirty tee is what sets romantic style types apart from the rest. The basic white t-shirt is considered a wardrobe staple for many, but it may be too basic for a romantic. Details like trim, prints, color, and texture instantly upgrade a relaxed look into something chic and elegant.
Related Post: 10 Elegant Style Tips To Look More Sophisticated
This washable silk blouse is so cute in a French garden print. It's as easy to care for as a basic t-shirt and probably more comfortable! Click here to view the Amour Vert Renata Washable Silk Blouse.
This soft v-neck t-shirt keeps it casual and sweet with flutter sleeves. It comes in a multitude of color options. Click here to view the Glamgetter Tee from White House Black Market.
This baby tee is very cute. Total 90s vibes. Click here to view the Baby Tee by Madewell.
3. A Dreamy Day Dress Is On Every Romantic Style Types List
Romantic style types and dreamy dresses are a match made in heaven. A romantic will typically choose to wear a dress to most activities and events, if appropriate. In other words, her wardrobe might contain a lot of different dresses for different purposes. The dreamy day dress is definitely at the top of her fashion styles list to embody her style aesthetic for any daytime event.
Related Post: 3 Personal Style Tips To Consider Every Day
It doesn't get more feminine than this floral midi dress in shades of pink. From the bishop sleeves with covered buttons to the ultra-wide square neckline, this dress is the romantics' dress of dreams. Click here to view the Sanela Dress from Alamour the Label.
On days you need to dress a bit subdued, this gorgeous shirt dress is the answer. The airy cotton gauze fabric makes it comfortable in warm weather and can be layered under in spring and fall. The balloon sleeves and banded waist belt are the perfect details to create a feminine piece. Click here to view the Benita Dress from Heidi Merrick.
4. Style Types Fashion: The Feminine Jacket
Every romantic has a feminine jacket which can be any style of jacket, but with softer details and lines. For example, a leather jacket may showcase front buttons and a scalloped hem as opposed to an edgy moto style. A classic black blazer might be updated in a brocade fabric or have a peplum. A trench coat in a light blue or pastel pink for springtime as opposed to a typical neutral color.
Any style can be made romantic, it's all in the details.
Related Post: How To Find My Style In 5 Easy Steps
I'm not sure I've ever seen a more feminine black jacket than this one. Find me next week, though. Seriously, the tailoring and cotton eyelet detail is everything you could want in a summer jacket to dress up or down. Click here to view the Kapnos Eyelet Jacket from Veronica Beard.
If there was ever a moto jacket for romantic ladies, this is it! It comes in a cotton-linen blend, so the soft structure enhances the femininity of the stunning embroidered details. Click here to view the Embroidered Moto Jacket from By Anthropologie.
This tweed jacket brings a little twist to the trending style. The metal buttons are a modern touch against the delicate lilac color. Click here to view the Tweed Jacket With Metal Buttons from Mango.
5. Ladylike Flats
Lastly, a few pairs of ladylike flats are important to any romantic's wardrobe. Some say shoes make the outfit…and I agree.
Romantic style types always ensure their footwear is on point, swapping sneakers for flats, loafers, and even heels. Suede and velvet are perfect fabrics for a romantic, and details like bows, rosettes, and beading are like the cherry on top of it all.
Related Post: What To Wear To Work Casual | How to Dress Casual and Still Look Professional at Work
These ballet pink pointy-toe flats have a crystal chain and can totally be worn on a regular day to give any romantic outfit a statement. They are for sure an item for any upscale event as well! Click here to view the Genevi Flat by Jimmy Choo.
Interested in finding out your style type?
Be sure to check out this post: Style Types Fashion | What's Your Style Personality?
This post was all about style types
Related Posts: