Looking for outfit inspiration for what to wear to a jazz concert? These stylish jazz concert outfit ideas will ensure you're dressed for an evening of fun.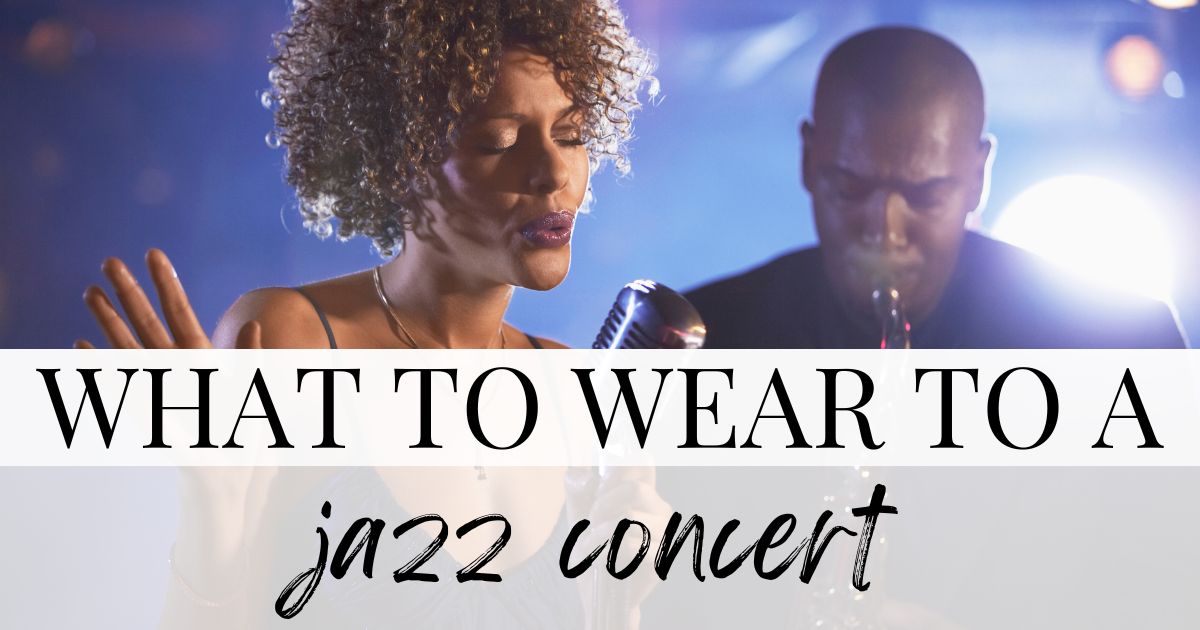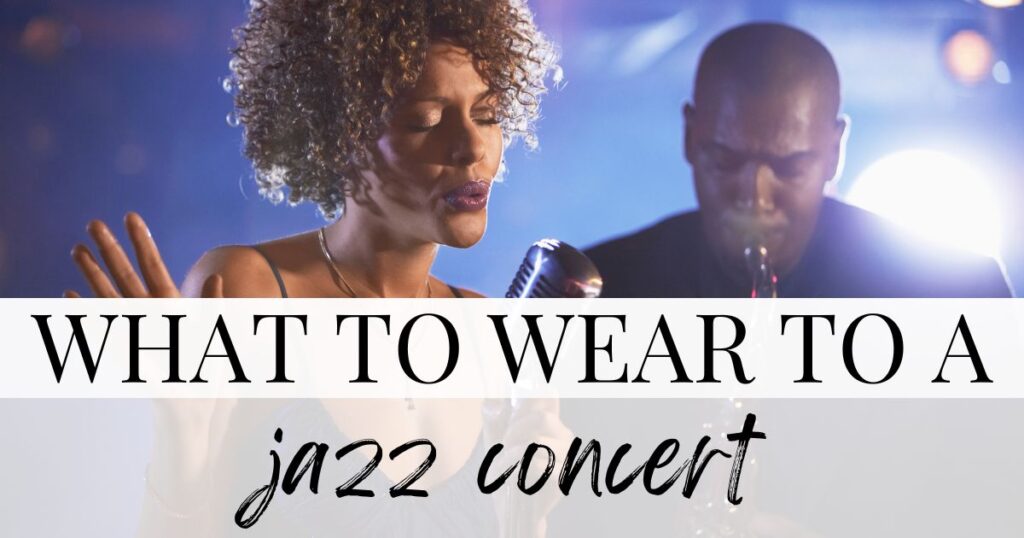 Can you wear typical concert attire for what to wear to a jazz concert? Jazz music has a more swanky vibe than other genres, so upscale attire is definitely appropriate for an evening concert indoors. Ultimately though, it depends upon the concert venue and the time of day.
In this post, you'll learn some perfect jazz concert outfit ideas that you can wear to your next jazz event to look super stylish and cool without feeling under or overdressed.
This post is all about what to wear to a jazz concert.
What To Wear TO A Jazz Concert Woman
Jazz Concert Outfit Ideas
Let's begin with jazz concert outfit ideas for formal venues, where the concert is a fully-seated show. A formal jazz concert is held at a grand venue such as a concert hall or performing arts center with a large seating area, such as Carnegie Hall in New York City. The jazz concert aesthetic is tasteful and sophisticated at these venues.
Formal Jazz Concert Outfits
Formal jazz concerts are upscale, dress-to-impress events. Attire is similar to what you'd wear to a music recital. An evening gown is perfect for any formal jazz event, even if it's an intimate concert at a formal venue. Your gown can be midi-length to floor-length. Always check with the venue if you're unsure.
The whimsy floral pattern of this A-line gown is equally dramatic and feminine. You'll definitely be turning heads in this one! Click here to view the Loretta Floral-Print Ruffle-Trim Gown from Shoshanna.
This sexy crepe gown with a plunging keyhole neckline is so sleek and elegant, I can't imagine a better place to wear it than a formal jazz concert. Click here to view the Marta Dress from Alamour the Label.
Wear your jewelry on your feet with these strappy leather sandals with a two-tone metallic bead trim. Click here to view the Delta T-Strap Beaded Stiletto Sandals from A.W.A.K.E. MODE.
Upscale Jazz Concert outfits
Cocktail attire is also a less formal option for an upscale jazz concert. In this case, a dress no shorter than mid-thigh is appropriate. Avoid mini dresses as you'll be sitting down for a long period of time. An LBD with statement accessories is a great choice, but don't be afraid to go for a bolder dress or jumpsuit.
I love this bold maxi dress in a wild teal print with capped sleeves, side ruching, and a high slit to show some leg. Style with minimal black accessories. Click here to view the Diane von Furstenberg Apollo Maxi Dress.
An evening purse or stylish clutch is the perfect size for both a formal or upscale jazz concert. Add a little bit of sparkle with this unique Celestial Box Clutch from The MET Collection – click here to view.
Avoid cheap prints and thin materials that could downgrade your look at an upscale jazz concert. Skip the super-high stilettos and opt for a 4-inch heel or lower, like this T-strap chain stiletto with a shiny heel. Click here to view the Qiven High Heel from Jessica Simpson.
If it's cold outside, wear a coat that's long enough to cover your dress and wear it into the venue. Always keep things tasteful for what to wear to a jazz concert when you're attending a classy venue.
Related Post: 10 Elegant Style Tips To Look More Sophisticated
What To Wear To A Jazz Show
Next, we venture into a casual jazz concert at a music venue that has both a seating section and a general admission (or standing area) in the front. A casual jazz concert is held at a typical concert venue such as the Tower Theatre near Philadelphia, Pennsylvania. These venues can be as large as an indoor stadium or much smaller, depending on the band or music act.
Because it's jazz music, you can go bold with your outfit and experiment with colors, prints, and styles. Jazz music has personality, so you'll want to feel like your most carefree version of yourself for what to wear to a jazz show, especially if you're dancing. Don't be afraid to dress in costume or like a certain style personality, especially if your jazz show is around a holiday.
Related Post: What To Wear To Rocky Horror As A First-Timer
Standing Or Dancing Jazz Show
If you'll be in the standing section or plan to dance, a stylish and comfortable outfit is key. Many music venues seem to pack the audience in like a box of sardines, so avoid bulky sweaters and anything too warm.
Try a cute top with a flirty skirt and a pair of boots. Or go for a sleek casual look with a bodysuit like this one from Sophie Rue, with a twist in the front and an off-the-shoulder band – click here to view. Style it with a pair of black jeans, like this wide-leg pair from MM.LaFleur – click here to view. Or try these ankle-length culottes from Mango, click here to view them.
Throw a blazer or leather jacket on for a complete look.
A small crossbody bag is best for a standing-room jazz show to keep your hands free.
The best footwear for what to wear to a jazz concert standing is a boot or loafer with a comfortable sole. Lug soles are perfect and combat boots are the O.G. concert shoe, in my opinion. Click here to view the Bettyy Black Boot from Steve Madden.
If you're into heels, choose a block heel and keep it no higher than 3 inches for the most comfort when standing. Avoid suede fabric and anything that can get ruined from a spilled drink.
These stunning gold pumps from Sarah Flint are the perfect height to move and groove to – click here to view. And check out these affordable dupes from Aerosoles – click here to view them.
Smaller hats are also a great accessory to style with when you're in the GA section. If you have long hair and plan to dance, bring a scrunchie to tie it back when you get too hot.
Seated Jazz Show
If you're in the seated section, you'll want to wear something that's comfortable to sit in for a few hours. Avoid overly tight pants and low-rise pants that squeeze your mid-section or cause fashion faux pas when sitting. Mini dresses and super short skirts might be too revealing when sitting, so keep that in mind.
Try a sleek pair of trousers and a beautiful statement top, like the one below.
Or go for a dramatic one-shoulder silk top with a pair of silk pants, like this one from Cult Gaia – click here to view.
You have your best choice in footwear with seated tickets, so pull out your favorite heels or wild boots and have fun! These sexy mid-calf platform boots would style nicely with a skirt and a pair of sheer black tights. Click here to view the Camden Suede Platform Ankle Boots from Loeffler Randall.
Handbags should be something you can wear easily such as a crossbody or draped on your shoulder or forearm. A clutch may get lost or stolen under your seat or in the bathroom.
Avoid wearing big hats that may block someone's view. Concert etiquette is important when considering what to wear to a jazz show, even at the most casual of venues.
Related Post: What To Wear To A November Wedding
Jazz Club Outfit Ideas
A jazz club is typically in a more intimate venue with limited seating. Jazz clubs may have high-top tables, reserved seating, or be in a tiny standing room. Either way, this is one of the best ways to see jazz because you're close enough to the musicians to experience the energy and emotion that goes into playing the music. Jazz club outfit ideas vary depending on whether the jazz club is upscale, such as Herb Alpert's Vibrato Grill Jazz in Los Angeles, or a basement-level dive.
If you and your party decide to hop from one jazz club to the next, make sure your outfit is appropriate for at least an upscale bar dress code (e.g. sneakers might not be allowed at certain clubs).
Related Post: 15 Perfect Bar Outfits For Your Next Night Out
The same handbag recommendations exist for jazz clubs where you'll be standing: small crossbody bags. Clutches and other small handbags are suitable for jazz clubs where you'll be seated, like this stylish black crystal mesh bag from olga berg, click here to view.
Upscale Jazz Club Outfits
For any jazz club that requires reserved seating or tickets in advance, you'll want to dress appropriately for a night out. A cocktail dress or an elegant matching set is perfect for an upscale jazz club, as is an evening gown. Both cocktail attire and business casual attire are good choices too.
Try this silk maxi skirt, with a flirty high slit. Style it with a sleeveless knit top and a pair of heels. Click here to view the Dreamer Silk Maxi Skirt from Banana Republic.
What To Wear To A Jazz Club In NYC
Try deep colors with bold accessories for what to wear to a jazz club in NYC. Opt for smart casual clothes or fun going-out clothes, same as if you were heading to a bar. If it's chilly outside, bring a coat or jacket you don't mind holding in case the venue doesn't offer a coat check and you're standing the entire time.
Related Post: What To Wear In October | New York City Edition
This edgy faux leather dress with an asymmetrical neckline from MICAS is sexy, but not too sexy – click here to view.
What To Wear To A Jazz Club In New Orleans
The weather is definitely warmer for what to wear to a jazz club in New Orleans. Opt for lightweight materials and definitely wear your dancing shoes. It's not uncommon for a New Orleans jazz club to operate out of what looks to be someone's house, where you're packed into the prior living room with a crockpot of free barbeque in the back.
This sweet chiffon dress is lightweight for warm evenings (and days) with a darker bouquet print. Click here to view the Teya Dress from MISA Los Angeles.
This babydoll mini dress is moody and playful. Style it with tights, leggings, or bare legs–boots or flats! Click here to view the Black Jardin Mini Dress from En Saison.
At these laid-back jazz clubs (and even backyard venues), it's free for all with what to wear (and drinks most definitely will be spilled if you're jazz club hopping, so keep the designer duds at home. And it's New Orleans, so dress as wild as you want and capture that celebratory atmosphere in the birthplace of jazz.
What To Wear To A Jazz Concert Outside
Outdoor shows are more relaxed in terms of what to wear to a jazz concert. You're dressing for the weather as much as dressing for the jazz event.
Music festivals such as JazzFest in New Orleans have a free dress code: wear what you want. If the weather's hot you'll want to wear comfortable, unrestrictive clothing. Wide-brim hats are your best friend at an outdoor jazz concert during the day.
This sequin tank is a great day-to-night option for those long days of music. Click here to view the Alga Top from Heidi Merrick.
Or try this metallic racerback top for a sporty, but totally glam vibe. Click here to view the Shine Racerback Tank from Porridge.
A long, flowy skirt is a great choice for what to wear to a jazz concert outside. It has a feminine vibe and looks very romantic when one is twirling and whirling to the music. I love this beautiful boho skirt from Figue that was inspired by the pattern of a French scarf, click here to view it.
If you're attending an evening jazz concert at any outdoor concert venue such as Red Rocks Amphitheatre in Morrison, Colorado, casual attire is fine. A jacket or cardigan might be appropriate if the evenings cool down, especially in locations with low humidity.
Outdoor jazz concerts at venues with lawn seating definitely require casual clothing and shoes that won't dig into the grass. Try these embellished bronze sandals from Kurt Geiger, click here to view them.
Looking for more amazing concert outfit ideas?
Check out this post: What To Wear To A Concert | Best Concert Outfits For Every Season
I LOOOOVE live music. Have you been to any good jazz clubs? Comment below and let me know where you've been and how it was?!
This post was all about what to wear to a jazz concert
Related Posts: