Traveling to New York City this fall and have no idea what to wear in October? These NYC October outfits are all the inspiration you need to make your trip both stylish and memorable!
New York City weather in the fall can be unpredictable, so you definitely need to prepare for what to wear in October. Temperatures for October in New York City are cooler, with an average high of 64F (18 C) and an average low at night of 50F (10 C).
Days can be warm and sunny or cool and rainy, while evenings definitely require a jacket (or coat if you're late in the season). Your best bet is to come equipped to handle every situation.
Try these super chic NYC October outfits and you'll for sure be both stylish and comfortable. Let's get going!
This post is all about what to wear in October.
What To Wear In October In New York
1. Knit top + cropped Pants + Chelsea Boots
Knitwear is always a great idea for what to wear in October. Pair a fitted knit top with cropped jeans to keep things stylish and casual. I always opt for layers to create my October outfits, so a cami layered underneath is just an additional step to keeping warm if you won't want to spend the day in a heavy coat.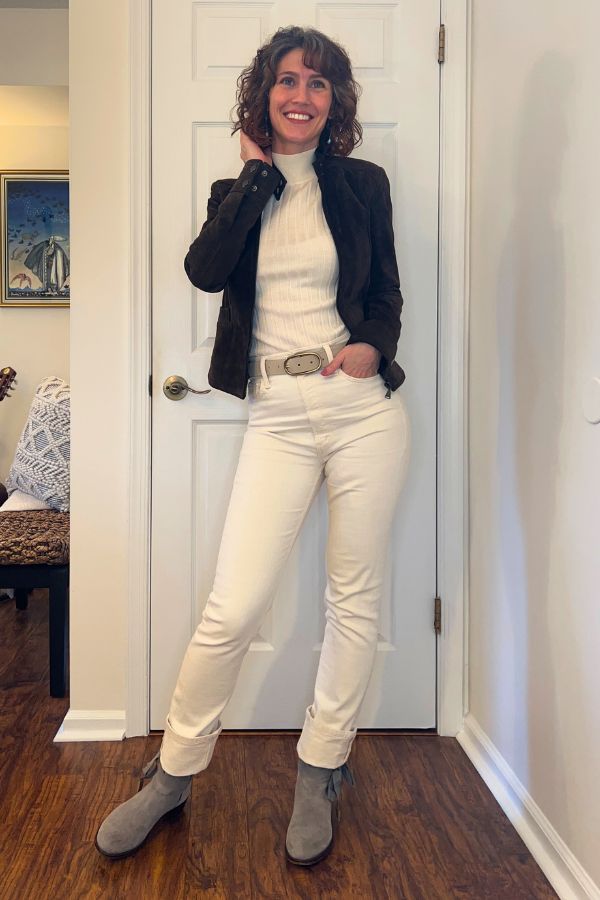 Try the Mock Neck Knit Top from BERLOOK or the Bell Sleeve Knit Top from Etmon, both in a blend of natural and synthetic fabrics, including wool and cashmere.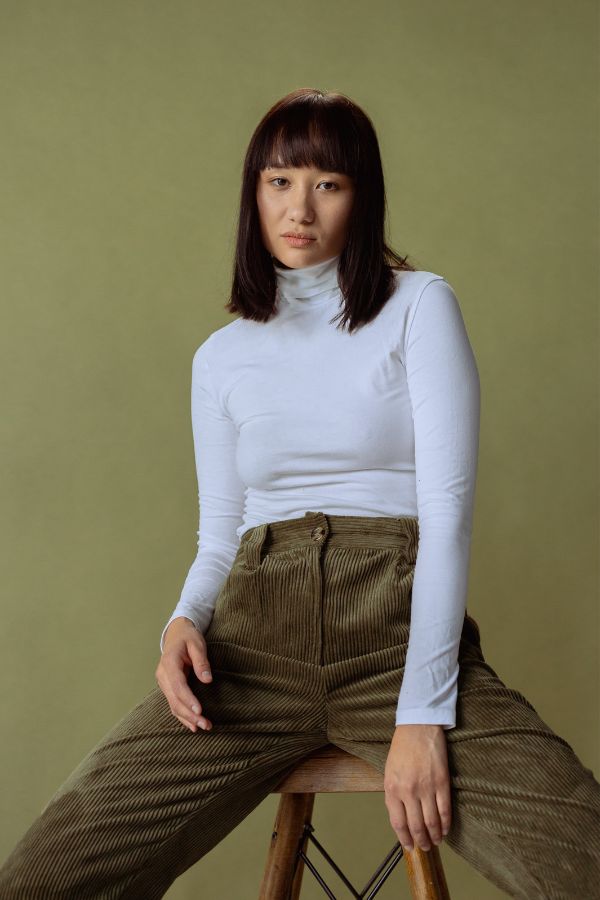 The Paige Cindy Corduroy Pants have a slim, straight leg that can be rolled up to create a cropped style. Or try the Crop Boot Jeans from Banana Republic that style great with ankle boots, any time of year.
Low-heeled Chelsea boots are perfect for walking the blocks of New York City and the boot shaft will cover your ankles, so you don't get chilly. The Nisolo Carmen Chelsea Boots are rugged, yet elegant, and perfect for any type of fall weather. I also like the Dakota Water Resistant Boots from Toms which will definitely keep your feet dry on a rainy day. For those who can't resist, the Hawk H2O Boots from Dolce Vita have a 2.75-inch heel but are still rated high for comfort.
2. Autumnal dress + leather jacket + Tall Boots
For the woman that loves to wear dresses, you can't go wrong with an autumnal dress in a floral print, color-block pattern, or warm hue. Maxi or midi styles are the perfect styles for what dresses to wear in October. The key to wearing dresses year-round is to layer thin thermals underneath to provide insulation against your skin. I will always and forever recommend the Modal Cashmere Thermals from Intimissimi.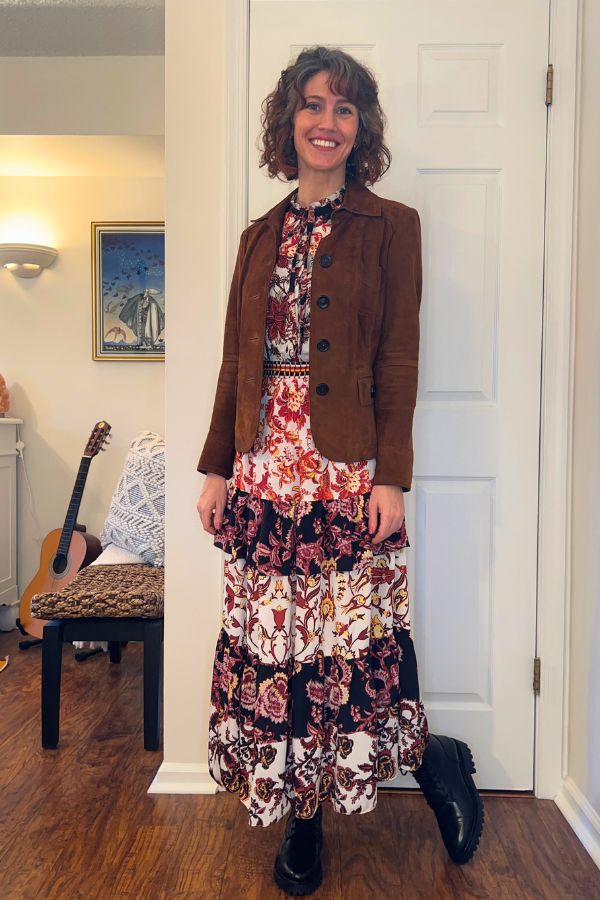 The romantic La Ligne Diane Dress is perfect for layering all-black underneath. Maybe, it's the piece you throw over your black outfit for going out at night. Or try a more fitted style like the New Look Ruched Sleeve Midi Dress.
Style your dress with a leather jacket and you've got the perfect aesthetic of feminine and edgy for New York City style. I love the fall vibes the rust-colored Boston Common Leather Jacket from Bernardo Fashions gives. The 100% Suede Biker Jacket from Quince is a steal and comes in so many color options. Swap the short jacket with a leather trench coat for cooler weather, or bring along a wool coat for the evening when temps drop.
Style with tall boots to keep your legs warm. Plus, it allows you to wear tights or leggings underneath for more warmth. Choose boots that are comfortable to walk with a low heel, flat heel, or platform. Try the Velma Waterproof Tall Boots from Blondo or the top-rated 5050 by Stuart Weitzman. Unless you're heading to a special event, skip the stilettos.
Related Post: 15 Perfect Bar Outfits For Your Next Night Out
3. Elevated t-shirt + jeans + blazer
An elevated t-shirt, jeans, and a blazer are considered what to wear during fall season uniform in NYC. Bring that French girl style to the Big Apple by styling with a pair of loafers. Change things up by wearing something other than a white T-shirt or choose one in a different fabric.
I love the long-sleeve Darcy Top from Marcella NYC with its sheer neckline. Try the Francoise 3/4 Sleeve Dream Knit Tee from Amour Vert for a classic striped look (a la Parisian chic).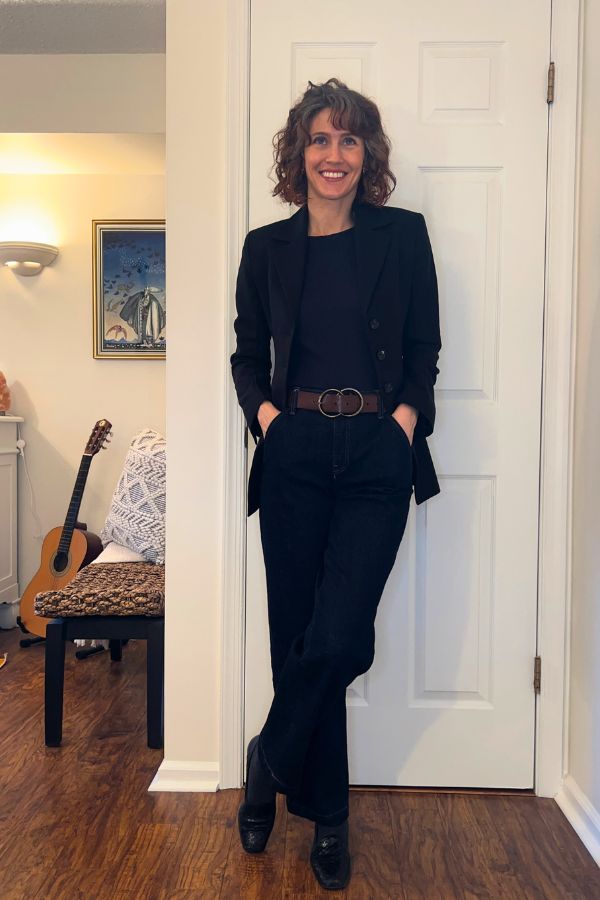 Black is timeless for what to wear in October for NYC, but don't be afraid to branch out in neutral or plaid. Some other classic color combinations for creating New York in October outfits with black include the following:
Black + Gray
Black + White
Black + Navy Blue
Black + Brown
Black + Camel
Black + Beige
Black + Dark Green
Black + Maroon
Black + Cranberry
Black + Goldenrod
Related Post: What To Wear With Navy Blue | 5 Gorgeous Color Pairings To Style With
Try the versatile and slightly oversized Double-Breasted Blazer from KOTN or the Tailored Oversized Blazer from NA-KD, sure to become a favorite of your fall wardrobe essentials.
A classic pair of flat loafers will take you anywhere, day to night. Try the Valeria Square Toe Loafer from Chico for a business-chic look or the comfortable Ballet Loafer from Tory Burch.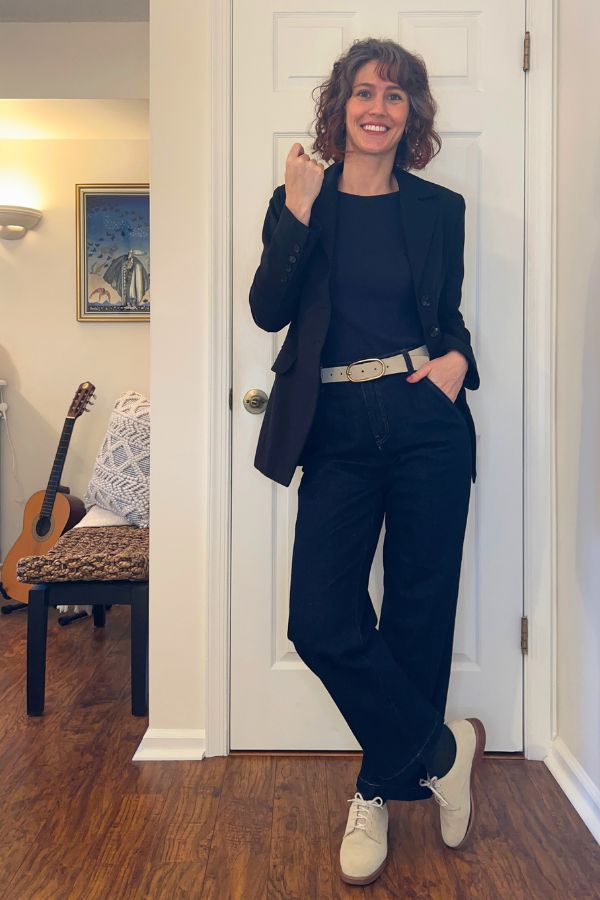 Leave the skinny jeans at home (if you can bear it ;)) and try a trouser style jean, like the one's I'm wearing above, by Banana Republic Factory (Barrel Trouser Jean). The Baggy Straight Jeans by Madewell offer a similar style with a pleated waist.
This look is two parts classic and two parts edgy for what to wear in October in New York City. Leather leggings are appropriate for day or evening wear. Make sure your button-down shirt is long enough to cover your crotch area because let's face it, leggings are not pants (and you don't want to attract any creepers while riding the subway).
Related Post: Must-Have Clothes For Women In 30s
Try the 100% Organic Cotton Big Shirt by Gap or the sleek Oversized Boyfriend Shirt from G-STAR. Stripes will always be in style and Maeve Plus Size Oversized Button-Up Shirt from 11 Honore Collection Sandra Shirt is so cute.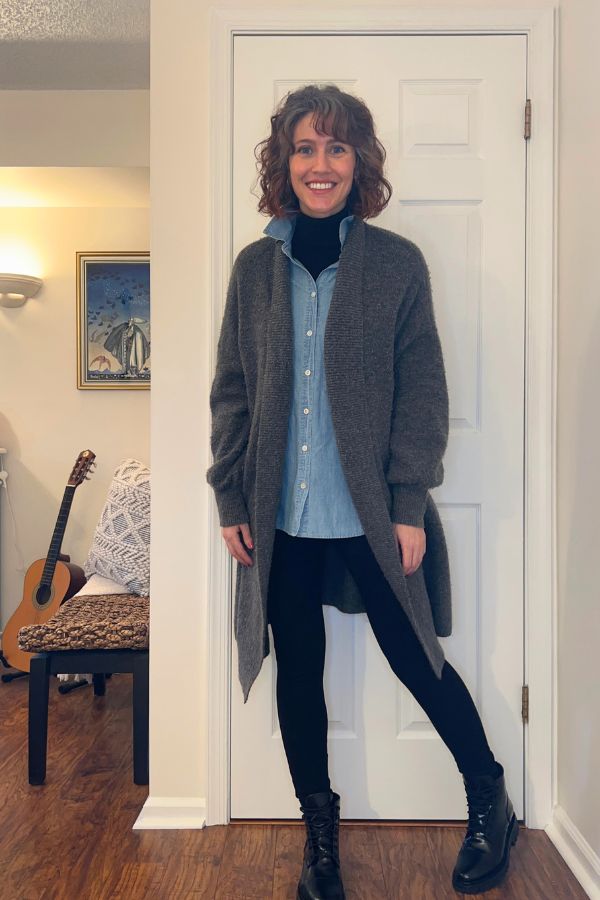 Pair your shirt with the Harrington Vegan Leather Leggings from MM.LaFleur. Looking for a fresh take on the legging? Look no further than the Faux Leather Flared Leggings from Commando for an "of-the-moment" style for all your best fall outfits.
French Mauve's Long Knit Duster Cardigan is slightly oversized for layering under and perfect for walking around the city. The Juliette Collarless Sweater-Blazer comes in a merino wool blend but is thin enough for layering underneath a coat.
Chunky or slouchy boots help to balance out your bottom half with the tightness of the leggings. Leave your laces a little loose, and tucked in to create a slight grunge aesthetic. I just love combat boots for cute October outfits, which is why I've styled them in most of my photos on this post. It's fantastic when you only need to pack one pair of shoes (or none if you're already wearing them en route!).
Try the Mango Lace-up Leather Boots with a quilted leather ankle strap for a twist on a traditional combat boot. Looking for the combat boots to end all debates? Thursday Boot Company's Lace-Up Leather Combat Boots provide comfort, style, functionality, and luxury craftsmanship without the luxury price tag. I love my Thursdays.
5. chunky knit, skirt, Tall boots
Keep things playful with a chunky knit and a cute skirt for what to wear in October in the city. I love the open-knit pattern of the sleeves on the Ribbed Mock Neck Sweater from Skies Are Blue. The Alani Cashmere Mock-Neck Sweater has a boxy look that would be perfect for belting with your skirt. Cinch at the waist with the minimal Molly Suede Belt from B-Low The Belt.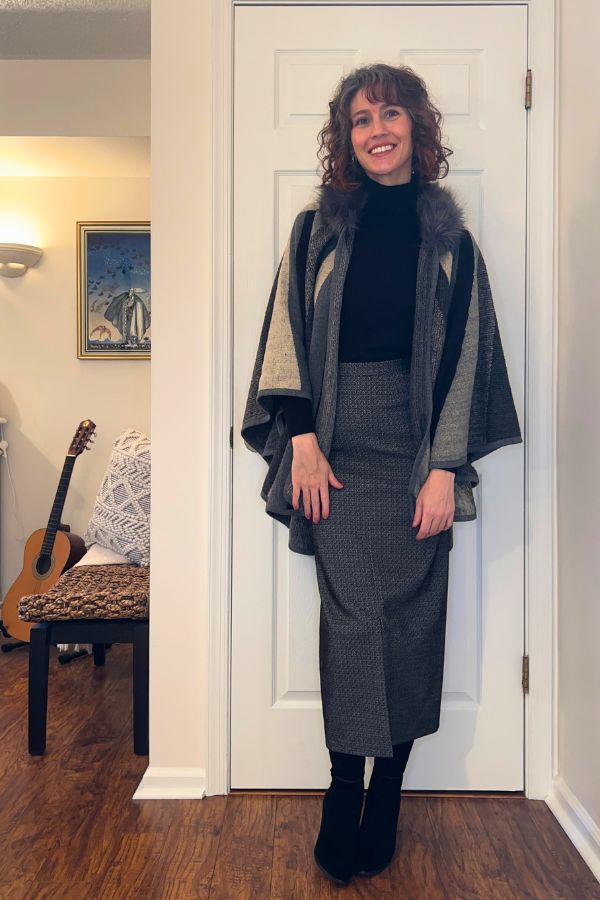 I love statement pieces. If you're looking for a similar statement cape to match your look, try the A.P.C. All-Over Check Print Waist-Belt Cape or the Double Face Throw by Autumn Cashmere.
Choose a skirt in a structured material like leather, denim, tweed, or Ponte so you don't have to worry about it blowing up if it's a windy day. The Micas Asymmetric Frayed Denim Slit Midi Skirt is so cute with an asymmetric waist and totally checks the box for everything denim this season.
The Tweed Midi Skirt from Urban Revivo is delightfully playful and you can swap the knit top for a going-out shirt at night. The Kelsie Maxi Skirt from Naked Cashmere is so luxurious and comfortable, it basically doubles as sleepwear for your city stay. I mean, who would even know if you slept in it?
Pair knee-length and midi skirts with knee-high boots and maxi skirts with knee-high boots or shorter (as long as there's no slouch). Over-the-knee boots are best with short skirts to keep you warm in the New York City fall. Pair your boots with dark tights to cover up any skin so you maintain outfit fluidity (legs are not chopped off) and for extra warmth!
Related Post: 7 Amazing Style Tips For Women To Try Right Now
6. Your Favorite t-Shirt + wide-leg Trousers + Casual jacket
Streetwear reigns in NYC, so your favorite t-shirt with a casual jacket and comfortable shoes is my go-to October clothing to keep things casual.
A slightly oversized shirt is great for layering over a thermal. Keep things simple with neutral colors, such as white, black, ivory, navy, or taupe. Or, look even chicer by matching your t-shirt to your pants for a tonal look. And never underestimate the cool factor of a band t-shirt. Now throw a belted field jacket over top and you're seriously set to be one of the coolest women in New York City that day.
Related Post: 12 Fall Wardrobe Essentials You Need This Season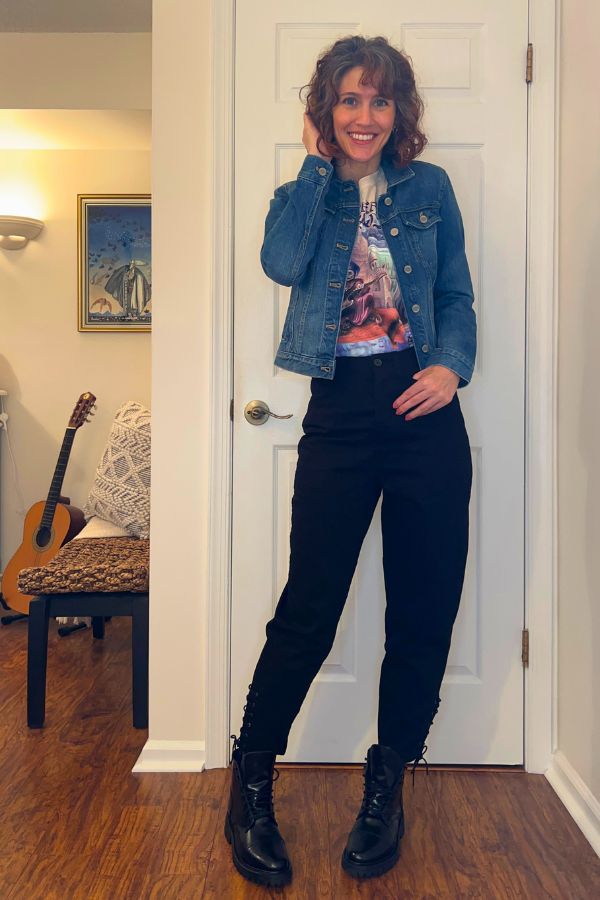 The Aviator Jacket from Sophie Rue is elevated cool-girl style, if there is such a thing. Calvin Klein's Standards Utility Denim Jacket has a slightly oversized utilitarian style that looks chic with any getup. I'm not a fan of the "shacket" trend, but ALLSAINTS' Sophie Monochrome Check Shirt Jacket literally just changed my mind. Lastly, the Wyatt Structured Jacket from A.L.C. easily dresses up or down.
Now for pants, The Petra from Joe's Jeans is a mashup of a trouser and a cargo pant…super flattering fit. Veronica Beard's Belisa Pants offer a similar style, with a removable waist belt. I love it when designers make classic prints modern and cool, such as with the Paisley Print High Waist Wide Leg Jeans from Bolongaro Trevor.
If you're a sneaker gal, definitely check out the Karma Boots from Marcella NYC for a unique cross between a sneaker and a combat boot. Or compliment your streetwear with the Custom Run Star Hike by Converse, which has a comfortable platform, so your pants don't drag on the ground. A leather sneaker like the Salvas White LWG by Cariumas is remarkably comfortable, eco-conscious, and perfect for walking around all day long.
7. High-Neck Long sleeve Top + leather pants
Edgy meets classic again, but this time it's in layers (and layers are your best friend for what to wear in October, as mentioned earlier). Tuck a turtleneck or mock-neck top into leather pants (they don't need to be black!). This is a very easy look to create, but it looks so chic because the leather pants do all the talking.
Related Post: How To Shop Your Closet The Right Way
Try the sexy Ruched Mesh Top from NY&CO or the Jameela Top from NBD for a date in NYC and for going out at night, of course. And velvet definitely isn't only for the holidays, as I demonstrate below. This versatile Cowl Neck Velvet Blouse from Aakasha Shop can go from sporty to happy hour depending on how you style it.
Heidi Merrick's Jojo Pants come in stretch leather, with pleating at the waist, for a relaxed look. You may find the perfect additional to your fall wardrobe staples with the Good Icon Faux Leather Pants from Good American. The Faux Leather Pants from Current Air are structured, yet comfortable with an elasticized waist.
Style a trench coat overtop, add a scarf and a pair of chunky loafers and you're good to head to that Broadway show matinee.
If you didn't know this already, boots are the footwear of choice for what to wear in October in New York City (and really most of fall). Not only do they keep your feet protected in large, hurried crowds, but they also keep your feet dry when you accidentally step in one of those puddles (ick!).
8. collared shirt + tapered trousers + cardigan
Aaaand, we're back to the beloved collared shirt, but this time styling a smart casual look. Choose a style that you can tuck (at least half tuck) into tapered trousers. Add a chunky cardigan and you're set for what to wear in October for your NYC trip.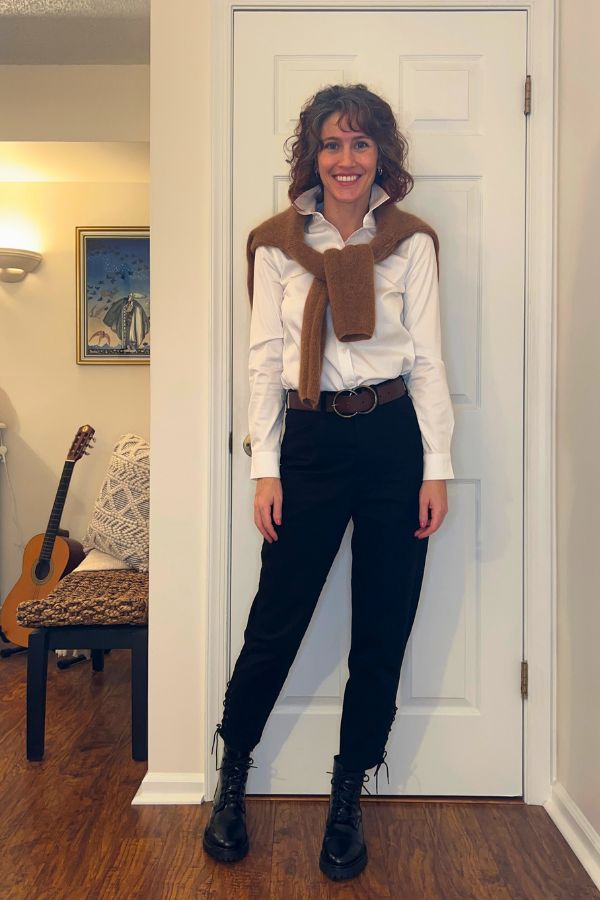 The Deep End from AYR is the quintessential cotton Oxford shirt with an oversized, boxy fit (great for layering underneath). I personally own this shirt in chambray and love the fit and quality. Everlane's Relaxed Oxford Shirt is another fantastic option, for those more budget-focused.
I love the chunkiness of the Emily Alpaca Wool Blend Cardigan from Francis Stories on a cool fall day. The Wool Cashmere Blend Shawl Collar Cardigan gives vintage vibes while the Polo Ralph Lauren Cashmere Crew Neck Cardigan is the perfect investment for your fall capsule wardrobe.
On a cooler day, add a trench coat or a wool blazer.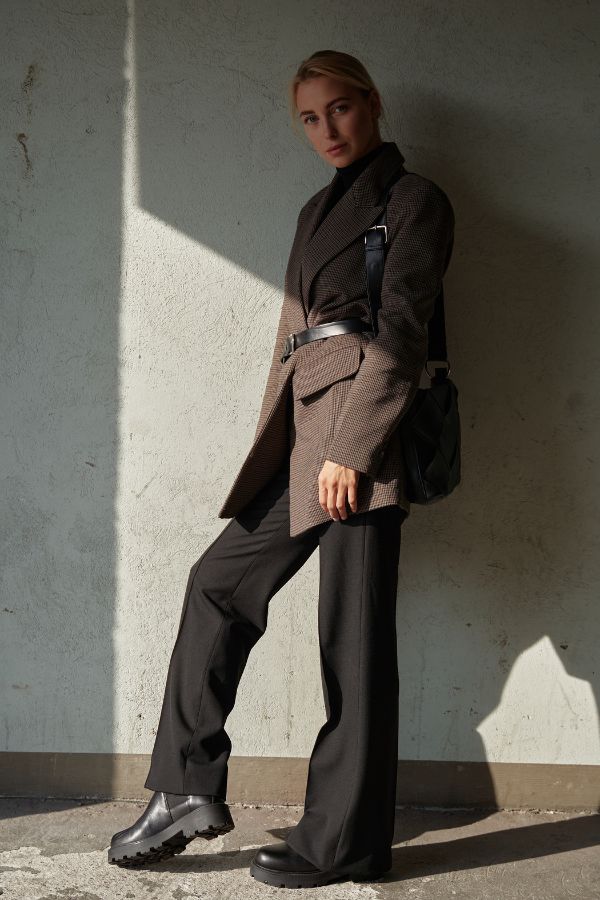 Lace-up boots are perfect for a general admission ticket to a concert at MSG. Try the Madewell The Rayna Lace-Up Boot – Super comfortable lace-up boot in a combat style. The Steve Madden Troopa – Vinage-style combat boot (Victorian-vintage vibes). Last, but not least, the Lani Lace-up Boot from Vionic are a great travel option because their not bulky.
Related Post: What To Wear To A Concert | Best Concert Outfits For Every Season
Pro-Tip: Loose shirts can get chilly in cooler weather in New York City. Combat this by layering a fitted knit tank underneath to stop the cold air from reaching your skin.
9. Sweater dress with tall boots
If you want to look elegant all day, you can't go wrong with a long sweater dress. Opt for a wool or cashmere blend for the most warmth, and choose a thicker knit towards the end of the month. Temperatures can always vary, so stay close to the weather app on your phone!
The Sweater Knit Slouch Dress from Enza Costa is cozy and sexy, styled with tall boots and a long coat or cardigan. The dark gray Lenese Front-Wrap Midi Dress from Modern Citizen is flattering and soft. Or try the beautiful Aavaa Dress from Ted Baker with side ruching and a side slit.
A tall sock boot is perfect in dry weather, such as the Michaelia Pointy Toe Over-The-Knee Boots from Vivaia. A classic leather boot is quintessential for what to wear in October in New York City if you know it's going to rain. The Schutz Kaolin Stretch Patent Leather Boots definitely make a statement with the rest of your cute fall outfits.
Style your sweater dress with a jacket or coat that's the same length or longer than the bottom hem of your dress, so you don't look awkward.
Related Post: Winter Wardrobe Essentials: 7 Key Items That Will Keep You Warm and In Style
10. October Clothing: Items You Can't Forget
Some of these are already mentioned throughout this article, but you should definitely consider bringing all of these for what to wear in October:
Trench Coat
A trench coat is a perfect weight for early October and mild weather where you may have a rainstorm or a chilly evening. Wear it open and tied in the back, or tie it in the front without buttoning it. Try the Luxe Belted Rain Coat from Bernardo Fashions or the classic Pure Cotton Stormwear Longline Trench Coat from Marks & Spencer.
Trench coats will always and forever be a fashion statement, including these edgy leather trenches:
Looking for an equally beautiful budget option? Try the ASOS Aria Cove Faux Leather Trench Coat.
Wool coat
If the weather is cold, you'll definitely need a warmer coat. Long wool coats are sleek, stylish, and comfortable. I wouldn't show up to New York City in the cold without one these days. The Alfie Wool Peacoat from rag & bone is a short wool coat with a removable faux fur collar, super cute and not too much for an October fall outfit. The Houndstooth Wool Coat from Goelia will surely take your fall outfit to the next level. Karen Millen's 18.01 Italian Virgin Wool Whipstich Trench Coat is exactly what you need on a windy and chilly October day (when your coat is basically your outfit).
Umbrella
It's good to be prepared for rain in a walking city like New York City. A mini umbrella is your best friend when the weather takes a turn. Though umbrellas are available in bodegas along each block, wouldn't you rather spend your money on a cover charge at a jazz bar?
Crossbody bag
Hands-free is the way to be. Seriously though, with coffee cups, mobile phones, umbrellas, and shopping bags, a crossbody bag is one less thing to carry. There's also less risk of your handbag getting swiped by a thief. And always, always, remember to close or zip your bag when you're not using it!
Hat
If you get chilly in cool weather, a hat can keep you warm when walking around Central Park or over the bridge to Brooklyn. Choose something that's stylish and compact like a beret, Fisherman hat, newsboy cap, or wool fedora.
Scarf
A scarf can be the perfect ounce of warmth to stay comfortable without needing to layer or bundle up. A long knit scarf is versatile enough to style draped over your shoulders like a cape or wrapped around to keep your neck and decolletage covered.
Sunglasses
This what to wear in October list closes out with sunglasses. Sun protection is essential in all seasons of the year. A big pair of sunglasses will do the trick and you'll look stylish too. You might even manage to save face with the real New Yorkers if you get lost because no one can read it in your eyes.
This post was all about what to wear in October
Related Posts: