Do you need some outfit inspiration for what to wear to a concert? Look amazing in these stylish concert outfits for every season and music genre!
First off, lucky you! Concerts are my favorite way to have fun. So what to wear to a concert to ensure you look stylish but also prepared for the music genre, type of tickets, and venue?
These super cute concert outfits are the perfect inspiration for a concert any time of year. Not only will you look good, but you'll also be dressed to dance, stand, or sit for whatever music and type of fun you want to have!
This post is all about what to wear to a concert.
What To Wear To A Concert Woman
Fall Concert Outfits
Fall concert outfits can vary greatly from the beginning of the season to the end. Autumn is an interesting time of year because it can be hot or cold (or both!) depending on where you live. The daytime temps can make things feel as if it's still summer, but once the sun goes down it can be quite chilly. Dress for these temperature changes accordingly for what to wear to a concert in fall by bringing layers such as a sweater or jacket (especially if you're attending an outdoor venue).
Sleeveless Dress
A sleeveless dress is perfect for fall concert looks because you can style it up or down with different footwear, jackets, and accessories. It's good for early autumn when the temps are still warm in the evening or paired with a leather jacket when the weather starts to cool down. Opt for a higher neckline for fall season such as a mock neck or turtleneck.
Related Post: What To Wear To A Jazz Concert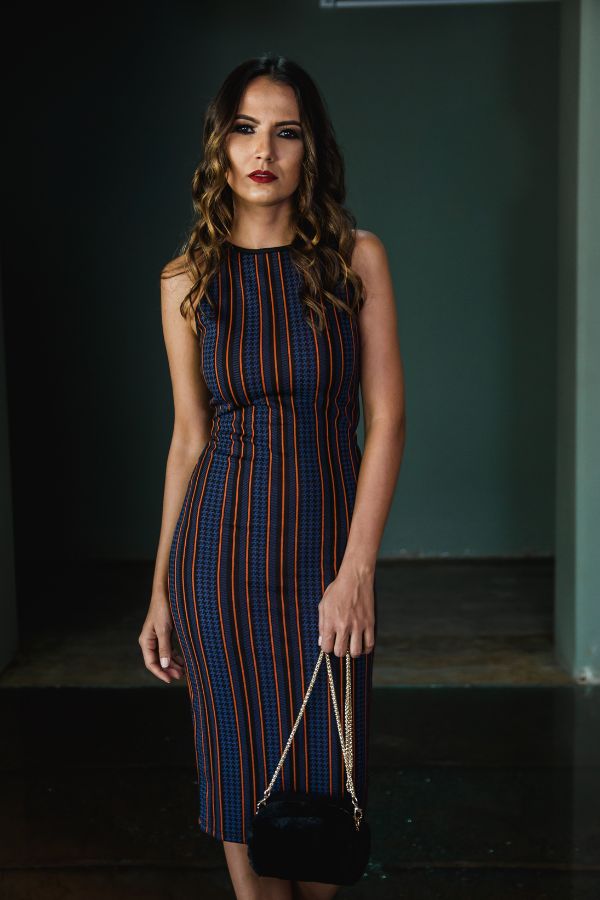 SHOP THE STYLE:
Sheer Top + Cami + Pants
Sheer tops are in style this season and are great for creating cute fall concert outfits. Style yours with a cute bra or cami underneath for a sexy aesthetic. This style goes with any pair of bottoms, whether slim leather pants, wide-leg trousers, or a denim maxi skirt.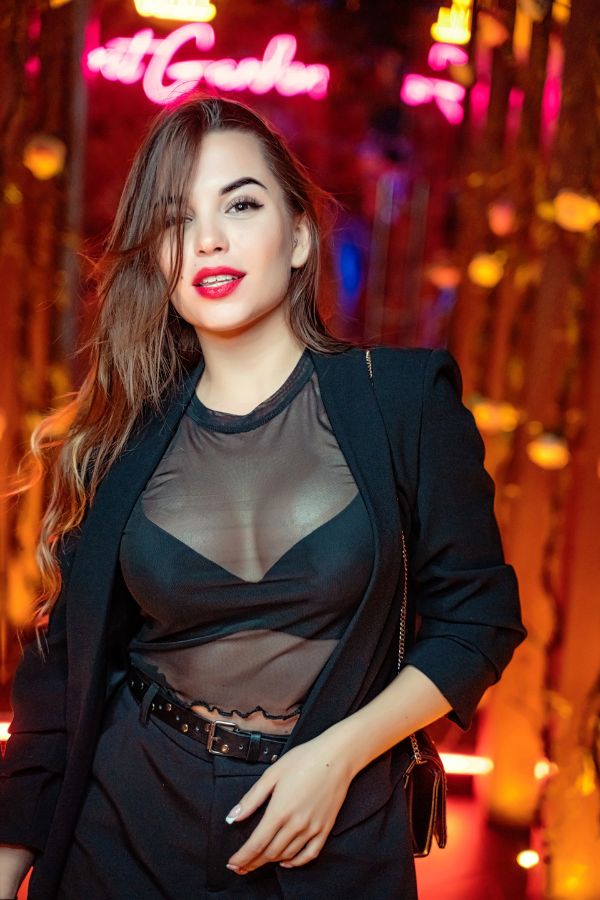 SHOP THE STYLE:
Fitted Tee + Denim Jacket + Black Jeans
This outfit combo is a failsafe for casual fall concert outfits when you don't want to try too hard. The contrast of a feminine t-shirt with the more relaxed and masculine style of cargo pants is great for a rock concert of even hip hop concert outfit ideas. Mixing classic denim and black denim is an updated take on the current layered denim trend, too.
Related Post: What To Wear With Black Jeans | Style Look Book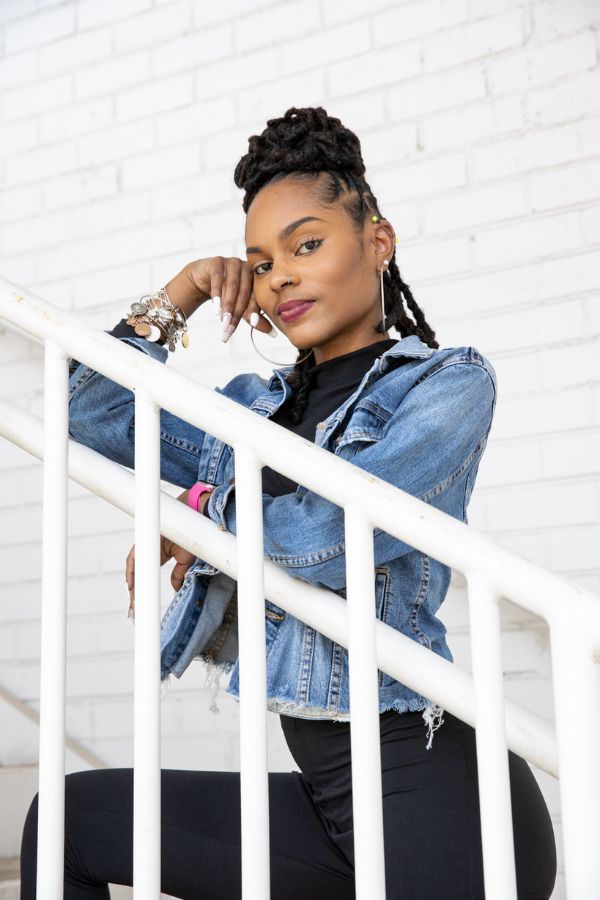 SHOP THE STYLE:
Pro-Tip: If have GA (General Admission) tickets it will be crowded, hot, and with lots of standing and dancing, your best bet is to opt for a casual outfit. Avoid light-colored clothing that can get stains from spilled drinks and makeup. Combat boots are the best choice of footwear in these environments because they're somewhat waterproof, protect your feet from getting stomped on, and can walk on broken glass (or anything) comfortably. These boots have NEVER done me wrong, and I've been to MANY concerts.
What To Wear To A Concert In Winter
What to wear to a concert in the winter can sometimes be tricky because it's cold outside, but you could be walking into a heatwave. Plan your outfit and outerwear accordingly depending on whether you have to wait outside to get in, the coat check situation, and the weather (-3 F is a lot different than 40 F).
Bodysuit + Blazer + Leather Pants
If you want to look dressy chic in a winter concert outfit, it doesn't get easier than a bodysuit with a sleek pair of leather trousers and a nice blazer. You can never go wrong with a classic black blazer. If you take your jacket off, the bodysuit becomes the show-stopping piece of your look. This is a great option for a sit-down concert as well.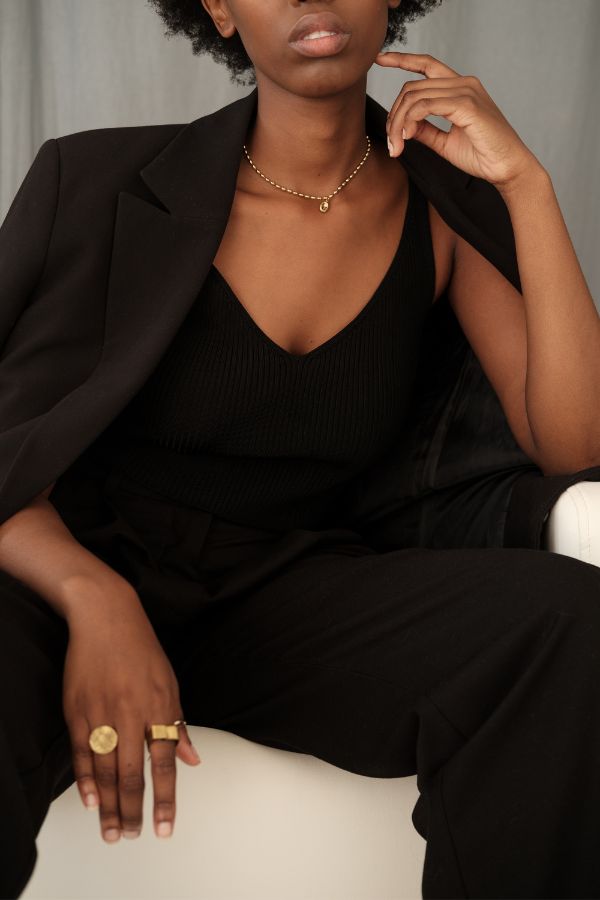 SHOP THE STYLE:
Long Sleeve Knit Dress + Boots
A slinky, cozy knit is sexy and warm enough for what to wear to a winter concert. Opt for a fabric that is synthetic or blended materials as opposed to a bulky knit made of mostly wool, so you don't get overheated.
Related Post: Winter Wardrobe Essentials: 7 Key Items That Will Keep You Warm and In Style
SHOP THE Style:
Band T-Shirt + Midi Skirt + Fur Jacket
What's cooler than wearing your favorite band t-shirt to see music? It gets much cooler when you style it with a midi skirt. This look gets elevated even further with a statement fur jacket. Layer a long-sleeve tee underneath and stockings or leggings for more warmth.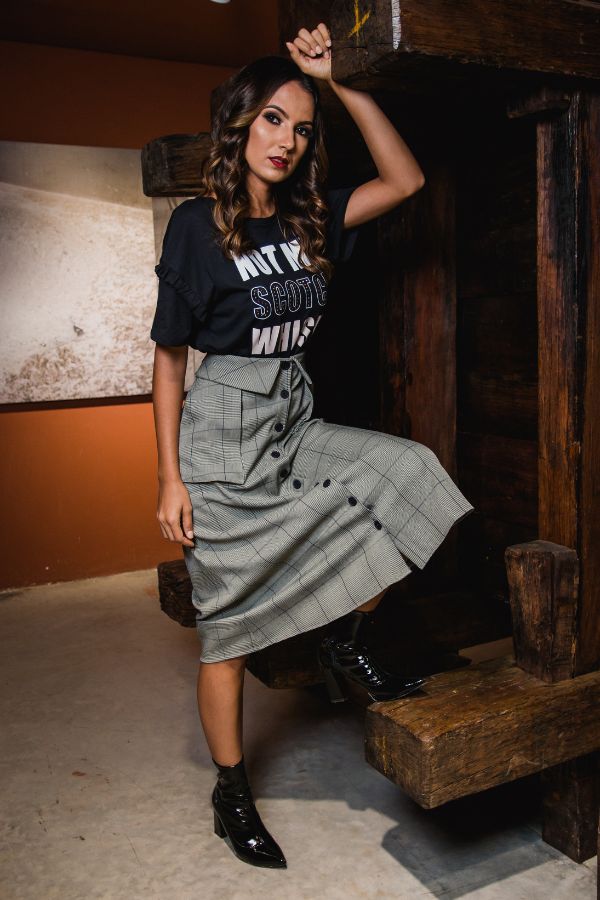 SHOP THE Style:
Pro-Tip: If you're attending a nicer venue with a reputable coat check or if you have box seats, feel free to bring a nice coat. Bring a cheap coat if the venue has a large coat check line or no coat check. This way you won't mind as much if it goes missing or gets ruined. People always spilling their drinks, am I right?
Concert Outfits Spring
Springtime is another shoulder season where it can be unusually chilly and wet. Jackets are always a good idea for what to wear to a concert in spring. Again, I recommend wearing a "cheaper" jacket if you use a crowded coat check or plan to wear the jacket the entire night.
Related Post: 15 Perfect Bar Outfits For Your Next Night Out
Cute Top + Pencil Skirt
Pencil skirts are both elegant and sexy–a perfect choice for styling spring concert outfits. Paired with a cute top and a pair of heels, it's a great date night look for an early dinner or drinks before the show. This outfit is also a great day-to-night option if you work in a corporate office because you can layer a blazer over top to keep things business casual during the day (or even bring a change of top for the night!).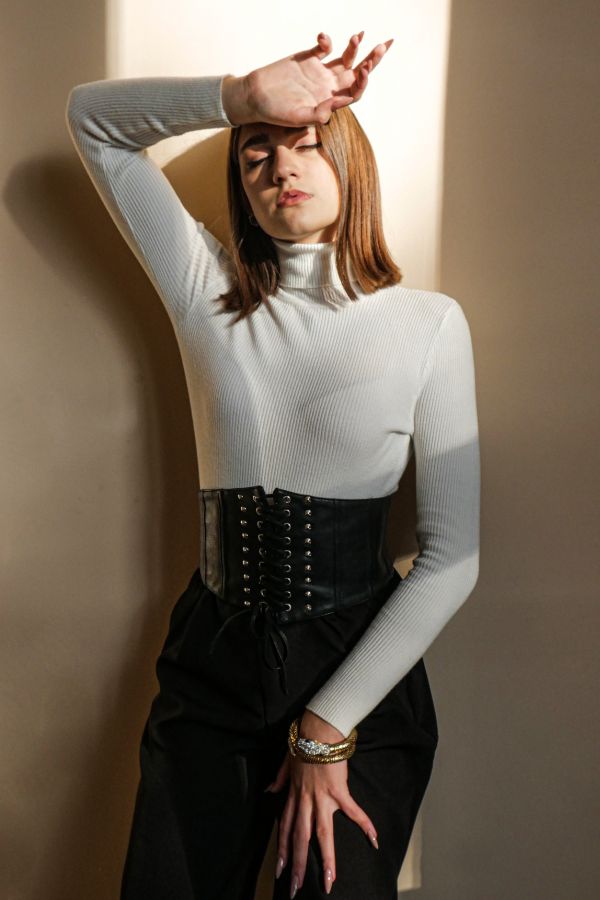 SHOP THE Style:
Playful Shirtdress
Take the classic shirtdress silhouette and give it a youthful twist for a cute spring concert outfit. Style with sexy kitten heels and minimal jewelry.
Related Post: How To Choose An Outfit That Slays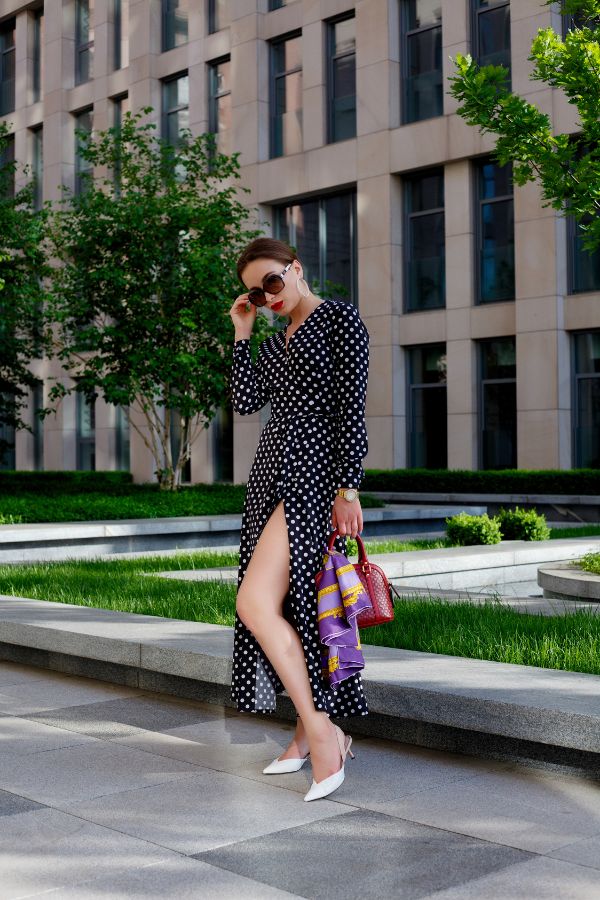 SHOP THE Style:
Vest + Trousers
A vest deserves a place in your wardrobe for events like concerts. Vests have always been associated with that cool musician style, from Jimi Hendrix to Stevie Nicks to Justin Timberlake. Waistcoats have made a comeback, as well. Layer a collared shirt or tee underneath for a chic modern look or wear the vest as a standalone top. Style yours with a matching pair of trousers, or go for an all-black or contrasting look for a cute concert outfit. Add a chic pair of sneakers to create an eclectic look that's also comfortable for standing and dancing the night away.
SHOP THE Style:
What To Wear To A Concert In Summer
The best summer concert outfits are going to keep you cool. If you're anything like me and are dancing at every concert, you'll want something that breathes and moves with you. Flowy dresses and skirts are great for that. Fabrics like linen, cotton, rayon, and satin are breathable for those inevitable hot (and wet) nights.
Sexy Little Black Dress
An LBD is never a bad idea for what to wear to a concert, especially in summer. If you're going to an upscale venue or to company box seats, this will ensure you look classy and chic. Slip dress provide an easy style that your can layer on accessories or keep very minimal with sandals.
Related Post: How To Style The Perfect Slip Dress Outfit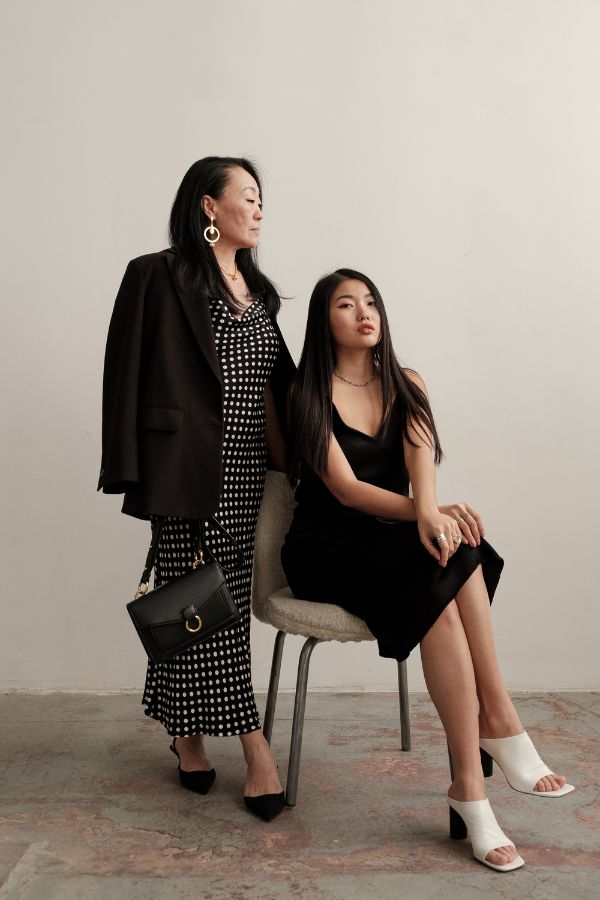 SHOP THE Style:
Matching Set
Leave it to a matching set to bring the party to your next summer concert or music festival. It's playful and makes a statement, perfect for your social media account.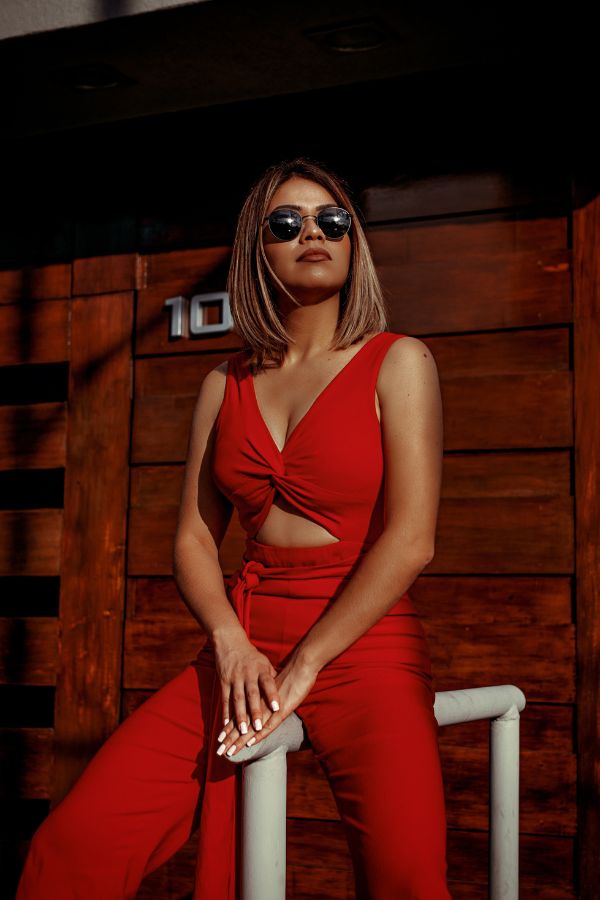 SHOP THE Style:
Tank + Denim Skirt + Sandals
Denim skirts are the answer to wearing denim on a hot summer day or night. Style with an easy tank and sandals for a casual concert outfit or try western boots for what to wear to a country concert.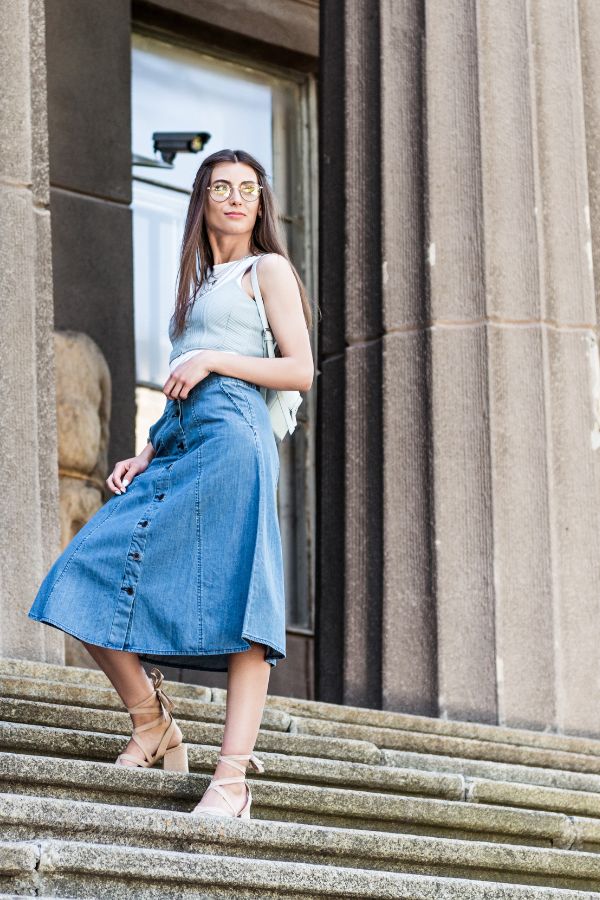 SHOP THE Style:
Pro-Tip: It's tempting to wear thin, strappy sandals to a concert in the summer, but tread with caution. If you're in box seats or an open space with room, sandals can work. However, if you're in a tight crowd or dancing in close quarters, close-toed shoes are always your best bet. No one wants a bloody toe.
What's your favorite band or artist you've seen in concert? Comment below!
This post was all about what to wear to a concert
Related Posts: