Don't know what to wear with black jeans? This look book gives you a variety of different styles to easily recreate with clothes you already have!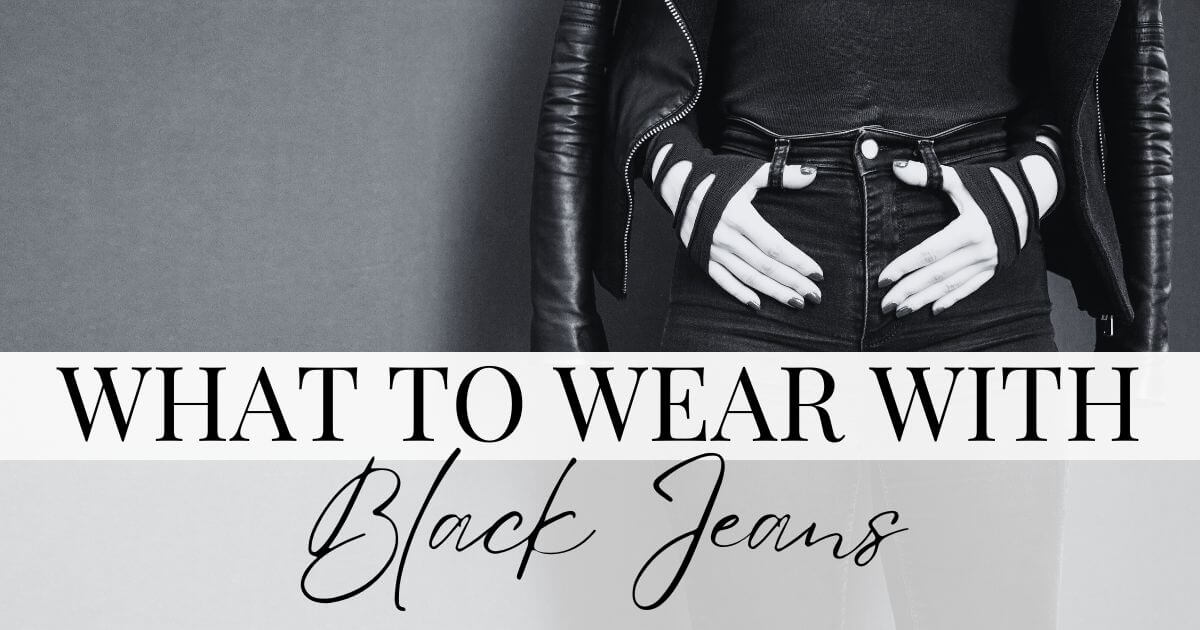 I'm so happy to be writing this article about what to wear with black jeans. I seriously love black jeans. They're my favorite color of denim and my favorite type of casual pants.
My love affair with black jeans began back in high school after receiving a gorgeous pair of GUESS black denim flares, and also a matching denim jacket from the same brand. If you can't guess, this was in the early 2000s. I wore the life out of those pieces, both together and separately. I eventually outgrew the black flares, but the black denim jacket remained in my life decades later (and many pairs of black jeans later as well).
There are so many ways to style black jeans and I'm sharing a few of my favorites with you today. These styles for what to wear with black jeans include smart casual, dressy, casual, and streetwear because black jeans are the most versatile pants in your wardrobe. Ready to get dressed?
This post is all about what to wear with black jeans.
What To Wear With Black Jeans Female
Are Black Jeans Still In Style?
The first question to address for what to wear with black jeans is "Are black jeans still in style?". I see this question around the internet. The answer is a resounding YES. Yes and amen, if you will. Black jeans are like the laidback sister of black pants. And just like black pants (or black trousers) will always be in-demand and in-style, so will black jeans.
Black jeans are one of the most versatile pieces of clothing you can own.
Honestly, black jeans should be on everyone's wardrobe essentials list. Black is a safe color for pants and goes with most everything, any time of the year. You can dress black jeans up for a smart casual look, style with a sexy top for a night out, and dress them down for black jeans street style. They're the answer to black pants when you don't want to try so hard.
Related Post: Wardrobe Essentials Women: The Complete Style Guide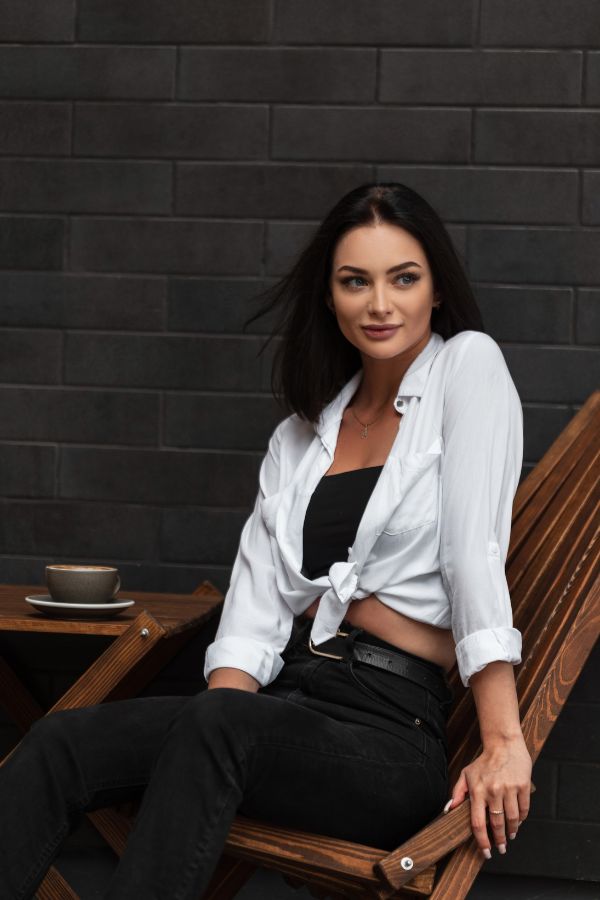 While different styles of denim come and go, black jeans will always remain a constant. I always make sure to have at least one pair of well-fitting black jeans in my wardrobe rotation.
What Shirt To Wear With Black Jeans Female
Here are different styles for what shirt to wear with black jeans, including outfits for when you're running errands, going to a party, or heading into the office. This outfits will work with all different styles of black jeans and aesthetics for you to easily shop your closet and recreate your own versions.
Related Post: How To Style Clothes You Already Have
Collared Shirt + Black Jeans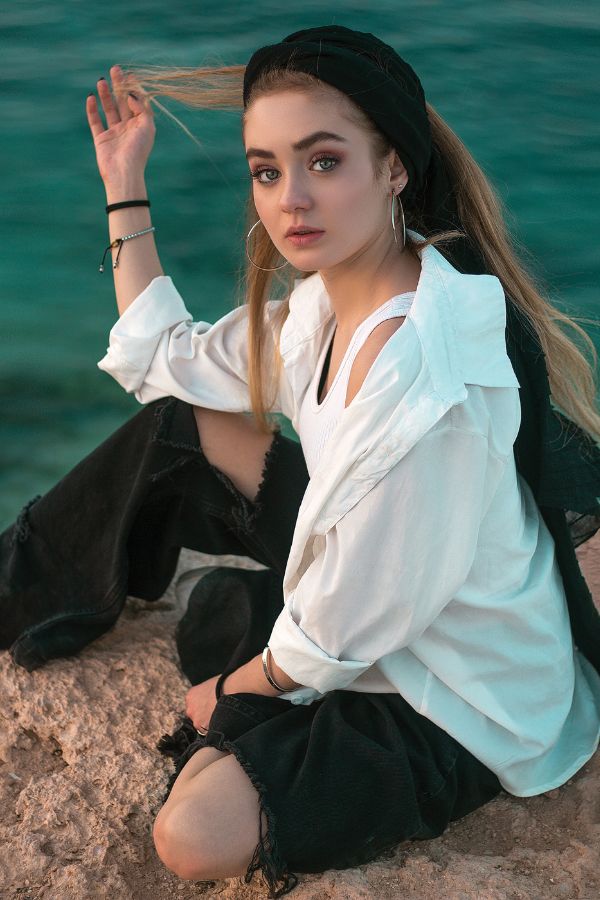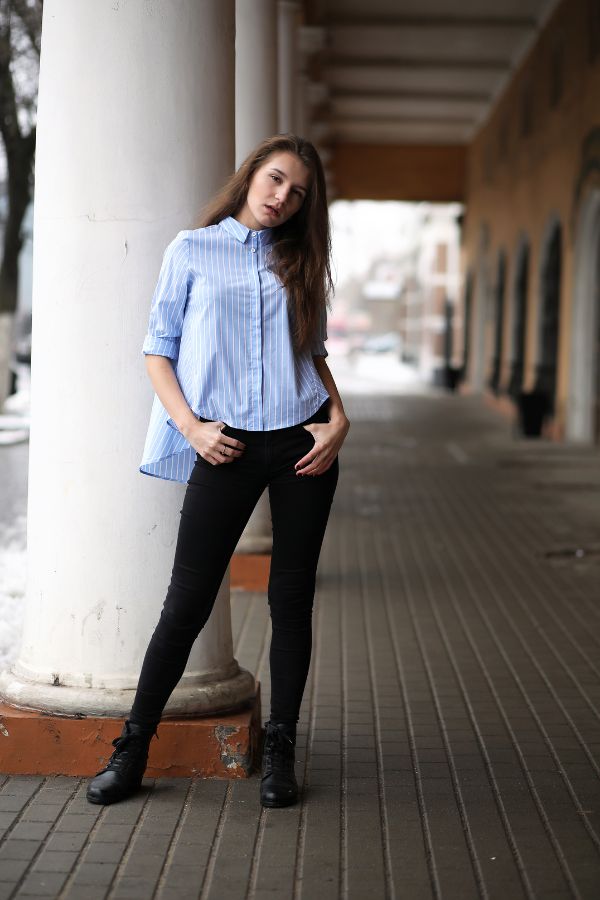 T-shirt + Black Jeans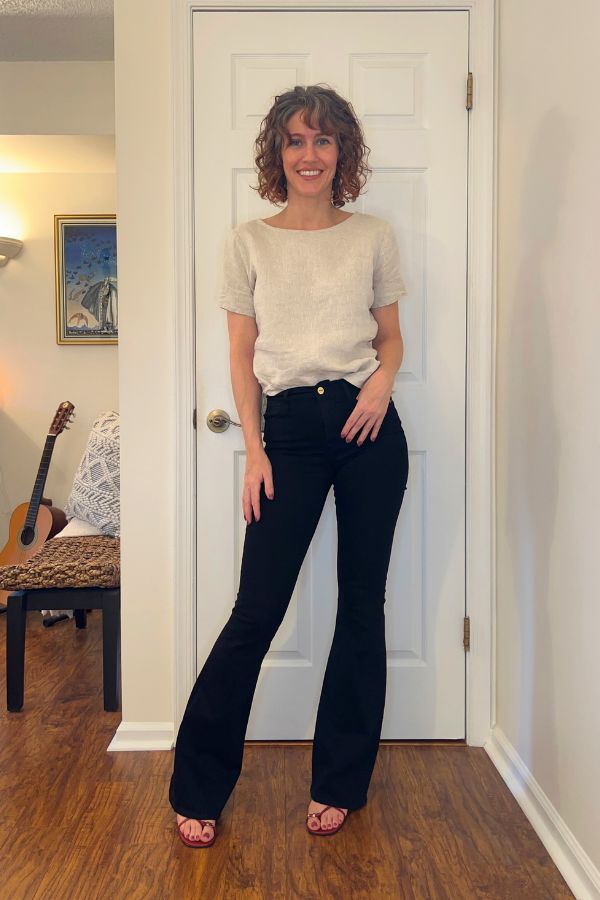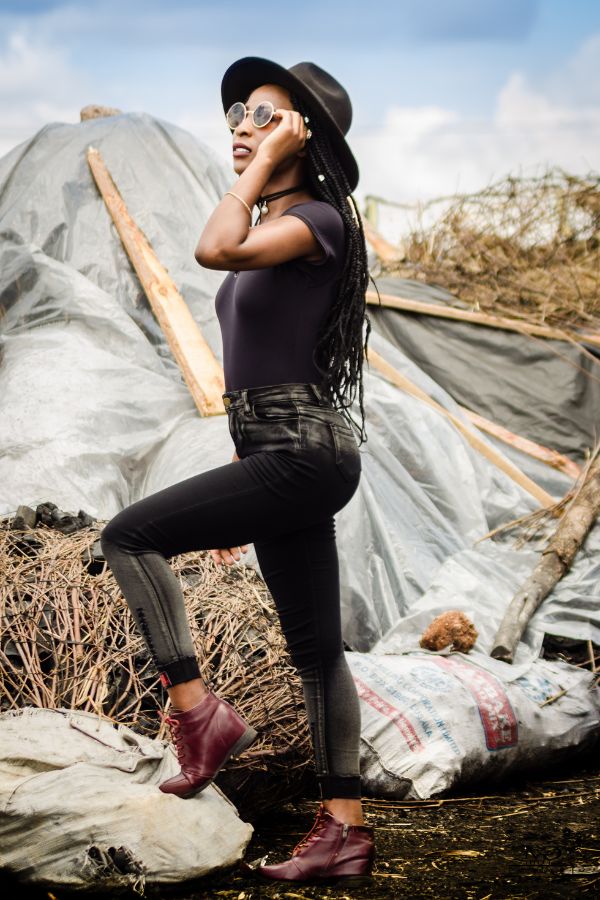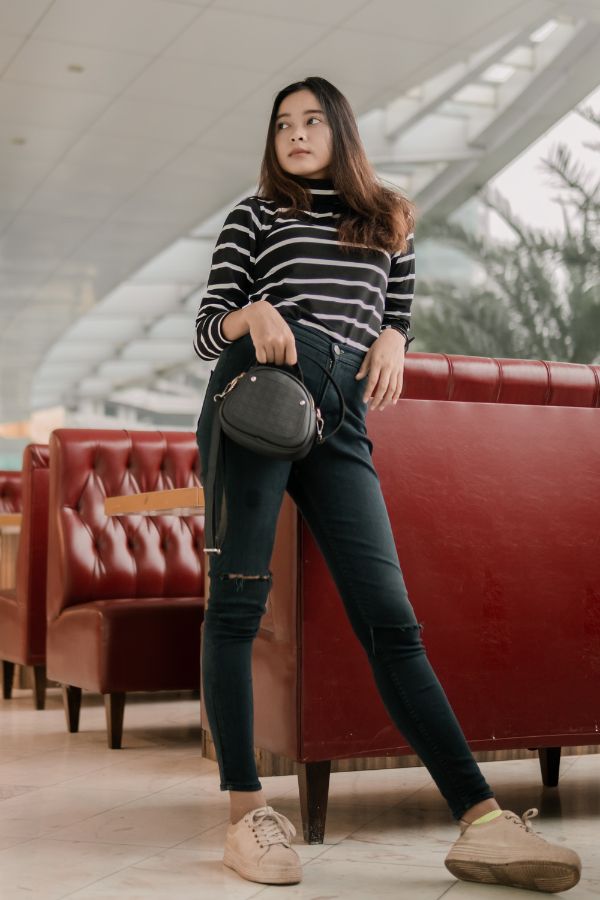 Silk Blouse + Black Jeans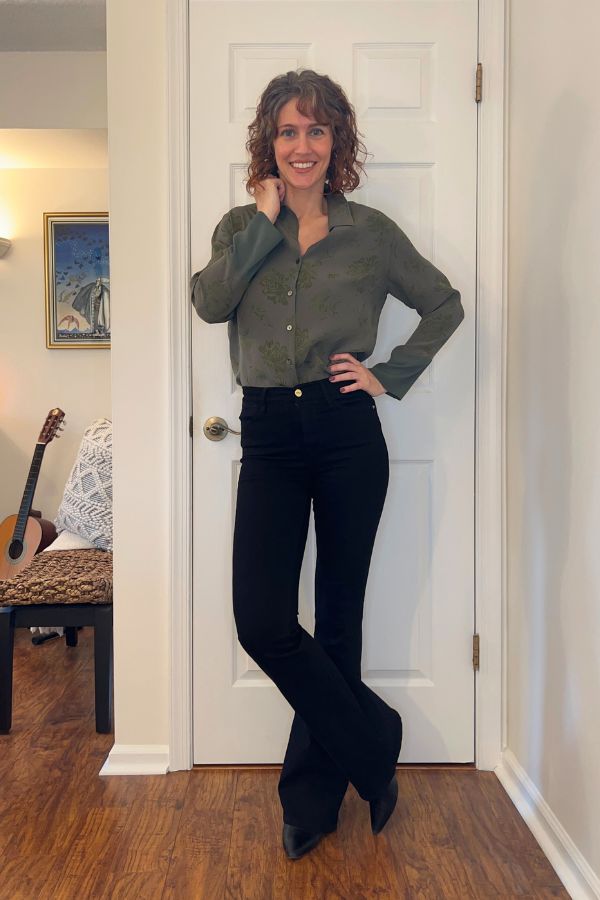 Knit Top + Black Jeans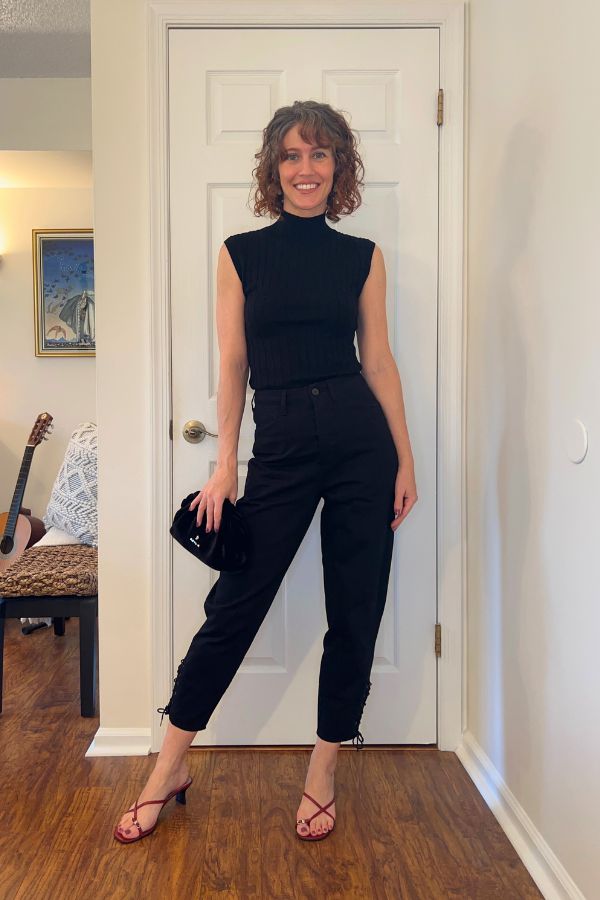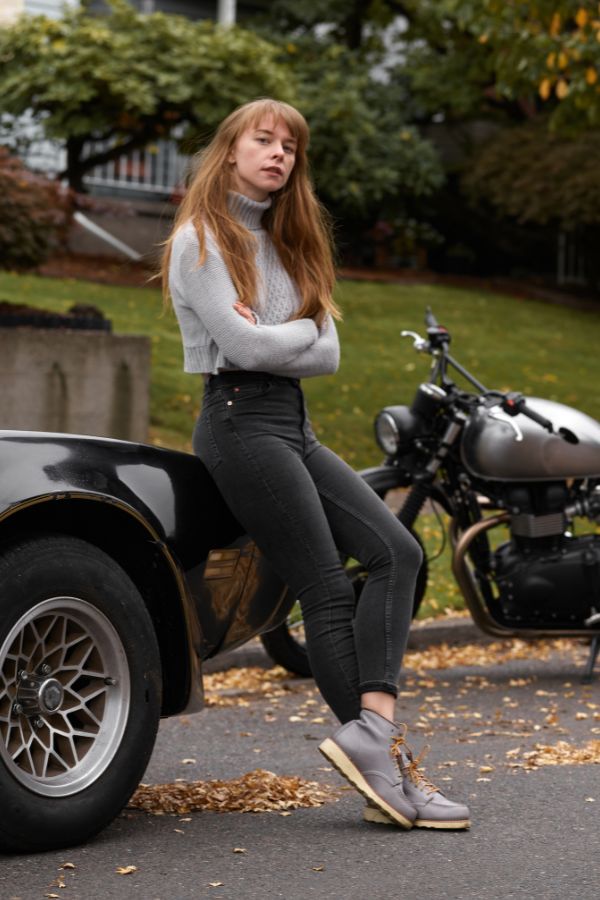 Cardigan + Black Jeans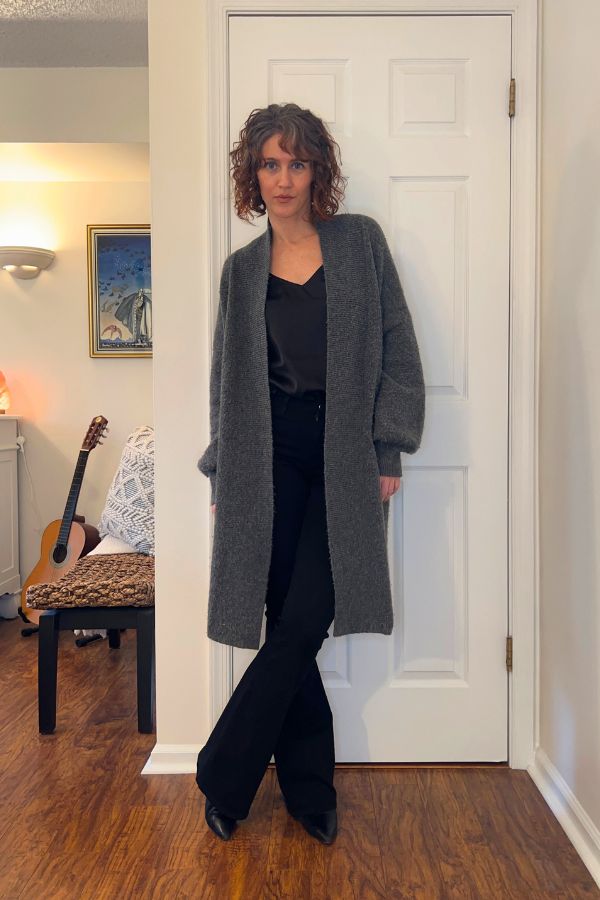 Fitted Tank + Black Jeans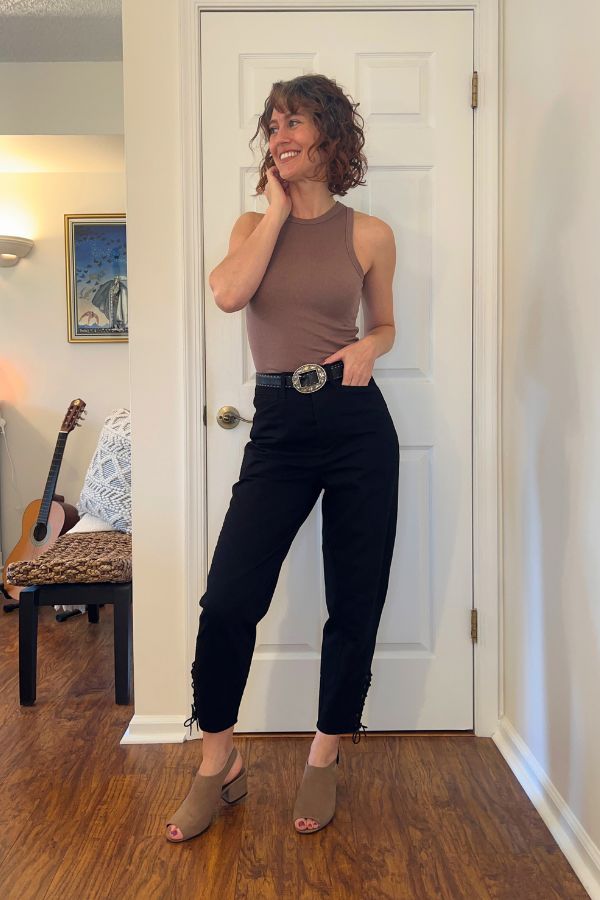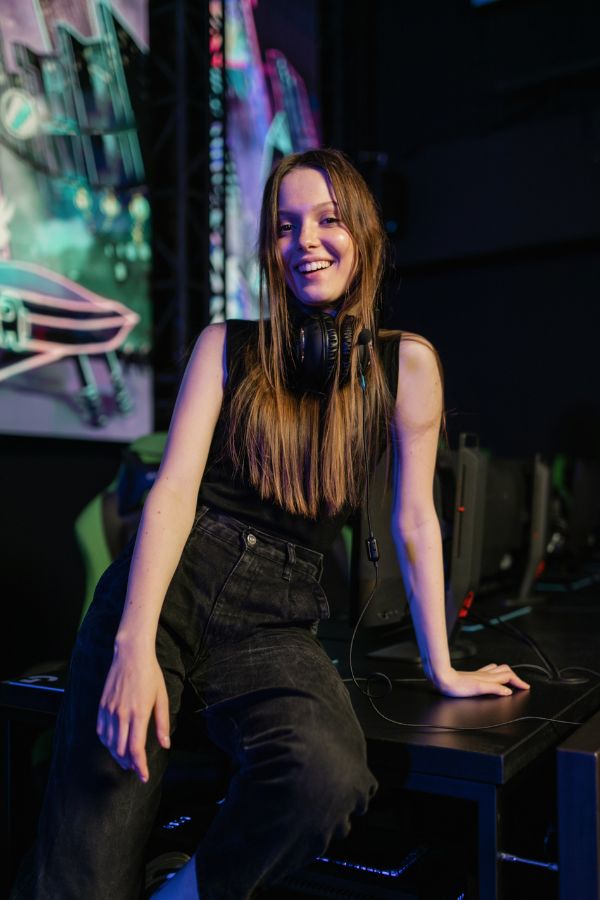 Cute Outfits With Black Jeans
I can't emphasize enough about the versatility of styling with black jeans. As I emptied out my closet for the purpose of creating cute outfits with black jeans, I realized this item goes with everything in my closet. And I have quite the eclectic wardrobe, for those who know me.
Related Post: How To Shop For Clothes Effectively
Here are some chic looks for what to wear with black jeans.
Sleeveless Top + Black Jeans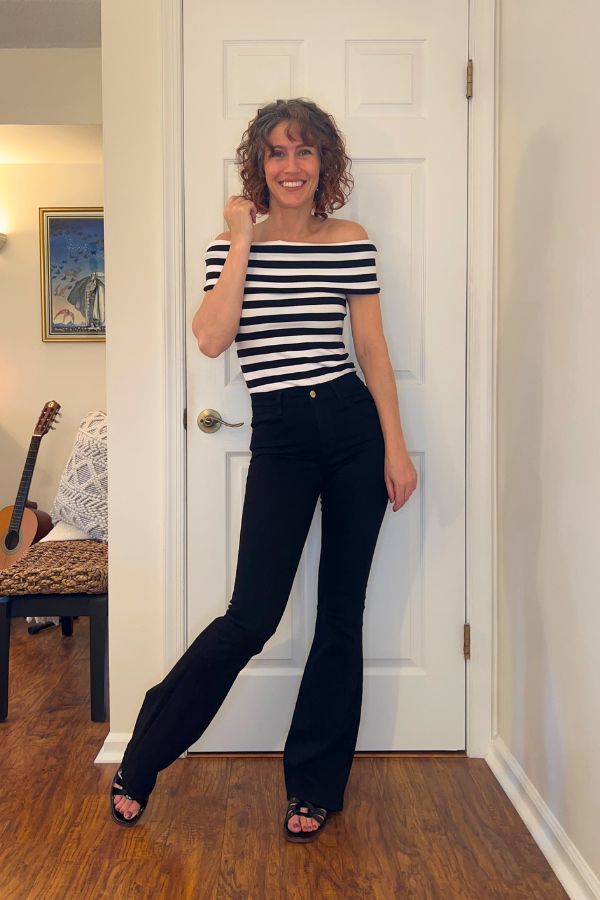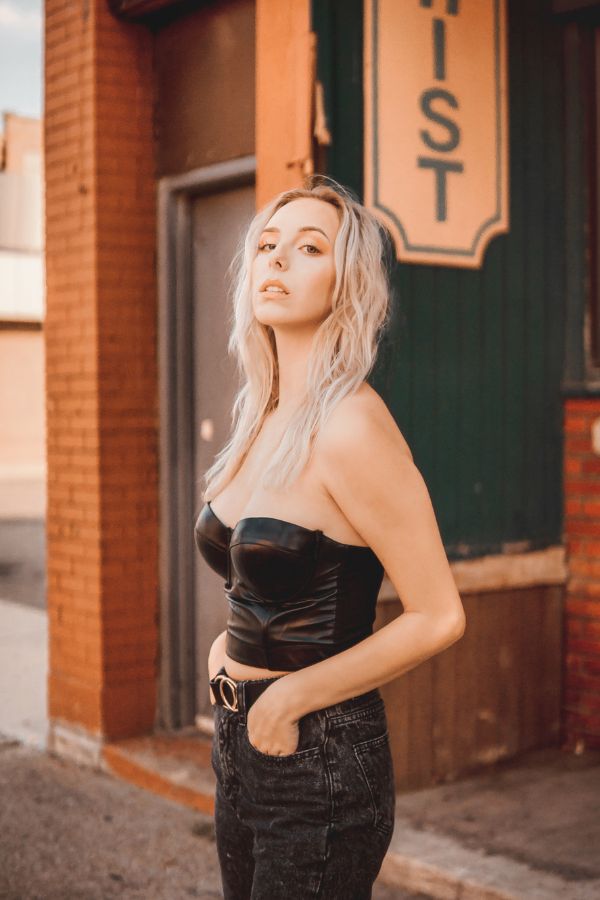 All Black Outfit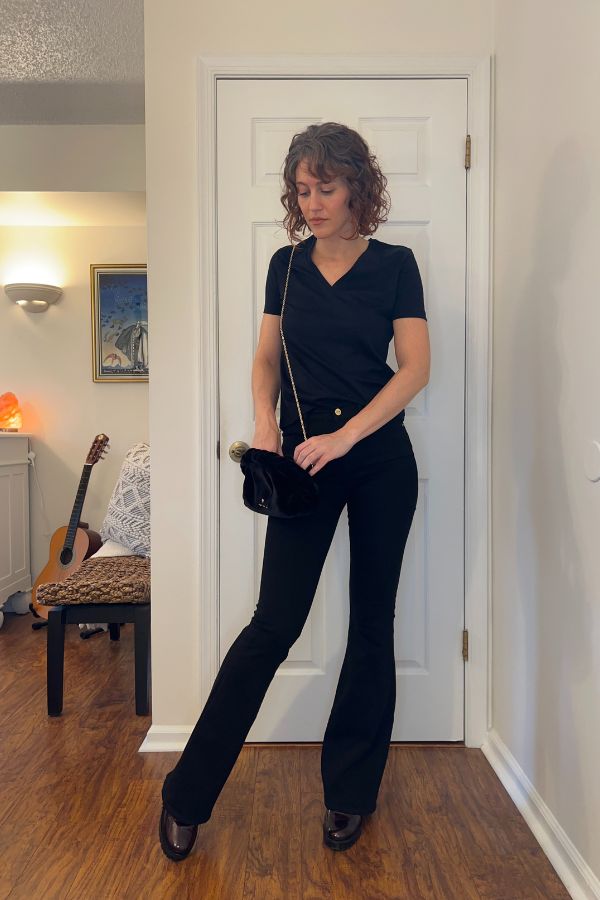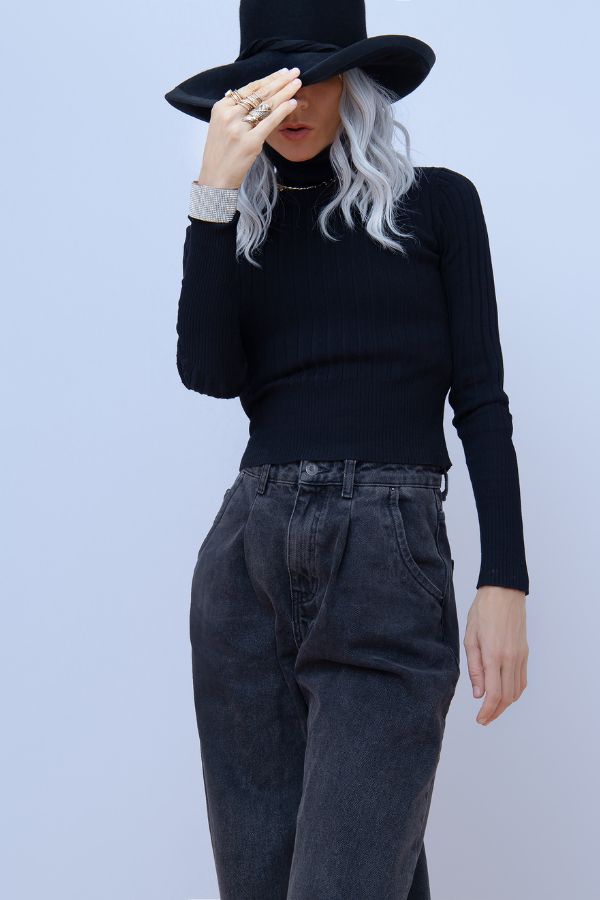 Black + White Outfits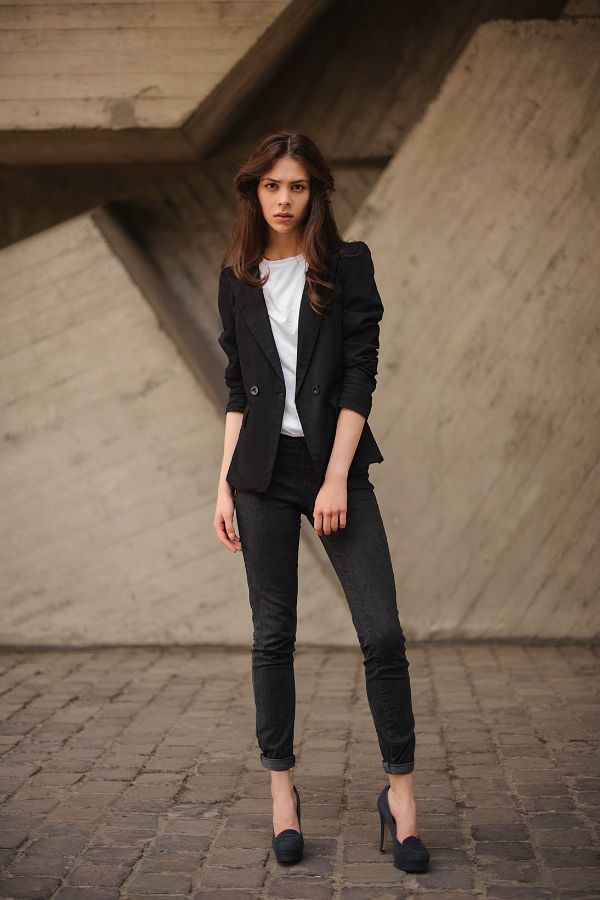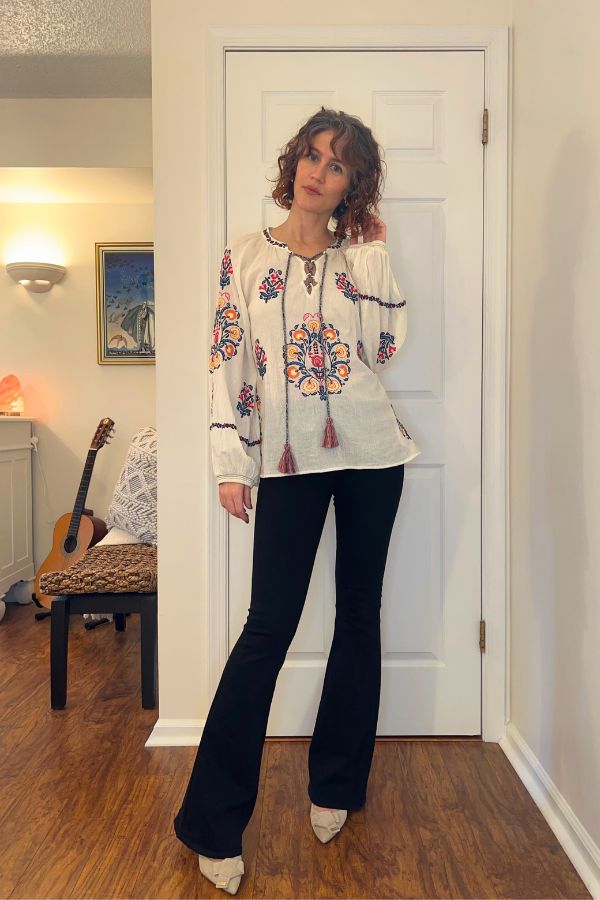 Smart Casual
Show up at the office, lunch with a friend, or a casual interview in style with this outfits with black jeans.
Related Post: Create A Work Capsule Wardrobe With Only 15 Items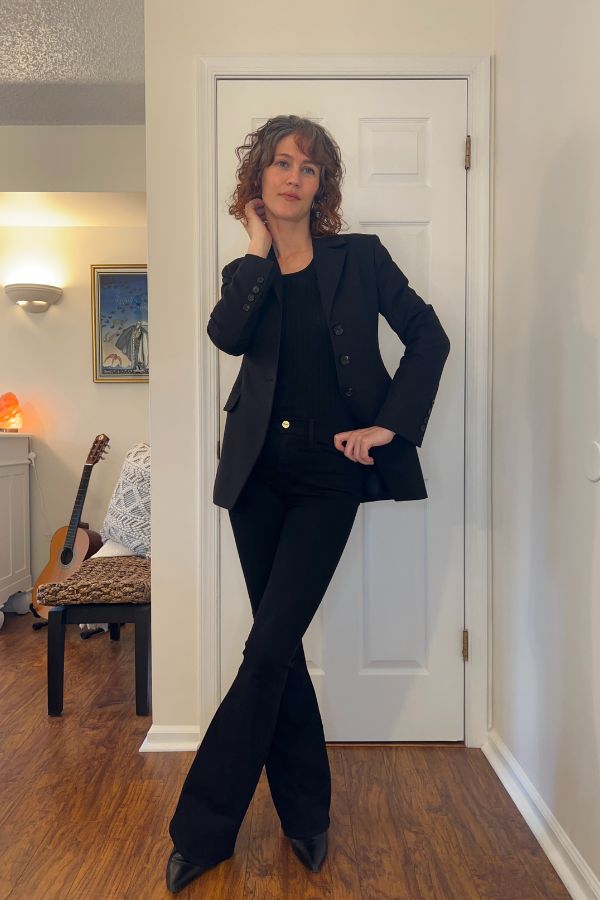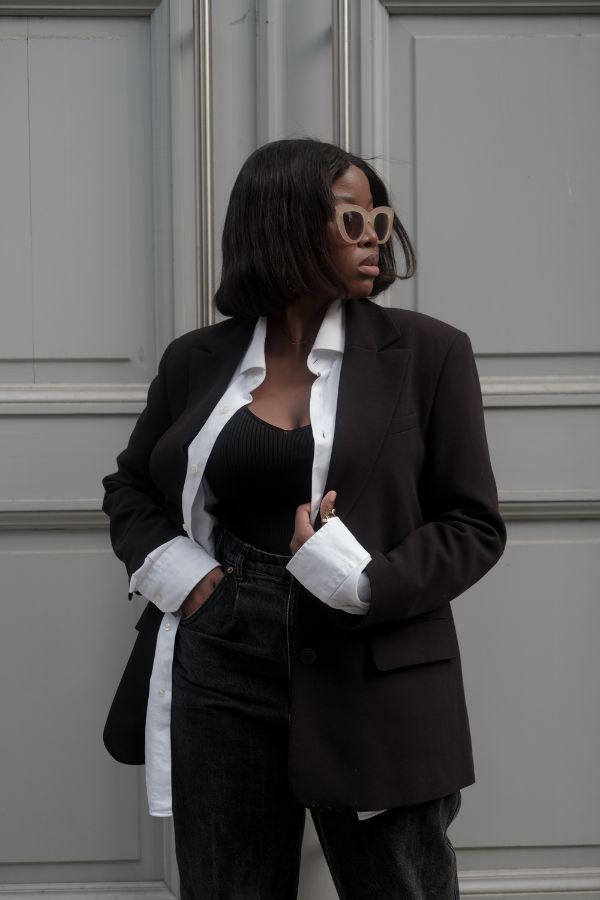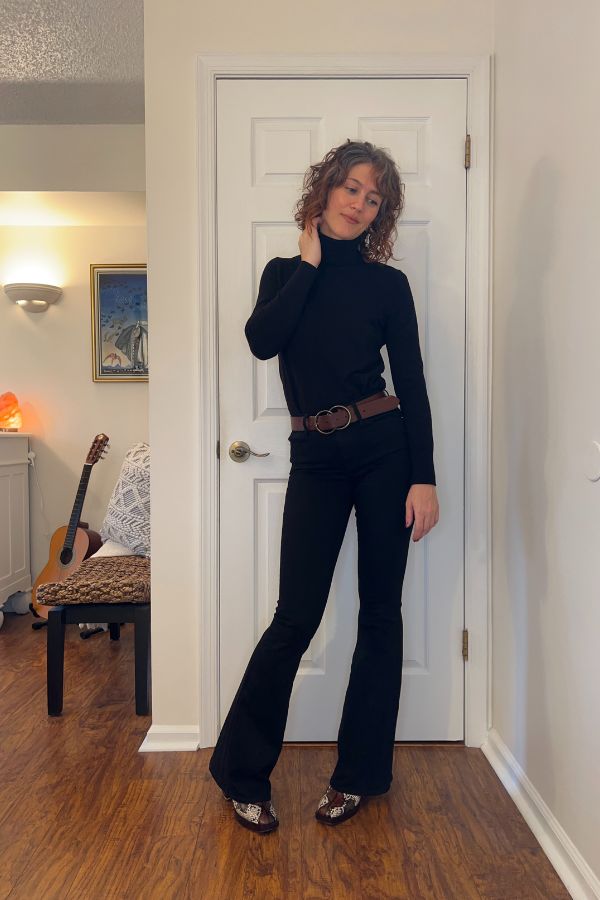 Casual Concert Outfit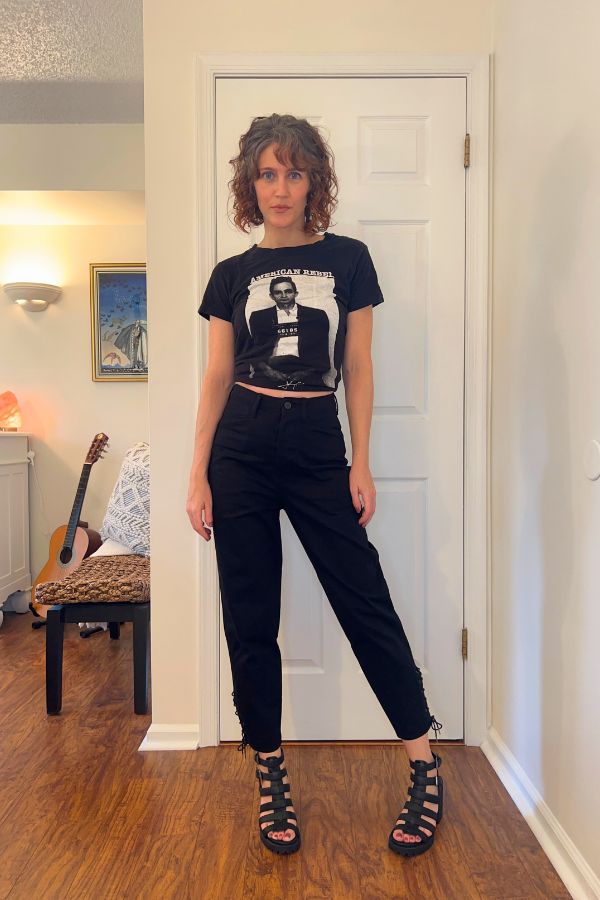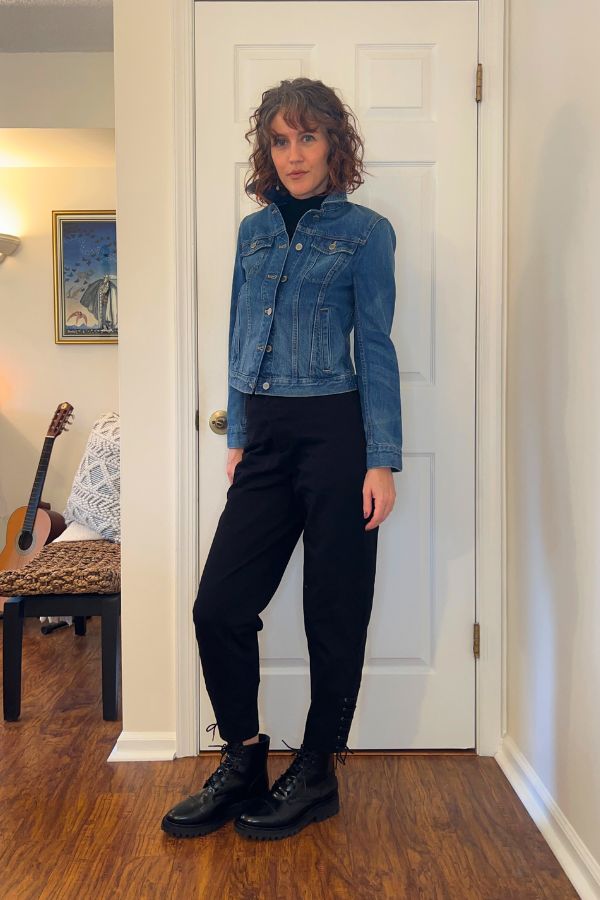 Going Out Look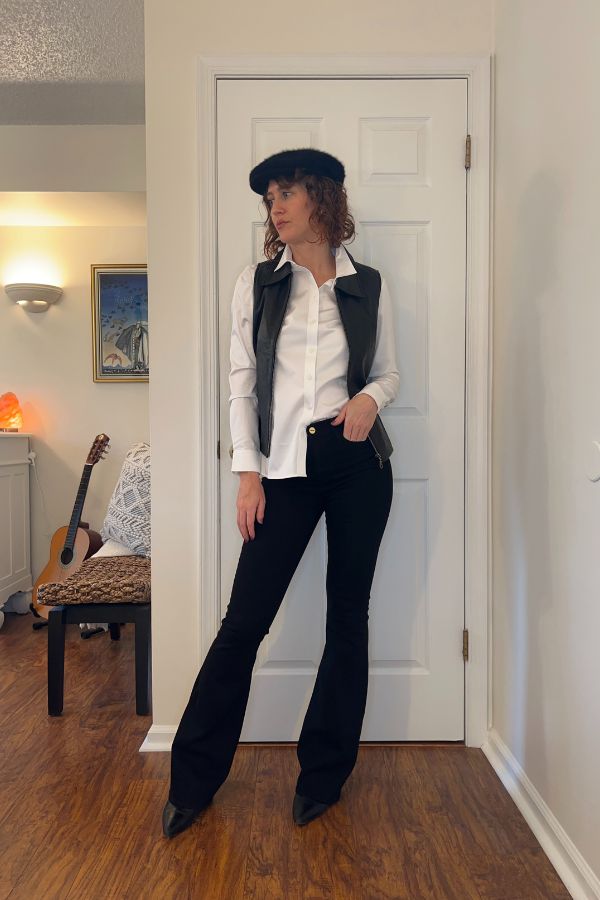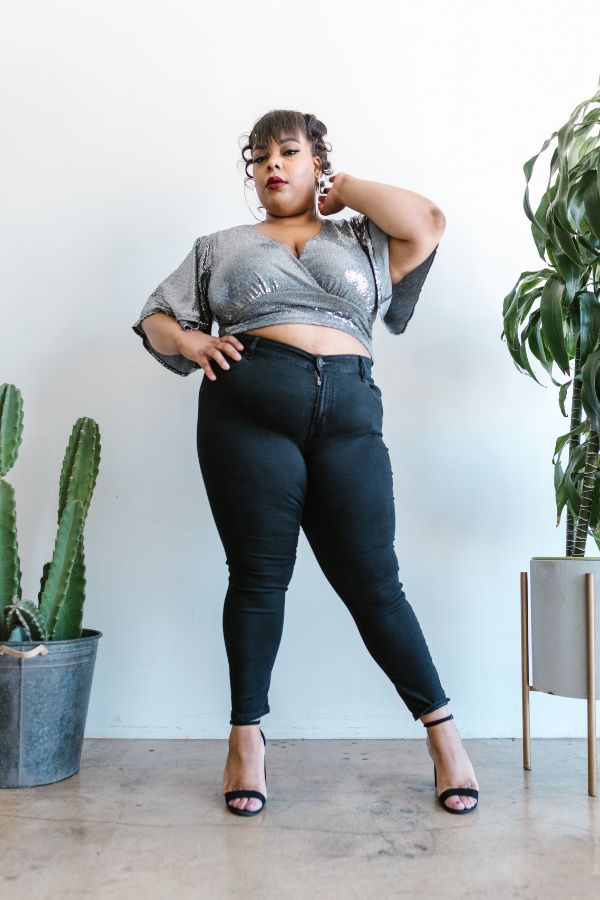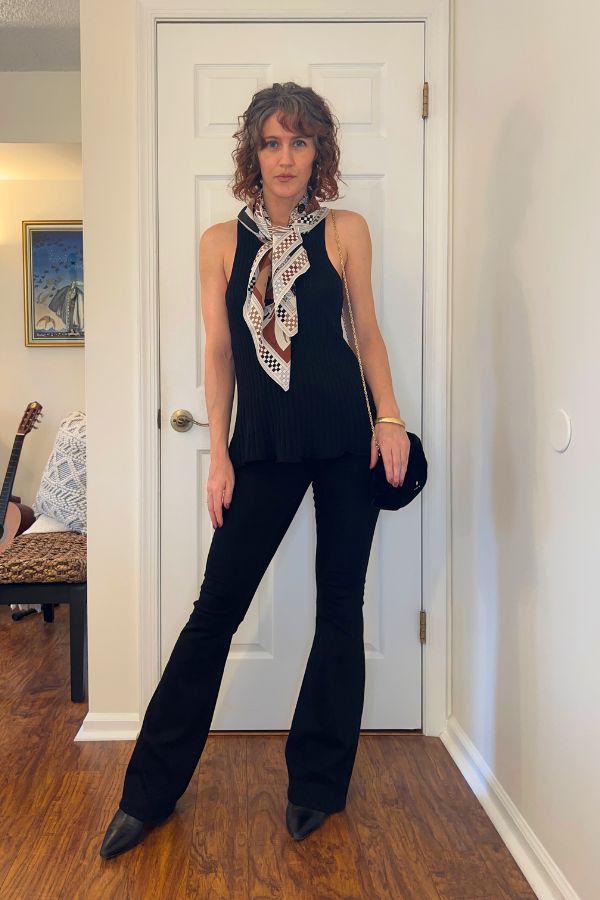 Statement Jacket + Black Jeans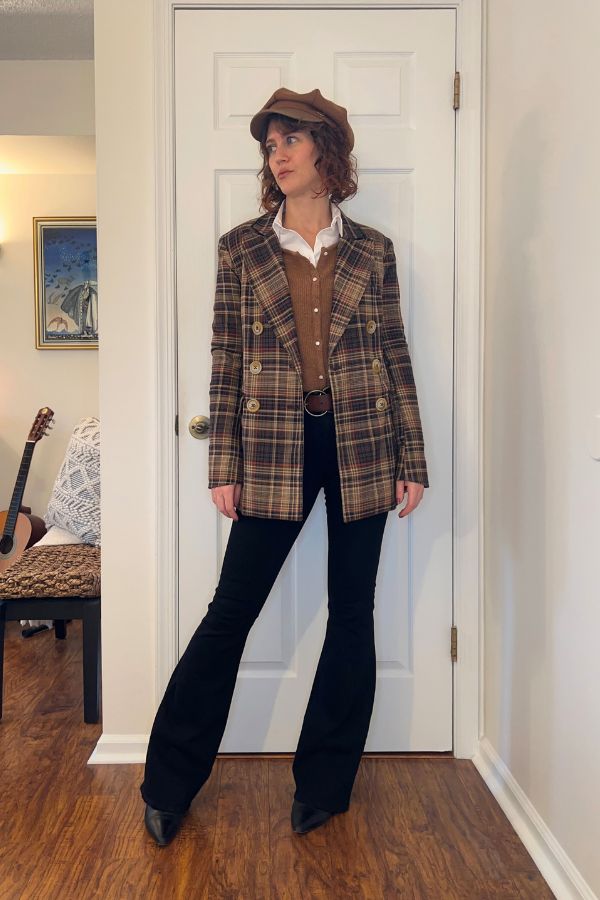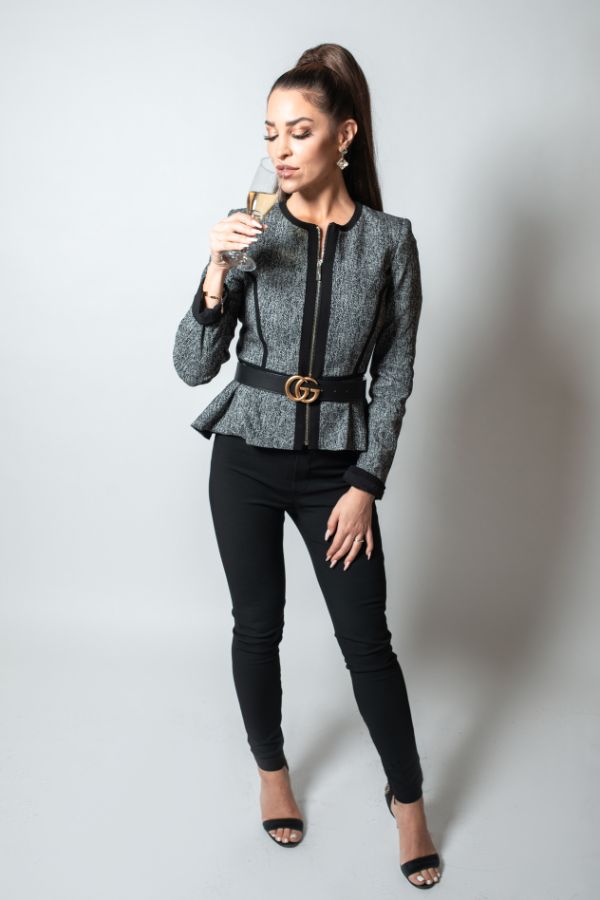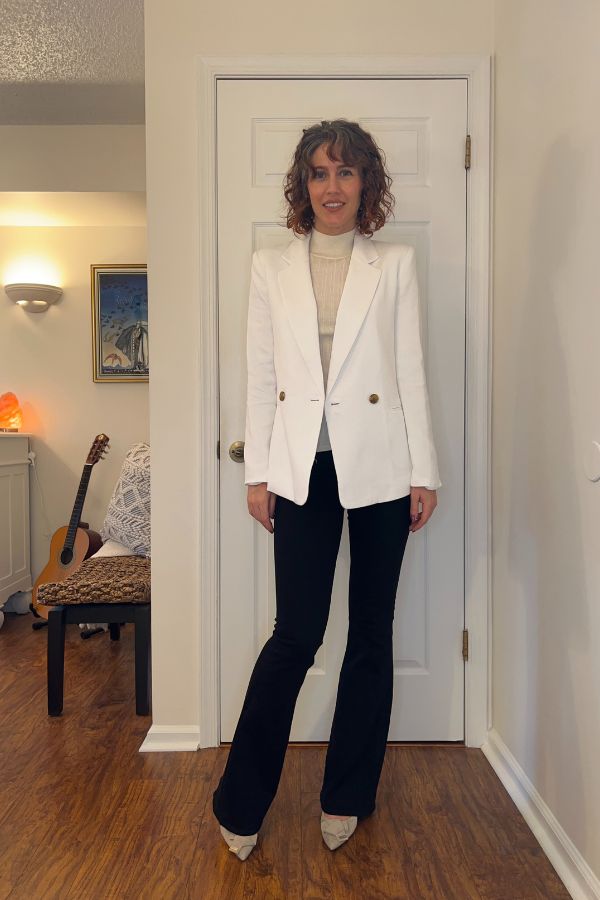 What Shoes To Wear With Black Jeans
Black jeans are more versatile than black shoes. You can wear any style and color of shoe as long as they go with the style of the jeans (and outfit in general). This post is full of ideas for what shoes to wear with black jeans. Some of the styles we covered include pumps, pointy-toe shoes, combat boots, ankle boots, strappy heels, loafers, flats, mules, oxfords, slides, sandals, tall boots, and sneakers.
Related Post: What To Wear To A Pumpkin Patch (Besides Flannel)
A great way to soften the harshness of black jeans is with a velvet, suede, nude, or pastel shoe. Of course, you can also dial up the edge with a caged heel or combat boot. Classic pumps, ankle boots, and loafers keep things elegant and modern.
Stylish Black Jeans
Okay, are you now onboard with black jeans being an important women's wardrobe essential? As you can see, there are many more options for what to wear with black jeans than streetwear and casual looks. They make a great pant to travel with because you can easily dress them up or down.
Related Post: The Travel Wardrobe Capsule You've Been Waiting For
Bootcut / Flare Black Jeans
I personally recommend a pair of very dark, all black jeans in your closet. This way you can create dressy outfits in-place of black trousers, and the jeans look pretty much like black pants, but with the flattering fit of denim. Add The Really Really from AYR to your wardrobe staples or my personal favorite, The Le High Flare in Film Noir from Frame. If you're going for a cropped look try the 9″ Demi-Boot Crop Jean in Stay Black Wash by J. Crew.
For a vintage 2000's style, try the Faded Bootcut Jeans from Micas. Or try the Pull On Flare by Jessica Simpson for a sleek style without any front pockets or belt loops–a definite replacement for those black pants.
Straight-Leg Black Jeans
AGOLDE's Freya High-Rise Slim Straight Jean is designed to accentuate your waist and elongate your legs. Mother's High Waisted Rider Skimp is equally as flattering in a slim, straight, stretch denim.
Wide-Leg / Relaxed Black Jeans
The California LAX Barrel Jeans from 1 People are a fun twist on mom jeans with pleating and sustainably-sourced upcycled denim. The Mid-Rise Black Ripped Baggy Tapered Jeans from Express will give you a chic street style look that you can also dress up with a blazer and a set of heels.
The Luxury High-Waisted Wide Leg Jeans from Autograph are a chic style at under $100. Or try the top-rated Mia from Joe's Jeans in vintage stretch denim. The Paige Frankie High-Rise Wide Leg Crop Jeans give a bit of a culotte look and look pretty chic with slim ankle boots.
Slim / Skinny Black Jeans
For a laidback vibe, try the The Mid-Rise Perfect Vintage Jeans from Madewell. The Mid-Rise Skinny Jean in Black Wash from Banana Republic will always be a classic in my book…what else can you tuck into your tall boots in the cold weather?
Are you as much of a fan of black jeans as I am or just getting into this aesthetic? Comment below!
This post was all about what to wear with black jeans
Related Posts: