Did you know you can create a work capsule wardrobe with only 15 items? I'll show you exactly how it's done.
The work capsule wardrobe is the OG of the capsule wardrobe, and for good reason. One doesn't need a large wardrobe to dress well. And many times the more clothes you have, the harder it is to get dressed each day. Mo' money, mo' problems, right?
The beauty behind the work capsule wardrobe is that it consists of staple pieces that are easy to wear, mix and match, and never go out of style. If that sounds like the holy grail of fashion, it pretty much is.
Read on to learn how to create a work capsule wardrobe and the 15 most important pieces you need to start with, including the color scheme.
This post is all about a work capsule wardrobe.
Womens Work Capsule Wardrobe
What Is A Capsule Work Wardrobe?
A work capsule wardrobe is like the bread and butter of a wardrobe. It's the clothing and accessories that meet the basic needs of your life. If you think about your life, there are basic needs that must be met in order for you to function like a healthy human being: nutrition, sunlight, fresh air, safety, etc. When those basic needs are met, your focus can easily expand from needs to wants, goals, and dreams. It's the same way with fashion and the capsule wardrobe serves to meet your basic needs for clothing, in a stylish way.
Just because a capsule wardrobe consists of basic wardrobe essentials, it doesn't have to be bland or boring. Not at all. You're in charge of each piece, ensuring it fits you perfectly (altered-to-fit if necessary), looks amazing, and is in a proper color scheme (neutrals work best). When you establish the best clothing and accessories for your body and lifestyle (or work environment, in this case), you set yourself up for expansion.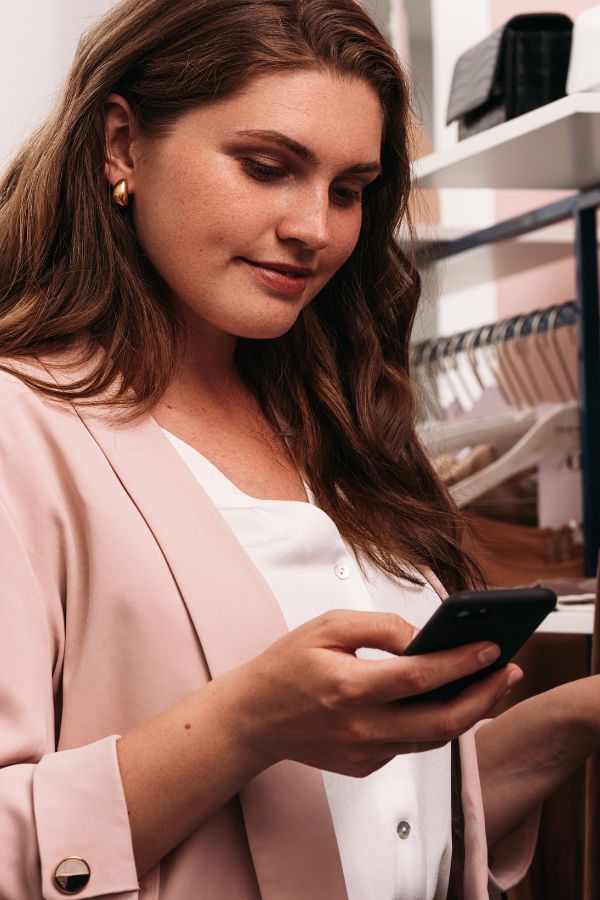 Many of us are trying to figure out our style. Because the capsule takes care of your basic fashion needs, you then have the space (and grace) to explore other styles of clothing and accessories. Using the capsule as your basic canvas gives a framework when styling to determine if something works with your body shape and skin tone. The capsule piece already looks amazing on you, so it's easy to tell whether a non-capsule piece upgrades your downgrades your look.
Most importantly, the workwear capsule will make getting ready in the morning quicker and simpler. You'd be surprised…you may even get excited to get dressed.
Related Post: 12 Capsule Wardrobe Essentials To Jumpstart Your Style
How To Build A Capsule Wardrobe For Work
Determine Your Color Scheme
It's important to decide upon a color scheme for your work capsule wardrobe. Matching items are the key to creating effortlessly chic outfits. Especially for those of us waking up at the crack of dawn!
Choose one color as your primary color, which will make up the majority of the items in your workwear capsule wardrobe. I recommend black because it's the universal standard for business attire and it also goes with everything. However, gray, beige, or camel are also good choices. Just make sure you really like how you look in the color (e.g. it doesn't wash you out) and it's appropriate for your office setting.
Next, choose a secondary color, which will be the second most prevalent color in your work wardrobe. Again, opt for a neutral color that pairs with your base.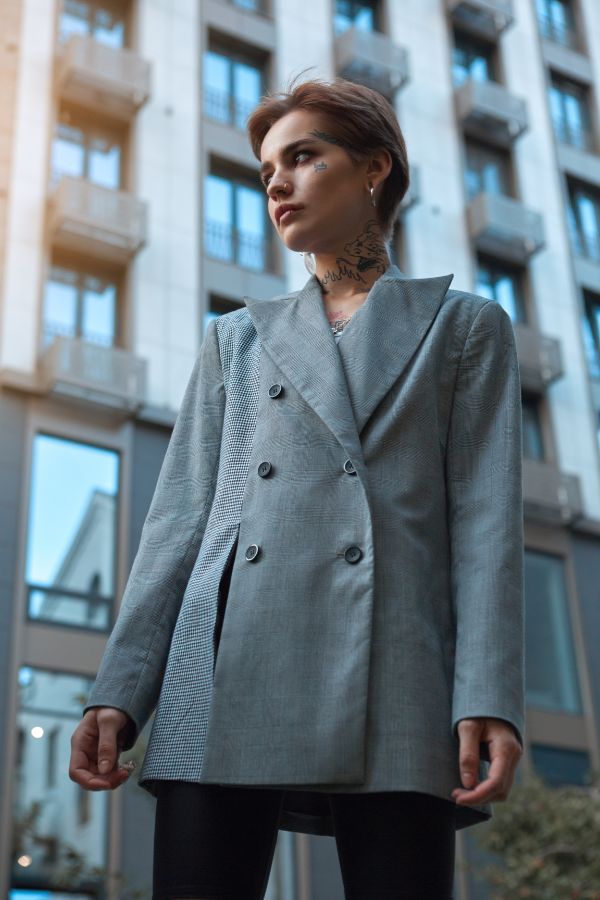 When shopping for work wardrobe essentials, ensure your shoes and accessories are either in your primary color or your secondary color to ensure outfit cohesion.
You're welcome to add an accent color or two to your work wardrobe essentials list that complements both your primary and secondary colors. This can be another neutral or a non-neutral such as red, blue, or purple. Three colors per outfit look aesthetically pleasing due to the rule of thirds. We'll get into which pieces I recommend as an accent color in the list, below.
Related Post: The Secret To Elegant Classy Style
Pro-Tip: Take your work wardrobe to the next level with accent colors in the same general color, but different shades (tonal). For example, if your color is purple try lavender, orchid, and deep purple.
Capsule Shopping Tips
The golden rule when curating a successful capsule wardrobe (or any type of) is knowing what to invest in and what to buy on budget. If you have a limited budget, invest in high-quality accessories over everyday clothing items. Shoes, handbags, and belts are what are noticed when worn, so if these items give off a luxury vibe, your entire outfit is elevated.
Secondary to spending more on accessories are jackets and outerwear. Knitwear comes in third. You can go with budget brands for layering items and pieces that need to be replaced often (such as white shirts).
I always recommend shopping vintage and second-hand, especially for luxury items. You'll get something unique and meaningful, which is great energy for building a much-loved women's work capsule wardrobe.
Now, let's get into the work wardrobe essentials.
Work Wardrobe Essentials list
1. Layering Tanks
Layering tanks are key to any work capsule wardrobe. Not only do they act as an undershirt, but also as a chic top underneath a blazer or a cardigan. Plus, if you head straight to the bar after work, you can wear them alone as a going-out top. This is why I recommend layering tanks that can be worn alone, so purchase a style in a nice material such as silk, satin, or high-quality stretch cotton. It's breathable, but also suitable for year-round wear.
Related Post: 11 Basic Wardrobe Essentials You'll Always Need
You will need 1 black tank and 1 white/ivory/beige tank. Whether you choose a camisole or a shell is up to your personal preference.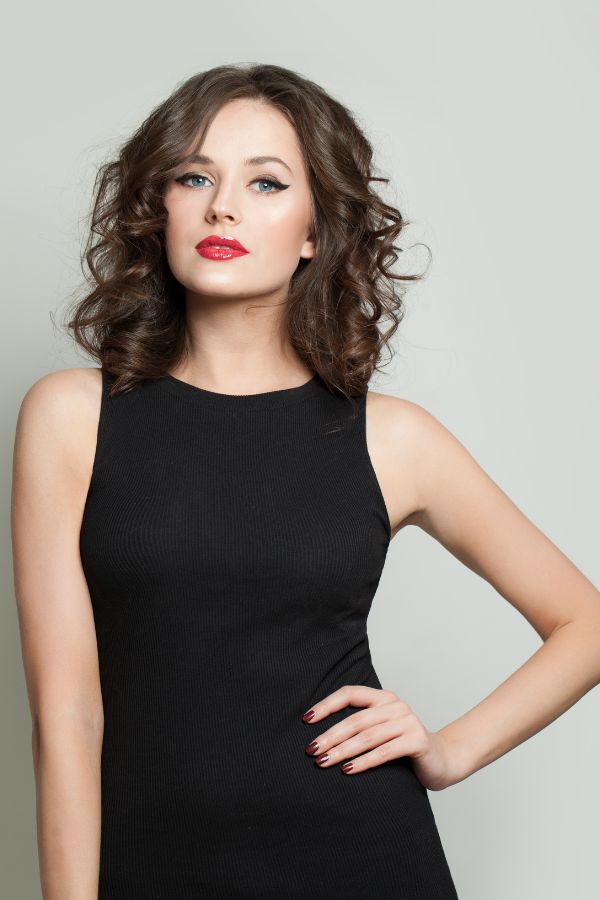 The Satin Cami from Autograph M&S or the Silky Classic Camisole from Banana Republic are the perfect layering pieces under shirts and cardigans. The Vicky Tank from MM.LAFLEUR is a premium scoop neck style in washable silk. Or try the Washable Stretch Silk V-Neck Cami from Quince if you're on a budget.
2. White Collared Shirt
No work capsule wardrobe checklist would be complete without a white collared shirt. It is (and always will be) the quintessential workwear piece, as far as business casual attire goes. Purchase one that's easy to care for–meaning you can throw it in the washing machine and it dries without needing to iron.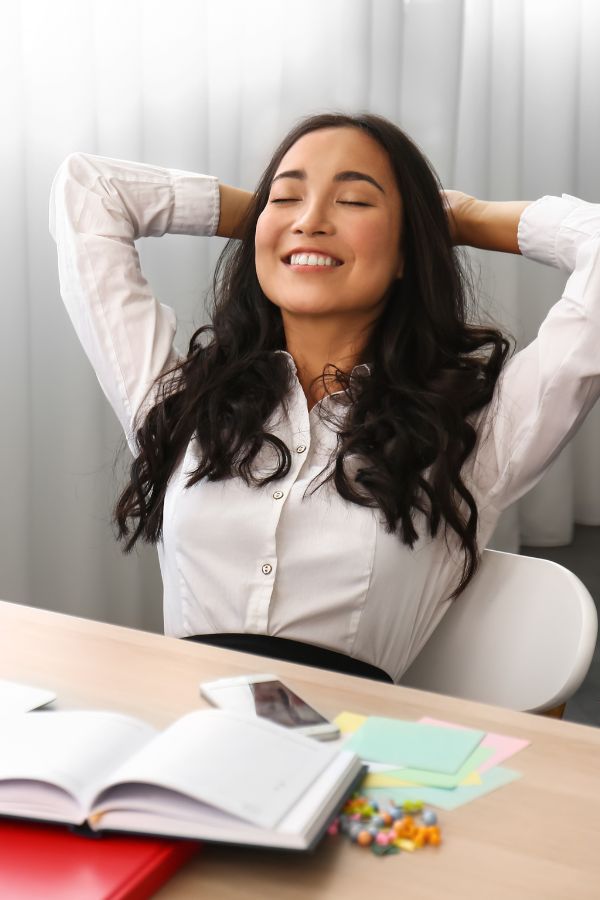 I cannot recommend the Tailor-Fit Easy Care Shirt from Banana Republic enough. So flattering and expensive-looking. If you're worried about fabric gape, The Best Button Down from Spanx or the White Long Sleeve Button Down from The Shirt are both designed to specifically prevent that issue. If you're going for something a bit more relaxed try The Relaxed Oxford Shirt from Everlane.
3. Trousers
Trousers are another obvious choice for work clothes, but these need to be the perfect pair of trousers. The fabric should be thick enough to wear in the winter, but not too heavy for the summer. If your office is anything like the ones I've worked in, the air conditioning is blasting all summer anyway, however. Go for full-length pants or at least ankle-length, if you're petite.
Honestly, though I can't say this enough on WISW, please take your time purchasing your trousers for your workwear capsule wardrobe. Opt for a nicer pair and get them tailored to fit at the waist, hem, and anywhere else. You want these pants to be your favorite pants because you'll be wearing them a lot.
Related Post: What To Wear To Work: 5 Workwear Trousers To Complete Your Office Wardrobe
Purchase trousers in your primary color.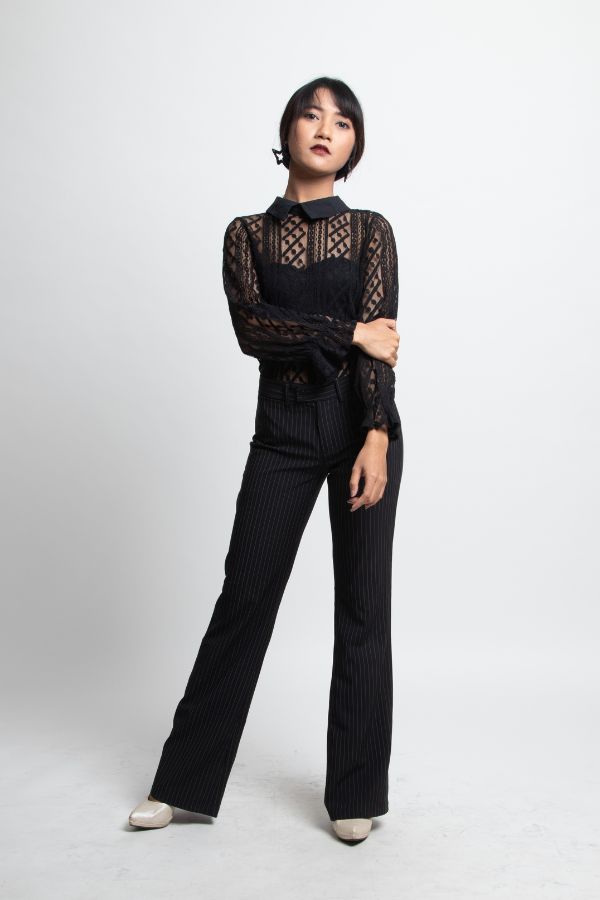 You never have to worry about creasing with The Naomi Ponte Wide-Leg Flare Pants from Maeve. The Chelsea Tailored Pant from A.L.C. is the ultimate timeless style for trousers. The Essential Pant in City Crepe by J. Crew and the tailored Mason Pants from Reformation are perfect for the warm weather. The Siena Wide-Leg Italian Wool Pant from Banana Republic is a showstopper in the cold while A+F's Sloane Tailored Pants are perfect for year-round wear.
4. Sweater
A pullover-style sweater or jumper is next on the list for a work capsule wardrobe. There are a few decisions to be made with this piece:
What neckline looks best on you? Choose a classic v-neck or crewneck, which both look great layered over shirts or worn alone.
Do you prefer slightly oversized or semi-fitted? You want the sweater loose enough so as to comfortably (and aesthetically) layer a shirt underneath.
Material? Cashmere and silk look the most high-end, and opting for a blend of these fabrics can lower your investment. However, if you're in a warm climate year-round, a cotton or silk blend may be more appropriate.
Purchase the sweater in your secondary color.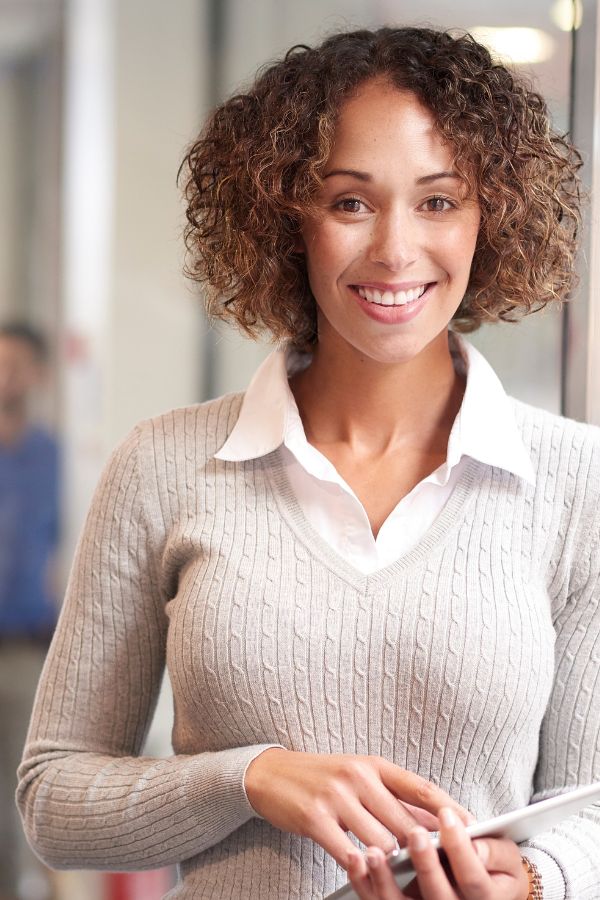 I love all the colorways Quince's Mongolian Cashmere Crewneck Sweater and J.Crew's Classic Fit Crew Neck Sweater. Size up for more options to layer over a shirt or try The White Company's Cashmere V Neck Side Slit Sweater. Jenni Kayne's Everyday Sweater is slightly relaxed for a casual chic look. Anatomie's Etta V-Neck Cashmere Sweater is sure to keep you cozy for a winter work capsule wardrobe.
5. Pumps
Nothing means business in the office than a classy pair of pumps for your work capsule. Before you shake your head because you don't wear pumps…let me say this. You don't need 5 inch heels, or 4 inch heels, or 3 even, with kitten heels making a comeback (woohoo!). The bottom line, purchase a pump with some type of heel that separates it from a ballet flat (unless you have a medical condition, of course).
Related Post: How To Dress Nice Everyday: 7 Seriously Good Tips
Purchase pumps in your primary color or in nude. If you opt for nude, choose a shade that pairs well with your skin tone.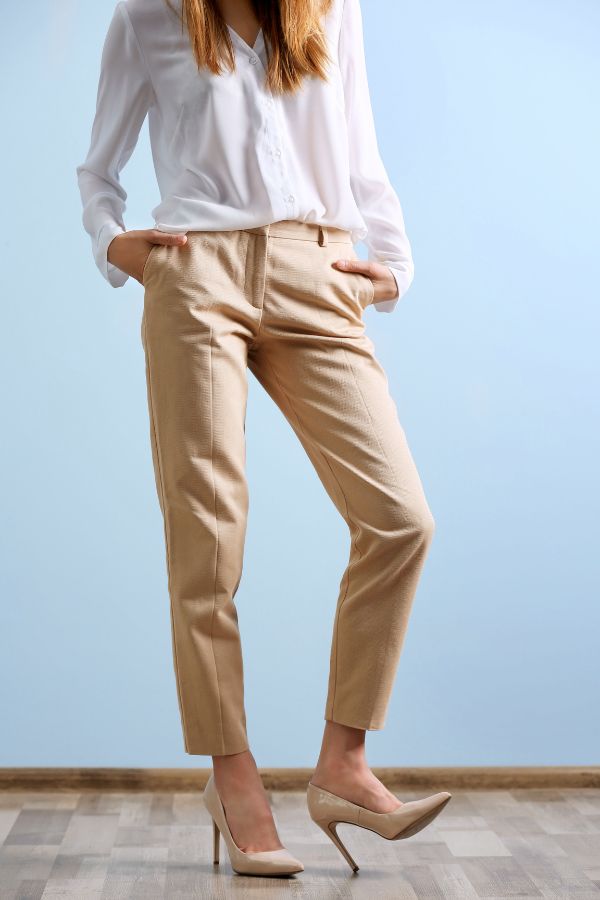 The Stuart Kitten Pump by Stuart Weitzman is minimally stylish and the perfect "wear everyday" shoe, as is the Setria Classic Pump from Jessica Simpson. The stunning Josie from Emmy London has a tall, block heel for more support. For those who appreciate a little extra in their life, I can't get over how hot the Virgyn from Guiseppe Zanotti is with a golden mirror-effect sole.
6. Blazer
The infamous blazer is a staple in your work capsule wardrobe. Not only as a jacket, but a layering piece, and the key to a chic business suit with your matching trousers. Avoid going super trendy with this piece (e.g. very oversized, cropped, etc.) and opt for something more timeless. You want to be comfortable layering the blazer over a shirt and a sweater, but also chic enough to be a tailored jacket over a dress. If it doesn't fit perfectly, have it altered, or at least ask the opinion of a tailor with a trained eye.
Purchase the blazer in your primary color.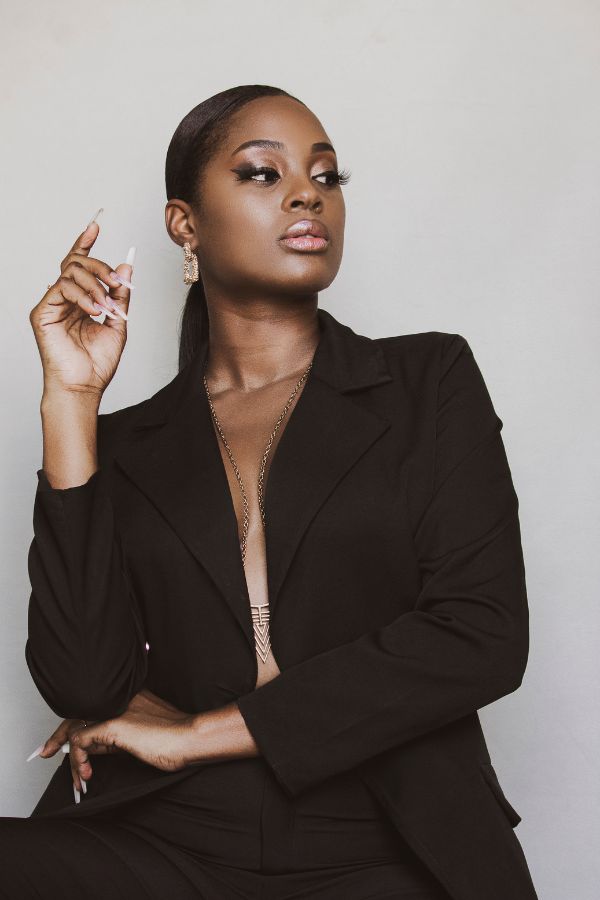 The Emory Blazer from French Mauve is double-breasted but tailored in such a way that it doesn't make you look wider. Or try a traditional style like the Staple Blazer from Theory. The Classic Relaxed Blazer from Reformation is perfect for a work travel capsule wardrobe as well as year-round wear. The best-selling Captain's Blazer from Banana Republic will always take your work wardrobe up a notch.
7. Silk Blouse
A silk blouse is your opportunity to add some flare to your workwear capsule. Whether you do so with an accent color or a print, a super luxurious sheen, a pussy bow, covered buttons, or ruffles is up to you. This should be a blouse you feel like a queen in.
Purchase the silk blouse in an accent color or print. However, those who love neutrals or want to stick with their primary or secondary color, you do you.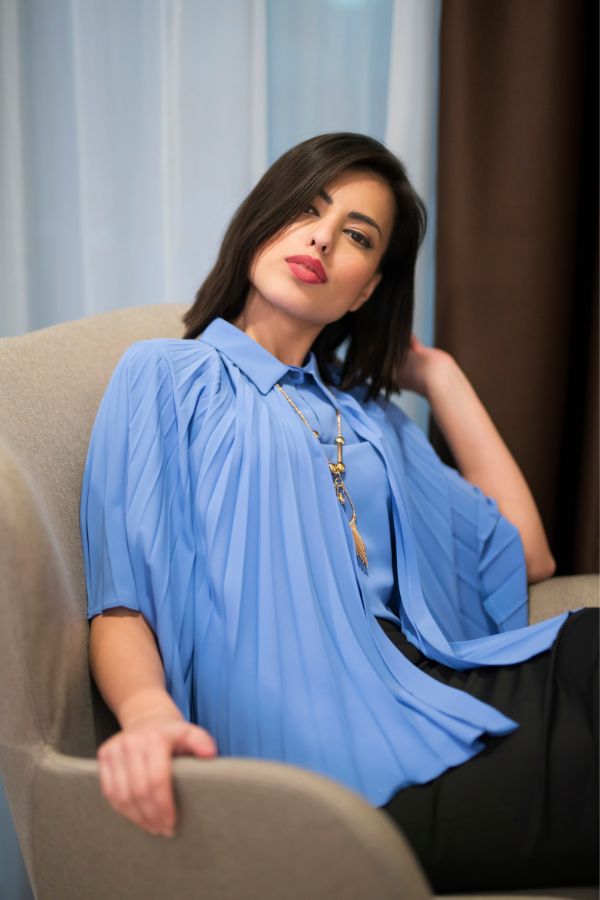 The Poet Top from Heidi Merrick is romantic in a georgette material and a ruffle neck collar. A great piece to layer a silk cami underneath. The much-loved Slim Signature Silk Shirt from Equipment is always coming out in new colors and patterns. Ramy Brook's Victoria Button Down is polished and elevated in stretch charmeuse. Minimalists will love the Concealed Placket Silk Shirt from Lily Silk.
8. Mid-Length Skirt
A mid-length skirt looks great with pumps, flats, or boots and styles year-round. Choose the most flattering style for your body (this is the point with all capsule pieces in this list).
Here are some examples:
Pencil
Midi
Accordion
Pleated
A-line
Circle
Handkerchief
Slip
Related Post: I'm Loving These Styles For Pear Shaped Body
Purchase your skirt in your primary or secondary color.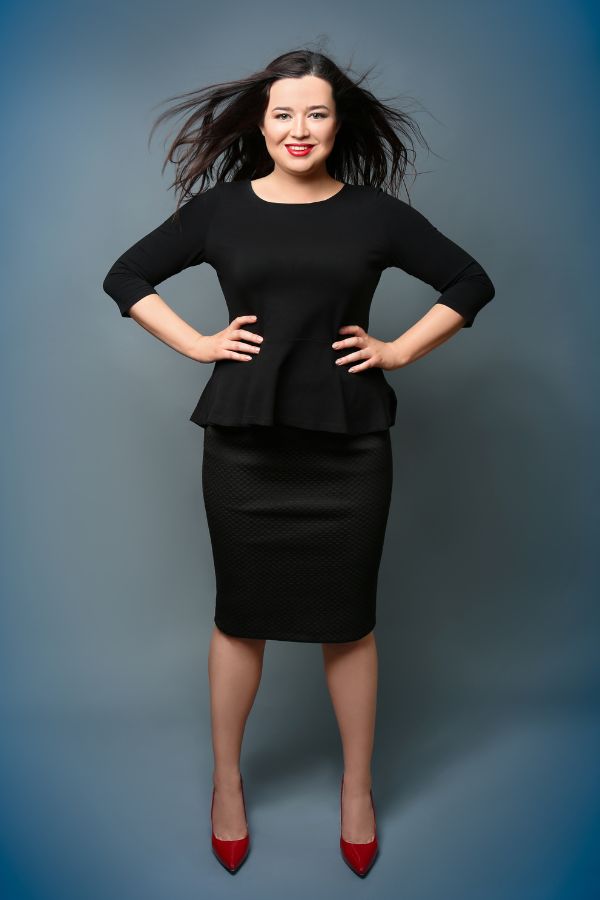 The Perfect Black Pencil Skirt from Spanx smooths your curves and has double back slits. The Bar Silk Skirt from Anine Bing is a classic slip skirt you'll wear for life. The playful Pleated Georgette Handkerchief Skirt by Polo Ralph Lauren is so versatile for day-to-night looks and year-round footwear. For an ultra-chic and on-trend style, try the Black Label Stretch Maxi Skirt from Chico's.
9. Flats
Even high-heel wearers need cute flats for when the "yeah, definitely not wearing heels" mood strikes. Which is happening more frequently for me, personally. Is that an age thing or are brands just designing more comfortable (and cuter) flats these days? I'll go with the latter. The one thing with flats is that they can easily look cheap. If you don't have an endless budget, a minimalist pointy-toe flat in patent leather is supreme in my book.
Purchase flats in your primary or secondary color. If you're opting out of heels, you'll need two different-colored flats.
Designer Tamara Mellon partnered with her daughter to design the perfect ballet flat in patent leather: The Minty Ballerina. And who can't help but smile over the Lauren Scalloped Leather Ballet Flats from Chloe? You won't need (or want) another flat after trying The Esatto Flat from M.Gemi, with the chicest covered heel.
10. Fitted Turtleneck
A fitted turtleneck is such a versatile piece in a work wardrobe. You can layer it under shirts, dresses, blazers, and sweaters, and wear it alone with a scarf or jewelry. Choose the neckline that best works for your (i.e. high neck, mock neck, etc.). If you don't wear turtlenecks, opt for a fitted, knit crew neck. The most important aspect here is that the item is fitted for proper layering.
Purchase the fitted turtleneck in your primary color.
You'll be super comfortable in the affordable Fitted Turtleneck from KOTN crafted from 100% Egyptian cotton. For those who want a luxe feel, try the Elegant Turtleneck Silk Knitted Tee from Lily Silk.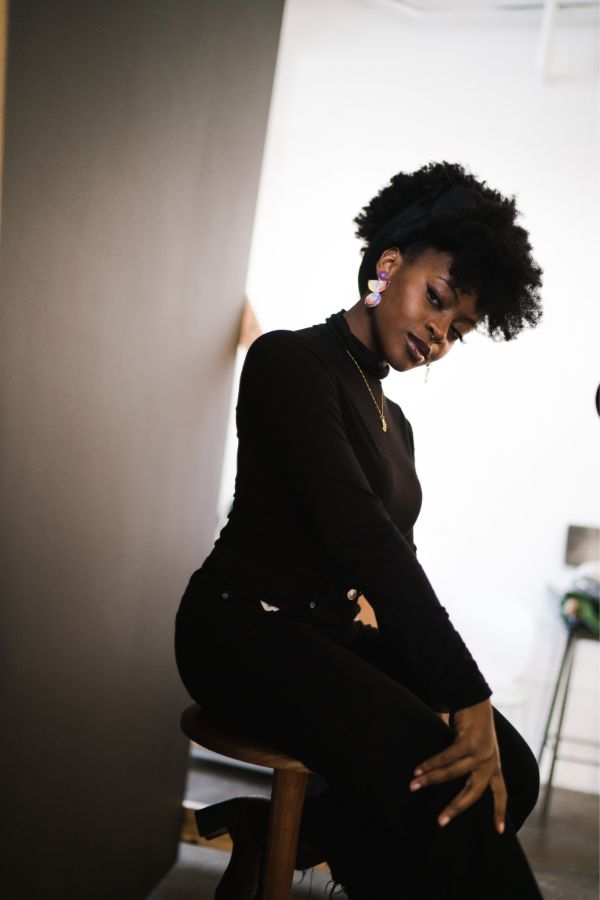 11. Simple Dress
A little black dress is obviously a winner when it comes to an appropriate style for work. Be careful not to go too casual with the material or fit (no-no to those jersey dresses). I personally would opt for a style that can also be worn to a work dinner or dressy event. Ponte-knit fabric is a great choice.
Related Post: What To Wear To Jury Duty From A Fashionista
Purchase the simple dress in your primary or secondary color, or the same color as your pumps.
The Bologna Dress from FREY is elegant in a silk, fit-and-flare cut, that you can also layer with for the office. You can't go wrong with the A-line 22 Momme Pure Silk Dress from Goelia for any work occasion. The Freida Dress from Elie Tahari has a flirty sheath silhouette while still remaining hemline and neckline appropriate for the office.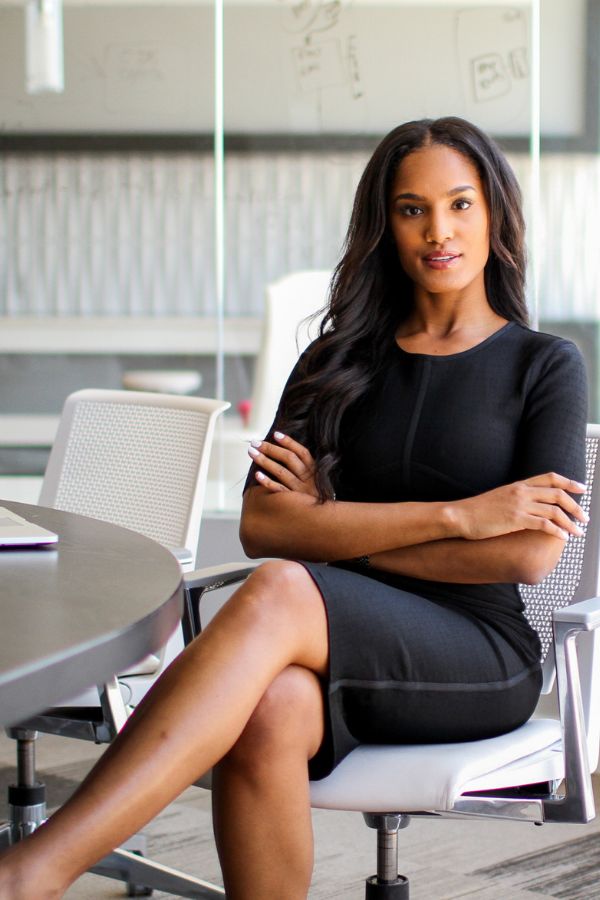 12. Boots
Boots are definitely a go-to item for the work capsule wardrobe in winter when the thought of baring skin is just cringe. The most versatile boots style with your trousers, skirt, and dress. A sock boot is a great option, especially for comfort and fit, while an ankle or mid-calf style is a timeless wardrobe essential.
Related Post: 11 French Wardrobe Essentials Every Stylish Woman Owns
Purchase boots in your primary color.
The Dorset Narrow Heel Boots from Marcella are chic and modern with a square toe and a slim block heel, ready for dressing up or down. Or try the expertly constructed Mati Heeled Leather Ankle Boots by Bruno Magli. Chiko's Octaviana Pointy Toe Kitten Heel Ankle Boots are the perfect everyday boot for the office.
13. Cardigan
A cardigan saves the day in an office that's always cold. The style you choose is up to you, but I prefer a longer cardigan that acts like a blanket when your new cube is located right underneath the blasting AC unit.
Purchase a cardigan in your primary color.
The Gaston Cardigan from La Ligne NYC is boyfriend-style, but still brings the feminine appeal in a gorgeous cashmere knit. The Lydia Cropped Cardigan from Naked Cashmere is minimal and lightweight, but perfectly cozy for the indoor office. The Mackenzie Belted Cardigan from Nili Lotan is simple and chic.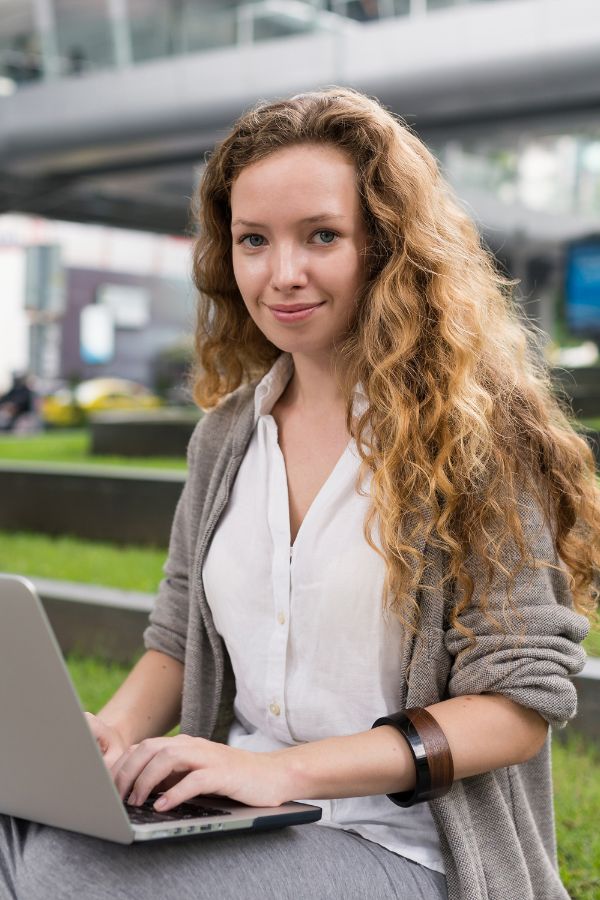 14. Belt
A belt is a great way to get versatility out of your workwear capsule wardrobe. Some days you wear it, some days you don't. You can style it as a waist cincher around a blazer or a dress too.
Purchase the belt in your primary color, black, or brown/cognac.
The Classic Belt from AYR is everything you'd want in a high-quality, leather belt that's made to last. My mind has just been blown by the "cut-to-size" feature of Coach's Classic Buckle Belt.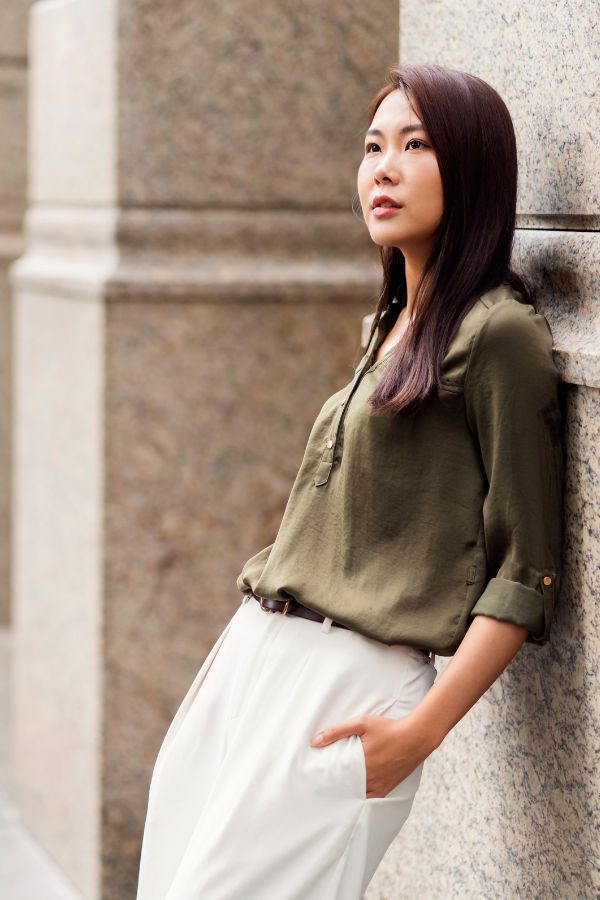 15. Tote Bag
The work tote bag is a necessity in any work wardrobe for women. Investing in a high-quality bag is a great way to elevate your work outfits without purchasing all luxury items. A tote that comes with a matching clutch (for after-work drinks) is a winning combo, so shop around for that perfect one.
Purchase the tote bag in the same color as your belt.
Sleek and minimalist is Everlane's Luxe Italian Leather Tote. I never tire of Longchamps's Le Pliage City Large Tote Bag style. And I'm gushing over Matt & Nat's NIVI Vegan Tote Bag in an elevated appleskin leather.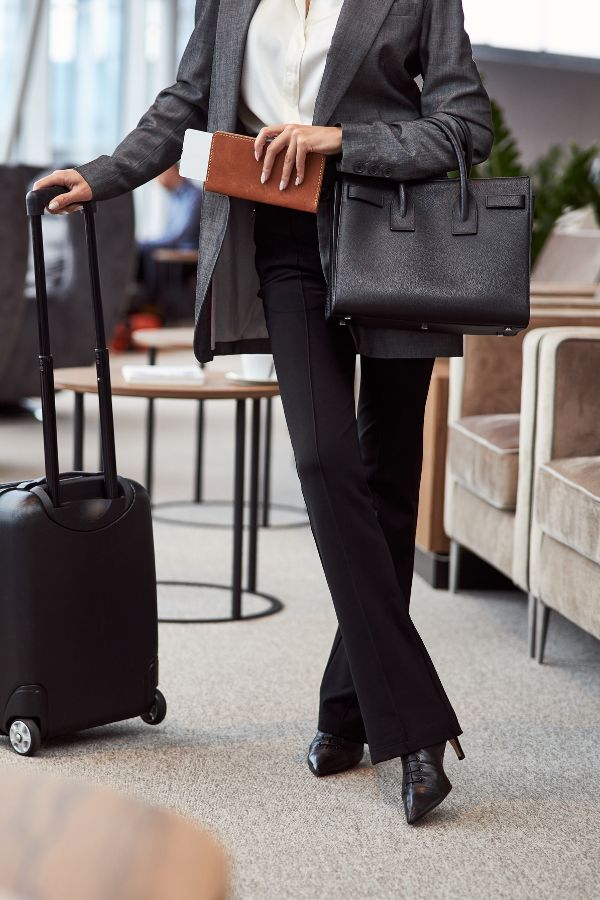 Work Wardrobe Ideas
Here are some examples of work outfits you can style with your work capsule wardrobe. Remember this doesn't include any additional items you have. I encourage you to add other pieces to the mix to really personalize your style.
Dress + Blazer
Dress + Cardigan
Dress + Belt
Dress
Blazer + Shirt + Trousers
Blazer (Belted) + Trousers
Blazer + Blouse + Trousers
Blazer + Shirt + Sweater + Trousers
Blazer + Fitted Turtleneck + Shirt + Trousers
Blazer + Layering Tank + Shirt + Trousers
Blazer + Layering Tank + Trousers
Cardigan + Layering Tank + Trousers
Cardigan + Shirt + Trousers
Cardigan + Blouse + Trousers
Belted Cardigan + Layering Tank + Trousers
Sweater + Trousers
Sweater + Belted Skirt
Blazer + Layering Tank + Skirt
Blazer (Belted) + Skirt
Blazer + Shirt + Skirt
Blazer + Shirt + Sweater + Skirt
Blazer + Blouse + Skirt
Blouse + Belted Skirt
Shirt + Belted Skirt + Cardigan
Fitted Turtleneck + Belted Skirt
Fitted Turtleneck + Skirt + Cardigan
Fitted Turtleneck + Blazer + Skirt
Fitted Turtleneck + Trousers + Belt
Fitted Turtleneck + Blouse + Trousers
Fitted Turtleneck + Shirt + Sweater + Trousers + Blazer
Fitted Turtleneck + Dress
Shirt + Dress
Layering tanks underneath anything for added warmth
As you can see, there are many outfit combinations with a 15-item capsule wardrobe (and this list isn't exhaustive). Plan time to style and see what you come up with!
Take your wardrobe planning to the next level with the Ultimate Wardrobe Essentials List, completely free to download and use on your mobile device or print out.
This post was all about a work capsule wardrobe
Related Posts: