Do you want the key to elegant classy style? These elegant style tips will have you dressing like a sophisticated woman in no time!
What's the secret to achieving an elegant classy style? We often think if we just had more money, we could obtain the style of an elegant woman, like Dorothy Dandridge, Princess Diana, or Blake Lively. Sure, affording designer garments and couture dresses could help, but in the long run, it's less about the brand as it is about the item of clothing and how it's worn.
The real secrets to dressing classy and elegant are all within your budget. By making simple changes in the way you purchase and style clothing, you too can dress like an elegant lady, every day.
You will learn the best ways to achieve a sophisticated look, how to dress elegant and classy, and what to avoid.
This post is all about elegant classy style.
How To Dress Classy And Elegant
Classy And Elegant Meaning
What does it mean to be classy and elegant? A simple web search defines classy as "stylish and sophisticated; having class; very skillful and graceful". Elegant is defined as "pleasingly graceful in appearance or manner; having qualities that appeal to a cultivated taste".
The advertising and entertainment industries have shown us that wealth and luxury equal classy and elegant. It's sad, but that's what sells. Based on the definitions of these terms, however, classy and elegant have more to do with one's presentation and behavior than the price and brand of the clothes they're wearing.
Related Post: Where To Shop For Clothes | Best Online Clothing For Women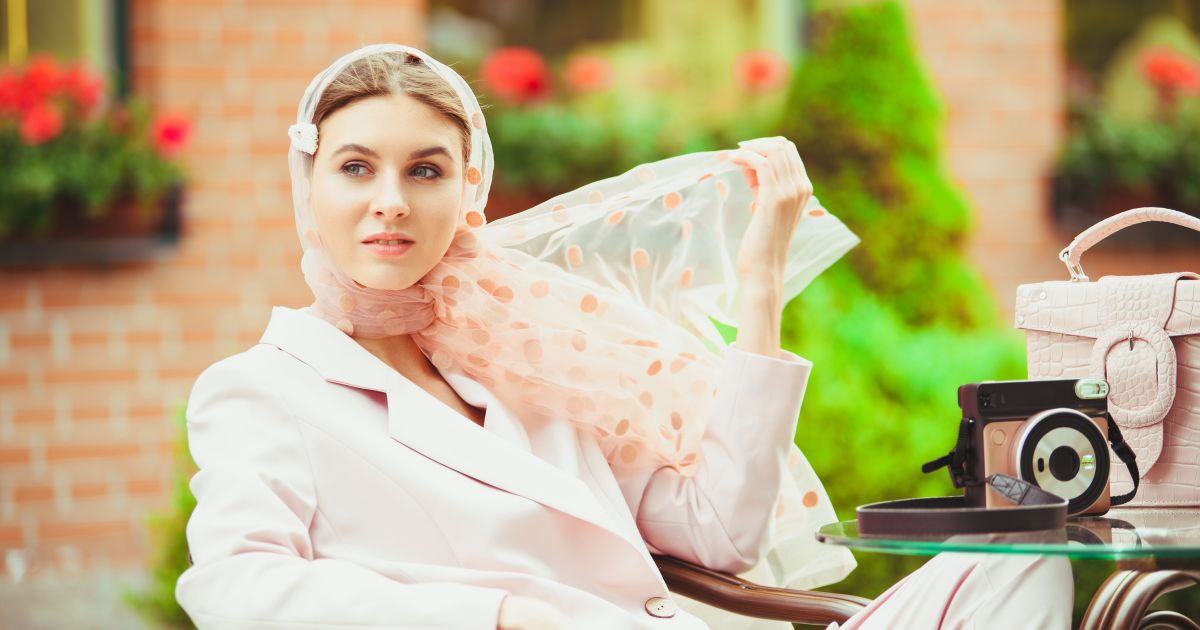 What Makes A Woman Look Classy?
The most important factor that makes a woman look classy is her attitude. Elegant classy style begins with your character. You could style a gorgeous $5000 look, but if you're rude to others around you it's all a facade. A woman's journey to elegant chic style includes working on her manners and communication skills. The mindset of a classy woman is not to act like she's better than others, but rather to tastefully raise the bar, so others can rise up with her.
Another thing that makes a woman look classy is when her clothes fit correctly. When clothing fits you correctly, it raises your confidence and attraction factor. Elegance is being confident in the way you look today, amidst any imperfections. Wearing clothes that are too small or too big for your body type looks awkward, which lowers your confidence level. Elegant chic style is not about fitting into the next size down but looking amazing in your actual size.
Related Post: Most Flattering Styles For Rectangle Body Shape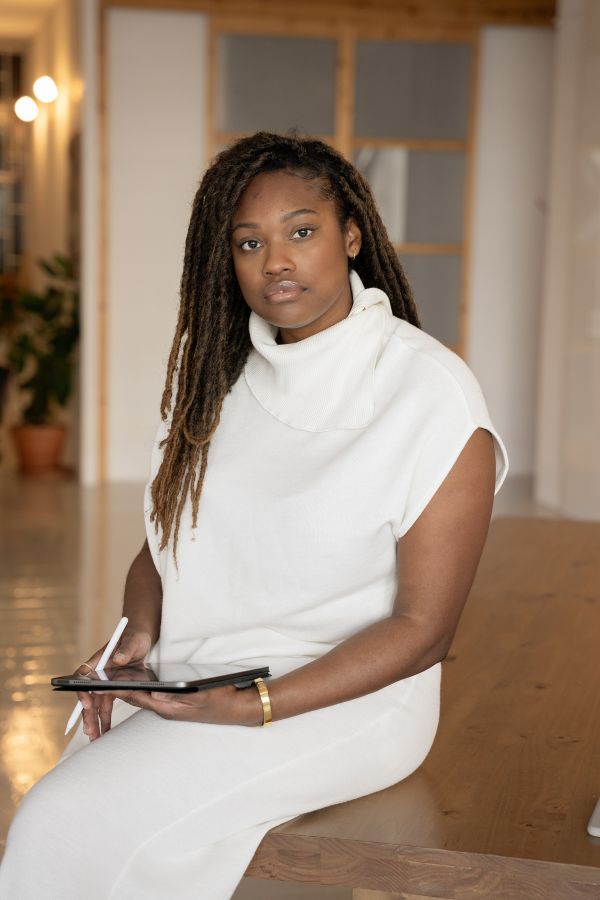 How Do You Dress Elegant And Classy?
Incorporate the following elegant style tips into your formula for getting dressed and you will well be on your way to achieving an elegant classy style.
Replace Sweats & Athleisure With Knitwear
We all want to be comfortable at home and on super casual days. Ditch the habit of reaching for your hoodies and leggings, and instead, wear comfortable knitwear. There are so many brands offering gorgeous knitwear sets and separates that look amazing with a pair of white sneakers, ballet flats, or a pair of slippers.
Throw on a chic pair of silver or gold earrings and you have the perfect solution for how to look classy at home. I personally find knitwear much more comfortable than any type of athleisure. If you decide to leave the house, add a trench coat or a wool coat over your knitwear instead of a puffer jacket or vest.
Related Post: 10 Stylish Loungewear Items You'll Want To Wear Out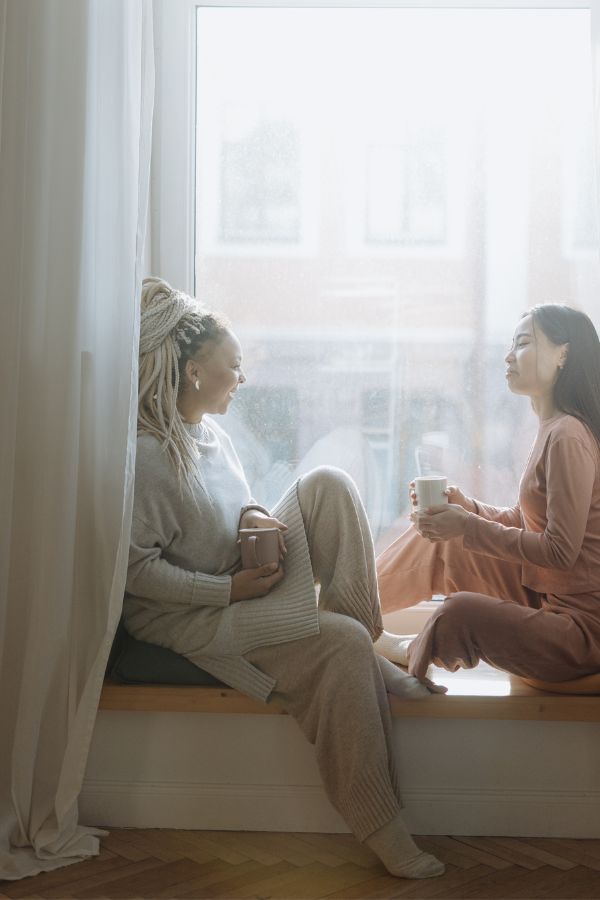 Follow The Three Color Rule
What's the three-color rule in fashion? It's creating an outfit that consists of (no more than) three colors in total. This includes black and white, the most important colors in fashion. This is a great formula for ensuring your outfit doesn't go overboard with color.
Include prominent accessories such as handbags, leather belts, hats, and scarves in the equation. If wearing a print, match the rest of your outfit to one color in the print. Elegant classy style isn't busy, but rather refined.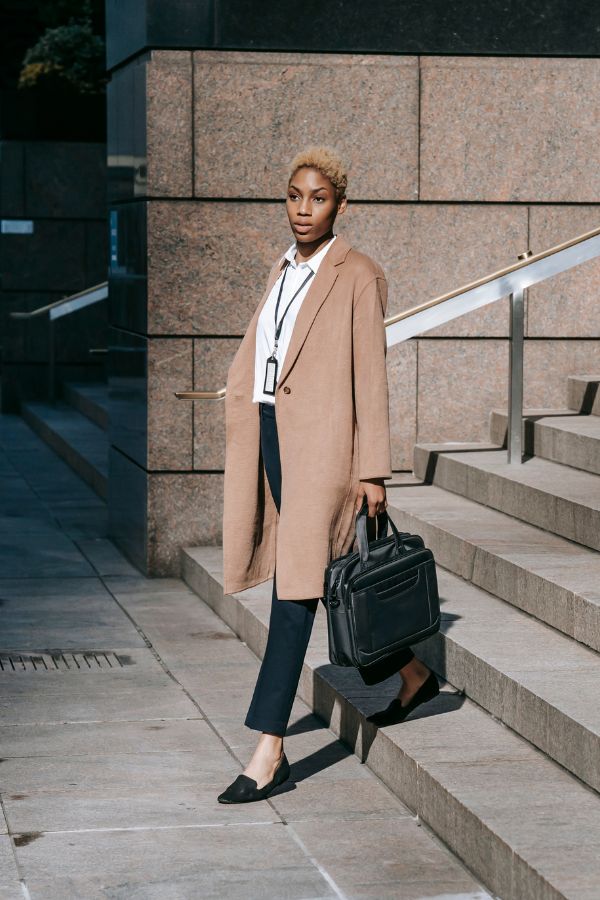 Your outfit doesn't need to have three different colors. Monochromatic (or tonal) outfits are one of the best ways to create a cohesive look with separates, especially when every piece is from a different brand or collection. Each clothing item is in the same color family (e.g. blue) but could be a different shade (e.g.light blue, French blue, etc.). Stick to three shades at most to keep with the three-color rule.
If you're styling with two colors in your clothes, opt for accessories that match those colors or choose a third color for your accessories.
Elegant color combinations using three colors (the options are endless, of course):
White + Ivory + Black
White + Camel + Black
White + Ivory + Dark Color (Green, Navy Blue, Burgundy, etc.)
Navy Blue + Medium Blue + Black
Gray + White + Black
Taupe + Beige + White/Ivory
White + Ivory + Beige
Red + Black + Gray
Red + Navy Blue + White
Baby Blue + Beige + White
Brown + Taupe + Beige
Sage Green + Earthy Brown + Beige
Beige + Burnt Orange + Brown
Related Post: What To Wear With Navy Blue | 5 Gorgeous Color Pairings To Style With
Keep Your Outfits Tasteful
Elegant classy style is all about wearing what's the most flattering for your body type. Fabric shouldn't be so tight it's restricting nor should it be too baggy that you're swimming in it.
Say goodbye to mini skirts and denim cutoffs if you want to look sophisticated. Dress with a certain degree of modesty, so that your outfit exudes both interest and mystery. This doesn't mean that knees and shoulders need to be covered at all times. It's about balance.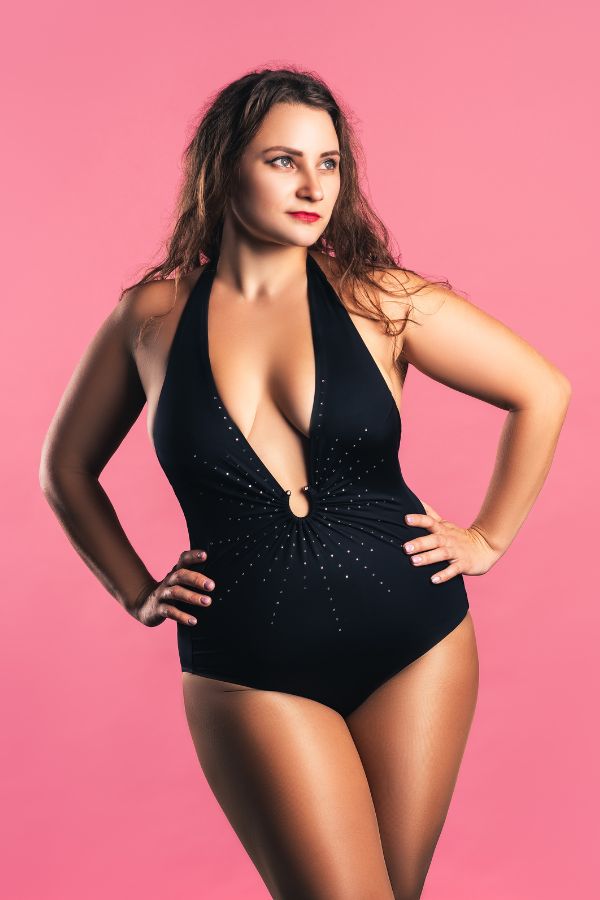 For example, if you're wearing a dress or skirt that goes above the knees, wear a top that has a high neckline, like a sleeveless turtleneck. Likewise, if you're wearing a v-neck or unbuttoned blouse, opt for a longer hemline like a midi skirt. Balanced looks are more pleasing to the eyes, and thus look more elegant.
Related Post: What To Wear To Jury Duty, From A Fashionista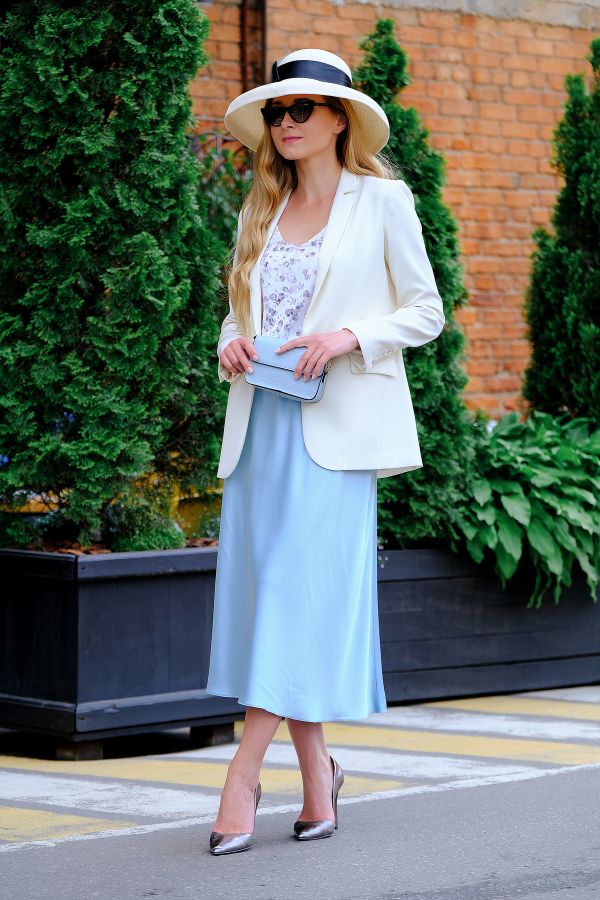 Wear Blazers Instead Of Casual Jackets
Jackets are important components in elegant classic style. I always say that outerwear is part of your outfit. A casual jacket can easily downgrade an entire look. Cue the memory from college when you didn't have a proper jacket to match a cute dress and felt kinda ick about it.
Enter the blazer, the most coveted capsule wardrobe essential of all. Let this be your go-to jacket style with all your outfits, whether high or low (cost-wise), dressy or casual.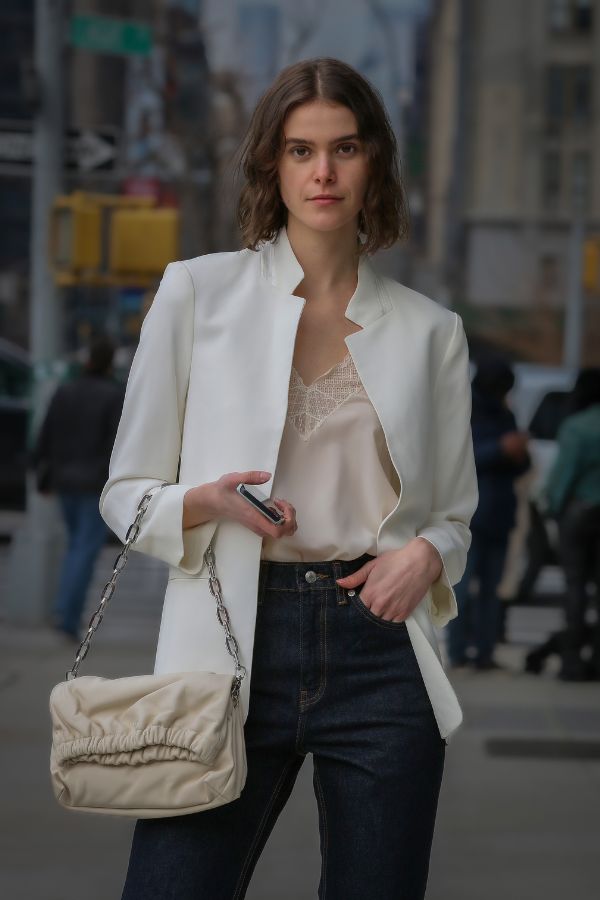 If you have one blazer, for example, a black blazer, you're set for a black jacket. Next, you'll need blazers in other colors to match outfits in your wardrobe, like beige and navy. If you wear jackets in the summer, you can't go wrong with a linen blazer in beige, white, or ivory. Experiment with different styles of blazers, and fill your closet with the most flattering ones. My personal goal is to have a blazer for each day of the week.
I say this enough on What Is She Wearing, but I'll say it again: Have your blazers tailored. This is a small investment if you want to look classy and expensive on a budget. Remember, one of the most important things that make you look elegant is wearing clothes that fit you perfectly. If you want a fantastic example of this, watch Robin Wright on House of Cards. Her character, Claire Underwood, is the epitome of elegant classy style and the tailoring is pretty much, bar none.
Matching Suits
Elegant outfits have cohesion, meaning they seamlessly go together. What better example of this than a matching suit? I write about matching suits often because they're so easy to style. Whether you wear the jacket buttoned up, with a silk blouse, or add a scarf, it looks chic. Skirt suits, pantsuits, and as of recently, short suits are options for an elegant classy style.
Related Post: 3 Personal Style Tips To Consider Every Day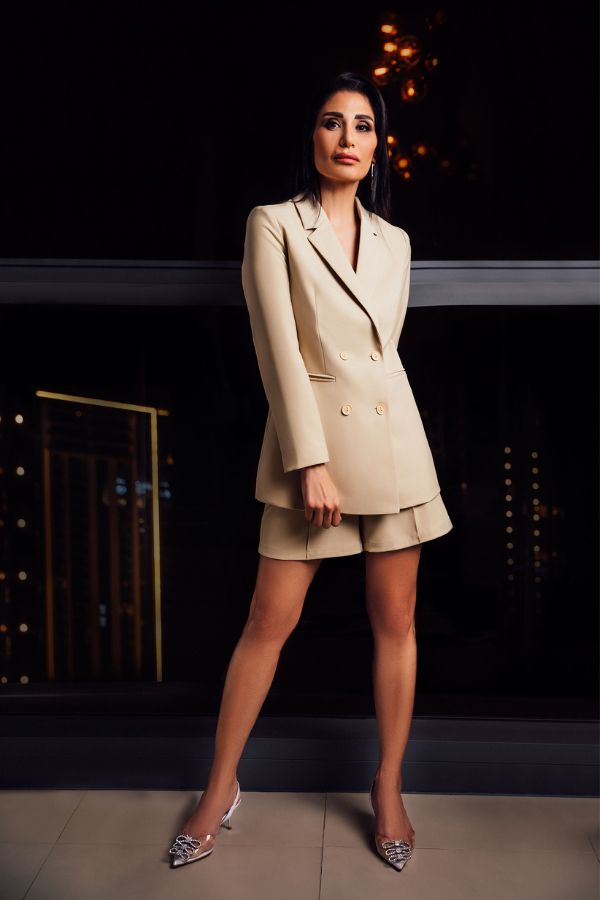 You don't have to purchase an expensive suit either. There are so many brands offering matching suits in all different colors and styles. Browse end-of-season sales and clearances around major holidays. Purchase one size up and have it tailored perfectly.
Style Knit Jackets With Denim
One of the best ways to elevate your denim jeans is with an elegant jacket, such as a knit jacket. Knit jackets have been trendy the past few years, but are in fact a timeless wardrobe essential. Knit jackets are an elegant way to replace casual and edgy items such as denim, moto, and bomber jackets. Nothing wrong with those styles, but they don't fall into the elegant aesthetic.
Knit jackets also offer more comfort than other styles of jackets. Try a knit jacket in a classic color such as ivory, navy, beige, or black and you'll be able to match it with most of your wardrobe.
Related Post: Wardrobe Essentials Women: The Complete Style Guide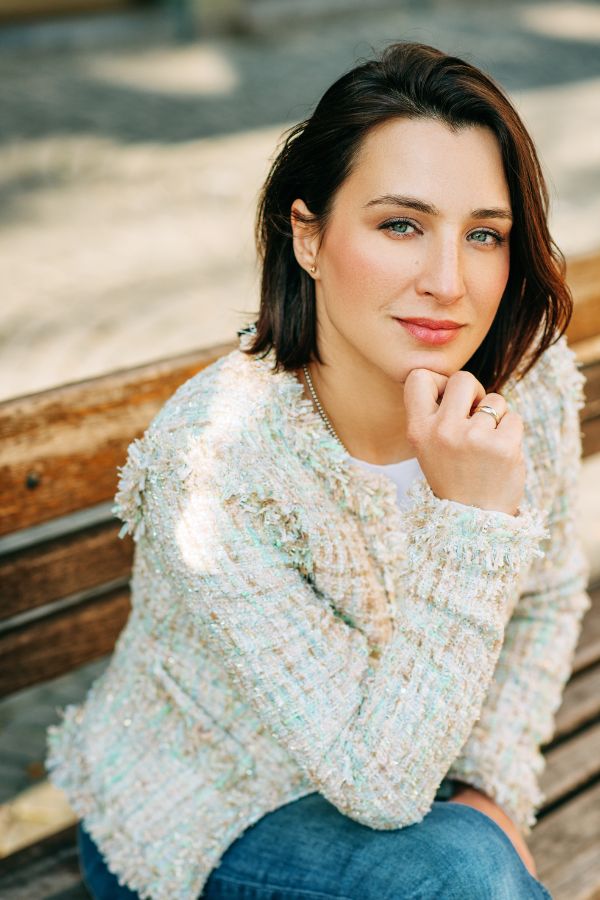 Wear Trousers Instead Of Jeans
Trousers are a good base for elegant feminine classic style. Everyone wears denim jeans and leggings, so be the one who wears trousers with a casual outfit instead. They're more comfortable and like the blazer, always look nice if they fit you right. Purchase pants in your favorite colors, so you have a variety to choose from as opposed to always wearing black. Light-colored neutrals are the most elevated of all colors for trousers, but don't shy away from pinstripe, which is so timeless.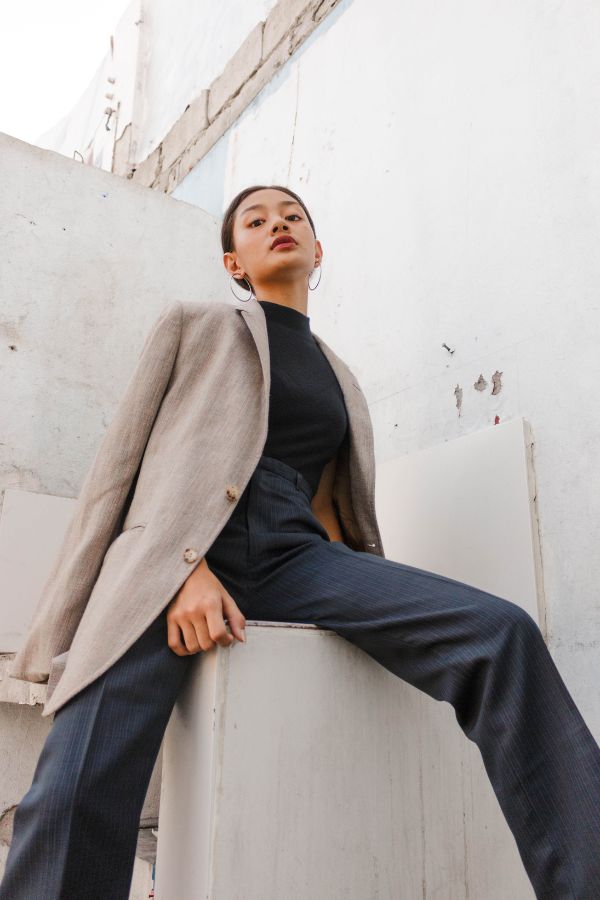 How To Dress Like You're Rich
One of the best-kept secrets of wealthy people is not excess buying, but instead purchasing quality items they wear over and over again without fail. The best way to dress like you're rich is by investing in quality outerwear, footwear, and accessories. These are the first items people see and make judgments about you, right, wrong, or indifferent.
There's a style concept known as "high/low" dressing, which is mixing expensive items with lower-priced items to create an elegant look. Use this concept as your secret weapon, by wearing shoes, a handbag, and a coat from high-end brands while the rest of your look is from the high street.
By incorporating the rest of the style tips above you won't have to invest in expensive clothing. Budget your money for a nice handbag (instead of 5 cheap ones), a few leather belts, and classic pumps in black and beige. Purchase a quality wool coat during clearance sales. Buy one structured straw hat and one structured wool fedora (as opposed to floppy hats, which can look cheap). Seek out vintage and pre-owned styles for less money than new-in.
Lastly, don't take things too seriously. If you don't feel like yourself in your clothes, change them out. Take photos of your favorite elegant looks and have them in a folder on your phone for easy access when you need inspiration.
This post was all about elegant classy style
Want more elegant style tips? Check out the articles below.
Related Posts: