Debating about what to wear to jury duty? This style guide for women has everything you need to know to dress appropriately and fashionably in the courtroom!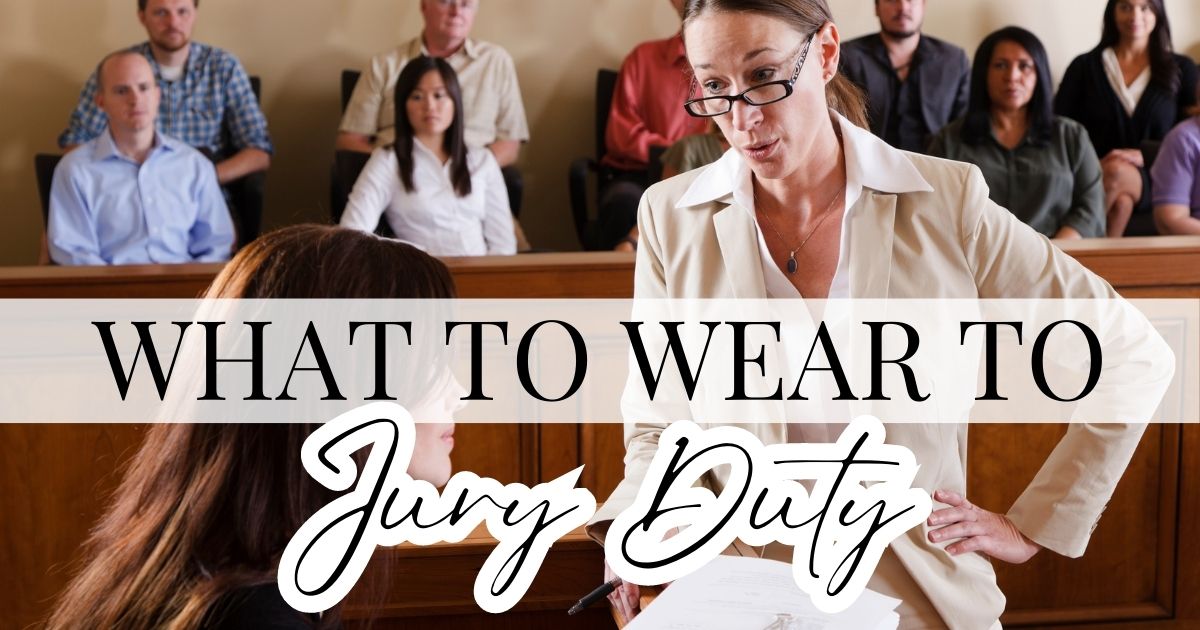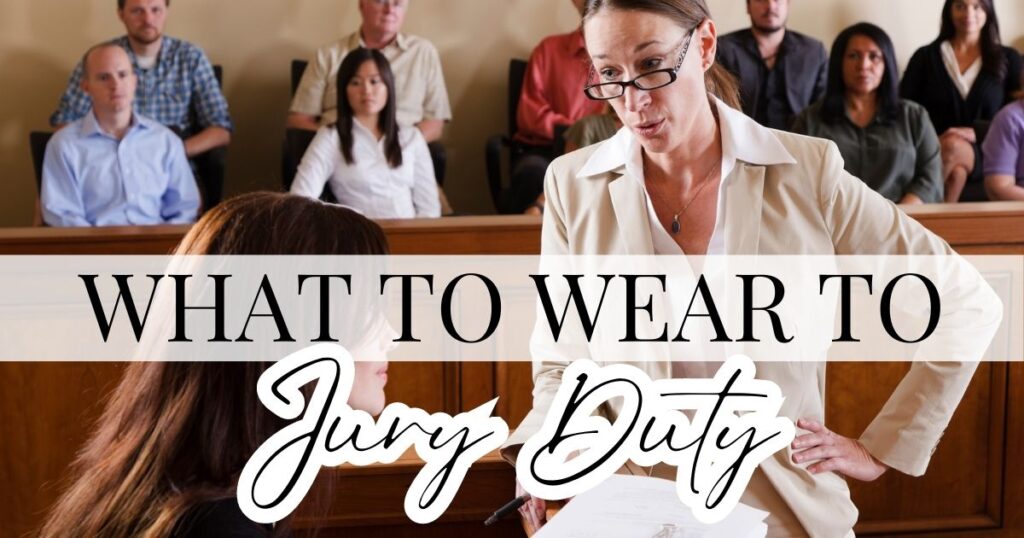 If you've never been to court, the idea of what to wear to jury duty can seem daunting. While it's perfectly understandable to be nervous, styling your jury duty outfit doesn't have to be difficult.
This guide answers the following questions: do you have to dress up for jury duty, what should you wear to jury duty, can I wear jeans to jury duty, what not to wear to jury duty, jury duty outfits for women, and can I wear leggings to jury duty. You will learn how to show up for court the right way while looking incredibly chic.
This post is all about what to wear to jury duty.
What To Wear To Jury Duty Female
Do You Have To Dress Up For Jury Duty?
Yes, you do have to dress up for jury duty. Although some courts may have slightly different dress codes, the universally-excepted dress code is business casual. You're representing your state in a court of law. Respect and honor go a long way in how your present yourself. Nor do you want to be turned away (for a later date) because you're inappropriately dressed.
Looking at this from a different perspective you're also representing yourself. Your personal brand. First impressions are everything, especially in a court of law. If your trial goes to a grand jury and is broadcast or photographed, you want to look good in case you're pictured, right? I mean, I would.
Related Post: How To Buy Clothes You'll Actually Wear, Seriously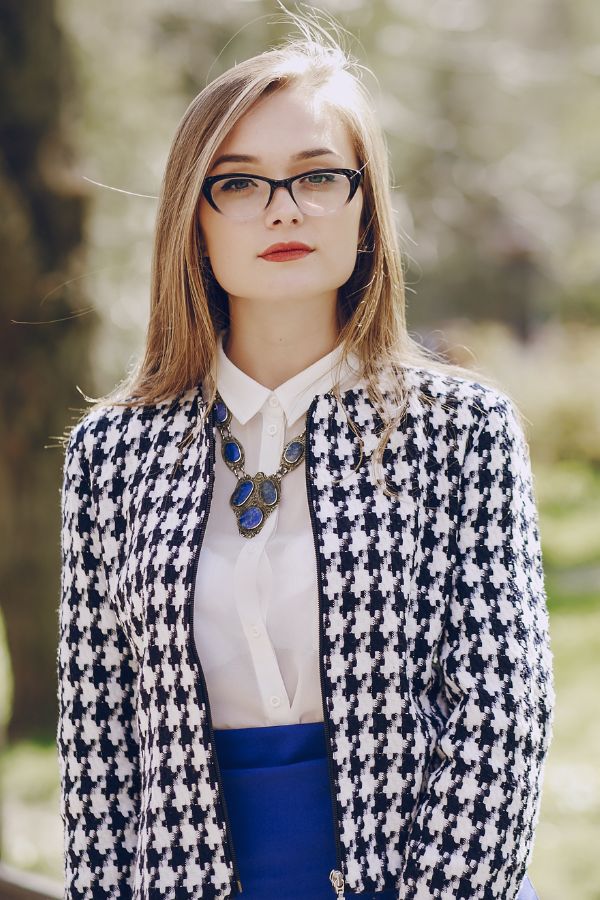 If you don't own business casual clothing, try to borrow it from a friend or family member. Otherwise, purchase a simple pair of trousers and a collared shirt. That outfit is easy to accessorize with a scarf, jacket, or cardigan. Search secondhand stores in your area for gently used clothing to minimize your investment.
What Are You Supposed To Wear TO Jury Duty?
The dress code for jury duty is business casual. Most corporate jobs that aren't client-facing use this dress code for their employees. You can rest easy that business suits are not required to sit as a juror, but clothing needs to look professional for what to wear for jury duty.
The following items of clothing are suitable for a business casual dress code:
Trousers or slacks
Collared shirts
Button-down shirts
Blouses
Cardigans
Sweaters
Nice skirts

Pencil skirts
Midi skirts
Maxi skirts

Nice dresses

Sheath dresses
Shirtdresses
A-line dresses

Blazers
Tweed jackets
Knit jackets
Dressy jackets
Sleeveless blouses
Pantyhose or tights (not required, but looks nicer, especially during cold months)
Nice, closed-toe shoes

Pumps
Flats
Loafers
Boots

Peep-toe pumps
Dress socks
Silk scarfs as accent pieces
Jewelry that complements your outfit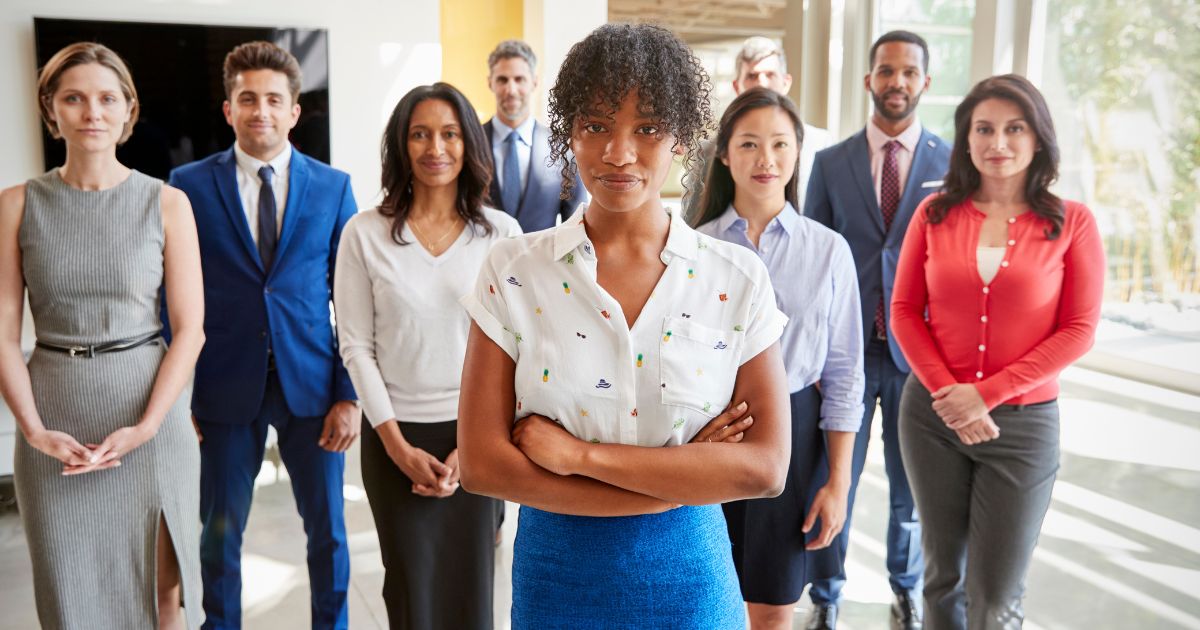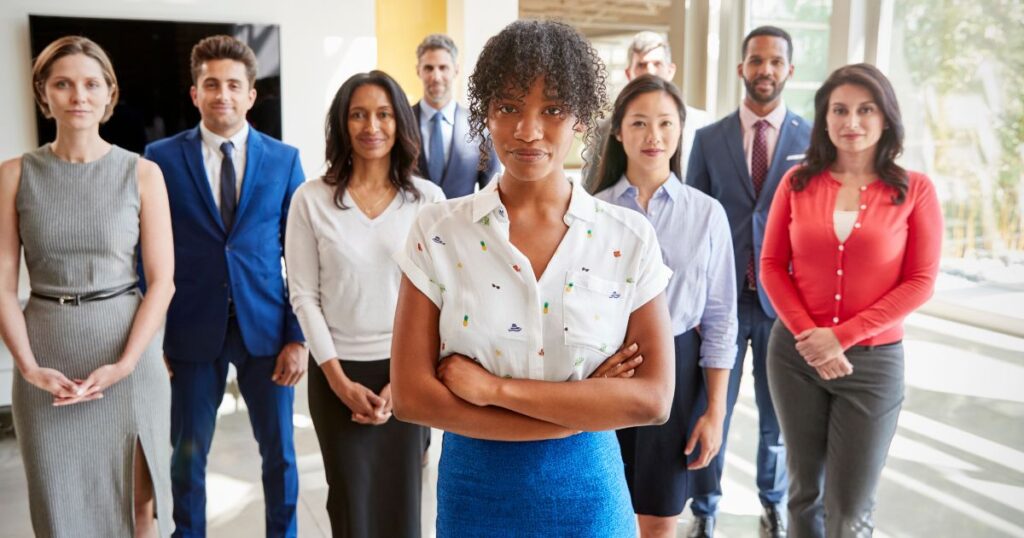 Keep the skirt and dress hemlines modest to your lower thigh. The hem should extend below your fingertips with your arm hanging straight down. Ensure necklines are high enough to prevent cleavage.
Neutrals and classic prints are your safest choice but don't rule out solid colors as these help brighten up the mood in the courtroom (and maybe your mood as well). Stick to stylish colors without being distracting.
Related Post: 10 Elegant Style Tips To Look More Sophisticated
Can I Wear Jeans To Jury Duty
The short answer is no. Jeans aren't considered business casual attire. Rather, they fall into the smart casual category. Check the website of your court just in case they're lenient. However, the rule of thumb is to always choose to dress up as opposed to dressing down.
A pair of trousers is perfectly appropriate for what to wear for jury duty. Trousers (or dress pants) are actually more comfortable clothing for long periods of sitting.
Can I Wear Leggings To Jury Duty?
Leggings are not appropriate for jury duty because they fall into the athleisure and workout attire categories. Even though many people wear leggings as part of their everyday attire and going-out clothes, they don't truly qualify as pants in the corporate and legal arenas.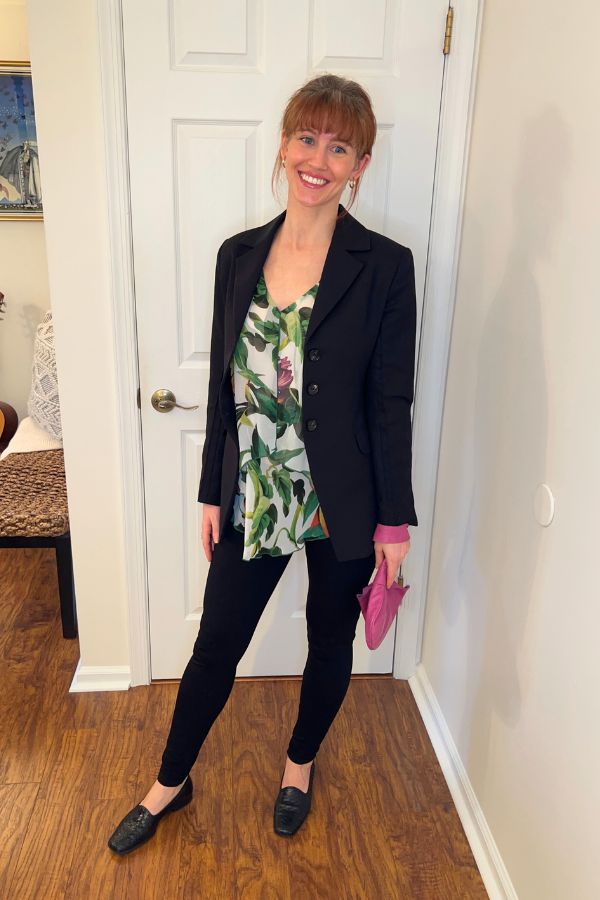 However, feel free to wear leggings underneath a long skirt or dress as an added layer of warmth. Do this by tucking them into a pair of tall boots or ankle boots. Don't allow the hem of your legging to show.
Related Post: 12 Capsule Wardrobe Essentials To Jumpstart Your Style
What Not To Wear For Jury Duty
Here's an extensive list of what not to wear for jury duty:
Shorts
Clothing that exposes the midriff, cleavage, or shoulders
Short skirts (fingertip length or above)
Provocative clothing
Bodycon or skin-tight clothing
Jeans
Leggings
Flannel
Sleeveless tops (unless layered under a cardigan or blazer)
T-shirts (even a plain white T-shirt under a blazer)
Sheer or see-through clothing
Casual clothing in general
Casual jackets such as moto jackets, bomber jackets, denim jackets
Streetwear
Loungewear
Athleisure
Pajamas
Workout attire
Nightclub attire
Outlandish prints and bright colors that are distracting
Outfits that boldly showcase political standing and other sensitive opinions
Neon and tie-dye
Clothing covered in logos
Clothing with words on it
Costumes
Sneakers
Sandals
Flip-flops
Stilettos over 5 inches
Shoes that would be worn by employees in a gentleman's club
Hats
Sunglasses
If in doubt about an item, keep it OUT of your list of what to wear for jury duty when styling.
Related Post: What To Wear To A Funeral (And Still Look Stylish)
Side note: While I don't recommend or condone this, wearing any of the styles above may help you with what to wear to jury duty to not get picked. Avoid anything offensive and ridiculous because it's not respectful. This isn't a foolproof method and can only be used for jury duty orientation. If you've already been selected to sit on a jury, be respectful and abide by the dress code.
Jury Duty Outfits For Women
Here's a fresh take on stylish jury duty outfits for women, aside from the obvious business casual choices.
Knit Top + Belted Maxi Skirt + Ankle Boots
The modern way to style a maxi skirt is with a waist belt, with your top tucked in. This creates a stylish and sophisticated jury duty outfit. Add a cropped or shorter jacket over the top if you need an extra layer.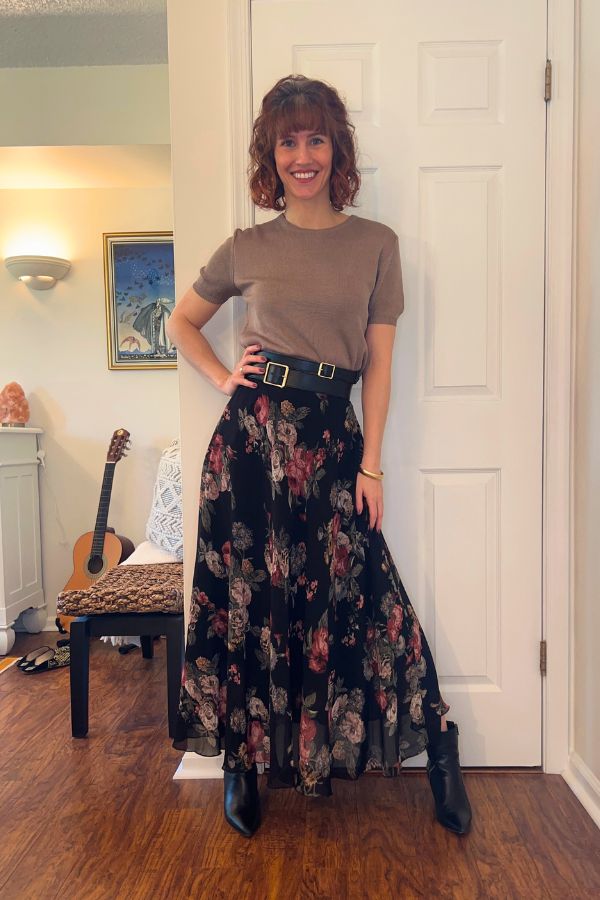 Pro-Tip: Choose one main color for your look and match your accessories to it for a cohesive look. Accent colors make up one item of clothing and/or in a print or pattern.
Related Post: How To Dress Simple But Stylish | 7 Easy Tips
Patterned Blouse + Silk Trousers
Silk elevates an outfit and it's a great choice for the warmer months. Cropped, silk trousers look amazing with pointy-toe pumps or flats. The patterned blouse does all the work, so you only need a simple hairstyle and minimal accessories. You can always add a jacket or cardigan.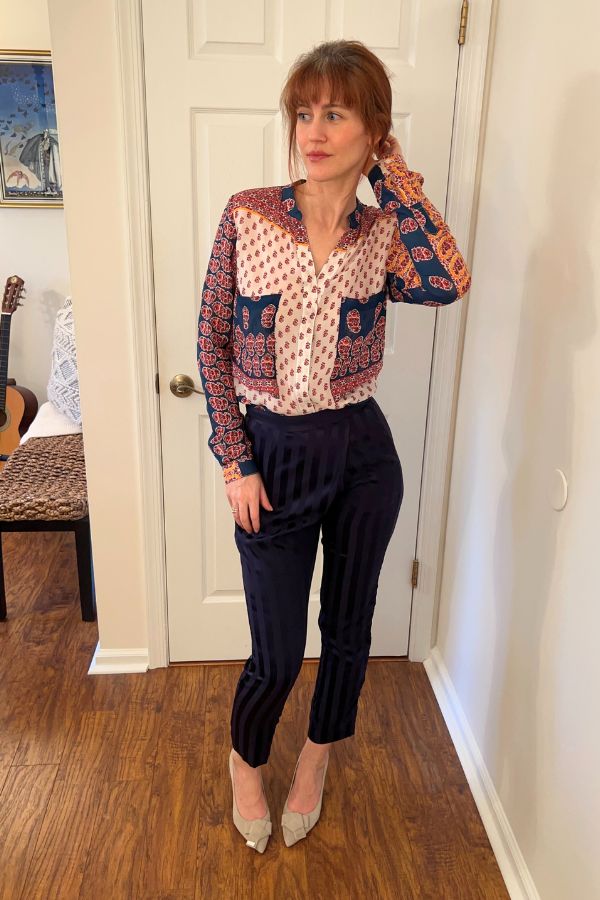 Shirtdress + Tall Boots
The shirtdress is my favorite choice for a feminine style for what to wear to jury duty. The A-line style is much more comfortable to sit in than the fitted sheath dress style you see on corporate women. Plus, you can seamlessly add layers underneath when it's cold.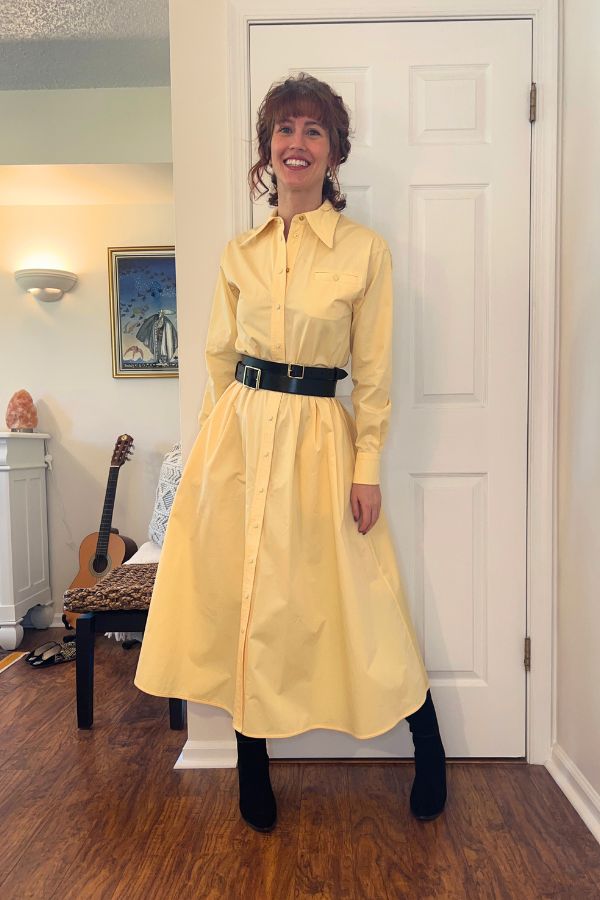 Silk Blouse + Slim Trousers
I've already mentioned how silk elevates an outfit. Opt for a silk-like blouse in a good quality polyester if you can't invest in silk. Slim trousers with a slight stretch are the outfit remedy for those ladies who want to wear leggings. These pants are slim, but not overly tight, especially at the bottom hem. Certain athleisure brands are releasing styles appropriate for jury duty outfits for women and more comfortable than a legging.
Related Post: What To Wear To Work | 5 Workwear Trousers That Will Complete Your Office Wardrobe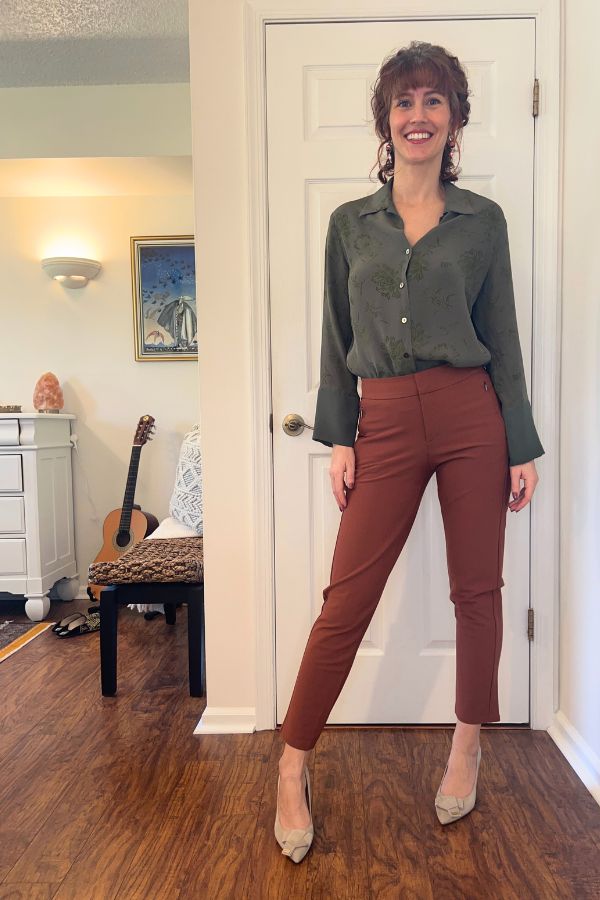 Long Sleeve Top + Knee-Length Skirt + Tall Boots
With this jury duty outfit, you can opt for a long sleeve turtleneck in the winter, a lightweight cashmere top in the spring and fall, or a dressier top year-round. Shop your closet for the best option and try it out before the morning of your scheduled jury duty orientation. Tall boots never disappoint and they help keep your legs warm and covered in a cold building.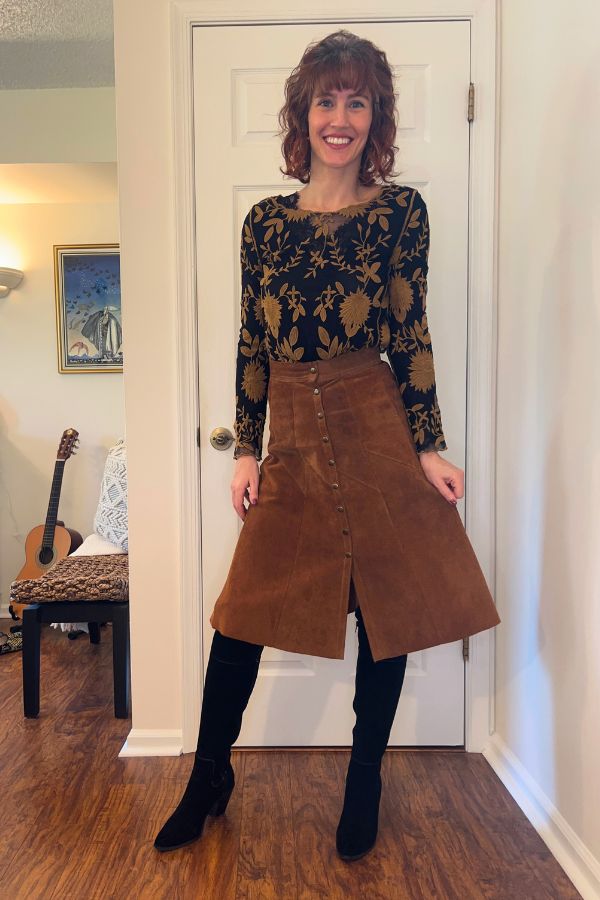 White Collared Shirt + Wide Leg Trousers + FUN BOOTS
The most classic outfit for what to wear for jury duty is a collared shirt and a pair of trousers. Update this look with a pair of wide-leg trousers and a fun pair of ankle or mid-calf boots.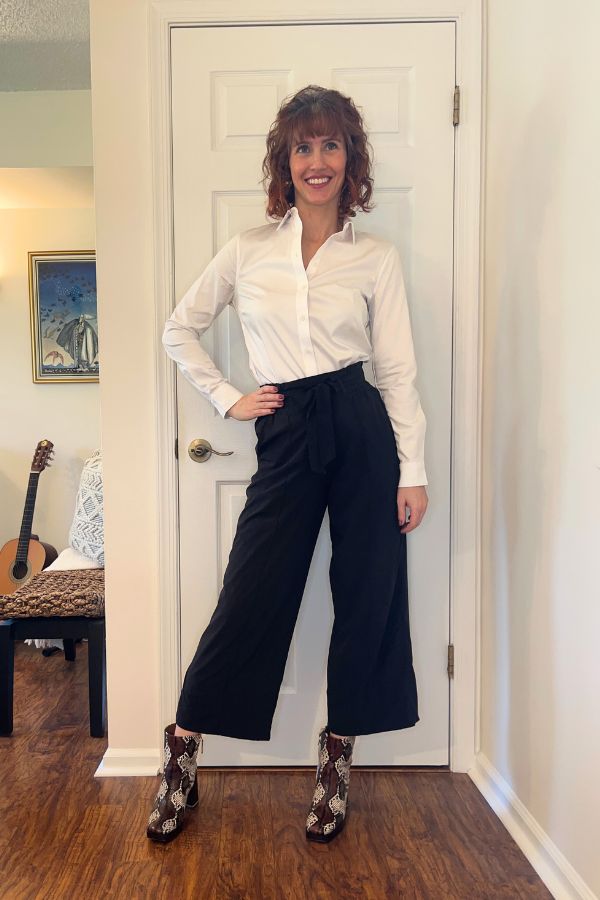 This post was all about what to wear to jury duty
Related Posts: