Are you looking for some fresh ideas for where to shop for clothes? These fantastic online stores are the answer to every women's budget and style!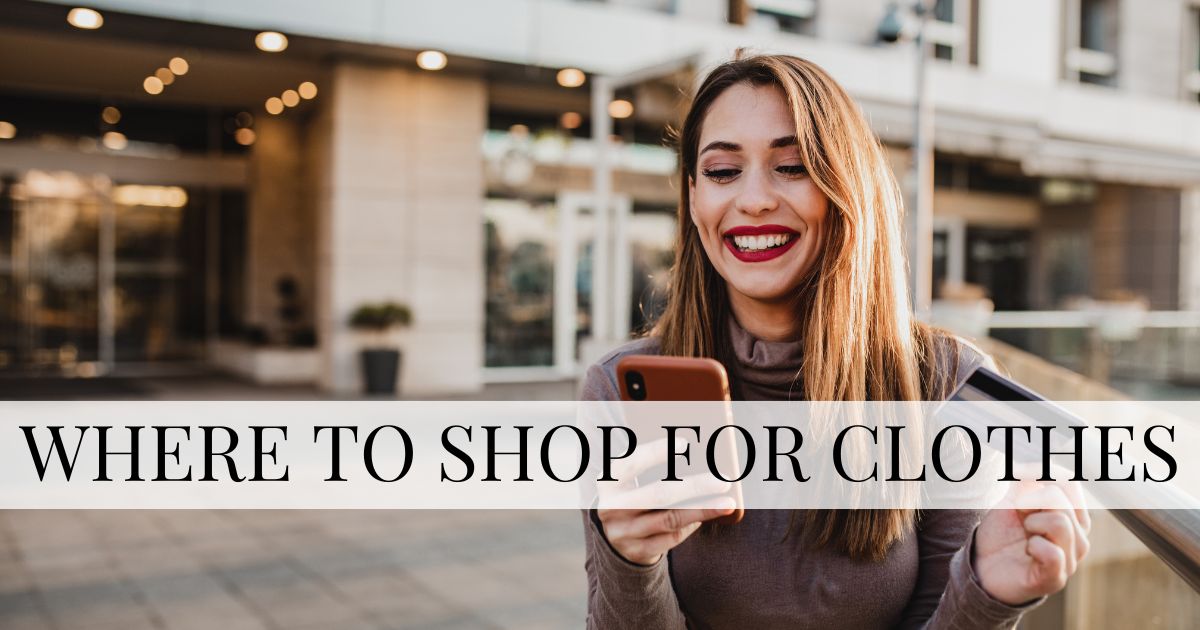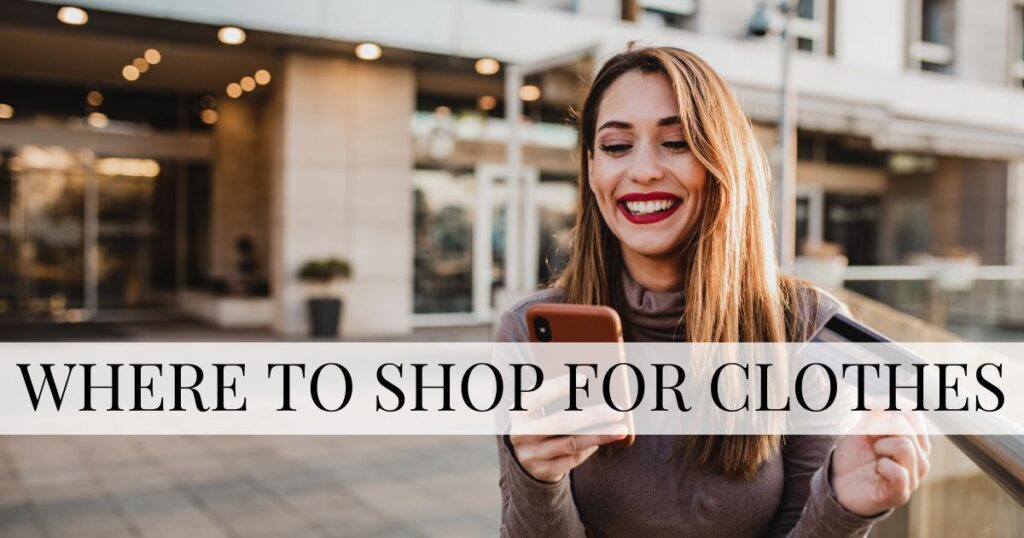 The best online stores where to shop for clothes provide an exciting selection of items, a great shopping experience, and fulfill your wardrobe needs. You may go looking for one particular item, but then fill up your shopping cart because their collection of clothing is so good!
Get the breakdown of where to shop for clothes in your 20s, where to shop for clothes in your 30s, where to shop for clothes in your 40s, and where to shop for clothes in your 50s and above!
The best part?
By no means are these stores limited to the age ranges listed, but rather the age ranges are a guide to the most appealing styles. As an eclectic, best believe I'm shopping at all of these stores as my budget allows! Do yourself a favor and check each one out!
This post is all about where to shop for clothes.
Best Online Stores Where To Shop For Clothes
1. Where to shop for clothes in your 20s
Ah, your 20's. The time when you enter the real world and learn how to support yourself, which means buying your own clothes. Your 20s are the best time to experiment with all different styles and just have fun. Workwear has thankfully come a long way so you can dress professionally and still look your age as well.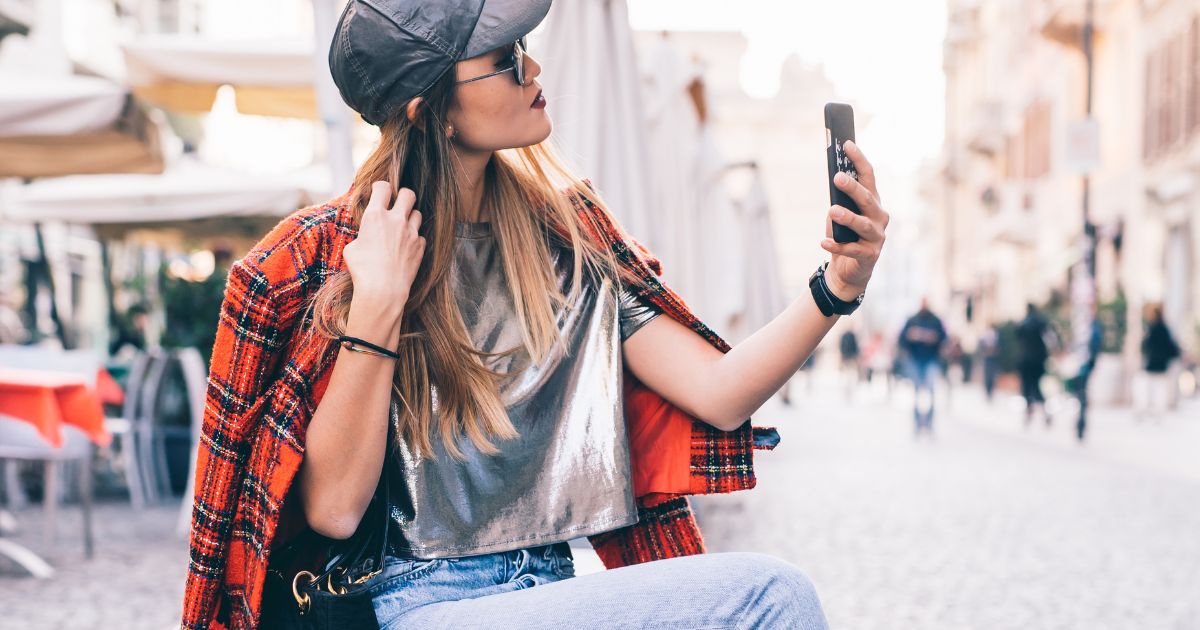 Not surprisingly, ASOS makes the list of top online stores where to shop for clothes in your 20s. A fashion-for-everyone global marketplace, ASOS prides itself on inclusivity, from its showcase of body-positive models to the range of sizes offered through its in-house brands.
Find everything from streetwear to evening dresses to stylish ski suits (OMG YES!) at budget-friendly prices. Don't forget to check out the ASOS Marketplace for vintage and independent designer pieces too.
REVOLVE was founded in 2003 with the goal of providing a more niche-driven shopping experience to young women, now Gen-Z and Millennials. A few decades later, REVOLVE is still going strong providing a curated blend of youthful, fashion-forward pieces. One of REVOLVE's claims to fame is its exclusive, in-house brand and collaborations that have placed them in 'cult-worthy' status many times over.
Related Post: 15 Perfect Bar Outfits For Your Next Night Out
While technically not a budget shopping site, there are plenty of great finds for under $100 in all clothing and accessories categories. REVOLVE's collection of denim is unrivaled and you can find many statement pieces like blazers and evening gowns. While they don't have much to offer yet for plus-size women, you can still take advantage of their footwear, accessories, and beauty selection.
Marcella is an NYC brand run by a husband and wife team on the premise of providing quality pieces that embody "minimalism with an edge". The brand dedicates itself to the following pillars: democratizing design, social impact, ethical production, and sustainability.
Creative Director and Co-Founder of Marcella, Siyana Huszar, sums up the epitome of the brand's style on their website with the quote:
"There came a time in my life when I realized that, as much as I liked to dress like a cool, edgy New Yorker, I couldn't really afford it. That's when I decided to change that for myself and for tens of millions of other women around the world."
Marcella's pieces are designed for an upscale, edgy, cool girl aesthetic. You'll find incredibly stylish basics, casual attire, workwear, dresses, accessories, and a whole lot of black. And, you'll wear them on repeat!
Get $20 Off your first $100+ order at Marcella when you sign up for both newsletters and SMS – click here.
NA-KD is where to shop for clothes for the 20-something that works in an office environment and for the woman that wants a more sophisticated style of streetwear. The brand is a European company committed to sustainability, circularity, climate action, and diversity and inclusion. They even have a pre-loved section for the eco-conscious consumer on a tight budget.
Related Post: What To Wear To Work Casual | How to Dress Casual and Still Look Professional at Work
What makes NA-KD's clothing special is its mix of natural and synthetic materials resulting in affordable, quality pieces. So that gorgeous wrap coat is (finally!) in your price range. Find tailored blazers and trousers that are better quality than at the run-of-the-mill fast fashion store. And that's not all. Their shoe collection is impressive and you can also find dresses, bathing suits, basics, and intimates!
2. Where to shop for clothes in your 30s
With the past decade spent experimenting with everything under the sun, you begin to make your way back to yourself in your 30s. Suddenly, where to shop for clothes in your 30s becomes an important question as shifting priorities and soul-searching birth a new way of looking at fashion and what you spend your money on.
Related Post: Must-Have Clothes For Women In 30s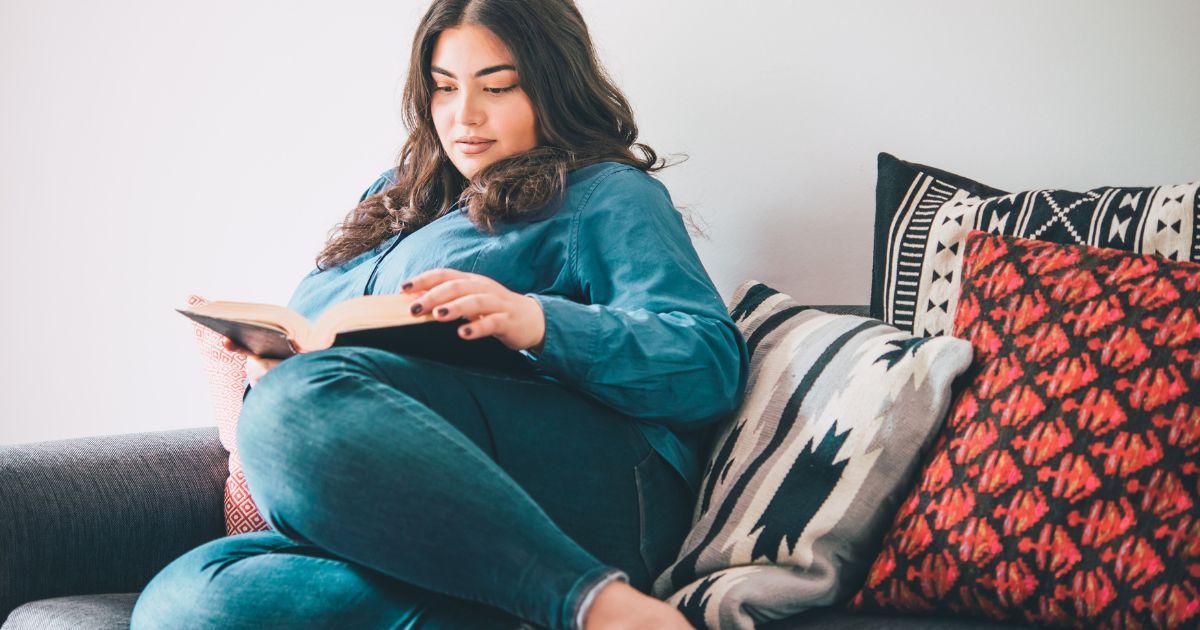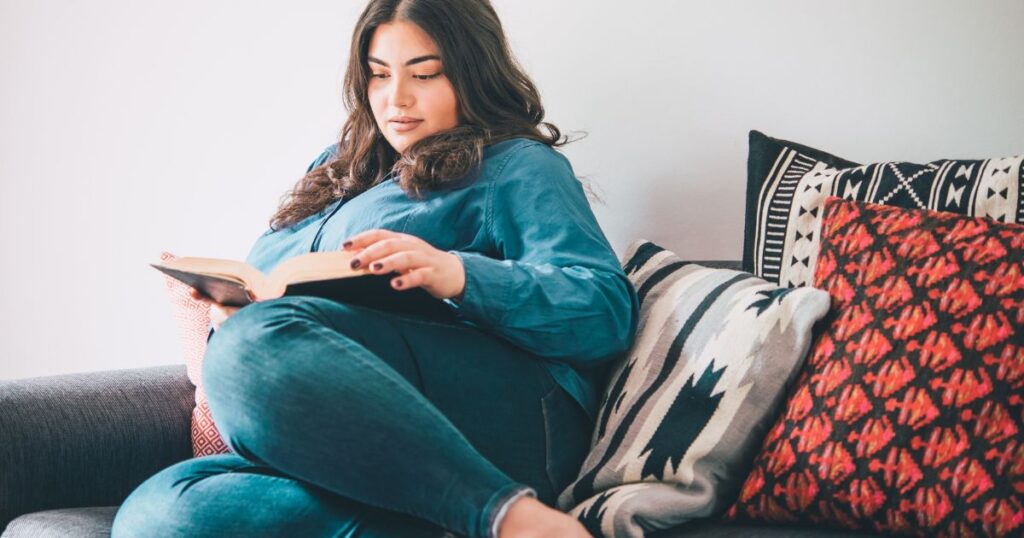 Banana Republic was founded in 1978 by a husband and wife team on the basis of selling upscale, upcycled military surplus clothing. Acquired by GAP in 1983, the brand has grown into a worldwide clothing brand with an emphasis on upscale, quality pieces made from natural materials. Pieces range from tailored workwear to sophisticated knitwear to high-end statement pieces meant to last a lifetime. Banana Republic's aesthetic is both stylish and timeless because it intelligently integrates trends to keep pieces interesting, but never outdated.
Check out their Heritage Collection if you're looking to invest in updated styles pulled from their design archives, like this beautiful leather pencil skirt in a honey brown.
In my own words, Banana Republic's style embodies the well-traveled woman who's both elegant and eclectic. I always dreamt of shopping in Banana Republic as a teenager, but it was out of my price range. Thankfully, times have changed with Banana Republic Factory, a separate store offering more affordable options (and some incredibly stylish finds IMO!).
Dia & Co is a plus-size store that was founded in 2015 by Nadia Boujarwah after she struggled to find anything that fit both her body and style. The brand offers clothing in an array of different styles from prices well below $100 to the luxury 11 Honoré Collection. The site branding is done incredibly well from the photography to the styling to the display of must-buy-right-now pieces. Find so much more here than the same boring styles that have dominated the plus-size market for decades.
Related Post: 7 Amazing Plus Size Style Tips To Look Your Best
What also sets Dia & Co apart from the rest is its style boxes you can have curated with items based on the results of a style quiz you take right on their website. They also have a great blog with style tips, love, musings, and more!
If you're into simplistic luxury, look no further than Brochu Walker. The brand embodies 'forever pieces' impeccably made from the highest quality materials. Brochu Walker has everything you could need or want if you're looking to invest in some high-end cashmere knits. And, their prices are well below what you'd pay for many designer brands.
How about this gorgeous cashmere pullover with a deep v-neck and pleated sleeves? Simple, but definitely not basic.
Also to note are stylish shirt dresses, comfortable loungewear, western-style boots, fine jewelry, and seriously-good vegan pieces (and even more!).
The Outnet is a luxury discount shopping site that was established in 2009. With items discounted up to 70% off on 350+ brands, this is the destination for the woman that wants to curate a luxury wardrobe without overextending her wallet. Prices range from well under $100 into the $1000s, so there is something to support all budgets.
Find tailored trousers from Nili Lotan, a pair of pumps from Sam Edelman, and replace ripped pantyhose with a $17 pair of Wolford tights. The Outnet is where to shop for clothes to find those wardrobe staples that will become the foundation of your closet for years to come.
Related Post: 11 Wardrobe Staples Every Woman Needs In Her Closet
Also noteworthy is The Outnet's in-house brand, Iris & Ink, an affordable collection of stylish basics and classic pieces. Their shoe collection is not to miss; nor is their Considered line, with a keen focus on sustainability.
3. Where to shop for clothes in your 40s
By the time you reach your 40s, you've landed on who you are (for the time being) and where you want your life to go. This can be a busy decade as you actively pursue those goals and priorities without much time for anything else. This is the time to pare down your wardrobe to quality pieces that allow you to focus on your goals.
Related Post: Must-Have Clothes For Women Over 40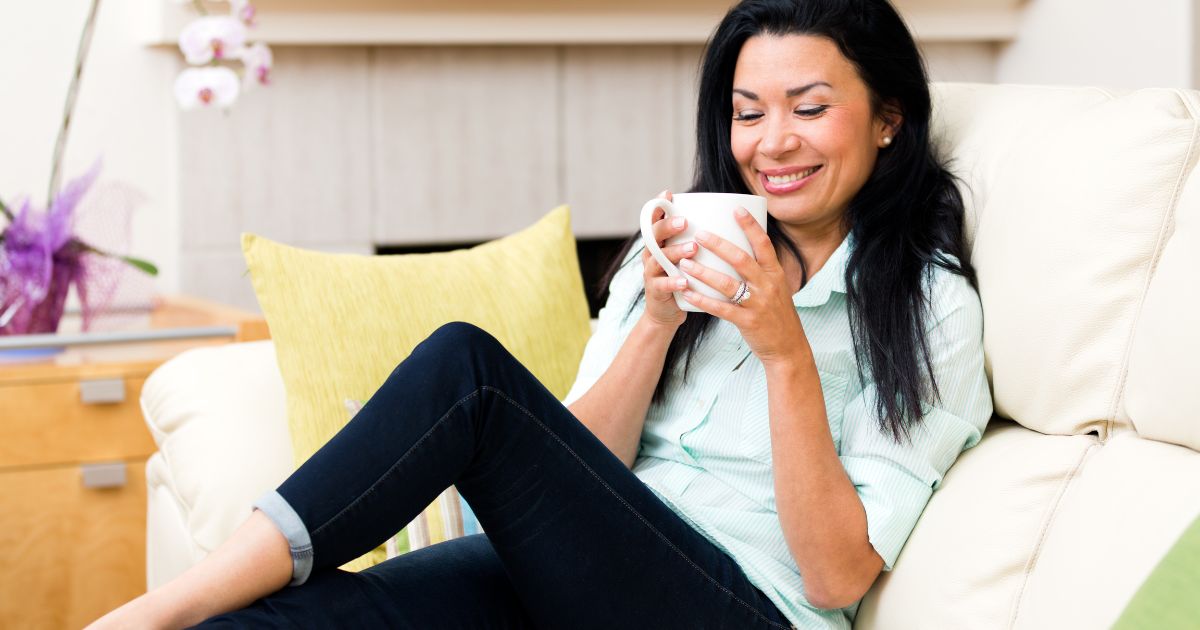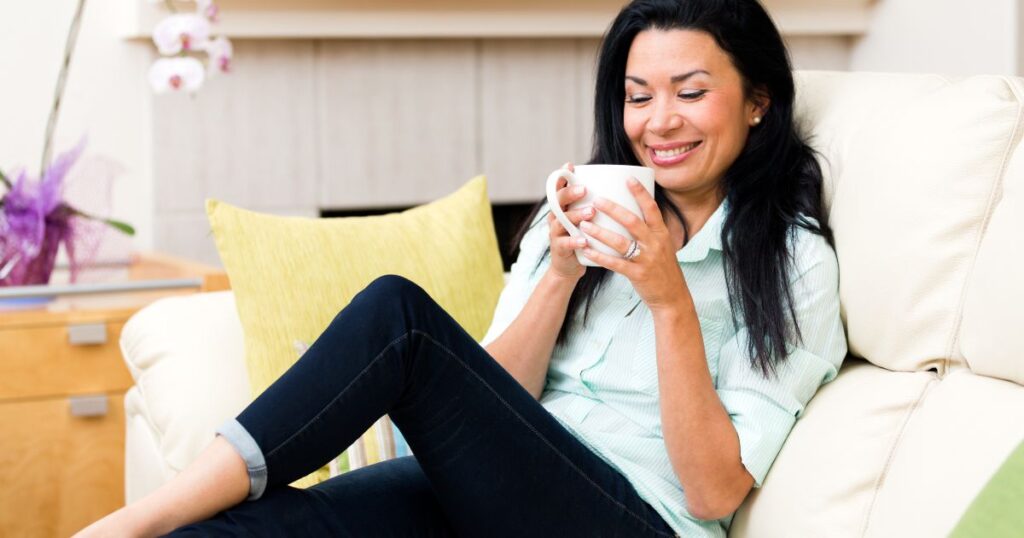 REISS launched its womenswear line in 2000, after almost 30 years of designing tailored menswear. The brand prides itself on creating modern pieces that transcend both time and trends. REISS's collections embody the concept of subtle luxury with styles and colors that work seamlessly together in a wardrobe.
Stock up on timeless workwear essentials, occasionwear, high-quality denim, and elevated basics. They also have an impressive petite section if you're looking for that don't pool on the floor or a proper-length jacket (for once!). REISS also collaborates with brands such as Halston and Good American to offer a greater range of styles while still remaining cohesive to their in-house collection.
Since 1984, Mango's provided contemporary womenswear at affordable prices. With roots in Barcelona, Mango's designs are subtly influenced by the Mediterranean, while trends are incorporated without going overboard. If budget is your main concern, Mango is the perfect store to shop for all the essentials, including workwear and off-duty clothes. You can even score a beautiful winter coat from their Premium line.
Split your budget where to shop for clothes in your 40s by investing in quality wardrobe staples such as trousers, knitwear, and outerwear; and then grab all your basics and trendy pieces from Mango, like these chic, straight-leg snake print pants. Not to mention, their dedicated plus size section is chock-full of gorgeous designs and everything you need to dress simple, but stylish.
Related Post: How To Look Stylish Everyday | Style Tips Every Woman Needs To Know
Mango also recently launched a denim collection designed with circularity in mind and I suspect this will expand to other collections soon.
ADAY is a women-founded brand that's taken the capsule wardrobe and elevated it to something sophisticated, comfortable, and versatile. ADAY's pieces are designed to be worn on repeat. Imagine what life would be like if you could work the 9 to 5, come home and walk the dog, pick up the kids, make dinner, and kick back with your favorite novel–all without needing to change! ADAY's clothes are meant to be lived in, traveled in, and best of all? They're machine washable!
Check out their best-selling Something Borrowed shirt–a twist on a collared shirt made of technical silk that you can actually wash (YES, seriously no cleaners needed)!
ADAY uses sustainable and long-lasting fabrics and is committed to minimizing environmental and social impact. With most prices in the $70-$250 range, you're making a small investment in an item that will pay dividends in form, function, and time.
Tuckernuck was started by three women, who left their corporate jobs to create a brand that embodied their personal style and love of life, family, and friends. In my own words, the Tuckernuck brand illustrates the following: fun, beach, vacation, fun, garden party (who has those anyway? but seriously, invite me), fun, etc. And upon visiting their website, you're met with an array of colors and smiling faces, you can't help but smile yourself.
Their selection of clothing and accessories is ultra-feminine with a touch of classic; think Emilia Wickstead and Ulla Johnson vibes. If you're looking for where to shop for clothes that aren't too form-fitting, but still incredibly feminine, look no further than Tuckernuck.
Related Post: The Secret To Elegant Classy Style
Expect to pay anywhere from premium to designer prices, based on the brand. Tuckernuck has its own expanding line of dresses, tops, sweaters, sportswear, and more that speaks to the brand's true north. Don't miss out on their affordable jewelry and accessories, like this oversized printed scarf.
4. Where to shop for clothes in your 50s and above
Your 50s mark the start of a new era, with a whole different set of changes and wisdom. Time becomes more precious as you shift focus to the things, people, and experiences that truly matter. You've come to terms with past successes and failures and are no longer interested in trying to prove yourself to anyone. This is a time of settling into who you really are and enjoying yourself.
Related Post: Must-Have Clothes For Women Over 50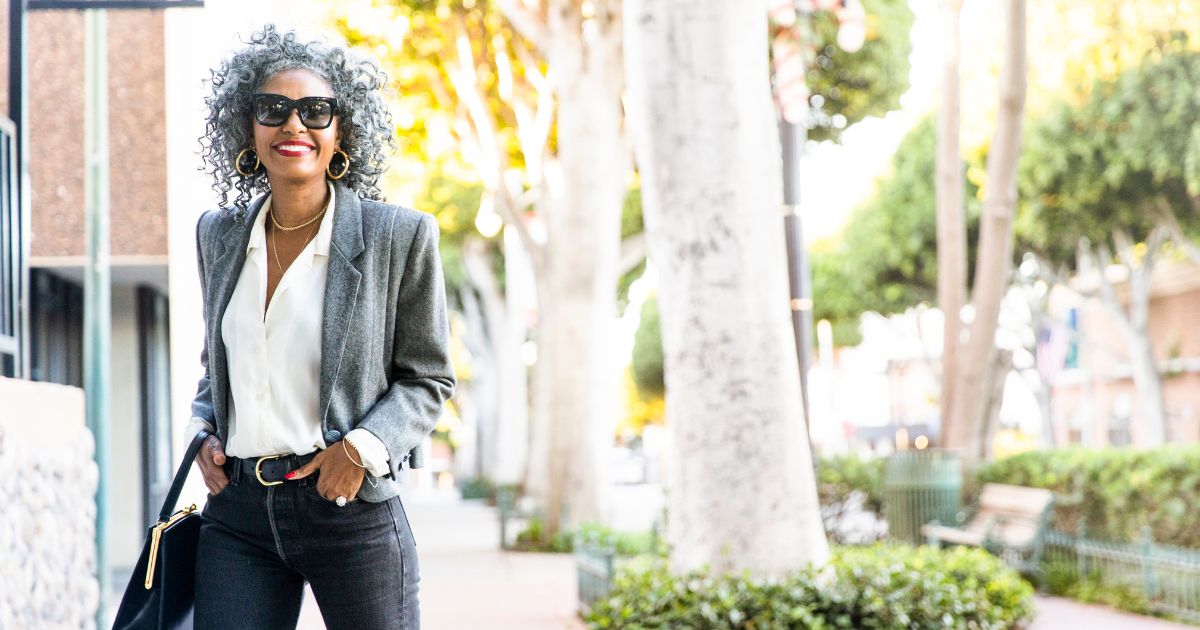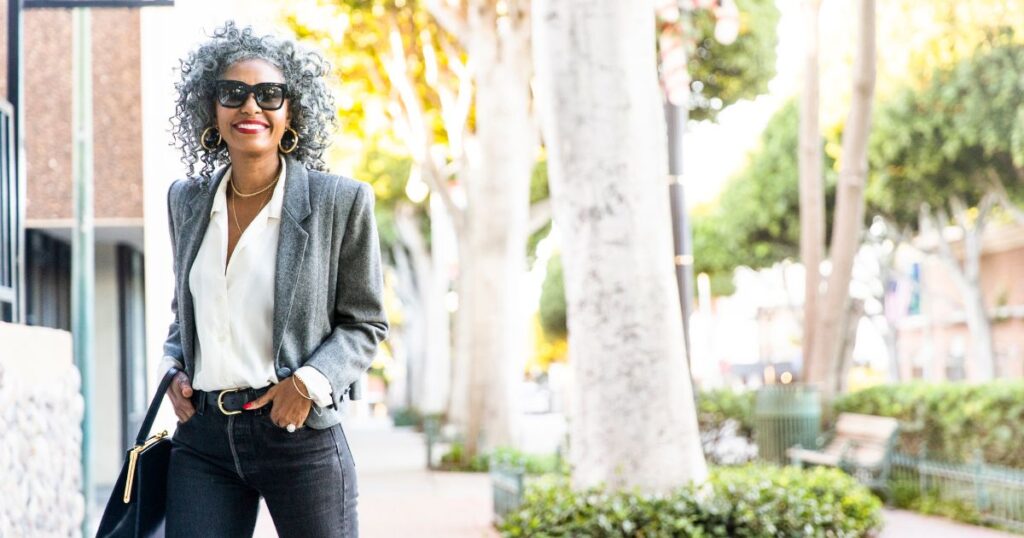 M.M.LaFleur's design ethos encircles three concepts: functionality, comfort, and style. The female-founded brand's inspiration comes from the female work aesthetic in Japan, where minimalism and attention to the finest details matter. All clothing is made from high-quality materials and is machine-washable, which is always a plus.
Related Post: 11 Simple Style Tips To Always Look Good
In the eyes of the founders, M.M.LaFleur's clothing should empower you and make you feel good. And with their seasonal capsules and smart casual line (labeled 'Power Casual'), you'll find the perfect pieces to mix and match at the office, off-duty, or out to dinner. There's nothing too low-cut or too short here, and with details such as lingerie snaps, you'll never worry about the accidental fashion faux pas.
Be sure to check out their kidskin Grace Loafer, a refreshing take on a minimalist loafer.
AYR stands for "All Year Round" and is pronounced like 'air'. The brand specializes in high-quality, casual basics and separates with its expanding line of denim as its claim to fame. The genius behind the AYR brand is the design of timeless pieces that you'll wear on repeat, for years to come.
A quote from the AYR website reads:
"We're about creating confidence through clothing. We want our clothes to carry you through every season of your life. We want them to make packing easier. We want getting dressed to feel like an exhale. We're really into simplifying things."
Talk about simplifying. Let's take The Essential Belt, a vintage-style belt without any holes. What?! That's right. No more fidgeting with annoying belt buckles! Winning!!! Does anyone even say that anymore? Let's pretend.
Their denim is more of an investment, but with the timeless styles and rinses, you won't be replacing them any time soon. And, lastly check out The Deep End collared shirt, which has rave reviews from Oprah.
Karen Kane is a family-owned business that started in a garage. I love those kinds of stories. The Los Angeles brand's style is boho-chic meets California cool, with a mission to make women feel beautiful and comfortable. Find clothing for daytime activities, date nights, and festive occasions. There are even separate petite and plus-size sections.
What makes Karen Kane a great online store where to shop for clothes in your 50s is the well-designed necklines, sleeves, and hemlines that flow and drape in a way to hide potential problem areas. There are also more form-fitted styles and shorter hems as well to fit all body types and preferences, as well.
The brand also promotes sustainable practices such as ethical sourcing, employee health and well-being, and charitable giving. Try this gorgeous Gold Bangle Bracelet, artisan-crafted from Kenya and sure to become a timeless staple in your closet.
Ted Baker started out in Glasgow as a men's shirt company that apparently offered a laundry service to clients in its early years. The brand's since expanded into stylish womenswear and lifestyle, and Ted's eye for detail, quality, and spirit is a part of every piece designed. If you're a fashionista with a higher budget or are looking to invest in a show-stopping dress, coat, or jumpsuit (or anything really as everything is beautiful!) this is the place.
Try the Valiree Gold Satin Maxi Dress for your next big event. Pair this with flats or tall boots for the perfect look.
Ted Baker's collection has life in it, without looking like you're trying to be younger. Don't pass up on their Outlet section, where you can find amazing deals on past season's items (e.g. a wool coat originally $525 is selling for $210)!
Take your wardrobe planning to the next level with the Ultimate Wardrobe Essentials List, completely free to download and use on your mobile device or print out.
Need some genius shopping tips? Check out these related posts:
This post was all about where to shop for clothes