Do you want to know the must-have clothes for women over 50? These classic pieces are easy to style for a chic aesthetic throughout your 50s and beyond.
Thinking about the clothes for women over 50 comes with a different mindset than in earlier years. Although life's valuable lessons continue to teach you, you're no longer shopping for the person you want to become. Rather, you're shopping for the person you have become–the person you really are. You grow more in touch with yourself through these next few decades, priorities shift, and the pace of life eventually slows down.
Choosing a wardrobe that both functions and complements changes in your body and lifestyle is important. Not only that, but you want to look chic and well-put-together. Details matter in these next few decades of fashion.
Read on to learn the best clothes for women over 50 that you can use to create modern and classy outfits, plus some important style tips for mature women.
This post is all about clothes for women over 50.
Best Clothes For Women Over 50
Fashion Over 50
I want to level set the tone of this post with the understanding of what clothes for women over 50 actually means. Everyone's life takes its own journey with different goals and stages, which means a 50-year-old woman may dress differently than a 70-year-old woman. "May" dress differently. Or dress similarly. No one should ever feel bucketed into a certain style or category of dressing.
This is why a wardrobe evaluation is important to help determine what fashion over 50 looks like for you.
These methods for evaluating your wardrobe as a mature woman will help you no matter where you are in your life. In fact, I recommend it for all ages and stages because it deals with your wants, needs, and lifestyle. A wardrobe evaluation should occur every 5-10 years, or when you hit a major life change. Every ten years is recommended for how to dress in your 50s as you've reached the true refinement period of your life. So for example, evaluate at 50, then 60, then 70, and so on. Another example could be an evaluation when the kids are all out of the house, or when you hit retirement, or downsize your living space.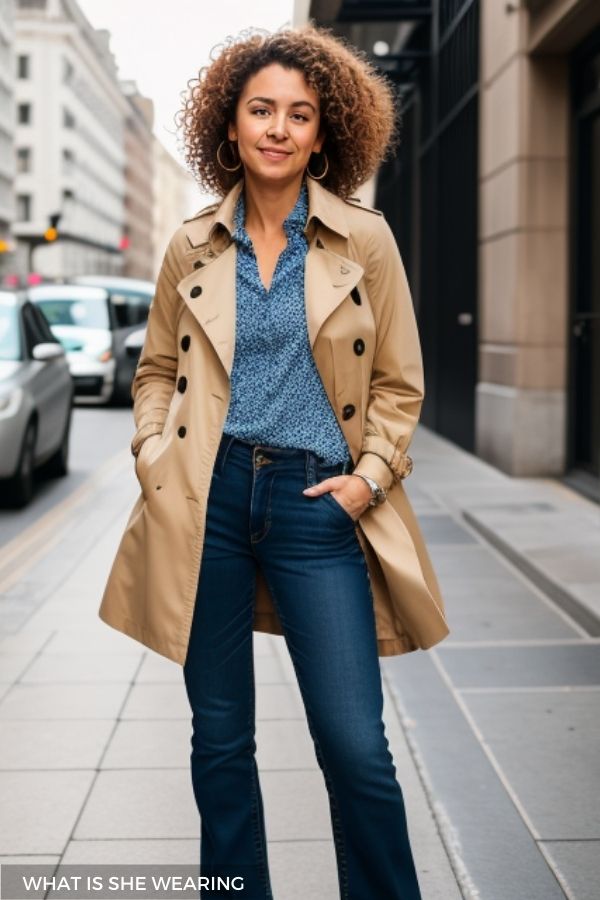 An end-to-end wardrobe evaluation includes the following actions:
Assess your current wardrobe
Clear out what no longer serves you
Identify your most important wardrobe essentials
Fill in the gaps with quality pieces that are timeless
Organize your closet to showcase the current season's capsule and most-worn items (for easy access)
Wash-rinse-repeat (i.e. maintain this approach indefinitely)
In doing this, your wardrobe evolves to suit your lifestyle and becomes easier and easier to maintain.
Related Post: How To Shop Your Closet The Right Way
How Can I Look Nice At 50?
The following factors are important when choosing what to wear over 50:
1. Look Classy And Sophisticated
Classy and sophisticated over fifty fashion means you know how to look well put together for. This means you pay attention to details, such as clothes that are in good shape, unwrinkled, and fit correctly. Ironing and steaming are important, but if you don't have the time, or energy, or are physically limited from doing those activities you'll want to purchase clothes that don't wrinkle nor require extra maintenance.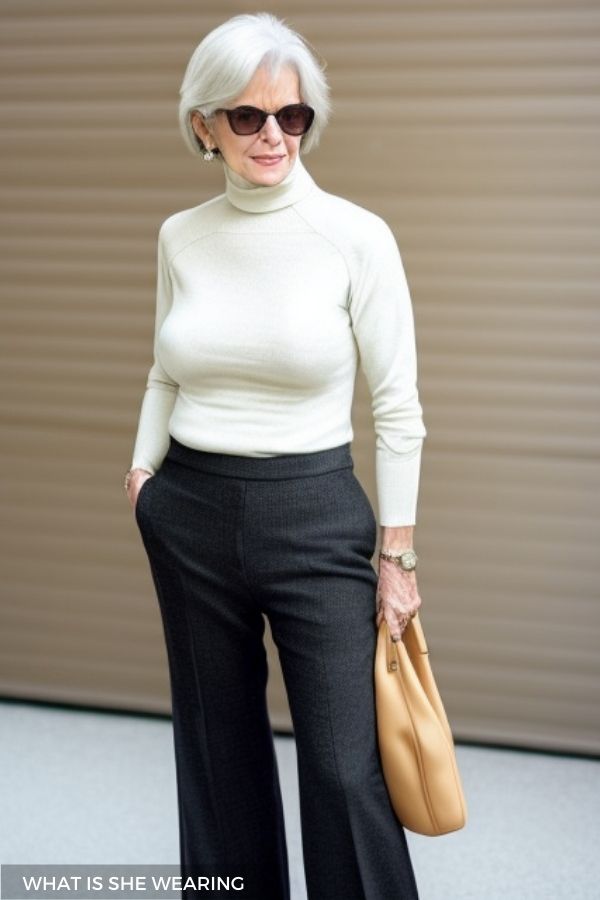 Every time you get dressed, act like you're going to meet someone important. This will make you put in a few more minutes and give everything a look over to ensure you're presentable. Check out the article below for my best elegant style tips to create a winning look every time.
Related Post: 10 Elegant Style Tips To Look More Sophisticated
2. Dress For Your Body Type
Dressing for your body type is important during this time in your life when your body may be changing. The cuts and fabrics you were accustomed to in the past might not flatter your figure anymore, which doesn't necessarily mean you need to get rid of them. You might just need to style your clothes differently.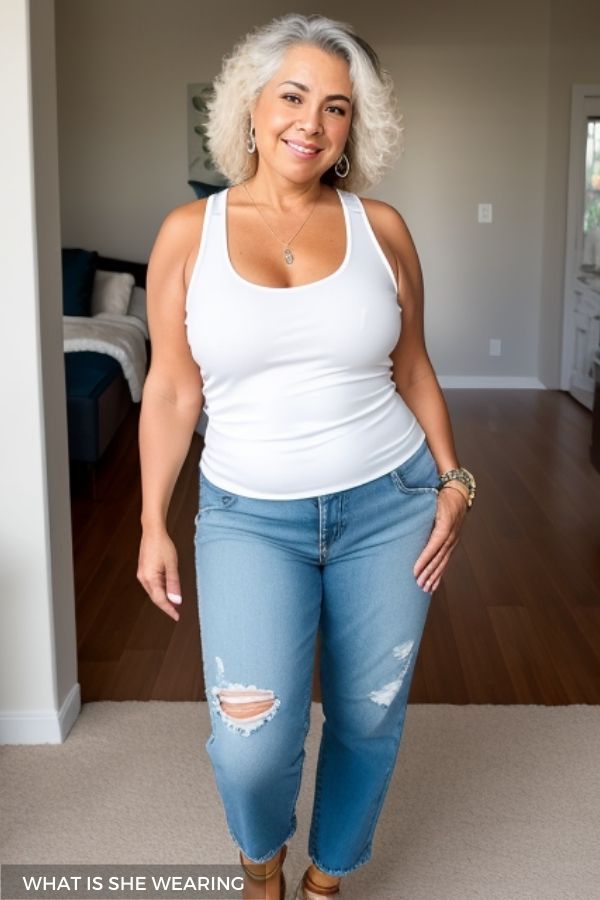 Check out these style guides to learn how to dress over 50 for your body type.
3. Balance Proportions
Balancing proportions is one of my favorite style tips on WISW. We live in a world where balance is everything, especially when it comes to aesthetics. The same goes for your outfit. One of the best ways for how to dress at 50 without looking frumpy is to ensure your outfit is balanced.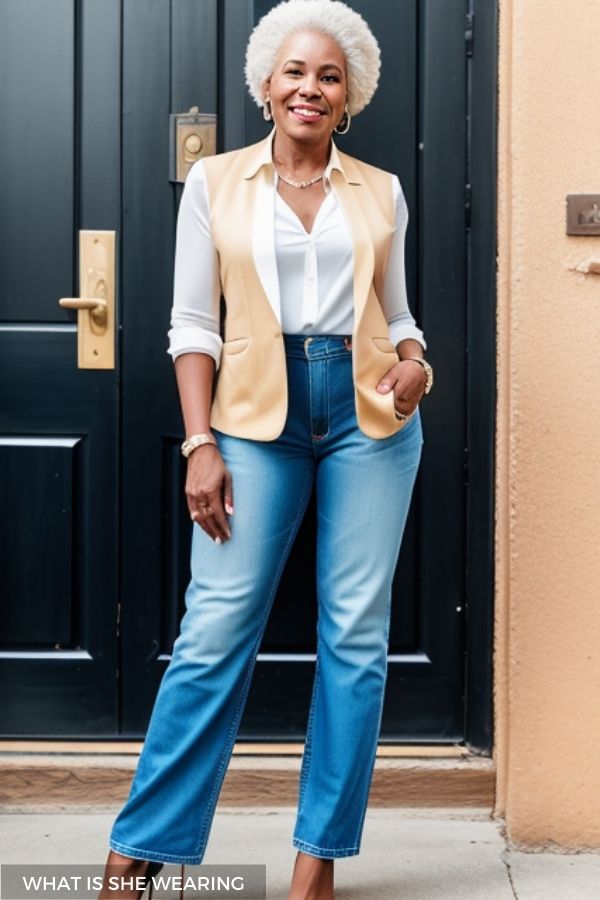 Pay attention to the structure of your clothing, or whether an item brings sharpness or softness and it's effect on your face and figure. For example, a heavily structured blazer may have well-defined shoulders, angular lapels, and heavy material. A light-structured blazer may have rounded shoulders, curved lapels, and lightweight material. A stylish outfit will maintain a balance with the structure of your body and face.
If your face and body are generally on the softer (rounded or curvy side of the spectrum), your outfits should consist of 2/3 softer cuts and styles and 1/3 structured items such as bags, belts, and jackets. Women with a more angular, straight, or sharp face and body should style outfits with 2/3 sharper cuts and styles and 1/3 softer items. If you can't tell or you are in the middle of soft and sharp, you can try either way and see what works best.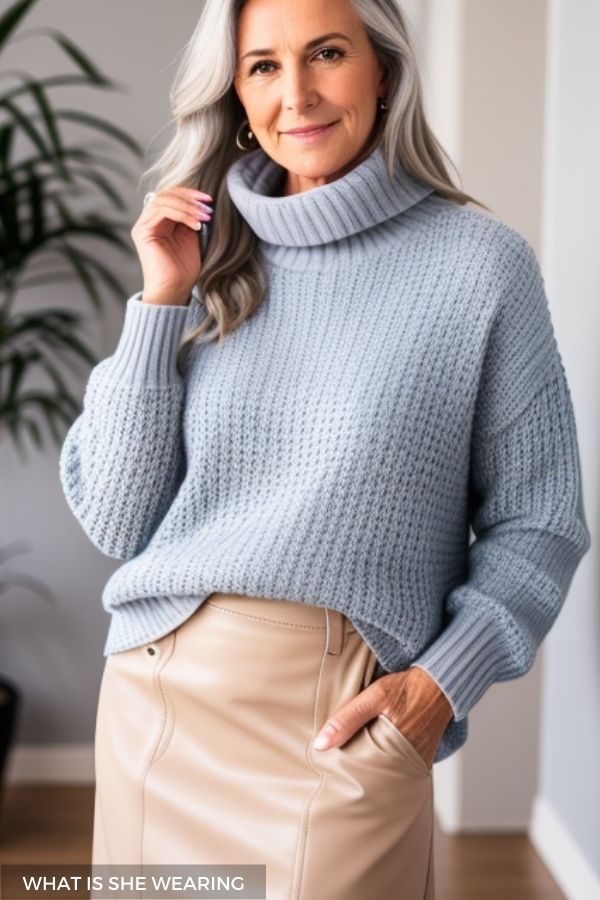 This requires some experimentation, so do this along with your wardrobe evaluation to see what works for you. There is no hard and fast rule, but this is a general guideline for creating a balanced outfit, especially for clothes for women over 50.
Related Post: How To Choose An Outfit That Slays
How To Dress Over 50 And Overweight
Balancing proportions is just as important for how to dress over 50 and overweight. There are many different ways to balance proportions in addition to hard vs soft styles.
To balance weight, you need to address volume on the body between your top half (waist and up) and lower half (below the waist). Many women try to cover up their weight with oversized and boxy clothing, which often works against the original goal. Too much volume on top or bottom can make anyone appear bigger than they are. By styling with clothes and accessories that spread the volume between your top and bottom halves, you create balance in an outfit.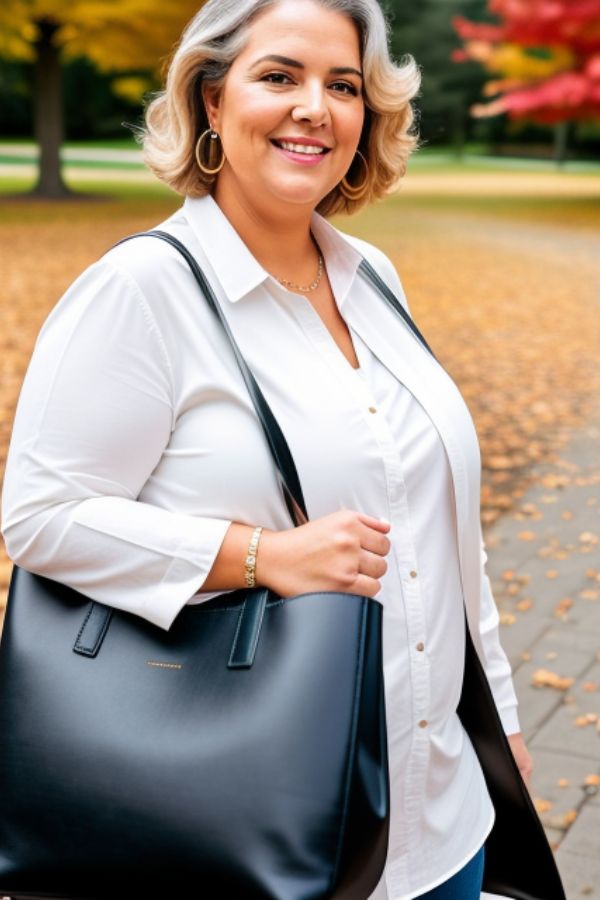 Creating balance with volume also helps create the illusion of length in the body. Straight lines help elongate and slim the body, but this doesn't necessarily mean you need to wear stripes. This is discussed in depth at the post below.
Related Post: 7 Amazing Plus Size Style Tips To Look Your Best
Casual Clothes For Women Over 50
Casual clothes are important for women over 50 for off-duty life, exiting the corporate world, and a segway into less dressy events. Your life may have suddenly shifted into a desire for one wardrobe to rule them all, which simply means you can get away with a certain aesthetic for most of your everyday needs.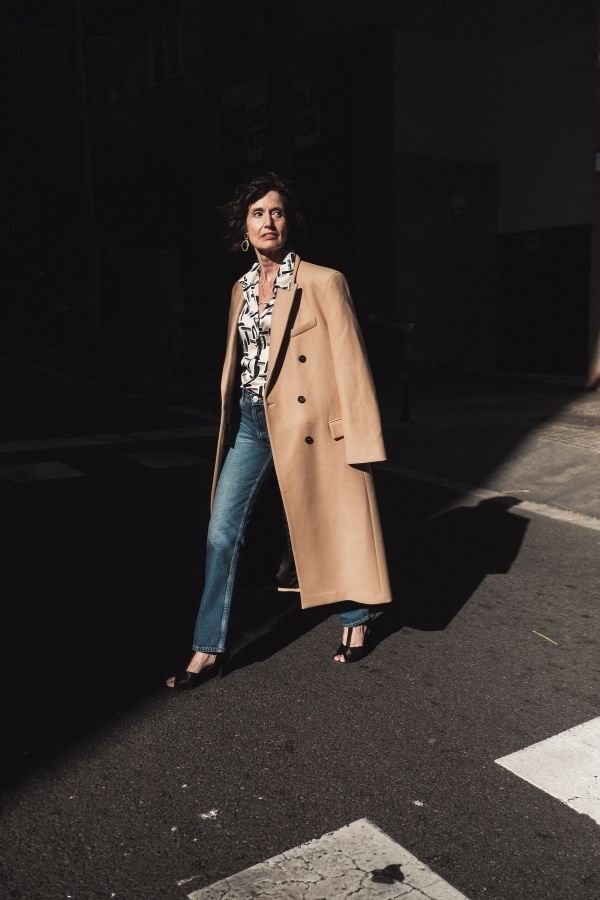 I always recommend a capsule wardrobe for over 50 to help simplify and edit down your wardrobe, though there's no need to begin and end there. A capsule takes care of your everyday basics, most-worn pieces, and year-round items. After that you supplement the capsule with authentic pieces attuned to your personal style.
Related Post: Wardrobe Essentials Women: The Complete Style Guide
Here are some guidelines to follow as part of building that capsule and supplemental pieces for chic dressing over 50.
Colors
It's easy to look washed out with bleached, gray, white, or silver hair. Counteract this by wearing bright, solid colors such as corals, pinks, blues, and jewel tones. A capsule consists of mostly neutral pieces, so choose these bright colors for accent pieces and accessories that mix and match with the rest of your capsule. Not into colors at all? Try a neck scarf or a bold pair of glasses instead.
Material
Natural fabrics are more breathable than synthetic. Keep this is mind if you sweat often or are dealing with hot flashes. Linen in the summer is the epitome of casual chic and is super comfortable too.
Avoid slub material for anything other than pajamas and lounging at home. It looks shabby, is often see-through, and will downgrade an outfit.
Layers
Learn to layer your clothes and you can master the art of how to dress simple but stylish. Don't underestimate the versatility of sleeveless shell tops that keep your arms (and armpits) free when you want to layer a shirt, cardigan, or sweater on top.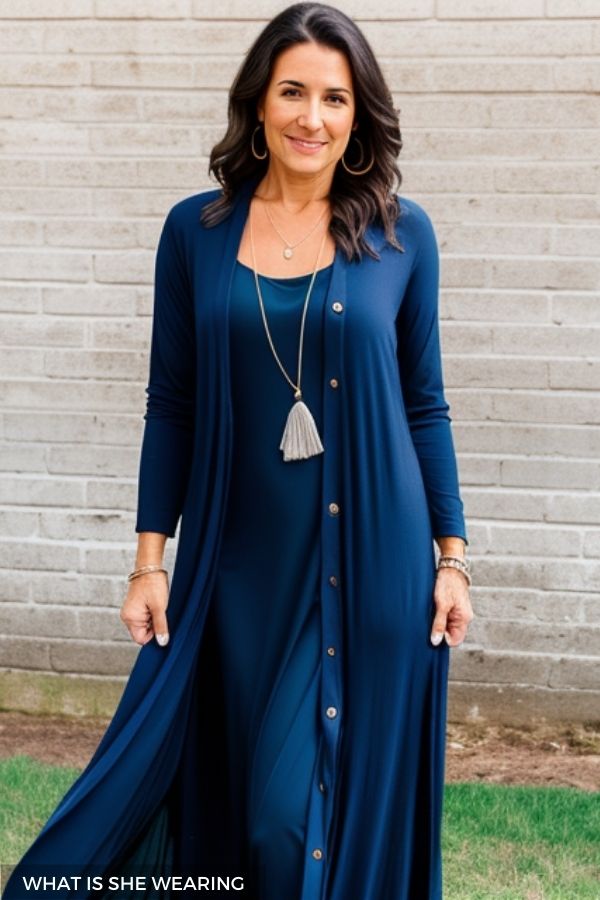 Shoes & Accessories
The best way to balance casual clothes for women over 50 is with high quality footwear and accessories. Stick to minimal, classic styles that offer versatility in dressing up or down. Focus on quality. Pay more for real leather or a premium vegan counterpart. Structured pieces often look more high end than slouchy pieces, and bring the right amount of balance when you're wearing a casual outfit that's less structured.
Related Post: How To Style Your Clothes Using Juxtaposition
Tailoring
No matter what your age, I always recommend finding a good tailor or alterations specialist for your investment pieces and wardrobe essentials. A perfect fit ensures you'll wear it on repeat. As always, factor this additional cost into your clothing budget. You won't regret it.
More information on the capsule wardrobe: How To Start A Minimalist Wardrobe
Clothes For 50 Year Old Woman (& Over)
In addition to your wardrobe staples or capsule, these are the must-have clothing for women over 50 to live out your latter years in style! These pieces are classic, style with most everything, and can easily be dressed up or down–perfect for the over 50 wardrobe.
Striped Button-Down
A striped button-down shirt is one of those timeless wardrobe essentials that's a bit more interesting than a classic white shirt. Stripes help elongate the top half of your body, so if you're carrying more volume on top, this is a great piece to style with to balance your proportions.
Related Post: Wardrobe Timeless Essentials | 7 Chic Items You Need In Your Closet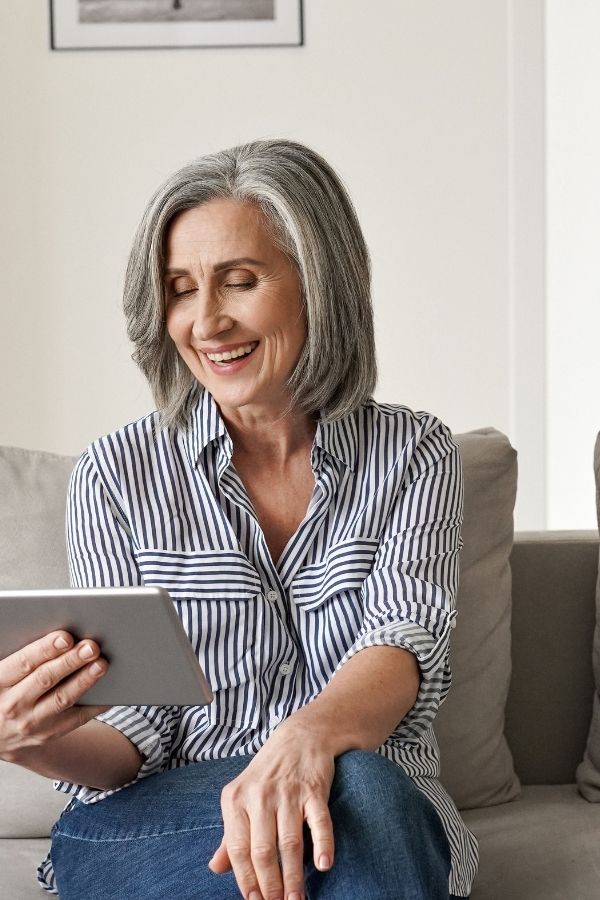 SHOP THE Style:
Beige Trousers
Beige trousers are a great addition to clothes for women over 50 because light neutrals look elegant when styled together, or as a tonal/monochromatic look. If you can't commit to white or ivory because of maintenance or because it adds too much volume to your lower half, beige is a great option instead.
Related Post: 11 Classic Wardrobe Essentials You Need in Your Life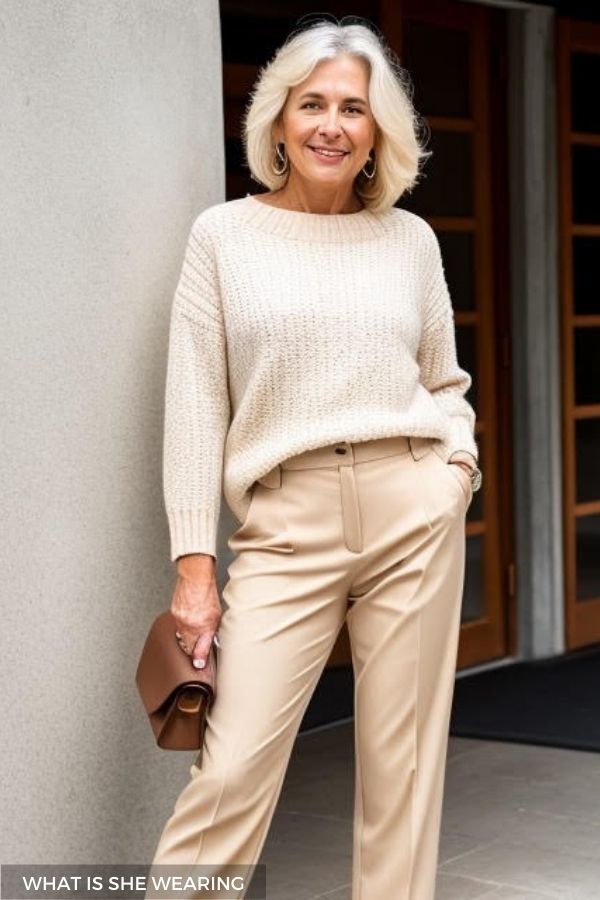 SHOP THE Style:
Shirt Dress
There's nothing more timeless and elegant than a shirt dress for fifty plus women's fashion. The row of buttons provide a vertical line down the body creating length, while the structured collar provides a sophisticated aesthetic, and the waist can be cinched with a belt or tie to add shape. Style with sneakers for a casual lunch out, or loafers for an event, or boots on a fall day.
Related Post: 12 Fall Wardrobe Essentials You Need This Season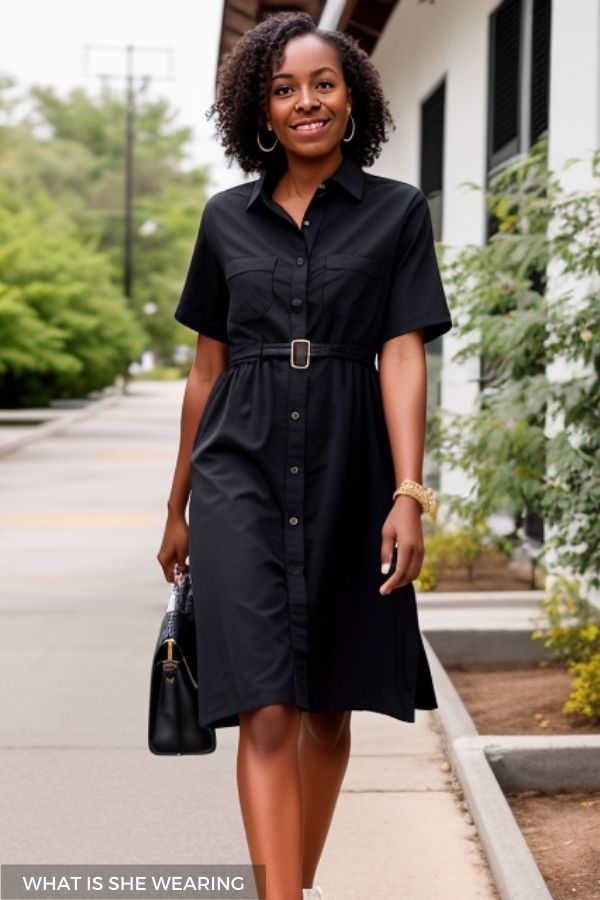 SHOP THE Style:
Elegant Leather Jacket
An elegant leather jacket should be on your list of clothes for women over 50. Rather than a motorcycle jacket, go for something more feminine such as a blazer, or a slim collarless cut, a draped style, or style similar to a denim jacket. This piece is perfect for dressing up a pair of jeans and a white t-shirt, or adding a bit of edginess to trousers, a dress, or skirt.
Related Post: What Do You Wear To A Celebration Of Life?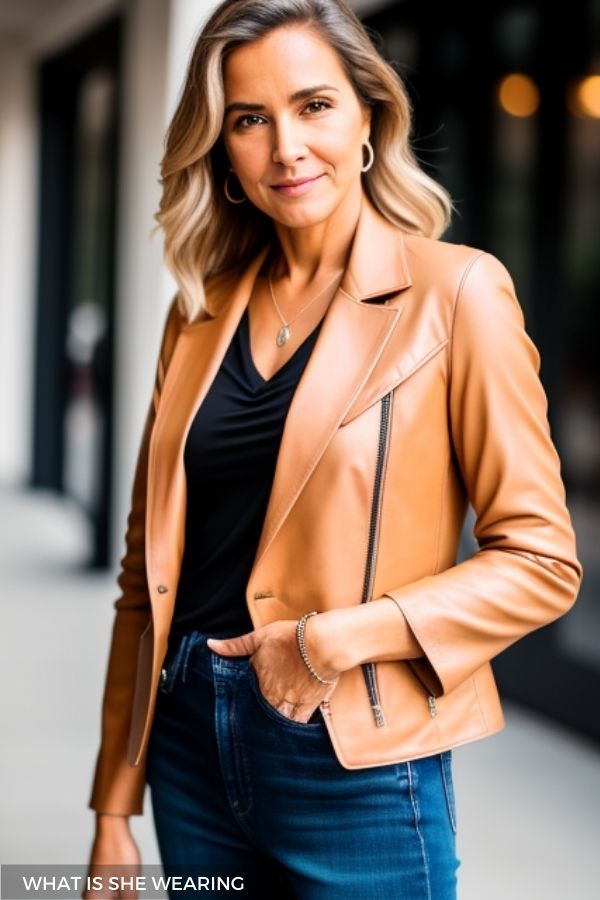 SHOP THE Style:
Linen T-Shirt
I always recommend a linen t-shirt if you're want to dress casual but still look nice. A linen t-shirt will give you a loose, boxy fit that looks nice either left loose or tucked into a pair of jeans. Your linen tee also pairs well with Ponte knit pants, shorts, skirts, and casual trousers to create many different outfits for what to wear in your 50s.
Related Post: 5 Casual Summer Outfits You'll Wear On Repeat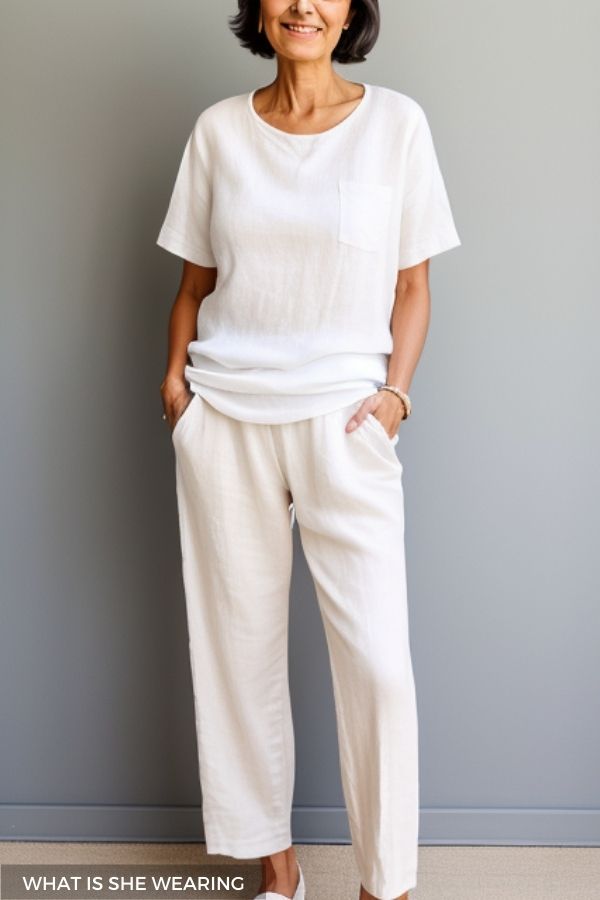 SHOP THE Style:
Flat Loafers
I always think of my favorite style icon when I think of loafers: my mom-mom. I swear she had a different pair of penny loafers to match every single outfit of hers (in addition to her extensive scarf collection). She always looked amazing, without trying too hard or too much. I miss her, but I joyously remember her love for style throughout the years I knew her. Loafers style with anything–including joggers and casual pants!
Related Post: What Shoes To Wear With Joggers & Track Pants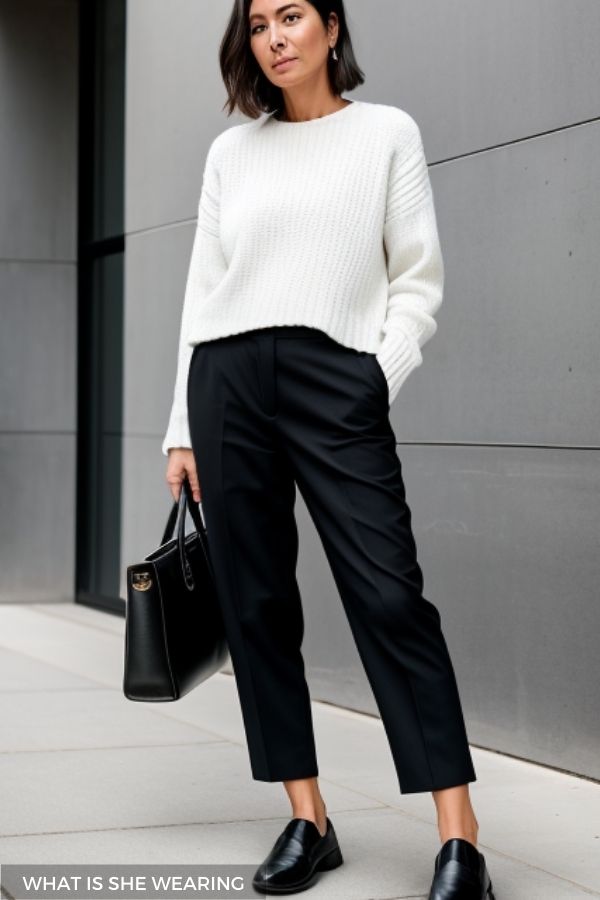 SHOP THE Style:
Structured Sun Hat
Sun protection is paramount as a stylish woman over 50, which completely warrants your need to invest in a proper sun hat. If you want to look nice, even when you're at the beach, opt for a structured hat as opposed to something loose and floppy. Structured hats look refined and elegant while most floppy hats can look cheap and frumpy. Most people are wearing cheap hats, so a nice-looking hat will set you above the rest (in a good way, rather than a showy way). Go for a straw or synthetic straw that's UPF50+ for the most protection for your scalp, skin, and hair.
Related Post: 11 Amazing Summer Wardrobe Essentials You'll Wear Year After Year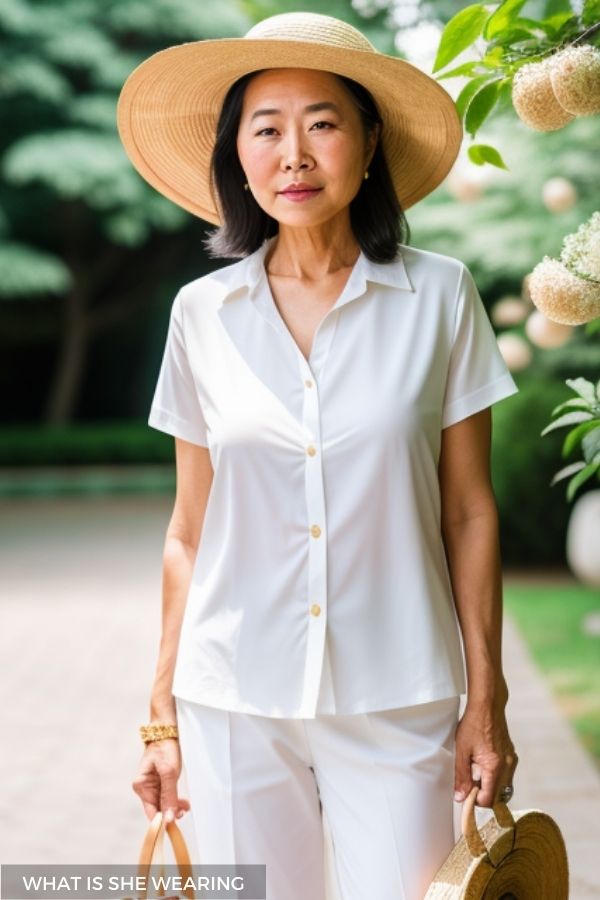 SHOP THE Style:
Structured Tote Bag
Last but not least on the list of the best clothes for women over 50 is the structured tote bag. Quickly and easily elevate your casual outfits with a leather tote bag and and say goodbye to that plastic, reusable, or canvas bag you've been toting around when a regular handbag just won't cut it. Take your tote to the next level with a tote organizer to easily find all your things.
Related Post: Wardrobe Design | 8 Life-Changing Organizational Items For Your Closet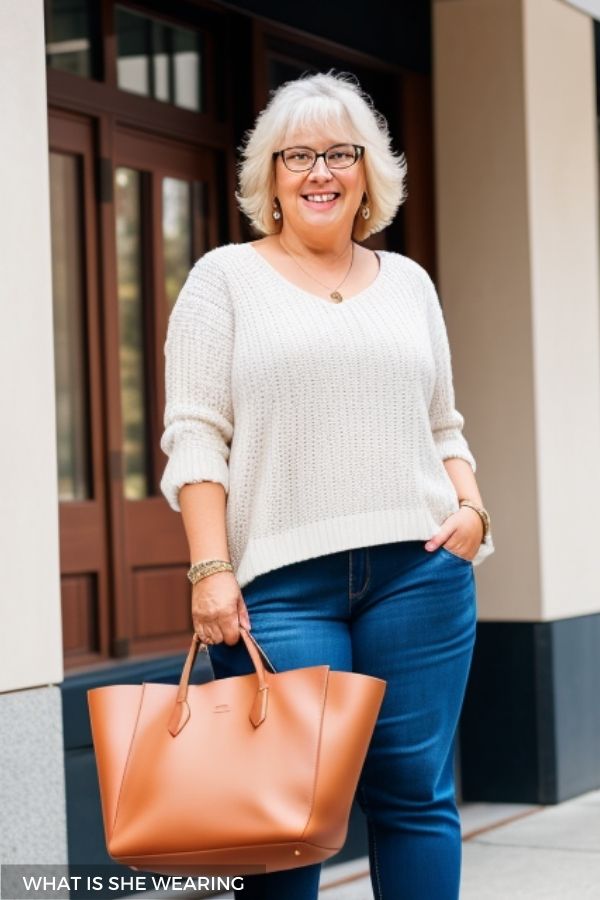 SHOP THE Style:
Mature Womens Clothing Online
Here are some of my favorite clothing stores for women over 50.
I've recommended AYR (All-Year-Round) before for their high-quality basics and wardrobe essentials. Their styles are more relaxed, which I consider the perfect framework for mature dressing over 50 (plus there's room for tailoring and alterations as needed).
Aday's collection pays homage to the capsule wardrobe with the added benefit of technical fabrics that are durable, sustainable, comfortable, and easy to care for. Invest in these pieces and you'll have plenty to work, play, and travel with in your closet.
Banana Republic knows how to tastefully incorporate trends into timeless styles and cuts for the modern woman. Don't ignore their shoe collection either. Get your favorites during their epic sales or shop their factory site for equally as chic pieces for less.
Birdies have changed the fashion world with their comfortable and fun footwear collection that includes flats, loafers, mules, and sneakers. Featuring 7-layer comfort technology designed to last all day, they're everything you want in a shoe.
Lily Silk is your go-to for chic silk blouses, trousers, and knitwear. Their prices are less than you'd pay for typical premium or midrange clothing brands, but the quality is equally as good. They even have knit trousers, which styled with a matching pullover creates a stylish casual outfit for women over 50.
COS is a premium brand offering contemporary styles and wardrobe essentials. Their tailoring and outerwear are to die for, IMO. They also recently came out with a petite collection, which will hopefully grow to include more of their pieces.
Related Post: 5 Petite Style Tips You Might Be Missing Out On
If you're not one to spend a lot on basics, such as t-shirts, tanks, and knitwear, H&M is the place to stock up on them in all your favorite neutrals.
Everlane is your one-stop-shop for all things capsule wardrobe, basics wardrobe essentials, and even high quality accessories that fall on the minimalist side. They also offer affordable cashmere that's steps above your average budget cashmere outlet.
Jenni Kayne the queen of California cool as far as chic dressing over 50 goes. Find beautiful wardrobe staples to create that casual chic look we're all striving for. The cashmere knits are worth the investment. Ugh, I want everything on that site. Anyway.
Another one of the capsule wardrobe experts is Eileen Fisher. Shop for classy wardrobe essentials, classic knits, and comfortable trousers. And, has anyone seen their recent summer linen collection? OMG. Nailed it.
J. Crew's another popular retailer for clothes for women over 50. Find classic cuts, wardrobe essentials, and affordable styles to fit your lifestyle whether at work, at home, or traveling.
Last, but never least, is Reiss. The online store has everything from elegant dresses to chic knitwear, to elevated denim, wardrobe essentials, shoes, and accessories. Styles are timeless, but always updated for the season, so there's never a worry about looking frumpy.
Take your wardrobe planning to the next level with the Ultimate Wardrobe Essentials List, completely free to download and use on your mobile device or print out.
What's the most important aspect of fashion for over 50 for you? Comment below.
This post was all about clothes for women over 50.
Related Posts: