Do you want to know the best elegant style tips for beginners? With these smart tips and tricks, you'll be well on your way to dressing like a sophisticated woman!
The best elegant style tips teach you how to embody an aesthetic of style and grace. You don't need expensive clothes, fine jewelry, or a country club membership to be an elegant woman. Elegance is a state of mind where respect for oneself and others is at the front and center.
An elegant woman is someone who raises the bar wherever she goes and sets a standard of class for others.
These smart tips and tricks will teach you how to develop a more sophisticated sense of style.
This post is all about elegant style tips.
Best Elegant Style Tips
1. Dress Like You're Meeting Somebody Important
One of the best elegant style tips is to dress like you're going to meet someone important, like the future in-laws, a government official, or a potential client. This way, you're more mindful to avoid wearing something inappropriate. Clothing says a lot about a person and certain styles attract certain types of people.
Clothing and styles to avoid:
Low-cut tops or dresses that reveal too much cleavage (keep cleavage minimal, if any)
Short skirts, dresses, or shorts (anything above the mid-thigh)
Skin-tight outfits from head to toe
Clothing with other promiscuous details (revealing cutouts, corset-style lacing, etc.)
Leggings as pants (you owe it to yourself to put on a real pair of pants)
Distressed or ripped clothing such as ripped jeans
Clothing with wrinkles and creases (make ironing and steaming a habit!)
Stained items
Clothing that's worn, missing buttons, or misshapen (needs to be tossed)
Streetwear (sweats, t-shirts, cargo pants, etc.)
Related Post: What To Wear To A Funeral (And Still Look Stylish)
If you're unsure about a piece of clothing, it's best to choose something more conservative. Conservative doesn't have to mean stuffy and boring! The photo below shows two ladies who look sensual, feminine, and tasteful.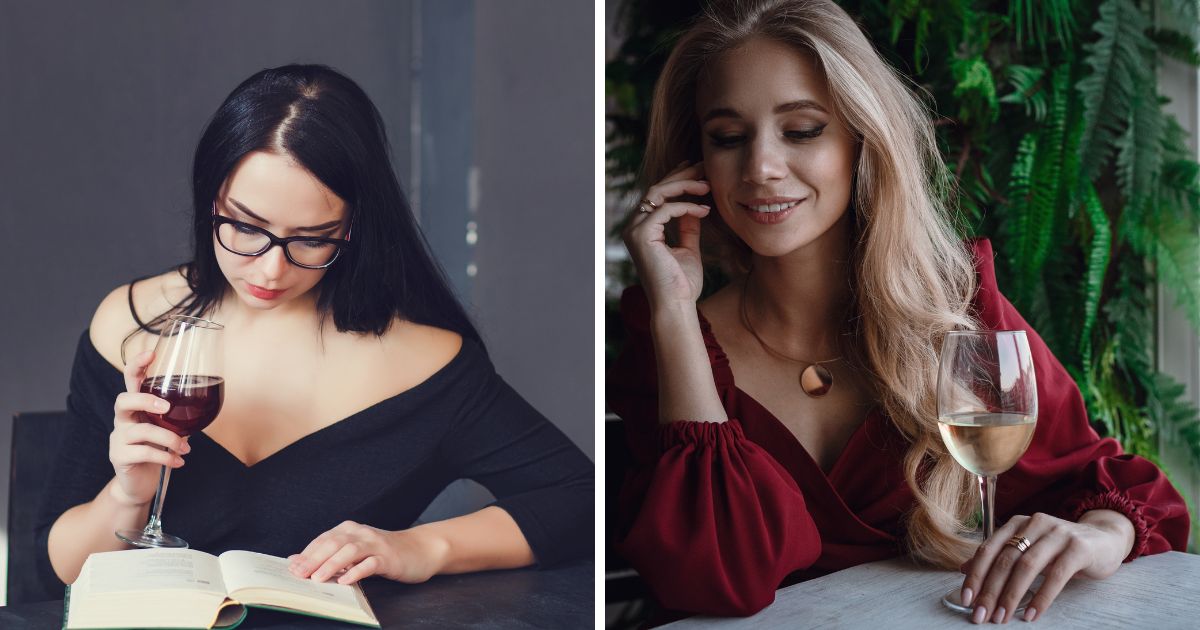 2. Elegant Outfits For Ladies Should Always Fit Correctly
One thing that's true about all elegant women is that their clothing fits impeccably well. Most of us aren't lucky enough to have a personal stylist at our beck and call. However, engaging a stylist to help understand how to dress for your body type is a wise investment because you'll quickly learn what works and what doesn't.
Utilize the services of a tailor or dry-cleaning service to have your clothing altered to fit you better. Some higher-end department stores offer these services as well. A great tip is to purchase something one size larger than your normal size and have it altered to perfection.
Part of being elegant is exuding confidence in what you have, so dressing to complement your body is one of the most important elegant style tips. Elegant outfits for ladies look best fitted to semi-fitted, but not overly tight (especially not with thinner fabrics as this can look cheap). Looser clothing should flow and drape over the body, but never be baggy or sloppy.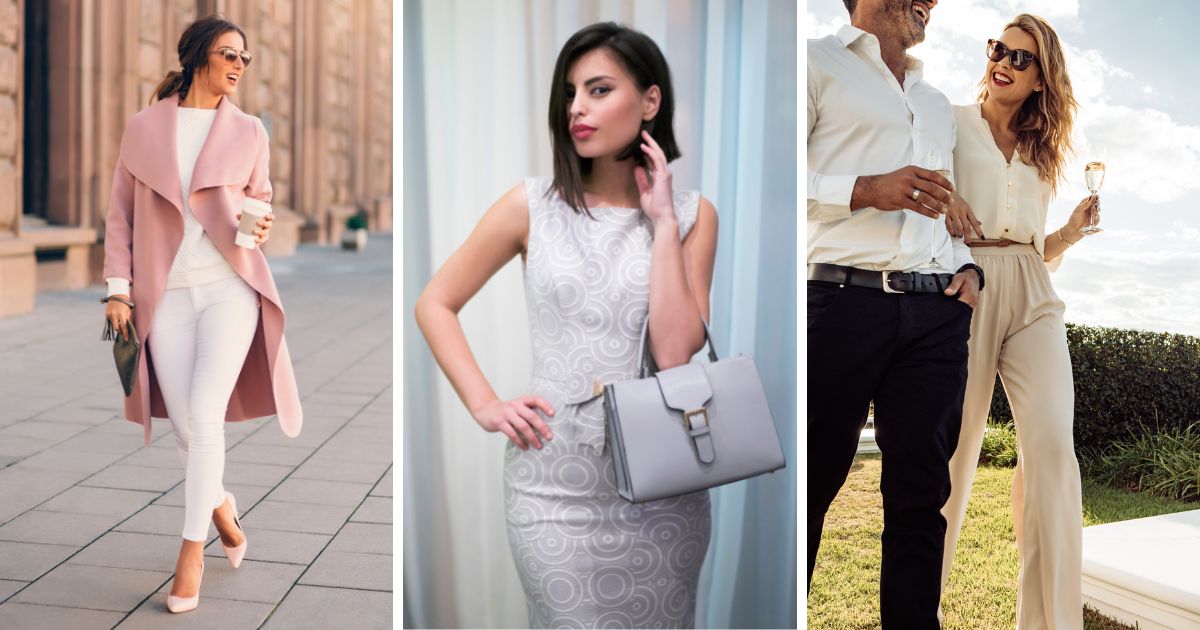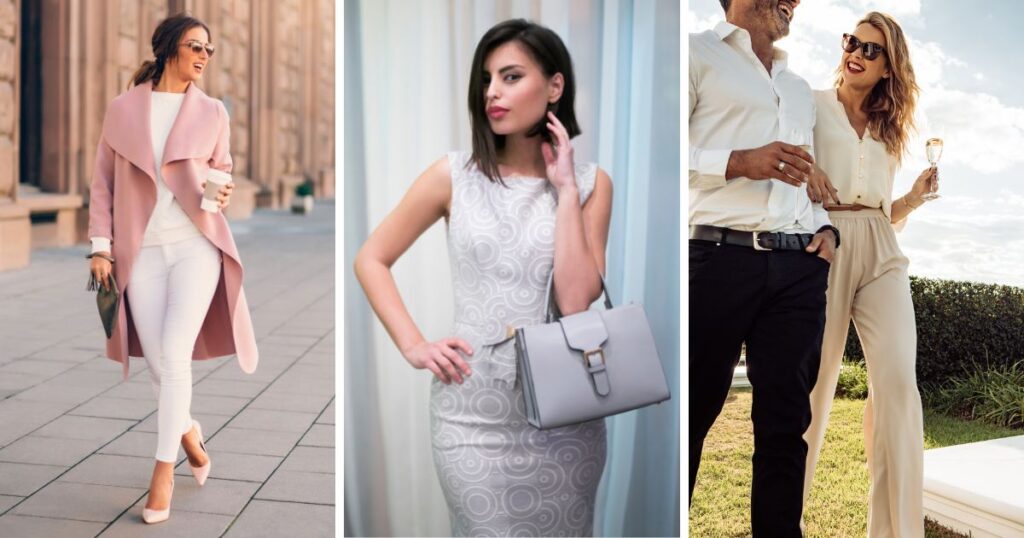 3. Natural Fabrics Are How To Look Classy And Rich
Clothing looks most elegant when designed with natural fabrics. It has to do with its authenticity. Let's say you brought home two different houseplants: a live one and a fake one. Which looks better? It's the same idea as clothing. Ensure your outfit includes clothing in natural fabrics for how to look classy and rich.
Natural Fabrics List
Cashmere
Wool
Alpaca
Angora
Mohair
Tweed
Cotton
Linen (this one's okay to have some wrinkles, but be sure to steam it before heading out)
Silk
Hemp
Ramie
Leather
It's true that natural materials generally come at a higher price point than synthetics. However, you pay for quality, so consider investing in these pieces for your main wardrobe staples, outerwear, and repeat accessories such as belts and handbags, and shoes. Shop vintage and secondhand if you're on a budget. Keep your wishlist handy and follow sales.
Related Post: How to Shop for Clothes Online – A Beginner's Guide
The next best option for elegant style tips is to wear fabric blends that include a percentage of natural fabric. Higher-priced cashmere is commonly blended with wool and polyester to create beautiful pieces that sell for less.
Synthetic Materials Are Not All Bad
Let's get one thing straight though. There's nothing wrong with wearing synthetic materials. You can still find perfectly elegant pieces in synthetics.
The quality of a garment has more to do with its construction than the material used in some cases. Certain styles can only be made using synthetic fibers such as stretch denim (and my goodness, where would we be without that?!). There are plenty of synthetic versions of clothing that look high-end without the price tag. Plus, synthetics are easier to care for.
Many sustainable fabrics are made using synthetic materials, which means more research and development is going into this field, resulting in better, higher-quality garment production.
Bottom line? Shop with a discerning eye and a good return policy. Read customer reviews to see if anyone mentions quality. Examine the garment closely. Compare it to the real material if you can (looks real = good). Be wary of cheaply-priced 100% natural items because the quality is most likely subpar.
Pro-Tip: Layer a higher-quality garment over a lower-quality garment (e.g. cashmere cardigan over a sheer polyester blouse) to keep the look more expensive-looking.
4. How To Look Classy And Elegant On A Budget: Keep Colors And Styles Timeless
Dressing elegant isn't about looking older or younger. It's about looking timeless. This is reflected in the colors and styles you choose to wear. An elegant woman may dress classic, seamlessly incorporate trends, or both. No matter her style personality, it transcends both time and trends.
If you're on a budget, invest in more classic and simple pieces that you can easily mix and match together. Wild prints on budget clothing can look cheap, but a classic print or a solid neutral looks more expensive.
The best elegant style tips for colors is to opt for neutrals as the basis of your wardrobe and add your favorite accent colors from jewel tones, earthy tones, muted tones, or pastels. If bright red works for you, definitely utilize that in your statement looks. Avoid artificial colors such as neon, Barbie pink, and other bright colors that look unnatural.
Opt for classic prints and patterns such as stripes, pinstripe, Swiss dot, polka dot, tartan, Chintz, toile, equestrian-style, or paisley. Avoid busy-looking patterns and color combinations. Muted or monochromatic patterns are a great way to go. If you're unsure, keep your clothing in solid colors, but style with a printed scarf or twilly.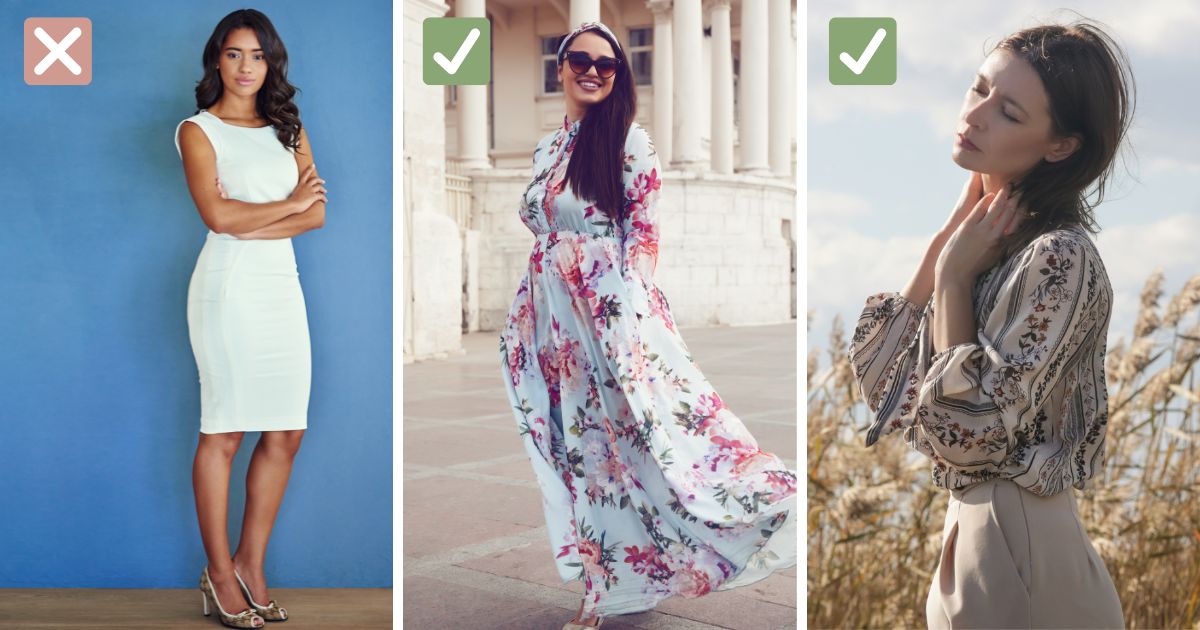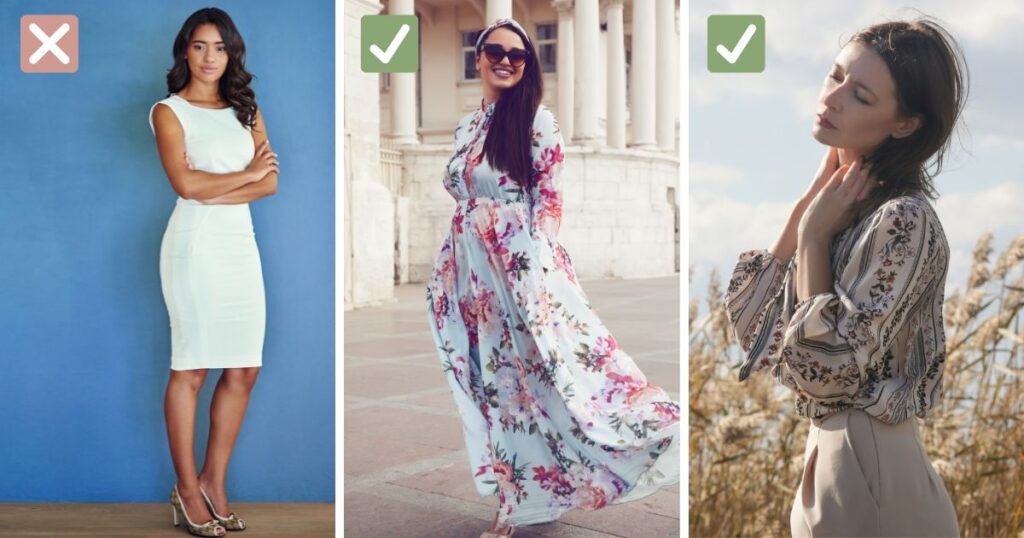 Lastly, the only brand that should be on display is your own personal brand. Avoid logos on clothing and accessories. The exception is a heritage logo on a scarf or a logo on a handbag, but either one or the other. No one needs to know where your expensive outfit came from nor would an elegant lady share unless asked. One of the greatest elegant style tips is to remain approachable, but mysterious.
Related Post: French Style Tips | 10 Essential Rules To Live By
5. How To Dress Simple But Stylish? Monochrome Dressing
A closet full of neutrals is the foundation of an elegant woman's wardrobe. Worn separately with other colors, she'll look like anyone else. Layered together to form a monochromatic outfit? They've now become her arsenal.
One of the best elegant style tips for how to dress simple but stylish is to dress in the same hue. This doesn't mean you need to wear exactly the same colored top and bottom, although it could if you're wearing suit separates. Monochromatic dressing, or tonal dressing, is when you select a main color and dress in various shades of that color from head to toe (including accessories if you really want to step it up).
For example, let's take beige as our primary color. Layer a light beige top under a blazer in a similar shade of beige. Tuck the top into a pair of darker beige trousers that are belted with a matching belt. Now add a pair of dark beige pumps. Lastly, style with a light taupe handbag.
There's no clutter or busyness with tonal looks. Everything blends in a harmonious fashion, which is why it looks elegant and expensive.
Related Post: What To Wear With Navy Blue | 5 Gorgeous Color Pairings To Style With
Best Colors For The Most Elegant Monochromatic Looks
White (think how elevated a winter white outfit looks)
Ivory
Beige
Taupe
Gray
Navy
Brown
Khaki
Camel
Tan
If you decide to branch out into additional colors, be discerning with each shade you use. Not all greens look good together because colors can have warm tones or cool tones. This is an advanced concept, which is why if you're a beginner in the color department, opt for the neutrals above as mismatched tones are practically unnoticeable.
Learn more about warm and cool colors at Oleander Studios by clicking here.
Here are some additional colors to style monochromatic looks for a bold elegant:
Blue (medium blue, light blue)
Dark green
Oxblood
Muted colors such as rust, sage green, and other colors with gray undertones
Black is not recommended for monochromatic dressing because it's common, easy to look washed out, and can make you appear older than your age. It can be accomplished however if black is one of your complementary colors, which we'll cover in the next section. Black monochromatic dressing needs well-structured clothing (instead of flowy) otherwise you'll look cheap.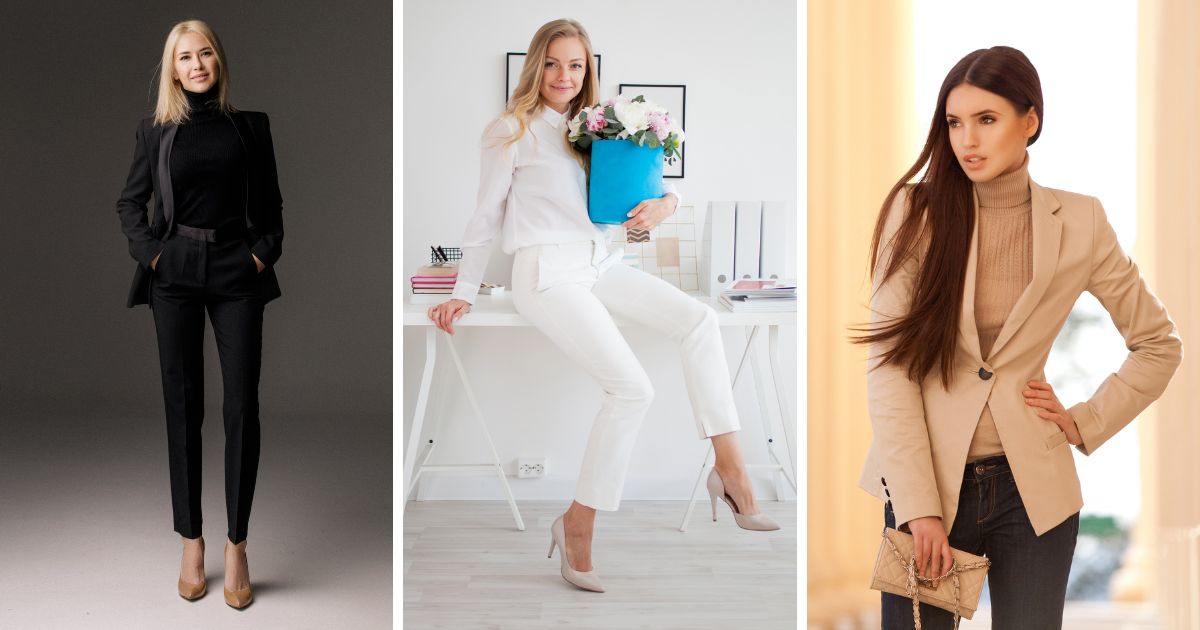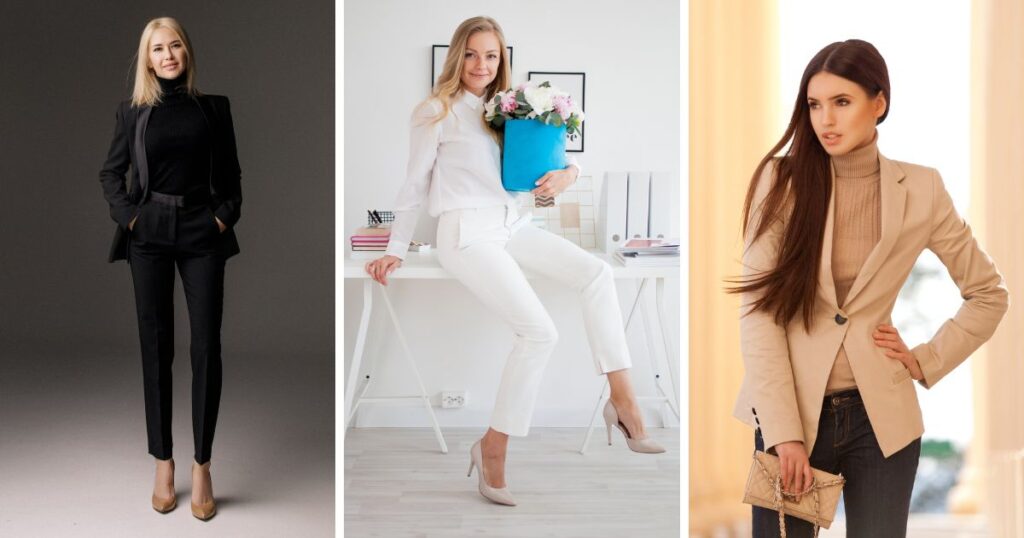 6. How To Dress Classy And Elegant: Wear Your Best Colors
An elegant woman knows how to wear her best colors. Each person has a list of colors they look the best in (and a list they look the worst in). Many of us know a few of these colors already and avoid them. But most people don't know their best colors because they're usually playing it safe by wearing black.
The key to how to dress classy and elegant is to find your best colors and build your wardrobe with them. This way you'll never have to worry about looking sickly and washed out. Again, hiring a personal stylist is one of the quickest elegant style tips to find your best colors.
Even without a stylist, this can be done by training your eyes to look at color differently.
The first step to finding your best colors is to determine whether your skin undertone is warm, cool, or neutral. Warm undertones look best in warm colors such as earthy tones, golden shades, and gold jewelry. Cool undertones look best in cool colors such as jewel tones, icy shades, and silver jewelry. Neutral undertones can wear anything.
Once you've discovered your skin undertone, start experimenting with the colors in your wardrobe. Hold an article of clothing up to your face and determine whether it brightens or dulls your complexion. Colors that brighten your complexion are good colors to wear.
Go to a store and perform the same experiment with different colors. Take note of good colors, bad colors, and great colors. Your best color will be the one that looks like it was made for you. And most likely, it won't be black.
Justine Leconte teaches an easy way to figure out your skin undertone in the video below.
7. How To Look Elegant And Classy Everyday? Proper Undergarments
Part of being an elegant woman is having a level of respect and modesty for oneself in what she wears. This doesn't mean dressing conservatively and boring, but rather dressing in such a way that you're not revealing too much of yourself. Just like it's bad form to get too personal with people who aren't your close friends, it also makes people uncomfortable when body parts and undergarments are on display for all to see.
Invest in the proper undergarments and wear them when it's appropriate. We've all experienced a case where a bra strap randomly hangs out and completely degrades one's appearance. Ensure your bras fit correctly and try other styles of bras such as strapless or racerback to avoid this fashion faux-pas.
Sheer tops should be worn with a strapless bra and a silk or satin camisole underneath. Similarly, sheer dresses and skirts should be worn with a slip. Dark undergarments go under dark clothing and light undergarments go under light clothing.
Shapewear is also a game-changer, especially in professional and formal environments. Backless bras and pasties should be in your closet for formal dressing and used for garments where traditional bras won't work.
One of the last elegant style tips for undergarments is understanding the value of seamless bras and underwear. Pantylines do not look elegant, especially when they're tight (and we've all been there). Always opt for seamless underwear when wearing pants, tight skirts, and dresses. Make the subtle transition to more seamless styles as you replace undergarments and you'll never be left without a clean pair when you're in a hurry.
8. Elegant Fashion Tips: Occasion-Appropriate Dressing
An elegant woman knows how to dress appropriately for all occasions, regardless of event, season, and time of day. This also means dressing correctly for the temperature and type of weather.
Warm-weather clothing is worn during the warm season and cold-weather clothing is worn during the cold season. This means investing in quality clothing that is both stylish and comfortable for the climate you live in.
Layers are a fantastic styling weapon to ensure one is prepared for temperature changes, especially in shoulder seasons like spring and fall. Layering with thinner materials enables one to stay warm while looking elegant as opposed to throwing on a chunky knit or bulky coat. Thermal shells or sleeveless tops trap heat against your body while keeping your arms and armpits open to breathe.
Add style to your look with layers such as a collared shirt underneath a sweater or cardigan. Take that a step further and add a fitted turtleneck or mock neck under the collared shirt for the ultimate cozy look. Topping a look off with a blazer keeps things classy (and don't be afraid to try a blazer in camel or beige for an elegant neutral look).
Related Post: Fashion Tips And Tricks | 8 Super-Chic Ways to Style Up Your Basics
Sheer tights in the winter always elevate a look because bare legs and cold weather don't go together. A sheer black tight looks best.
Leaving the house means looking presentable. Remember to dress like you're meeting somebody important. While running errands doesn't require getting dressed to the nines, doing so in pajamas, loungewear, and athletic wear is a no-no. If you're heading to the gym or a spin class, take a more appropriate outfit to change into if you're not going straight home afterward.
Elegant style tips are about taking the extra step to care for details that everyone else ignores for themselves. Believe me, when you take extra care people will notice. And that's a good thing.
9. What Makes An Outfit Elegant? Classic Accessories
Think of your outfit as a wrapped gift. Your accessories are the bows, ribbons, and other decorative details that make your gift stand out from the rest of the other gifts. A woman doesn't need a lot of accessories; just a few timeless ones that go with the rest of her wardrobe.
As mentioned before, if you're going to invest in your wardrobe, outerwear and accessories are the best places to start. While a white collared shirt eventually gets stained and ruined, a leather handbag can last for a lifetime, with the proper care.
Even with a limited budget, opt for classic accessories such as a structured handbag, a minimalist leather belt, and gold-plated or sterling silver jewelry. Silk scarves can be found at budget prices these days and quickly enhance any outfit or handbag. Avoid styles with big logos or busy monograms that are overdone and worn by the masses.
The most important rule for styling accessories? Less is more. Don't go overboard with too much jewelry. If you need to pare back your jewelry, start by removing your necklace. Most outfits don't need a necklace as necklaces are more of a statement piece than an everyday piece.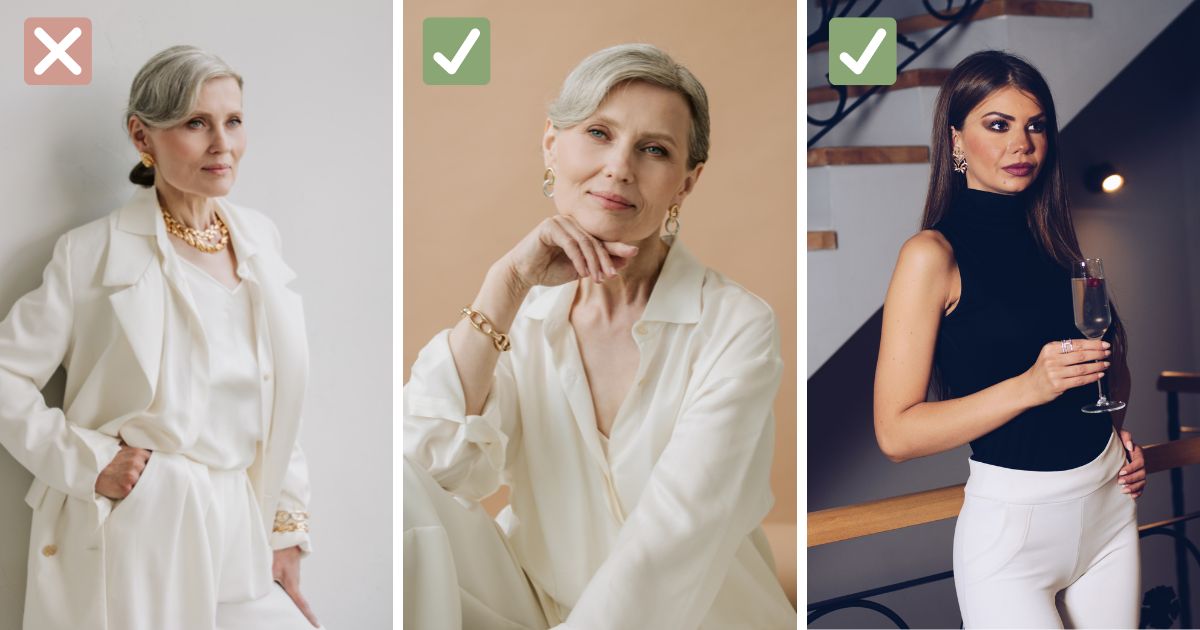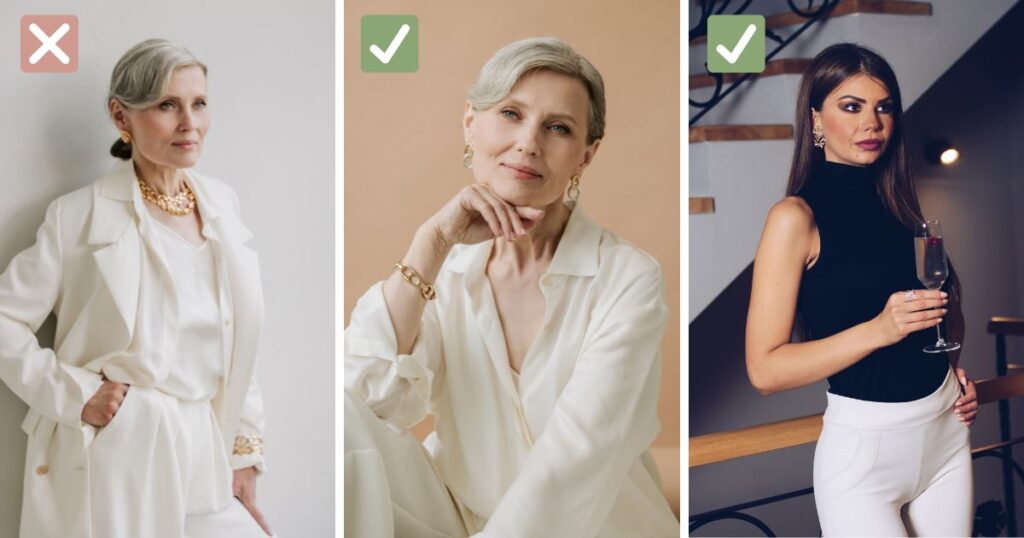 Carefully examine accessories to ensure you're getting the quality you're paying for. Loose threads and stitching are usually warning signs. Certain finishes of expensive leather scuff and scratch easily, which add character to a piece, but are you comfortable with spending money for that?
Matching accessories to your outfits ensure your entire look is cohesive and refined. Whether colors are part of your monochromatic look or accent, a well-matched outfit is the quintessential rule of what makes an outfit elegant.
Related Post: 11 Simple Style Tips To Always Look Good
10. Elegant Style Shoes
Last but not least in terms of important elegant style tips is tasteful footwear. The wrong footwear can completely ruin a perfectly nice outfit, and perhaps your day as well.
First off, wearing shoes that fit properly and that you can walk in is important. Tripping and limping around all day isn't elegant and everyone can recognize your level of discomfort. Practice walking in heels. Have tight leather shoes stretched at a cobbler or shoe repair shop. Purchase moleskin pads and inserts to ensure proper comfort and support.
Secondly, try to match the color of your shoes to your outfit, specifically the bottom half of your outfit. For example, a beige top with white trousers needs white shoes. A red jacket with a black dress needs black shoes. The reason for this is outfit fluidity which is the most visually appealing to the eyes. If this isn't possible, opt for a neutral shoe color, such as nude. The exception here is if you're wearing denim jeans, a casual outfit, or minimalist white sneakers.
Pro-Tip: Stop wearing black shoes with every outfit. Contrary to popular belief, black doesn't go with everything. Nude and beige shoes look more elegant and expensive than black.
Lastly, when wearing dark stockings or tights, wear matching shoes (e.g. black tights, black shoes). If wearing nude tights, opt for a shoe that isn't black (e.g. try nude shoes or a colored shoe instead).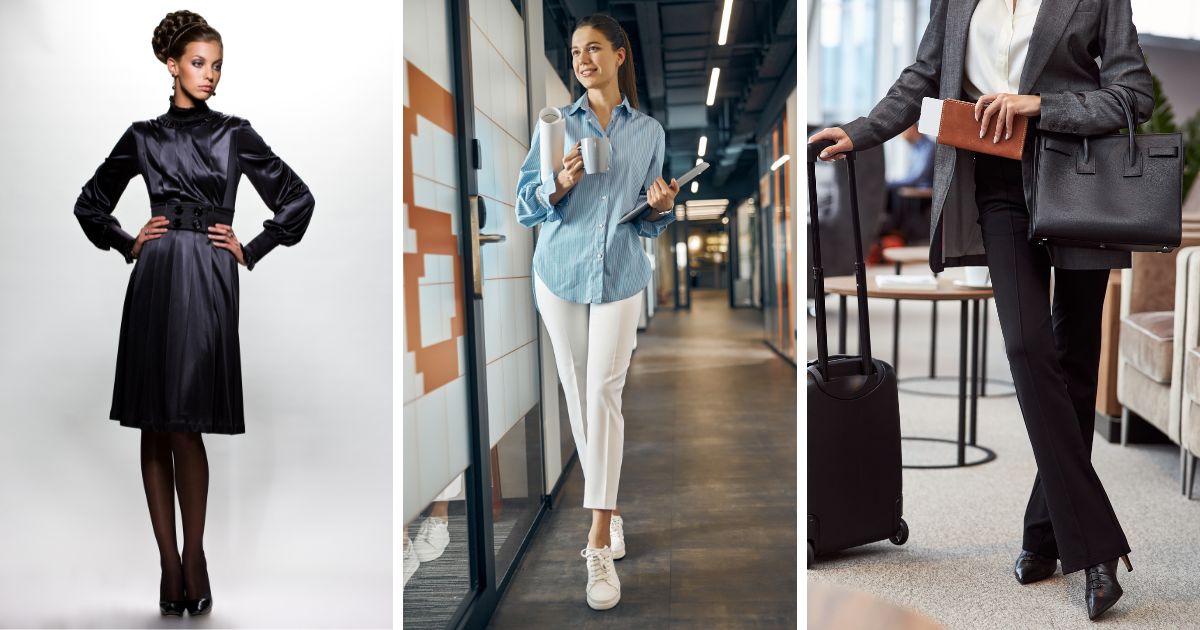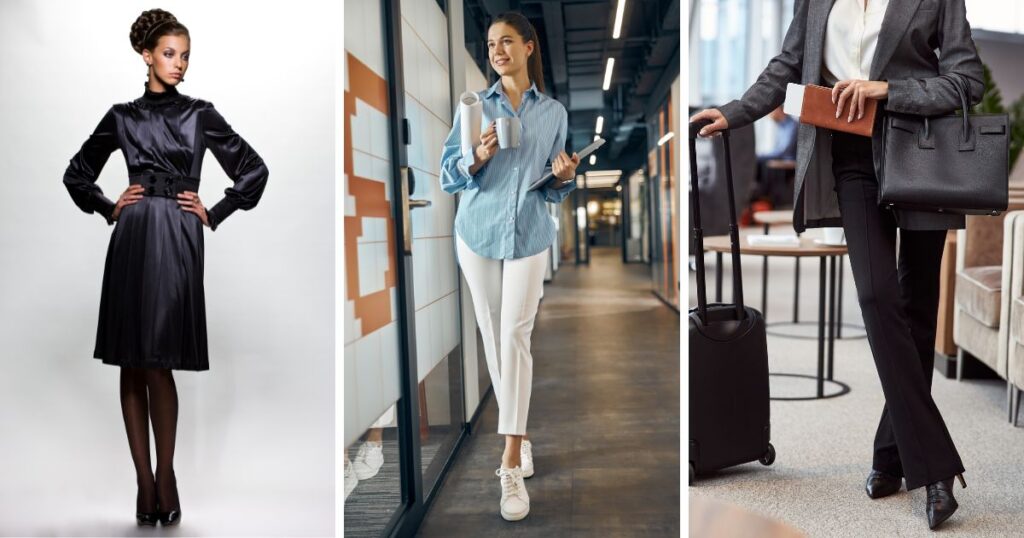 Want more elegant style tips? Check out this next post for easy, everyday elegant looks: 5 Elegant Outfits You Need In Your Wardrobe.
This post was all about elegant style tips
Related Posts: