Do you want to know the best simple style tips for women today? These amazing tips will instantly upgrade your outfits and they're super easy to learn!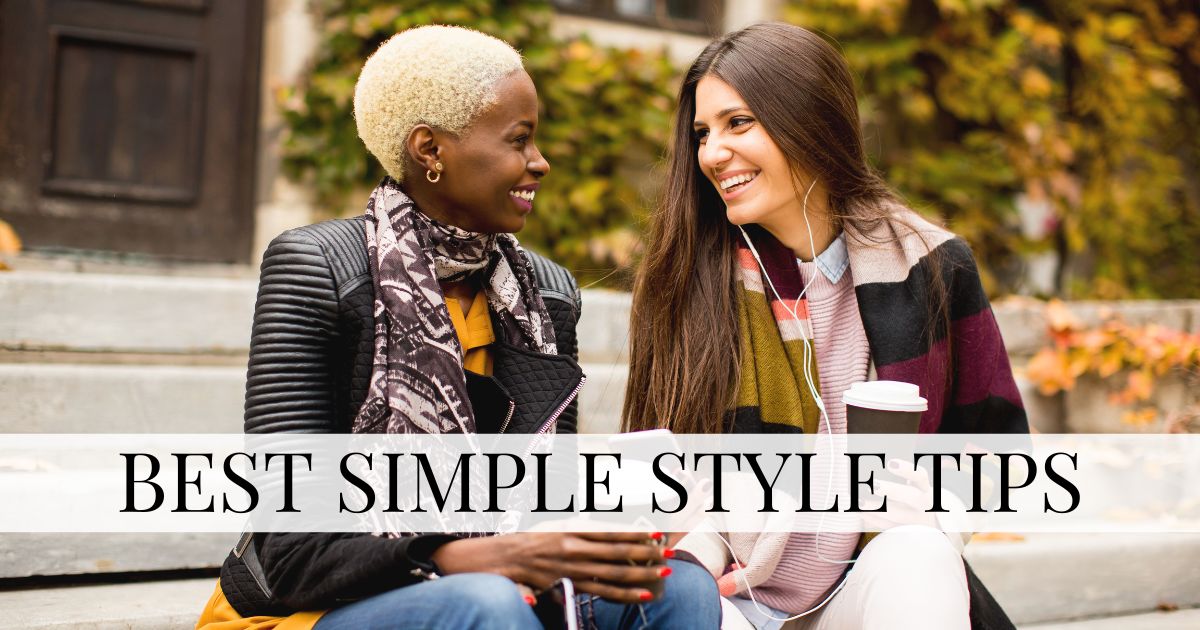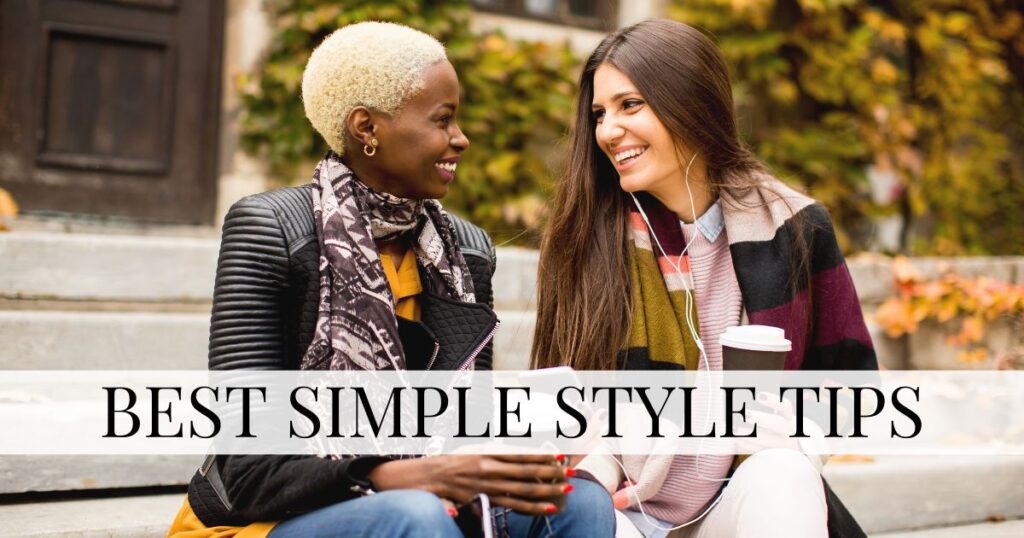 Simple style tips don't require you to learn color theory or spend hours analyzing your body shape. Rather they're easy techniques you can learn and apply immediately.
You'll learn how to leave the house always looking polished and put together, regardless of your style preference and aesthetic. You'll also learn how to fine-tune the details of your most basic looks.
Best of all, you won't have to add a brand-new wardrobe to your shopping cart.
This post is all about simple style tips.
Best Simple Style Tips
1. Discard worn or ruined pieces
The most obvious of simple style tips are sometimes, not so obvious to put into practice. How often do we hold onto our favorite items that are clearly faded, shrunken, overstretched, with holes, etc.? It's like having a car that you once loved, but now the constant repairs cost you more than the market value of the car itself.
People notice details, and it's usually the last person you want noticing that notices, lol. Cringe.
Stop wearing worn or ruined pieces of clothing. At the very least, transition the article of clothing to your sleepwear, painting wear, or cleaning wear. Start budgeting for a suitable replacement if it's a wardrobe staple.
Related Post: How To Shop Your Closet The Right Way
2. How To Dress Simple But Stylish: UPDATE your Shoe Laces
Three points for the easiest simple style tips for shoes:
First, if your shoelaces are worn and dirty, but the shoes are still in good condition, then purchase a new set of shoelaces and call it a day. Fabric shoes such as sneakers are the first to show their age, especially with white laces. If you can't clean them by washing them, just purchase a new pair of laces. Cheap and easy.
Second, you can upgrade cheap-looking shoelaces with higher quality shoelaces in leather or waxed coating. Or change the color of your laces to match different outfits and moods.
Third, take your time when lacing up your shoes. This can be somewhat of a nuisance, but how awkward does it look when one lace is longer than the other or the laces are twisted and sloppy? How about lacing your shoes in a different style? If you really want to upgrade your shoe game, learn to lace your shoes like a pro.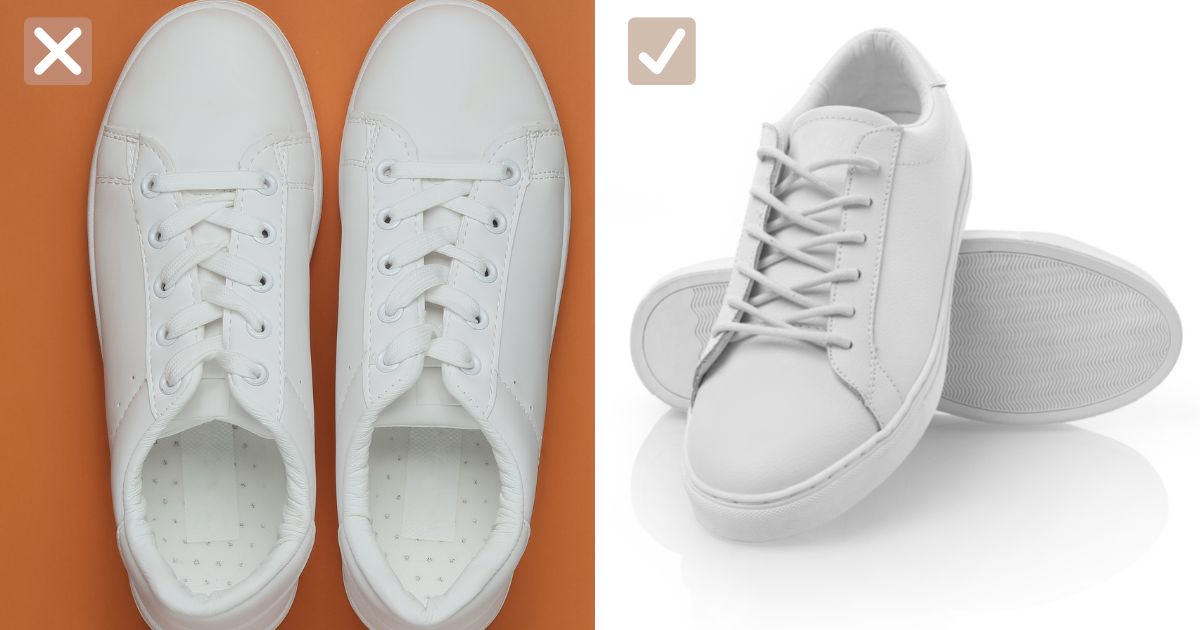 The first of simple style tips for buttons is if an item has any buttons on display, used or superficial, they are considered part of that item. If a button is missing, the item is now "worn" or "ruined" (refer to section #1, above).
Hopefully, you have the fallen button or a spare and can sew it onto the clothing immediately. However, if there is no replacement button, consider either replacing all buttons or discarding the item.
Pro-Tip: Dry cleaners will usually sew on missing buttons and you can pay for them to swap out the buttons of an article of clothing as well.
Save your extra buttons that come with new clothing in an organized, easy-to-find location along with a small sewing kit, so you will be more apt to quickly replace the button rather than letting the item collect dust in your closet.
4. How To Style Outfits: Iron Or Steam Clothing Before Wearing
This is the most revolutionary of all simple style tips and one that you'll often find in What Is She Wearing posts.
Clothing should look fresh and clean when you leave the house, which means no wrinkles in sight. Wrinkles in clothing give off a disheveled, overslept, just pulled this out of the hamper or back of the car vibe. The exception to this rule is linen which naturally has wrinkles, but even linen I recommend steaming so you start off with a "clean slate" before the creases set in.
Long story short, iron clothing after each wash cycle, so it's ready to go. Make this a habit. Or only invest in wrinkle-free clothing, if you don't want the maintenance.
Related Post: Fashion Tips And Tricks | 8 Super-Chic Ways to Style Up Your Basics
If you invest in a steamer, this is a quick option to refresh your clothing right before wearing it.
5. Cover Your Backside If Wearing Leggings As Pants
Simple style tips are all about looking polished and classy, without spending tons of money. Most of us love our leggings and how easy they are to throw on with just about everything. However, there are a few things to consider if you decide to wear leggings as pants.
If the leggings are basic without any embellishments to look like a pair of stretchy pants, with belt loops and pockets, they shouldn't be worn exactly as pants. Without pockets or a thicker fabric like leather, leggings can look too revealing and awkward if your backside is on display for all to see.
The best way to wear basic leggings is with a long shirt, cardigan, or jacket that covers your backside. The exception is if you are working out or being active, such as hiking or running through the park (not running errands). After active activities, put on an oversized linen shirt, casual blazer, or belted cardigan before heading out.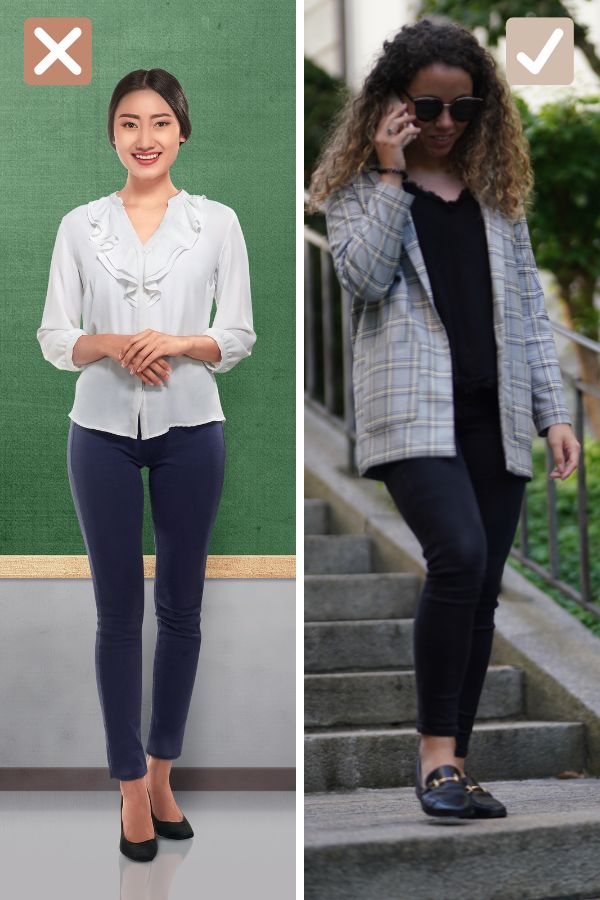 Droopy buttons are the easiest way to cheapen the look of a perfectly good blazer or jacket. This is usually an issue with budget and high-street brands because the buttons are superficially sewn onto the fabric. The buttons dangle like jewelry rather than lay nicely against the jacket.
Fix this by resewing the buttons or by replacing the buttons with ones that won't droop.
Learn how to properly resew a button. Learning a few basic sewing techniques is one of the most valuable simple style tips when you have a fashion emergency that needs fixing.
Avoid this issue completely by no longer purchasing items with droopy buttons, as I do. If enough people boycott droopy buttons, maybe brands will wake up and stop trying to sell them to us. Droopy buttons seriously annoy me like no other, and then when they fall off…RARR!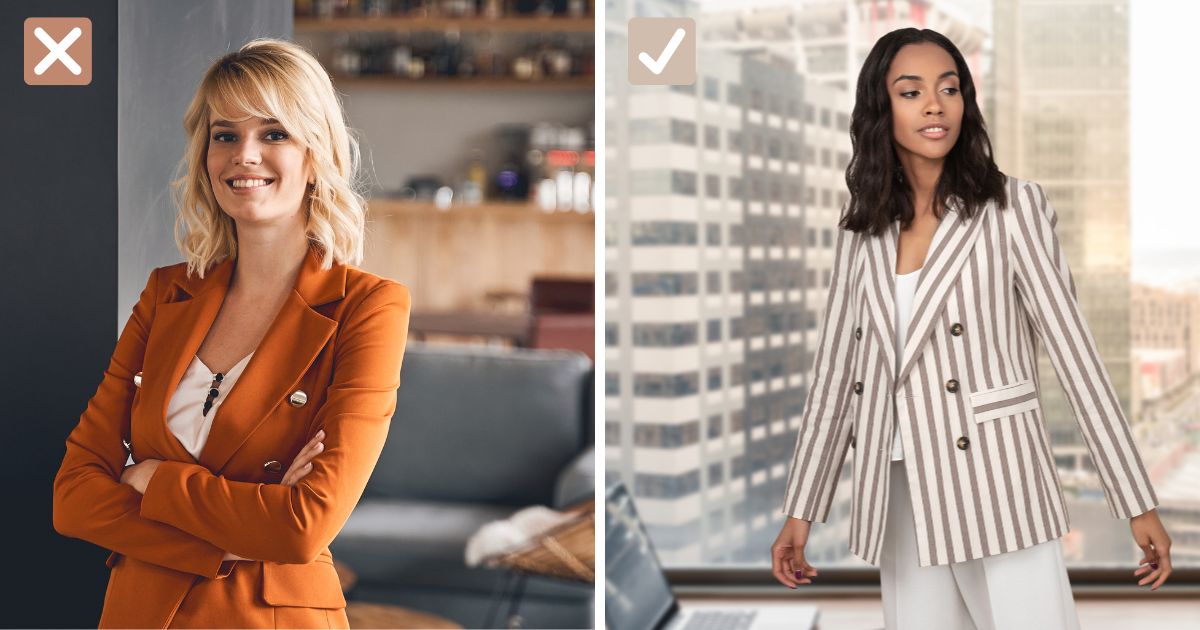 7. Always Lint Roll Before Leaving the house
Hygienic simple style tips, anyone? If you have pets, you know this all too well. Showing up with lint or animal fur all over your clothing makes you look dirty, so this is extremely important, especially if you're going to any business or formal environment.
Make lint rolling a daily practice of getting ready the same way you would check to make sure you have your wallet before leaving the house. Keep the lint roller near your front door or house key station so you're reminded.
Keep a lint roller in your car, purse, locker, or at your desk to keep your outfit in check. Some fabrics pick up lint more easily than others such as dark colors, synthetic fabrics, and corduroy, so keep that in mind when you dress to impress.
Related Post: What To Wear To Work | 5 Workwear Trousers That Will Complete Your Office Wardrobe
8. EveryDay Fashion Tips: Protect Your Leather
Knowing how to properly care for your leather goods and doing so is one of the most effective simple style tips. Whatever your budget, leather is always an investment, so you should take proper care to ensure your leather lasts.
Water is bad for leather, including leather shoes. Slushy snow mixed with salt or de-icer destroys leather, so avoid wearing your best shoes during wintry days.
Worn leather shoes and bags look downright awful (as my mind goes to the expensive leather boots I wore the other day that desperately need to be treated). Sometimes, a professional or at-home treatment can have your item looking like new.
Ideally, leather care should begin immediately after purchasing an item. High-quality leather goods typically come with leather care instructions or are available on the brand's website. If you're unsure, take the leather to a shoe repair shop or leather store and ask what maintenance is required.
Leather should be treated often, especially for frequently worn pieces. Protective sprays can be cost-effective, but investing in leather brushes, creams, and cleaners will ensure your investment pieces look the best.
Find the perfect leather care kit to take proper care of your leather items:
9. Easy Simple Style Tips: Trim Loose Threads From Garments
Proper maintenance of garments almost always requires you to trim threads that have come loose from washing and wearing. This is the easiest and quickest of all simple style tips and you only need a pair of scissors.
Examine your clothing while styling to see if there are any threads that have come loose or unraveled and trim accordingly. Clear nail polish remover can be used on the ends of threading to prevent it from coming further undone.
Tips like these don't seem like a big deal, but we've all had a friend or colleague take a loose thread off our clothing, right? If it looked good, they wouldn't have bothered. Again, details matter when it comes to style.
10. Fashion Tips And Tricks: Remove Pills from Clothing
This tip is my favorite of all the simple style tips. De-pilling your clothes.
Clothing that's worn enough will eventually begin to pill. That's when the fibers of the fabric become loose and gather into tight balls on the outside (and inside) of the clothing. It's very common with sweaters and synthetic fabrics.
Make your sweaters look like new by using a fabric shaver to remove the pills. Carve out some free time and do this with all your sweaters. Be gentle so as to not shave a hole through the fabric. Be extra gentle with thinner fabrics. Choose a rechargeable fabric shaver, like the one below.
With this practice, I'm able to get several extra years of wear out of my favorite sweaters and cardigans.
Related Post: Fashion Hacks Clothes | 11 Tips To Keep Your Clothes Looking New
Handwashing and washing fabrics inside out on a gentle cycle helps prevent pilling.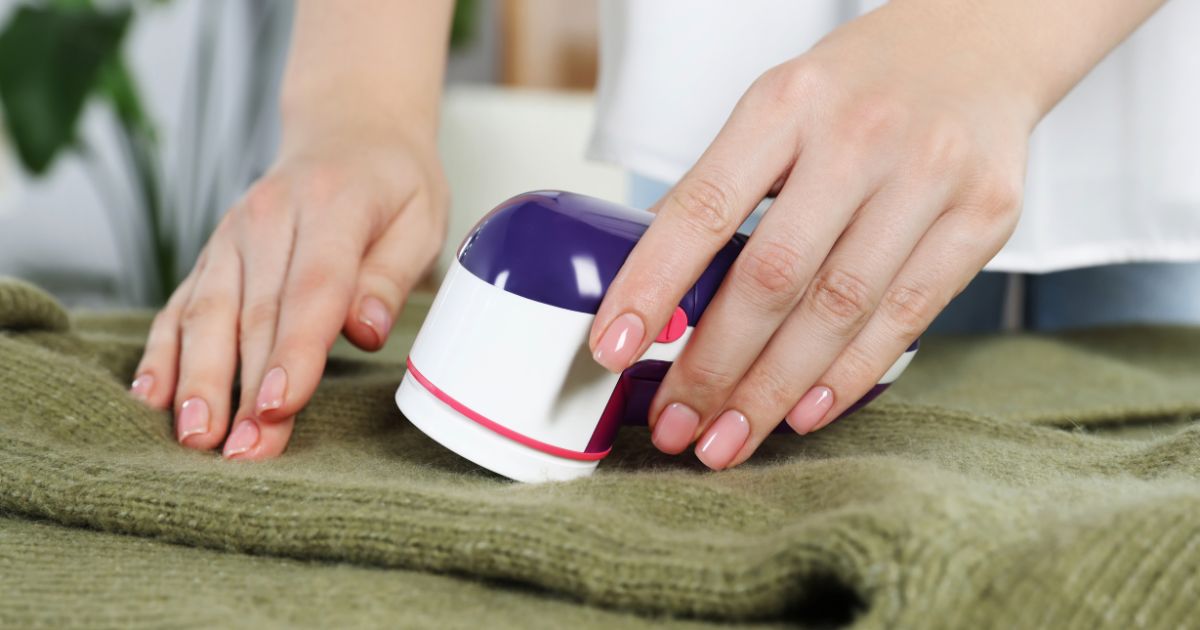 11. Check For Stains When Styling Clothes
This last tip is the darndest of all simple style tips. Darndest… as in you put on your favorite tank top and run out the door. You've left your house, but DARN IT! What are those stupid dots?! And for me, it's usually oil from cooking!
When dressing, check and recheck your clothing for stains in a well-lit room. Here's a helpful article on stain removal from clothing. How embarrassing to be out wearing something with a huge stain on it (that was totally preventable if you'd just paid attention).
Happy styling, ladies!
This post was all about simple style tips
Related Posts: