Want the best fashion hacks clothes tips to keep your clothes looking new? Learn how to make your favorite items last longer with these genius strategies!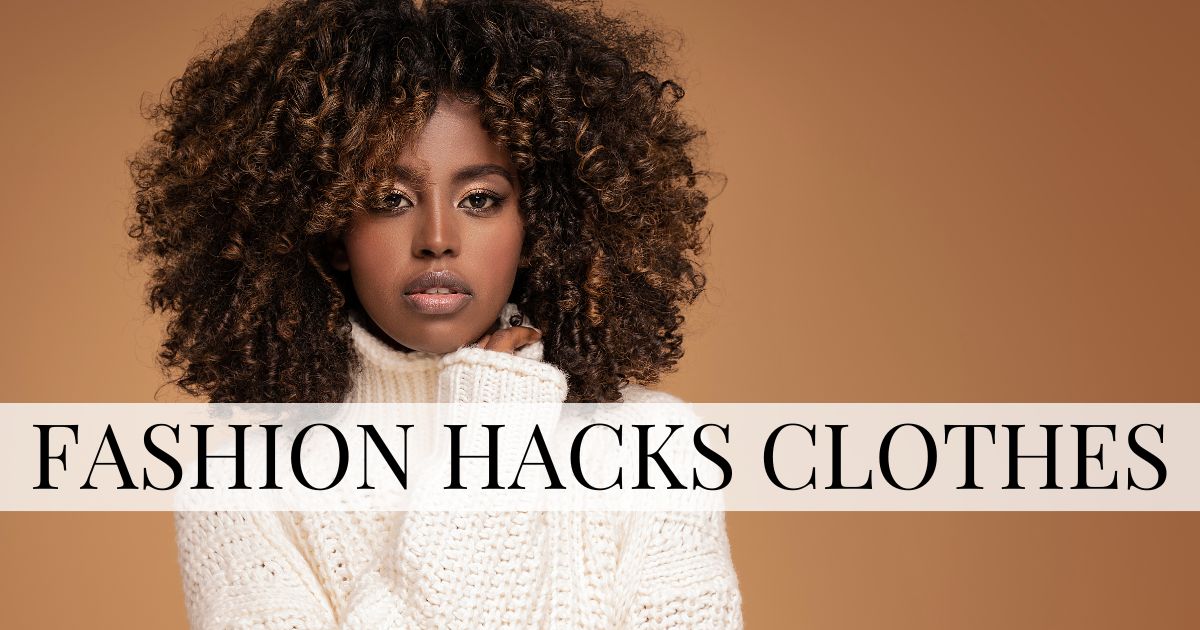 It's such a disappointment when a special sweater gets ruined because you didn't know how to care for it with the right fashion hacks for clothes. Like any worthy investment, our clothes require special maintenance if we want them to last. From how we clean them to how we store them, the things we do each day either help preserve our clothes or wear them out.
You will learn the best fashion hacks for clothes to keep your favorite pieces looking their best. Not only will these tips and tricks save you money, but they'll also ensure your wardrobe is full of beautiful, ready-to-wear pieces!
This post is all about fashion hacks clothes.
Best Fashion Hacks Clothes
1. Only Wash Clothes when they're soiled or dirty
Wash your clothes less: one of the easiest and most cost-effective fashion hacks for clothes. Yes, I'm telling you to wash your clothing less often. Sure, we live in the 21st century where there is a need to obsessively clean everything.
And, don't get me wrong. Clean is good. I love clean. I love the smell of (or lack thereof) fresh, clean clothing like anyone else.
But, let's face it: washing your clothes wears them down. As does running them through a hot dryer. So, if you wash something each time after you wear it, it wears pretty quickly. Like underwear and socks–which you should wash after each wear, by the way…right? Um… We're in the same boat on this one I think.
However, clothing that's not tight against your skin stays fresh longer. Unless you're sweating or doing something where the item gets dirty, you don't need to wash it after each wear.
The best way to extend the life of clothing between washes is to steam it before each wear. Steaming automatically freshens up the fabric and removes any wrinkles from the last wear. Not only is steaming a great alternative to ironing, but it's also less strain on the fabric as opposed to a hot iron pressing down on it.
2. Easy clothing hacks: Follow garment care instructions
Another tip that falls in the no-brainer category for fashion hacks clothes is to follow garment care instructions. It's a 'no-brainer' because it seems obvious and all the information is available, yet many of us turn off our brains and resort to auto-pilot. And nothing is more detrimental in the world of garment care than auto-pilot.
It's the absolute worst when the dryer cycle finishes, you pull your silk top out and…SHOOT! Well, more than shoot, if you know what I mean. The top is no longer silk, but a brushed version missing a sheen. And you can thank auto-pilot for that!
The bottom line, review all garment care instructions before washing your clothes. If you're in doubt about a fabric, do your research online or reach out to the brand of the item and inquire about the proper care. Easy clothing hacks are about taking a few extra SIMPLE steps to make your clothes go a long way.
Create a 'garment care library' on your phone, tablet, or laptop. Many garments come with separate tags that you remove, so storing these details somewhere handy is the best way to remember them. If you already have a 'wardrobe inventory' spreadsheet, you can add a new column for garment care to reference on wash days.
Related Post: How To Shop Your Closet The Right Way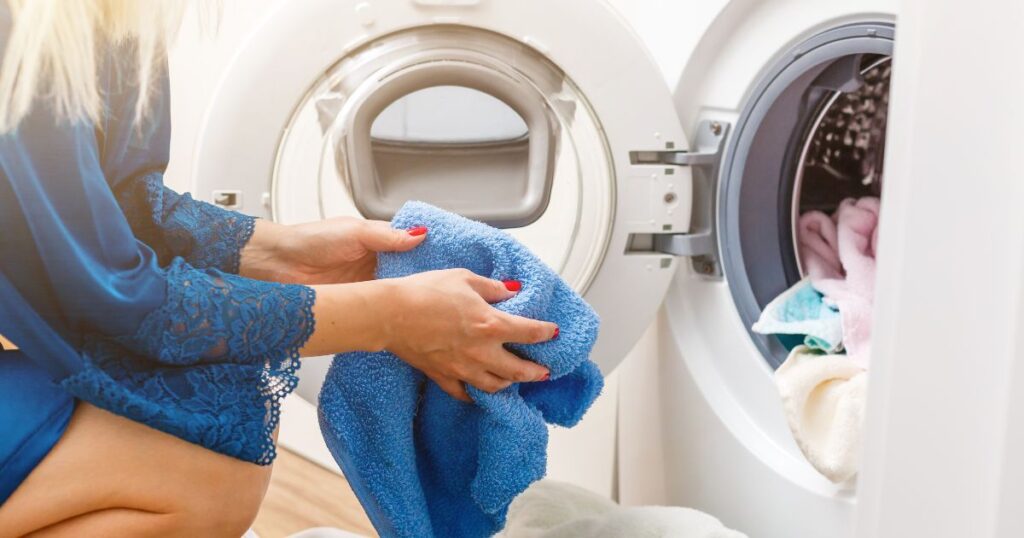 Turn clothes inside out before washing
Turn your clothes inside out before washing them, especially jeans, trousers, and clothes with graphic imprints on them. This will protect them from the wear and tear of the washing machine.
Make sure there's no delicate sewing detail on the inside of a garment that could come loose as well. Typically, these types of garments are hand-wash only, however.
Also, don't shy away from that 'gentle cycle' option. I find myself using that more frequently when washing a lot of my clothes unless they need a good 'ol wash.
3. Fashion hacks for ladies: Use a separate hamper for delicates
Building off the last item for easy fashion hacks for ladies is to use a separate hamper for delicate items. All too often we throw a large load into the washing machine and accidentally miss one of the delicate items scattered throughout it.
Do this sorting upfront by using a separate hamper that's only for delicates. Once you're ready to wash an item place it in the delicates hamper instead of the regular hamper. Come washday, your delicates are already sorted and ready to go.
Related Post: 10 Elegant Style Tips To Look More Sophisticated
4. Separate wash into darks, lights, and whites
I owe this valuable tip to my mother. At an early age, I had to separate my wash into three separate piles: dark colors, light colors, and whites. I used to think this was overkill and annoying. However, several decades down the road and I see why you'd never want to risk a pair of blue jeans staining your favorite baby-pink blouse. This is where the 'small' load and 'medium' load settings on your washing machine are put to good use!
Okay, I swear this is the last of laundry fashion hacks for clothes on this list!
5. Wear clear gel-based deodorant to avoid stains
Flashback to the dreaded incident (insert: from this morning) when we quickly threw on a clean top only to find a fresh, white deodorant smear near the lower hem of the garment. But seriously, what's even more annoying are the armpit stains left on light-colored shirts from that same deodorant.
While a deodorant smear easily comes off when washed, these armpit stains accumulate with each wash eventually deeming the shirt unwearable. Unwearable way too soon in my experience. And, I don't easily sweat either, so what gives?
After going through many deodorants (both natural and chemical), I've noticed this armpit stain issue only occurs with cream-based and stick deodorants. Every person has a different reaction to compounds, so I cannot state this as a fact. It's only my experience.
Ever since I switched to a clear gel-based deodorant, I no longer deal with any stain issues. If you wear a lot of white and light-colored tops, this will be one of the most life-changing fashion hacks and clothes tips.
This antiperspirant gel is sooooo good, for those that don't mind the chemical factor:
The Deodorant Gel from Necessaire is all-natural and uses AHAs (alpha-hydroxy acids) to fight odor. I definitely plan on trying this when I'm ready to switch off chemical deodorant again:
6. How to wear fashion clothes: Avoid sunscreen with Avobenzone
If you're a diligent sunscreen wearer, you'll want to pay attention to these game-changing sunscreen fashion hacks for clothes.
Whenever your clothing touches an area you've rubbed sunscreen into, those chemicals transfer to the clothing. For example, the top of a turtleneck roll, shirt collar, and hem of a sleeve are all notorious for sunscreen transfer (even if you rubbed it in meticulously).
If your sunscreen contains avobenzone, it can permanently stain your clothing after the wash. This is due to a chemical reaction between the avobenzone that has rubbed off on your clothes and the iron content in the water. The harder the water, the harsher the stains can be. I can't tell you how many clothes I ruined (and the tears I cried) once I began wearing sunscreen daily.
Ever since I figured out the culprit, I avoid all sunscreens containing avobenzone like the plague…and so should you. My personal favorite is the Mineral Body Sunscreen SPF30 by COOLA, which people have complimented on the smoothness of my skin when wearing.
Related Post: 11 Amazing Summer Wardrobe Essentials You'll Wear Year After Year
Pro-Tip: To avoid any unnecessary sunscreen transfer to your clothing, put all sunscreen on before you get dressed.
7. Fashion hacks and tips: Don't hang knitwear
Don't sleep on this fashion tip until you have an expensive cardigan with permanently-stretched shoulders from a hanger. Seriously, knit fabrics aren't meant to hang because the weight of the fabric, the shape of the hanger, and the law of gravity cause the fibers of the fabric to stretch.
The best way to store knitwear is to fold it and place it on a shelf or in a drawer. The caveat is that knitwear takes up considerably more space than t-shirts do. But, knitwear cost more than t-shirts, so it should take precedence in your wardrobe.
If you don't have the space, lightweight knitwear can be hung strategically. Neatly fold the sweater, as if you were going to stack it on display at a retail store, and then slide a hanger through the last fold. Don't ever hang it up like you would a T-shirt or blouse.
Also, avoid hanging any heavy sweaters or cardigans. Create a special place in your wardrobe room, closet, or dresser for those!
Related Post: Best Wardrobe Design | 8 Life-Changing Organizational Items For Your Closet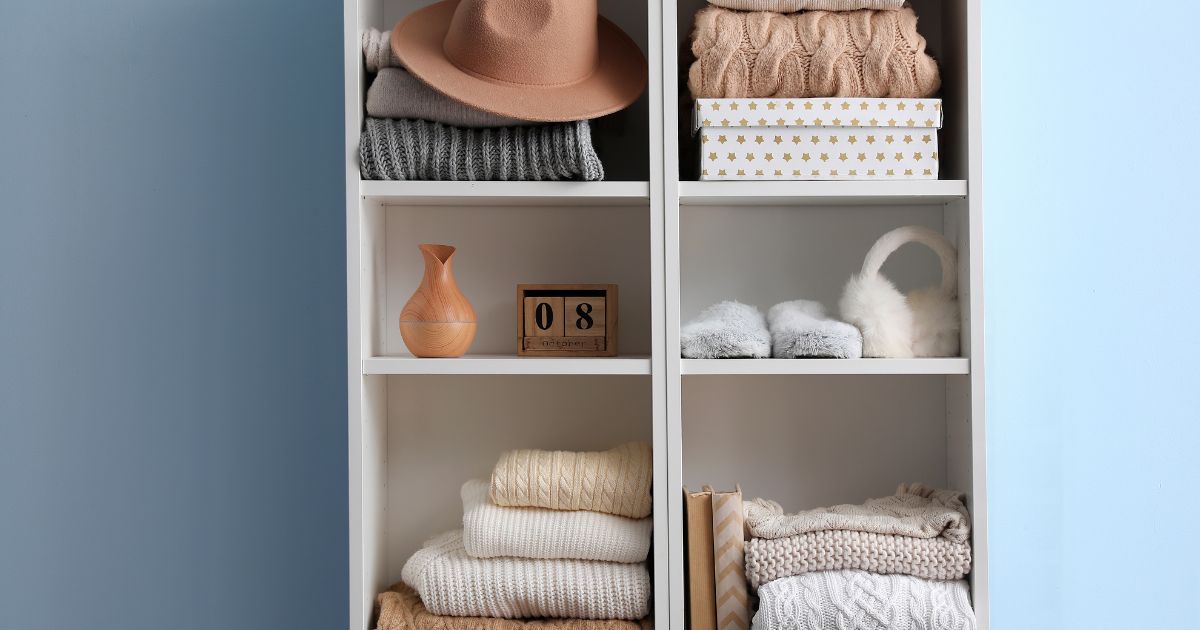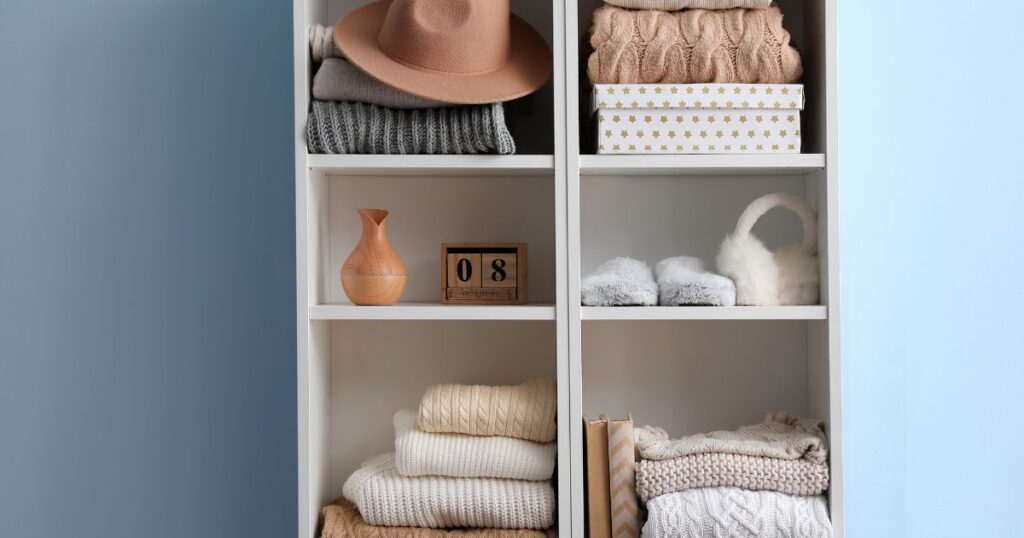 This fashion hacks clothes tip saves a lot of time and headaches.
If you want your collared shirts and other button-down shirts to lay correctly when worn, the best thing to do is air dry them fully buttoned-up. Refold and straighten the collar and allow them to dry. This keeps the collar from becoming misshapen and the button placket from awkwardly folding inward or outward (which I personally can't stand!). You can also use this hack when hanging pants to dry.
This technique makes things easier come ironing time because you don't have to force misshapen or folded fabric into submission. Don't use metal hangers because this may cause discoloration on the item.
It's also good to button up your shirt before hanging it in your closet to prevent the same issue. Ever since I adopted this practice I no longer experience issues with misshapen shirt collars or button plackets.
Related Post: What To Wear To Work Casual | How to Dress Casual and Still Look Professional at Work
9. Fashion clothes ideas: Wear an apron to protect clothes
Aprons aren't only for the kitchen. Just because you're in your casual clothes, doesn't mean they don't need protection from the elements. Harsh chemicals in cleaning products break down fabrics, as does water if you're constantly getting wet. Dirt, grease, and other substances can cause permanent stains. Even on black clothing.
These are all the times you should consider wearing an apron:
Cooking and food prep
Washing dishes
Cleaning the house
Bathtime for pets
Gardening and yardwork
Arts and crafts
Cleaning the car
There are probably more I could mention, but you get the idea. At this rate, shouldn't you just live in an apron? Well, that's what they did in the 1950s when you had to wear a dress for everything. And, this gives you an excuse to get a cute apron! Or multiple ones for different tasks…hehe.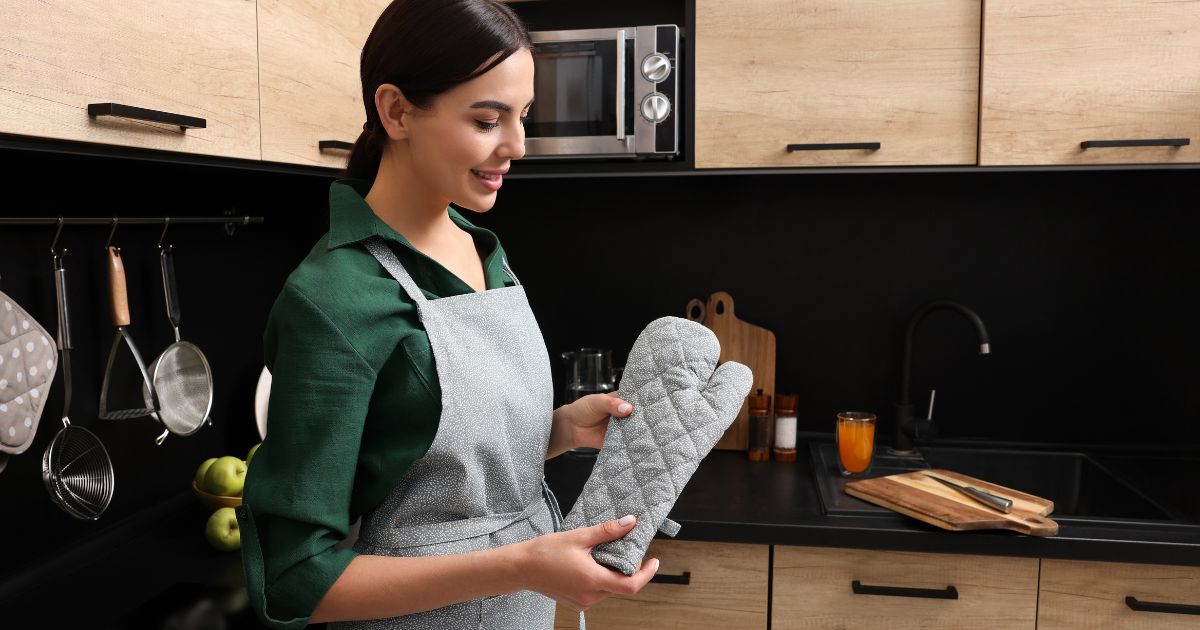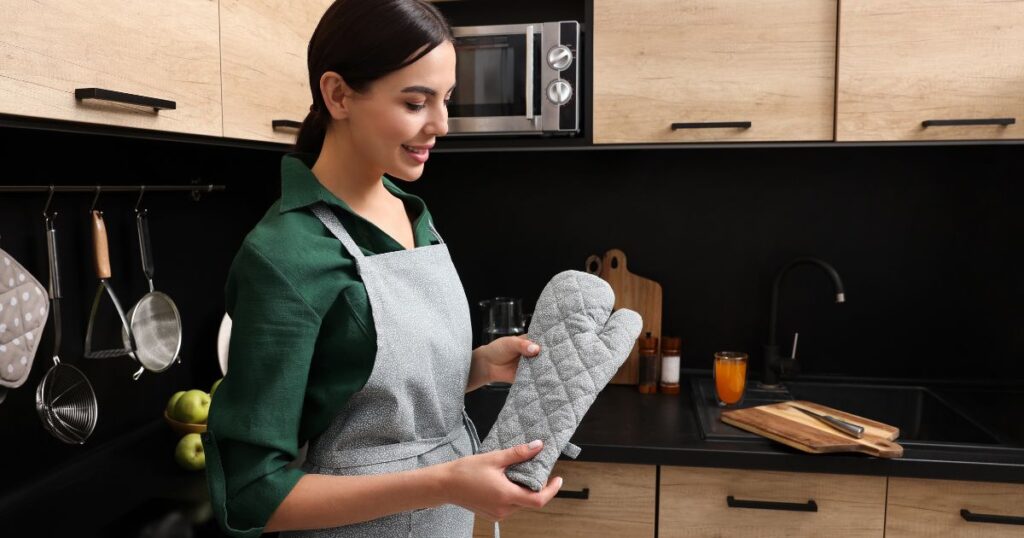 10. Store your best clothes in garment bags
If you really want to get longevity out of your wardrobe's most prized pieces, they should be stored in garment bags. The flimsy plastic bags from the dry cleaners won't work because plastic doesn't breathe and it can also cause discoloration down the road with long-term storage.
Side note: If you have clothes still hanging in their dry cleaning bags, go to your closet right now and hang them properly! Please and thank you.
Proper garment bags are made of breathable materials, such as cotton, muslin, and linen, like this style from Forever Cotton. Natural materials allow moisture to evaporate, so you can avoid that musty smell. Some garment bags come with zippers and moth-proof designs, so the more expensive the garment, the better the garment bag should be for storing.
Do your research on the best way to store leather, suede, couture gowns, coats, jackets, and any other item you want to last.
Related Post: Wardrobe Planning: A Beginner's Guide To Your Dream Closet
11. Fashion hacks for old clothes: Fix a snag in a sweater
A quick hack for handling a snag in a sweater. First, don't cut the snag because this will make it worse.
Take a crochet needle, sewing hook, or a thin pair of tweezers and pull the snagged thread back through the sweater, so it's on the inside. Knot the snag to ensure it doesn't pass back through the sweater or come unraveled again.
This works exceptionally well with heavy-knit sweaters and chenille.
Certain jewelry and fabrics don't play well together and it's a bummer when your ring snags that expensive knit dress you just bought. Always do a quick check to confirm your jewelry won't get caught in your clothing. This includes dangly earrings and knit scarves, which are notorious for snagging, and something often overlooked because you're getting ready to head out the door.
What are your favorite fashion hacks for clothes? Comment below!
This post was all about fashion hacks clothes
Related Posts: