Looking for the perfect style inspiration for what to wear to a November wedding? These gorgeous colors and styles will ensure you look absolutely beautiful for any fall wedding!
Late autumn is a beautiful time for marriage ceremonies, but determining what to wear to a November wedding is often difficult. The weather can be unpredictable, but also absolutely glorious. Either way, you need a stylish and suitable look for the occasion.
Follow along for some beautiful fall wedding looks, and how best to style them, and of course, the perfect fall wedding guest dresses.
This post is all about what to wear to a November wedding.
What To Wear To A November Wedding As A Guest
What colors to wear to a November wedding
The beautiful hues of the autumn season are what make a fall wedding fun to dress for. Classic fall colors for what to wear to a November wedding include rich browns, deep reds, and golden shades. These colors mimic the changing leaves and in-season produce during the latter half of autumn:
Chocolate brown
Mahogany
Beet red
Burgundy
Maroon
Red
Rust
Caramel
Mustard
Gold
Forest Green
Daylight continues to decrease throughout the month, so deep colors and moody floral prints set the perfect tone for what to wear to a fall wedding.
Related Post: What To Wear With Navy Blue | 5 Gorgeous Color Pairings To Style With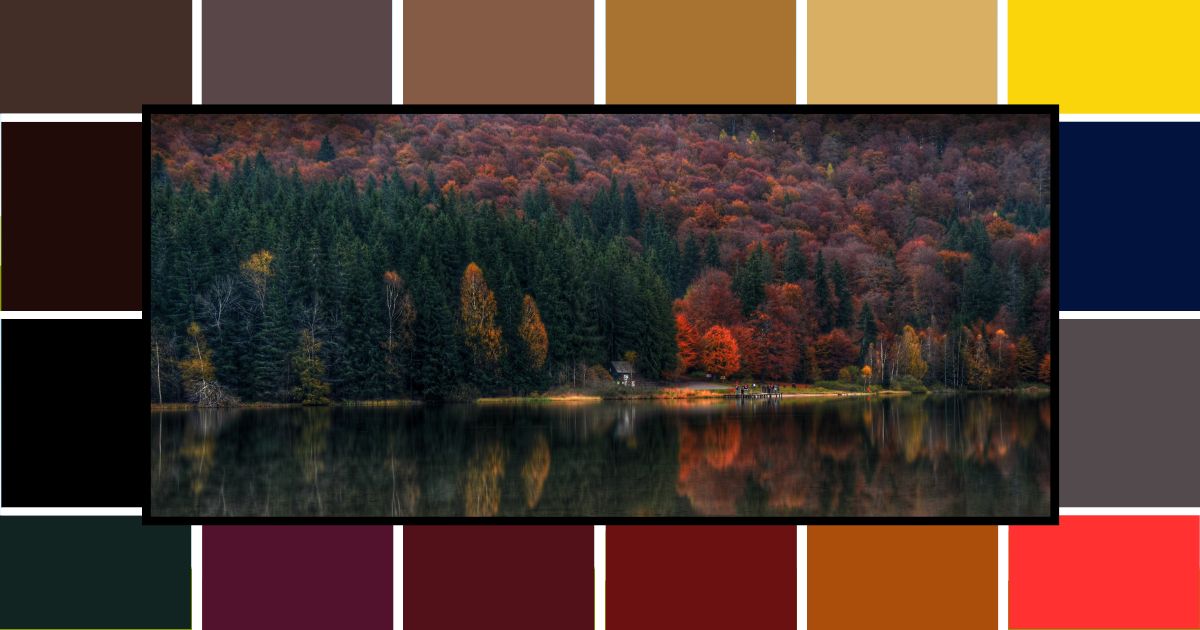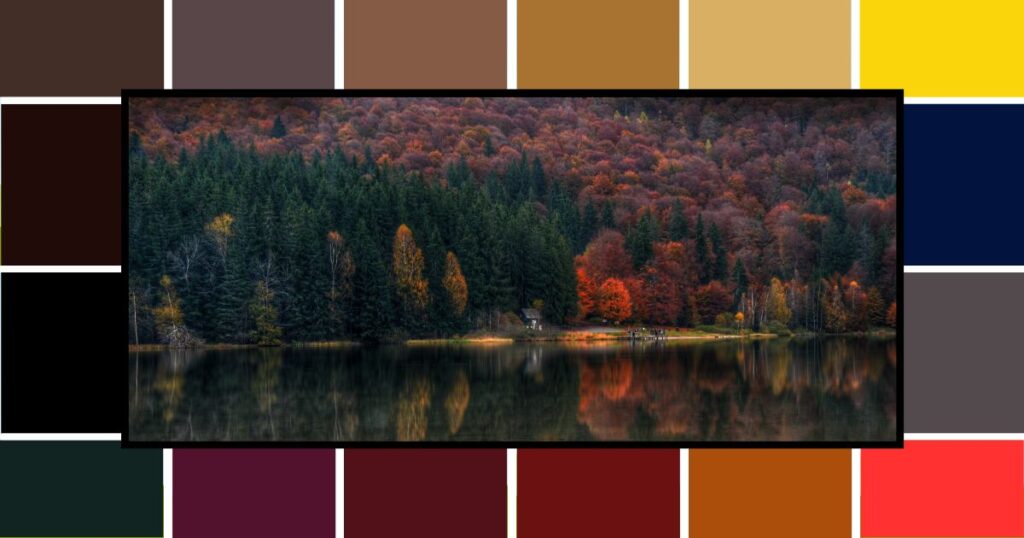 Rich jewel tones also create an elegant look at an evening wedding:
Topaz or Citrine Yellow (birthstones for November)
Emerald Green
Ruby Red
Sapphire Blue
Amethyst Purple
If color isn't your thing, a black outfit never ceases to impress. Pair yours with accessories in any of the colors above for a perfect November wedding look. Note: Black is inappropriate to wear to a wedding in some religions, so do your research beforehand!
Avoid wearing white or ivory as your main color because those are reserved for the bride (unless the dress code indicates otherwise).
What kind of dress to wear to a November wedding
The golden rule for special occasion events such as weddings and receptions is always to dress up as opposed to dressing down. You're a guest at one of the most important moments in two people's lives, so honor and respect are important. If a dress code is provided on the wedding invitation, make sure to abide by it.
The second rule is to dress appropriately for the weather. If you're attending an outdoor ceremony or reception, wear something you'll be comfortable in. All sleeve lengths are appropriate for dress styles in November.
The third rule is to research the location of the wedding. Attire for a barn wedding is going to look very different from attire for a wedding in a five-star hotel ballroom.
Related Post: What To Wear In October | New York City Edition
Daytime November Wedding
The kind of dress to wear to a November wedding during the day can be less dressy than an evening event. Dress and skirt lengths should be between mid-thigh length to midi-length.
Muted colors and prints are appropriate for the daytime. Fabrics can be more relaxed in lightweight or flowy materials or can go heavier for a day-to-night wedding.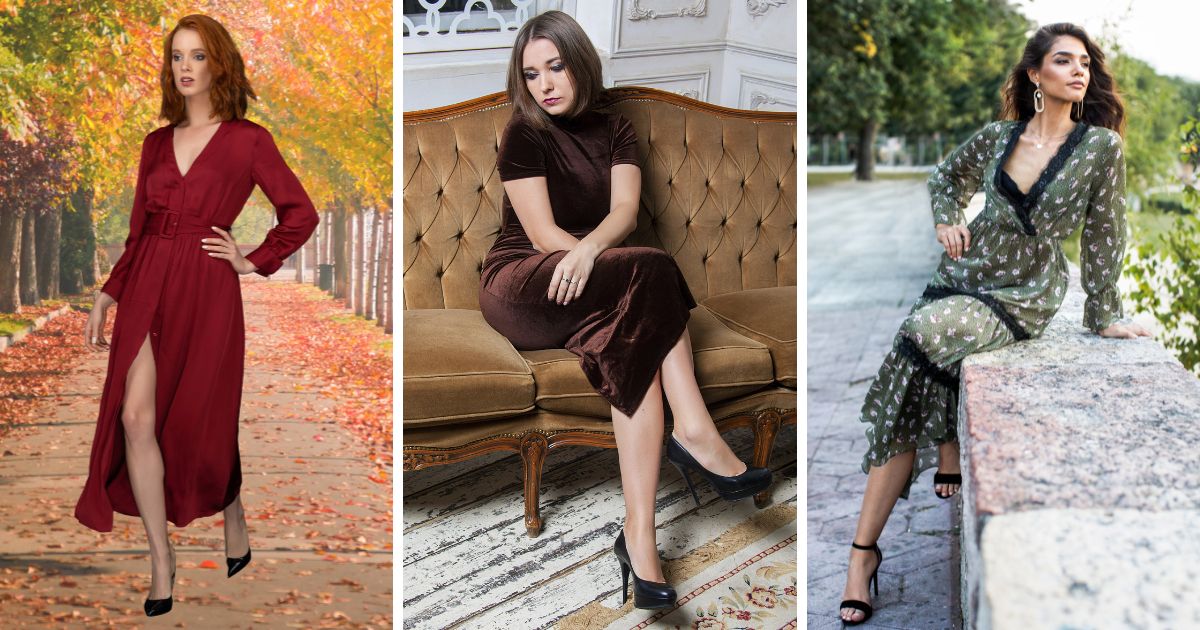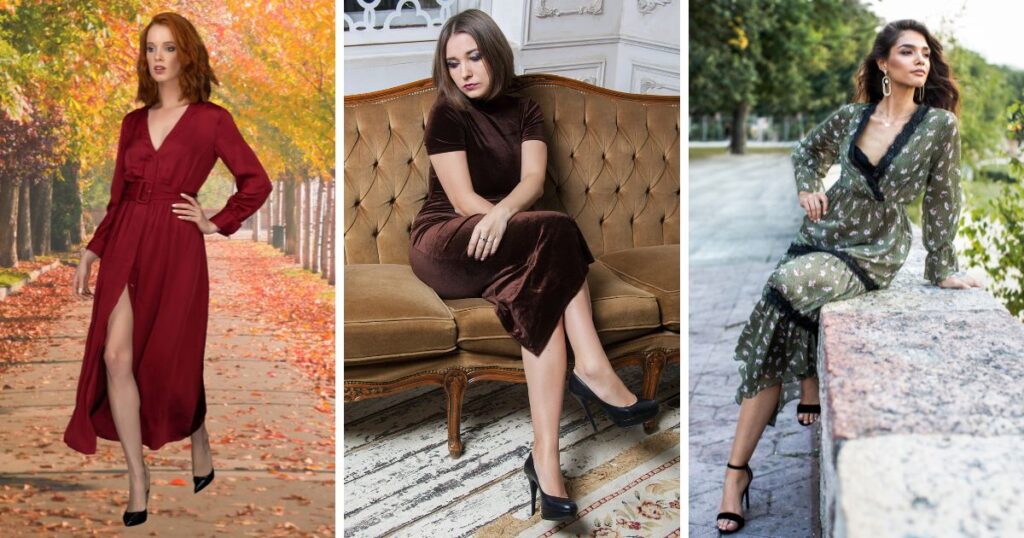 Evening November wedding
The type of dress to wear to a November wedding or reception during the evening should be dressier than a daytime event. Depending on the dress code, dress and skirt lengths can range from mid-thigh length (less formal) to floor length (formal and dressier).
Dark, deep, and moody colors are appropriate for November wedding guest dresses for evening. Fabrics should be more upscale and dressy. If you're showing your legs, be sure to wear a pair of sheer tights (because bare legs and late fall don't go together).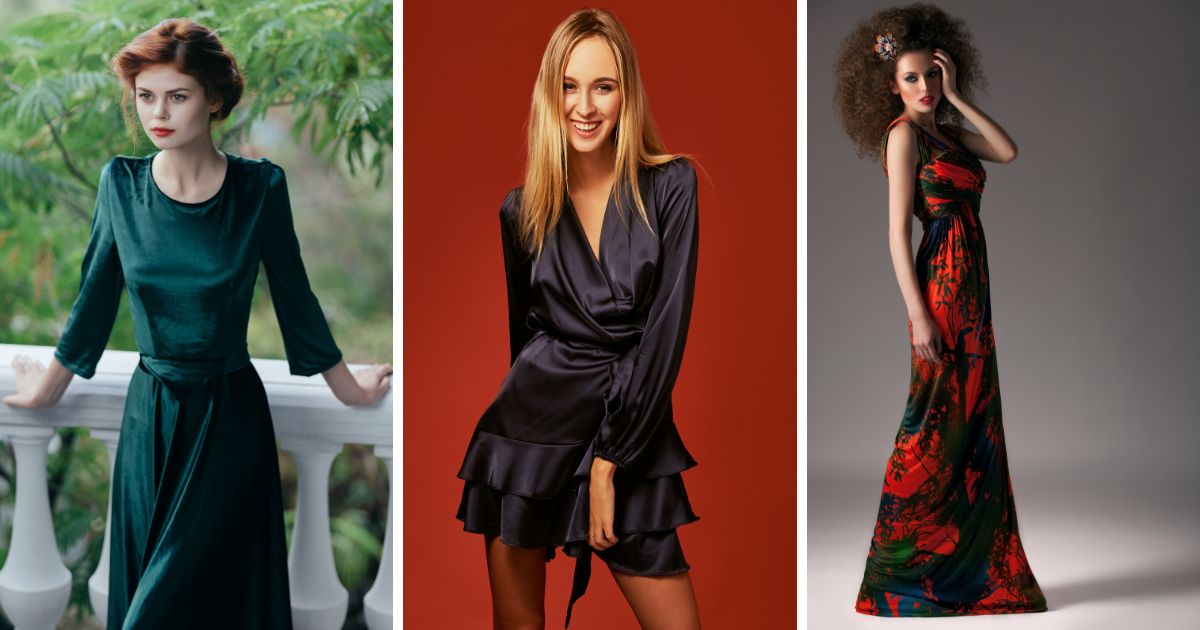 You still have to walk into the building, so proper outerwear at a November wedding is key. Style with vintage fur stoles or faux fur capes for a formal wedding. Long coats that cover or match the hem of a shorter dress or skirt are a style detail that elevates your look as well.
Fall wedding dresses guest
Based on everything covered, here are some perfect fall wedding guest dresses for what to wear to a wedding in November.
Velvet Gown
The Rocky Stretch Burnout Velvet Floral Dress from Lily Phellera gives all the '90s vibes in a slinky, second-skin. This romantic off-the-shoulder Issa Velvet Dress by Jenny Yoo comes in several deep jewel tones and has all the glam vibes. The Kura Velvet Dress from Veronica Beard is sleeveless with a high cowl neck so you don't reveal too much skin, but is comfortable enough to get your dance on at the after-party!
Related Post: How To Style The Perfect Slip Dress Outfit
Moody Floral Dress
The Britney Tiered Maxi Dress from Baltic Born is unexpectedly romantic with optional bare shoulders, puff sleeves, smocking, and a tiered skirt. I'm gushing over the Oly Tiered Ruffled Evening Gown by BCBGMAXAZRIA with corset boning, a square neckline, and dreamy tiered ruffles. The gorgeous floral print is the perfect blend of romantic-goth vibes. Love. The flattering wrap style of the Put On A Smile Blue Floral Print Satin Wrap Maxi Dress from Lulu's is sure to compliment any body shape.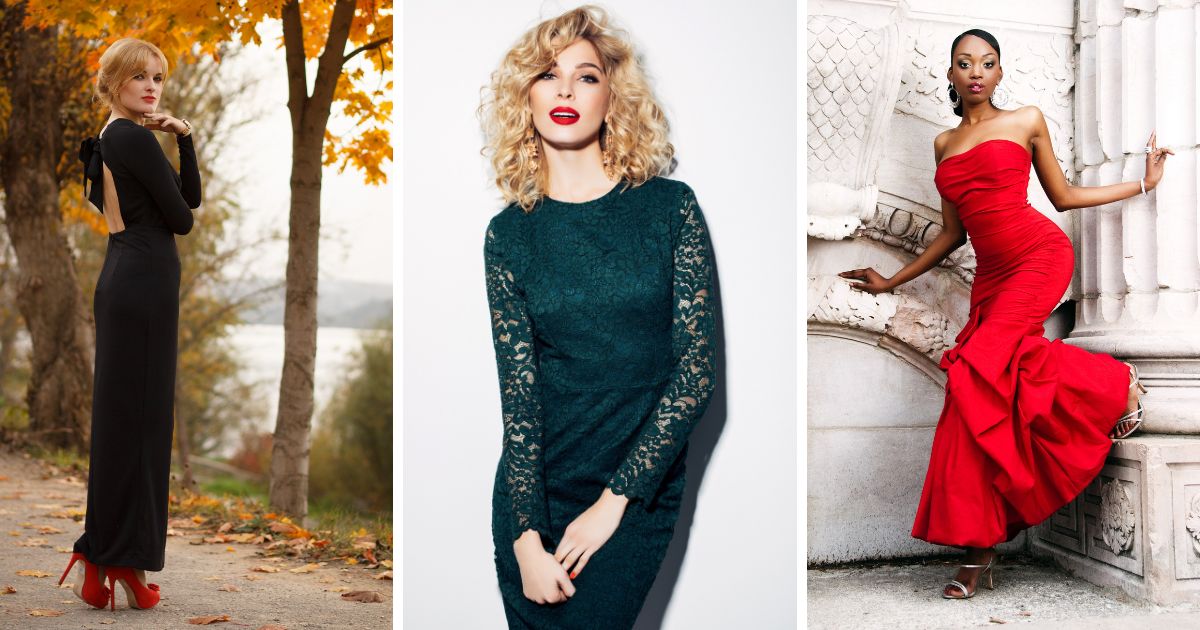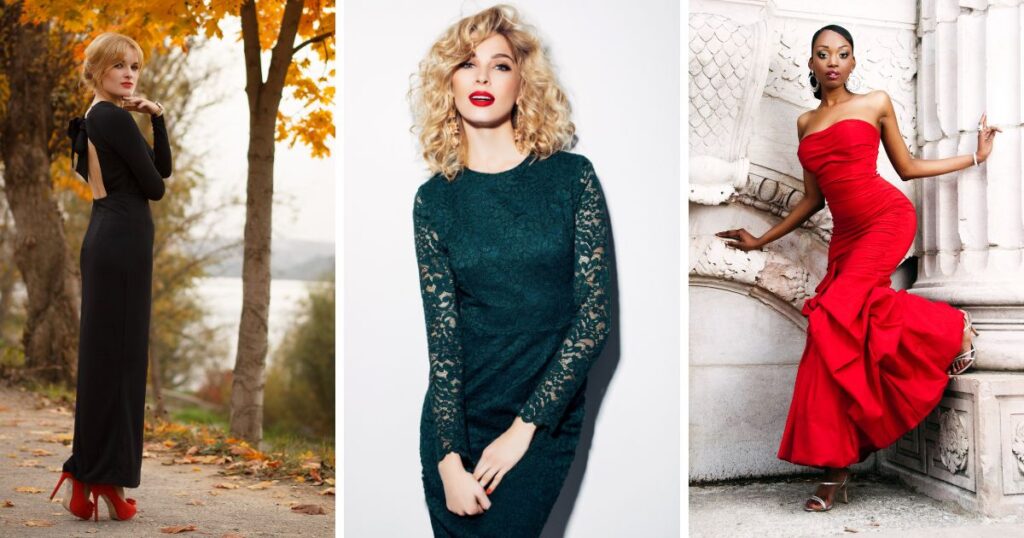 Black Lace Dress
The Manon Black lace cocktail dress from Alamour the Label is elegant, timeless, and flirty with the wow factor of a lace-up back. Looking for a mini dress appropriate for the occasion? The Black Guipure Lace Daphne Dress from Tuckernuck has a retro vibe, but is updated with a high collar and tie-back neck. You could wear this style year-round. I'm loving the gothic style of the Lace Cut-Out Tie Neck Mini Dress from Self Portrait.
Related Post: Style Trends 2023 | What You Need To Know
Silk Or Satin Long Sleeve Dress
This stunning ASOS Design Satin Maxi Dress with a batwing sleeve and wrap waist from ASOS is modest and elegant for a November wedding. It comes in mustard, rust, and other colors. You can't go wrong with the luxurious Linaria Wrap Dress from Lily Silk. The bishop sleeves and drapey material give this shorter dress all the drama it needs. Or go for the Gloriana Silk Dress from Reformation with a fitted bodice, sweetheart neckline and high slit.
Open Back Long Sleeve Gown
This full-length black dress in a Ponte-knit with a sheer open back is both elegant and sexy.
Rock a modern meets old Hollywood glam look with the stunning Demi Backless Long Sleeve Colum Gown by Significant Other. The Ada Cowl-Back Satin Midi Dress from Banana Republic is as classy as it gets with a sophisticated boat neck front that transitions into an asymmetrical cowl down the back. Now this is what you call an elevated LBD!
What to wear to a casual fall wedding
This floral Ahreana Dress from MISA Los Angeles is feminine chic in a chiffon-like fabric. The long sleeves make it appropriate for a fall wedding and the perfect style from day to evening. Pair with tall boots for a modern look. This Leela Midi Dress from 11 Honore Collection brings a bit of drama but keeps it in check with a high neck and a flirty keyhole in beige and black. Pair this with tall beige boots for the ultimate casual fall wedding look. Knitwear is comfortable and cozy for fall, and nothing beats the Trixie Sweater Maxi Dress from Free People for a casual barn wedding or wedding at a winery.
How to Wear Pants to a Fall Wedding
Women can certainly wear pants to a fall wedding. Pants should always be on the side of dressier than casual, which means full-length only. Opt for fabrics in wool, wool blends, silk, dressy cotton, thick polyester, Ponte-knit, and other wrinkle-resistant blends. Keep accessories minimal with pants, so the outfit isn't too busy.
Related Post: What To Wear To A Jazz Concert
Here are some acceptable options for pants to wear to a November wedding:
Pantsuit
A matching blazer and trousers in any of the colors mentioned earlier are unique and tasteful for a wedding. Try a silk cami or blouse under the blazer or wear the jacket buttoned as your top. Style the pantsuit with heels or flats. A full-on tonal look with matching separates in the same color family is sure to impress.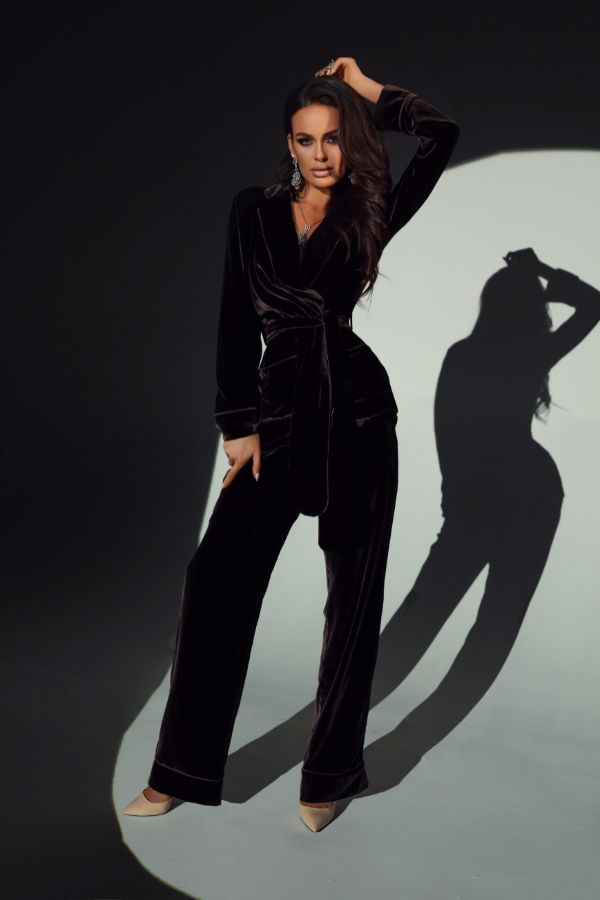 Want a drop-dead gorgeous designer-quality suit made for you? This designer will take your measurements and create a bespoke suit that you'll have for life (and at a fraction of the cost). View the addictedbespoken 2-piece designer suit.
Heidi Merrick's collection brings vintage-inspired tailoring in modern colors and cuts. Try the F. Scott Blazer and Pleated Boyfriend Pant that's slightly cropped so you can style with a pair of statement heels, like The Mia Due 90mm from M. Gemi or the Brooklyn by Seychelles.
Jumpsuit
A jumpsuit is another option for those who don't want to wear a dress or skirt. Opt for a dressy jumpsuit in a solid color to ensure your look isn't too casual. The Phil Twist-Front Stretch Jumpsuit from Gauge81 has a show-stopping deep neckline that's so chic it won't ever go out of style. Stay comfortable, but perfectly elegant in this sleek satin jumpsuit with a v-neck and a tapered waist – Ramy Brook Cheri Wide Leg Jumpsuit. Mango has a more affordable option in a similar style with the Wrap Neckline Satin Jumpsuit.
Wide-leg pants or Palazzo Pants
Lastly, there's something incredibly elegant about a pair of wide-leg pants at a late fall wedding. Because this is the least formal of the three options, ensure the pants fit incredibly well and look high-end. The best material is silk (or high-quality fabric mimicking silk) or other blends that carry a sheen. If going for wide-leg pants, opt for pants that are tailored. Palazzo styles should be flowy and feminine.
The Back-Slit Suit Trousers from NA-KD have just the right amount of movement and fun for a November wedding outfit. Or try the Satin Bell Pants from Sophie Rue for that elegant chic statement. The Compact Stretch High Waist Wide Leg Pants from Karen Millen would look amazing with a bodysuit. Try the ruched Bonnie Bodysuit from Wolford or the lacey x Revolve Zayleigh Bodysuit from Michael Costello.
Style your pants with an elegant sleeveless top in a silk or silk blend. A backless style creates a wow factor, while off-the-shoulder is sensual, and a sheer chiffon blouse is regal. A head-to-toe monochromatic look is the most elegant way to wear separates (and I personally don't recommend contrasting separates for a wedding).
Matching separates in a dark teal flowy satin crepe by Sachin & Babi are everything you'd want for a glamorous evening – Sachin & Babi Keirsten Top and Sachin & Babi Alli Pant.
What to Wear to a fall outdoor wedding
Attire for what to wear to a fall outdoor wedding is dependent upon the weather and event(s).
If both the wedding and reception are outside, you'll need to wear something to be comfortable the entire time. Cooler weather suggests longer dresses and skirts, pantsuits, and long sleeves. Stockings add warmth and elegance to a look. Elegant wraps in cashmere and silk are perfect ways to cover up.
Ty a dressy cropped jacket or bolero to cover bare arms, like the V-neck Collar Button Crop Blazer from Micas or the Lloyd Cropped Angled Front Blazer from BCBGMAXAZRIA. Or style the stunning Jacquard Cropped Blazer from Gicasanni over a simple LBD or slip dress.
Cool weather may require a dress coat, shawl, or tall boots. Lightweight thermal knits are perfect to layer under long dresses and pants to keep warm. If it's sunny outside and you choose to wear a hat, choose an upscale wool or felt hat and remove it by 6 pm if your event isn't casual (proper hat etiquette).
Related Post: Winter Wardrobe Essentials: 7 Key Items That Will Keep You Warm and In Style
Try glam outerwear
If the wedding ceremony is outside and it's chilly, ensure you have something to cover bare shoulders so you're comfortable (and don't look ridiculous!) until it's time to head inside for the reception. Fur, faux fur, and tailored wool coats are classic and cozy. Satin or leather gloves are elegant outdoor options.
A gorgeous faux fur stole elevates the look of a dress or gown without the bulkiness of a coat, like this one from Babeyond, which comes in 4 different shades of fur.
Outdoor wedding shoes should be closed-toe. If walking through grass and other uneven ground, opt for block heels as opposed to stilettos. More on what shoes to wear to a November wedding in the next section.
What shoes to wear to a November wedding
November is considered deep fall, so the most appropriate shoes are closed-toe shoes and boots, in leather, patent leather, satin, suede, and similar materials.
Here are the best styles to wear to a November wedding:
These cute suede ankle boots from Chiko are the boots of fall dreams, with a gorgeous leaf embellishment. They also come in black.
Regarding ankle boots, there should be no bare skin between the top shaft of the boot and the hemline of your clothing. Otherwise, your legs can look shorter. Ideally, the hemline matches or hits below the top shaft of the boots.
For cold evenings, bare legs look best with sheer, black tights, unless you're wearing open-toe sandals. Try the sexy 20 Denier Sheer Back Seam Tights from Calzedonia. Some brands are even producing toe-less tights, so this could be an option depending on the style of the shoe, like the HUE Toeless Control-Top Pantyhose.
What's the best wedding you've ever been to and why? Comment below!
This post was all about what to wear to a November wedding
Related Posts: