Need the perfect outfit for what to wear for fall engagement photos? Find all the inspiration you need to look chic and season-appropriate for your upcoming engagement photo shoot!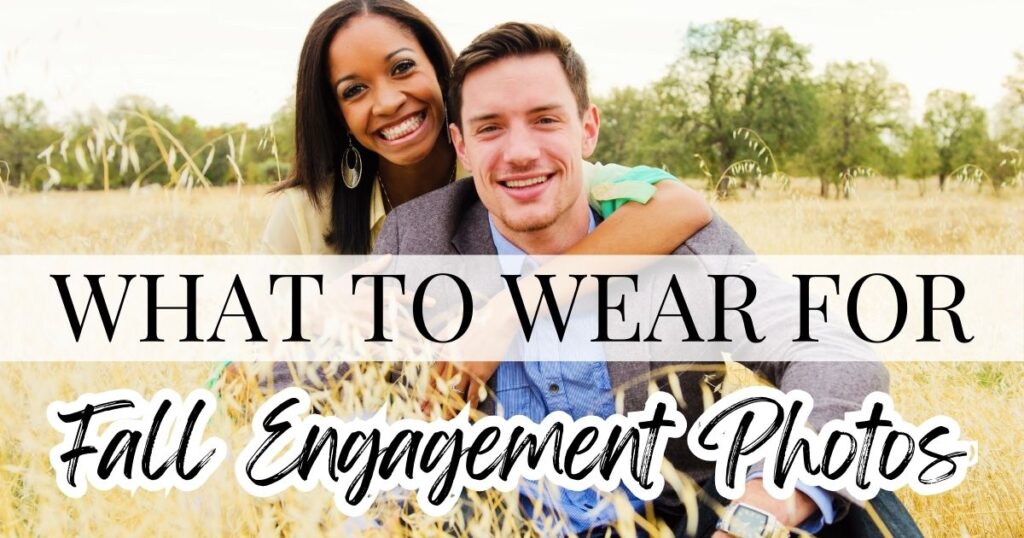 You picked the perfect season for what to wear for fall engagement photos! The leaves are changing colors, creating an incredible backdrop for a romantic photoshoot. Fall fashion provides many different styling options, whether you choose to embody a harvest aesthetic or a timeless look.
Here's your complete style guide for women's fall engagement photos, including colors, themes, outfit ideas, and what not to wear.
This post is all about what to wear for fall engagement photos.
What To Wear For Engagement Photos
What Month Is Best For Fall Engagement Photos
The best month for fall engagement photos depends on your location and preferred photo shoot setting. If you want to capture the beauty of fall foliage in the United States, October is your best bet.
The Farmer's Almanac provides information regarding peak foliage dates across the United States in this article. Peak foliage will ensure the most vibrant fall colors. However, early fall encompasses more greens with a mix of harvest colors. Late autumn ensures lots of fallen leaves, which provides a playful atmosphere. The natural colors in-season is a good deciding factor for what to wear for fall engagement photos.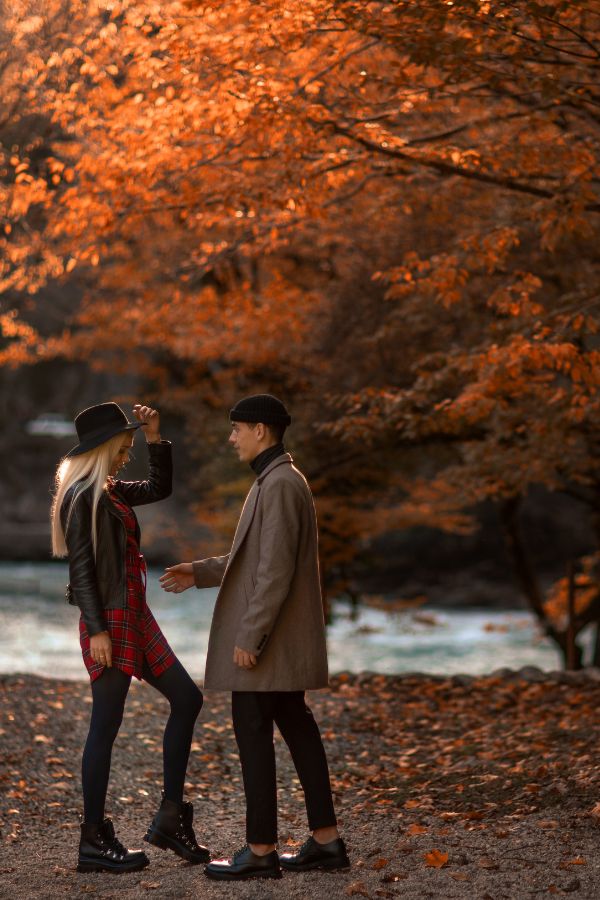 Keep in mind the temperature differences between early fall and late fall if you're doing an outdoor photo shoot. Chilly days dictate warmer outfits, while early fall sunshine allows you to wear a sleeveless dress. Some regions bring in a lot of rain during the fall season, so consider weather patterns when deciding what month is best for fall engagement photos.
Related Post: What To Wear In 50 Degree Weather | 6 Go-To Looks
Regarding the setting of your photos, you might need to schedule it when pumpkins are available or before/after cornfields are harvested.
What Color To Wear For Fall Engagement Photos
The best color to wear for fall engagement photos is inspired by the outdoor setting. Fall colors are considered warm-toned (as opposed to the cool tones of winter and spring). These colors complement the surrounding scene without standing out or overpowering you:
Autumnal colors such as burgundy, cranberry, muted orange, marigold, or eggplant purple
Earth tones such as brown, taupe, dark green, blue-green, olive green, terracotta, or mustard
Muted shades such as mauve, dusty blue, blush pink, camel, or sage green
Classic neutrals such as ivory, cream, beige, gray, khaki, brown, shades of denim blue, or black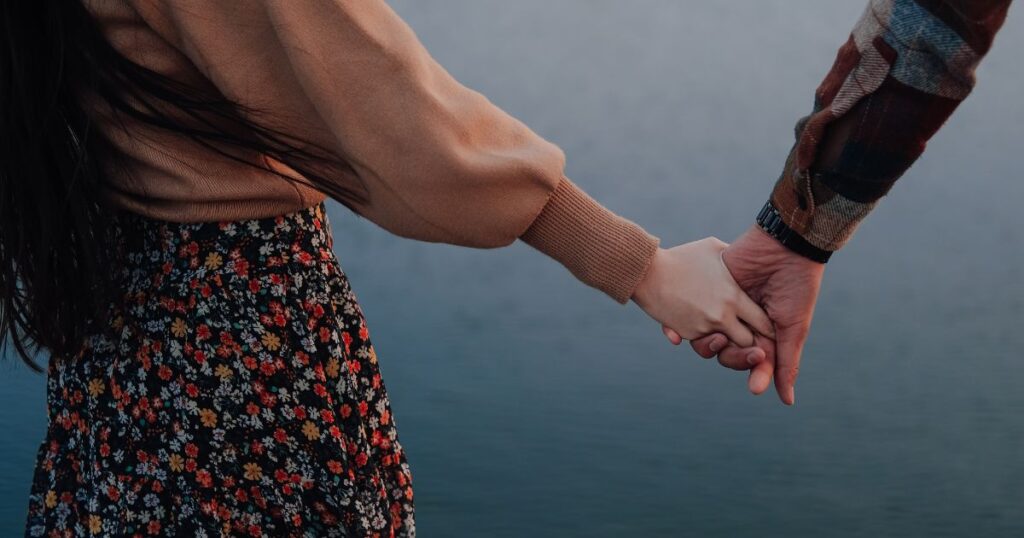 Dark colors slim the body while light colors add volume. If you're top heavy, opt for a darker color on top and a lighter shade on bottom, or go tonal. Soften black by wearing a textured piece such as a knit or a dress with a subtle print.
Related Post: 3 Personal Style Tips To Consider Every Day
Pro-Tip: Be sure to consult your photographer's expertise on the best colors for your unique photo shoot.
Fall Engagement Photo Ideas
These fall engagement photo ideas and themes provide inspiration in a fall setting. Deciding upon a theme or location will better assist you with what to wear for fall engagement photos.
Rent a classic car and park it in front of gorgeous trees or foliage
Cornfield (maybe there's a parked tractor nearby)
On a canal towpath or bridge over a canal
In the middle of a city, decked out in fall colors (bring the "fall" to the city)
Woodland setting
Park with piles of leaves
Field of sunflowers
Harvest theme with pumpkins, leaves, mums, etc.
Town square that's decorated for the harvest season
A farm that has pumpkins, hayride, cornfield, or apple trees
Beach (much less crowded during fall)
During the golden hour
Overcast day with foliage (dreamy vibes)
Near a lake or pond
Historical site
Grounds of a historical home
Mountain or picturesque setting
Under a large tree
Off a country road
In an open field
At a horse farm
Related Post: What To Wear In October | New York City Edition
Engagement Outfit Ideas For Couples
Start with a theme when planning engagement outfit ideas for couples. Think of your theme like a coordinating costumes for a party, but much less theatrical. However, it is fall, so if you're into costume dressing, a scene out of a different time period makes for a unique engagement photoshoot.
Related Post: What To Wear To Rocky Horror As A First-Timer
Elegant Neutrals
Muted neutrals look elegant against a bright fall backgound. Coordinate one person wearing a slightly darker color for a bit of contrast between the two people, like in the photo below.
Classic & Preppy
Classic and preppy style is a timeless and cohesive theme, regardless of the age of the partners. The woman below dresses preppy, but maintains her youthfulness in a Breton-striped dress and lace-up boots.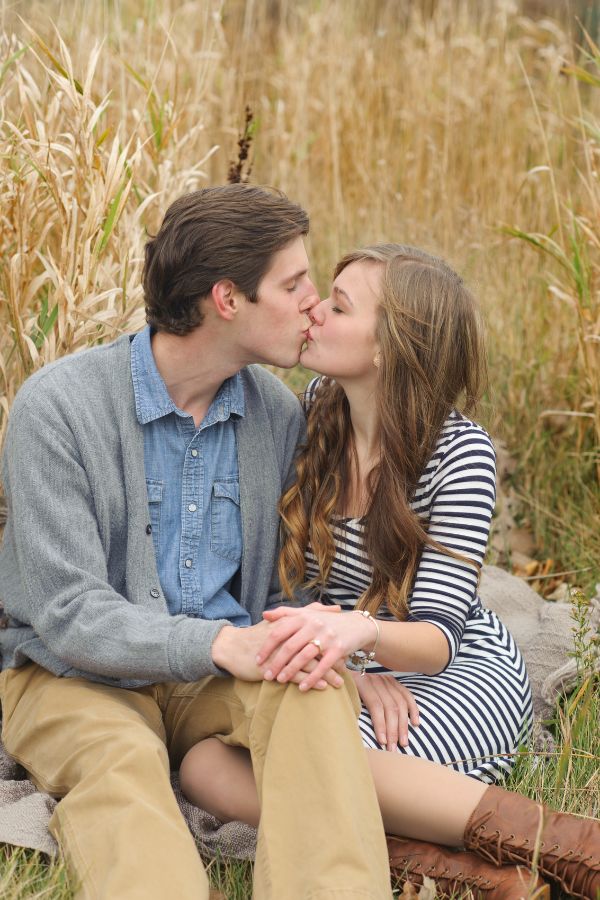 Formal Affair
The couple below goes against the mold with matching formal attire. The contrast of their outfits against the muted scenery pops in a wonderful way. Try a jewel-toned gown to make a statement like this for what to wear for fall engagement photos.
Related Post: 10 Elegant Style Tips To Look More Sophisticated
Hard Vs. Soft
The couple below nails this paradoxical theme. The man wears an edgey, suede moto jacket in a dark color while the woman has a knit, pastel top. If you're going to dress hard or edgey, make sure your hairstyle and other features fit the same aesthetic, like this man's side-swept haircut and rough facial hair. Same concept if you're dressing soft like this woman's blowout hairstyle and natural makeup.
Make sure to create cohesion between outfits, so you're not 100% contasting with your partner. In the example below, the man's heather-gray shirt helps blend this look together as does the woman's dark brown hair.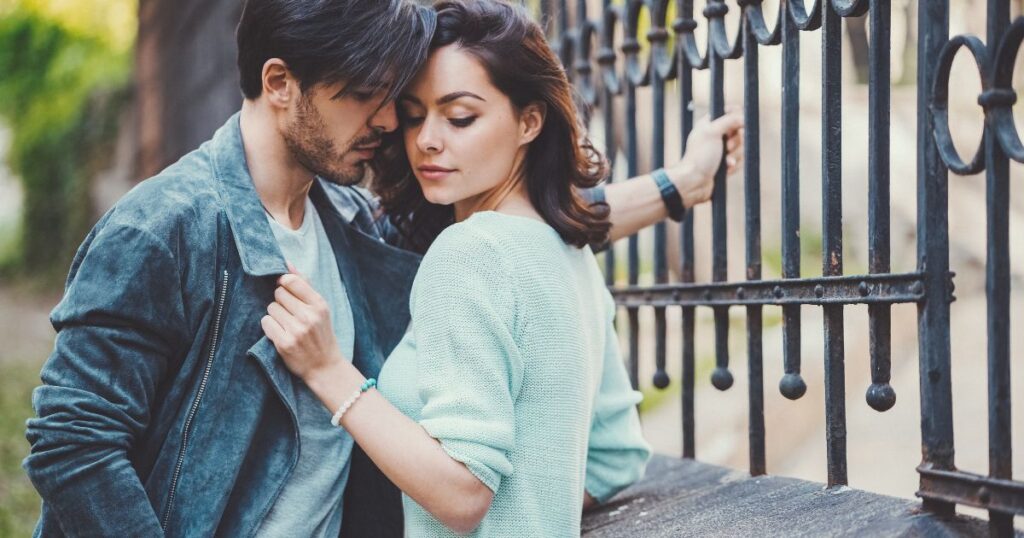 Sweater Weather
Fall weather and knitwear go hand in hand, as does this couple's beach photoshoot. The man wears a beige scarf to create cohesion between their contrasting tops. And the rain boots showcase the playfulness and love of the the ocean the couple shares.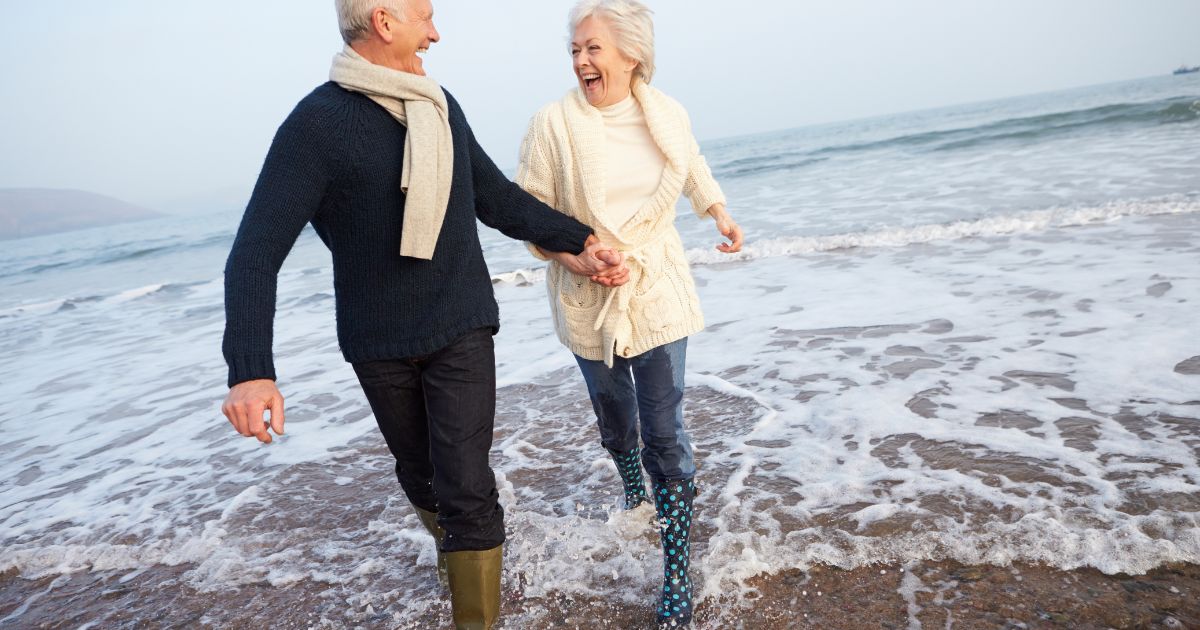 English Countryside
There's something timeless and romantic about the English countryside and the attire also provides warmth during a chilly fall day. The couple below coordinates with darker neutrals, which works in late autumn when most of the leaves have already fallen.
The women's pop of red is necessary to draw attention towards the couple, but I wish her partner wore a light gray shirt instead of pink, which doesn't go well with the accent red bow tie. Matching accent colors create cohesion, which is needed when both partners are dressed similarly.
Autumnal Bliss
Embracing the colors of fall with fall wardrobe essentials is never a bad theme, and the couple below does it well. His khaki pants and her matching trench coat create cohesion.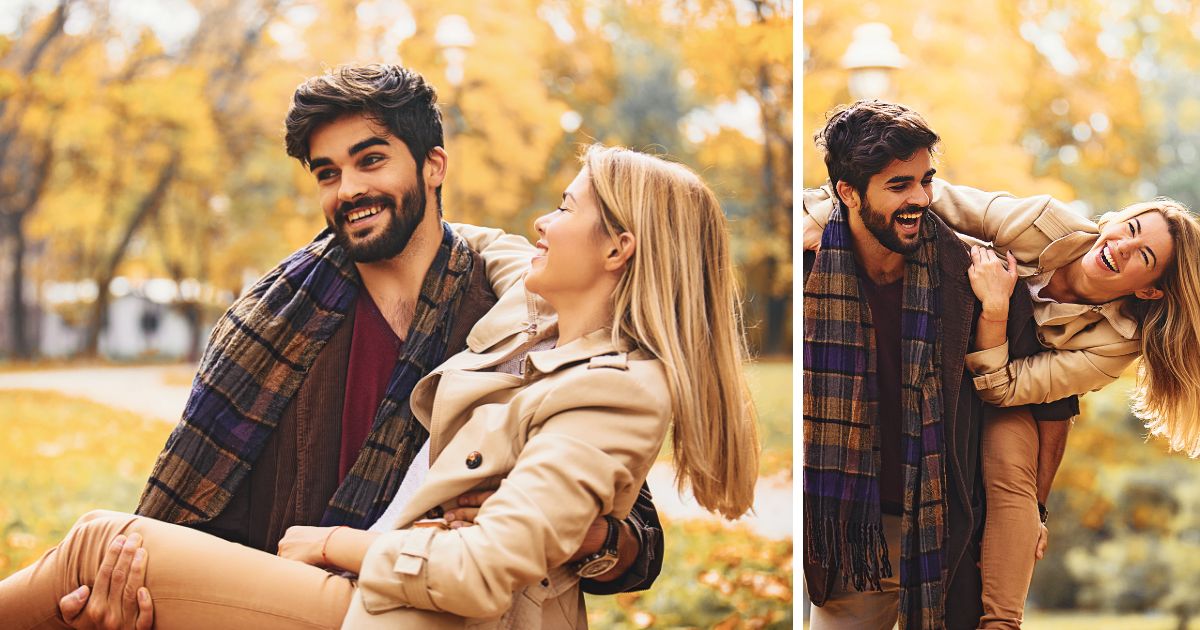 Casual Fall Engagement Photo Outfits
Here's a list of stunning casual fall engagement photo outfits for women in addition to flannel shirts or dresses.
Related Post: What To Wear To A Pumpkin Patch (Besides Flannel)
Chambray Dress
A chambray dress is the perfect blend of casual and feminine, plus a nice muted blue for fall.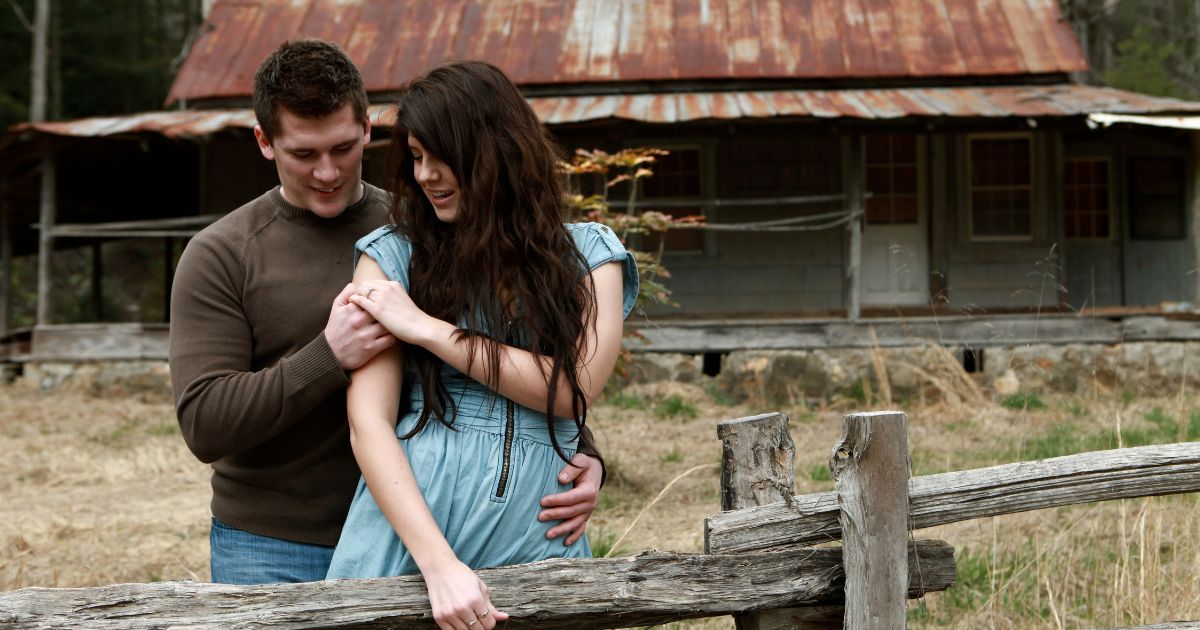 Plaid Top, Blouse, Or ShirtDress
Plaid is a great alternative to flannel. Try a feminine top or a classic shirtdress for country-inspired fall engagement photos.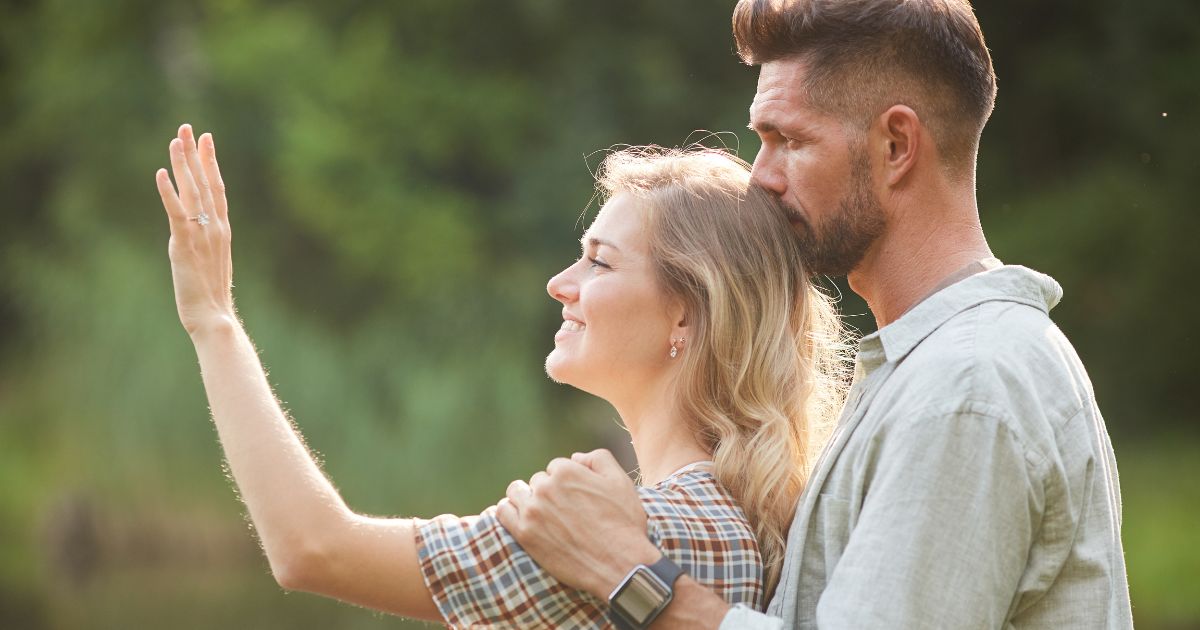 Knit Mini Skirt With Tall Boots
Mini skirts are flirty and playful, which is great for a young couple. Style with over-the-knee boots or knee-high boots that are fitted to avoid that awkward slouchiness in your photos. A pull-on sock-style boot is perfect for this and helps slim the legs.
Sweater + Denim Flares
If you're looking to elongate your legs in your photos, try a pair of flare jeans over heeled ankle boots. Choose a block heel to keep you sturdy while posing.
Autumnal Dress
A dress in autumnal colors is the quintessential fall engagement dress. The woman below can get away with a bolder print because the background of dropped leaves is mostly the same color. A print like this helps hide any self-conscious areas of the body by blending them in. However, if your outdoor setting consists of several colors, opt for a solid dress or muted pattern instead.
Black Lace Dress
If you love black, a lace dress is a great idea for what to wear for fall engagement photos. It's romantic, a touch boho, and not too harsh to overpower you in the photos.
White Linen
Linen is the only material you can get away with in white for fall engament photos because it doesn't have a stark-white look to it and you're in an open field where the softness blends into the scene, like the couple below. This look is also perfect for what to wear for fall engagement photos when it's hot.
What Not To Wear For Fall Engagement Photos
The following colors, attire, and themes are recommended what NOT to wear for fall engagement photos:
Neons and bright colors (these don't compliment the warmth of fall)
Bright white (too cool-toned for fall, try ivory instead)
Bold patterns or more than one pattern/print (too distracting)
Mis-matched flannel (stick to a single flannel print as a garment on Partner 1 and an accent at most on Partner 2)
Outfits with no contrast or accent pieces (so the couple blends together too much)
Clothing with words or logos (looks tacky and distracting)
Incohesive outfits (e.g. Partner 1 is dressed for summer while Partner 2 is dressed for fall, or there is no matching accent or color that ties the couple together)
Matchy-matchy attire (looks tacky; opt for matching accents instead)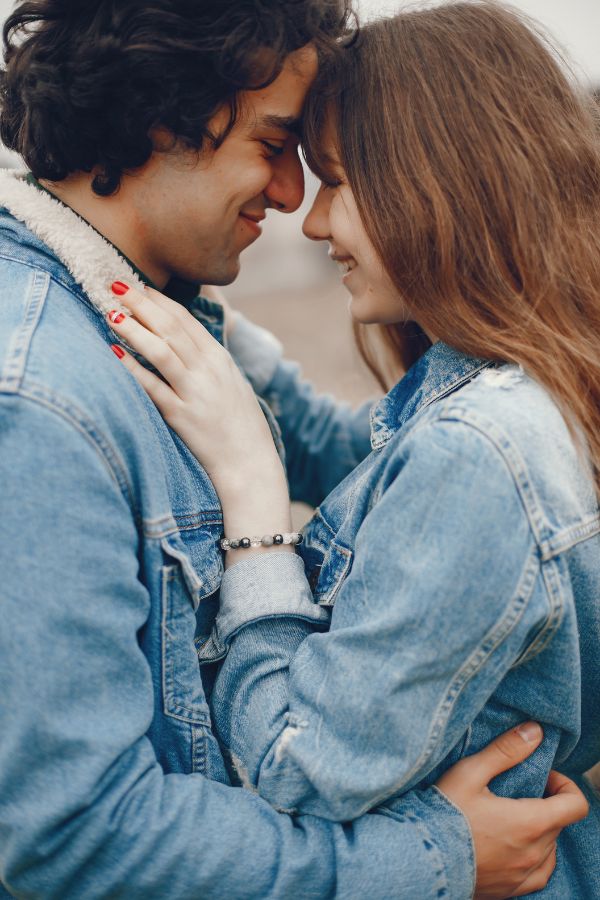 Oversized and baggy clothing (isn't flattering and doesn't picture well)
Clothing that isn't in mint condition (include the cost of a new outfit in your engagement photo budget)
Grungy shoes (take existing shoes to a shoe repair shop to have them polished and cleaned, or purchase a new pair)
Clothes that haven't been ironed or steamed
Related Post: 11 Simple Style Tips To Always Look Good
Where's the location of your fall engagement photos? I'm always looking for new ideas. Comment below!
This post was all about what to wear for fall engagement photos
Related Posts: