Can't figure out what to wear with bell bottom jeans? Here's a week's worth of modern bell-bottom jeans outfits that are so chic!
You don't have to return to the 1970s to know what to wear with bell bottom jeans. Although a vintage-inspired boho look is always a winner in my book, it's not always practical. Thankfully, bell-bottom jeans are my favorite pants to style with. I could go on for days with different outfit ideas.
Here are six foolproof ways to style your bell-bottom jeans for a modern and sophisticated aesthetic, perfect for this decade. I've chosen a chic pair of black bell bottoms, the "Le High Flare" by Frame, and created a week's worth of outfits, from smart casual to Friday night out!
This post is all about what to wear with bell bottom jeans.
Cute outfits With Bell Bottom Jeans
1. What To Wear With Black Bell Bottom Jeans
Bell bottom jeans are flowy and playful, so the best way to style is with a structured jacket, like a blazer. The structure of the jacket balances the flowy nature of the pant. This is how you create a smart casual look or a sophisticated style for a restaurant, day or night.
A black blazer is the perfect jacket for what to wear with bell bottom jeans, if you want to create an all black outfit. However, all styles of blazers look amazing with the super-flared style of the jeans, so branch out into different colors for your jeans or jacket! Try an all-white look for spring and summer, or a plaid blazer with a dark blue jean in the fall.
Related Post: 12 Fall Wardrobe Essentials You Need This Season
Wear your blazer open, with a fitted tank underneath for an easy, classic look. Or opt to wear your blazer as a top and belt it at the waist to create beautiful curves down the body. This is called outfit fluidity and it's incredibly flattering.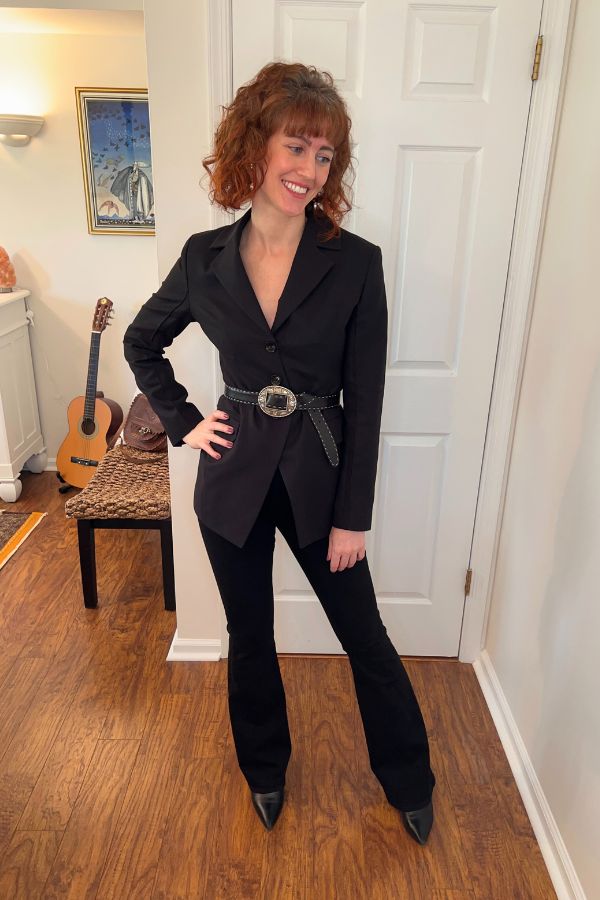 2. What Shirt To Wear With Bell Bottom Jeans
Another way to style bell bottom jeans for an upscale look is with a crisp, white shirt. Honestly, you can never go wrong with a white collared shirt. It's the ultimate wardrobe staple and versatile piece for what to wear with bell bottom jeans.
Opt for a semi-fitted shirt to wear with bell bottom jeans for a smart casual office look. Tuck your shirt in for a polished look, and add a belt if necessary. An oversized white shirt can be worn as a tunic for a casual throwback to the 2000's. Don't forget about the "French tuck" or tucking your oversized shirt in the front for a carefree Parisian twist.
Related Post: 11 French Wardrobe Essentials Every Stylish Woman Owns
Add a pair of dangly earrings to complete the look and you have a classy, feminine aesthetic for the office.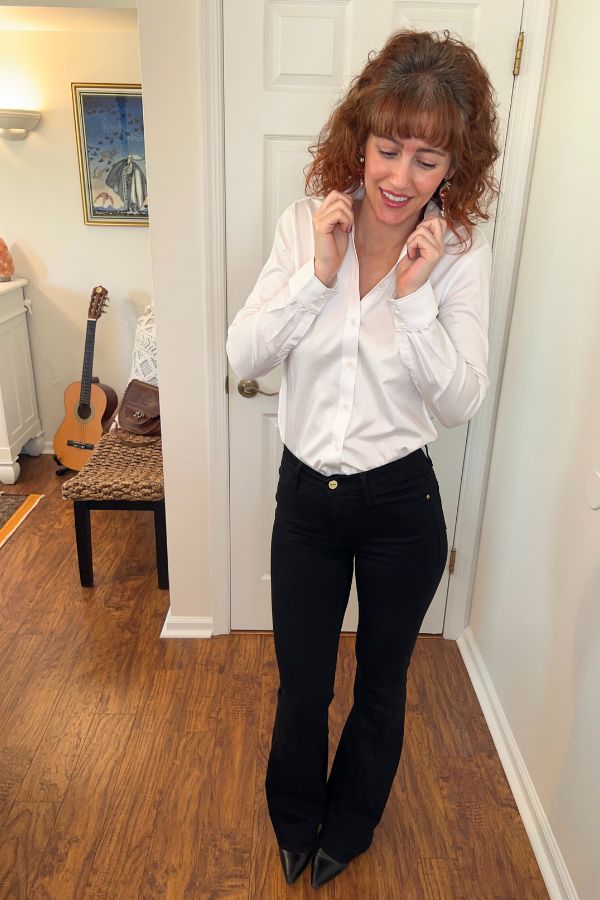 3. What To Wear With Bell Bottom Jeans In Winter
Bell bottom jeans are not just for the warm weather. In fact, they might keep you warmer than regular jeans, in my experience. Style a high-waisted pair of bell-bottom jeans with a chunky knit for a casual look at a coffee shop or for having a friend over your house.
Try an elevated style by pairing a fitted turtleneck with a furry vest over top. If you match the color of your jeans and turtleneck, it looks ultra-chic with the pop of color from the vest. Black is a slimming color and will help elongate the body. Try a fleece vest if you're going for something a little sporty.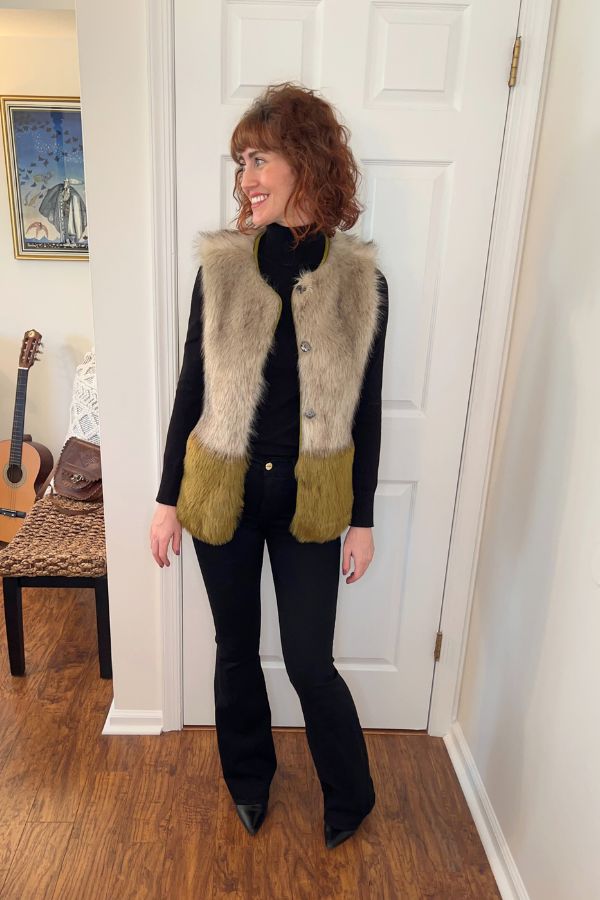 Pro-Tip: If you'll be walking outside in the cold, bell bottom jeans help trap heat against your ankles and calves much better than slim jeans. It's like an igloo effect, and it saved me from freezing to death during an NYC Christmas trip one year.
Related Post: Winter Wardrobe Essentials: 7 Key Items That Will Keep You Warm and In Style
4. 70s Bell Bottom Jeans Outfit (Modern)
I don't think I could complete this post without mentioning boho chic style, which is a somewhat timeless aesthetic thanks to Stevie Nicks. All you need to style an updated boho look for what to wear with bell bottom jeans is a poet blouse. A flowy, sheer blouse creates a gorgeous feminine style that's romantic and youthful.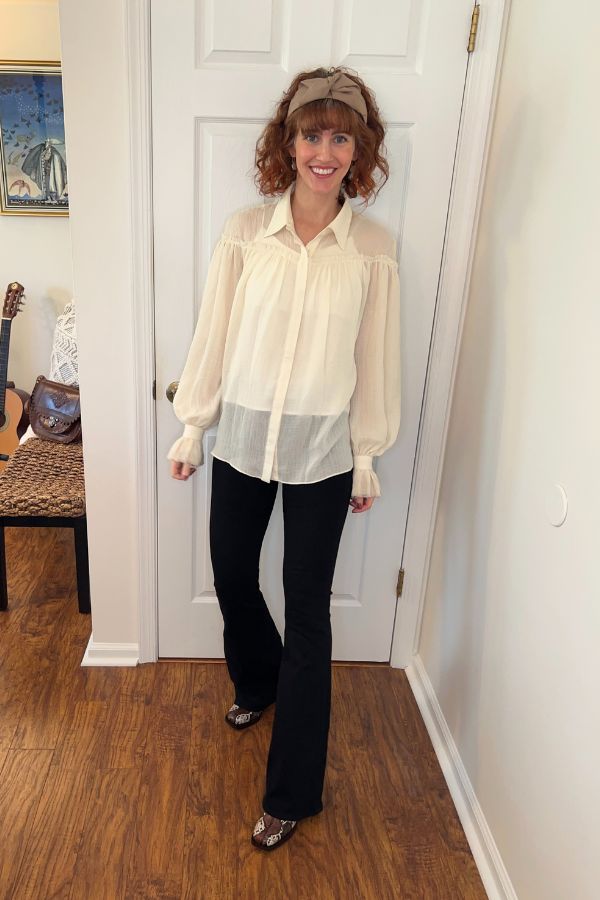 A neutral tone blouse will keep your outfit modern-looking. Or, go for a paisley print or a moody color for a vintage 70s bell bottom jeans outfit! Either way, this look is perfect for spring, summer, and fall!
Related Post: What To Wear In 50 Degree Weather | 6 Go-To Looks
5. T-Shirt With Bell Bottom Jeans
A t-shirt with bell bottom jeans is definitely the most "throwback" of styles. A great concert outfit is a fitted tie-dyed shirt or band t-shirt, semi-tucked into your jeans. Casual and cool.
You can always style your basic white t-shirt (or any neutral color) just as you would any other pair of jeans. Add a belt to instantly upgrade your outfit and make sure your shirt is tucked or semi-tucked for a cohesive look. Matching accessories are another great way to elevate your basics.
Related Post: How To Shop Your Closet The Right Way
Or, opt for an elevated t-shirt in linen, silk, or a cashmere knit. You'll be just as comfortable, but no one will notice you're wearing an actual t-shirt style.
6. What Top To Wear With Bell Bottom Jeans
We can't forget summer and the perfect tops to wear with bell bottom jeans! I personally think a fitted ribbed tank tucked into a pair of bell bottoms is incredibly chic, especially if you want to show off your curves. Add a waist belt to emphasize curves. If you're bottom-heavy, try a top with cap sleeves or an "X" shape style to add balance to your upper half.
Add an accessory or two to create interest in a basic tank and jeans outfit. Scarves are the most classic, but a chunky necklace is also great for balancing out your top half with the volume created on the bottom.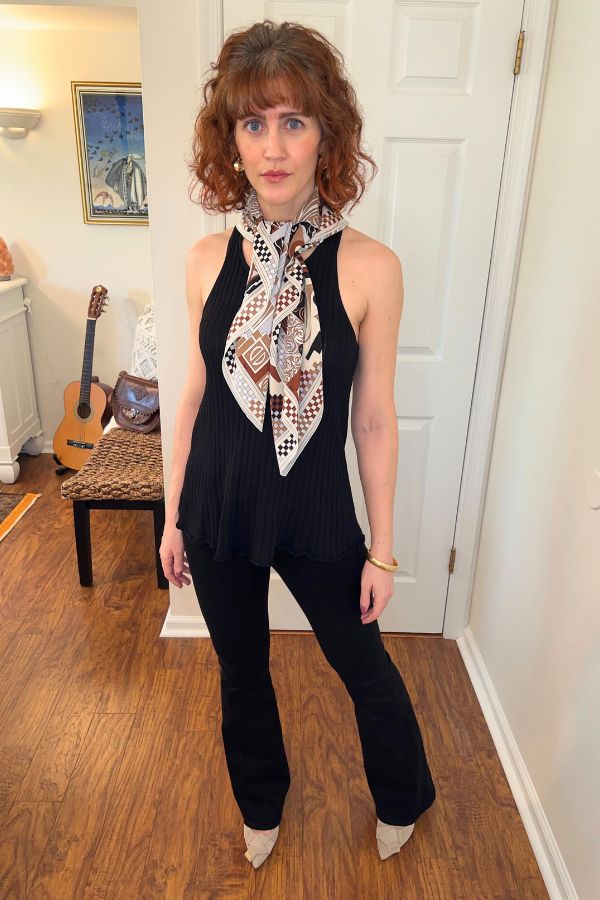 If you're outside, style a matching woven straw hat to create balance as well. Lightweight jackets in linen and silk also work to elevate a simple tank or camisole on a warm summer evening.
Related Post: What To Wear To A Jazz Concert
7. What Shoes To Wear With Bell Bottom Jeans
The best part of wearing bell bottom jeans is the way the bell shapes sway back and forth when you walk. They've got swagger. Most shoes can be styled with bell bottom jeans, but if you really want to do your outfit justice, these are the top four styles of shoes to wear with bell bottom jeans:
Platforms
Pictured a few times in this post are a pair of platform mid-calf boots in a snakeskin print. A printed boot is a great way to add interest to a simple look, when you're wearing solid or tonal colors. The platform helps lengthen the legs, which is great for petites or pants with long hems. A heel creates even more length in the legs, which complements the swing nature of the flare at the bottom hem. Platform sandals work nicely in the summertime.
Related Post: 5 Petite Style Tips You Might Be Missing Out On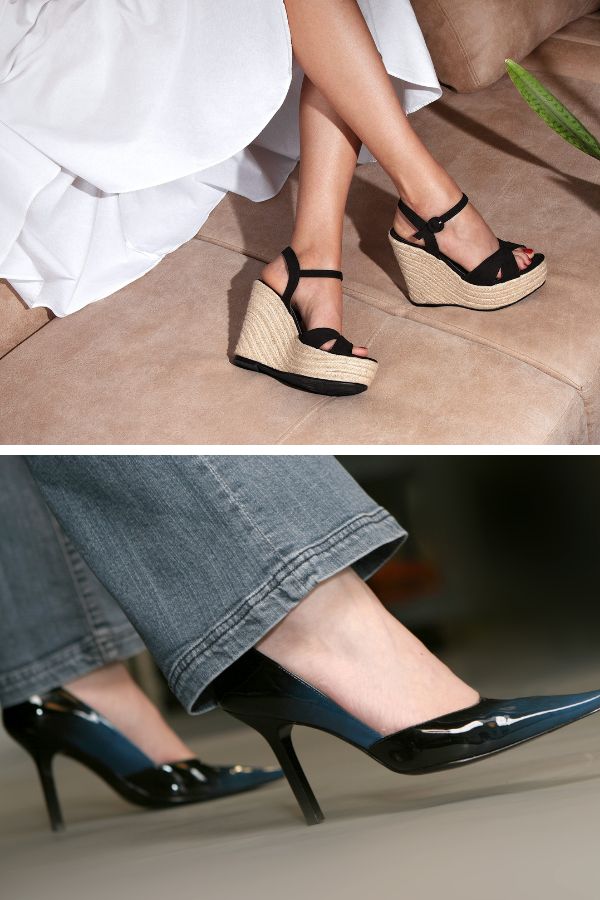 Pointy-Toe Shoes
I've mentioned elsewhere on What Is She Wearing how sexy a pointy-toe shoe is peeking out the front of a bell-bottom or flare jean. I'll mention it again. The balance between the structure of the shoe and the flow of the pant is a match made in heaven. Heeled pumps or boots elongate the legs, so try at least a kitten heel if you can manage it.
Ankle Boots
Ankle boots and mid-calf boots are timeless styles, but when paired with other types of pants they can look a little awkward. This is because they tend to chop the body off at the leg, which makes you look shorter. This is not the case with bell bottom jeans! These boots were made to be styled with bell bottoms. So, go for it!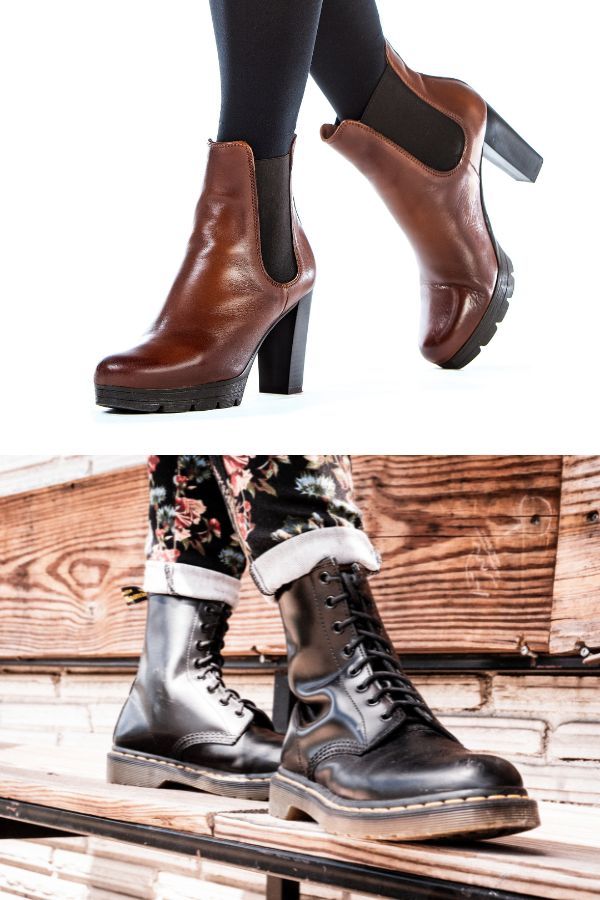 Chunky Combat Boots
Enter the chunky combat boot…a wardrobe hero for many. For me, the best shoes to wear to a concert ever. Either way, the chunkiness of the sole creates a bit of height, which is great so the bell-bottom won't puddle on the floor. And as always, it never hurts to incorporate a little 90's into what to wear with bell bottom jeans!
Are you a fan of bell-bottom jeans? Do you remember your "first time" wearing them? I want to know about it! Comment below.
This post was all about what to wear with bell bottom jeans
Related Posts: