Are you looking for the best petite style tips to upgrade your look? These tips and tricks will teach you how to style all types of clothing for a petite body frame so you can look your absolute best!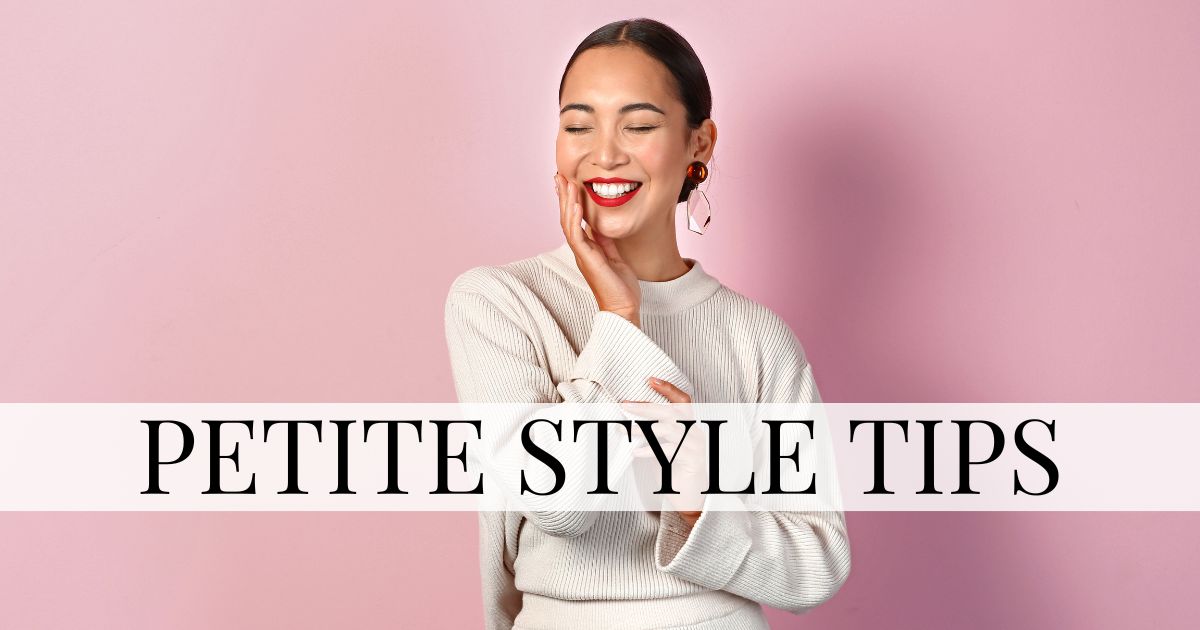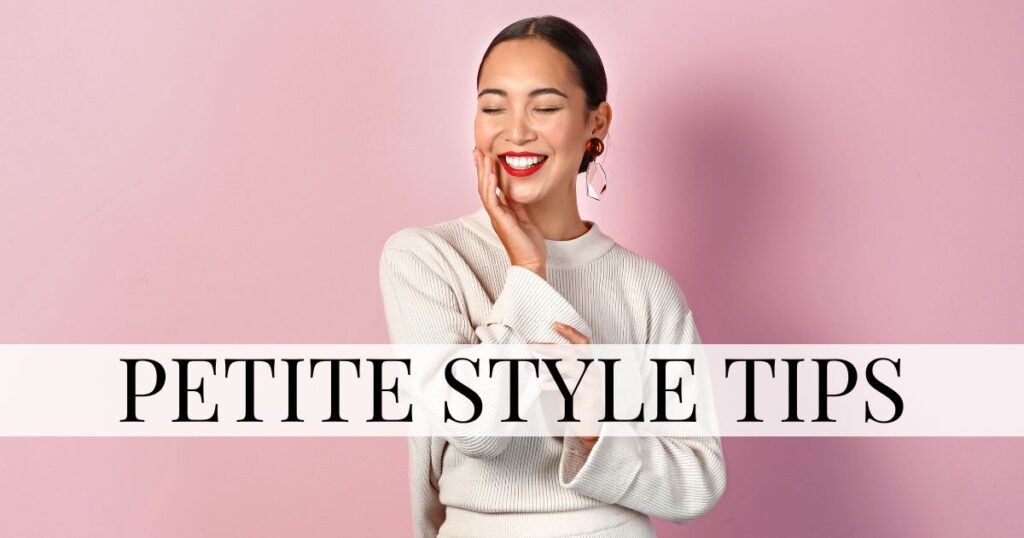 The best petite style tips will give you much more than the proverbial, "just add heels" approach to create length. While that's a great tip in itself, a lot more goes into styling a petite frame.
You will learn the essentials for how to balance proportions, create length, and ensure your outfit doesn't swallow you up along the way.
This post is all about petite style tips.
Best Petite Style Tips
1. Balance the volume of your outfit
One of the issues petite women sometimes encounter is that certain clothing and accessories can overpower their frame. One of the best petite style tips to ensure this never happens is to balance the volume of your outfit when styling.
How do you balance the volume of an outfit? By looking at the proportions of your clothing on the top and bottom of your body. This doesn't mean drawing a line at the middle point of your body (lengthwise). Instead, the top half is determined by the clothing you're wearing on top and the bottom half is determined by the clothing you're wearing on the bottom. Both the top and bottom need to be balanced, but not necessarily symmetrical.
The Rule of Thirds teaches us that you want a 2:3 or 3:5 ratio with your clothing on top and bottom, which in terms of volume means one part of your outfit should have a little more emphasis than the other. Volume can be added through clothing, shoes, jewelry, and other accessories.
Let's dive into how to do this with your outfits.
How to balance the volume of separates
In terms of petite style tips for separates, balance the volume of your top or blouse with your pants or skirt. The easiest way to do this is to tuck your top into your pants or skirt so that the top covers roughly 1/3 of your body, while your bottoms cover the other 2/3 of your body. An untucked shirt with a long hemline can chop your body in half and that will make anyone look short. Plus, there's less outfit fluidity.
What if you want to wear a boxy or oversized shirt? The volume of the top needs to be balanced with the volume of your pants or skirt. There are two ways to style this to not overpower your frame. First is by tucking the top into your bottoms and even adding a belt to create more emphasis. The second is by pairing a more fitted style of pants or skirt to balance the volume of the fabric.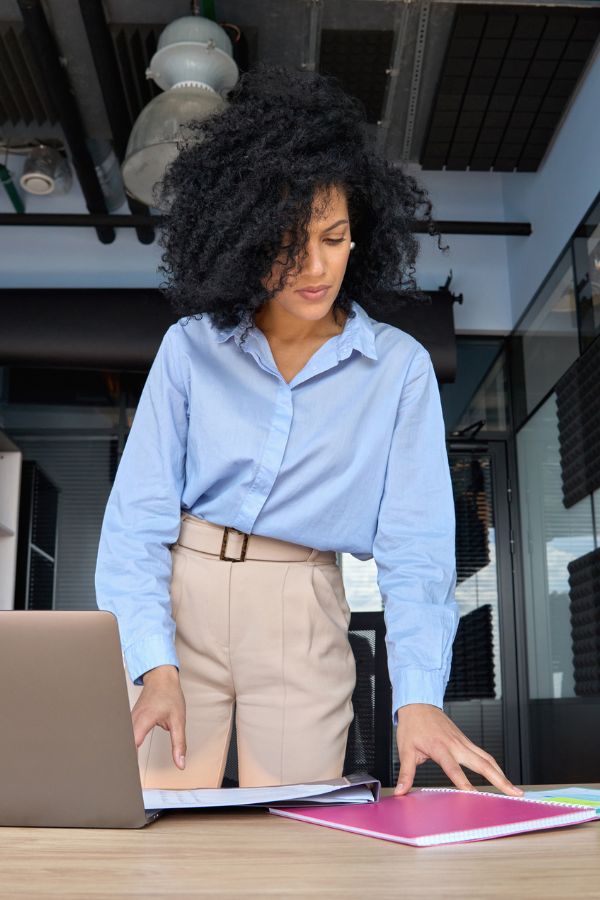 A small to medium top-handle or crossbody bag adds a bit of structure to your bottom half when wearing fitted trousers or skirts.
Loose and wide-leg trousers and jeans pair best with more fitted tops; as do fuller skirts. A small shoulder bag adds a little structure to a fitted top when wearing looser bottoms.
When to add a jacket or cardigan to separates
Consider a jacket or cardigan as part of your outfit rather than something to keep warm. If you need help with balance, a jacket or cardigan can add that extra requirement to your look.
How do you style a relaxed look without looking sloppy? Style a relaxed top and pair of pants by tucking the top into the pants (full tuck or a half/French tuck). Add a structured jacket or cardigan over top. The structure of the final layer helps to balance the volume of the unstructured separates. Belts also add structure if it goes with the style of your outfit.
How do you balance the volume of a tight top and a tight pair of jeans? Style jacket or cardigan over top. The hemline of the jacket or cardigan should hit at 1/3 or 2/3 down your body to create the perfect length and balance to tie your outfit together nicely. If you're forgoing the jacket, add a medium-to-large-sized bag such as a slouchy hobo or tote to create the interest of volume.
Related Post: What To Wear In October | New York City Edition
How to balance the volume of a dress or jumpsuit
In cases of a dress or jumpsuit, your top half is where the bodice covers and your bottom half is the rest. The same rules apply in terms of balancing the top with the bottom, but the length of the clothing determines how to balance. If there's an obvious line or band across the bodice, this separates the top half and lower half of your outfit.
A long or full-length dress or jumpsuit should be balanced by a waist belt, tie, or cinch to create that 2:3 ratio. However, if the bodice is fitted and the bottoms are loose, you may already have this balance.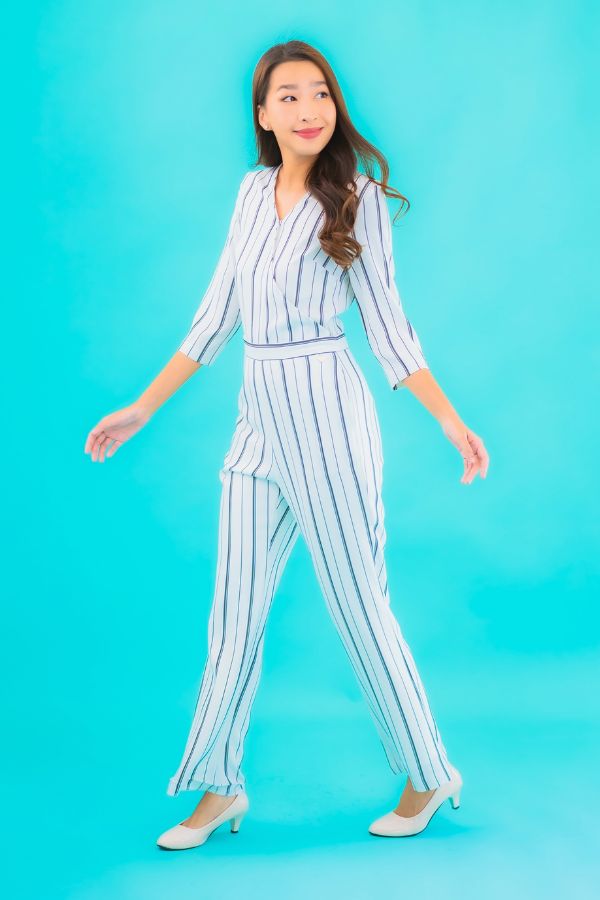 A midi-length dress or cropped jumpsuit should also consider the 2:3 ratio of where the clothing covers your body. If the top and bottom parts are closer to 50:50 in length, styling a shorter jacket or cardigan over the top that gives you more volume on top will help balance this look. Consider belting or cinching the waist if that creates additional balance, especially with looser pieces.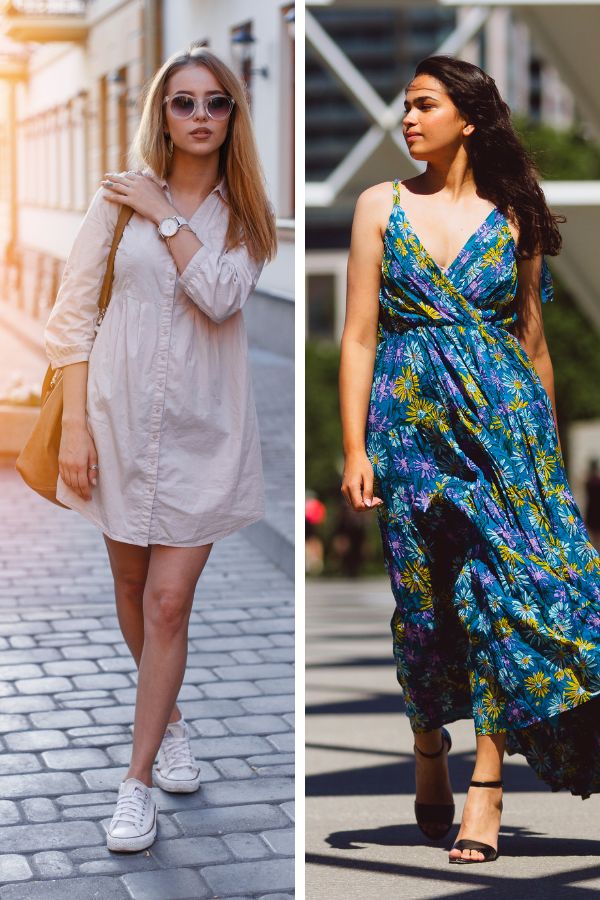 A short dress or romper should cover 2/3 of the length of your body. If it's closer to 1/2 the length of your body, extend the length of your bottom half with a heel or wedge. No need to belt mini dresses because there's already a balance of volume.
Related Post: What To Wear To A November Wedding
2. Use accessories to create length and volume for petite women
This is one of my favorite petite style tips because once you start doing it, you won't ever want to go back. Accessories play a big part in tying an outfit together. They can add length to your body, balance proportions, and add volume.
It's in the shoes
Create the illusion of longer legs by wearing a heel or wedge. Yes, that's the obvious tip all petite women are tired of hearing. But, it had to be said just in case there's anyone new here. And this is a fantastic tip if you can handle heels.
The other way to create length is by wearing the right shoe color. When you match the color of your shoes to your legs (or what is covering them), it extends the length of your bottom half.
For example, wear a pair of pumps or ballet flats that closely match your skin tone to extend bare legs. You may need nude, tan, or brown-colored shoes to do this. That's why it's a great idea to invest in a quality pair of pumps or flats so you always have a "magic leg extender" (yes I made that up on the spot) on hand!
Related Post: Wardrobe Timeless Essentials | 7 Chic Items You Need In Your Closet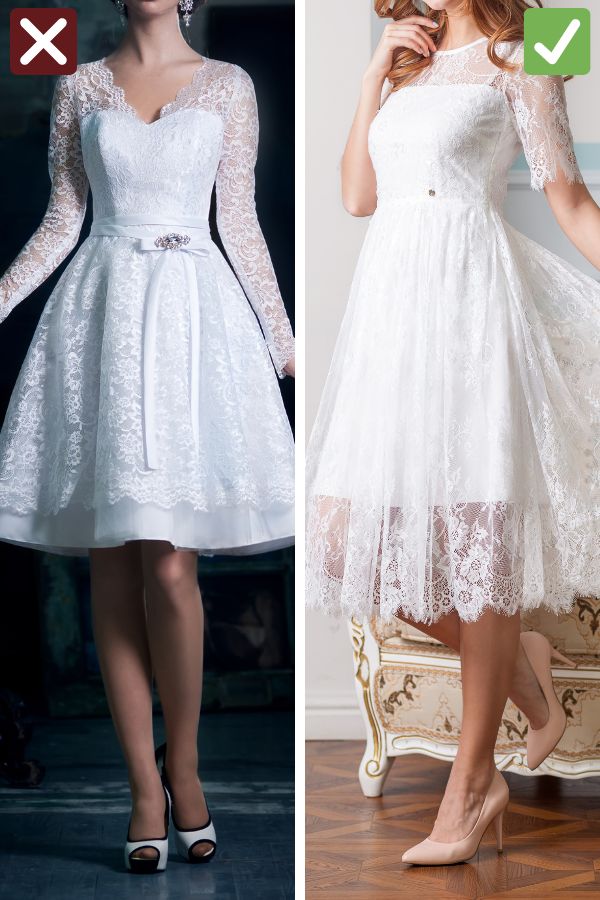 If you're wearing pants, a dress, or a skirt, choose a pair of boots that cover any skin in between. Opt for boots that are very similar to the color of your clothing. They don't have to be the exact same color. For example, a dark navy skirt will go with a pair of black boots.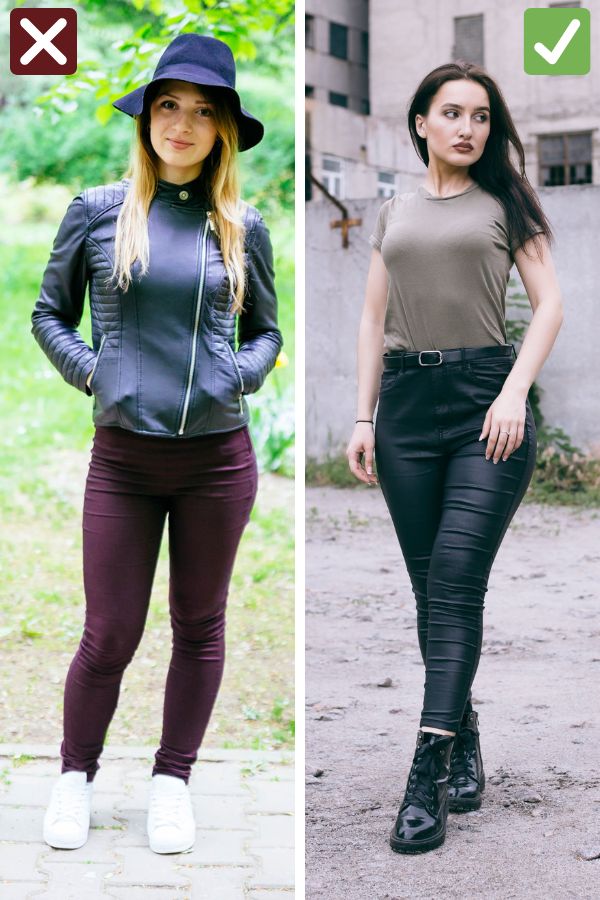 Be mindful of tall boots that are a separate color from your skin or clothing because they'll need to be included in balancing the volume of your outfit.
Stockings aren't just for warmth
Stockings are also a lifesaver in extending the length of your legs and creating outfit fluidity (no choppiness). Showing bare legs between a pair of cropped pants or a skirt can make you look shorter. Avoid this by wearing a knee-high stocking that blends into the color of the pant or the shoe to extend either part.
If that little black dress has you looking a bit choppy, style a pair of sheer black stockings underneath to create a long line down the body.
Related Post: What To Wear To A Funeral (And Still Look Stylish)
Accessorize wisely
Hats and bags can all add volume to your look. The goal is to add just enough to balance things out. Add one accessory at a time rather than throwing everything on and trying to figure it out.
To add volume up top, the following accessories can help:
Hobos and shoulder bags
Hats
Short, statement necklaces
Long necklaces to create vertical lines
Statement earrings
To add volume below, the following accessories can help:
Peplum embellishments
Crossbody bags
Top-handle bags you carry on your arm
Shoes
Stockings
Don't forget belts and waist cinchers help emphasize top vs. bottom.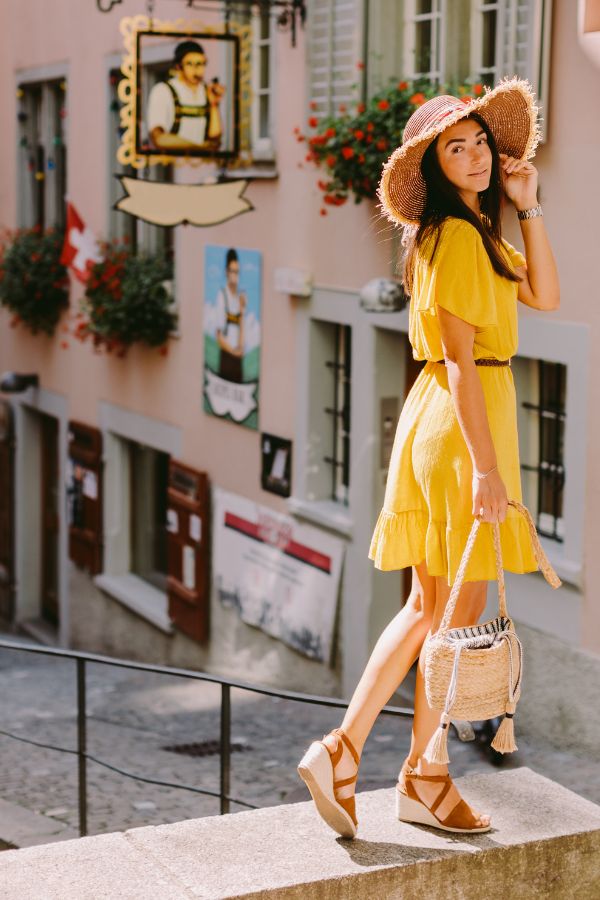 Structured accessories help to polish a more casual or looser-fitting garment while unstructured accessories dress down an outfit. Oversized accessories compliment a form-fitting ensemble, but pairing an oversized bag with a pair of boyfriend jeans and a loose collared shirt will overwhelm your frame.
Related Post: How To Look Stylish Everyday | Style Tips Every Woman Needs To Know
3. Petite Clothing Style Tips: Dress for Your Body Type
Learning how to dress for your body type is a tried and true method that's been around for some time now. With this approach, you determine your body shape based on measurements that correspond to shapes or fruits as such:
Round, oval, or apple: A rounded or oval body with no defined waist.
Rectangle, straight, celery, or banana: A straight body with a barely defined or undefined waist.
Hourglass or X: The bust and hips are similar in width and the waist is very defined.
Triangle or pear: The hips are the widest part of the body, with a smaller waist and bust.
Inverted triangle or carrot: The shoulders are the widest part of the body, with a smaller waist and hips.
The above definitions are very generic and your body shape might change over time. An important aspect of determining your body shape is understanding where you typically gain weight first. A thin woman might become a different body shape after gaining weight and vice-versa.
Related Post: What To Wear For Apple Shape Body (And What Not To Wear)
My recommendation is to measure the width of your shoulders, bust, waist, and hips. Determine the closest matching body type. If you're in between two shapes, don't worry (I'm in between two shapes myself). This method isn't the end-all, be-all. However, combined with the other techniques mentioned in this post (and across What Is She Wearing in general) you can learn to dress your unique body shape.
This is where dressing to create length, balance volume, and a 2:3 proportional ratio reigns supreme in petite style tips, regardless of shape and size.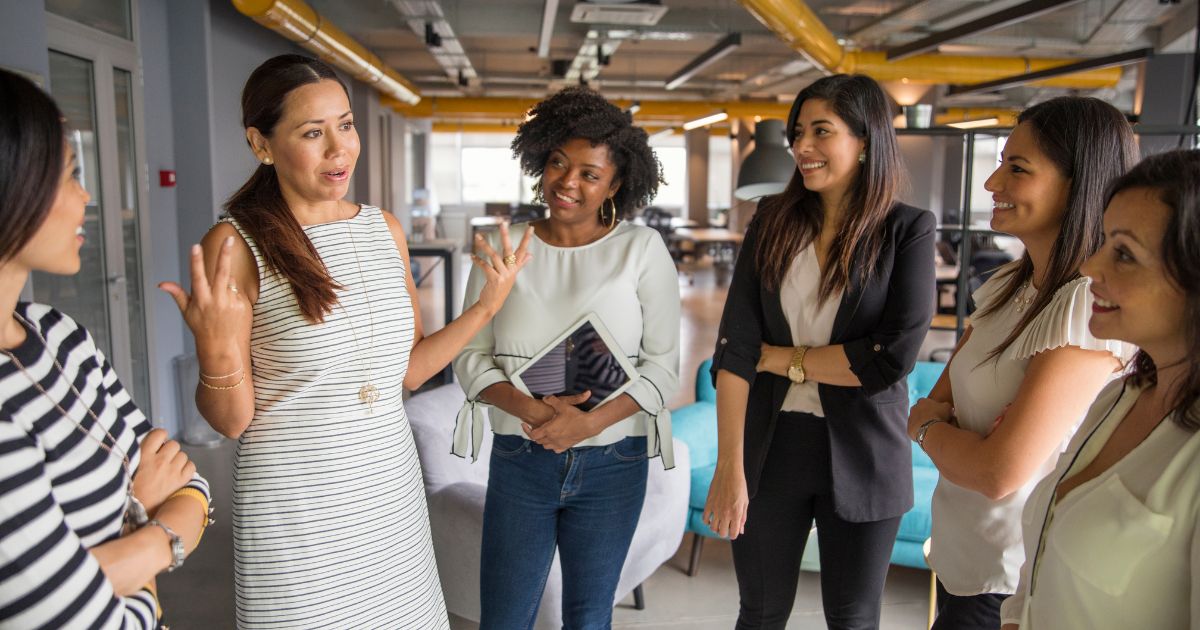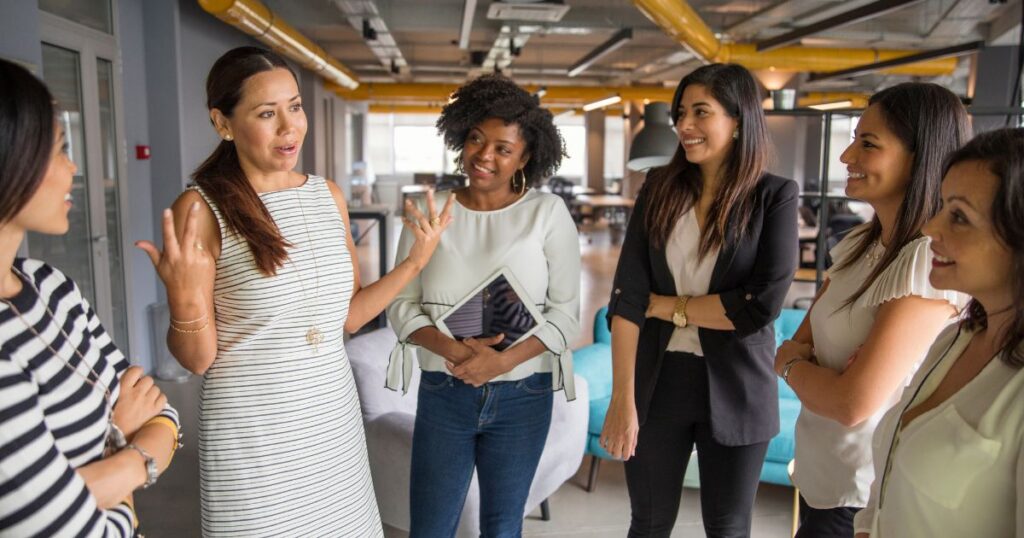 4. Proper garment length for petite fashion style
Clothing that's the appropriate length for your height is another proportions-based petite styling tip.
This is especially important in full-length pants, jeans, and skirts. Ideally, if you wear both heels and flats, you should have different pairs of pants to style with each shoe type. Hemlines should never drag on the floor, nor should your pants be at a length where the hem gets caught in the back of your shoe or boot.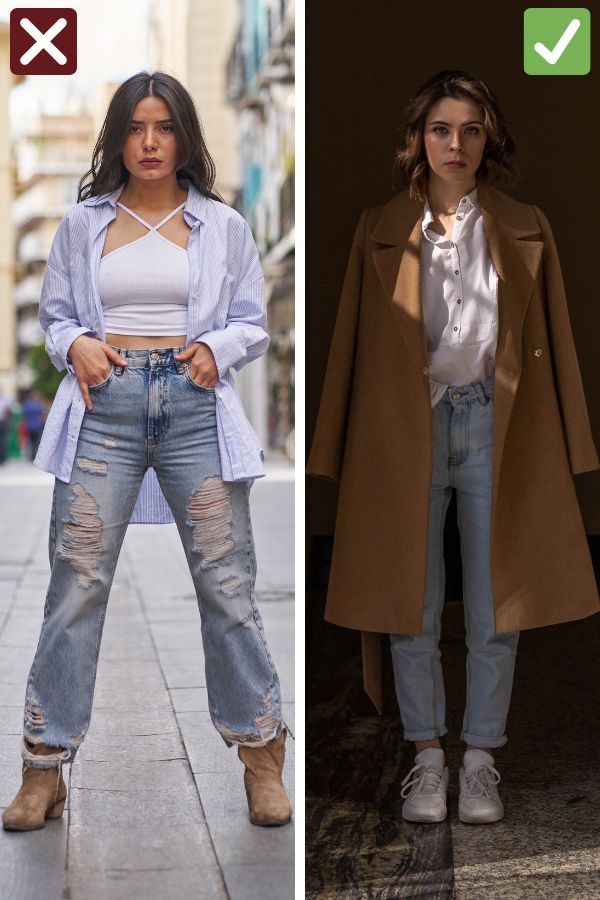 Quick guidelines for Pant hemlines
Loose bootcut, flare, or wide-leg: 1/2 inch above the ground with a heel; or covering part of the shoe, but off the ground with a flat
Tight bootcut and straight leg: Covers the ankle and the back of the heel; or covers the ankle and doesn't bunch on the shoe with a flat
Ankle-length: Hem hits at the inner ankle bone and doesn't bunch onto the foot or shoe
Cropped: Hem hits above the ankle and this should be custom based on your height and how you want to style them
Related Post: What To Wear To Work | 5 Workwear Trousers That Will Complete Your Office Wardrobe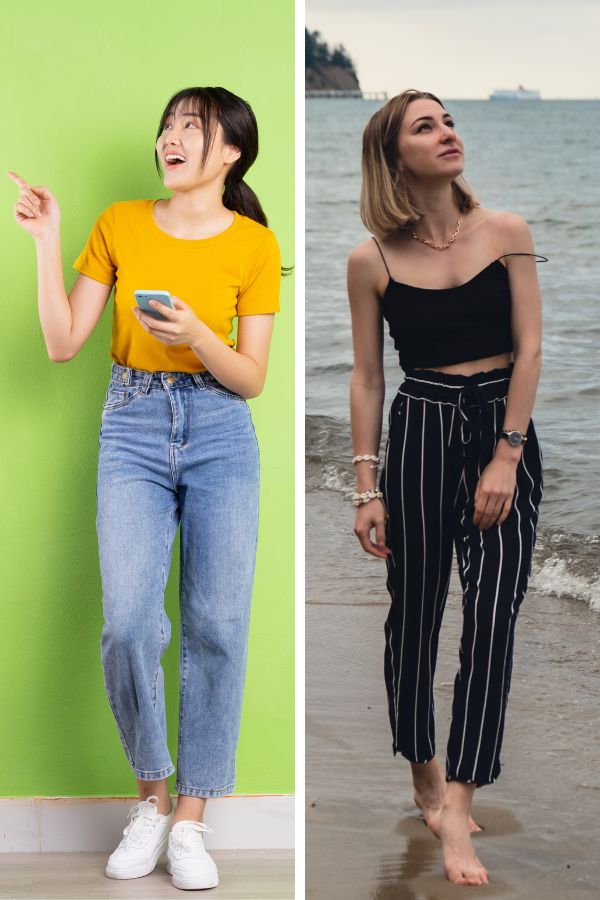 Consider the 2:3 or 3:5 ratio when working with garment length
As mentioned earlier, tops look best at 1/3 length or tucked into bottoms to balance proportions. Long tunics should be at 2/3 or 3/5 length with skinny pants, leggings, or baby bootcut pants to balance volume.
I've often read that petite women can't wear certain skirt lengths. A blanket statement like this is simply not true. Every woman's body is different and only through your own trial and error will you find the styles that look best and the ones to avoid. Learning to style by balancing proportions will give you the most options in what you can and can't pull off.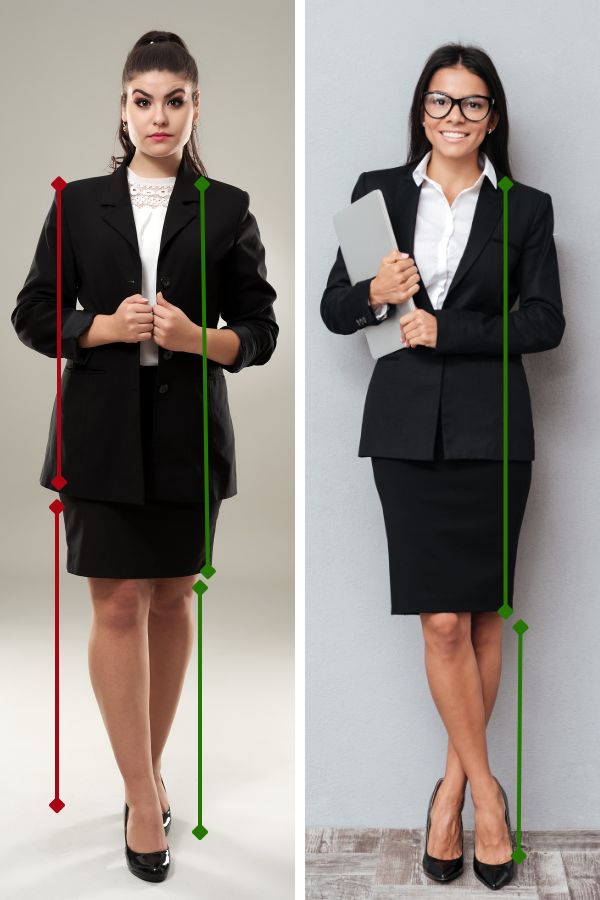 Style all garments using the 2:3 ratio where the garment on the bottom half covers 2/3, 3/5, or full body length. This hemline would be your skirts, pants, shorts, dresses, and jumpsuits. High-waisted bottoms help add additional length to your bottom half, which can be useful in styling knee to midi-length bottoms.
Cardigans, jackets, and coats look best at 1/3, 2/3, or 3/5 the length of your body. For an oversized or unstructured piece, opt for 1/3 or 2/3 max body length so you aren't swallowed up. Structured coats can go longer down the body as these create vertical lines (meaning length) but opt for more fitted styles when longer than 2/3.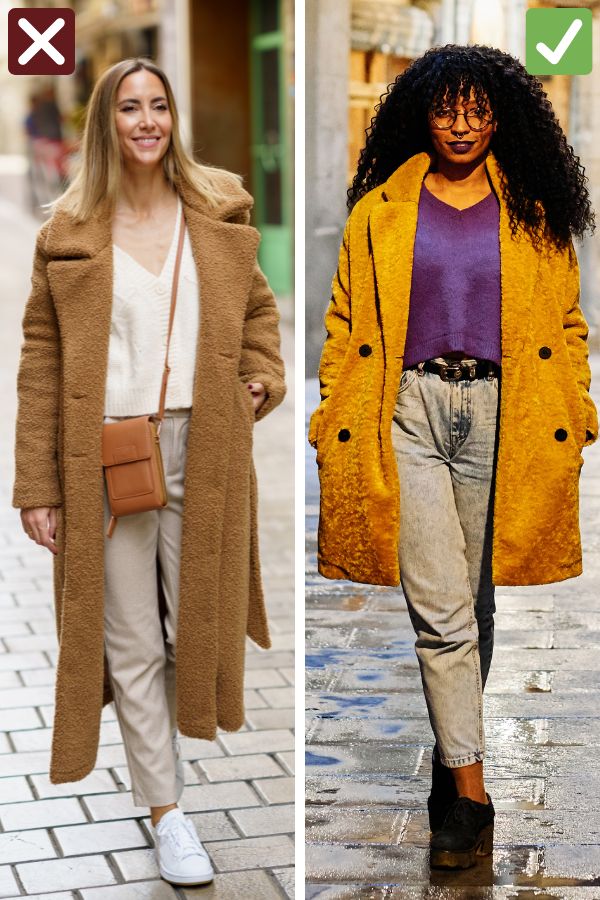 Long sleeves should end at your wrist, especially with blazers, jackets, and coats.
Every woman should have the number of a good tailor or alterations shop to have her clothing altered to the perfect hem. The wrong hem length can downgrade anyone's outfit. It sounds annoying to have to take every garment to be altered, but if you consider it a necessity, you'll upgrade your wardrobe in no time.
I had no issue taking everything I purchase to a tailor for the perfect fit once I began dressing more intentionally. I include tailoring in my budget for clothing, so it's never an unexpected cost.
Related Post: How To Buy Clothes You'll Actually Wear, Seriously
5. Create length with tonal dressing
I've mentioned tonal dressing on What Is She Wearing before and how it's a great way to elevate an outfit. For petite style tips, I recommend tonal dressing as a means of creating length or a vertical line down the body. This also creates a slimming effect, so it's a great petite plus size style tip too.
Tonal dressing is simply when you style your clothing in the same color, with potentially darker or lighter shades. A perfect example is a dark green blazer, with a dark green pair of trousers, and an emerald blouse underneath.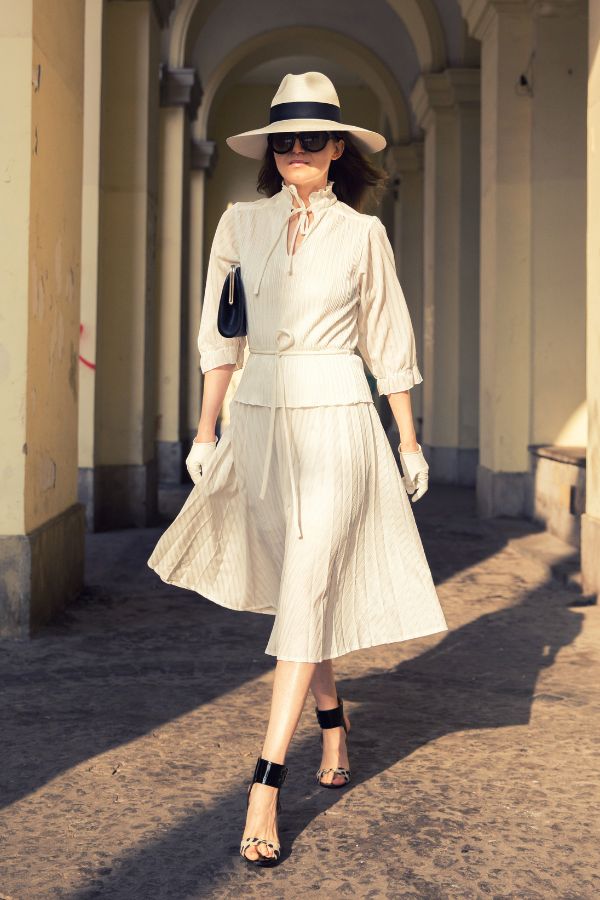 Tonal dressing is a great way to style with layers without looking overwhelmed because the colors complement each other. Include your shoes and you have the ultimate lengthening effect!
You can also play with proportions by styling in tonal light colors up top with a dark shade on the bottom (and vice-versa). Just ensure your 2:3 or 3:5 ratio is on-point, so you don't end up chopping your body in half (50:50 ratio).
What's your best trick for styling as a petite lady? Comment below!
This post was all about petite style tips
Related Posts: