Are you looking for the latest style trends for denim jeans? Be inspired by these stylish denim cuts and learn the best jeans for your body!
There's an impressive selection of different style trends in denim today. It's like the style gods finally came together and agreed that the world needs more than just skinny jeans.
With all the variety in stores, there's no need to "throw out" your skinny jeans and move on to the next fad if they look amazing on you. Rather, it's time to take advantage of all the different fashion trends and stock up on your favorites!
Read on to learn about the best denim style trends and what looks the most flattering on your body.
This post is all about style trends.
Best Style Trends For Jeans
1. Straight-Leg Jeans
Kicking this list off with the most classic cut of denim style trends are straight-leg jeans. These jeans are cut straight from the hip to the knee and from the knee to the ankle. This style of jeans is perfect for dressing up or down because it isn't too relaxed or tight; a perfect choice for a smart casual dress code. If you love '90s style trends, you'll enjoy all the different varieties of straight-leg jeans.
A medium blue wash without whisking and embellishments will ensure your denim transcends all styles and trends.
Straight-leg jeans create length for an hourglass shape and add balance to a triangle body shape, in a mid to high-rise. Because there is no flare or tapering in the leg, straight-leg jeans are perfect for creating the illusion of longer legs, which look great on circle/oval and petite body frames. However, if you choose to go with a cropped style of straight-leg jeans, make sure the jeans cover 2/3 or 3/5 of your body (complementing the Rule Of Thirds), otherwise they can make you look shorter. More on the Rule of Thirds in the article below.
Related Post: 5 Petite Style Tips You Might Be Missing Out On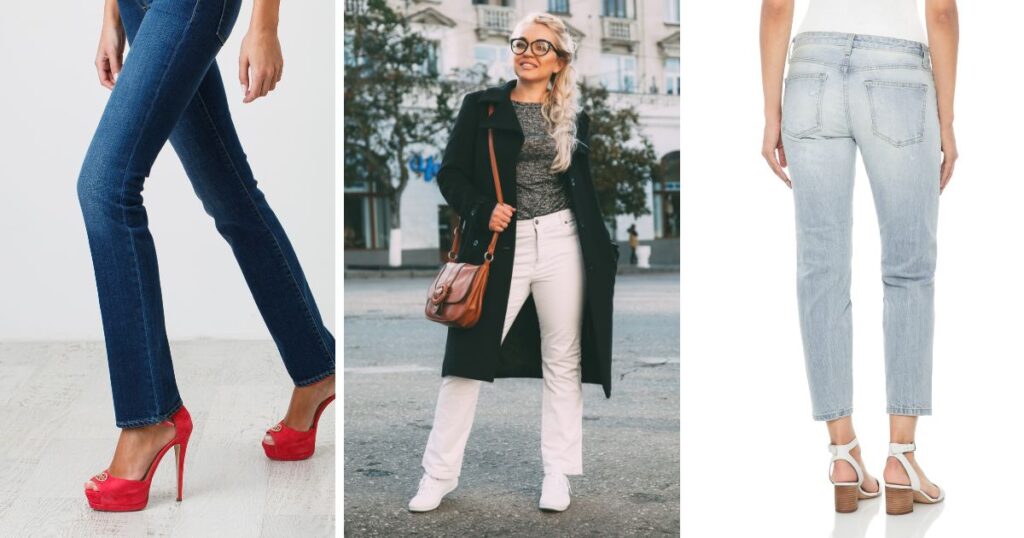 SHOP THE Style:
2. Bootcut Jeans
Bootcut jeans are the most versatile of all style trends for denim. These jeans are cut straight from the hip to the knee and are slightly flared from the knee to the ankle. The cut is just enough to fall nicely over a pair of boots, versus bunching up as longer straight-leg jeans might. This is the epitome of fall style trends that will continue for years to come.
Related Post: What To Wear To Work | 5 Workwear Trousers That Will Complete Your Office Wardrobe
Bootcut jeans are similar to straight-leg jeans in that they add length to your legs and also balance the lower body, perfect for circle/oval body shapes. However, because of their slight flare, they flatter all body types. Choose a mid to high rise to emphasize a tiny waist. Try a mid-rise to add the perfect amount of volume to the hips of an inverted triangle. Rectangles and athletic types can rock low-rise bootcut styles. Stretch denim is best for a curvy triangle or hourglass. Pair with a heel or wedge to add even more length to a petite frame.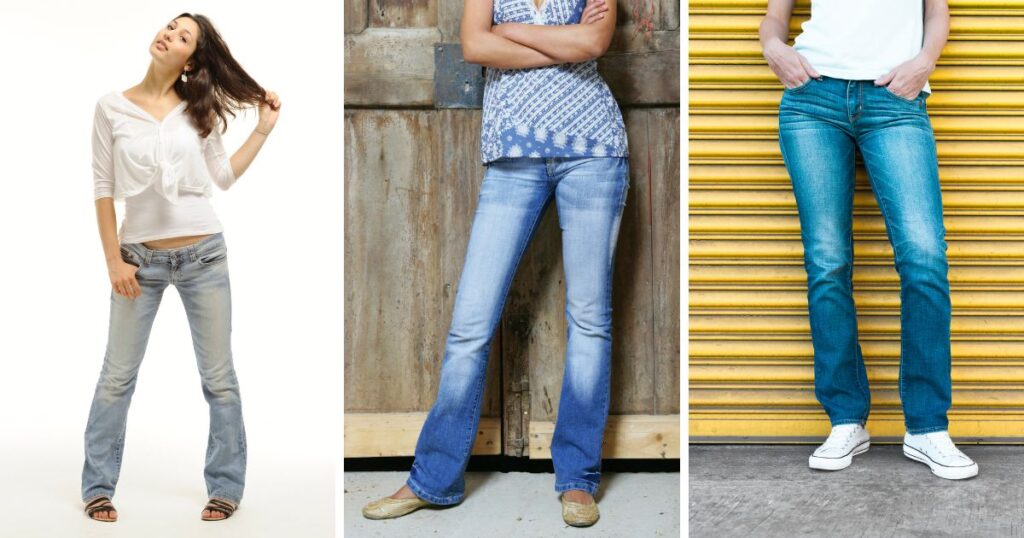 SHOP THE Style:
3. Flare & Bell-Bottom Jeans
Flares are straight-cut or slim-cut from the hip to the knee and flare out from the knee down. Flare style trends range from baby flares all the way to super dramatic, such as bell bottoms that move when you walk. Interestingly, the history of flare jeans dates many decades before the swinging 1960s. As a child of the late '90s and early '00s, I wore many flares and had several beloved pairs of "super bells" or extreme bell bottom jeans. Does anyone remember that store in the mall, "Screeam"? That was the place for the latest fashion trends for flares and baggy jeans at the time.
Related Post: What To Wear With Bell Bottom Jeans
Flares help add curves to body shapes that are straighter and taller such as rectangles and athletic types. A long flare in dark wash denim with a pointed heel sticking out is both elegant and sensual. If you're petite or have an oval or circle body shape, go with a baby flare and pair it with a heeled shoe. Triangle/pear and hourglass shapes can rock a fun pair of flares or bell bottoms in stretch denim.
Pro-Tip: Many flare jeans run extra long these days for the purpose of the consumer altering to their preferred length (to go with flats or heels). Expect and budget for alterations after initial purchases.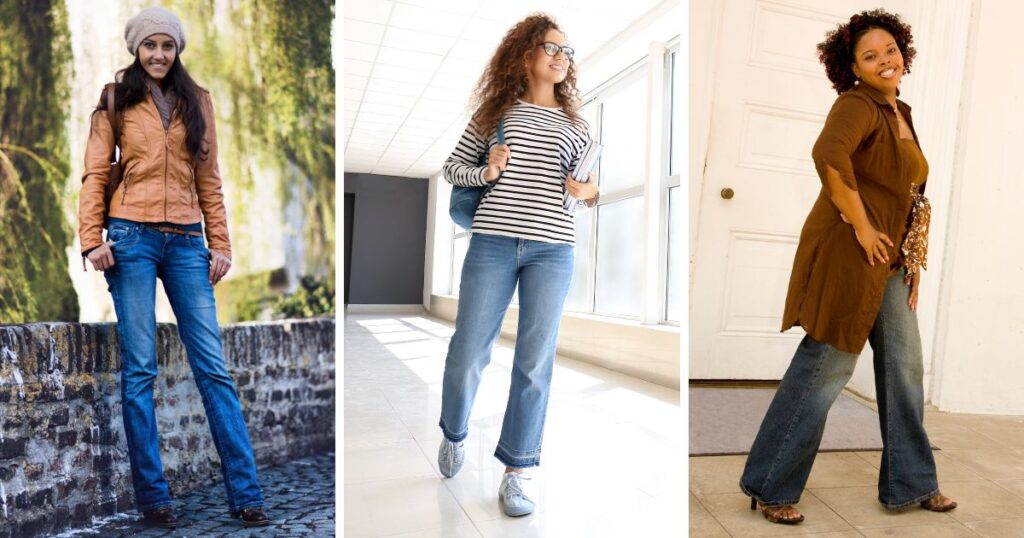 SHOP THE Style:
4. Skinny & Slim Jeans
Skinny jeans or cigarette jeans are slim-cut denim from the hips downward. These jeans are form-fitting, some more than others. For a long while, skinny jeans were about all you could find in stores, which made getting dressed (and undressed!) quite difficult for those of us with a high in-step. Many people these days are tossing them for the latest fashion trends. However, skinny jeans are the only denim that fits into tall boots, so are they truly outdated fashion trends or just a reliable wardrobe staple when you need 'em?
Related Post: 12 Fall Wardrobe Essentials You Need This Season
Skinny jeans hug curves, so they're very flattering on hourglass and triangle body shapes, in mid to high rise, and in dark colors to not overemphasize the hips. Oval/circle body shapes should opt for mid-rise skinny jeans with a straighter cut from knee to ankle (not skin-tight to the ankle). Rectangle and inverted triangle body frames should opt for mid to low-rise skinny cuts.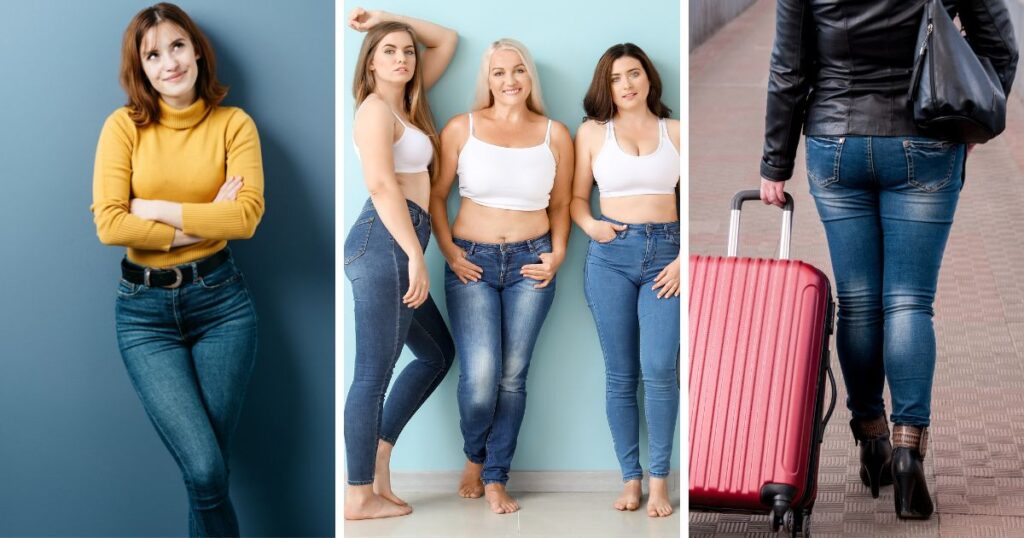 SHOP THE Style:
5. Wide-Leg Jeans
Wide-leg jeans are one of my favorite fashion trends for women. This style is wide-cut from the hips down in either a straight or slightly flared leg. If you were a youth in the late 1990s you're familiar with 'the wider, the better' wide-leg jeans. I don't ever want to go back to middle school, but the crazy style trends during that time made it bearable. Today, wide-leg jeans have evolved to more sophisticated styles including trousers, and the other way to super baggy cargos.
Related Post: Fashion Trends Fall 2023 | Best Styles To Wear Right Now
Wide-leg jeans can flatter every body type. Petite women can rock a high-waisted pair in a moderately wide cut that's not overwhelming on their frame or dragging on the floor. Pear and hourglass shapes should look for jeans that are fitted in the waist and hips. Rectangle and athletic body shapes can wear cropped or full-length styles in a wide or wide-flare cut. Inverted triangles can opt for a wider waistband with a straight-leg cut. Oval and circle shapes can wear a full-length wide leg-pant to elongate the body.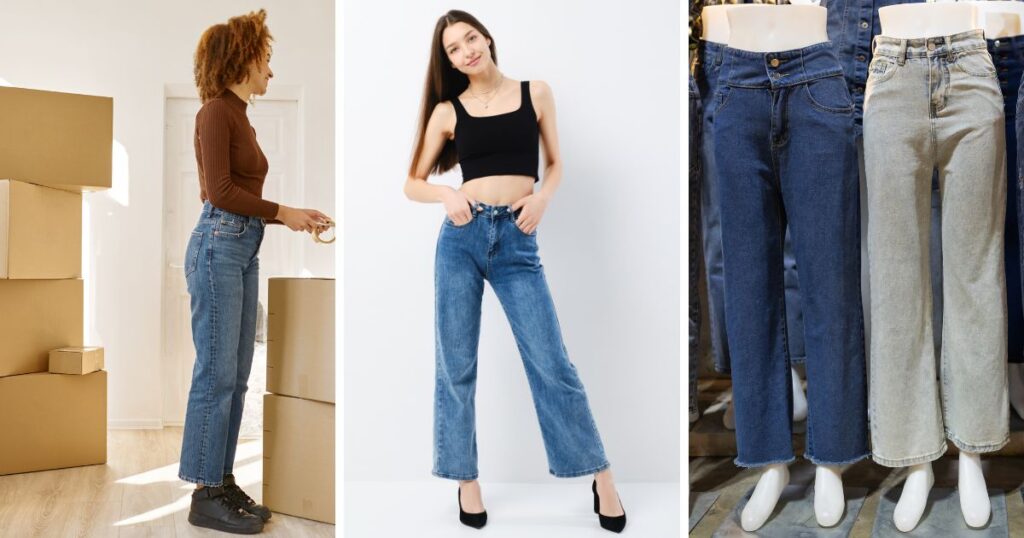 SHOP THE Style:
6. Boyfriend Jeans
Boyfriend jeans have a relaxed fit around the hips and thighs and are a great everyday style. These jeans come in both slim-leg and wider-leg styles. If you're looking for the most comfortable of denim style trends, boyfriend jeans may be exactly what you need.
The slouchy aesthetic of boyfriend jeans helps add shape to your bottom half, so they look great on a rectangle, athletic, inverted triangle, or circle/oval body shape. Rectangle and athletic shapes should stick to mid to low-rise options, while inverted triangles, circles, and ovals should opt for mid-rise styles. Petite frames should go for heels or wedges, while taller frames can opt for flats and cropped lengths.
Related Post: Most Flattering Styles For Rectangle Body Shape
I've never tried this style of jeans because I usually prefer dressier styles. But now with so many ways to dress up a pair of denim, the hunt is on for the perfect pair and I assure you I'll be rocking some boyfriend jeans soon enough!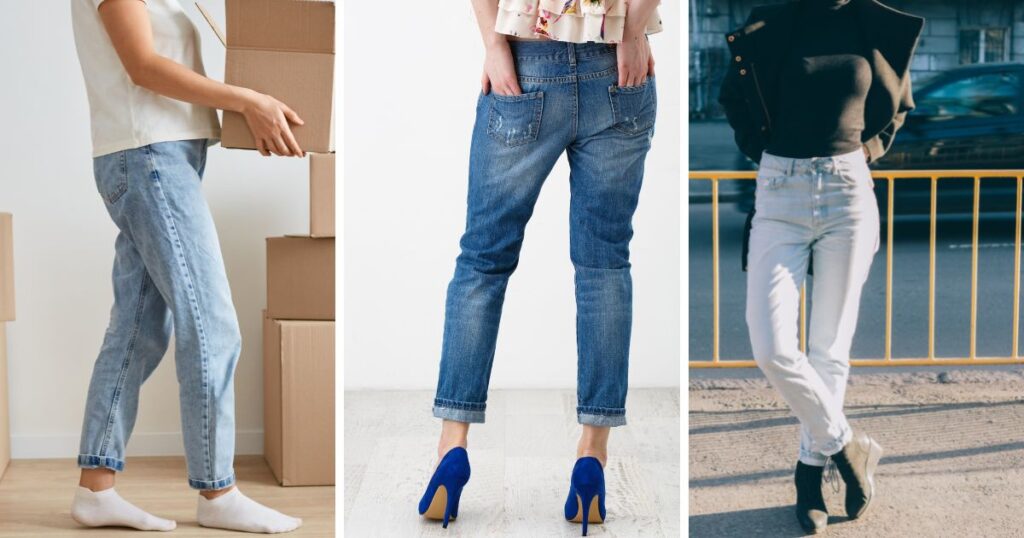 SHOP THE Style:
7. Mom Jeans
Rounding out the list of the best denim style trends is the mom jean. Mom jeans also have a relaxed fit in the hips and thighs, but the waist is tapered. Apparently, the term "mom jeans" was coined after a Saturday Night Live sketch, but the style has been around for decades. These are one of the most comfortable jeans for curvy ladies.
Related Post: How To Dress Hourglass Shape: Master Style Guide
The tapered waist of mom jeans helps to emphasize the smaller waist of an hourglass or triangle body shape. Opt for stretch denim to keep the waist from gaping after extended wear. Mom jeans also work for a slim rectangle or an inverted triangle body shape if you add a tight waist belt.
SHOP THE Style:
8. Barrel Leg Jeans
Barrel-leg jeans are one of the newest style trends for denim in the past few years. A cross between straight-leg and wide-leg jeans that taper at the bottom hem, giving a barrel-like silhouette to the legs. This style of jeans is flattering for curvy women, especially with hips, but also helps add volume to the bottom half of rectangle and inverted triangle ladies. A cinched waist is definitely the most flattering, so add a belt, or get yours altered for the perfect fit.
Related Post: I'm Loving These Styles For Pear Shaped Body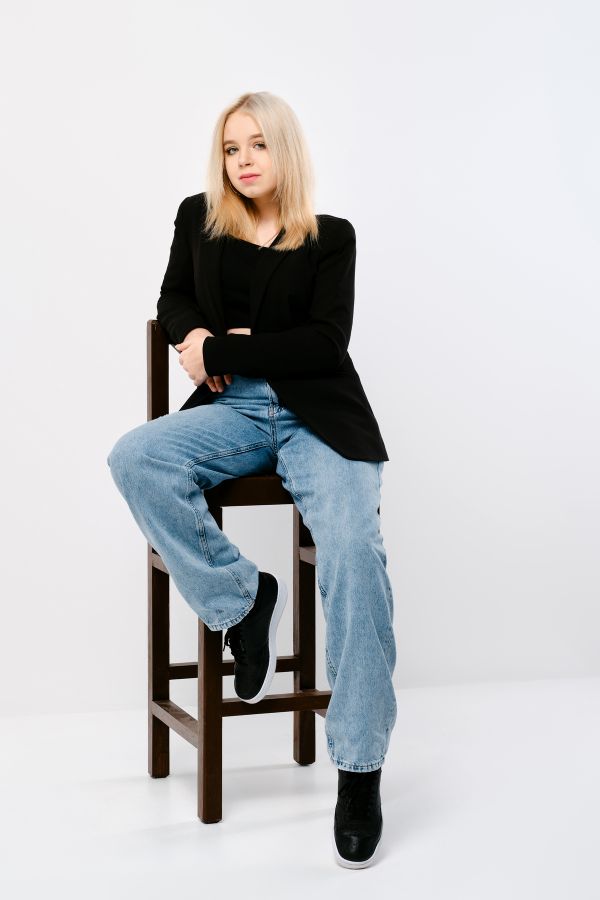 SHOP THE Style:
What 2023 style trends for denim are you wearing on the daily (or most excited to try)?
This post was all about style trends
Related Posts: