Do you want the scoop on the latest style trends for 2023? Get the lowdown on the best runway looks and how to wear them today.
The latest style trends for 2023 had the fashion runways packed with new and familiar looks. Designers continue to add a futuristic appeal to the growing nostalgia of the 80s, 90s, and 00s trends. Soft femininity also made an appearance on the runways amidst the hard, masculine trends of recent.
However, with all of these contrasting trends, it's easy to get lost in what to wear.
I've rounded up the latest fashion trends to show you everything you need to know to incorporate them into your style; whether you're just dipping your toe in the pool or ready to dive in.
This post is all about the latest style trends 2023.
Best Style Trends 2023
1. Polka Dots
While the runways were lined with patterns of all different colors and sizes, the polka dot is a very classic pattern that never truly goes out of style. Whether you think of polka dots as a cutesy child print or a retro-feminine pattern, they have a very interesting history and quite a redemptive one in my opinion. Polk dot prints came about during the polka dance craze in the 1840s and 1850s. Since then, everyone from Minnie Mouse to the royal family has rocked this infamous pattern and there's always a way to make it fresh.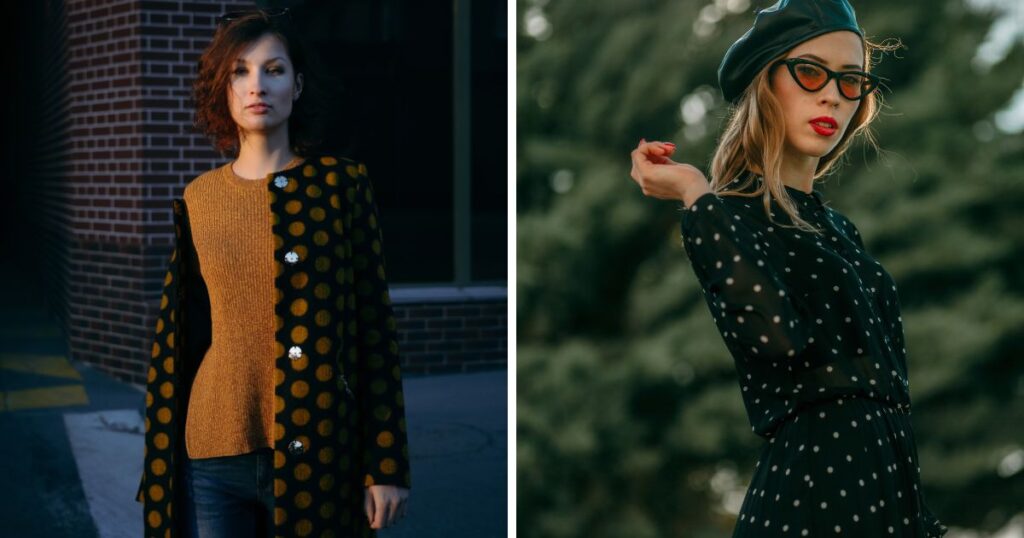 Best Ideas To Wear Polka Dots Style Trends In 2023:
Bold: Contrasting prints on tops, pants, or bathing suits
Classic: Black and white patterned dresses or silk blouses
Feminine: White or ivory polka dots on a muted blue or pink background
Eclectic: Sunglasses, ballet flats, or tights
Glam: 1950s style dresses
Simple: Rock a polka dot scarf, scrunchie, or headband
My favorite finds for polka dot style trends for 2023:
Try the sexy Polka Dot Midi Dress from Line & Dot for your next wedding invite or date night! Style your favorite white t-shirt or tank with these cute Polka Dot Wide-Leg Trousers from Boutique Moschino or the Polka Dot Palazzo Pants from ASOS Design (budget dupe!). The whimsical Embroidered Polka Dot Top by Current Air in sky blue would look so cute tucked into a pair of ivory denim jeans! Every lady needs a chic umbrella and the Kate Spade New York Polka Dot Umbrella will make sure you dodge the rain in style!
2. Style Trends For 2023: BalletCore
Carried over from the prior year, balletcore is here to stay. We're not talking tutus, leotards, or pink tights, either (although I wouldn't be mad if you went there). These are sophisticated pieces with a dancer aesthetic that can either go soft or hard. The term balletcore makes me laugh. Actually, all the new "core" words do, but this one's my favorite because I've always integrated "danceresque" styles into my wardrobe.
I owned an incredible pair of black wrap-around ballet flats several years ago and miss them, dearly. I think it's time to purchase a new pair.
Related Post: 11 Wardrobe Staples Every Woman Needs In Her Closet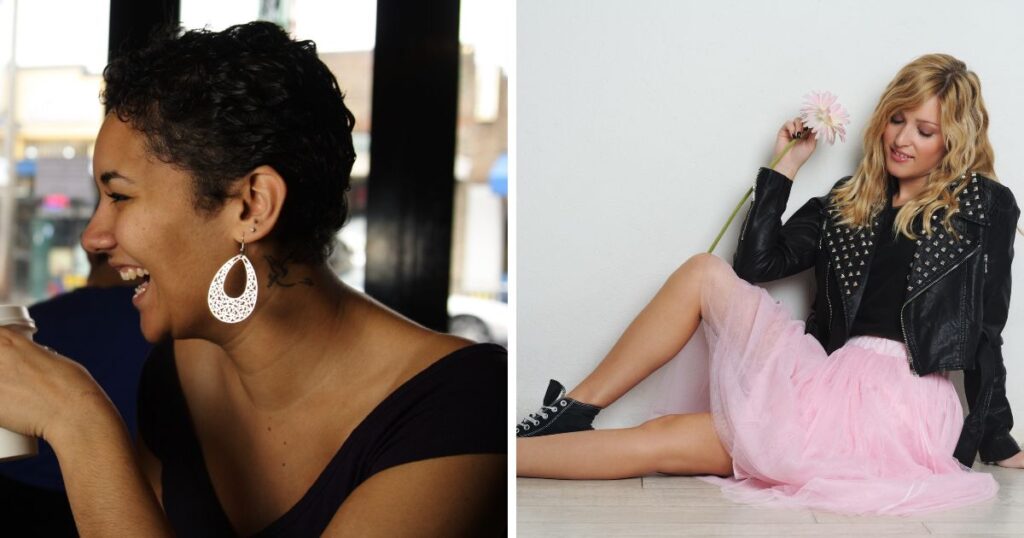 Best Ideas To Wear Balletcore Style Trends For 2023:
Bold: Wear a satin corset top under a blazer or a corset waistbelt over a collared shirtdress
Classic: Pair cropped trousers or jeans with ballet flats that wrap around the ankle
Feminine: Try a silk wrap skirt with a fitted sweater
Eclectic: Pair a moto jacket with a tulle skirt and boots
Glam: Try a bodycon boatneck midi dress or bodysuit to showcase your shoulders
Simple: Put your hair in a sleek bun, add a barrette
My favorite finds for balletcore style trends for 2023:
I love this modern Parisian take on a ballet flat by Chiko, in patent leather with strappy buckles and a slingback, making it the perfect spring and summer shoe! The fitted Winona Off-Shoulder Top by Sophie Rue is great for a casual date night, tucked into a pair of trousers, a maxi skirt, or jeans! The Pocketed Tulle Maxi Skirt by Lia Aram is sure to be a showstopper, dressed up or down. The Urban Kissed Warren Long Sleeve Top has a boatneck in front and a surprise v-neck with eyelet detailing in the back, super cute. The perfect top to dress up a pair of jeans! Style your hair in a modern bun, or half-up/half-down style with this sleek Hair Barrette from Balmain.
3. Beyond Boho: Fringe And Tassels
Many of us will shy away from the ongoing fringe and tassels affair, but before you skip ahead, I have some ideas worth reading. You don't have to go boho to rock this trend. My favorite way to do trends is to do them subtly because they can be worn long after the trend phase is over.
Related Post: What To Wear To A Concert | Best Concert Outfits For Every Season
Best Ideas To Wear Fringe And Tassel Style Trends For 2023:
Bold: Leather or suede moto jacket with fringe details, or a beaded tassel belt
Classic: Teed skirt set with fringe details
Feminine: Silk scarf with mini tassels or a Pashmina
Eclectic: Fringe ankle boots or earrings
Glam: Metallic-hued fringe party dress (a nod to the 1920s)
Simple: Leather tassel keychain or detail on a leather bag
My favorite finds for fringe and tassel style trends for 2023:
The Audrey Non-Leather Tote Bag from Labante London is sure to become a timeless classic in your wardrobe! You'll be sure to get compliments with the Running Wild Pouch Bag from Never Fully Dressed, reminiscent of the gilded age. This statement bag will never go out of style and it will look so chic with the stunning Strapless Fringe LBD from Micas! Ramy Brook's Fayette Fringe Mini Dress is the boho-chic coverup of dreams! You could even style it with a cropped cami and a pair of bootcut jeans. OMG, and the Kate Spade Bora Bora Slide Sandals are everything you want in a vacation shoe!
4. Sheer And Lace
Dive into romanticism with clothing in sheer fabrics or with lace. If you have a satin spaghetti strap tank with lace detailing collecting dust in your closet, it's time to pull it out. You don't need to wait for a special occasion or night out to wear these pieces. Dress them down with denim and leather jackets or go full-on with a lace dress. I love how you can go either soft or hard with so many of these trends depending on your mood and style.
Related Post: Style Types Fashion | What's Your Style Personality?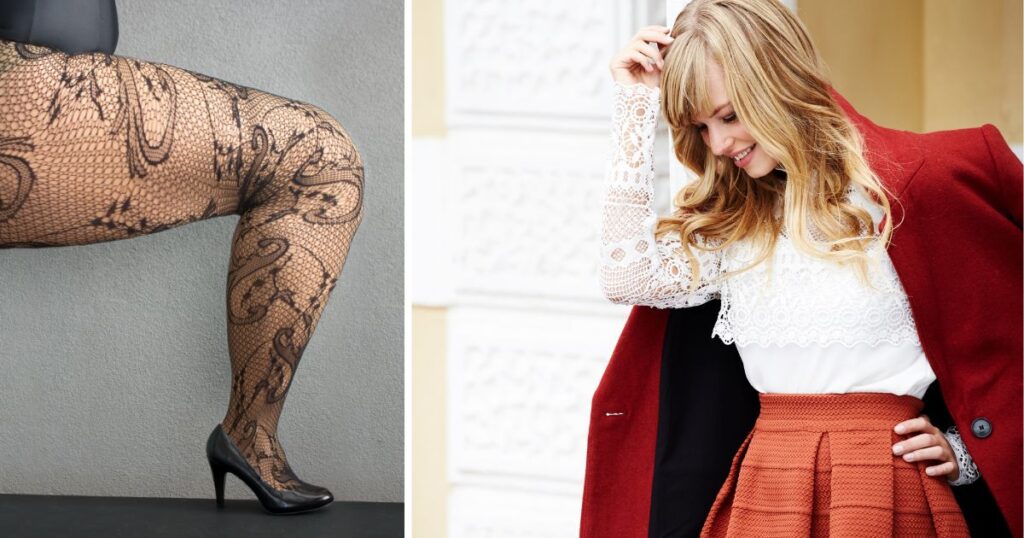 Best Ideas To Wear Sheer And Lace Style Trends For 2023:
Bold: Combine a lace peplum top with slim satin trousers or leather pants, and lace-up boots
Classic: Pair satin spaghetti strap tank with lacey details under a tailored blazer
Feminine: Wear a floral shirtdress with sheer sleeves or paneling
Eclectic: Match a black lace button-down shirt with a pleated knee-length skirt, and add a chunky waist belt
Glam: Go all out in a vintage lace maxi dress with heels
Simple: Adorn a workwear rib-knit turtleneck and pencil skirt with a pair of lace tights and knee-high boots
My favorite finds for sheer and lace style trends for 2023:
The Badgley Mischka Elegant Floral Sheer Lace Tights are just as beautiful as their shoes! Black tights are a must during fall/winter. The Lace V Neck Bodysuit from Karen Millen is perfectly elegant and fun for an evening out, and super cute with jeans. The Pleats Plisse Midi Dress from Issey Miyake is minimalist elegant, and a modest option if you don't want to go full sheer. The Flowy Swing Chiffon Maxi Skirt by Xaolizi is made-to-measure and is the most beautifully-flowing garment ever (I own it, so I know!). Classic ladies will love the Lily Silk Stunning Lace Silk Blouse with Removable Bow.
5. Feminine Flair: Ruffles, Bows, And Rosettes
Designers blew this trend out of the water with life-size ruffles, bows, and rosettes. This trend is beautiful and works well with evening gowns and party dresses. However, taking this style to that extreme with everyday clothing could create a lot of "one-hit wonder" pieces in your closet.
Downplay this trend by focusing on smaller details that add a touch of feminine appeal to your outfits, or balance them out with an edgy belt, jacket, leather pants, or pair of boots.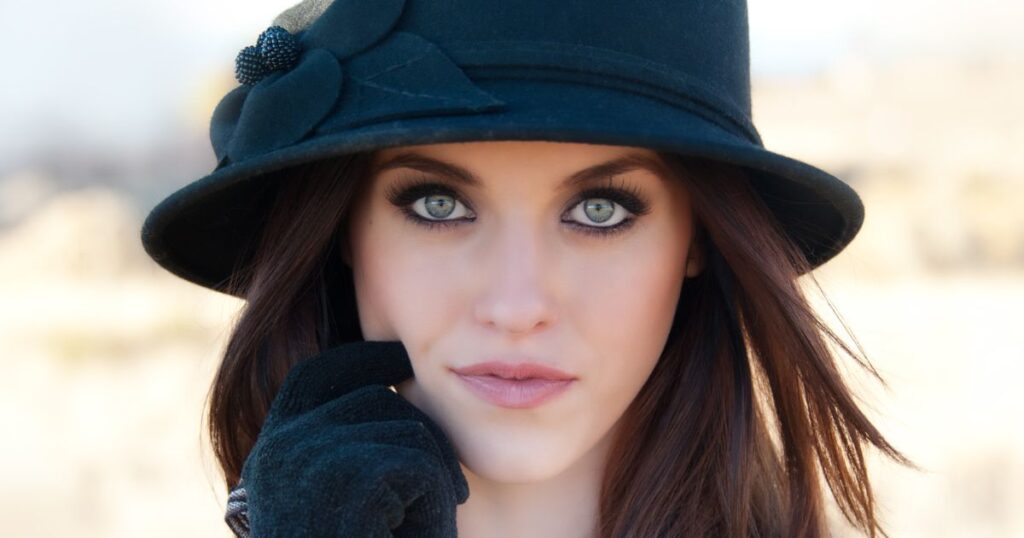 Best Ideas To Wear Feminine Flair Style Trends For 2023:
Bold: Pumps or heeled sandals with bow detail (statement piece!)
Classic: Pair a silk tie-neck blouse with a pair of ivory trousers and loafers
Feminine: Match a ruffle neck, long-sleeve georgette blouse with an A-line skirt and heels
Eclectic: Rock a cloche hat with a rosette detail or a bow tie with a white oxford shirt
Glam: Wear a sleeveless halter gown with a rosette detail at the neck
Simple: Tie your hair in a low ponytail and add a silk bow
The perfect finds for feminine flair style trends 2023:
The Racine Maxi dress by Marcella is so stylish with a ruffled hem and bow tie straps…and it comes in Barbie pink (or black) to dress up or down. Style your maxi dress to an event with the Silk Bow Clutch from Ellen Vintage. And it's like Chiko's Hadiya Pointy Toe Flats were made to go with that maxi dress; either way, they're so cute! Talk about Victorian-chic workwear with Banana Republic's Harper Ruffle Shirt. BERLOOK's Floral Cutout One Piece Swimsuit is delicate and flirty, with multiple patterns and styles to choose from…and it's made from recycled materials!
What style trends in 2023 can you absolutely not live without? Comment below!
This Post Was All About Style Trends 2023
Related Posts: