Do you want to learn how to shop for clothes like a professional buyer? This complete guide will teach you how!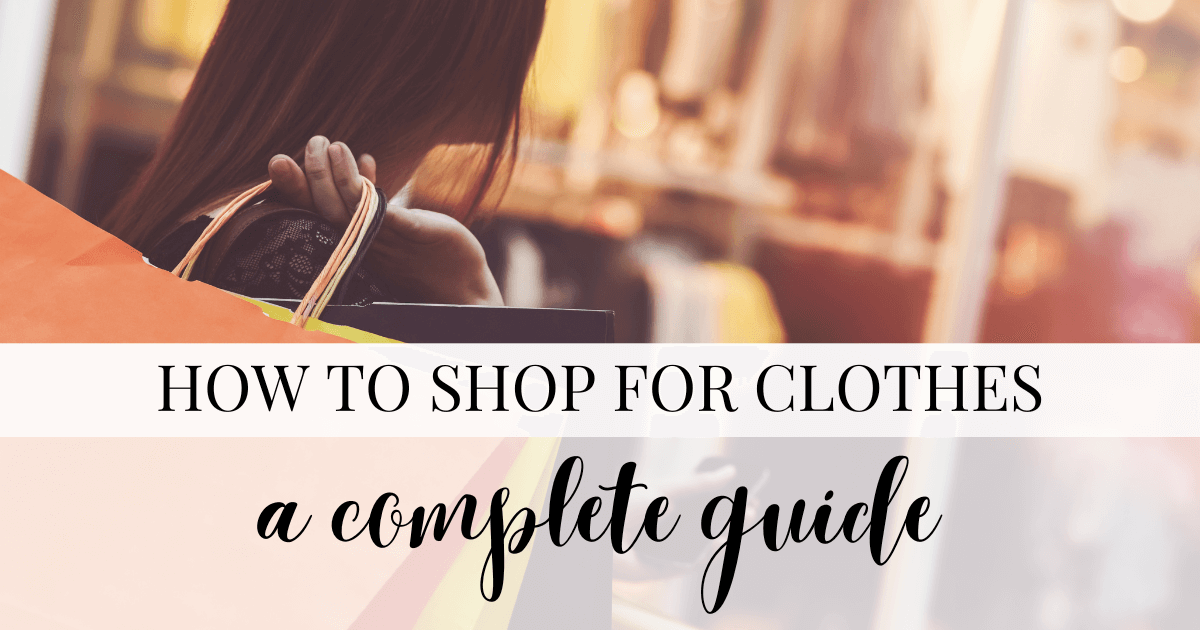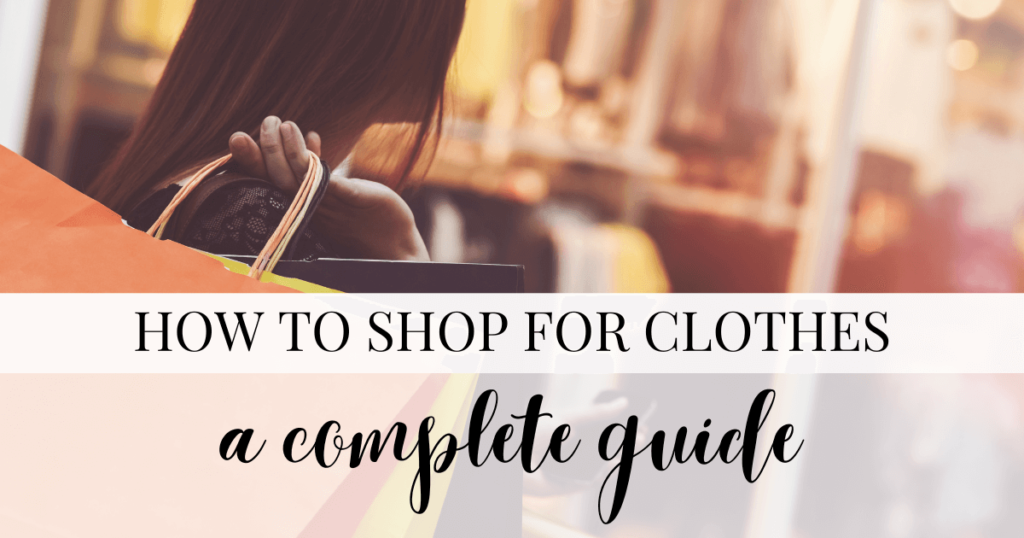 No longer finding what you want in stores when you shop for clothes? Have one too many bad purchases got you down? Do you have a closet full of clothes, but nothing to wear?
I had the same problems not too long ago, but rest easy, sister. I've got the solution for you.
You'll learn the best strategies I use to shop for clothes online or in retail stores. Discover how to shop for clothes you'll actually wear that fit and complement your body.
Not only will your wallet thank you, but so will your soul each day you pick out an outfit from a wardrobe you love!
This post is all about how to shop for clothes.
Best Tips For How to Shop For Clothes
1. Know Your Measurements When You Shop For Clothes Online
Knowing your measurements is extremely important when you shop for clothes. Being a savvy shopper is all about preparation before you begin shopping. The more prepared you are when you enter a store or online shop, the more equipped you are to make the right decisions about a purchase.
If you know you're measurements, you'll be able to compare them with any sizing information given about a particular garment or with the model wearing the garment.
You should know your measurements for the following, at a minimum:
Bust
Waist
Lower Hip
Inseam
Foot (or shoe size)
Head (circumference for hats)
Height
Weight
If you're getting custom-made clothing made from an online shop, you should know your full measurements. This post contains the full list of measurements you'll need and how to measure them.
If you're shopping for a hat, this is the most extensive hat sizing guide I've ever read.
Also, measure for your proper shoe size here.
You can perform most standard measurements on yourself, but if you have access to a tailor, seamstress, or trusted friend, ask them for assistance.
If measuring yourself alone, measure the same area three separate times for accuracy.
Record all measurements on your phone for easy access when you shop for clothes. Record all measurements in both inches and centimeters. I personally measure myself in inches and then convert them to centimeters using an online search engine.
Lastly, it's also helpful to note your standard sizes down as a frame of reference when shopping:
Top Size
Pants Size
Jeans Size
Dress Size
Coat Size
Bra Size
Putting in a small amount of time and effort to get your measurements will save you from headaches down the road.
Related Post: I'm Loving These Styles For Pear Shaped Body
My top recommendation for at-home measuring tape:
2. Research All Product Details Before Purchasing
Researching the details about an item you want to purchase is incredibly smart. This is your hard-earned money being spent, so it pays to be an educated consumer. Thankfully, more online stores are making this information accessible these days.
Here are the following details you should review before purchasing an item:
Images Of The Item
Online stores can vary with the quality and quantity of images that showcase an item. The most helpful are images of the item being worn by a model, however, these can be deceiving in many ways, which most of us have experienced, unfortunately.
The bottom line is if the images shown don't give you a good feeling about the item or cause uncertainty, don't purchase it.
Brand Of The clothing
Knowing the brand of clothing will help you determine the expected quality tier (budget, high street, premium, or luxury) and whether the cost is appropriate. Knowing the reputation of the brand or your previous experience with that brand will also give you insight into whether to shop for clothes on your budget.
It's also valuable to know a brand's size chart because it may differ from the generic size chart listed on the online store. Use a search engine to find the brand's specific size chart or go to their direct website. Some brands run smaller or larger than the standard sizes and you might not fit into any of their clothing.
Measurements Of The Item
Review the measurements of the item in the size(s) you take and compare them with your own measurements. Note the size of the models wearing the item, especially if they're similar in size to you. Some online stores are providing a greater range of body types when it comes to models, but many limitations still exist, unfortunately.
If the brand's size chart is not available, review the store's size chart instead. Also, note any size recommendations that may be listed in the item details (e.g. This item runs small. We recommend taking one size up.).
Fabric AND Care
The fabric of the item can help you determine the item's quality. Items made of 100% natural materials will look more expensive than items made of synthetic materials. Items made of a blend of natural and synthetic fibers will fall in the middle, depending on their ratio of natural to synthetic materials. You might not want to spend $150 on a maxi cardigan that's %100 polyester (especially if you're shopping for warmth).
The garment care will tell you how much maintenance is needed to own the item. Splurging on a higher quality pair of trousers might mean you need to invest time and money at the dry cleaners. A pair of suede boots can only be worn when it's dry outside, so if your winter season is wet, the purchase might not be the best idea.
Related Post: Fashion Hacks Clothes | 11 Tips To Keep Your Clothes Looking New
Engage The Community
Engaging the community is all about learning what others have to say about the product. Read the reviews section to see what others have experienced. Reviews can also give greater (and sometimes more accurate) insight into sizing. Read the answered questions section on the item's page for additional information.
Lastly, type the brand and name of the item into a search engine and see if the item is being sold elsewhere. Go to those sites and read the item details, reviews, and sizing information. You might even find a lower price point for that item.
Return AND Exchange Policy
The return and exchange policy details are often forgotten about until they need to be utilized, which is usually too late. Making a purchase assumes you've read and agreed to these policies. Make sure to review and understand them before buying anything.
3. Speak To Retail Professionals About The Product
Engaging a retail professional about a product is the best way to answer any questions you have. If the information you need to shop for clothes is not readily available, it's worth it to take the extra step and ask someone for help.
Brick-and-mortar stores always have a retail clerk waiting to help you with your shopping. Utilize this person for more than securing a fitting room. They may be able to find additional sizes, colors, and styles, and even show you a better item than the original one. The retail professional may already own the product and can give you an honest review of it. Many retail professionals work on commission, so both people can benefit from this interaction.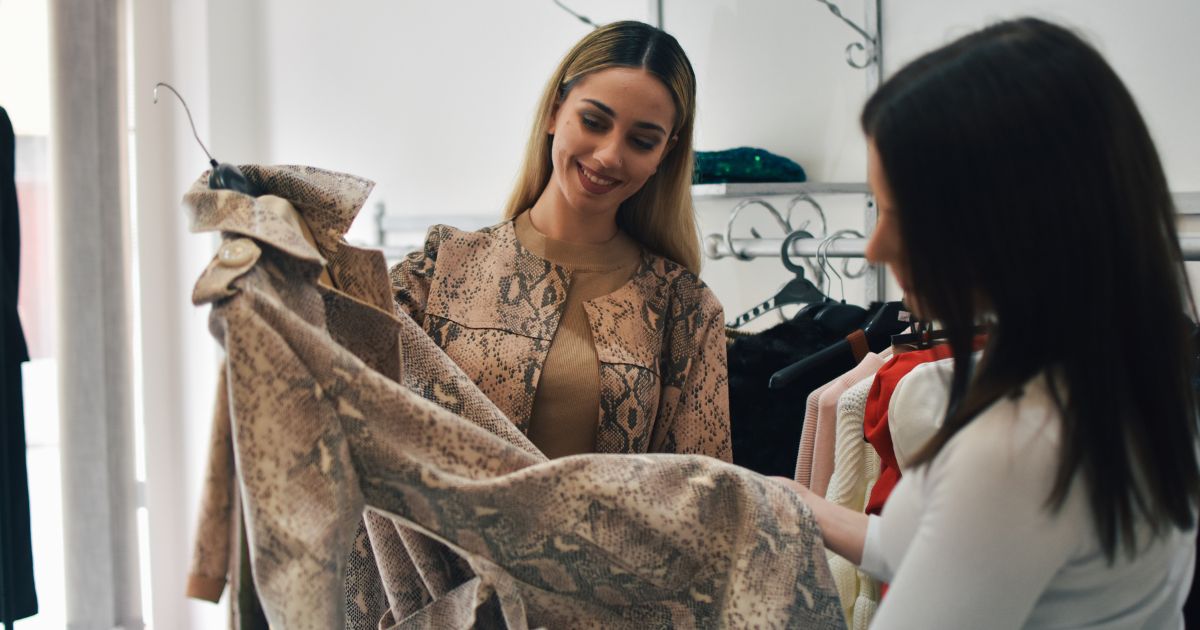 Online stores have multiple ways of engaging their retail professionals. Submit a question through the product details or social media channels that will post for the entire community. A more direct approach is to reach out via email or direct message.
Related Post: Where To Shop For Clothes | Best Online Clothing For Women
Remember, no question is stupid or unimportant. This may mean you have to wait on the answer before deciding to purchase, but purchases should never be done in haste, anyway.
4. If You Don't Love It, Don't Buy It
How many times have you regretted purchasing an item of clothing you were unsure about?
For me, it's more than I'd like to admit. It can be tricky to determine whether you love the item or simply the idea of the item, but the key to this is like starting a new relationship with someone. You identify any red flags.
Red flags for clothing may go something like this:
It's not perfect, but it'll do
It will fit after I lose/gain weight
I'm not sure it's the right color
I don't know if I have anything to go with this
It's not really my style
It's kind of uncomfortable
I'm not sure how warm this is going to be
Does this hang weirdly?
This is a little tight/loose
Oh, this is the fabric that makes me sweat
I'll figure out how to make it work
When any of these red flags come up while you're shopping, it's your conscience telling you how you really feel about the item (AKA you don't love it). If you avoid these red flags and purchase, you're buying an item that's not really meant for you and it won't get the wear or love it deserves in your closet.
Related Post: Wardrobe Planning: A Beginner's Guide To Your Dream Closet
If you still feel great after researching the product details, trying on the item, and getting your questions answered, then this might be a good purchase for you.
5. Avoid Impulse Purchases When Items Are on Sale
This last point is critical when you shop for clothes on a budget (or any time for that matter). We all "know" impulse buys are not wise; however, let's dig into this a little more.
A Moment In The Life Of An Impulse Purchase
Here's a story many of us can relate to:
You're just going your merry way in a store or browsing online and BAM! There it is. An AMAZINGLY beautiful dress for an INCREDIBLY low price. Actually, the price is so good you can't believe it's real.
But, it is real. And the sale ends tonight.
So, you need to buy this item right now and it makes sense because it's so on sale. I mean, you'd be stupid not to get this dress right now. This deal is never going to come around again. And you need this dress, it's perfect and you're going to look so good in it!
But, oh! You're supposed to be shopping for workwear. And this isn't workwear. Not in the least bit. Nor do you have additional money to spend on this. And you really need to replace those socks with the holes in them.
Ugh, and you have your friend's birthday dinner next weekend, so you need money for that. And you have to pay for parking downtown. Hmmm.
But wait, oh right! This dress will be perfect for the birthday dinner! Oh my gosh, YES! And now you won't have to figure out what to wear. This is the dress of your dreams, after all. You deserve it. Okay, perfect. You're getting it.
So, you go ahead and buy the dress.
And just like that, you've become a victim of the impulsive retail monster. Sure, it's fun at the moment, but you still have to purchase the items you really needed and you've already blown your budget.
This behavior often becomes a cycle and it's the reason why you have trouble saving or getting out of debt.
Let's Go A Little Deeper With This story
The reasons for impulse buying are purely psychological.
If you reread the story you'll notice the buyer experienced wavering highs and lows during their internal conversation, known as doublemindedness. Instability was setting in, which goes against my top beginner's tip to only shop for clothes when you're in a good mood.
The voice of reason spoke up for a few, short sentences reminding the buyer of her purpose for shopping. Then, the buyer was quickly reminded of her friend's birthday dinner, which led to her validating the "false need" for a new dress.
The buyer didn't need a new dress. In fact, the underlying issue was that she didn't know what to wear to the birthday dinner (most likely because she has a closet full of clothes she doesn't actually like). Maybe she bought them on impulse, too? Just a thought.
Related Post: Wardrobe Timeless Essentials | 7 Chic Items You Need In Your Closet
Overcome Impulse Buying By Sticking To Your Purpose
Knowing your purpose for shopping will enable you to prevent impulse buys when you're triggered. You literally have to learn to say "no" to yourself and redirect your focus elsewhere, even if it means taking a break from shopping. Doing this will retrain your brain.
This is the exact strategy I use to stop impulse buying. It works wonderfully because it teaches you self-awareness. You would not believe some of the crazy reasons my mind would use to justify a purchase. I still use this method whenever I'm triggered to impulse buy while shopping.
It's mind over matter when you shop for clothes. I highly recommend this post to learn how to train your brain to control your shopping impulses: How to Shop for Clothes Online – A Beginner's Guide
What's an impulse purchase you made and regretted? Comment below.
This Post Was All About How To Shop For Clothes
Related Posts: