Focusing on wardrobe timeless essentials this year? Here's the perfect starter list to begin building a timeless wardrobe!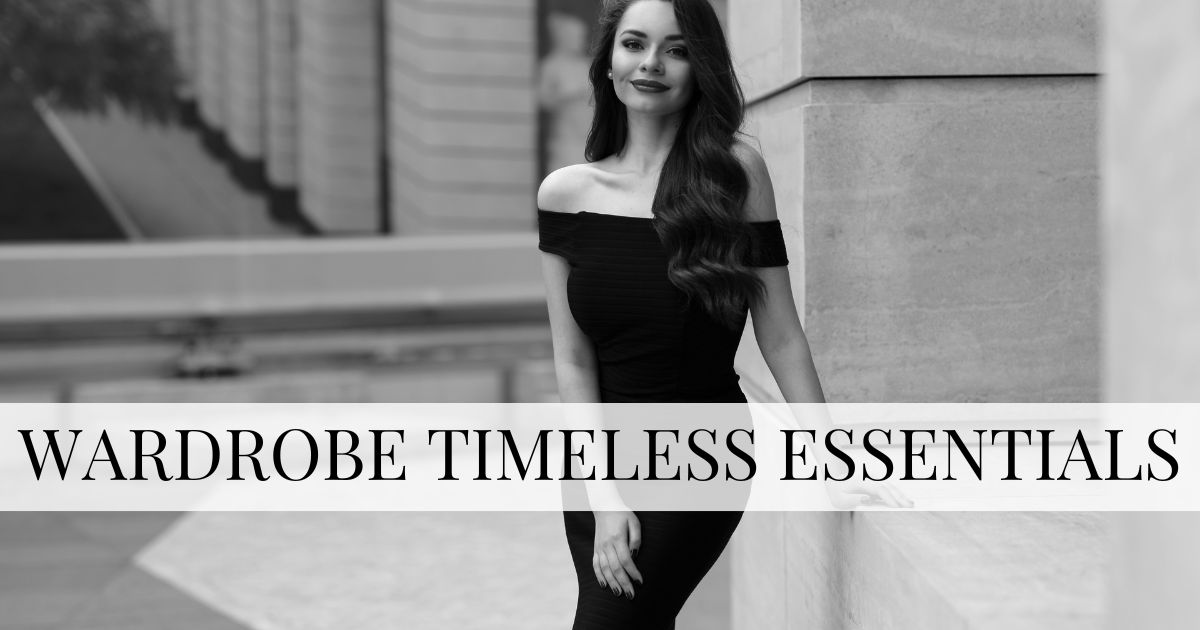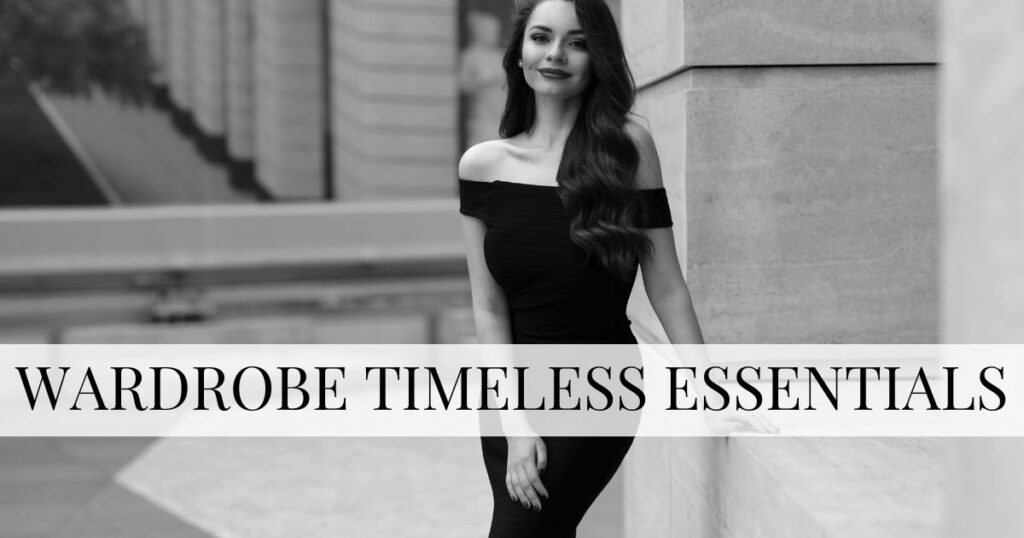 Creating a closet full of wardrobe timeless essentials is not a one-stop shopping exercise. It takes dedicated time and research to determine the perfect investment pieces you'll be glad to own and wear for life.
Thankfully, half of your work is already done! This starter list of timeless wardrobe essentials is precisely what you need to identify your favorite key pieces to invest in this year.
This post is all about wardrobe timeless essentials.
Best Wardrobe Timeless Essentials
1. Silk Blouse
A silk blouse is one of those wardrobe timeless essentials you can always count on for a well-put-together look. You can style it with trousers for a business casual office, tuck it into a skirt for an upscale dinner, or pair it with jeans to elevate a casual outfit.
Silk is one of the most luxurious materials, so you'll never look cheap. While you can spend several hundred dollars on a silk blouse, you don't have to. There are many reputable brands offering affordable silk blouses, so this is definitely a budget-friendly investment piece.
Related Post: 10 Elegant Style Tips To Look More Sophisticated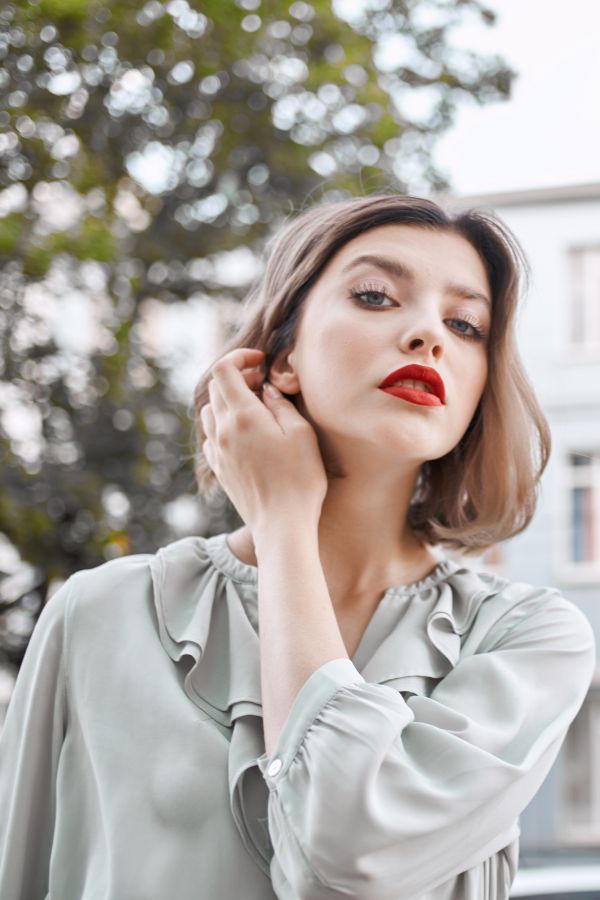 Opt for a solid-color or classic-patterned blouse for the most versatility. Choose a color that matches the rest of your wardrobe and if you know your best color, a silk blouse is definitely the way to showcase that.
SHOP THE Style:
2. Minimalist LBD
The little black dress always makes the list of wardrobe timeless essentials, but specifically a minimalist LBD.
Why minimalist?
'Minimalist' in this context means a great-fitting dress without too many frills (or trends) to keep the timeless factor. This way the dress will always go with whatever shoes, accessories, jewelry, and outerwear you have in your wardrobe.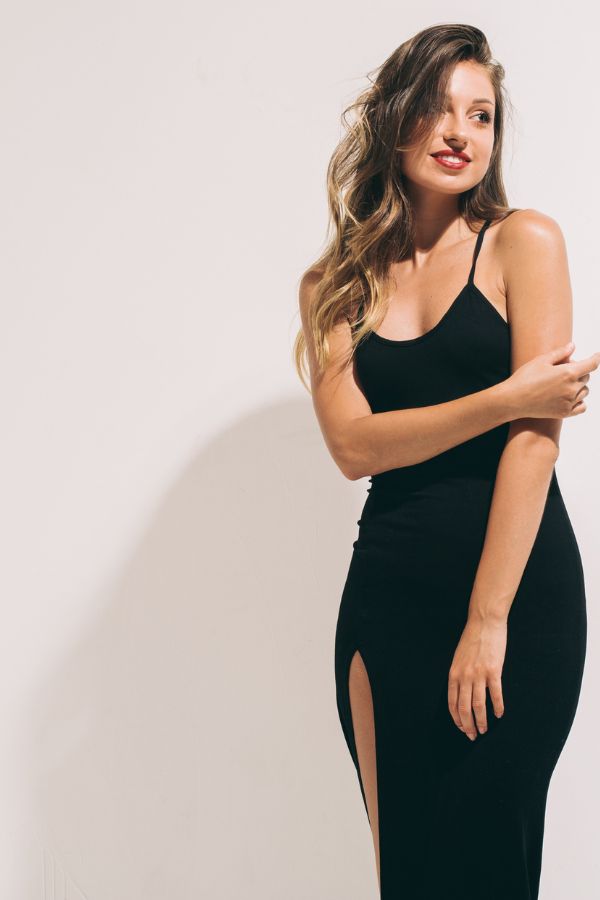 SHOP THE Style:
Opt for the following timeless styles for your LBD:
A-Line
Try the low-key-glam Crawford Dress from Marcella or the luxe Tia Silk Dress from Heidi Merrick.
Fit And Flare
I like the flattering Luxe Stretch Button Detail Dress from White House Black Market. Banana Republic's Rabia Ponte Midi Dress is of the moment but still classic enough to wear every warm-weather season.
Wrap-Style
The Surplice Georgette Midi Dress from Lauren by Ralph Lauren is a sophisticated take on the style with a point collar and barrel sleeves. The Elsie Short Sleeve Midi Wrap Dress from Naked Cashmere is soft and sexy. Lastly, we can't forget Kiyonna's Essential Wrap Dress that comes in plus sizes and is sure to be worn on repeat!
Shift
The Sleeveless Charlie Dress from Tuckernuck is as sophisticated as it is comfortable. The Dream Shift Dress by Everlane is as minimal as it comes and I'm here for it.
Sheath
Theory's Fitted Sleeveless Sheath Dress is impeccably tailored and the perfect investment for your capsule wardrobe. J. Crew's Sleeveless Sheath Dress in drapey crepe is perfect for work or play.
Choose your style based on how good it looks on your body shape. For example, avoid shift dresses if the fabric always gets caught on your booty (when the fabric should be shifting here and there). Due to the minimalist factor, ensure the dress fits perfectly. Invest in a tailor or seamstress to alter the dress to your dimensions.
Related Post: 7 Amazing Plus Size Style Tips To Look Your Best
3. Pencil Skirt
A well-fitting pencil skirt is definitely the epitome of classy. A long-standing workwear staple, the pencil skirt has gained more popularity outside the office in recent years. Paired with a knit top, a chunky sweater, or a classic button-down, you'll always look elegant in this wardrobe timeless essentials item.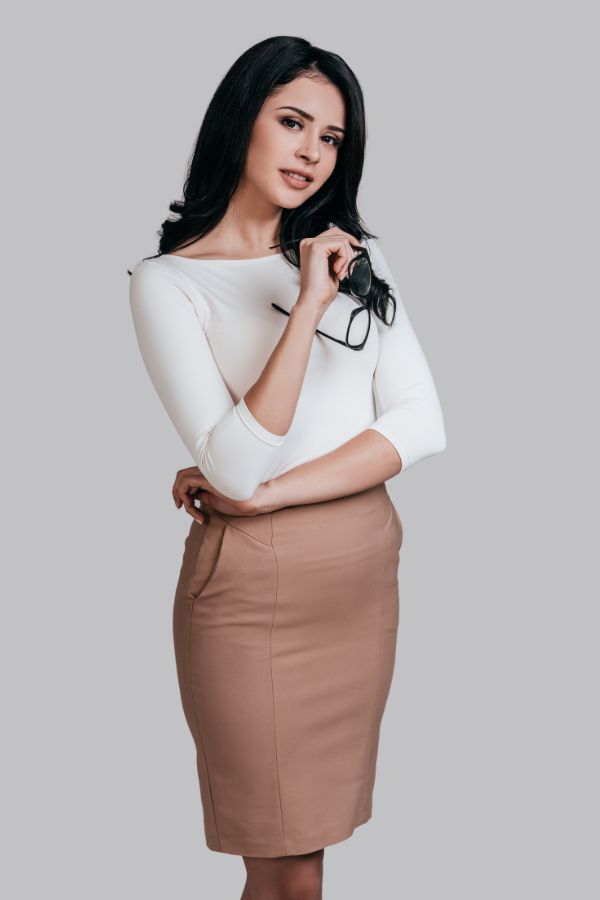 Can all body shapes wear a pencil skirt? Yes. You just need to find the correct style to complement your figure. Here are some guidelines for wearing pencil skirts. They are not the end-all-be-all, so experiment with different styles to find the best one for your capsule.
Rectangle / Column Shape
Create shape by belting the waist, a peplum style, or heavy embellishments at the hips.
Related Post: Most Flattering Styles For Rectangle Body Shape
Triangle / Pear Shape
Stretch fabric, high-waisted, has slit, dark color, no embellishments.
Related Post: I'm Loving These Styles For Pear Shaped Body
Hourglass / X Shape
Stretch fabric, high-waisted, form-fitting, shows off your curves, exposed zipper down the back.
Related Post: How To Dress Hourglass Shape: Master Style Guide
Oval / Circle / Apple Shape
Little to no-stretch fabric, peplum style, hidden zipper), embellishments are not at the widest part of your body, short length (above the knees), lighter colors.
Related Post: What To Wear For Apple Shape Body (And What Not To Wear)
Inverted Triangle / Carrot Shape
Little to no-stretch fabric, mid-rise, peplum style, or heavy embellishments at hips, straight cut (not entirely form-fitting), short length (above the knees), lighter colors
SHOP THE Style:
Pencil skirts come in all different fabrics, which also favor different body shapes and builds. Opt for a lightweight fabric to add movement and decrease volume in the lower body or try a heavy fabric like Ponte or tweed to add volume.
4. Leather Jacket
A leather jacket makes the list as one of the latest wardrobe timeless essentials to come on the scene. You might think of the traditional moto-style jacket found at all price points these days. Or, you may desire something on the feminine side, with less metal, zippers, and flaps. Either way, this piece is definitely one of those wardrobe staples that can be passed down a generation if cared for properly.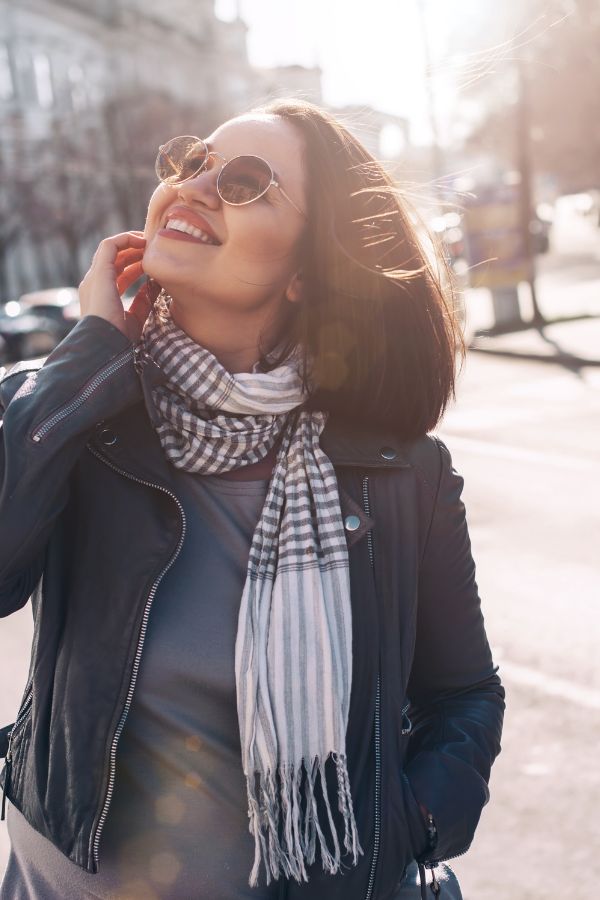 A leather jacket dresses up a casual look, provides the classic nighttime going-out style, and is a perfect jacket for a city chic vibe. I'm personally on the hunt for a unique feminine cut with scalloped edges to pair with blouses and dresses without adding an edgy feel.
Related Post: What To Wear In October | New York City Edition
A genuine leather jacket is definitely an investment piece, with prices ranging from $250 to well up into the thousands. However, high-quality vegan brands are popping up all over the place offering the same luxe style in a more ethical way.
SHOP THE Style:
5. Classic Pumps
There's something about a pair of pumps that instantly upgrades an outfit. From jeans to dresses, to skirts, to trousers, a pump is a grown-up girl's shoe. The perfect pair of pumps has a heel that's high enough to elongate the legs and cause a pair of trousers to drape over the shoe without grazing the floor. Pumps are feminine and flirty wardrobe timeless essentials.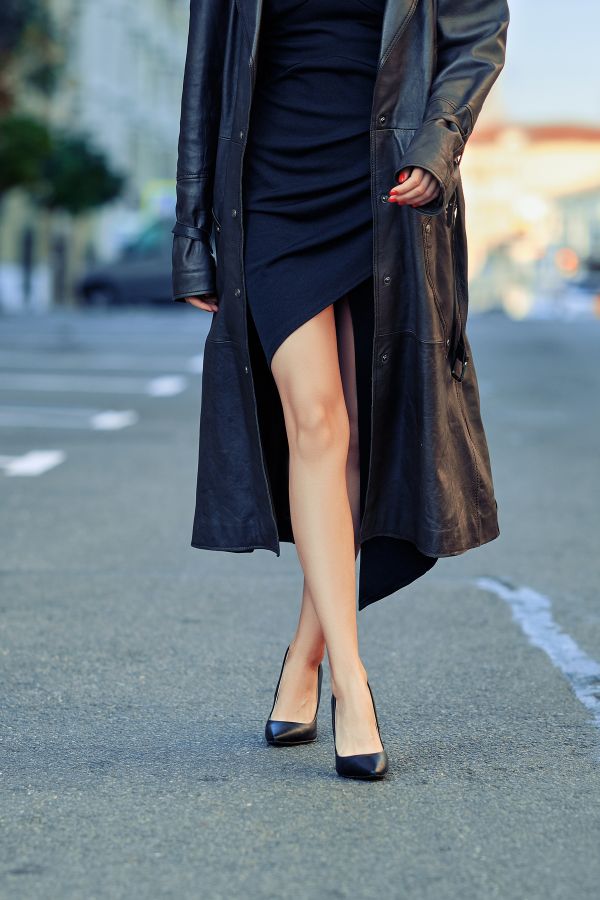 While pumps can be an everyday shoe, it makes sense to invest in a high-end pair to wear with your best outfits, important events (like your birthday dinner!), and when you mean business. It's like 'pulling out the big guns', but with pumps. If you have the budget for everyday pairs, you can alternate with different neutral colorways in your classic wardrobe essentials.
Related Post: What To Wear To A Funeral (And Still Look Stylish)
Opt for black or nude for the most versatility in your wardrobe. The heel height should be comfortable to walk in and be appropriate to style with the hem lengths of your clothing (to ensure you wear these babies!). Avoid trendy toe shapes and go for pointed, almond, or round-toe styles.
SHOP THE Style:
6. Tailored Wool Coat
For those who get a true cold season, it makes sense to invest in a nice wool coat for your winter wardrobe essentials. No one likes looking covered up like a bag lady in winter…and you never will with a tailored wool coat.
Good quality outerwear is always at the higher price points of timeless wardrobe essentials and for good reason. Cheap, synthetic materials do not keep you warm when you're outside in the cold. That fuzzy polyester blanket might be perfect when you're curled up on the sofa watching YouTube. However, a thick wool coat will actually block the wind and deflect the elements when you're out and about.
Related Post: Winter Wardrobe Essentials: 7 Key Items That Will Keep You Warm and In Style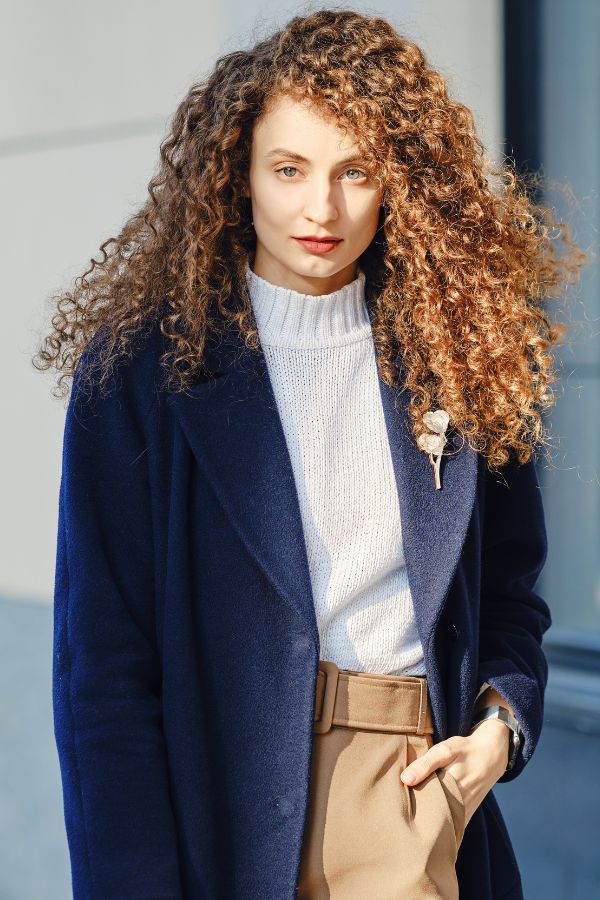 Opt for a long, tailored look that goes perfectly with any level of outfit – casual up to evening. You might not wear this coat on a dog walk or errands (OR YOU MAY), but it's similar to the pumps where you wear it to step up your game.
Just to clear up any confusion–this isn't a 'wear-once-a-year' coat'; and neither are the pumps. Unless you have the budget, it doesn't make sense to invest in something that's only worn once a year.
I always recommend Etsy when shopping for an investment wool coat because of all the vintage finds. If you want something new and current, go for the sales near the end of January/early February when stores are trying to get rid of stock. Or shop when it's completely out of season.
SHOP THE Style:
7. Leather Handbag
A women's handbag says a lot about her. Some women would say they carry their life around in their handbag and for others, it might just be a wallet, phone, and car keys. Either way, your handbag is always on display when you're out.
A good-quality leather (or vegan leather) handbag is an accessory that elevates or downgrades a look. Similar to the wool coat and pumps, it's a great idea to invest in one high-end leather handbag when you need to look your best. By no means do you need to hop on the designer bag train though! Wardrobe timeless essentials need to be pieces you LOVE, LOVE, LOVE, or else you aren't going to wear them (and what's the point unless you're a collector).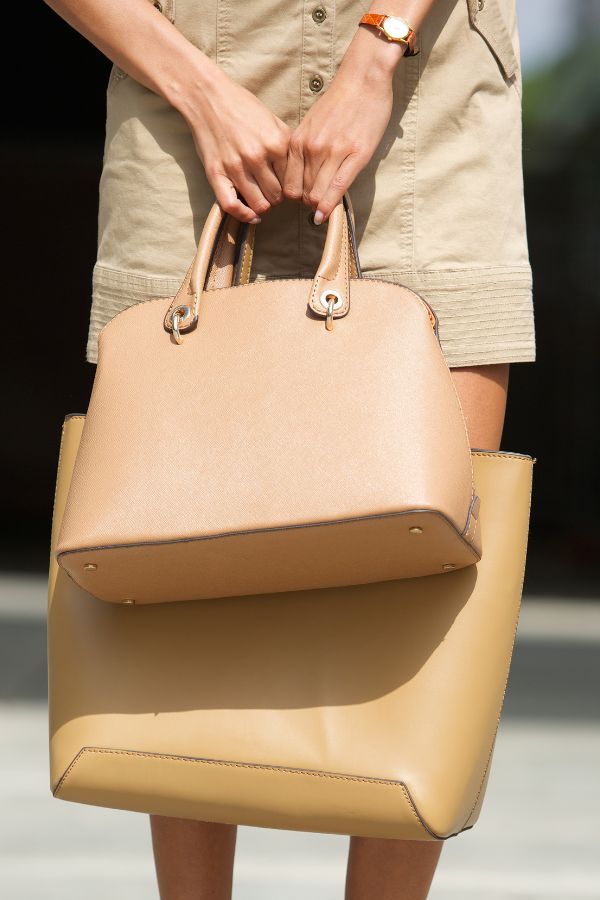 So, try an independent designer known for minimalist designs, or an ethical designer with the highest quality vegan bags out there. Look for local artisans when traveling, especially in Europe, North Africa, and Asia. Don't forget about your hometown…support local! And of course, if you have your eyes on that designer handbag then make it yours! I personally love all types of handbags and would go any of these routes for a timeless piece.
Neutrals are your go-to for the most polished and classic look. However, choose the color that best matches your wardrobe.
SHOP THE Style:
Take your wardrobe planning to the next level with the Ultimate Wardrobe Essentials List, completely free to download and use on your mobile device or print out.
What timeless wardrobe essentials are on your list to purchase next? Comment below!
This post was all about wardrobe timeless essentials
Related Posts: