What capsule wardrobe essentials does one need to get started? These key pieces will jumpstart your journey into simple, modern style.
Every closet needs a good set of capsule wardrobe essentials. They make up the foundation of your style, to which you can add more interesting, seasonal pieces to create an aesthetic unique to you.
While every wardrobe needs basics, capsule wardrobe staples are a step up from basics. They're timeless items that become the key elements of an outfit instead of basics, which are layering pieces hidden underneath or worn exclusively at home.
Because of its simplicity and essential role in outfit creation, a capsule wardrobe requires a larger investment. An important tenet of owning a capsule wardrobe is purchasing high-quality items that will stand the test of time.
Here are 12 key pieces to kickstart your journey in creating the best capsule wardrobe ever.
This post is all about capsule wardrobe essentials.
Best Capsule Wardrobe Essentials
1. White Collared Shirt
A white collared shirt is the most obvious of all capsule wardrobe essentials due to its versatility. Choose a style with a relaxed or oversized fit that looks equally as good with denim jeans as it does with a skirt or trousers. Opt for ivory if you find that white washes you out.
Related Post: How To Dress Simple But Stylish | 7 Easy Tips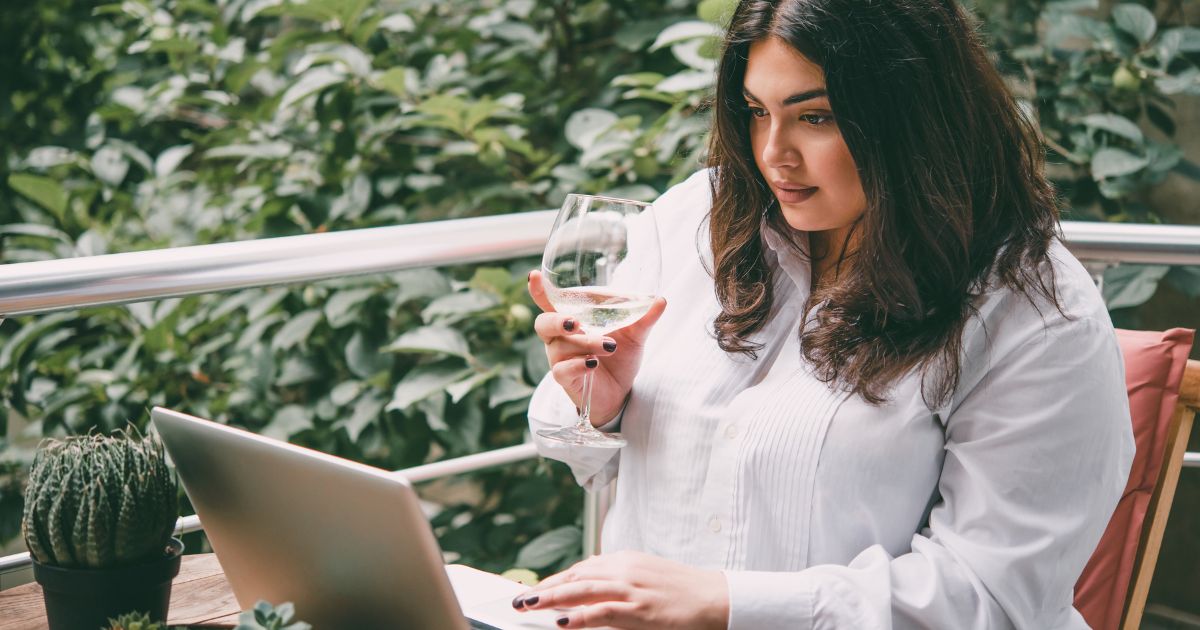 SHOP THE Style:
2. Classic Denim Jeans
Every curated capsule wardrobe has a pair of classic denim jeans. Classic means the jeans are in a blue that's timeless such as a formal dark blue or a medium-blue rinse that can be dressed up or down. Avoid trendy styles with whisking, distressing, embellishments, or fading that are less versatile to style with.
Straight-leg jeans are the most classic and versatile of all denim cuts, a must for French capsule wardrobe essentials. It's always best to find the style that flatters your figure. Decide if you prefer loose or slim styles and whether you need a curvy cut at the waist. It's up to you if you go for full length or cropped–do you wear heels often or not?
Related Post: Denim Style Trends | The Best Jeans For Your Body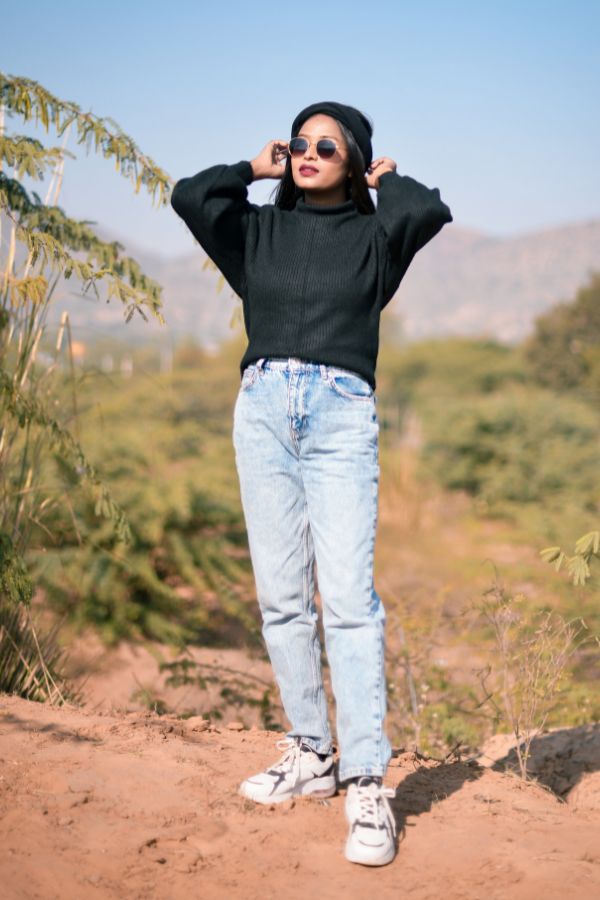 SHOP THE Style:
3. Basic Cardigan
Every capsule wardrobe formula has a basic cardigan that styles with the rest of the items in the capsule wardrobe. Decide if you prefer a fitted, semi-fitted, or loose style. Do you like long cardigans or short ones? What will you get the most wear out of based on climate and preference?
Related Post: How To Shop For Clothes Like A Professional Buyer
Shorter cardigans can be worn alone, or tucked into a belted skirt or pair of pants, so opt for those first based on versatility alone. Longer cardigans are sleek and drape nicely over your clothing underneath. Choose a solid neutral that goes with the rest of your capsule wardrobe.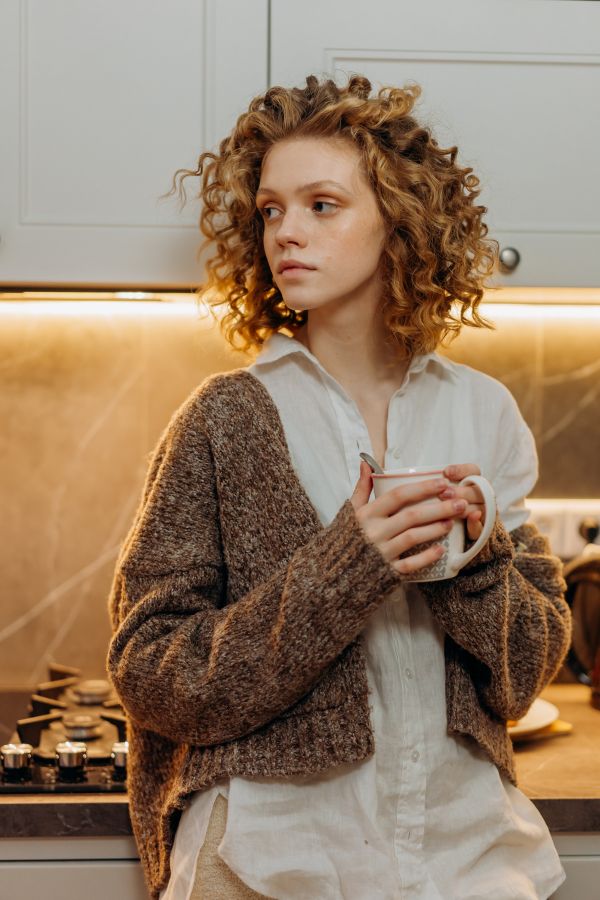 SHOP THE Style:
4. Black Blazer
A black blazer is the hero of capsule wardrobe essentials. It's certainly more functional than it looks on a hanger or at the office. Layer one over chunky knits, belt it with cropped pants, throw one over your shoulders in a dress, or elevate a tank and pair of leggings.
Related Post: What To Wear To A Jazz Concert
If you invest in any of these capsule wardrobe pieces, I definitely recommend getting a nicer blazer (and having it tailored to fit you perfectly, if needed). A good quality blazer can last a lifetime and jackets are one of those things you can easily tell budget from premium to luxury. Try it out and it may become your jacket of choice as opposed to all other jackets. One jacket to rule them all? Possibly.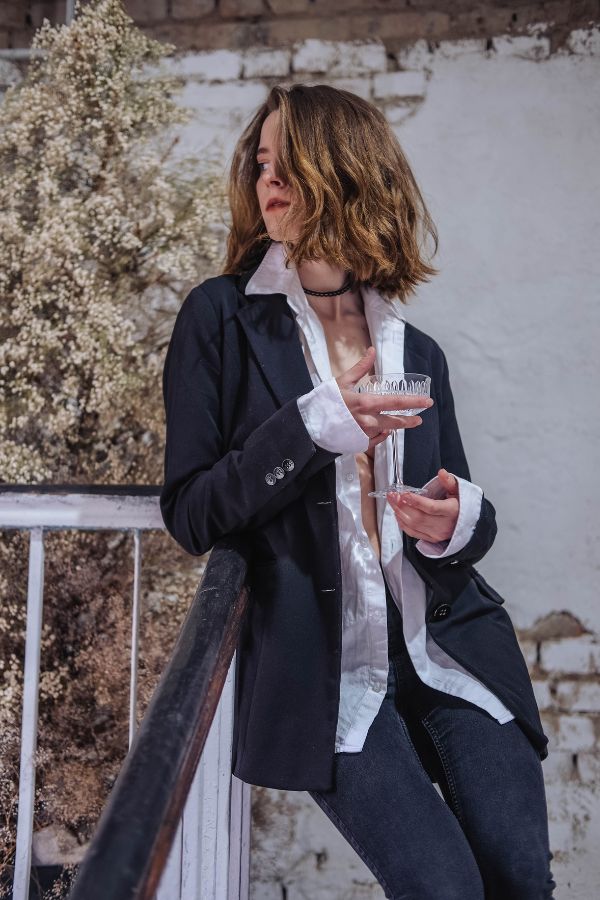 SHOP THE Style:
5. Trousers
A well-fitting pair of trousers or pants in a capsule wardrobe for women is key for times that require something more formal than jeans. However, trousers aren't only for interviews and offices. Pair yours with a fitted tank and sneakers and show up at the airport in style. With capsule wardrobe essentials, you always have control over the versatility of each item.
Opt for a style that's mid-rise to high-rise for the best wearability with other items in your closet. Black, gray, or camel are your best color options.
Related Post: What To Wear To Work | 5 Workwear Trousers That Will Complete Your Office Wardrobe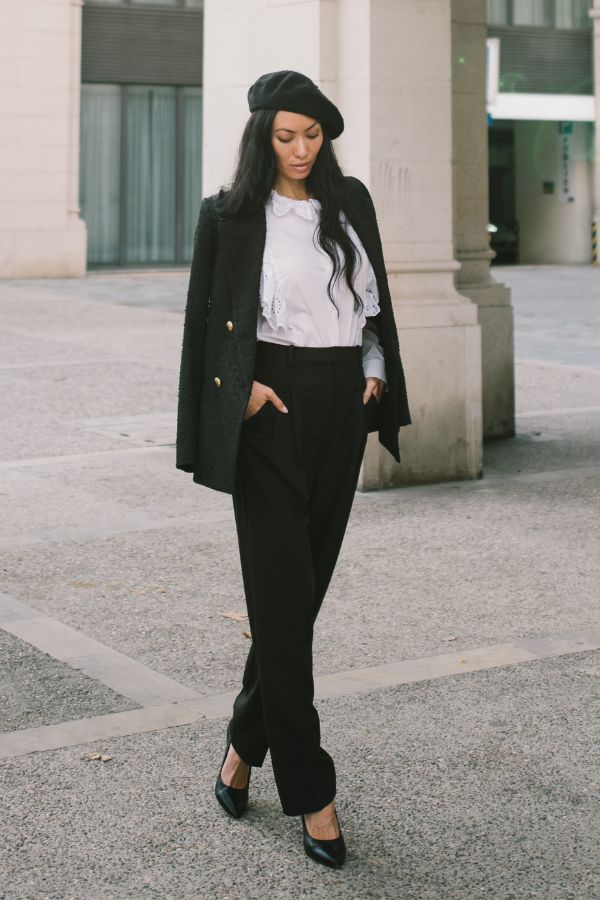 SHOP THE Style:
6. White Sneakers
White sneakers are the epitome of casual cool as far as how to build a capsule wardrobe. The most important thing about these sneakers is that they are truly white (or ivory), so proper wear and care are key to keeping them nice. Opt for a leather or faux leather style as opposed to a canvas that soils more easily.
Related Post: What To Wear In October | New York City Edition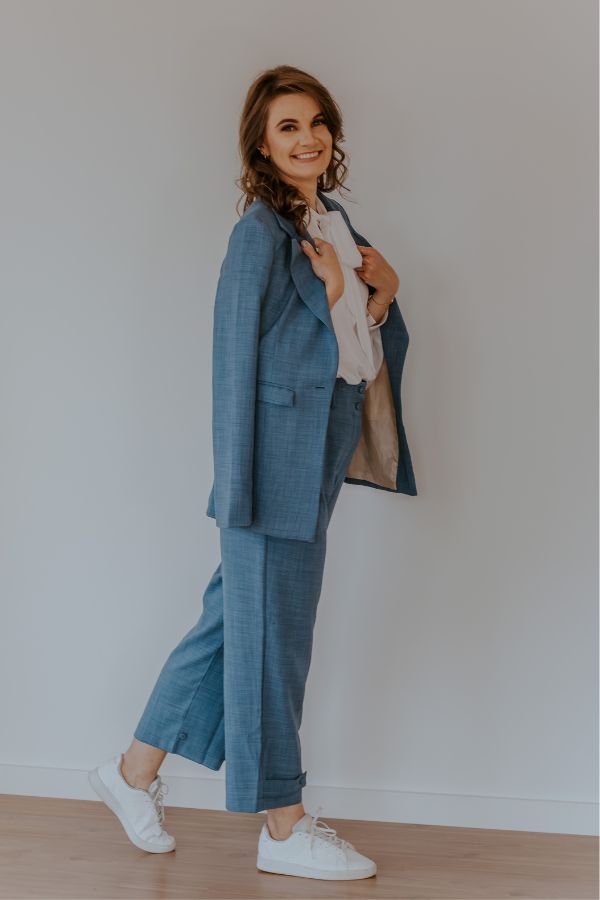 Also, if you absolutely can't do white sneakers (I more than understand this), try a black or tan pair instead. Black is extremely versatile in providing that casual chic look with trousers, dresses, and skirts for capsule wardrobe pieces.
SHOP THE Style:
7. Dressy Blouse
Your capsule wardrobe essentials aren't complete without a dressy blouse. You always need a few go-to pieces for dates, business affairs, or nights out. A silk blouse is a romantic timeless item you'll have for years.
Related Post: Style Types: 5 Beautiful Pieces For Romantics
Opt for a style that's semi-fitted and can be tucked into pants and skirts, but also worn untucked if appropriate. Feel free to choose a print, a deep red, or any color that works with the rest of your capsule wardrobe.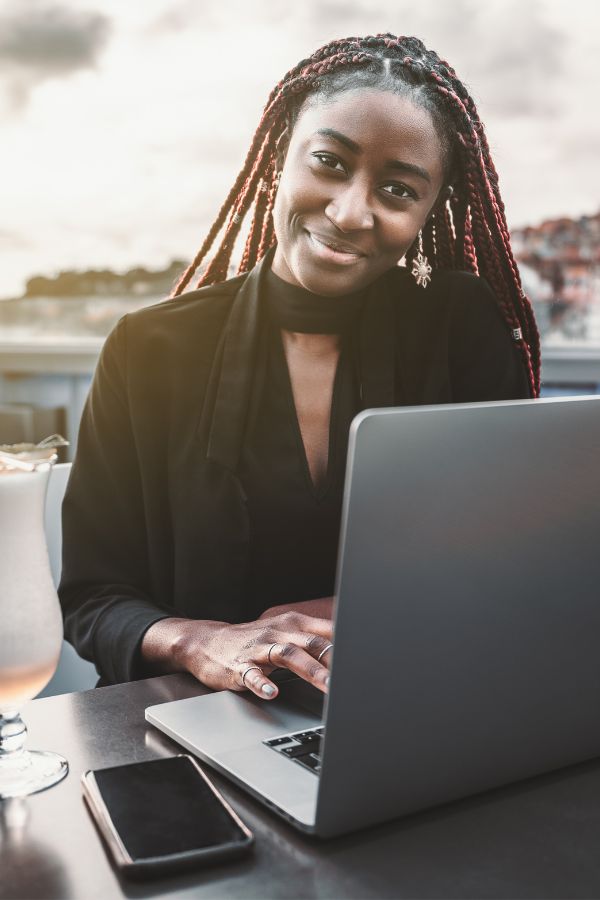 SHOP THE Style:
8. Flats
A simple pair of flats add elegance to any basic outfit, whether jeans or a dress. Determine whether you prefer pointy-toe or rounded-toe flats and opt for either a black or tan for the most versatility. A sleek leather style is classic, but your capsule wardrobe might include a style that's all about comfort and wearability, such as Birdies and Rothy's.
Related Post: How To Buy Clothes You'll Actually Wear, Seriously
SHOP THE Style:
9. Semi-fitted Sweater
A sweater needs to be on your list of time capsule wardrobe essentials. Try something slightly relaxed to semi-fitted, which is appropriate for dressing up or down on cooler days (or when the air conditioning is blasting). Layer it over your collared shirt, or style it with a silk scarf, you can't go wrong.
Related Post: How To Look Stylish Everyday | Style Tips Every Woman Needs To Know
Choose a crewneck or a v-neck depending on what flatters you most. A cashmere knit or blend looks the most elegant, so keep that in mind when you're investing in something. If you live in a warmer climate, a cotton or silk knit is appropriate. Light-colored neutrals such as ivory, heather gray, and beige add interest when layered under a black blazer for a fall or winter capsule wardrobe.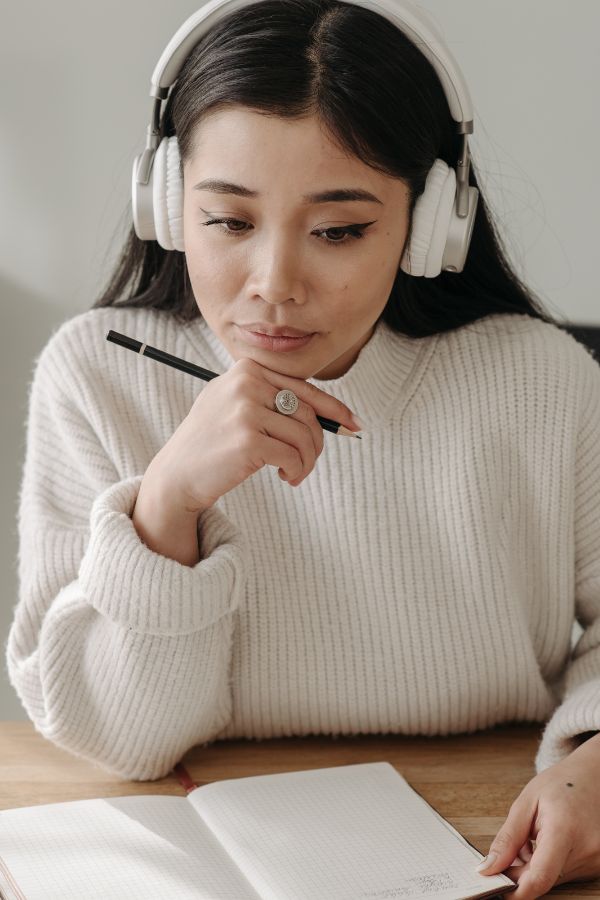 SHOP THE Style:
10. Skirt
Separates are more versatile than solo garments, which is why a skirt needs to one your capsule wardrobe essentials list. A knee-length skirt or midi skirt is the most appropriate. Your best colors for a skirt are black, gray, tan, navy, or beige. Depending on your body shape you may opt for something fitted, like a pencil skirt, or something flowy like an accordion skirt. Always choose the style you feel best in!
Related Post: 5 Petite Style Tips You Might Be Missing Out On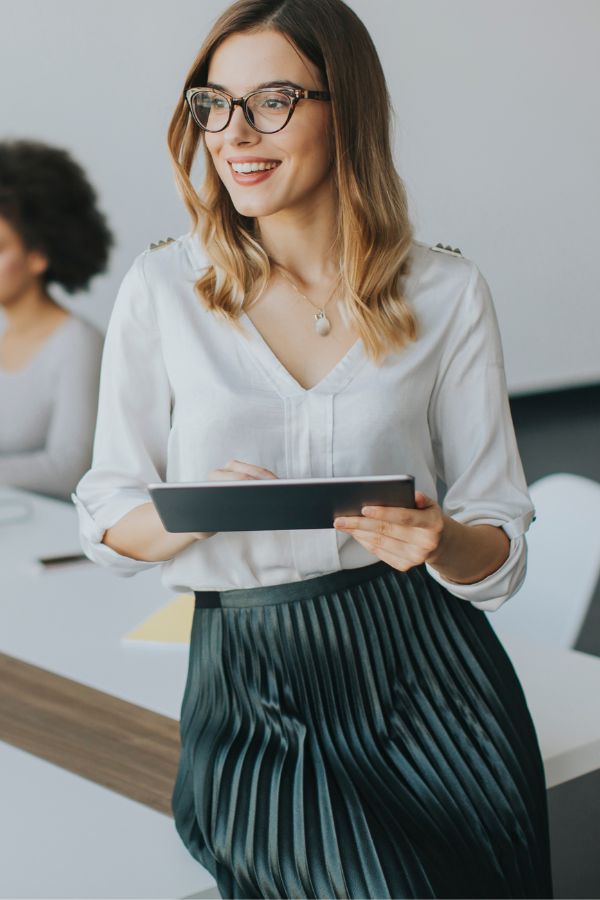 SHOP THE Style:
11. Simple Dress
A simple dress is the only solo garment on the list of capsule wardrobe items. This dress should give you 3-4 seasons of wear (with layering and shoe options) if you shop smart. Choose a simple design that can be styled with your other capsule pieces, plus any fun accessories. An LBD is a must-have for classic capsule wardrobe essentials. However, opting for a navy or a camel to better suit your skin tone or climate is also a great option.
Related Post: What To Wear On A First Date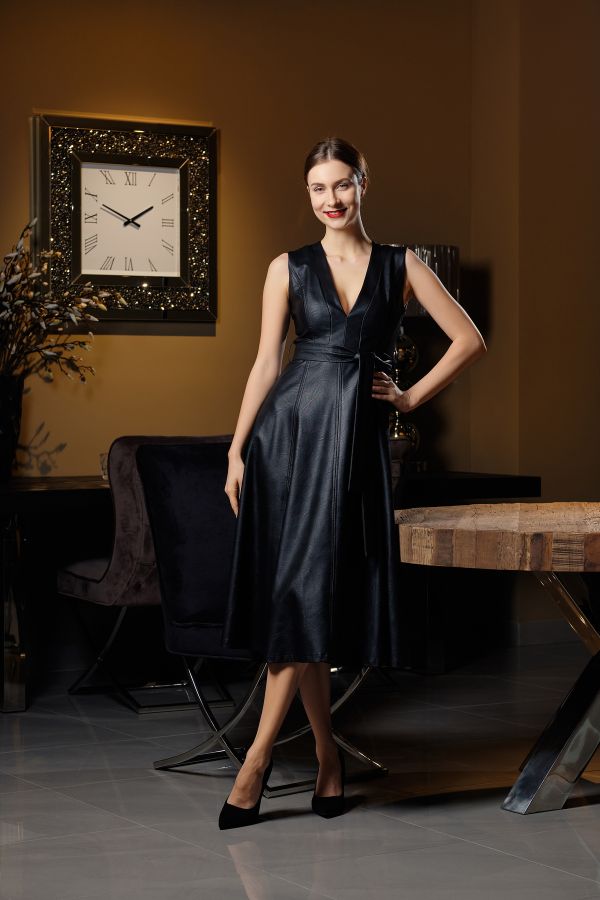 SHOP THE Style:
12. Black Leather Pumps
Complete your curated capsule wardrobe with a pair of leather (or faux leather) pumps. Opt for a matte pair of black pumps that can be dressed up or down. A pump is appropriate for all times of the year, both dressy and casual events. Opt for a low to medium heel (1-4 inches) based on your comfort level. These should fit well as opposed to that super cute pair of heels some of you risk death for on special occasions.
Related Post: 11 Simple Style Tips To Always Look Good
SHOP THE Style:
Don't Forget Basics To Support Your Capsule Wardrobe Formula
No capsule wardrobe is complete without a good set of basic wardrobe essentials. These are simple layering items, such as tops and tees or a quintessential pair of black leggings. Without basics, your wardrobe lacks the level of simplicity and ease that these items bring to the table when getting dressed.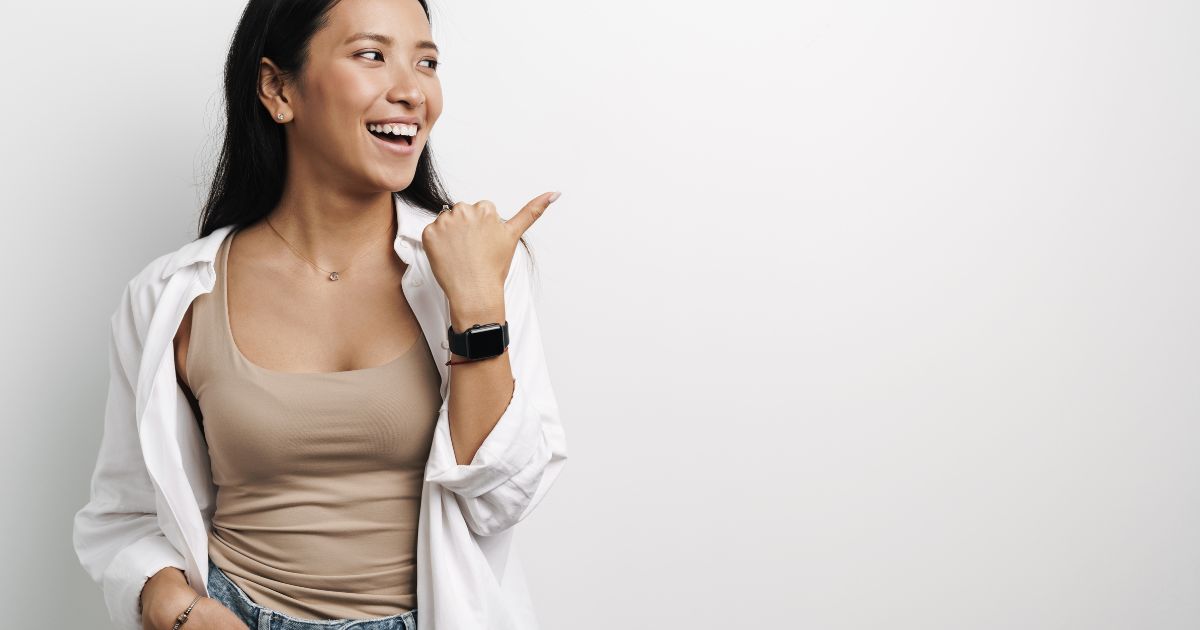 Here's the list of basics every woman needs in her wardrobe at all times:
Silky camisoles – 1 white/ivory, 1 black
Tanks – 1 Light, 1 Dark
Black leggings
Plain T-shirt in your favorite neutral color
Long sleeve tees – 1 light, 1 dark
Casual button-down shirt (not the same as a white collared shirt)
Layering turtleneck
Thermal undershirt (cashmere blend recommended)
Casual knit jumper (oversized and comfortable)
Stockings (1 black, 1 to match your skin tone)
Strapless bra
For more details, along with affordable options, check out this article: 11 Basic Wardrobe Essentials You'll Always Need.
Take your wardrobe planning to the next level with the Ultimate Wardrobe Essentials List, completely free to download and use on your mobile device or print out.
What's your favorite neutral color for your capsule wardrobe? Comment below!
This post was all about capsule wardrobe essentials
Related Posts: