Do you want to know the best plus size style tips for women? Look no further ladies! This guide will help you style and dress to look your absolute best!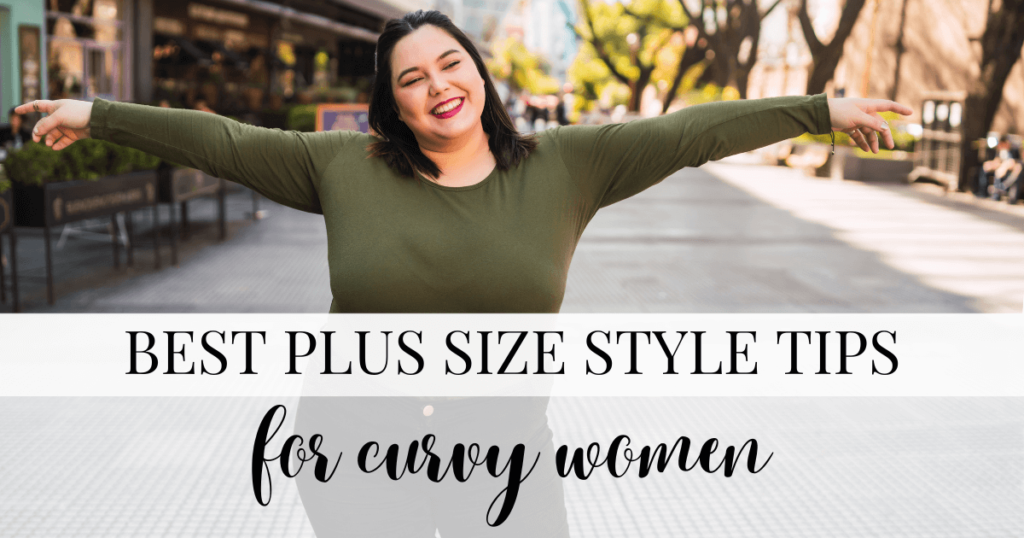 We all want to look good when we get dressed each day. The formula for this is knowing the best plus size style tips that will work for your body. This can be challenging when the mainstream fashion brands, models, and style guides favor the less curvy of the bunch.
But don't worry ladies, this style guide has got you covered by breaking down everything you need to know.
The most effective plus size style tips are to show off your body with well-fitted clothing, balance your proportions, wear the most flattering tops, work with your best lines, use shapewear to your advantage, lengthen your body, and ensure your outfits have fluidity.
This post is all about the best plus size style tips.
Best Plus Size Style Tips
1. Show Off Your Body With Well-Fitted Clothing
One of the most important plus size style tips is to dress in clothing that compliments and fits your body.
No matter what your body shape and size, it's not meant to be hidden away from the rest of the world. Being confident in who you are and what you have is important on both the inside and out. There's a time and place for baggy, oversized clothing: when you're at home sleeping or lounging on the sofa.
Dressing in oversize clothes actually gives the illusion of looking bigger, not smaller.
Aside from that, put your best foot forward and enjoy dressing for yourself (and no one else). You'll look good and feel good. Plus, there's nothing more attractive and stylish than a woman elegantly showing off what she was blessed with.
Choose clothing that fits your body shape as opposed to skin-tight pieces that may hug your body in the wrong places. Know your measurements and purchase clothing in your current size.
Work with a tailor to get a greater understanding of your measurements and the best sizes and styles for you.
There are five traditional, female body shapes (with endless variations): Triangle (Pear), Inverted Triangle, Rectangle, Hourglass, and Circle/Oval (Apple). Click here for an amazing guide to finding your traditional body shape. Body shape styling is not the end-all-be-all, but it is a fantastic starting point to learn styling techniques.
With a little time and effort, you'll learn what styles work for you and what don't, which will save you time, money, and a little heartache in the future.
2. Balance Your Proportions When Styling For Plus Size
Dressing well relies heavily on understanding your body shape and how to work with your natural proportions to achieve a balanced look. This is the most important of all plus size style tips you can learn. It may seem tricky, but let's break it down in an easy way.
Your body shape (and even just looking in a mirror) will tell you where you carry the most weight or volume, your natural proportions in other words. Whatever your natural shape is, there are ways to style that balance out your proportions on top and bottom.
Add volume to your body with looser cuts, flowy fabrics, puff sleeves, loose tailoring, shoulder pads, and embellishments. Define curves with form-fitting fabrics, cinching, and belting. Lose volume on your body with dark colors and adding length.
Related Post: 11 Wardrobe Staples Every Woman Needs In Her Closet
Examples Of What Not To Wear (And What To Wear Instead)
The woman in the below-left photo has her proportions backward. While the neckline is beautiful, the baggy white top and bunched sleeves draw attention to the widest areas of her body. A dark-colored babydoll top with long, slim sleeves and cinching under the chest would work much better here. White pants on the bottom would look great.
The woman in the middle is also emphasizing the widest areas of her body with the hemlines at her waist. A v-neck or off-the-shoulder top in a color or print with dark-colored pants would correctly add volume to her shoulders and balance her proportions.
The woman on the right has balanced her proportions correctly. She wears a basic tank with a scooped neckline to draw attention away from her middle while the long-line button-down shirt kept open adds length to her body.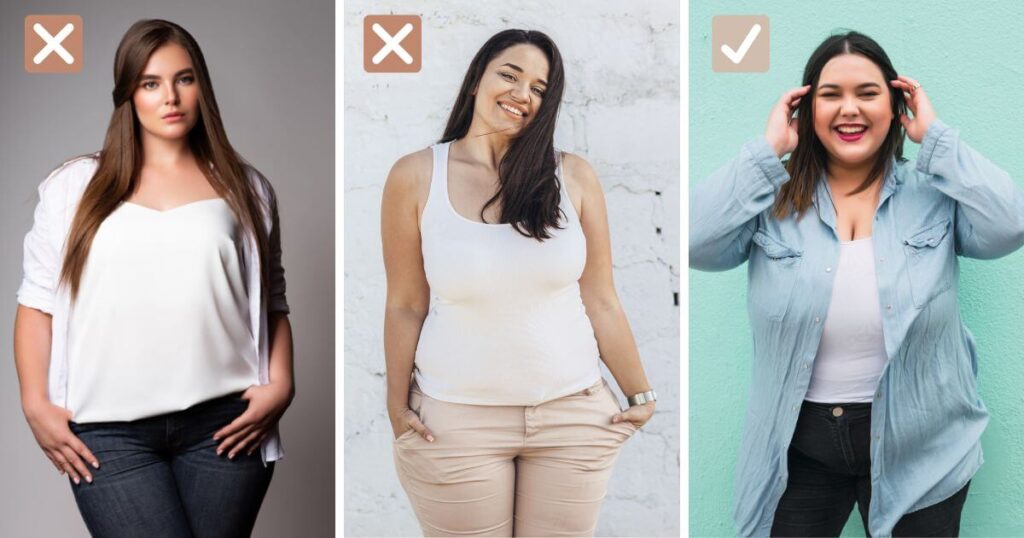 Triangle Body Shape
You have wide hips and thighs, with a narrow waist and shoulders, so you carry your weight on the bottom. Balance your bottom volume by wearing clothes that add volume to your top half while defining your waist.
Inverted Triangle Body Shape
You have broad shoulders and a wide chest, but narrow hips and thighs, so you carry your weight on top. Balance out your top volume by wearing clothes that add volume to your lower half while defining your waist.
Rectangle Body Shape
You have a straight silhouette with shoulders, chest, waist, and hips at a similar width. Your proportions are already balanced, but you need to add shape. Define your waist to create the illusion of curves. You can also softly add volume to your top and bottom half to enhance the illusion of curves.
Hourglass Body Shape
Your silhouette resembles an hourglass with your chest and hips at a similar width and a narrow waist. Your proportions are already balanced and curved. Maintain your proportions with more form-fitting clothing showing off your natural curves. Don't hide your defined waist with loose-fitting garments. If you add emphasis to your shoulders, ensure to balance the volume with your pants or skirt.
Circle/Oval Body Shape
Your silhouette resembles a circular shape with the most volume in the chest to the midsection, with an undefined waist. The chest, waist, and shoulders are often similar in width, with the hips narrowing in some. Balance out proportions with clothing that draws attention away from the waist area, and flares upward-outward or flares downward-outward. Non-constricting fabrics that breathe, flow and drape look beautiful on your shape.
The woman in the below-left photo is wearing a sweater dress that does nothing for her rectangular body shape. The lines and zipper create more length and no curves. A belted chunky sweater dress would add curves while maintaining balance.
The woman on the right looks fabulous in a flowy empire-cut dress. The open neckline draws attention up and out while the cinching below the bust flaring out and down creates a beautiful symmetry.
3. Most Flattering Tops For Plus Size Women
Like all body types, there is no one size or style of top that fits all women. However, the wrap-top is pretty close to fitting that bill. Finding the perfect style of wrap top for your body shape is one of the best plus-size style tips out there.
What does a wrap top do? It adds lines and curves to a body. So if you don't have curves, you're going to get some. If you do have curves, this will define them. A wrap top is indeed one of the most flattering tops for plus size women. It's time to experiment with different fabrics and styles.
Related Post: What To Wear To A Concert | Best Concert Outfits For Every Season
For circle/oval body shapes, try flowy fabrics to draw attention away from your midsection. Thinner wrap belts are also good for minimizing attention to your waist. Opt for deeper v-neck cuts and experiment with feminine ruching details below the chest.
Add shoulder definition to a triangle body shape with a more structured wrap top or jacket with puffed or crisp capped sleeves. Gorgeous embellished necklines and shorter sleeves look beautiful on your body shape.
If you're an hourglass shape, form-fitting wrap tops are perfect for you.
Inverted triangle body shapes look beautiful with a wrap top or sweater that has flared, kimono-like sleeves. This style adds the perfect amount of volume to your bottom half and also defines your waist. Go for a less dramatic v-neck.
For rectangle body shapes, a flowy wrap top with blouson sleeves looks amazing.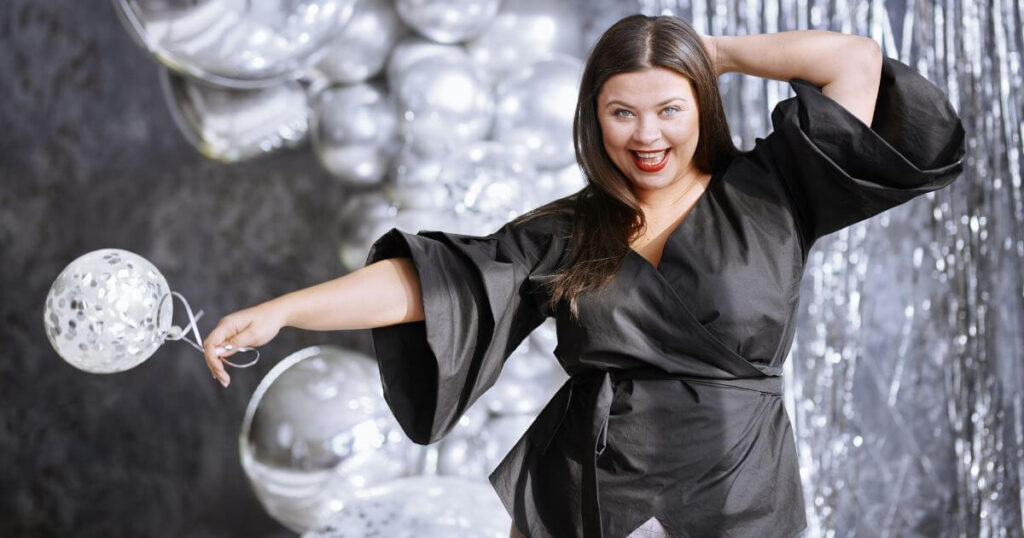 4. Plus Size Style Tips Made Easy: Work With Your Best Lines
Now that you've established your body shape and the natural lines of your body (where it's curvy, where it's straight) it's time to work with those lines. This is one of the trickiest plus size style tips, so please read carefully.
Triangle Shape Lines
Triangle ladies can balance volume on the top, and horizontally-striped tops do that. Avoid thick striped tops and stick to the guidelines reviewed above. A line at the waist is the perfect way to draw attention and enhance symmetry.
Wear pants that sit at your waist, tuck in your tops, and style with waist belts. Collared shirts and ballet neck tops with short, statement necklaces will also do the trick. Try slimmer pants in straight or bootcut styles, without large or flashy pockets.
Inverted Triangle Shape Lines
Inverted triangle ladies can balance volume on the bottom, so flared cuts are perfect for that. Dresses in A-line and fit and flare styles, and tiered skirts work nicely. Waist belts also work well to draw attention to that area.
Ribbed-knit tops and half-tucked-in shirts look good on your body type and you can get away with lower-rise pants. Try wide legs, flares, and palazzo pants, or use hip belts to enhance the shape of your hips.
Rectangle Shape Lines
Rectangle ladies can add curves by wearing clothing that cinches at the waist or by adding a waist belt. Emphasize lines at the waist with pants that sit at your waist.
Opt for clothing less boxy, to soften straight lines. Belt your blazers. Textured tops and pleated pants or ruffly skirts amp up curves. Cropped wide-leg pants and flares. Play around with bold patterns on top or bottom to add fluidity and curvature.
Hourglass Shape Lines
Hourglass ladies can maintain their curves with quality fabrics that fit and move with their bodies. This does not always mean skin-tight clothing. Fitted sweater dresses in a silky rib-knit fabric are wow pieces.
Look for cinching, waist belts, and pants or skirts that hit at the mid-waist. Jackets and coats that flare in at the waist will flatter your shape best. Create length with vertical color-blocked dresses, heels, or straight-leg trousers.
Circle/Oval Shape Lines
Circle and oval ladies should work with diagonal lines and flare shapes that draw the eyes upward and out or downward and out. Minimize horizontal lines across the waist by tonal dressing top and bottom. Utilize slim (instead of thick) belts.
Ruched tops and dresses are some of the most gorgeous pieces and minimize volume in the mid-section by the diagonal lines created. A-line, empire, and wrap dresses also utilize diagonal/flare lines that draw attention down and out.
Create length with a shorter skirt or dress, or a dark-colored jumpsuit. Long, straight coats and cardigans worn open also create long lines to lengthen a circle-shaped body.
Related Post: What To Wear For Apple Shape Body (And What Not To Wear)
The woman in the bottom-left photo is over-emphasizing her broad shoulders with the horizontal-striped top, as well as the dark leggings which minimize her lower half (she should be emphasizing the lower half). Fix this with a fitted blazer over the top and straight or bootcut pants a similar color as the blazer to add a vertical line to the body creating length.
The woman in the middle wears this party dress perfectly. The well-placed vertical lines in the dress add length and hide her midsection while the v-neck and choker necklace draw attention up and out.
The woman on the right maintains balance in her hourglass figure with a bodycon dress. The ruching and seam down the middle both emphasize her curves while the matching top and bottom 'v' hems create length.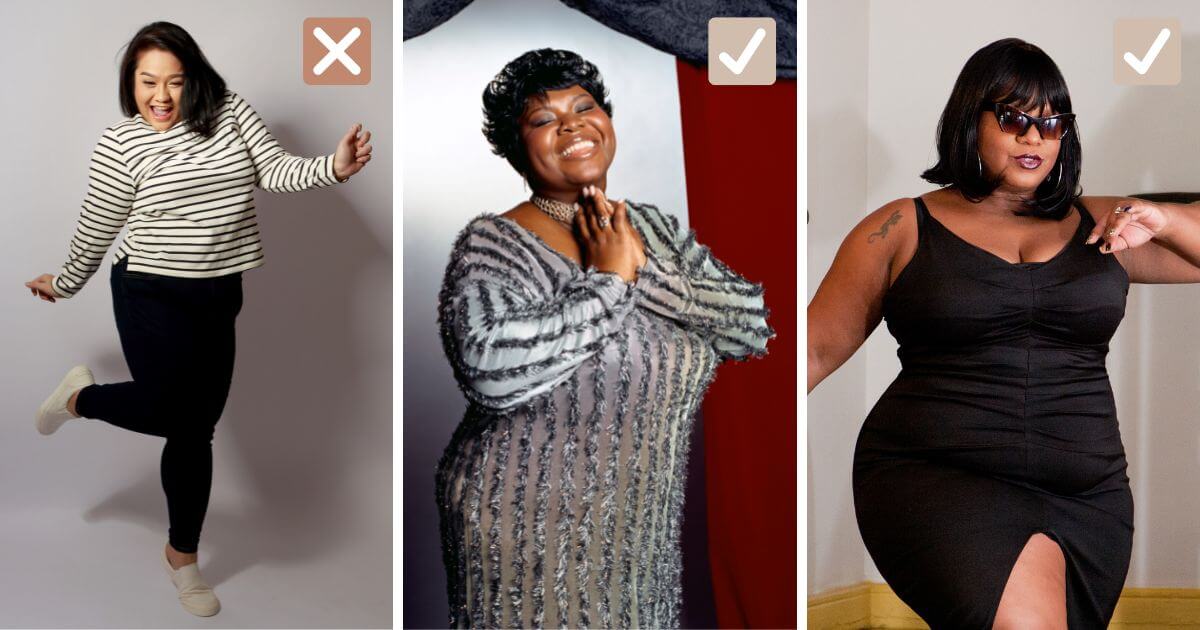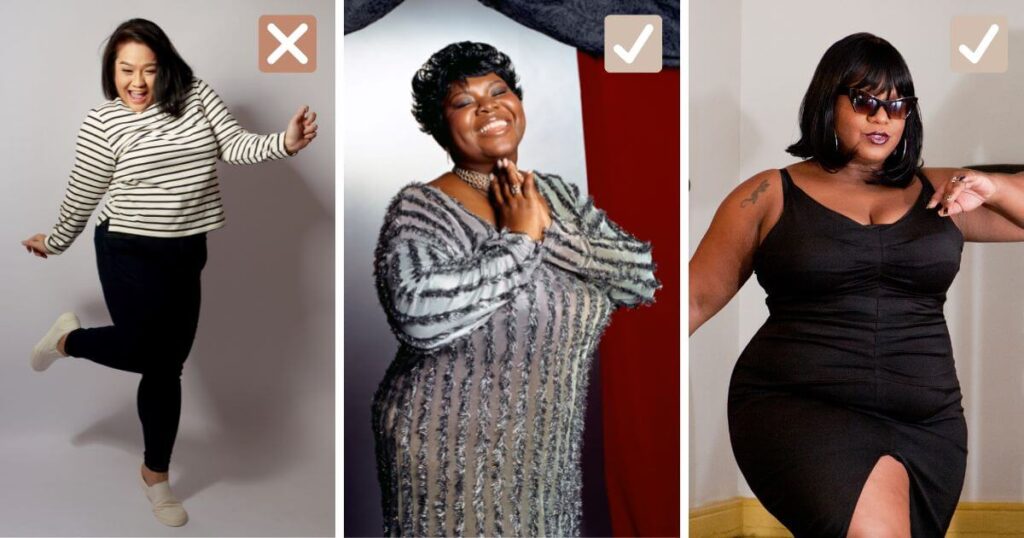 5. Use Shapewear To Your Advantage
Shapewear is one of the best-kept secrets of plus size style tips. The right shapewear will define and smooth the natural lines and curves of the body to enhance the look of your clothing.
Like clothing, shapewear comes in all shapes, styles, and fits depending on your body shape and needs. Take some time to understand your body shape, current wardrobe, and the goals you want to accomplish with your shapewear before purchasing. Thinner fabrics show off more, so consider that when researching.
If you follow the guidelines in this post, shapewear might not be as necessary for all instances because you're wearing clothing that naturally flatters your shape.
Here's a great little guide for how to choose the best shapewear for you. Find amazing shapewear for plus size women from Spanx, Shapermint, Skims, and Yitty.
Ensuring your bra and underwear fit correctly is also key in styling for plus size.
Related Post: 7 Amazing Style Tips For Women To Try Right Now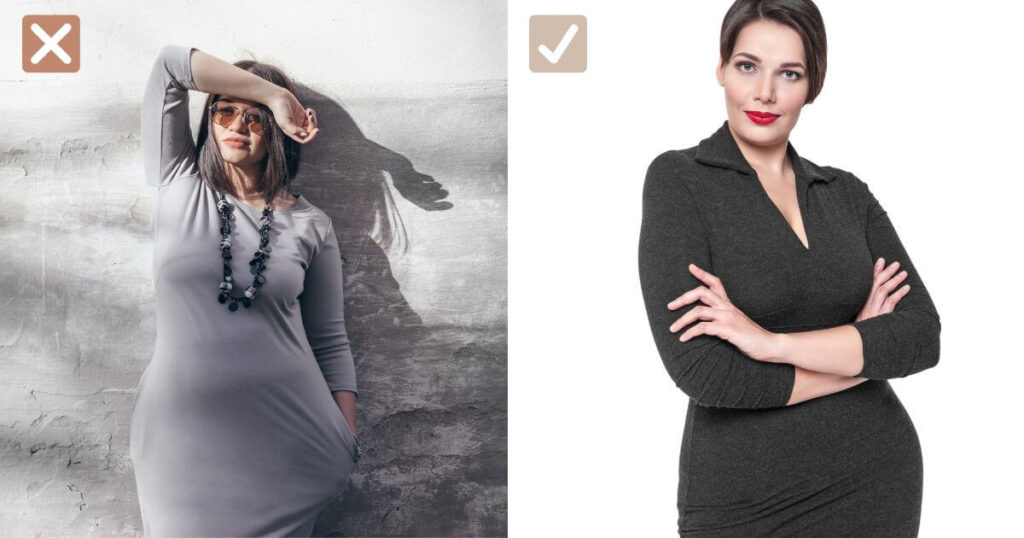 6. Plus Size Style Tips To Lengthen Your Body
Lengthening your body is one of the smartest plus size style tips because it helps to elongate certain features, giving your body a slimming effect. It also adds fluidity to your look by preventing choppiness at certain parts of your body.
Your shape will determine whether you need to focus on lengthening your upper or lower body.
How To Lengthen Your Lower Body
If you have shorter legs and a longer torso, focus on lengthening your lower body. Pair heels or platforms with long pants or a jumpsuit to give the illusion of longer legs.
The higher the heel, the more length added (but dress within your comfort level!). Block heels are a game-changer because you can comfortably go higher.
If you're wearing cropped pants, midi skirts, or midi dresses, pair them with tight boots in the same color and ensure the boot shaft reaches above your pant hem or just at it (as showing skin will make your legs look shorter).
In colder months, wear short skirts and dresses (knee-length and above) with tall boots, preferably over the knee. Wear dark-colored tights to instill fluidity if there's any skin showing between your boots and your skirt or dress. If you want to show off your legs, wear dark-colored tights with pumps.
In the warmer months, pair heels and wedges with short skirts and dresses to add instant length.
Cropped jackets and coats that fall above your hips also work well to lengthen the lower body.
How To Lengthen Your Upper Body
If you have longer legs and a short torso, focus on lengthening your upper body.
The best way to add length to your upper body is by wearing tops, sweaters, and jackets that fall at hip length. Tunics, maxi cardigans, drop-waist dresses, and longline jackets and blazers all help to stretch the torso.
Deep v-necks and blouses with long flowy sleeves (uncuffed) will also add length.
Choose waist belts and wrap belts that are longer and reach the hips.
Long coats are your go-to. Ensure the length of your coat is longer than the bottom hem of any top, cardigan, dress, or skirt you're wearing. Slightly longer is all that's needed.
Accessories can also help lengthen the upper body. Try long statement necklaces or earrings (one or the other, please!). Long scarves also add length up top but avoid bulky styles such as infinity scarves.
The woman in the below-left photo is wearing a dress that widens her upper body and makes her look short. The fabric of the dress is too stiff, the contrasting band cuts her off in the wrong place, and the pattern is too large and compacted. Fix this with a wrap-style dress in a flowy fabric in a looser pattern. The dangly earrings create length, but the necklace needs to go.
The woman on the right looks so tall with a jumpsuit and matching heels. Her legs look so long and she adds length to her upper body by placing a structured jacket on top.
7. Extra Plus Size Tips On Outfit Fluidity
Outfit fluidity is one of the most crucial styling factors and can literally make or break an outfit. For plus size style tips, we take it a step further. If you haven't read my quick primer on outfit fluidity in this post, please click here to catch up.
The main goal of outfit fluidity is ensuring your outfit flows nicely from head to toe. This means avoiding anything that would chop off or shorten parts of your body, and make it look awkward.
Unless you've studied this concept (or spent a lot of time styling as I have), it's not going to be second nature. However, after reading this, I assure you that you'll start to consider this when getting dressed each day.
Avoid hemlines that fall at the widest part of your body. If you have wide hips, avoid a blazer that falls at the hips because this will enhance the width of your hips and create an awkward choppiness to your look. For ladies with a wider torso, large and contrasting belts and ties at the waist will attract attention to this area by chopping it in half. Instead, choose thin ties and belts that match the clothing underneath.
A tighter top stretched over a pair of jeans looks awkward. Fix this by tucking the top in and wearing a longer cardigan or jacket.
If you're wearing a long coat with a long cardigan, shorter skirt, or dress, the coat hem should be longer than those garments, so you don't add additional weight with cascading layers.
These plus size style tips work best when considered together because everybody is unique and beautiful. Start by focusing on one small thing and slowly add to it as you get more comfortable.
The woman in the lower-left photo is wearing a poncho that's hem hits at all the wrong places, making her look wider and shorter. Fix this by ditching the poncho for a long, open kimono in the same fabric, with a dark top and pants to maintain fluidity.
The woman on the right maintains fluidity with a correctly placed contrasting belt with a dark-colored top and jeans. I would swap the tank with a fitted turtleneck or v-neck top to maintain more balance up top (especially as it appears to be winter outside :)).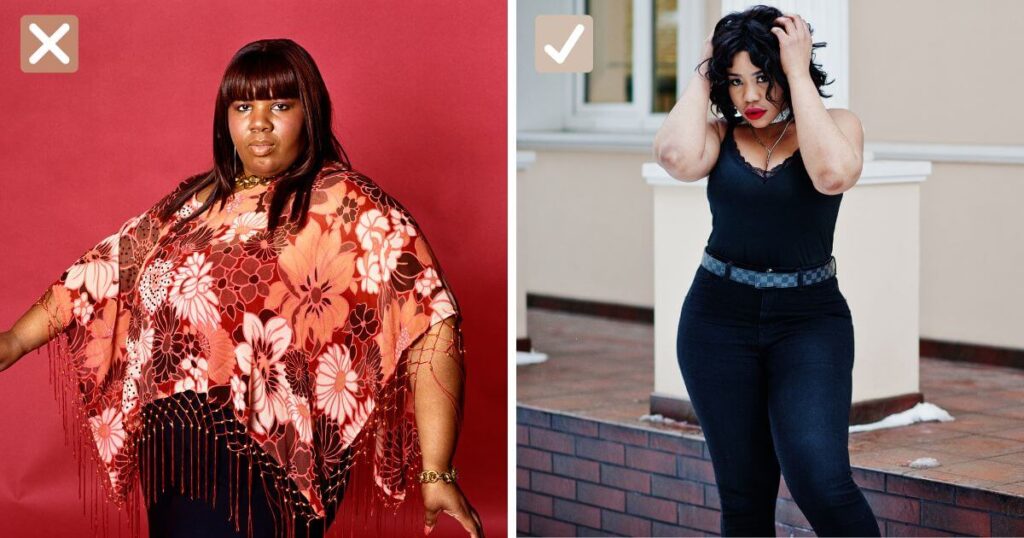 This post was all about plus size style tips
Related Posts: