Are you looking for the best summer wardrobe essentials to build your dream capsule with? This list has everything you need to create the most stylish looks to wear on repeat this summer.
Ah, summer. The perfect time for sunshine, barbeques, beach trips, and refreshing your summer wardrobe essentials.
I love styling all four seasons, but there's just something about summer where things should be easy. Don't you agree? It all boils down (no pun intended) to owning the perfect summer items that pair nicely with the rest of your closet.
The answer to the most versatile summer wardrobe essentials you need to style the perfect warm-weather outfits year after year is linen, linen, and more linen; plus some other amazing items you can't forget!
You will learn the best pieces to shop for right now and be ready once temperatures rise.
This post is all about summer wardrobe essentials.
Best Summer Wardrobe Essentials
1. The Perfect Tank Top For Your Summer Wardrobe Capsule
A tank top should always be at the top of your list of summer wardrobe essentials, but what is the best type of tank top?
The perfect summer tank top is made of lightweight, breathable fabric that doesn't hug your body or trap sweat. It's versatile enough for dog walks, trips to the beach, traveling, lounging, running errands, and meeting up with friends. You can throw a jacket or sweater over it and wear it to the office.
What is this tank top? It's a linen tank top.
We're going to touch on a few linen basics you should have in your summer wardrobe capsule because linen is the most comfortable summer fabric. It's an airy, natural fabric that looks expensive even if it carries a few wrinkles in it (which is expected).
Iron or steam linen tops after washing them so they're ready to be worn when the time comes. Ironing has become a habit in my clothes-washing routine, so it's no longer a bother or a last-minute craze when I'm getting dressed.
Related Post: How To Look Stylish Everyday | Style Tips Every Woman Needs To Know
Find the perfect linen tank top for your summer wardrobe essentials:
2. Stylish Summer Hat To Protect Your Face
A stylish summer hat should be the next item on your summer wardrobe essentials list.
Hats are fabulous accessories, but not always the easiest to shop for. Get the most bang for your buck by choosing a hat style that offers both form and function.
Key Features To Look For In A Summer Hat
These are the key features you should look for in a summer hat:
The hat is made of woven fibers such as straw, raffia, or imitation straw as these are the most breathable and fashionable in warm weather
The brim is at least 3 inches wide for adequate sun protection
The hat has an elastic band, or tie, or is fitted to stay on your head in case of wind
Look for these additional features for added versatility and sun protection:
The hat brim is 4.5 inches and greater for long beach and pool days
The hat material is water resistant in case of a light rain shower, extreme humidity, or a super sweaty day
The hat is packable (meaning you can put it in a suitcase and it retains its shape)
Pro-Tip: Get your elastic-banded hat to stay firmly on your head by placing a thick hair clip or barrette on the back of your head and pulling the hat band over it.
A Quick Note On Packable Hats
Most "packable" straw hats should be placed in a suitcase as-is while you stuff clothing around the outside and inside of the hat. Avoid rolling or bending them, especially if they were a budget buy. Don't pack a genuine straw hat in a suitcase because it should not be bent. Any unnecessary force or pressure can permanently bend or damage the straw.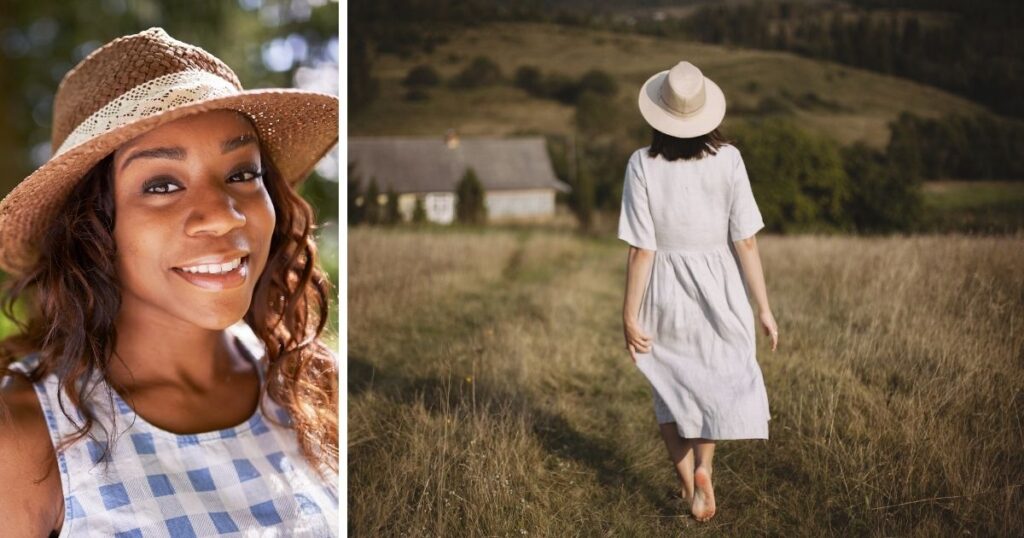 Find the most stylish summer hat to wear all season:
3. Add A Pair Of Casual Pants To Your Wardrobe Basics Checklist
There's nothing cooler than a stylish pair of casual pants worn around the house, strolling along the beach, sitting around a campfire, or running errands.
Paired with a tank or swimwear or a ribbed long-sleeve top on a cool night, this is the most effortlessly chic piece of all summer clothing.
Opt for fabrics in linen, linen blends, or cotton for the most comfort and versatility in summer.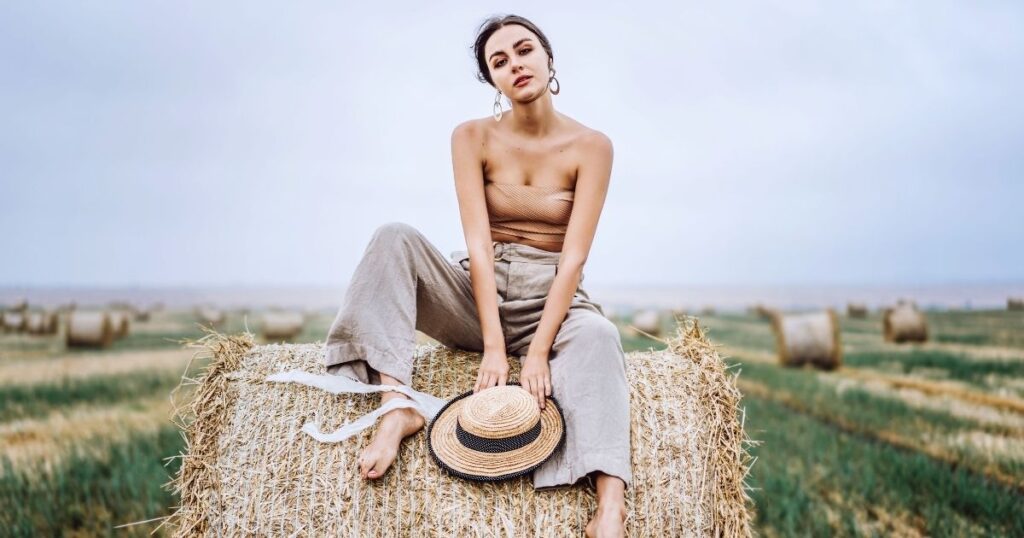 Find the perfect pair of casual pants for your summer wardrobe basics checklist:
4. Long Days Require Fashionable Walking Sandals
'Fashionable walking sandals' might seem like an oxymoron in the world of style.
However, if you're like me during the summer, having action-packed days of sunshine and exploration, this is non-negotiable. For some activities, you just can't get away with a flat pair of strappy sandals. You need something that won't rub or dig and has some cushion when you're doing a four-hour walking tour through the lovely Spanish city of Cordoba.
Here are some of the most stylish walking sandals I've found for your summer wardrobe essentials:
The breezy linen button-down has become a must-have piece in many closets. This shirt style is very comfortable but also elevates a casual summer outfit.
If you're all about versatility in your summer wardrobe essentials, look no further than a linen-button down shirt and the many options to wear it (neutral colors will match most items you own):
Classically buttoned up 3/4 of the way, tucked into a pair of shorts or pants
Worn open with a stylish tank underneath
Oversized as a swimsuit coverup
Partially buttoned and tied in a knot at the waist, with wide-legged cropped pants
Oversized as a tunic with a silk neck scarf with skinny jeans or leggings
Thrown over the shoulders on a cool night
Related Post: 11 Wardrobe Staples Every Woman Needs In Her Closet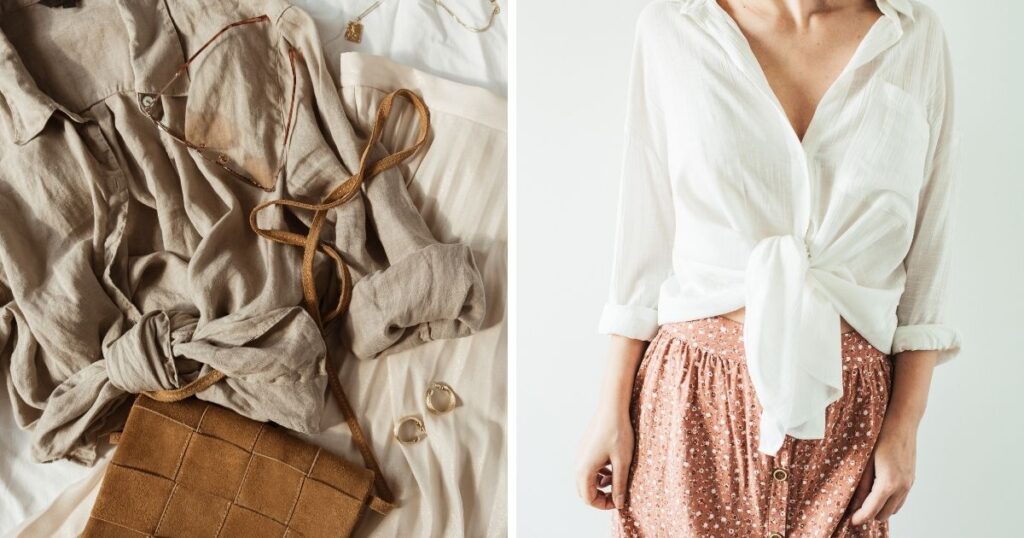 Find the perfect linen button-down for your summer essentials checklist:
6. Bring A Large Tote To The Pool Or Beach
As if we all don't have enough tote bags already…or is that just me?
Either way, a large tote tops the list of must-own summer wardrobe essentials. Just throw a bunch of stuff in, grab the top handles, and go. Tote it to the pool, beach, market, friend's house, and anywhere you need to bring a bunch of stuff.
Here are some super stylish large totes to add to your summer wardrobe capsule:
7. Don't Forget Your Summer Wardrobe Sunglasses
Sunglasses are the most obvious of all summer wardrobe essentials that is, behind swimwear (which isn't on this list because it's too obvious).
You may be someone who has built up quite a collection of sunglasses or maybe you're just trying not to lose your latest $12 pair. Either way, it pays to understand the best style of sunglasses to complement your face shape and coloring. Visit a sunglasses store and spend time trying on all styles, even ones you don't like at first glance, to give yourself an idea of what looks best on you.
Ensure your sunglasses have UV protection. Polarized lenses are great for active lifestyles.
My secret tip for purchasing sunglasses is to understand what level of pressure your face can handle. If your ears or the bridge of your nose has become sore from heavier frames such as plastic and oversized sunglasses, opt for lightweight metal frames such as aviators.
I know not everyone wears sunglasses, but you might change your mind after visiting an eyewear store and having a pair personality fitted for you. It's worth a try for the added sun protection these days.
Find the perfect pair of sunglasses that will never go out of style:
8. A Day Dress Is One Of The Best Summer Fashion Staples
Next on the list of summer wardrobe essentials is a day dress. The perfect day dress is versatile enough to wear for a multitude of activities such as brunches, parties, walking the boardwalk, covering up at the pool, barbeques, or if you're like me and just prefer to wear dresses instead of pants or shorts.
Wrap dresses flatter every body type and you can find them in different fabrics based on your style and comfort preference.
Related Post: 7 Amazing Plus Size Style Tips To Look Your Best
Natural fabrics look the most expensive and often come at budget prices. Linen is best for hot days, but don't shy away from linen blends, cotton poplin, Tencel, or slinky jersey fabrics. A flowy dress in 100% rayon or spandex fabric is a great budget option for a casual day or beach cover-up.
Find the perfect day dress for your summer wardrobe essentials:
9. The Incredibly Versatile Lightweight Scarf
A lightweight scarf is a great way to style a summer outfit or cover up from the hot sun.
I realized the power of a sheer oversized scarf after attending music festivals in locations where there were no trees in sight (WHY lol?!). I wanted more than sunscreen to protect my shoulders, arms, and back. Not only that but as the temperature dropped at night, my scarf became a lightweight blanket.
Bottom line, a scarf is more than just a fashion accessory and if you opt for a longer one, you get the functional benefits of sun protection, warmth, and a great cover-up if you need to cover your shoulders when visiting religious sites on vacation.
Linen, silk, lightweight cotton or gauze, and rayon are perfect fabrics for summer.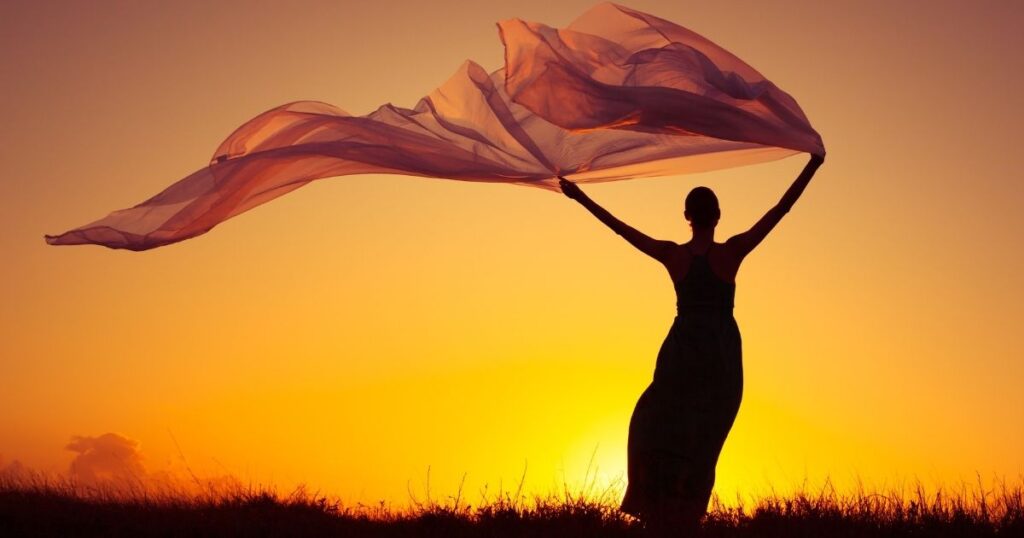 Find the best lightweight scarf to add to your summer wardrobe essentials:
10. Every Woman Needs A Summer Evening Dress
The counterpart to the summer wardrobe essentials' day dress is the summer evening dress. This dress is more formal than the day dress but not necessarily "formal". Opt for a style that flows and moves versus something stiff and tight.
Wear this dress to all evening events such as date nights, girls' nights out, parties, concerts, or just elegant dinners on vacation. The dress should be flattering and something you'd want to wear on multiple occasions.
Related Post: What To Wear To A Concert | Best Concert Outfits For Every Season
While most people opt for black, which is a great choice, don't be afraid to go with a different color that suits your skin tone (with a tan or not!). It is summer after all and that means it's okay to step outside your comfort zone!
Here are some amazing summer evening dress finds:
11. Go Out In The Perfect Summer Evening Sandals
Lastly, you need some cute summer evening sandals to go with that summer evening dress, right?
Summer sandals have an innately casual vibe unless you're dressing in formal attire. You can be playful with your colors and styles so long as it goes with your wardrobe. A two-strap style sandal in a neutral color goes with everything and you can wear them for several seasons.
If you love to wear high heels, go for it. Although, you might opt to wear a lower heel in the summer, with a block shape to avoid disasters on cobbled streets and backyard lawns. My 'dream' summer evening sandal has a heel that is 1.5-2 inches tall.
Related Post: 15 Perfect Bar Outfits For Your Next Night Out
The most important factor when wearing sandals is wearability. Taking your shoes off and going barefoot in the middle of the night is not a good look, or sanitary for that matter. Sometimes, you just don't know how the shoes will feel, so take a packable pair of ballet flats in case.
Find the cutest summer evening sandals for your summer wardrobe essentials:
Take your wardrobe planning to the next level with the Ultimate Wardrobe Essentials List, completely free to download and use on your mobile device or print out.
What summer wardrobe essential can you not live without?
This post was all about summer wardrobe essentials
Related Posts: