Ready to elevate your loungewear style? These casual pieces are so comfortable and chic, you'll want to wear them whenever you leave the house!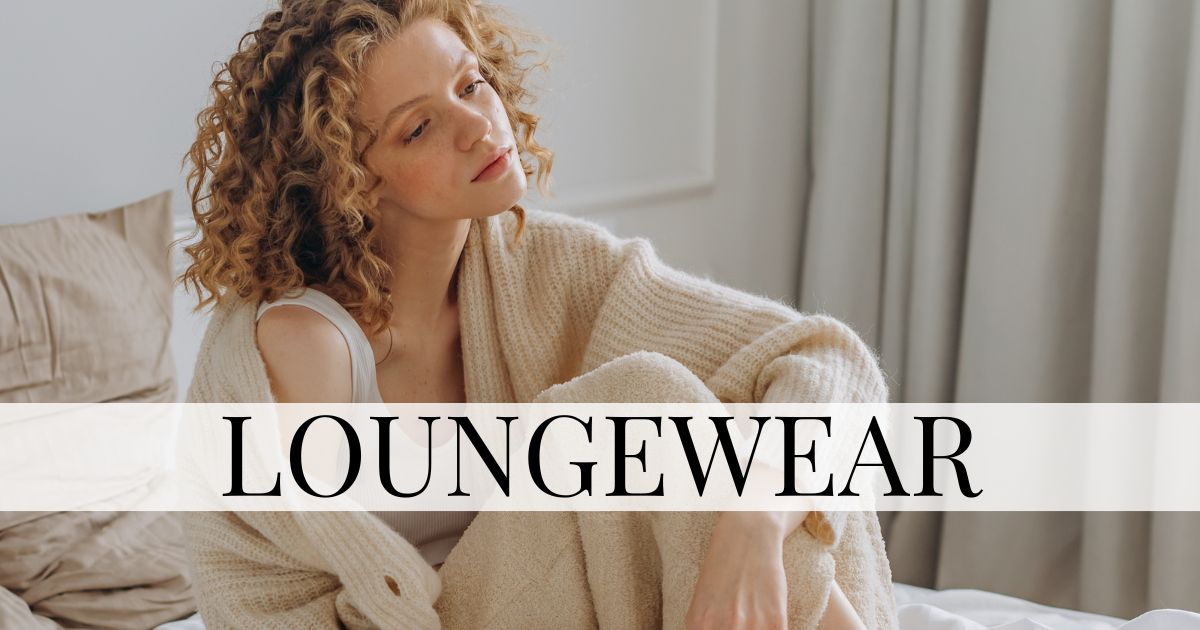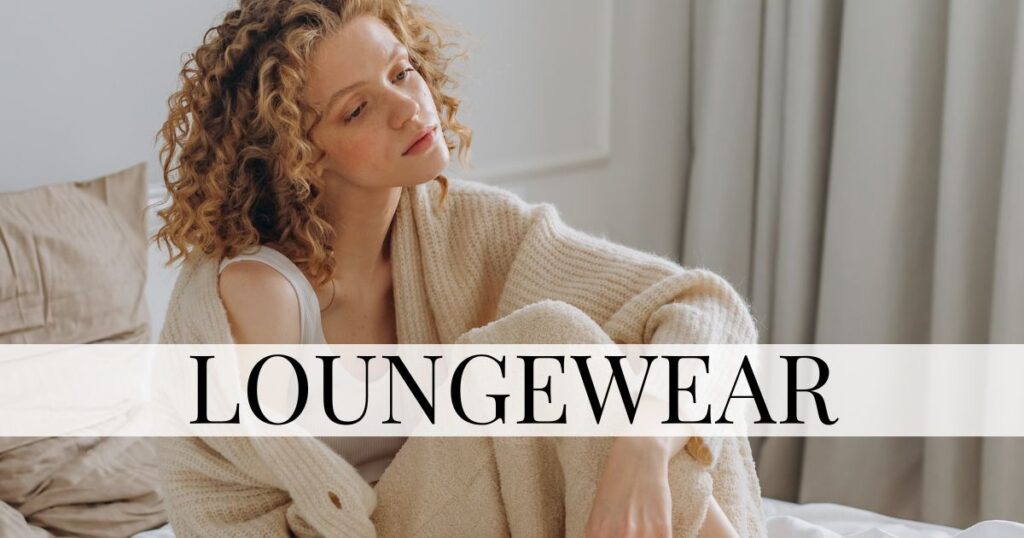 If you're anything like me, you've been a fan of loungewear since your childhood. Some of my best fashion memories are of the plush velour tracksuits I wore in high school and college. They were equal parts comfortable and feminine, and also a little flirty because you could style them with a cute tank.
Ever since those days, I've been on the hunt to find the perfect loungewear that's comfortable, luxe, and stylish enough to wear outside the house. In other words, the holy grail of loungewear.
I've rounded up some amazing loungewear pieces that are so classy you won't have any problem swapping your jeans or black leggings for them.
This post is all about loungewear.
Best Loungewear
1. The Oversized Sweater or Jumper
An oversized roll-neck jumper or sweater is just what the loungewear doctor ordered for those chilly days and evenings. Not only is it easy to throw over any outfit, but it's also cozy. Try a neutral tone for an elevated look perfect for home or outings, and save the zip-up hoodie or fleece for sports and outdoor activities.
I don't know about you, but when it's cold for several months out of the year, the only thing I want to wear when I'm lounging is an oversized sweater or jumper. It doesn't matter the top or bottoms I'm wearing, I just need a big sweater to stay warm and cozy.
Related Post: Winter Wardrobe Essentials: 7 Key Items That Will Keep You Warm and In Style
If your sweater is long enough to cover your butt, pair it with a thick pair of leggings and low-heel Chelsea boots. Tie your hair in a sleek ponytail or updo to balance the volume of the sweater. Add a dangly pair of earrings, a scarf, a headband, or a fancy barrette for an elegant, but ultra-comfy look.
The Tarra Striped Sweater from Lily Silk has been popping up all over the place lately. This classic look never goes out of style. It looks so classic on an oversized sweater that can be thrown on over leggings, yoga pants, or joggers.
The gorgeous Single-Original Cashmere Funnel Neck Sweater from Cuyana has side slides and a low funnel neck for a relaxed fit.
2. Cozy Loungewear Sets For Winter
Keeping with the theme of winter, there's nothing cozier than matching loungewear sets. A lounge outfit looks more put-together when the colors are matching. It's a tonal look and I've written other articles emphasizing the concept of tonal dressing as a tip to elevate one's style.
Related Post: 10 Elegant Style Tips To Look More Sophisticated
Style your loungewear set by tucking the front of the top into your pants (called a French tuck). Add a stylish pair of boots, loafers, or sneakers. Throw on a tailored coat and you'll instantly look chic.
Try Naadam's Travel Cashmere Turtleneck and Pants for an incredibly luxurious off-duty style. Did I mention it's washable, too?! Try an equally cozy, but more affordable Cable Knit Loungewear Set from MnknkCo.
Aerie's Gotta Jet! Polo Sweater and Gotta Jet! High Waisted Skater Pant set is of-the-moment and something I'll be wearing all season long, possibly with a furry vest.
I can't forget to mention this incredibly comfortable Lulu's Comfy Cutie Chenille Sweater and Matching Pants. I bought this set a few years ago and still wear it every week of winter! The sweater and pants are sold separately, but at under $100 for both pieces this is an incredible deal for the quality and comfort. I mean, every time I put this on my eyes practically roll in the back of my head it's so warm and comfortable!
3. A Long Cardigan
Who doesn't want to feel like they're wrapped up in a comfy robe-like cardigan 24-7 when it's cold out? A long cardigan is the perfect women's loungewear piece when you need to add something warm to your outfit. This is another piece you'll wear on repeat during the cold season.
Because the robe cardigan adds bulk and volume to an outfit, it's best to style it with slim-fitting clothing such as a long sleeve top or turtleneck and a matching pair of stretchy bootcut pants or leggings. You'll look frumpy and disheveled if you drape a robe cardigan over an already bulky outfit.
Related Post: 5 Petite Style Tips You Might Be Missing Out On
Splurge on this dramatic Brochu Walker Thela Duster…maxi length with fringe, so cute!
This LIVD Serilda Faux Feather Cardigan is so luxurious feeling with a flattering cut in the front and bishop sleeves. Get it in your favorite neutral and you're set!
I love the clean look of this Oversized Knitted Coat With Pockets from Mango with open lapels and pockets (for your phone!). Perfect shade for autumn, too.
4. Super Soft Women's Loungewear Long-Sleeve Top
When I want to be comfy I find myself gravitating to the softest and smoothest clothing in my closet. Especially when the clothing is form-fitting or semi-fitting, which is pretty much the only way to maintain warmth on cool days.
Women's loungewear that comes in cheap fabrics might be cute at a budget price but isn't getting any points on the comfort scale. I always research and study a loungewear item before purchasing it to see if it's something that I'm actually going to love. You don't have to spend that much more to be comfortable.
Related Post: How To Shop For Clothes Like A Professional Buyer
Long-sleeve tops need to look soft but maintain an elegant fit if you don't want to look frumpy. Opt for a cotton or modal blend that has a little bit of stretch to maintain its shape.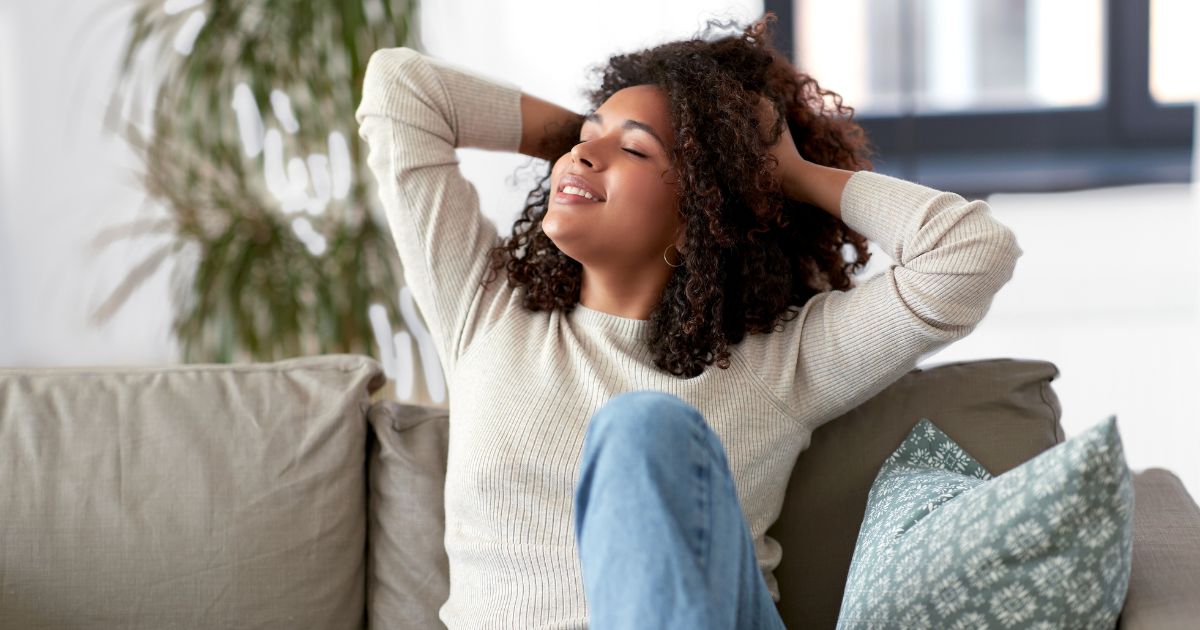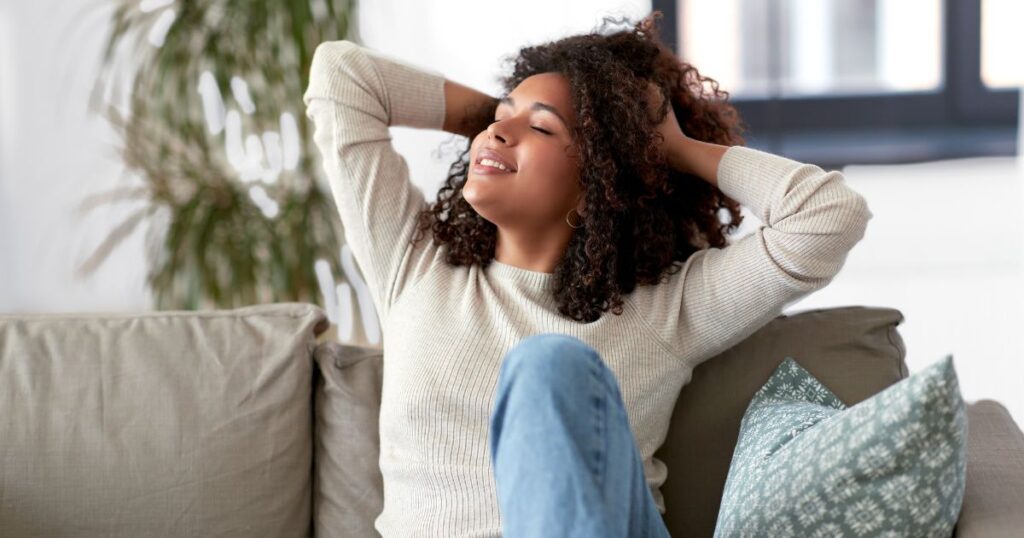 If you've never owned any tees from Michael Lauren, you are seriously missing out on one of the most comfortable loungewear brands ever! I've owned several tops from this brand and keep coming back for more because they're so lovely! Check out the Michael Lauren Vance Henley.
This long-sleeved tee is sure to dress up any pair of joggers or wide-leg lounge pants! This highly-rated top comes in a stretch jersey material that's lightweight and silky-looking. It has long sleeves with thumb holes for interest and a flattering round neckline. Check out the Avalon Top from Marcella.
5. Stretchy Lounge Pants
You may be thinking of yoga pants (or flared leggings as of recent), which would definitely classify as such. Beyond yoga pants, stretchy lounge pants can be a flare, bootcut, or wide-leg style of pants. A wide-leg yoga pant is fitted around the waist and upper hips only.
True leggings are too restrictive on the body to be classified as loungewear, at least for me. I remember several years back the only affordable loungewear pants one could find in stores were either leggings or joggers. That was a travesty…again for me, at least. Thankfully those days are over and the "yoga pant" has risen into glory again as one of the comfiest loungewear pants for women.
Related Post: Where To Shop For Clothes | Best Online Clothing For Women
The Norma Kamali Elephant Pant is the most stylish looking wide-leg lounge pant for the warm weather, IMO. I purchased these a few years ago and they still look brand new. The material is so high quality, these don't pill or fade. The waistband is high and stretchy enough to not give you that dreaded overhang…it's actually a little slimming. The best part is these pants are super long with a raw hem, so you can get them altered to fit your height (which is totally an issue with lounge pants if you're petite).
If you're a die-hard leggings fan I encourage you to venture out and try flared or bootcut leggings, like the Foldover Bootcut Legging from Skims or the Spacedye At Your Leisure Bootcut Pant from Beyond Yoga.
6. Indoor/Outdoor Slippers
For those ladies who really want to keep things comfy, an indoor/outdoor slipper might be just the loungewear item for you. The name suggests the slipper has a proper sole to go outside.
To me, these are the slippers you grab when you don't want to look like you're wearing a slipper. They are perfect for entertaining when you don't want to wear a pair of heels (or even flats for that matter). Dress these up or down based on the occasion.
Try the Tazz from UGG, Tina Pointed-Toe Heeled Fluffy Mules from VIVAIA, or the fur-lined Phoebe Slides from Birdies.
7. Slinky Loungewear Dress
Dresses can be loungewear too! You need a soft, stretchy fabric that's good enough quality to not pill with all the sitting, lounging, and sleeping you'll be doing.
I went through several seasons where I wore nothing but lounge skirts for my everyday outfit. I believe this was around the same time yoga pants had disappeared from stores. In my opinion, dresses and skirts are more comfortable than jeans (and leggings of course!). I'd fall asleep in my maxi skirts and wake up noticing how comfortable they were.
A dress makes things even easier because you only have one item to deal with, but either works when purchased in the proper fabric and style.
Try the Recycled Yarn Cotton Blend Maxi T-Shirt Dress from RAEY that's perfectly acceptable to be worn inside and out, with sandals or boots. Great for layering also. Love the look of the Tencel Rib Knit Maxi Slip Dress from Quince that would look chic with a chunky knit in the spring and fall.
Related Post: How To Style The Perfect Slip Dress Outfit
This plus-size Jetsetter Maxi Dress from Kiyonna looks so comfortable with side slits for movement and a v-neck that isn't too low; perfect for kicking back without exposing it all! And, it's stylish enough to turn heads when you're out and about.
8. Silk Lounge Pants
For those of you that own silk bedsheets, you know there's nothing more luxurious. Silk is one of those fabrics that's equally comfortable and elegant. It's the perfect fabric to elevate your loungewear style.
Opt for wide-leg silk pants in a full-length or cropped style and you'll always have something dressy to go out in, even when paired with a rib-knit tank. I love this style of pants for summer evenings.
If silk is out of your budget, a suitable option is a satin-like polyester. Some brands are creating "washable silk" meaning you can wash it with your regular clothes!
Related Post: Fashion Hacks Clothes | 11 Tips To Keep Your Clothes Looking New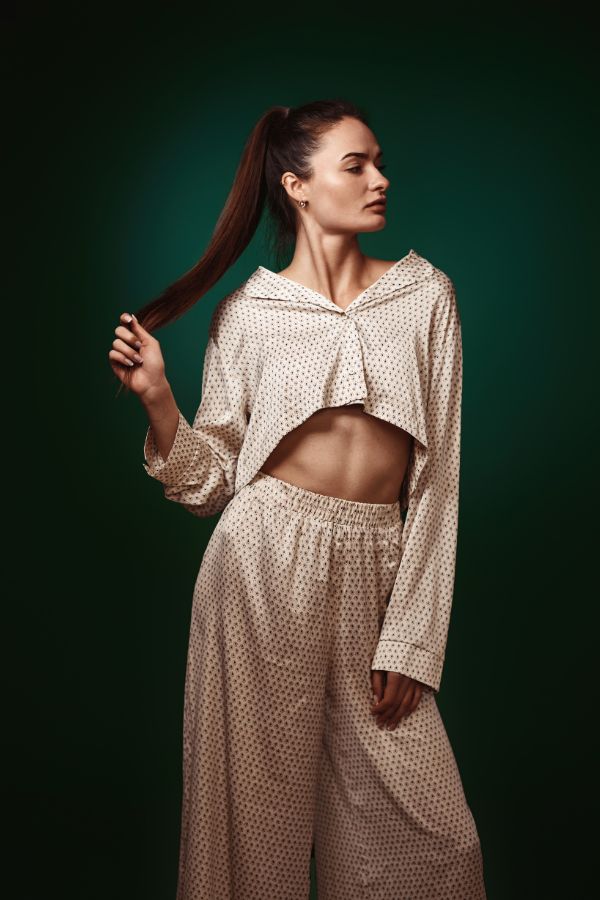 These gorgeous Sahara Pant from Heidi Merrick have an elastic waistband and contrast piping. The summery print is understated enough to wear day or night, lounging at home, or on a relaxed evening out. Not to mention there's a matching cami and jacket, too.
Try the Satin Drawstring Wide Leg Pants from Micas for a cute, multi-season look dressed up or down. Or try the Satin Safari Silk Pants from Lily Silk for an elevated casual chic jogger.
9. Summer Loungewear Set
As we move further into the warm weather, a lightweight loungewear set is the perfect summer wardrobe essential. The matching pieces look elevated and can also be worn as separates. Fabrics such as linen, cotten, hemp, and gauze are great for staying cool but also have a refined casual vibe so they can be dressed up to go out for a casual evening as well. And let's not forget how chic they look as beach and pool cover-ups
Related Post: What To Wear To The Beach | 20+ Stunning Beach Outfit Ideas
Try the breezy Paola Set from FP Movement or the chic Malibu Travel Set from Frank & Eileen.
I find that Etsy has the best quality, affordable linen pieces around. I love these cropped linen pants with an elasticated waist that's actually flattering–yes I said it. No drawstring here either. Have these made in any color to match this breezy linen boatneck top or any of her other amazing pieces! Try the RILEY Linen Pants from Love and Confuse and the BEE Linen Top from Love And Confuse.
10. The Ribbed Tank Top
A ribbed tank should come as no surprise in this list given its popularity surge these past few years. I own several in different colors and lived in them all summer. They look great with a pair of linen pants. In the cooler weather, layer one under a long sleeve top to stop the cool air from hitting your skin. Sleep in one and work out in another…they are so versatile!
Stock up on your classic ribbed tank in your favorite colors for year-round wear. Try the Ribbed Tank from NA-KD or the Women's Racerback Tank from KOTN. Target's A New Day Brand Slim Fit High Neck Ribbed Tank is a great budget option, perfectly soft and stretchy (I have several of these).
What's your dream place to spend the day lounging? Comment below!
This post was all about loungewear
Related Posts: