Need some style inspiration for what to wear to the beach? These beach looks are both classy and chic for your next beach vacation!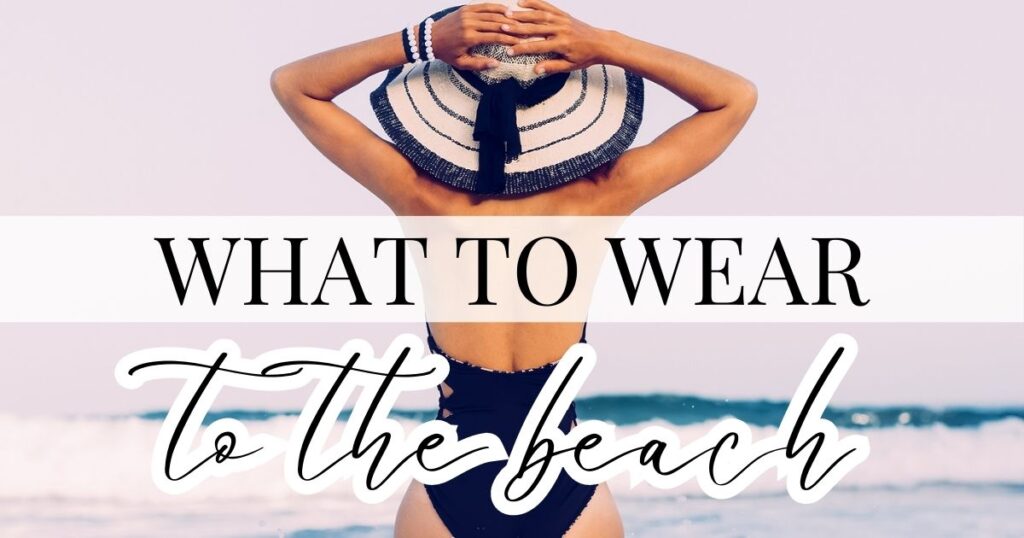 With proper planning, what to wear to the beach can be fun and exciting. The beach is for relaxing, swimming, and forgetting all responsibilities back home.
That's why I've rounded up the perfect beach vacation outfit ideas whether you're wearing a swimsuit or not. These stylish outfits will ensure you look good and feel confident when digging your toes in the sand and soaking up that gorgeous sunshine!
This post is all about what to wear to the beach.
Best Outfits To Wear To The Beach
Casual Beach Attire For Female
The best thing about what to wear to the beach is that there isn't a dress code. However, you can still look incredibly stylish with these beach vacation outfit ideas.
Matching Linen Set
It doesn't get more casual than a breezy linen set, which also looks incredibly chic. The Juniper Linen Top from Sophie Rue is perfect for hot days while the tailored Juniper Linen Shorts are cool and classy in an ocean blue. Win-win right there.
Mini dress
A mini sundress or short sundress is perfect for what to wear to the beach if you're not swimming. It's versatile enough to throw on over a swimsuit if you're definitely taking a dip.
Try this gorgeous cotton voile caftan from Tory Burch, a timeless piece that will never go out of style.
Crop Top + Skirt
A crop top and skirt are both stylish and convenient whether you're in a bathing suit or not. Try the spicy Rosa top from Rue Stiic and the matching Milan skirt with a paper bag elastic waist in a summery tangerine.
Into florals? This romantic cami top and midi skirt set from Micas is the perfect option if you're not wearing a bathing suit, but still want to get some sun.
Casual Beach Cover Ups
A beach cover-up is the best thing to wear to the beach if you're walking around in swimwear. This is definitely a must for beach bars and beach parties if you plan to wear a swimsuit.
Related Post: 15 Perfect Bar Outfits For Your Next Night Out
Crochet can sometimes look cheap, but Summersalt has changed the game with their maxi halter dress in %100 combed cotton material.
How Do You Look Classy On The Beach?
Look classy on the beach with matching sets and swimwear in solid colors. Skip cutesy patterns and heavy embellishments and focus on styles that flatter your body shape. Ensure swimwear fits correctly. Also, a luxurious beach towel that compliments your swimsuit or outfit is also crucial, like this striped Turkish towel from Serena & Lily.
Related Post: 10 Elegant Style Tips To Look More Sophisticated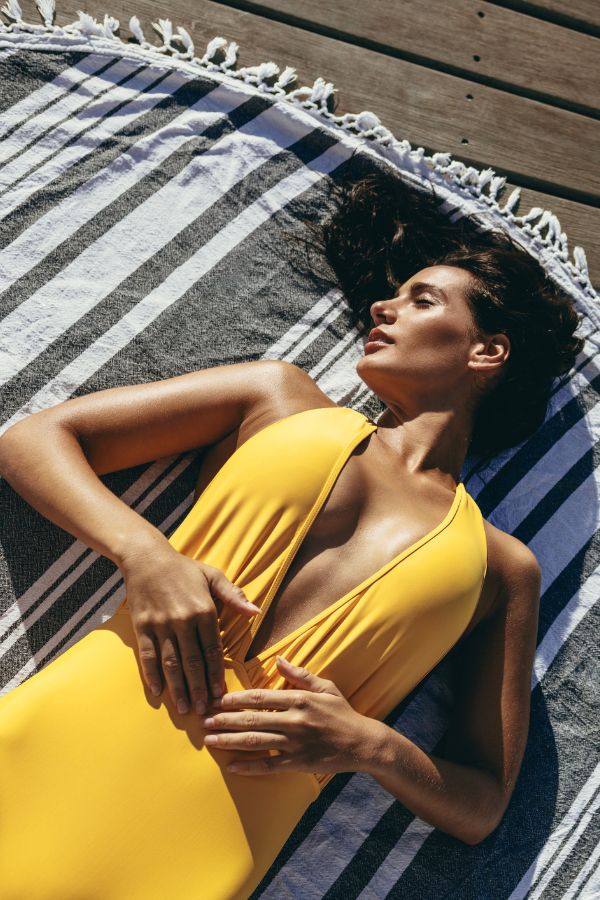 Elegant One-Piece Swimsuits
Keep things ultra-classy with this wide-shoulder pleated Camelia swimsuit from Heidi Merrick. It features a deep neckline and a cheeky bottom to keep the style on-trend.
Elegant Beach Cover Ups
Feel like a goddess in the Mimi Embroidered Coverup Maxi dress from Ramy Brook. The epitome of boho-chic.
This vintage-inspired linen wrap dress from Vivaia has a super long tie for versatile styling options.
Elegant Caftans
The River Kaftan from Myrah Penaloza is simply ethereal in drapey linen-rayon blend.
If you love prints, the Kiera Kaftan Maxi from Kooreloo is a mod-inspired style that definitely steals the show!
What To Wear To The Beach At Night
Depending on where you are, you may need to dress a little less casually for an evening beach event or a little warmer for a bonfire for what to wear to the beach at night.
Matching Set
Matching sets are always an excellent option for a polished look. You'll definitely turn heads with the stunning gold and white Orelia Tweed Boucle Set from Alamour the Label. Perfect for a beach club, classy party, or beach wedding.
Related Post: What Dresses To Wear To A Wedding: Summer Edition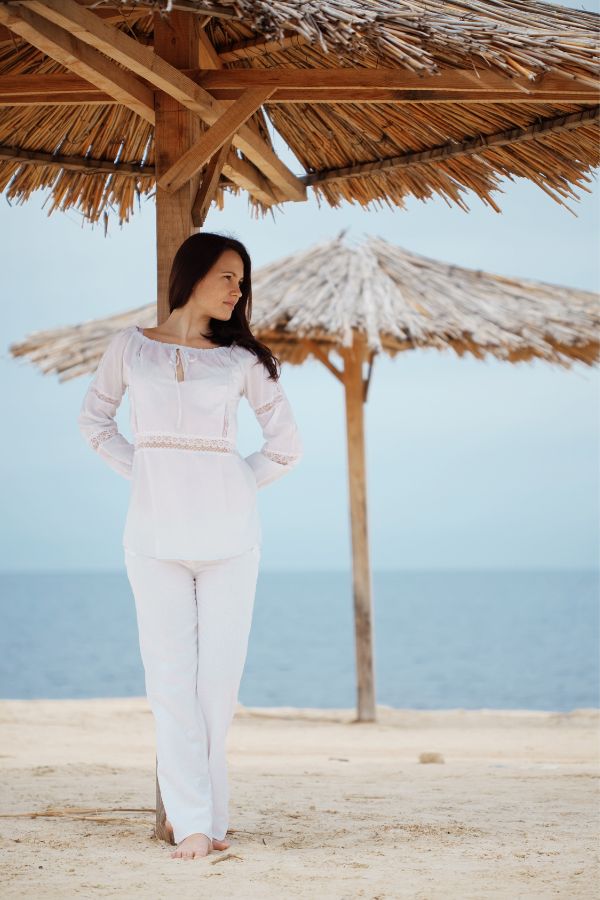 This Loose-Fit Linen-Cotton blouse with a mandarin-inspired collar from Lattelier elevates a relaxed evening on the beach. Style it with these equally comfortable, tailored Drawstring Straight Leg Pants also from Lattelier.
Cute Top + Cropped Wide-Leg Jeans
A pair of cropped jeans is perfect for dipping your toes in the dark water. Try the Ultra High-Rise Wide-Leg Jean from Banana Republic in light wash denim. Or opt for the Saige Wide Leg Jeans with a distressed hem by AG Jeans.
Tuck a super relaxed button-down into your jeans, like the Linen Relaxed Shirt from Everlane.
Maxi Dress
Long dresses are great for beach weddings and warm evenings.
This stunning Pintuck-Detail Sleeveless Maxi Dress by The White Company is strappy, and slinky and pairs nicely with a crochet cardigan or linen blazer if there's an evening chill.
Speaking of knitwear, this enchanting pointelle maxi dress from Figue has a v-neck and open bell sleeves which adds a youthful vibe to a semi-fitted caftan shape.
Summer Sweater
Don't forget a lightweight sweater or cardigan to keep the evening chills away. The Cropped Cardigan from Brochu Walker is a classic summer wardrobe staple in a linen-cotton blend.
Try a laid-back oversized sweater, like the Alli V-Neck Sweater from Free People, sure to keep you cozy and stylish.
Add a touch of elegance to your beach night outfit with this lovely Silk Cashmere Travel Wrap from White + Warren.
What Shoes To Wear To The Beach
Footwear is important to your beach outfit, especially if the sand is piping hot!
Related Post: How To Buy Clothes You'll Actually Wear, Seriously
The leather Anika Sandal from Fortress is a great option that won't shoot sand everywhere (and at everyone). Very minimal and casual.
You can't go wrong with these cute strappy sandals, the Chasca Flat Sandal from Jessica Simpson, which comes in a few different colors this season.
The Lizzy Slides from Anine Bing are comfortable and sporty for all-day wear.
Accessories For Your Beach Vacation Outfit Ideas
Chic accessories are also an important component of your beach vacation outfit ideas. A stylish beach hat, medium to large-sized beach bag, and a pair of cute sunglasses will take you through a week at the beach.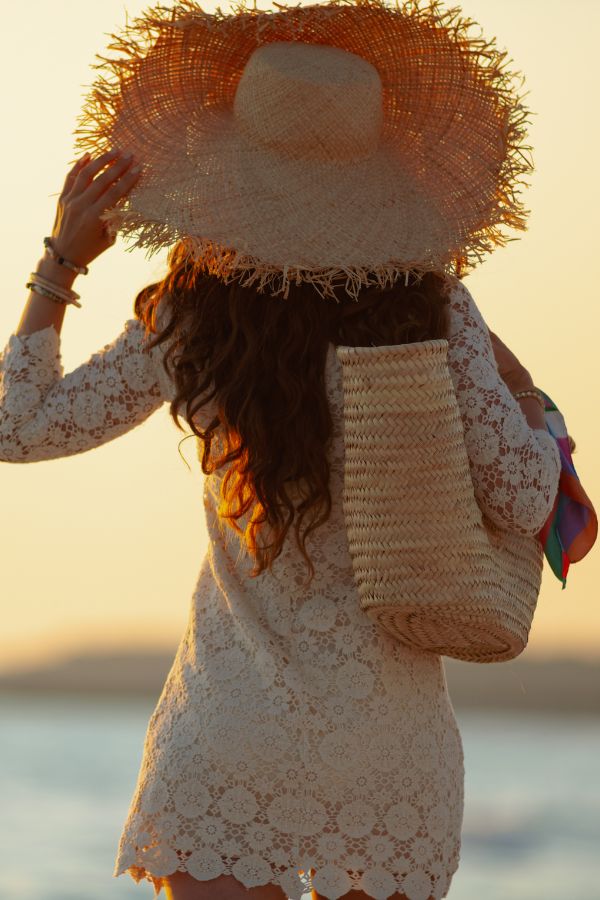 Stylish Beach Hats
You won't have to sacrifice sun protection for style with the wide-brimmed Floppy from Eric Javits. Not only is it 50+ UPF, but it's also durable and packable!
For a style with a slight boho/western vibe try the Perfect El Campo Ultrabraided Sun Hat from San Diego Hat Company.
Modern Beach Sunglasses
Sunglasses are a must on the beach, not only to protect your eyes but also as a stylish accent to your beach outfit.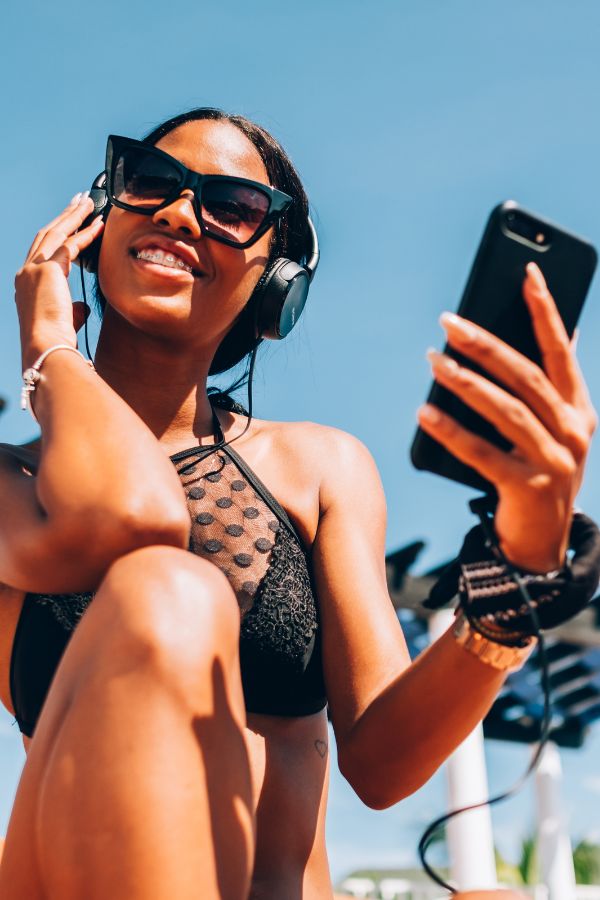 These sophisticated Dream Girl from Freyrs are a sleek and elegant metal-framed style for any summer day. Add an elevated 1950s vintage vibe with these butterfly-frame sunnies from Vuarnet. And I definitely can't forget to mention this classic oversized pair from Quay Australia.
Chic Beach Bag
Try a modern take on a woven straw tote, like this elevated carryall from Misa Los Angeles. Or try the slouchy Natural Amara Tote from MAR Y SOL.
I love discovering new beaches and the vibe they have to offer. What's your favorite beach and what do you like most about it? Comment below!
This post was all about what to wear to the beach
Related Posts: