Looking for what dresses to wear to a wedding in the summer? These gorgeous summer wedding guest dresses are the perfect options to welcome the new bride and groom in style!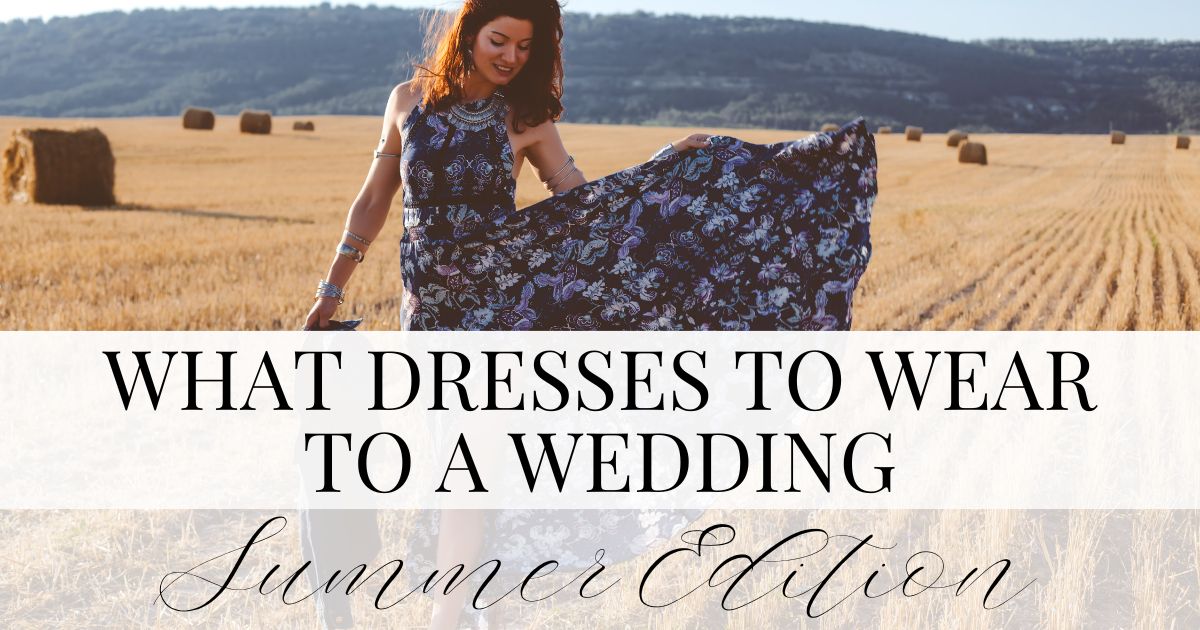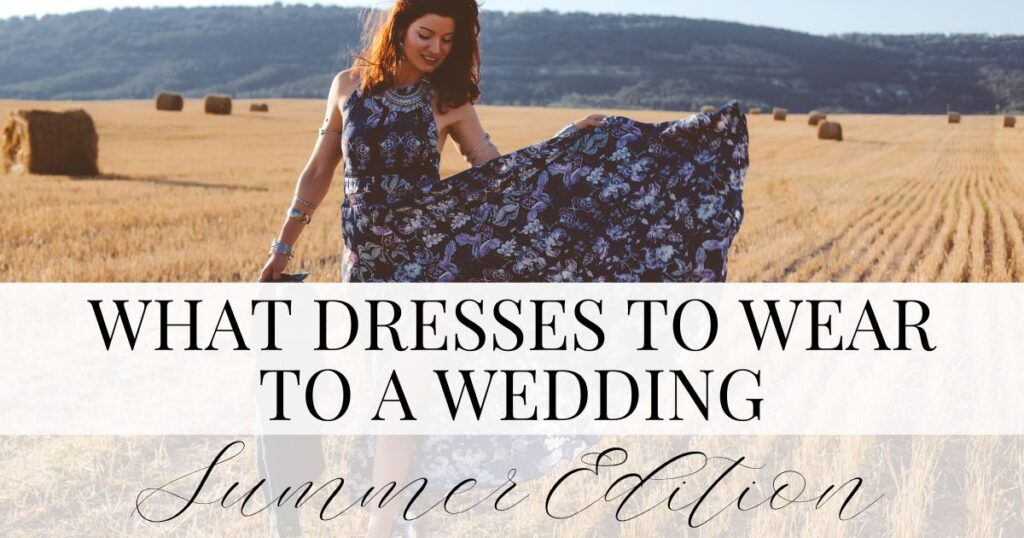 Summer temperatures vary depending on your location, so it's important to do some research on what dresses to wear to a wedding to ensure you're both comfortable and stylish.
In this post, you'll learn what colors to wear to a summer wedding and what dresses to wear to a summer wedding. Whether you're a guest at a casual backyard ceremony or a black tie affair we've got you covered with the best summer wedding guest dresses!
This post is all about what dresses to wear to a wedding.
Best Dresses To Wear To A Wedding
What Color Dress To Wear to A Summer Wedding
You have a lot of different options for what color dresses to wear to a wedding in the summer. The sun is out and so is society, whether it's at the beach, by the pool, in the garden, or picking strawberries on the farm.
Choose a color dress to wear to a summer wedding inspired but the colors of your surroundings. Colors can be vibrant such as a deep yellow to mimic the sunset, turquoise blue like the lake you kayaked, or bright pink after your favorite summer flowers.
Tropical colors and patterns also have the vibe of summer and being on vacation. Look for bright coral, seafoam green, or sandy beige. Take inspiration from tropical fruits, animals, sunrises, and sunsets.
Floral prints and bright patterns are cheery and fun to match the carefree atmosphere of the summer. Or go muted with pastel shades like hydrangeas, ice cream, and cotton candy.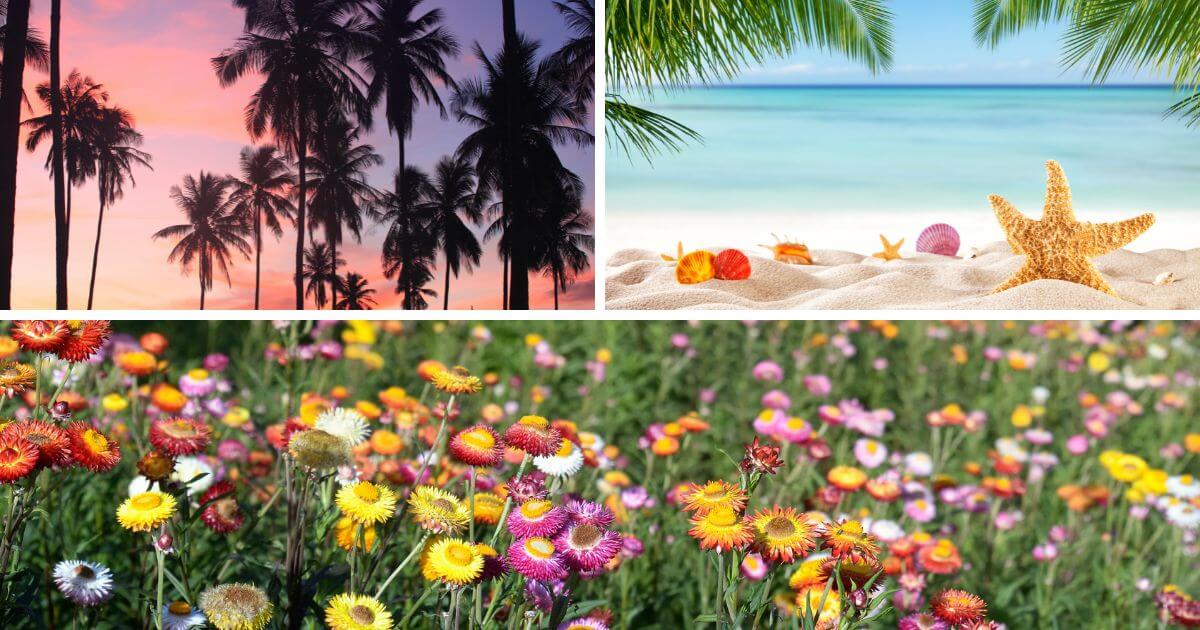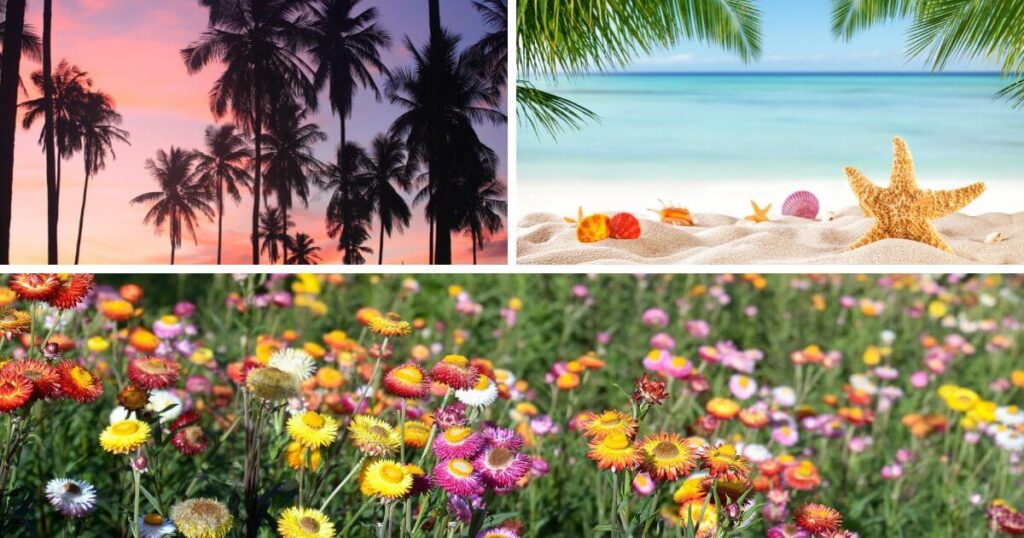 Summer Colors To Wear To A Wedding
Blues, greens, and turquoise to match the ocean
Shades of tan, beige, and pink to match the sand
Warm shades of yellow and orange to match the sun
Shades of green to match plants and trees
Bold pinks, purples, reds, yellows, and corals to match flowers
Pastels to match ice cream and clouds
Browns, tans, and goldenrod to match fields of hay
Bright reds, pinks, and greens to match watermelon
Let's not forget a classic favorite: black. Some consider black a safe choice, but in reality black looks amazing on darker skin tones, including that summertime tan! If black makes you look washed out, opt for a shade of gray instead.
Related Post: 11 Amazing Summer Wardrobe Essentials You'll Wear Year After Year
Before choosing your color, refer to the dress code provided with the wedding invitation because some colors are not appropriate for certain religious ceremonies and it's not your job to stand out as a wedding guest.
Elegant Dresses For Wedding Guests
Let's start off with the most formal of wedding affairs where you need to dress to the nines. This would be your white tie, black tie, and black tie optional affairs, and if you love dressing up (like I do!), events with a "formal" dress code.
Evening weddings are certainly more formal than daytime weddings, so keep this in mind. If you're attending a daytime wedding with an evening reception, opt for a dress that's appropriate for both day and night.
Related Post: 10 Elegant Style Tips To Look More Sophisticated
Dress code rule of thumb: When in doubt, always opt to dress up as opposed to dressing down.
Elegant dresses for wedding guests include the following: floor-length gowns, evening gowns, and maxi dresses. Maxi dresses are considered less formal, so skip them for white tie and black tie affairs. Let's look at some examples of these dresses to wear to a summer wedding.
Floor-Length Gown For Wedding Guest
Floor-length gowns are the most formal looks for a wedding and definitely required for a white-tie affair.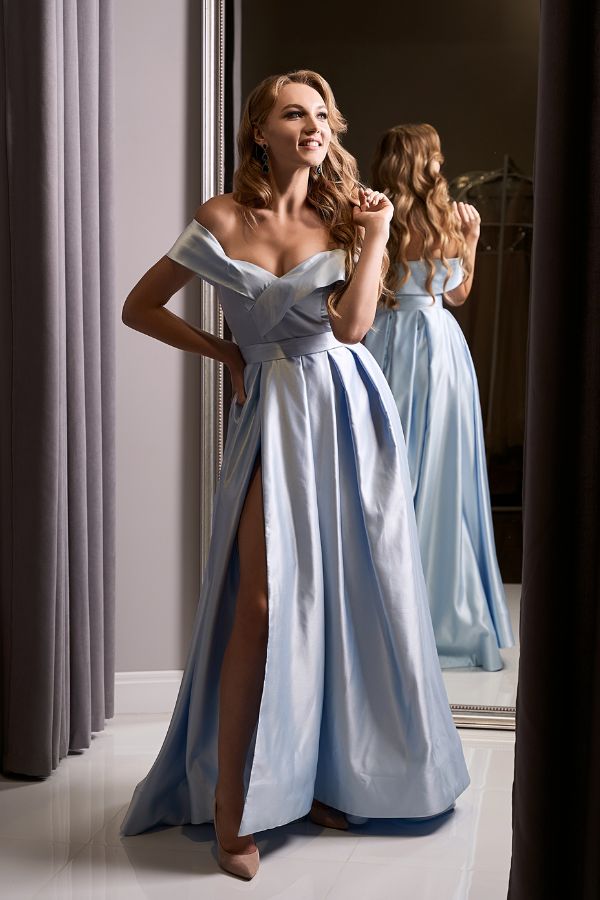 This dreamy satin blue plunge gown from ASOS is so dreamy and romantic. The flowy fabric on the bottom is perfect for ladies who want to add volume to their lower half.
OMG, I'm trying to calm my excitement over this stunning teal Rubi Satin Gown from Alamour The Label that features a side slit, a deep-v back, and a mermaid train. What's even better is that this gown is made-to-order in sizes XXS to 9XL (Australian sizing)!
Evening Gown For Wedding Guests
Evening gowns aren't always floor-length but can be maxi or tea-length, and are perfect for black-tie, formal, and evening weddings. They're dressier than a "maxi dress" and more intricate in design and fabric.
This gorgeous Baby Cakes Gown by Katie May has a floral chiffon ruffle trim slit and a bustier-style bodice. A great choice for wearing florals to an evening wedding.
Elegant Maxi Dresses For Wedding Guests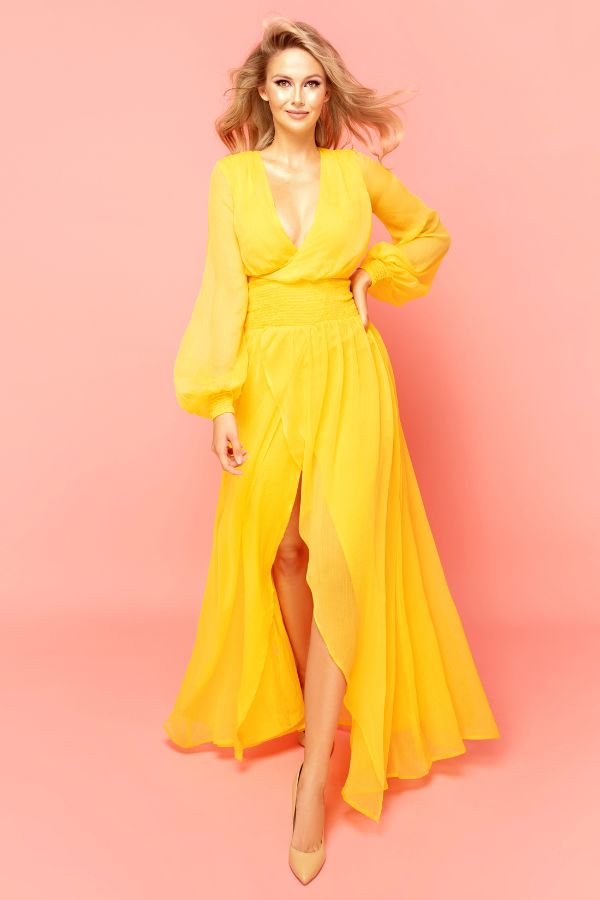 Not every lady wants to go sleeveless for a summer wedding. That's why this dramatic floral chiffon Ieena for Mac Duggal V-Neck Ruffled Mesh Dress is flirty, feminine, and perfect for dancing.
I love this sleeveless Kayla Gown from Sachin & Babi with a high neckline with a long scarf tie. The print is so beautiful and cheery in a poly chiffon fabric.
Cocktail Dresses To Wear To A Wedding
Cocktail attire is the happy medium and most popular dress code for what dresses to wear to a wedding. This would be for your formal, cocktail, and semi-formal summer weddings. Dresses can range from maxi length, midi length, tea length, knee length, and mid-thigh. Go for a simple look with bold accessories or a statement dress with minimal accessories, your preference.
The best way to determine what dress style is appropriate is to research the ceremony and reception venues, the time of the event, and of course the couple's personality. If the bride is always the best-dressed woman around, it's in good taste to dress in something nice as well. Weddings are about honoring and celebrating the new couple, not about how casual of a dress you can get away with wearing.
Related Post: What To Wear To A Funeral (And Still Look Stylish)
Let's look at some examples of cocktail dresses to wear to a wedding.
Cocktail Summer Wedding Dresses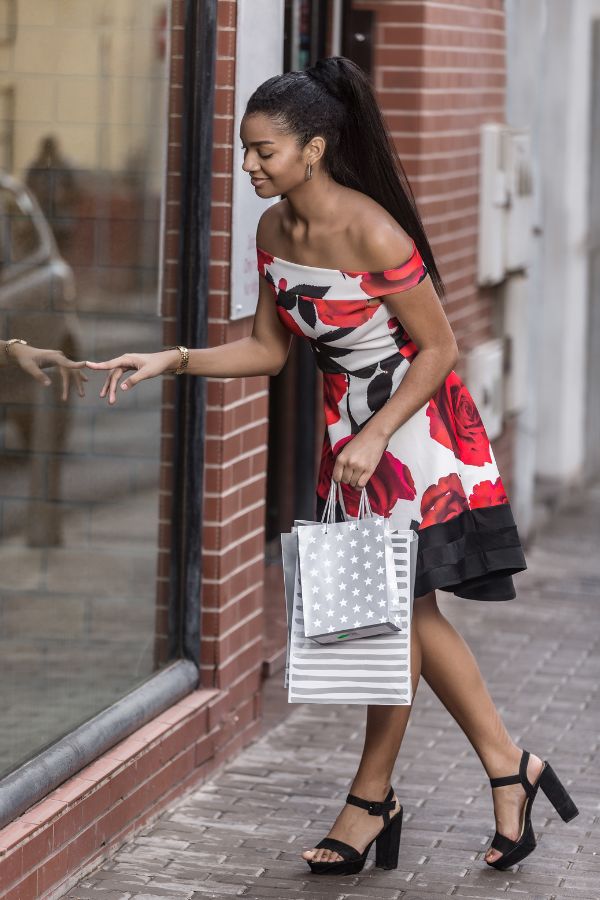 The sequin detail of this Print Sequined Cocktail Dress from Lauren by Ralph Lauren is perfectly balanced with a black and beige palm leaf pattern for summer evening chic. The surplice neckline is flattering and it comes with a small waist-cinching belt that doesn't stand out too much, with gentle pleats that will hide any problem areas.
Wow, this navy blue lacey midi dress is HOT! Halter neckline, open back, form-fitted…I love this! Click here to view the Divine Destiny Navy Blue Lace Midi Dress by Lulus.
Little Black Dress For Summer Wedding
I love the midi-length Silene Shift Dress by Lily Silk in 100% mulberry silk with lace trim for an extremely versatile LBD. Style this slip dress for spring and fall as well by adding a classic blazer or knit sweater over top.
Jumpsuits For Wedding Guest
For those of you that don't want to wear a dress, the jumpsuit is your answer!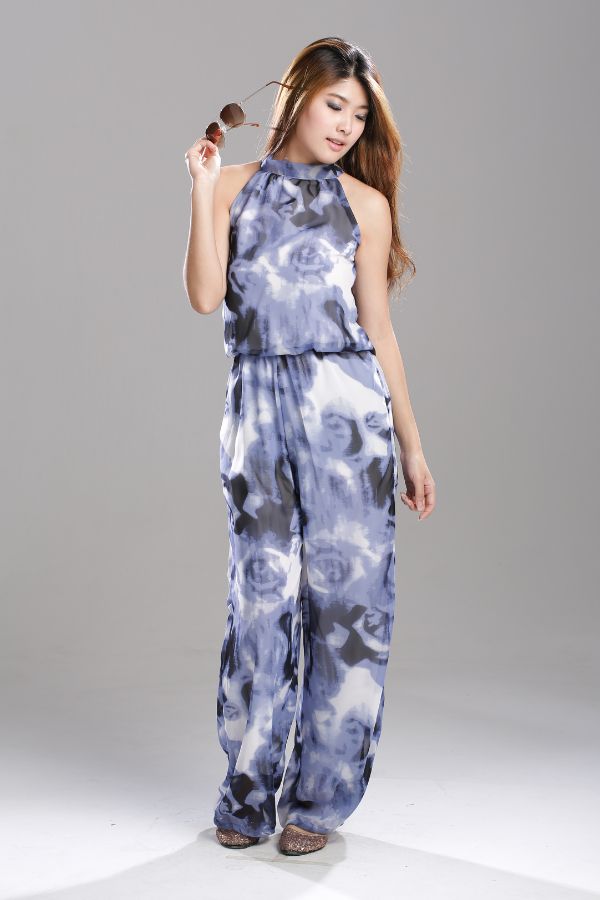 No need to reveal too much skin with this drapey jumpsuit that looks as comfortable as it is elegant Try the Draped Wide Leg Jumpsuit from Elie Tahari or the Wild Orchid Pleated Jumpsuit from Meghan LA.
This satin-like Abstract Printed Jumpsuit from Mango has asymmetric capped sleeves with a gorgeous, gorgeous abstract pattern.
Dresses To Wear To A Casual Wedding
There are two categories of casual dresses to wear to a wedding: dressy casual and daytime attire/casual. There are differences, so please read on.
Dressy Casual Dresses For Wedding Guest
If your wedding guest invitation indicates a dress code that's "dressy casual", "smart casual", "upscale casual", or "fancy casual", you'll want to dress somewhere in-between formal and casual attire.
Business casual office dresses, shirtdresses, and upscale dresses are perfect for this dress code. Opt for a more casual fit in an elegant material such as silk or airy chiffon in a print. Jumpsuits and dressy pants are also appropriate for this dress code.
Related Post: Style Types: 5 Beautiful Pieces For Romantics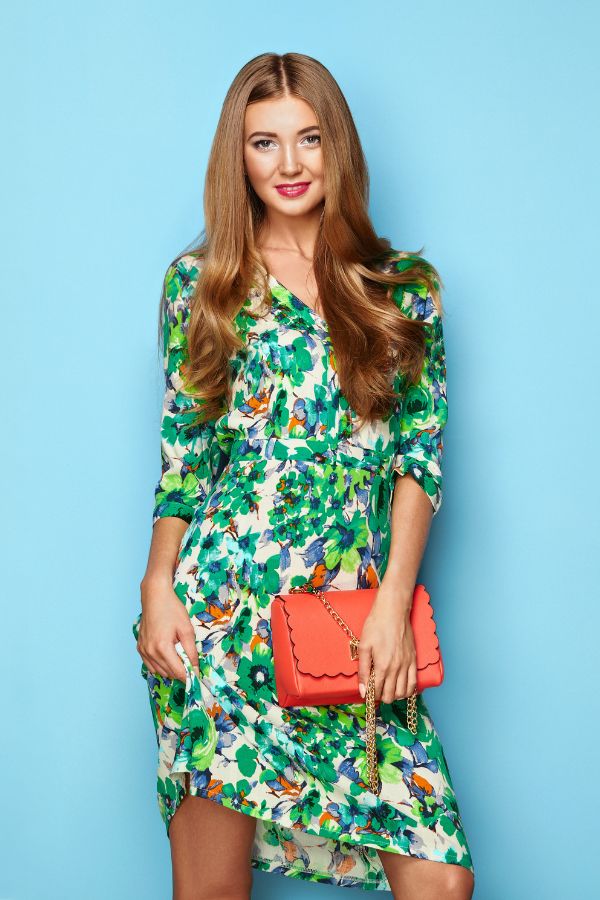 My vintage lovers will adore this Printed Trimmed Belt Sleeveless Dress from BABEBEYOND with a 1920s-inspired dropped waistband in a delicate floral print. So cute.
This timeless cotton Tia Dress by Heidi Merrick is impeccably tailored with a mandarin collar, structured sleeves, and a pleated skirt.
Casual Wedding Guest Dresses
Casual wedding guest dresses aren't typically meant to mean a t-shirt dress and pair of sneakers (unless the wedding's at a campground, perhaps). Even backyard affairs call for a little bit of effort on your part. Opt for sun dresses, skirts, jumpsuits, or looks you'd wear out to a friend's milestone birthday lunch at a cute outdoor restaurant.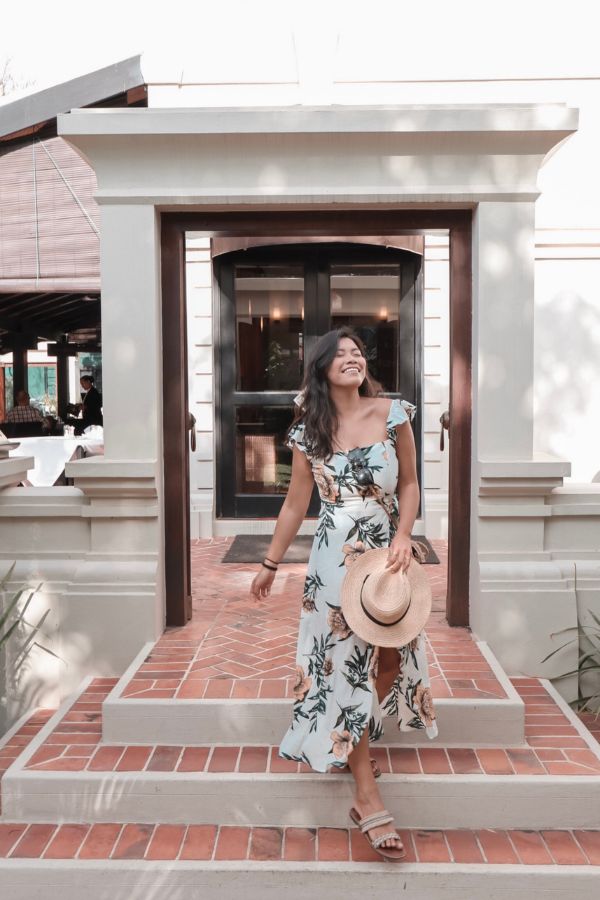 This bold pink Key Dress by Sophie Rue is flirty and fun, with a high slit, square neckline, puffed sleeves, and a keyhole design in the back. The slinky material makes it relaxed, breathable, and easy to move in on a hot summer day.
A dress with a relaxed fit, like this elegant Elizabeth Emerald Paisley Maxi Caftan Dress from Pax Philomena, is perfect if you want to look well-put-together without trying too hard. The gorgeous emerald color has a metallic gold pattern that will shine under the sun and twinkle in the moonlight.
Dresses To Wear To A Beach Wedding
While the atmosphere of the beach is laid back, not all beach weddings are casual. If you're traveling to another location, you need to be prepared with the right attire. Let's break down the different dresses to wear to a beach wedding.
Beach Formal Wedding Guest Dresses
Beach formal wedding attire requires a longer skirt, at midi or maxi length, so you can comfortably walk around and your legs are still covered. Opt for breathable fabrics in linen or a cotton poplin to stay cool.
Who doesn't love a lady in red? This Cellina Maxi Dress from Alamour The Label brings all the romance with a v-neckline, A-line silhouette, open back, and bow sleeves.
Wow. The beautiful Sabanero Dorado Lima Maxi Dress from Agua by Agua Bendita has a square neckline, spaghetti straps, and a delicate floral applique that almost resembles starfish. In a lovely orange that's perfect with a tan, this unique dress is definitely an investment to last for years.
Or try the more budget-friendly Embroidered Viscose Linen Strappy Midi Dress from Karen Millen.
Beach Cocktail Dress
Beach cocktail is less formal than beach formal, so you can wear dresses in any length in solid or prints, and have fun with embellishments. Jumpsuits and dressy separates are also appropriate dresses to wear to a wedding.
The Lala Dress from MISA Los Angeles is the perfect getaway dress, styled with cute sandals and a clutch.
I seriously need an excuse to buy the standout Haley Geo Print Halter Midi Dress from ASTR The Label with a geometric pattern, puff sleeves, halter tie, and cutout details. It's giving me all the vacation vibes.
Beach Casual Wedding Guest Dresses
Beach casual is the least formal of them all, so sundresses, skirts, and chic separates are perfect choices.
Try the Arzel Mini Dress from Free People, with its flirty and flowy kimono-inspired style, or the Congo River Cotton Midi Dress from Johanna Ortiz, a fun beach-to-bar style.
Attending a destination wedding on a beach? Find all the beach outfit inspiration you need in the article below:
Related Post: What To Wear To The Beach | 20+ Stunning Beach Outfit Ideas
This post was all about what dresses to wear to a wedding
Related Posts: