Need some inspiration for what to wear everyday? Here are seven stylish outfits you can replicate on a daily basis with clothes from your closet!
If you're struggling with what to wear everyday, you've come to the right place! The hamster wheel of life doesn't always make it easy to spend time restyling the same clothes each day. It also might be difficult to style basic clothes when your wardrobe consists of mostly trends.
No matter what your style aesthetic or wardrobe size, having a few everyday outfit ideas makes life easier. Easier and more stylish too? You got that right.
In this post, I share some of my favorite outfits to wear everyday. You can create these looks with both classic and trendy items. They also work in different seasons by swapping out an item or two. I know you'll love them and return to these everyday outfits again and again.
This post is all about what to wear everyday.
What To Wear Everyday Woman
What Kind Of Clothes Should We Wear Everyday?
The most important aspect of everyday style is wearing clothing you absolutely love. We all have different tastes and styles that resonate with who we are.
Try and remember a time when you were forced to wear something you didn't want to. The memory may be from yesterday or 15 years ago. Do you recall how it made you feel? Did it make you feel good? Empowered? Authentic?
I remember a very personal experience and feeling like a total imposter, hating every moment I was in those clothes while resenting the person I dressed that way for. This may sound extreme, but it made such an impact on me that I decided to never dress for someone else or by someone else's standards again.
Dressing for yourself is the most important way to develop your own personal style, as well as look stylish. When you dress for you, it feels authentic and true. This is not an overnight thing; it's a journey. A lifelong journey in fact.
So, start today and experience the style that resonates with you. Because who knows? It'll probably evolve into something else by the next decade. Take advantage of every moment to dress in clothes you love the most.
Everyday Outfit Ideas
Now, that we got that PSA out of the way, let's dive into some everyday outfits you can style with clothes you already have. These casual outfits are timeless but work incredibly well with both trendy and classic pieces. You can also mix and match them with any type of footwear depending on where you're heading for the day.
1. Matching Neutral Separates: Ivory Knit Top + Denim
Everyone in the fashion community knows the power of an all-black outfit, but have you thought about an all-white or ivory outfit? It's one of my favorite outfits to wear everyday, any time of year. I love the softness a monochromatic ivory outfit brings, even with a pair of jeans.
Any type of matching neutrals will work, but when you're looking for an everyday casual outfit denim mostly comes in blue, white, ivory, and black. This is a great everyday outfit for a casual baby shower or get-together with friends.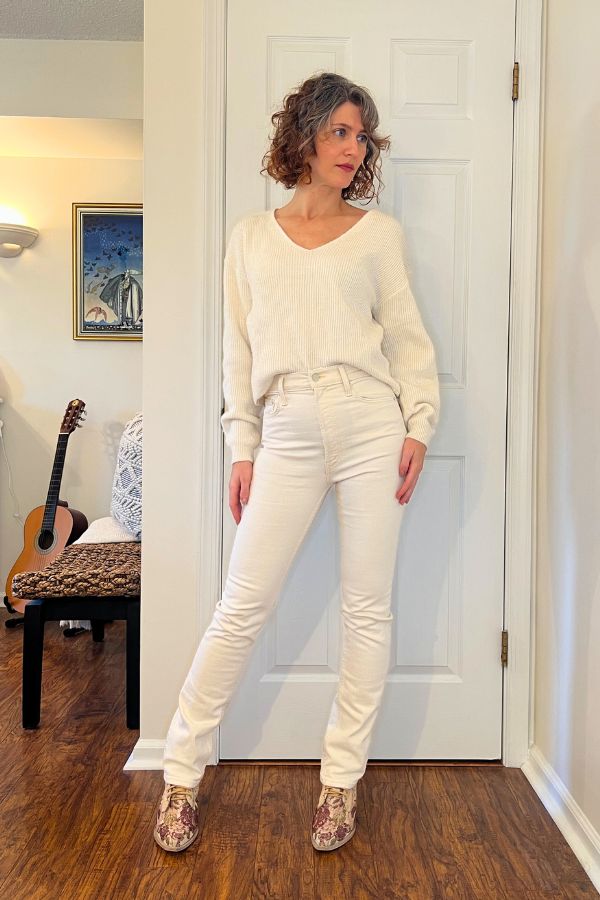 2. Blazer + Striped Top + Black Pants
A blazer, striped top, and a pair of black pants is an everyday, classic look that never goes out of style. Go with thicker fabrics for the fall and winter and try linen separates in the spring and summer.
I always praise a Ponte-knit pant for its ease of wear, comfort, and the fact that it flatters all body types. They're practically elevated yoga pants, and who doesn't want that?
3. Moto Jacket + Joggers
That moto jacket isn't just for going out anymore. Create your "outfit of the day" with a simple top and a pair of joggers or cargo pants. A high-waisted pair of pants looks chic with a more cropped style of jacket. This is also a great way to create an outfit using juxtaposition because the jacket adds structure balancing the softness of the joggers.
4. White Collared Shirt + Denim
A white collared shirt is a must-have wardrobe essential for all ages. It's the piece you reach for when you want an easy put-together outfit in a pinch. No matter what style of denim is trending, you can always count on a white button-down for an effortless, Parisian chic outfit every day of the week.
Related Post: What To Wear With Bell Bottom Jeans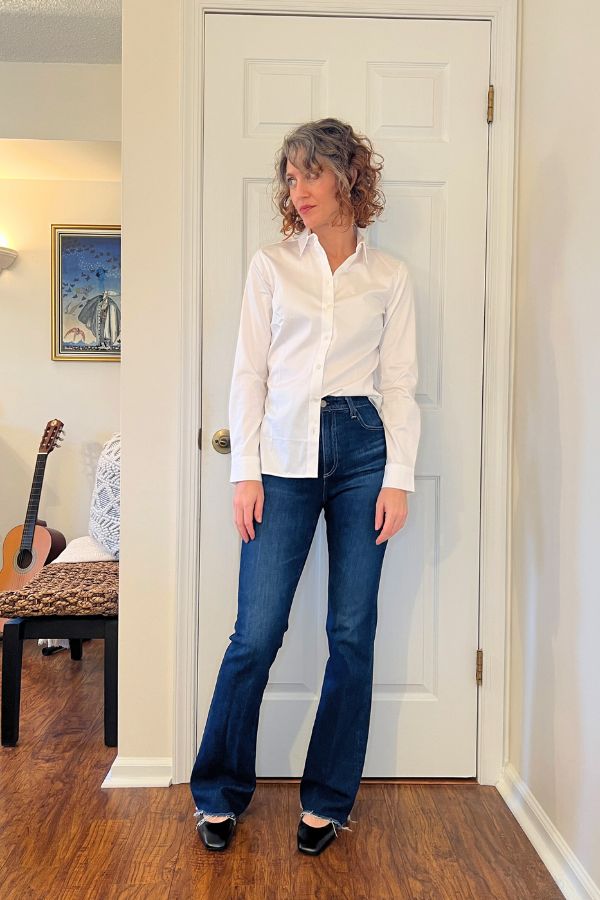 5. Casual LBD
If moto jackets aren't only for going out looks, neither are LBDs. There's something so chic and effortless about a casual little black dress with a pair of sneakers when you're out at the farmer's market, meeting friends for lunch, or going on a first date. It's one of those everyday outfits that looks dressed up without looking dressed up (IYKWIM).
Related Post: How To Dress Simple But Stylish | 7 Easy Tips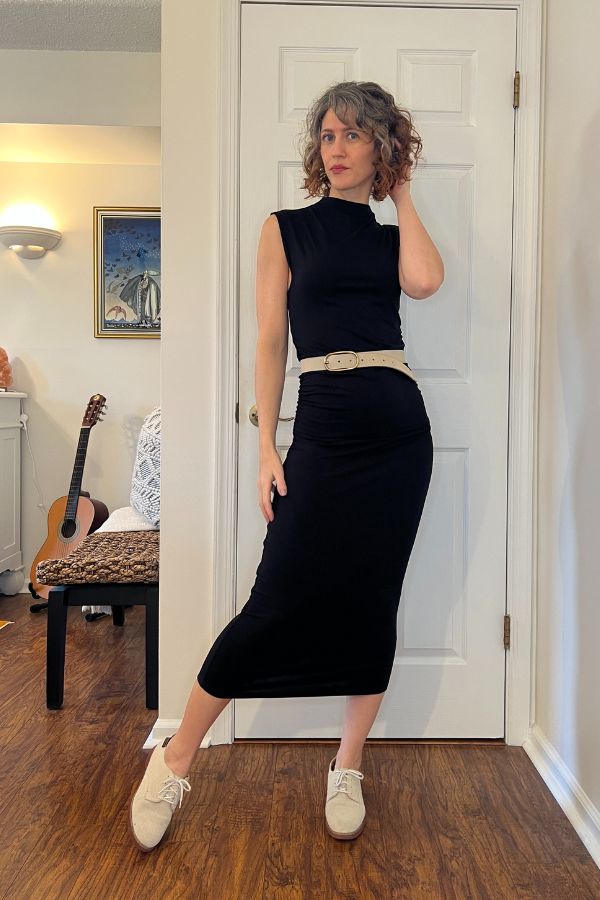 6. Knit V-Neck + Layering Top + Black Jeans
Layers are one of those simple fashion tips for creating everyday casual outfits. There's a type of richness when an outfit is layered correctly creating an elegant style, even if it's with budget clothes. Layered knitwear with black jeans is a great way to dial up the sophistication of your black jeans, which many only associate with edgy, cool-girl style. I love edgy, cool-girl style, BTW.
Related Post: What To Wear With Black Jeans | Style Look Book
Neutral colors work great with layering pieces as do monochromatic and tonal colors. I'm a huge fan of layering black, white, and cream together because you can add a bright lip color and accessories to create more depth in your outfit.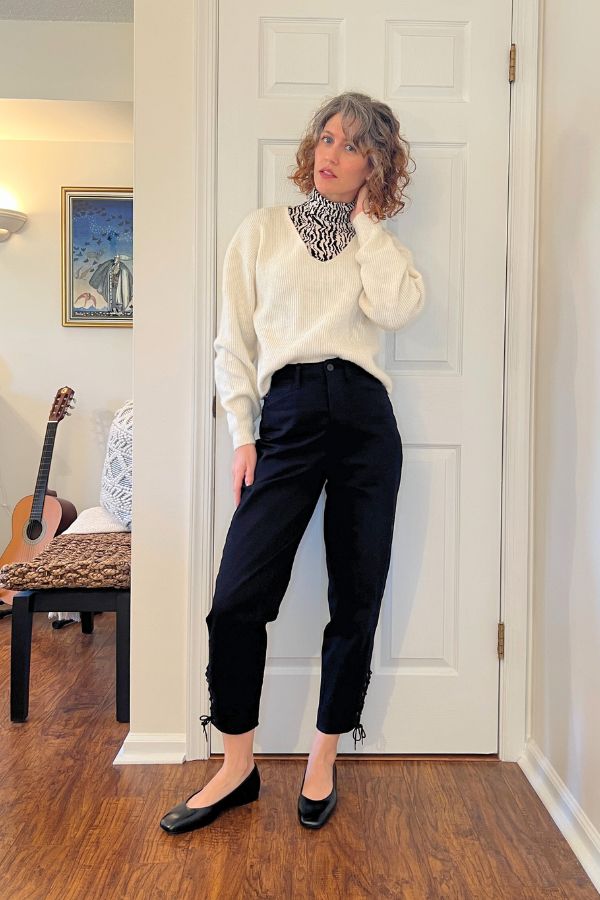 7. Chambray Shirt + Beige Bottoms
Chambray denim and beige are two colors that go together in such a timeless way. For ladies who like to keep their style on the bright side, this is a great way to style neutrals. You can create a simple outfit, a preppy outfit, a modern outfit, or an everyday outfit for work using this combination.
A chambray shirt is a definite wardrobe essential for year-round wear and belongs in every capsule. Style with beige trousers in the cooler months and tailored shorts when it's hot outside. Use leather accessories to dress the look up and add structure. Or go for a more feminine look with slinky trousers.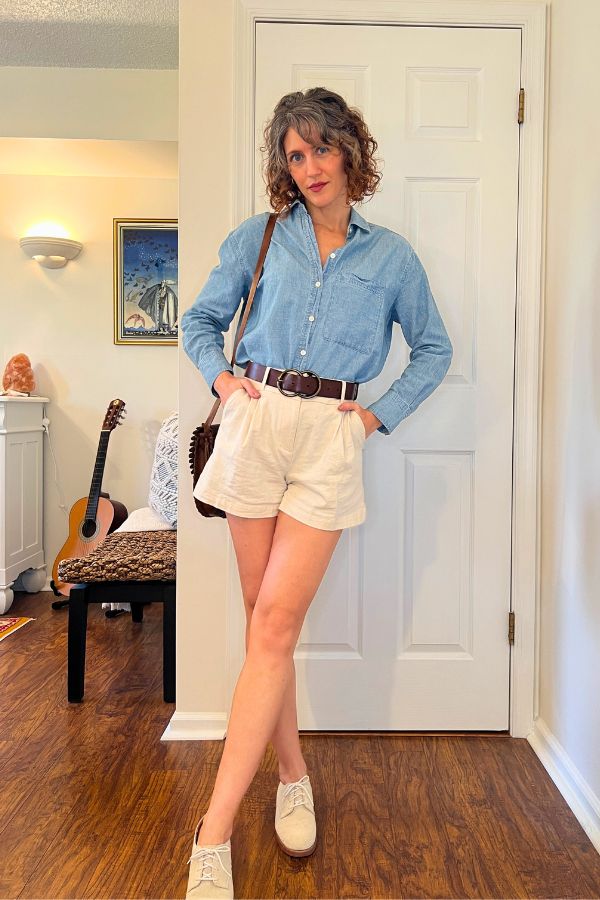 Have you tried any of these everyday outfits for women? If not, what's your go-to outfit to wear every day? Comment below.
This post was all about what to wear everyday
Related Posts: