Looking to create the perfect stylish outfits this winter? Here are seven chic looks to wear all season long.
Winter can be a dull and uninspiring time to create stylish outfits from your closet. If you're anything like me, I just want to curl up into a giant blanket and float from place to place in extreme coziness. Unfortunately, that's not an option, so having a repertoire of chic winter looks is the next best thing in my book.
Trends come and go, but these stylish winter outfits are easy to recreate season after season with your current wardrobe rotation. They work with a capsule wardrobe, an eclectic wardrobe, and the die-hard trendy wardrobe, too.
Read on to learn the most stylish outfits you can put together to look chic all winter long.
This post is all about stylish outfits.
Stylish Winter Outfits
1. Statement Coat + Solid Neutrals
A statement coat with solid neutrals is one of the most effortless stylish outfits to create for winter. You start with a fabulous coat and build the rest of your outfit based on its style and color. Solid neutrals such as sweaters and jeans make a great canvas for a fun coat or jacket, especially in monochrome. Besides outfit ideas for winter, you can even wear this look in the early spring or late fall by wearing the coat open.
Related Post: What To Wear In 50 Degree Weather | 6 Go-To Looks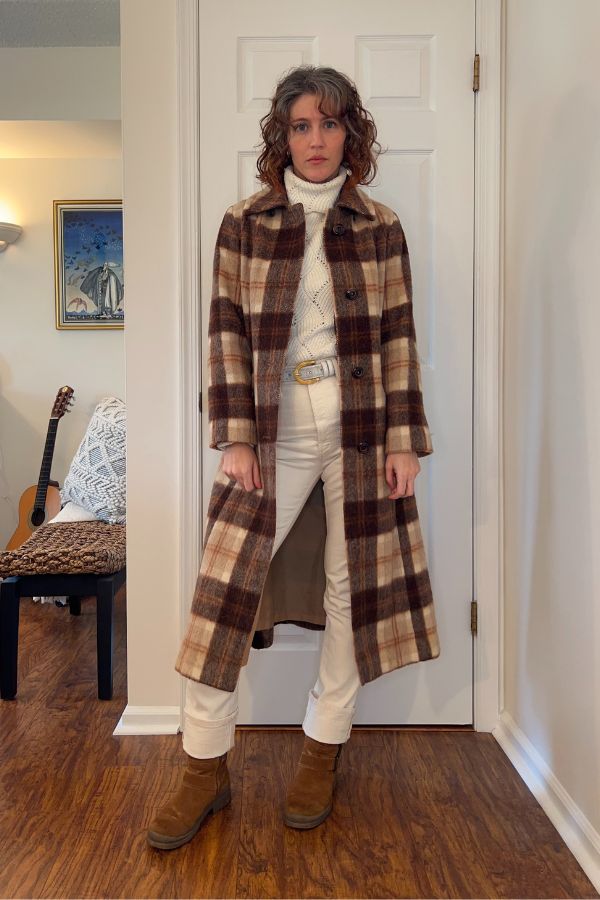 2. Knit Dress + Fur Vest
A knit maxi dress is an essential piece to create stylish winter outfits with. Opt for cashmere or wool for the warmest style, or go with a knit blend for something more lightweight. The cherry on top is adding a furry vest, giving it that extra cozy factor, and toning the dressy factor down for a casual chic style.
Related Post: My Formula for Everyday "Casual Chic"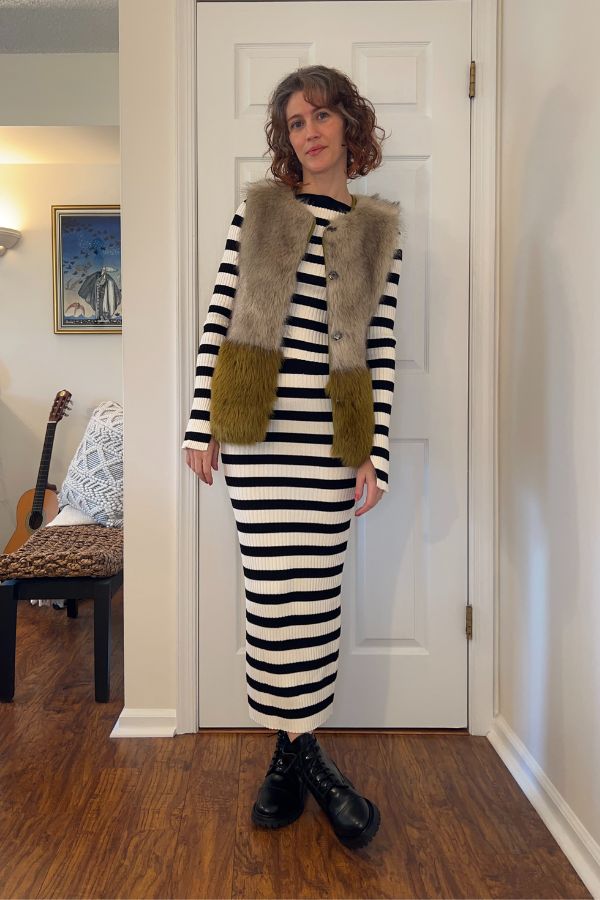 3. Turtleneck + Skirt + Tall Boots
Want to use your basic turtleneck to create winter stylish outfits? Just add a cute skirt and a pair of tall boots. This works for any length of skirt, so you can wear a plaid mini skirt with knit tights, or a belted maxi skirt depending on the occasion. This is a great look for the office, whether the dress code is smart casual or business casual.
Related Post: Create A Work Capsule Wardrobe With Only 15 Items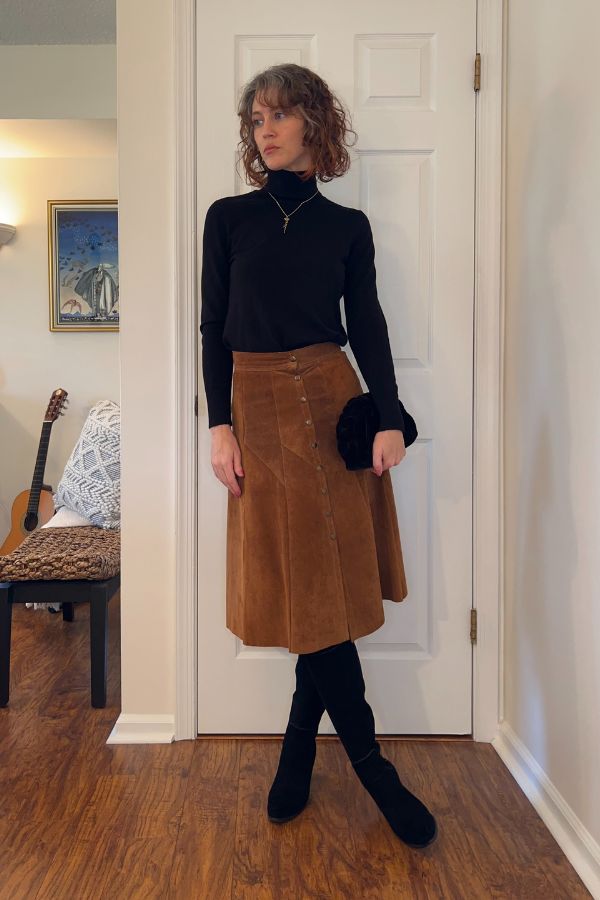 4. Monochromatic Black + Gray Maxi Cardigan
I think most of us own a mini capsule full of black clothing suitable for the cold weather. Black outfits are so practical during the cold, dark months. If styled right, it looks incredibly chic and flattering. This is why I love to add a different color cardigan overtop an all-black outfit, so you aren't swallowed completely in black. Charcoal gray is the perfect winter color and is incredibly versatile as a maxi cardigan for creating casual stylish outfits. Gold, silver, and rose gold jewelry will look amazing with this cute winter outfit.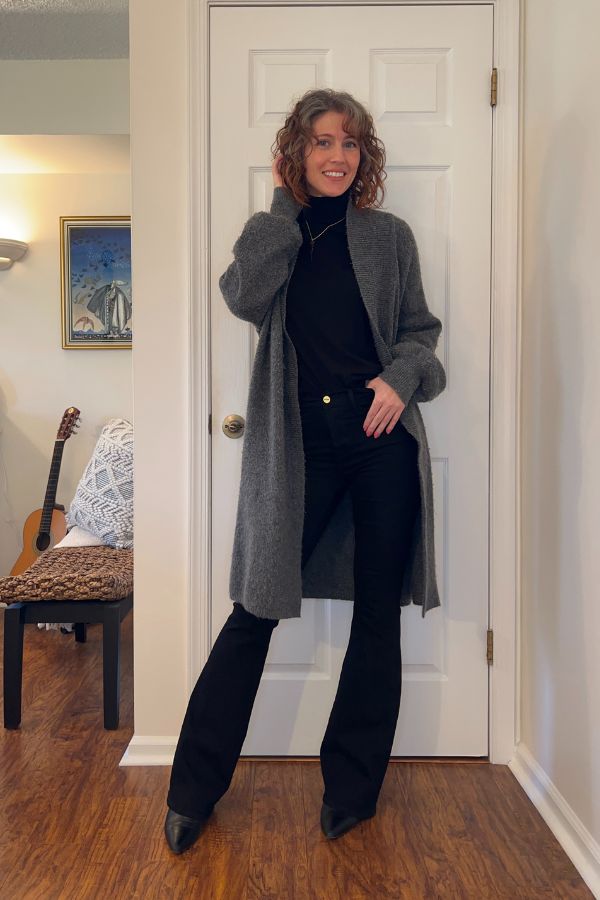 Related Post: What To Wear With Black Jeans | Style Look Book
5. Classic Layers + Any Bottom
Classic layers are a timeless look that will never go out of style in a woman's wardrobe. Think of a white button-down shirt with a pullover sweater on top. You could also layer under the shirt for more warmth and add a jacket on top. This classy look works for simple outfits with jeans, trousers, or a skirt. Keep accessories minimal and classic. Honestly, the more layers the more expensive an outfit can look even if it's from fast fashion and budget stores.
Related Post: Where To Shop For Clothes | Best Online Clothing For Women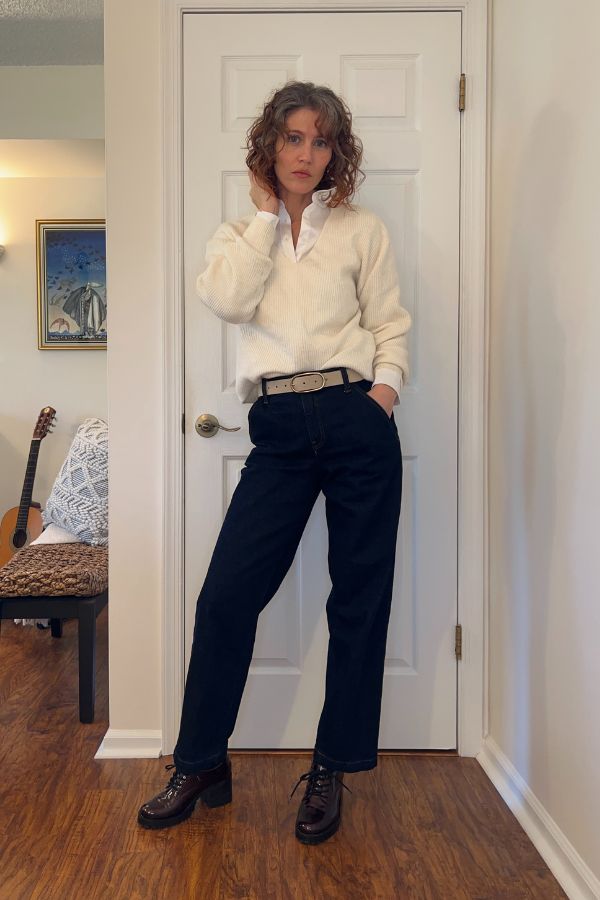 6. CHambray Shirt + Denim + Moto Jacket
If you can layer denim on denim, then there's no reason not to pair a chambray shirt with your favorite denim jeans to create casual stylish outfits. Again, you can always layer a knit top underneath the shirt. The leather jacket makes the look perfect for a casual evening or a daytime outing. This is a great outfit for one of those randomly warm winter days, or if you live in a mild climate.
Related Post: What To Wear To A Comedy Show: Best-Dressed Style Guide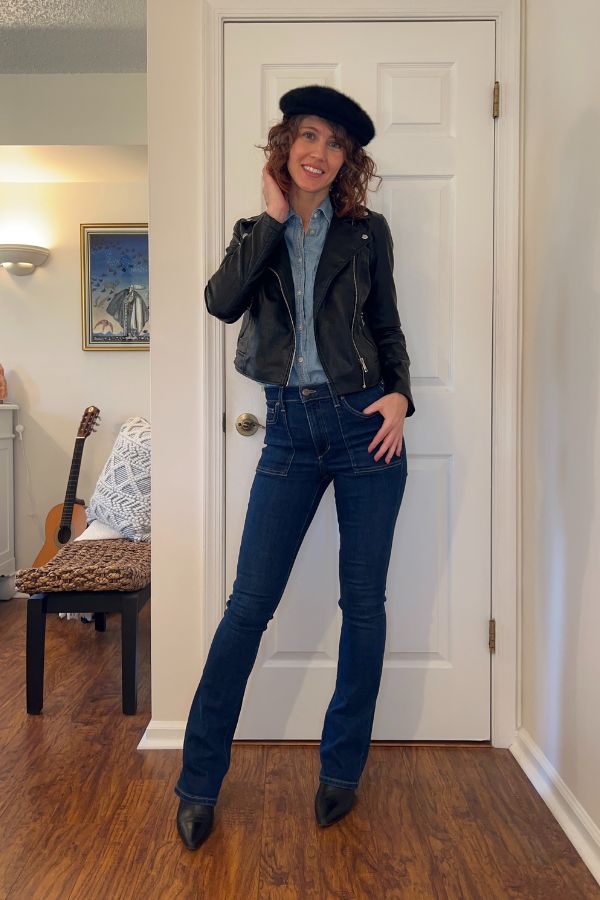 7. Blazer + Knit Top + Leather Pants
Leather pants are one of my favorite items to create stylish outfits with during the winter because they're thick and warm. Leather pants don't ever really go out of style because they're edgy and unique (not everyone wears them, so even when they are on "trend", they're only worn by a few). Hopefully, you have a pair you snagged on sale, at a second-hand store, or a less expensive vegan pair that's equally as amazing. These should really be on your timeless wardrobe essentials list, if not already.
Related Post: Wardrobe Timeless Essentials | 7 Chic Items You Need In Your Closet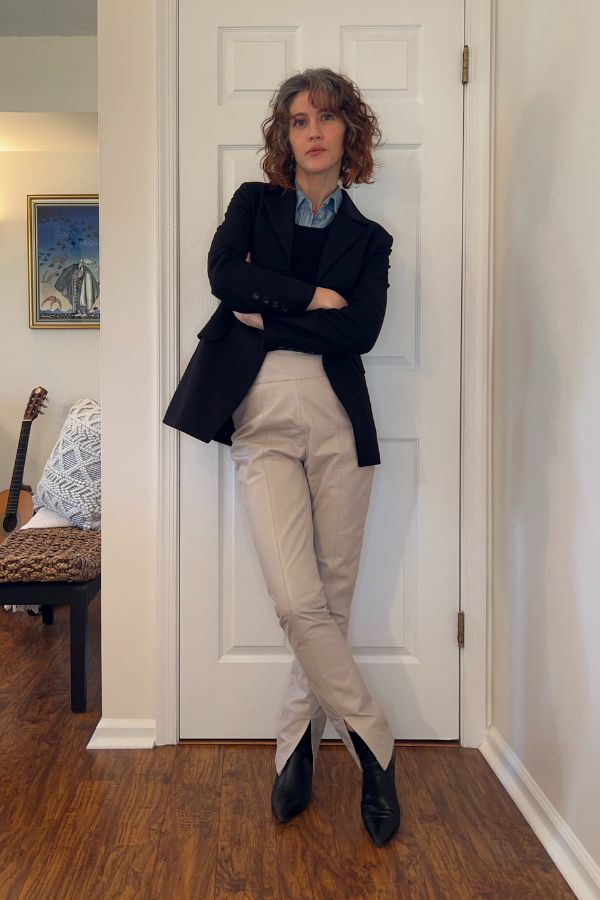 And, I definitely need to end this post by mentioning a blazer. Doesn't matter what color or style, whether oversized or fitted (although semi-fitted is the most versatile). Add a waist belt to change up the look or even try wearing the blazer buttoned up. Honestly, just have fun with these outfits. Any style of top works underneath, so go with whatever's warmest for the chilly temps outside.
Are you looking to recreate any of these stylish outfits? Let me know how it goes. Comment below.
This post was all about stylish outfits.
Related Posts: