Do you want to learn how to style your clothes to create more interesting outfits? The secret is to work with juxtaposition. In this post, I'll show you exactly how it's done!
There are many different methods for how to style your clothes in today's world. From dressing for your body type to complementing your skin undertone or styling a capsule wardrobe, these approaches will indefinitely help you become more stylish.
But, I think many of us are missing out on one of the most profound tools for how to style clothes: juxtaposition. What is juxtaposition? The Oxford Language Dictionary defines juxtaposition as "the fact of two things being seen or placed close together with contrasting effect". From a fashion standpoint, this means using contrast to create balance and interest in an outfit.
As someone with an eclectic style personality, juxtaposition is one of my innate methods to style clothes together. There are different approaches you can take to applying juxtaposition, or contrast to your outfits.
You will learn the different ways in which you can apply juxtaposition and contrast to your outfits to look stylish every day. This will also enable you to revive and reinvent old clothes and styles, saving you both time and money. Ready to learn my favorite method for how to style clothes?
This post is all about how to style your clothes.
How To Style Clothes
How To Make Good Outfits
Before jumping into the different approaches for how to style your clothes with juxtaposition, I want to highlight the most important foundation of all styling methods: creating balance. We live in a universe where balance is essential to the health and well-being of all things: yin/yang, light/dark, hot/cold, etc. In the same vein, a balanced outfit is the most harmonious for any body type.
Use The Rule Of Thirds To Create Balance
The basic fashion rules of balance do not mean that every component of your outfit is half and half, or 50:50. Rather, they follow the universal design principles of the Rule of Thirds, or balanced proportions. Essentially, this means that one side of the scale is favored more than the other side. So, the ratio becomes 2:3 or 3:2 (or even 3:5 and 5:3), instead of 1:1.
Related Post: 3 Personal Style Tips To Consider Every Day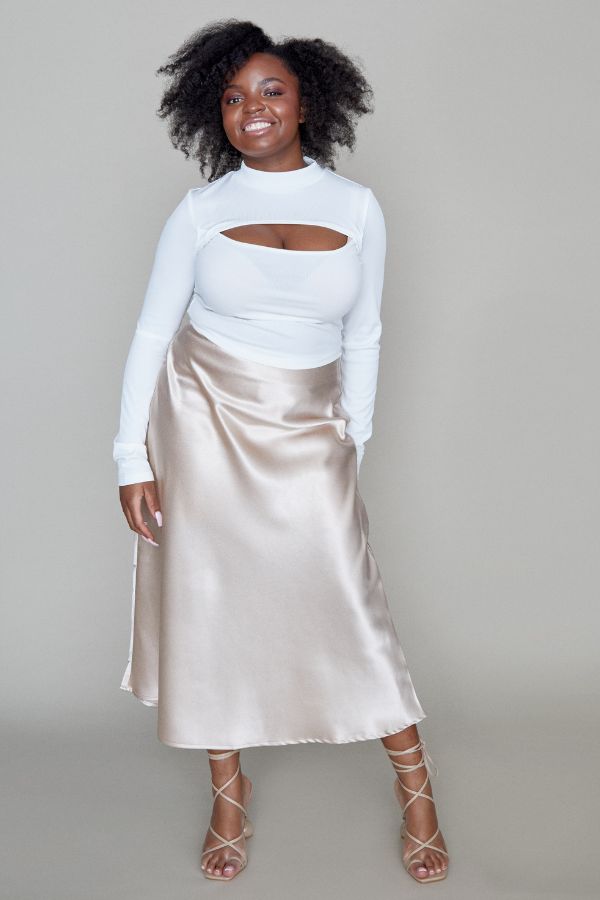 Lead Element vs. Supporting Elements
Now, you don't need to do math in order to look stylish everyday. When it comes to styling with juxtaposition using two opposing elements, highlight one of those elements in your look. So if you're styling with two colors, one of those colors is your primary element (or the Lead Actress), while the other color is your secondary element (or the Supporting Actress). The Lead Actress is more prominent, and takes up more space in your outfit, essentially following the 2:3 or 3:2 ratio (without measuring).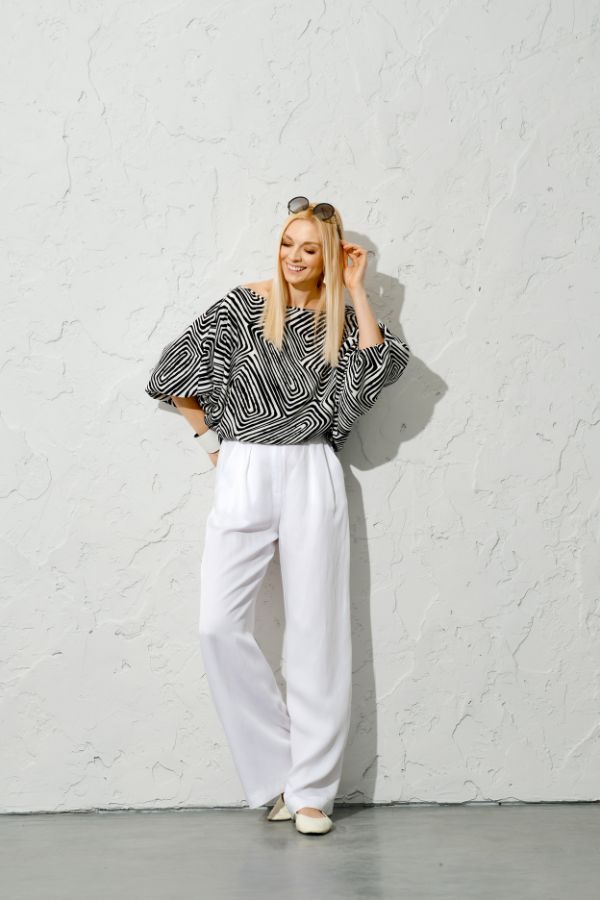 Now, let's move into concrete examples of how to use juxtaposition and contrast proportionally when you choose an outfit.
1. Color
Playing with color contrast is one of the easiest ways for how to style your clothes using juxtaposition. Most of us are already doing this when we dress in outfits that are black and white. Black and white or black and ivory are two amazing sets of colors that work across all style types and aesthetics. You can also try white or ivory with brown, gray, navy, burgundy, dark green, and any other dark color to create outfits from your closet that are contrasting. Or, try light denim with dark denim.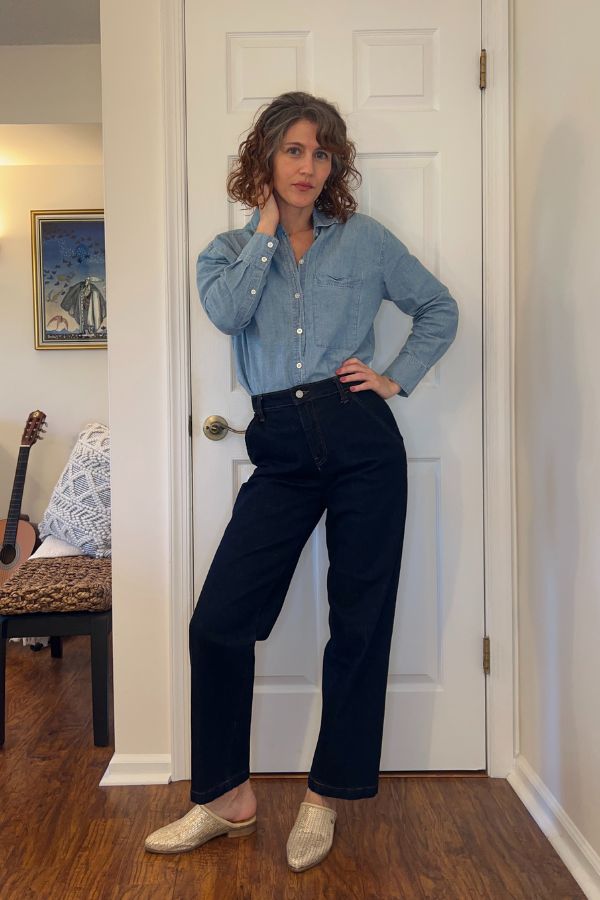 Contrasting color doesn't have to mean those famous pairs from the color wheel such as yellow/purple, red/green, or blue/orange as I think most of us would avoid those unless already part of a print (or we're going back to the 1970s, which isn't a bad thing in my opinion, fashion-wise). I think these colors are best styled with one as your main and the other as a small accent in your look.
Tonality Using The Same Color
Using light and dark shades of the same color family is another way to juxtapose color to create stylish outfits. This is known as tonal dressing where you choose one color and style different pieces in similar and exact shades of that color. Take this to the next level by adding a small accessory of a contrasting color, as mentioned earlier. For example an all-blue outfit with an orange set of heels, sunglasses, or a mini bag.
Related Post: 10 Elegant Style Tips To Look More Sophisticated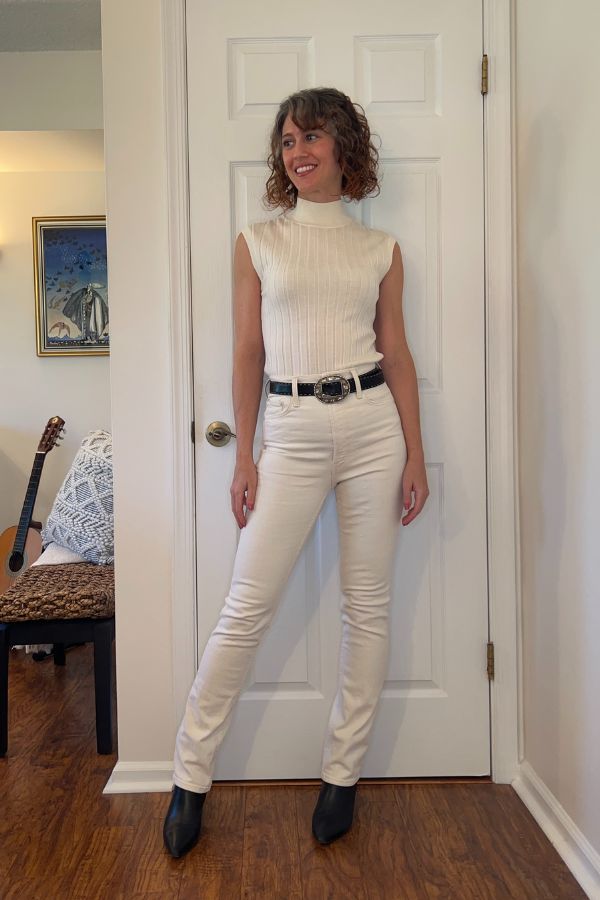 Always choose one color as your leading actress and the other color as your supporting actress, otherwise, it can appear that the two colors are competing with each other. This creates opposition in one's outfit, which will come across as an imbalance visually and energetically.
2. Shape
Shape is another approach for how to style your clothes using juxtaposition. By shape I mean the literal shape of an article of clothing or the shape the clothes create when layered together.
For example, if you have a boxy jacket such as an oversized menswear blazer and you style it with an equally oversized pair of trousers you may look like you've been swallowed up in your clothes. In fact, you'll resemble a giant, shapeless box. Nothing wrong with that look, and it's even been trending for the past few years, but in terms of shape, it's definitely "one-note".
Now, take the same boxy jacket and style it with a pair of bootcut trousers. You've just created a contrasting look using a boxy piece with a curvy piece. Take the contrast further by adding a pair of pointy-toe heels. Square + Curve + Point. Now, you have an interesting look.
Related Post: Most Flattering Styles For Rectangle Body Shape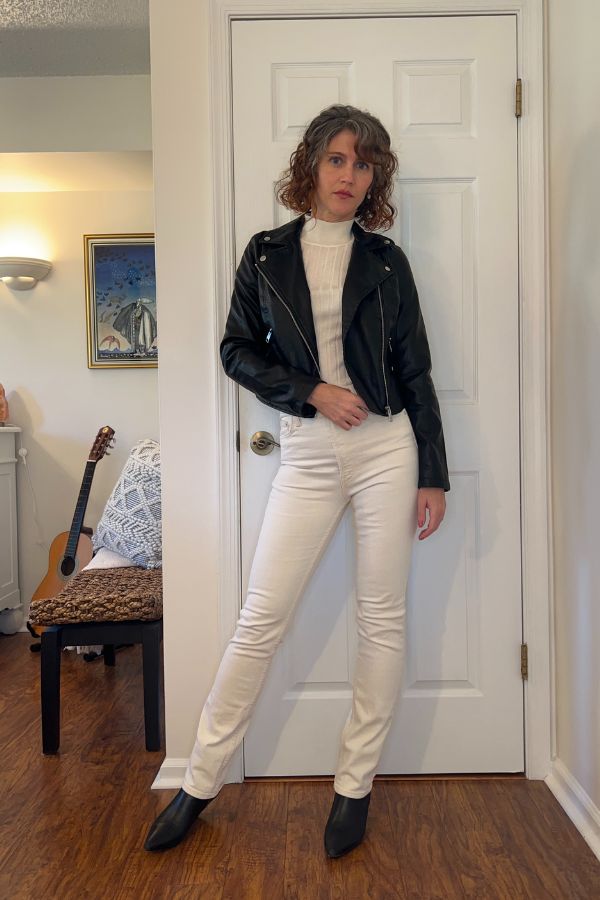 The easiest way how to style outfits by juxtaposing shapes is to pair something loose with something fitted (or boxy vs. fitted). That can be as easy as a basic tank with a pair of wide-leg trousers or a fitted maxi skirt with a belted, oversized collared shirt.
3. Texture
Texture is another fairly simple womens clothing method for styling with juxtaposition. All you do is mix and match different textures to create a unique, layered style.
I don't exactly want to compare this approach to feng shui, but it's coming to mind. Feng shui incorporates the five elements of wood, fire, water, earth, and metal to create balance and harmony in design. In a similar fashion, if all the pieces in your outfit are made of the same material, it can look boring and one note.
I think two textures, at minimum, are crucial for what makes a perfect outfit, even if it's a pair of shoes as your supporting actress while the rest of your look is a polyester blend.
Shop your closet for different materials when styling an outfit. Start with accessories if you want to dress simple but stylish. Outerwear comes next. Eventually, you may create looks with a different material for each item, which is a definite element of an eclectic look (not for everyone, but always good to experiment to see if you like it).
Related Post: How To Shop Your Closet The Right Way
Textures to contrast:
Cotton
Linen/hemp
Leather
Suede
Velvet
Silk/satin
Wool/knits
Nylon/spandex
Smooth vs Fuzzy
Hard vs Soft
4. High vs. Low Brands
If you're on social media or YouTube, there's no doubt you've heard about high/low dressing. This technique is styling luxury pieces with high street or budget items. Another style tip adopted from eclectic dressing, IMO.
The best way how to style your clothes to juxtapose high/low brands is to invest in premium or luxury accessories, such as belts, handbags, scarves, and shoes. These pieces are more versatile than something like a shirt or pair of pants, so you can mix and match them with many different looks. As long as you purchase timeless styles, you can keep these accessories for life.
Related Post: Wardrobe Timeless Essentials | 7 Chic Items You Need In Your Closet
There's nothing more interesting than talking to someone about their outfit. I love the Ladies of Madison Avenue creator on TikTok who interviews stylish women on the streets of New York City. You'll hear ladies discussing the different items in their outfits from a variety of places such as the Champs de Elysee of Paris, a stand at a flea market, or something their mom used to wear.
Related Post: How To Style Clothes You Already Have
5. Dressy vs. Casual
We've come to my favorite method for how to style clothes using juxtaposition: mixing dressy items with casual items. I'm pretty much using this approach to style clothes better whenever I run errands or go somewhere casual, which is almost every day. This is one of the best ways to instantly elevate a casual outfit or tone down an outfit that feels a little too formal.
Another benefit of this approach is that the dressier items in your wardrobe suddenly become more versatile as you start pairing them with casual pieces. Nice skirts become streetwear, blazers get layered over joggers, and sneakers aren't just for walking the dog anymore.
Related Post: What Shoes To Wear With Joggers & Track Pants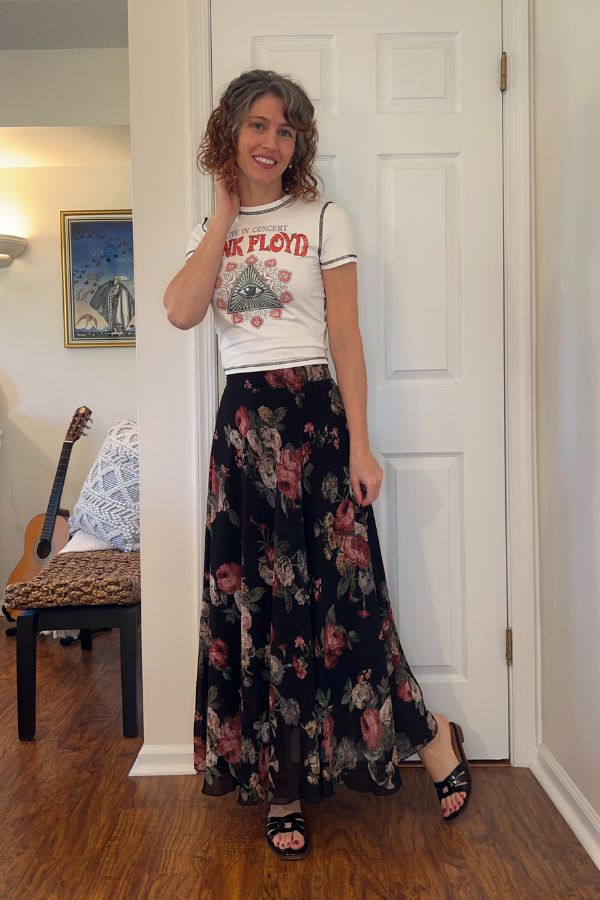 Also, if you're suddenly unsure whether a certain style is now "too young" for you to wear, pairing it with a more elegant piece can help bridge that uncertainty and build confidence in dressing how you want to dress (rather than how society dictates).
Fashion hacks you need to know: Dressy casual can actually make you look younger because of the playful and experimental aspect of the style.
6. Old vs. New
Old versus new is a bit more advanced in terms of how to style your clothes. This concept involves mixing old pieces with new pieces, which if are in the same style is relatively simple. However, it's also learning how to style vintage pieces with modern pieces, which takes practice.
I recommend starting slow by incorporating one old piece into a modern look. This could be a vintage leather jacket, a tweed skirt, or a pair of Mary Janes. Style it with as many different outfits as you can and once you find your favorites, see how you can incorporate other older or vintage pieces into your outfit. Layered looks are fun and nostalgic and you'll be surprised what you can come up with through experimentation.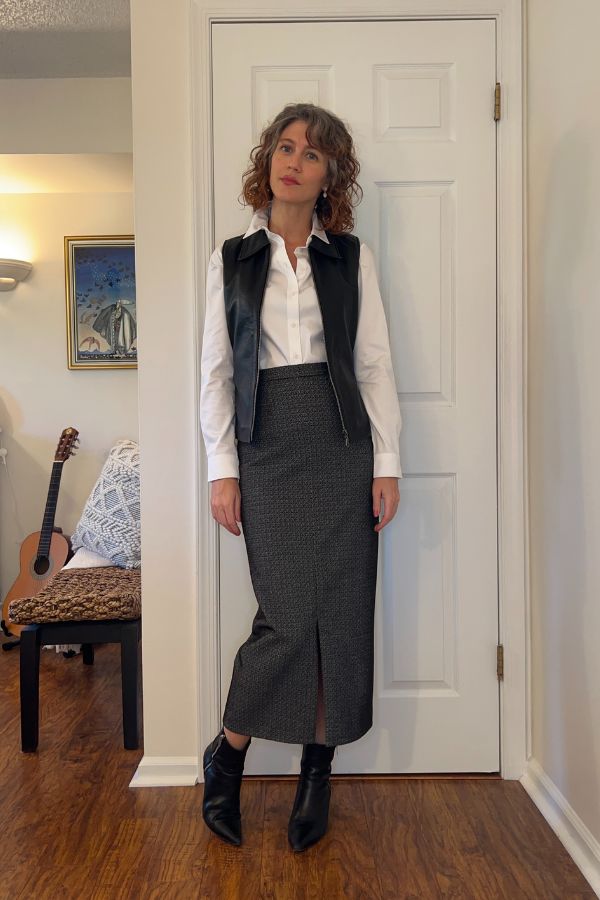 We all know how trends come back around, so if you hold onto loved pieces from past decades (flares anyone?), they'll be ready to incorporate back into your wardrobe once they're on trend again. Not that you need to wait for any trends to wear them…I mean, I definitely don't. Just sayin'.
Related Post: How To Buy Clothes You'll Actually Wear, Seriously
7. Style Aesthetic
Last, but not least, though certainly the most difficult approach for how to style your clothes is by juxtaposing style aesthetics. This method involves learning how to layer clothes to look stylish, so it takes some practice. If you use my approach for dressing with your imagination, you may be inspired to try it. The article linked below has more details on that.
Related Post: How To Choose An Outfit That Slays
Take one style aesthetic such as dark academia and mix it with another aesthetic such as quiet luxury. Your outfit becomes a mashup of dark academia meets quiet luxury. Or try something more simplistic such as a classic look such as a v-neck sweater over a button-down shirt styled with a denim maxi skirt, i.e. classic style meets the 1970s. Or edgy vs. soft, another one of my favorite ways to style a moto jacket.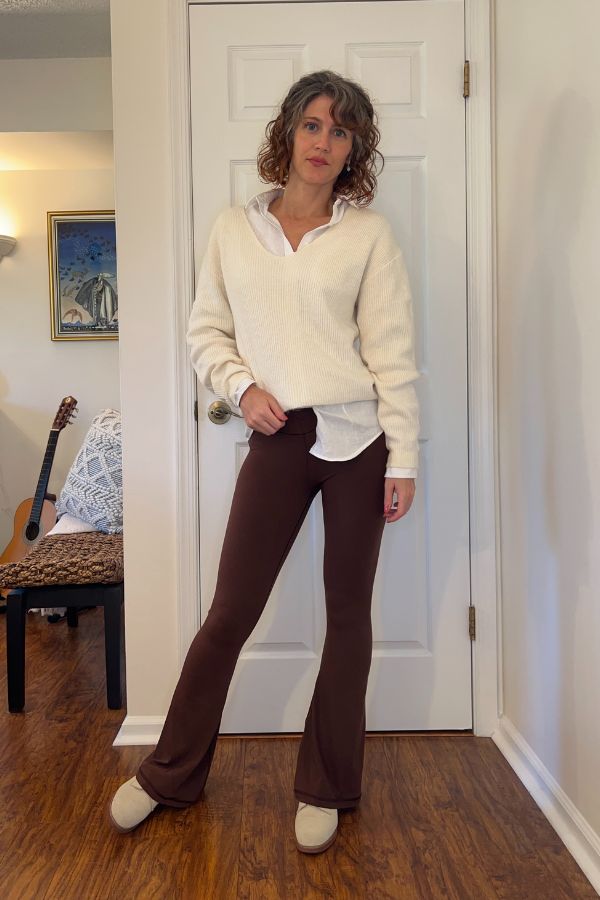 It really does help if you use your imagination for how to wear clothes different ways. This happens when I'm in the process of creating an outfit, and I have a notion I want my look to convey a certain style or vibe. At that point, I'll find the perfect accessories, shoes, or jacket to take it to the aesthetic I want.
Experiment, Experiment, Experiment
The most important aspect of how to style clothes better is to experiment and have fun. If it becomes stressful and too much work, pull back and keep it simple with contrasting colors, textures, and shapes. All you need is one of these approaches to take your look from boring to chic. Happy dressing loves!
Can you think of any ways that you use juxtaposition to make new outfits from your closet? I'd love to share style secrets! Comment below.
This post was all about how to style your clothes.
Related Posts: