Looking for the perfect "choose an outfit" formula? Follow these style tips to achieve a flawless "outfit of the day", every day!
The title of this "choose an outfit" post makes me laugh. But honestly, don't we all want to slay our day in thought, word, action, and style?! I mean, if the shoe fits. And, trust me, the shoe's gonna fit really well when you begin to use this strategy to style your outfits.
These are the thoughts and questions that go through my mind each time I'm styling an outfit. And they've never steered me wrong. You will learn my exact styling process for getting dressed each day, no matter what the occasion.
Ready to slay, babay?
This post is all about choose an outfit.
How To Choose An Outfit That Suits You
Shop Your Closet
What makes the "choose an outfit" exercise the most beneficial and enjoyable is a neat and organized closet. To me, shopping your closet is much more than a fancy way of saying "Pick items from your closet". It's really about giving your closet a makeover so that it resembles a boutique. All clothing and accessories are organized, on display, easily accessible, and you know where everything is. A good ambiance is key.
If your wardrobe resembles a TJ Maxx or Ross, with everything thrown together in a big heap of mismatched styles and hangers (my idea of fashion hell), you'll always have a difficult time creating outfits. Disorganization and excess clutter stifle creativity. Plus, it's easy to forget everything you own when it's shoved together.
I can't tell you how many times I've found absolutely gorgeous pairs of shoes and dresses I never wore because I forgot I owned them. Tragic and embarrassing, right? Out of sight, out of mind.
This may require you to pare back your wardrobe and box out-of-season items away. I'm serious, though. Once I (MAJORLY) downsized my closet so that I could see everything I owned (including showcasing my seasonal shoes on storage racks) styling became a breeze. To this day, I still enjoy opening my closet door to a perfectly organized boutique of things that are all mine!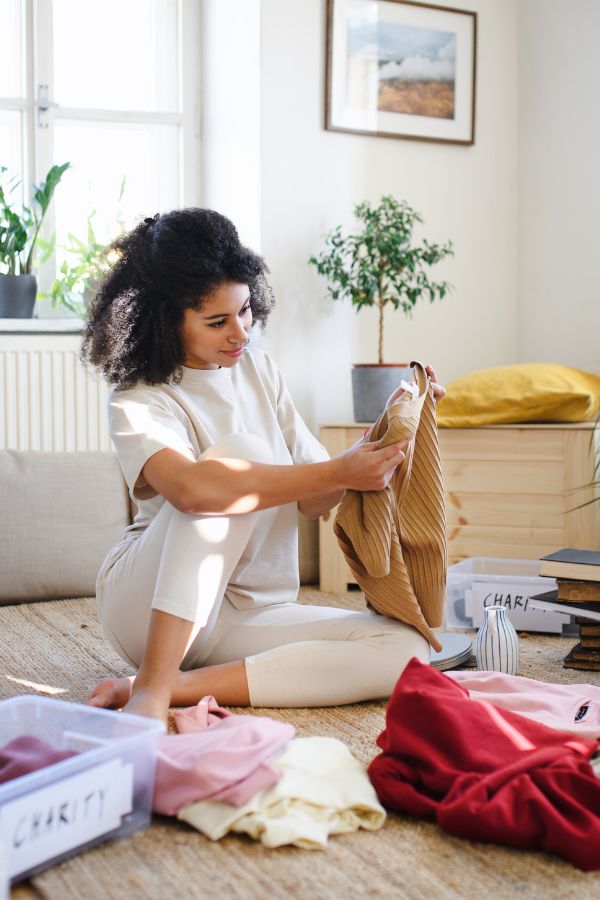 There are so many organization tools to help you turn your closet into a boutique. Check out the post below for some of my favorites.
Related Post: Wardrobe Design | 8 Life-Changing Organizational Items For Your Closet
Use Your Imagination
The first step I take before I choose an outfit each day is to use my imagination. This is similar to manifesting or pre-paving one's goals. Your goal is the perfect outfit of the day, so the approach is no different. I envision myself in my 'perfect state' in the location I'll be when wearing the outfit. How I look and how I feel. I also picture myself doing whatever it is I'll be doing and who I'll be interacting with.
While imagining my day I also think about how I want to express myself through my outfit. What type of energy do I want to give off? How do I want to present myself to others? What feels right for today/tonight?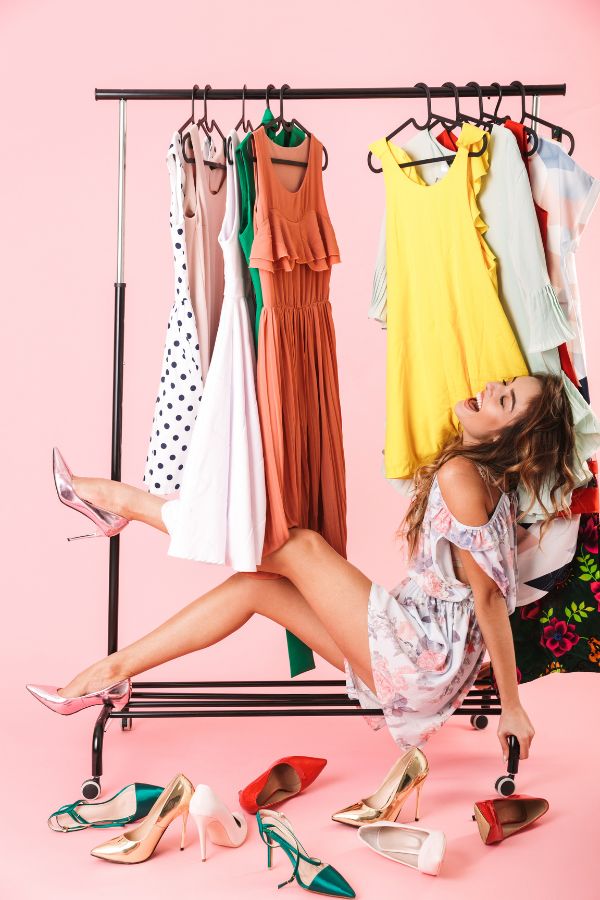 Even if it's just a chill day at home and I'll be walking the dog, I go through this exercise (and it's a very quick step, by the way). If I don't look good like myself, it messes with how I feel and go about my day.
Related Post: How To Find My Style In 5 Easy Steps
After performing this exercise I usually have a few different outfits I want to create. Many times, I know the exact outfit I want to wear, minus an accessory or two. At the very least, my focus usually goes to one specific piece of clothing that I want as part of my outfit. We'll call this the base item.
Choose A Color Scheme
The next step is to go to your closet and select the base item. Now, begin color-coordinating for the second piece of clothing in your outfit. Select every piece that's a potential match to your base item and take it out of your closet. Spread the items out on your bed or table and examine each piece against your base item.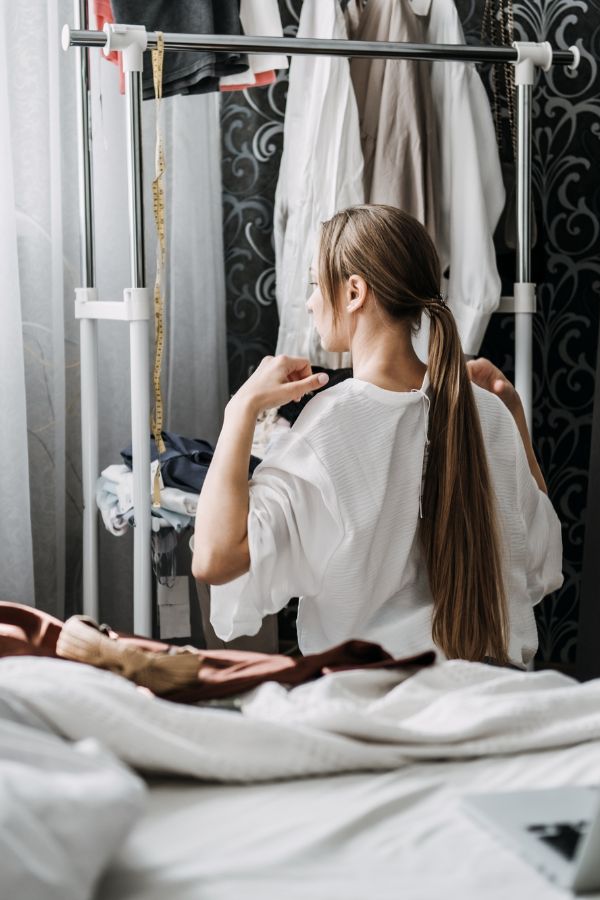 It's important to have two or more different options to compare with your base item instead of one familiar go-to. Many times, what we envision is limited to the things we know or experience. This exercise will help you explore new possibilities of outfit options. I've surprised myself with many chic looks using this exercise.
Try on each outfit combination to see what works and looks best on you in different lighting (bedroom, bathroom, closet, natural light).
Ensure Your Color Scheme Truly Matches
Make sure you're matching cool tones with other cool tones, warm tones with other warm tones, and neutral tones can go either way. This means that not all greens are made equally, and a cool green and warm green may look awkward when you pair them together. This may not be that noticeable if one of your pieces is a print, but you can definitely tell differences when styling a monochromatic look.
Repeat this exercise for each additional item added to your outfit. Keep shoes, accessories, and outerwear last.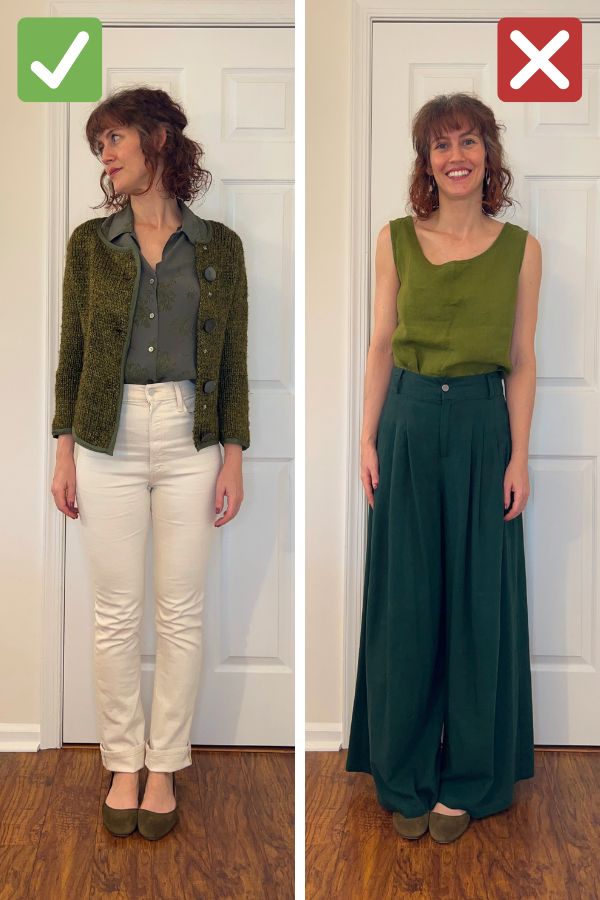 Your skin undertone also plays a part in which colors look best on you, by brightening your face and complexion. If a friend or colleague has ever made an alarming comment like "What happened? You look tired today." when you thought you looked good, it could be due to the colors of your outfit making you look washed-out. Take notice of this when looking at yourself in the mirror and see how your complexion changes when you style with different colors.
Related Post: The Secret To Elegant Classy Style
Balance Proportions
To balance proportions means that the different elements of your outfit are harmonious together. Balance in fashion usually does not mean 1:1, but an off-balance ratio of 2:3 or 3:5 also called the Rule of Thirds.
For example, if I'm styling a top and a skirt and want them to look best on my body, I'll use a ratio of 2:3 where the top is covering 1/3 of my covered body while the skirt is covering 2/3 of my covered body. If both the top and skirt each cover half of my body, it's too symmetrical and could even make me look shorter and stouter.
To simplify this, choose an outfit where every set of elements has one element that's greater than the other. The scale is tipped to one side. Dominant and recessive. Matching exactly with the 2:3 or 3:5 ratio can be tricky at times, so take it with a grain of salt rather than as the letter of the law.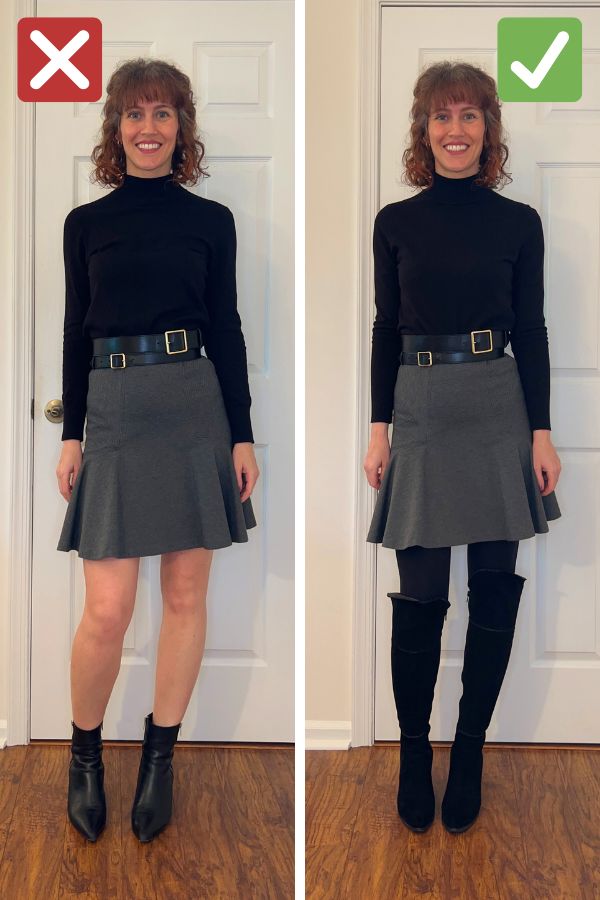 Let's cover some more examples.
Hem Length
Tuck tops in to create a 2:3 or 3:5 ratio. High-waisted bottoms may also help. For 1:1 separates, style with a jacket that creates a 2:3 ratio with your pants or skirt. Dresses and jumpsuits should do a 2:3 or 3:5 ratio with your legs. Crop tops look classier with long skirts and pants than shorts and mini skirts.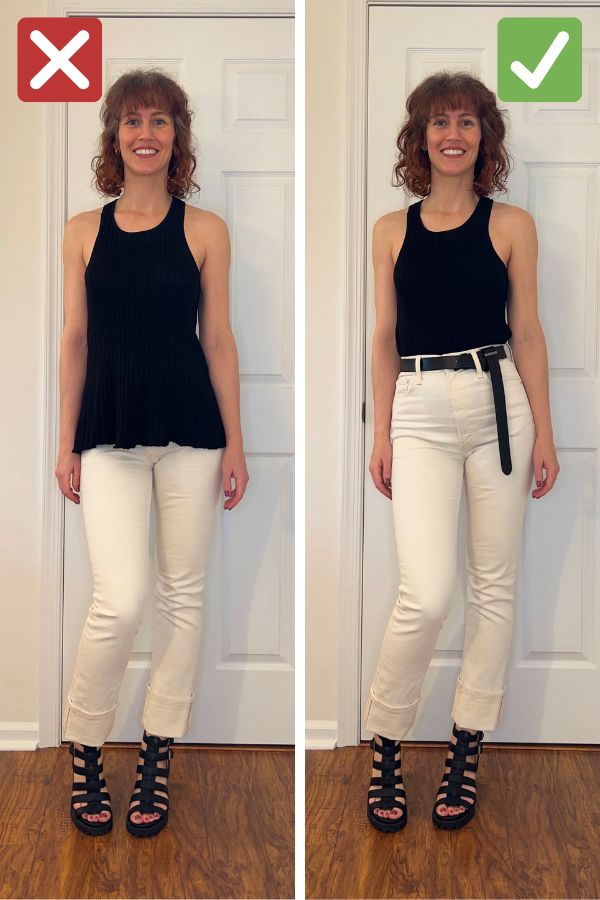 Colors
You should always have one dominant color to tie everything together.
Fit
Separates should be balanced with one item being more fitted than the other. For example, a ribbed tank with wide-leg trousers, or an oversized knit with slim jeans. An oversized top with an oversized bottom can often look sloppy unless you style a heavily-structured coat overtop or use a waist belt to add balance.
In a similar fashion, tight-fitting separates make the body look too constricted. Fix this by layering a looser piece over top, like a bomber jacket or long cardigan.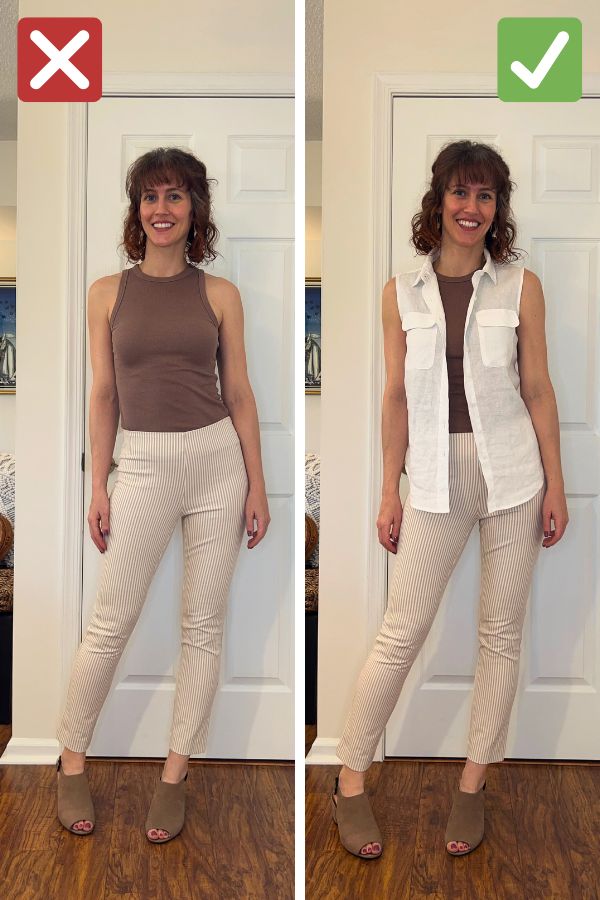 Texture
Fashion is a multisensory experience, so we can't forget texture. Texture adds interest to your outfit, especially when you have an outfit in the same or similar-looking material.
For example, I styled an all-black outfit for dinner the other night: crop top + high-waisted trousers + blazer. Everything looked like a smooth, brushed fabric (though the materials themselves were different). I added a velvet clutch to give my look some depth and it looked great.
Yin/Yang
While not a "must-do" for every outfit or aesthetic, it can be helpful to balance yin and yang elements for a modern look.
For example, you're styling with masculine separates such as a relaxed pantsuit, but add a flirty heel for a feminine touch. Or you style a pair of combat boots with a slinky skirt. A leather jacket adds an edge to a maxi dress.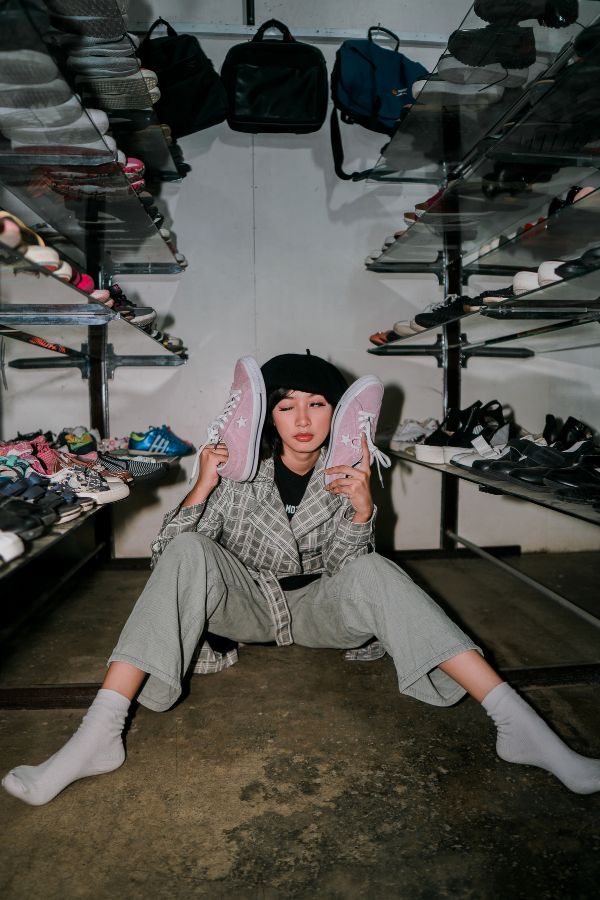 Another yin/yang approach is to balance hard and soft elements. Layer a structured jacket over a flowy dress or a chunky knit with a pair of leather pants. Pastels add softness while loud prints do the opposite.
Let me emphasize, there's nothing wrong with an ultra-feminine outfit or a head-to-toe leather ensemble. This just gives you more options when styling. Always experiment with what looks best on you.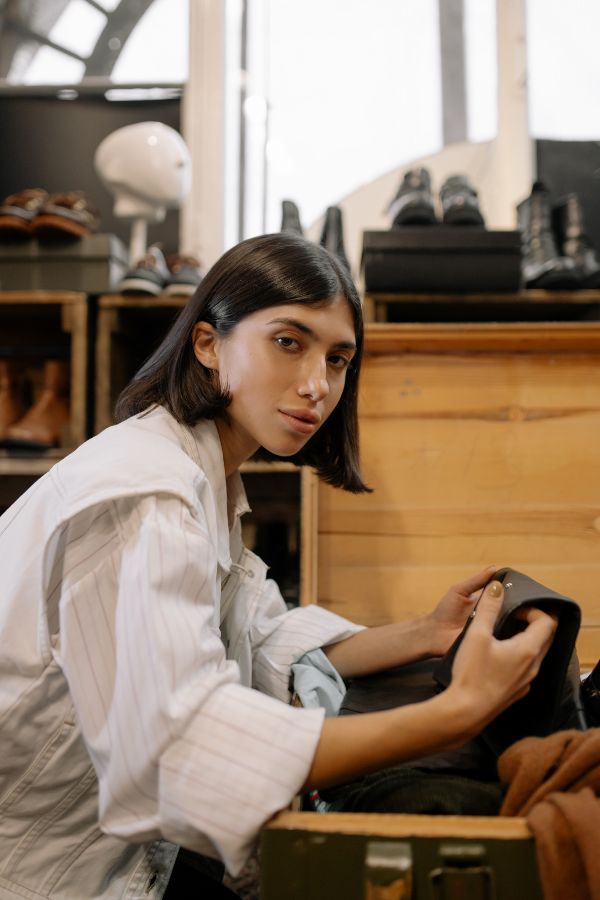 I could do an entire blog post about balancing proportions when it comes to styling outfits. But the best way to learn is by trying different outfit combinations everything and training your eyes to see what works and what doesn't.
Related Post: What To Wear With Bell Bottom Jeans
Add One Accessory At A Time
Accessories can be the make-it or break-it step when you choose an outfit. The best way to style an outfit with accessories is to add one piece at a time and see how the entire outfit looks. If it looks great, either stop there or try adding one additional accessory. Again, give your entire outfit a lookover to make sure there is balance and cohesion.
Keep adding accessories until you reach that point where it's too much. My personal cue to add another accessory is when I feel like something's missing. Once that feeling goes away, I'm done adding to my look.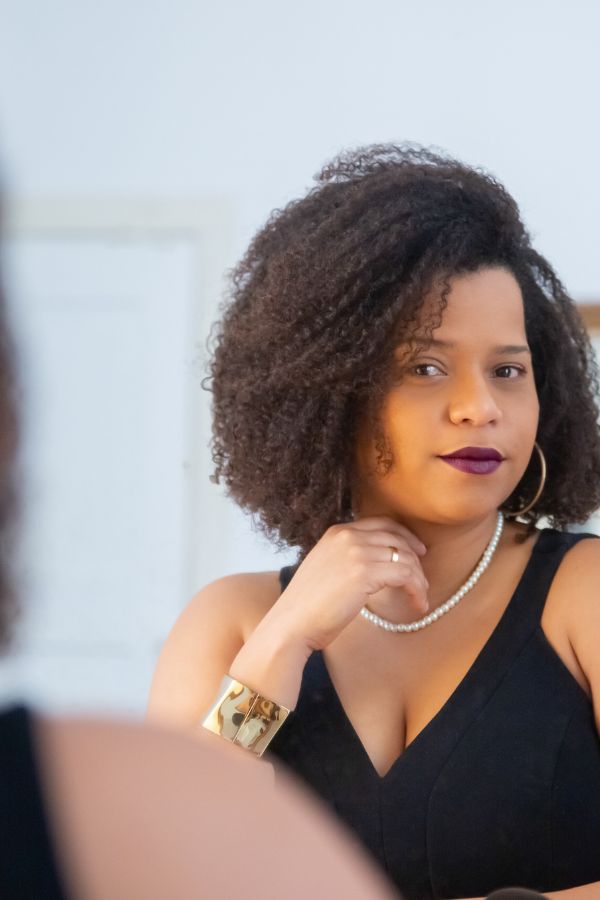 Sometimes the order in which you add accessories matters. While a pair of earrings may look great with the look, an added necklace might be too much. However, if you swap the earrings for the necklace, the look might be even better. So again, play around. Everything is a possibility!
What's your biggest struggle when choosing an outfit for the day? I'm sure we've all been there and can help each other out. Comment below!
This post was all about choose an outfit
Related Posts: