Do you want to learn the must-have clothes for women over 40? Here are 10 classy pieces to gracefully enter the next decade looking modern and chic.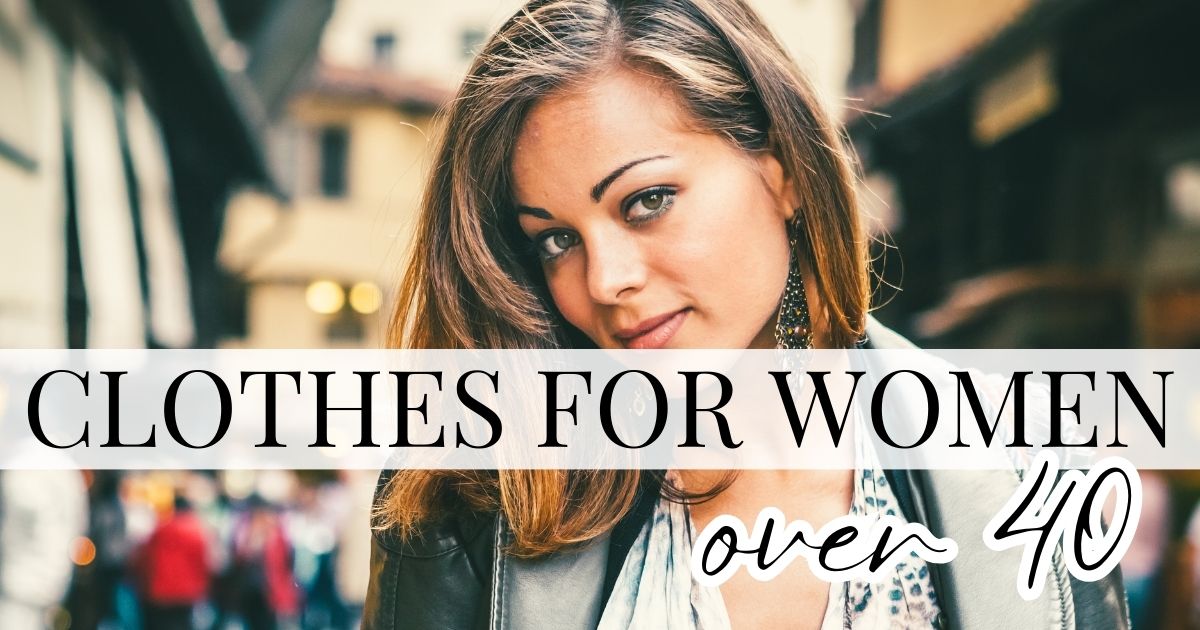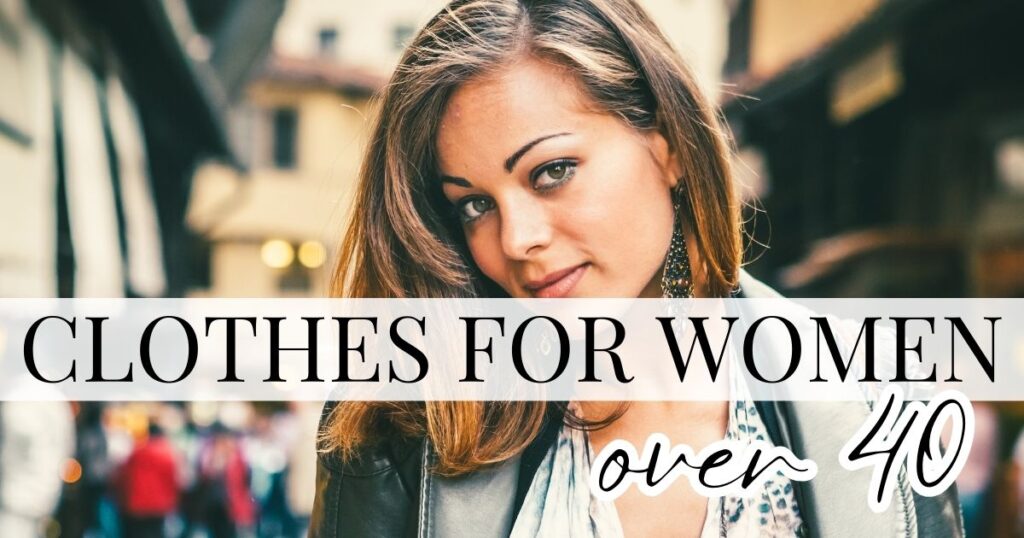 What are the most important clothes for women over 40? Pieces that are both stylish and functional–and that help you accomplish the goals laid out in front of you. Your forties are a time when you become laser-focused on your priorities and where your life is heading. The lessons learned in past decades enable you to unashamedly remove unnecessary distractions that once held your attention.
And the same goes for your wardrobe. You want to wear what you want to wear–what looks good and feels good on you. Finding your personal style becomes more important. You think twice about what trends to invest in and which ones to leave behind. Better spending habits follow.
I've rounded up a list of style tips for how to dress in your 40s, best fashion over 40, and the best online shopping sites for women's clothing over 40.
This post is all about clothes for women over 40.
Best Clothes For Women Over 40
How To Dress In your 40s
The best clothes for women over 40 are aligned with one's personal style. You may be asking, how do I find my style at 40? Honestly, there's no better time to find your style as the past few decades were spent exploring different trends and aesthetics. Your body might be different after having children, adopting a fitness routine, or not having time to work out. It's time to get clear on what styles work for you and what styles feel authentic to who you are and continue to become.
Like anything worth doing, finding your style takes dedicated time and effort. While the clean slate approach of ditching your current wardrobe and starting over might seem appealing, it's neither convenient nor cost-effective. The better approach is to journey inward to identify who and what inspires you to become the best version of yourself (fashion-wise and otherwise). Defining your inspiration, goals, and purpose will help you identify the items and styles that resonate within.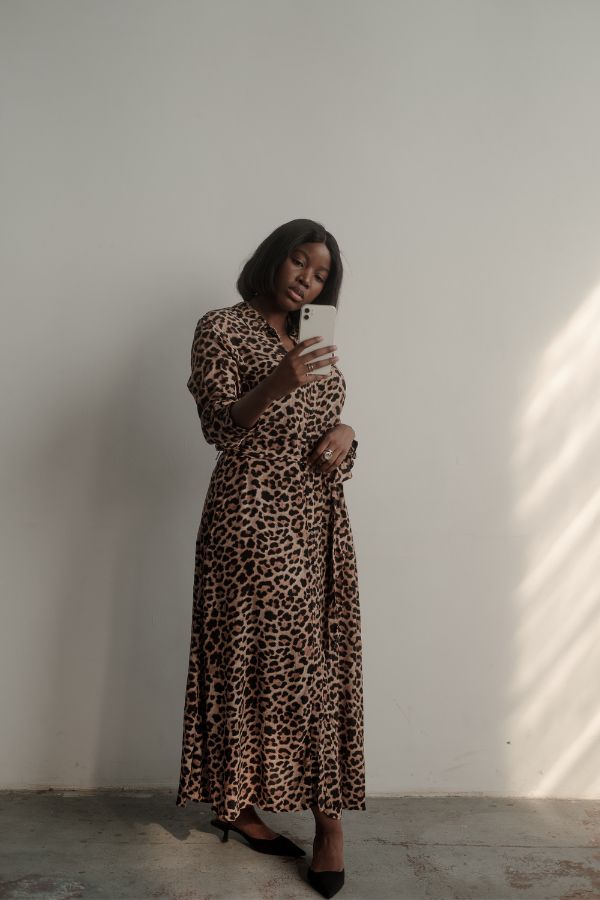 I talk to a lot of women who can't find the time for themselves during their 40s, but it's honestly those who make the extra effort (if only 10 minutes a day) who are more fulfilled in their wants, needs, and desires. If you're reading this post, then you certainly are worth this personal project. I've put together an easy exercise for how to find your style that will help you do this with clothes you already have in the post below.
Related Post: How To Find My Style In 5 Easy Steps
Learning to dress for your body type is also a great approach to learning what to wear when you're 40. This method serves as a guide for how to put together outfits that flatter, enhance, and balance your features.
Over 40 Fashion
The best over 40 fashion is a fusion of women's wardrobe essentials with consciously selected trends to create stylish outfits. If you haven't tried the capsule wardrobe concept yet, this is a great place to start. A capsule wardrobe gives you a foundation of tried and true clothing and accessories that are both timeless and functional. They mix and match to create a multitude of outfits, work for multiple seasons, and can be purchased at all different budgets.
Related Post: How To Start A Minimalist Wardrobe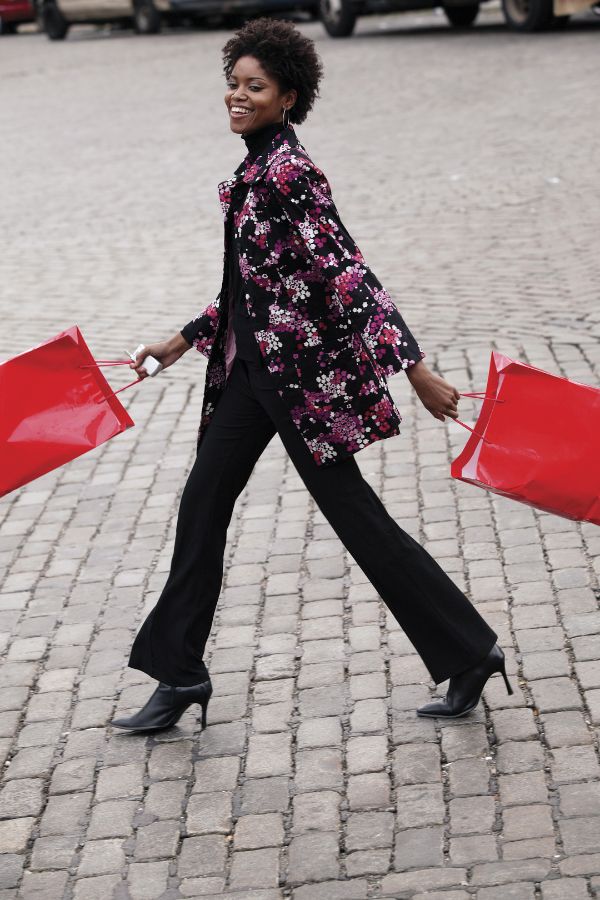 Check out the guide below to determine what pieces are right for your capsule wardrobe.
How To Dress Casual After 40
What's the secret for how to dress casual after 40? Care as much about putting together a casual outfit as you would a dressy outfit. Just because you're going to a backyard barbeque doesn't mean you don't try to look nice. Making excuses such as you're too tired or too busy to try doesn't make you feel better either.
This is why you need a catalog of go-to outfits for everyday wear. I recommend this over and over on WISW. You may have heard the concept of having a uniform, or a go-to look you can throw on in a jiffy. What if you had 5-8 different outfits to carry you through each season?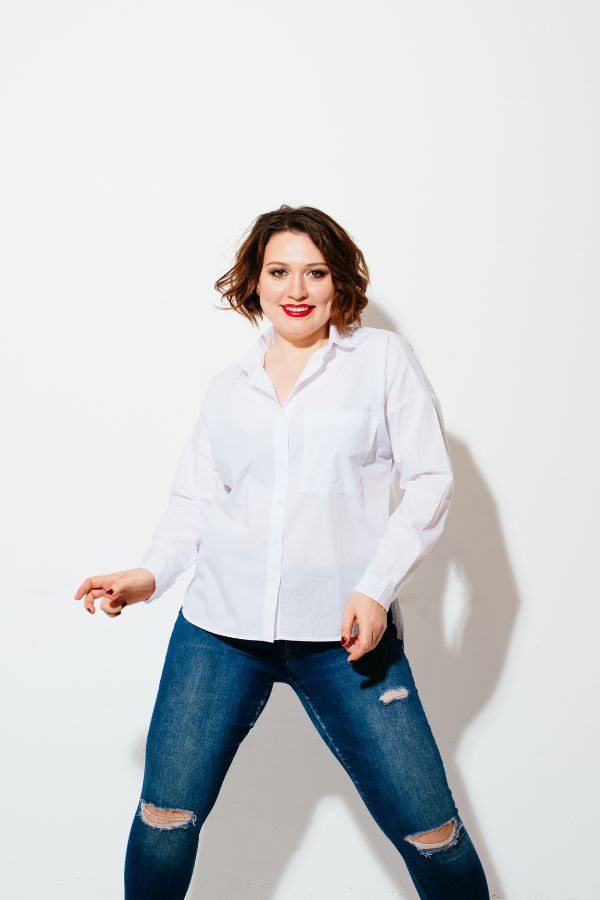 Take time on your day off to put together these outfits including outerwear, shoes, and accessories. Maybe even hairstyles. Be very selective. Take pictures on your phone of the perfect outfits and refer to them often. Do this for every season and after you've purchased new clothes. No one cares if you wear the same outfit when it looks amazing on you. And even if they do care, you don't care because that's a distraction, right?
Casual Outfits For 40 Year Old Woman
Some of the most popular searches online today are regarding how to dress simple but stylish or how to dress casual but nice. I call it the casual chic phenomenon where many want it, but few know how to achieve it. It's easier than you think. Learn the exact steps I use to create casual chic outfits for any style in the post below.
Related Post: My Formula for Everyday "Casual Chic"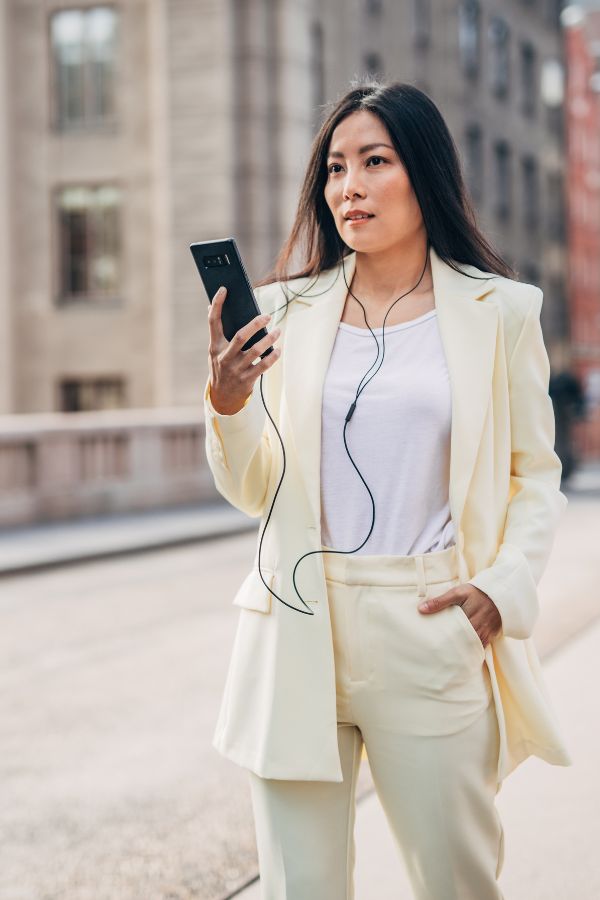 What Not To Wear In your 40s
The best approach for what not to wear in your 40s is to steer clear of anything that doesn't feel authentic to who you are. We all have different tastes and shapes, so this is subjective. Here are my guidelines for what not to wear at any age:
Items that make you feel negatively about yourself (your clothes should make you feel amazing)
Items that you don't like or give off a negative vibe
Clothing you can't figure out how to style (after you've consciously attempted to style it)
Clothing you only wear to appease someone else (dress for you and only you)
Items that spark bad memories, dark times, and trauma
Clothing that doesn't fit correctly (have clothes tailored to fit you perfectly)
Stained, ripped, ruined clothing and accessories
Logos, logos everywhere
"That'll do" items (revert back to first bullet point; you should only own amazing items)
Related Post: The Secret To Elegant Classy Style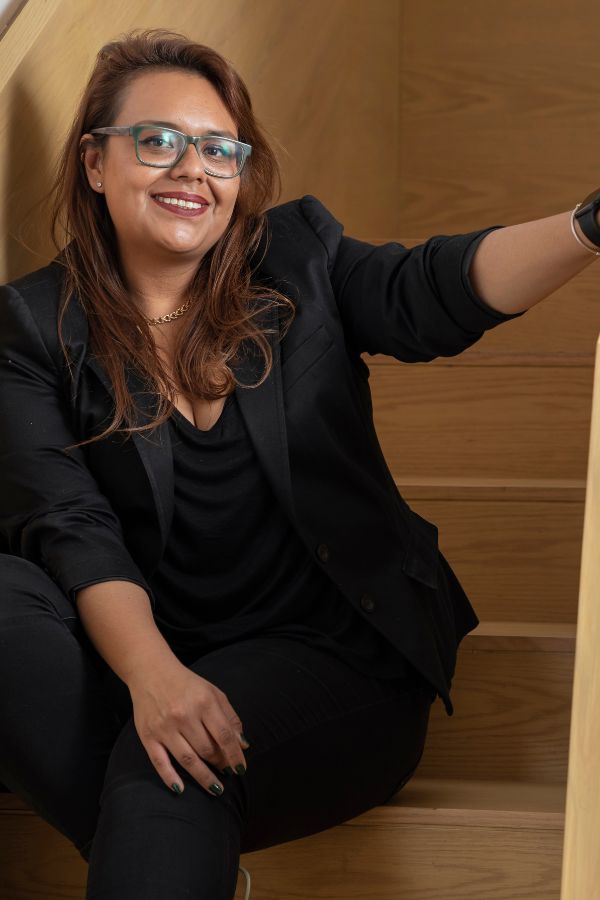 Clothes For 40 Year Olds
Here's a list of ten items that I consider must-have clothes for women over 40. This goes a step beyond capsule wardrobe essentials into how to dress classy at 40. Consider these items when you go shopping to complement your existing wardrobe.
Knit Jacket
I like to think of the knit jacket like the denim jacket's older sister. It's a sophisticated wardrobe essential that easily dresses up casual outfits for 4o year old woman, while also pairing well with dresses and skirts. In terms of clothes for 40 year olds, the knit jacket is more structured than a cardigan, so it looks more expensive, even if purchased on a budget.
Related Post: 11 French Wardrobe Essentials Every Stylish Woman Owns
Purchase this jacket in your favorite neutral color to match the rest of your wardrobe.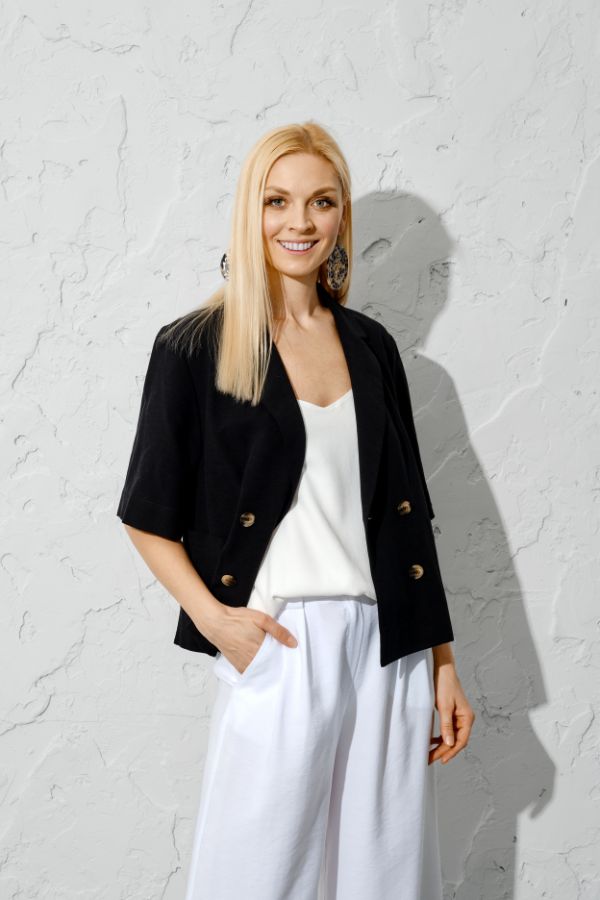 Sleeveless Silk Blouse
In terms of going out outfits with jeans and even workwear, a sleeveless silk blouse is the epitome of classy chic style for how to dress over 40. Silk always elevates an outfit and the fabric is flattering on all body types, whether you go for a wrap-style blouse or a cowl neck. While you can purchase silk clothing on a budget, it's important to note the thickness of the material, which is sometimes sacrificed with budget brands. Either invest in a higher quality silk (typically over $100 USD) or find a high-quality satin or silk-like material.
Related Post: Create A Work Capsule Wardrobe With Only 15 Items
Purchase this blouse either in a neutral or one of your best colors (e.g. blue that makes your eyes pop) to ensure versatility and longevity in wear.
Beige Trousers
We're all aware of black trousers being one of the most important wardrobe staples when it comes to clothes for women. As for clothes for women over 40, the focus is on elevated, simple pieces that breathe sophistication and timeless style (and that also pair with any trends still calling your name). This is where beige trousers come in.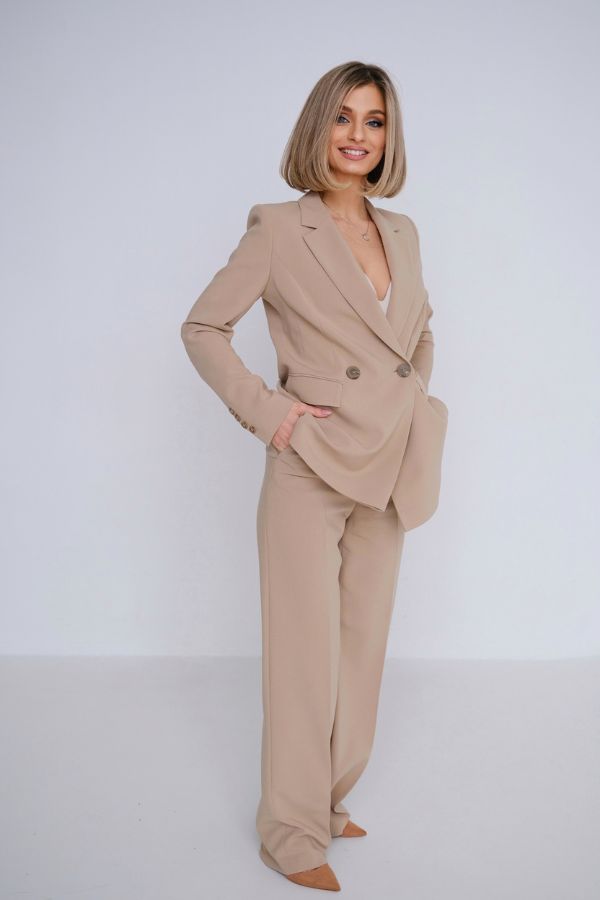 Swapping your typical black trousers out for beige every so often will bring freshness and lightness to this decade of your life (and you'll probably receive compliments too!). Not that you need anyone's validation at this stage, but it's still nice to know when others think your outfit is on point.
Related Post: How To Style Clothes You Already Have
Casual Maxi Dress
A casual maxi dress might already be one of your wardrobe heroes. It's definitely one of my favorite pieces for creating casual summer outfits for over 40. Black is the most versatile and also provides the illusion of a slimmer silhouette, but don't shy away from navy or charcoal. Dark colors are great for 3-season dressing by adding or removing layers (and those in warmer climates will get away with year-round wear). Styling ranges from sneakers and sandals to tall boots and loafers…and easily style date night outfits over 40, too.
Related Post: What To Wear On A First Date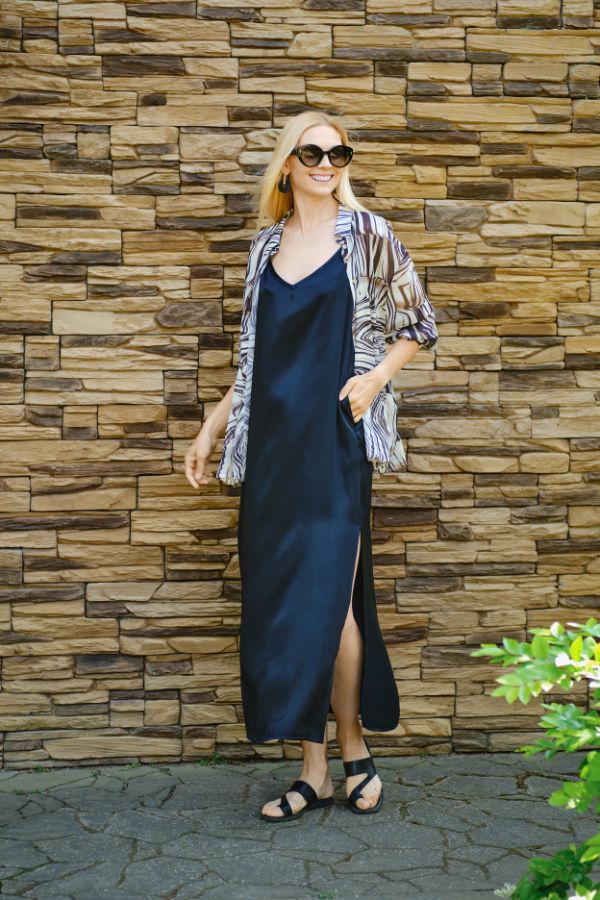 All-Black Jeans
Okay, so hopefully you have your go-to pair of denim jeans in your wardrobe or capsule. But do you have a pair of all-black jeans for those days you want to look elevated, but trousers are a hard pass? That's really not the only reason to wear black jeans (black jeans fans, IYKYK).
Related Post: What To Wear With Black Jeans | Style Look Book
All-black jeans are the darkest of black jeans where the threading is also black and there's no fading. From a short distance, they may even appear to be black pants instead. And that's the whole point. Black jeans can be sexy in a sophisticated, clothes for women over 40, kind of way.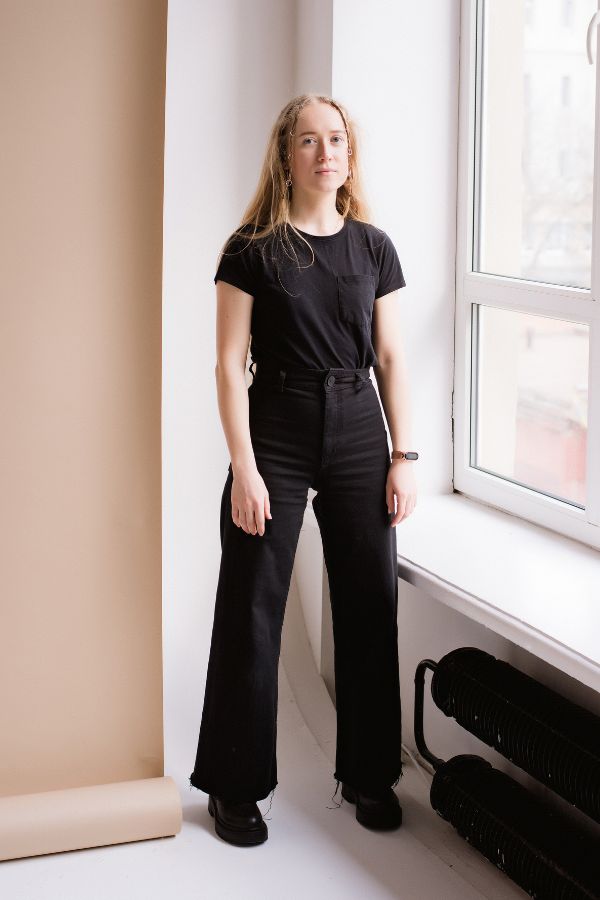 Flat Ankle Boots
Many ladies have given up on heels after age 40, so this may be a no-brainer. If you love your heels, this item's definitely something you should think about adding to your list of classic wardrobe essentials. Flat ankle boots are a must in the cooler weather, but also look cute styled with a maxi dress and a knit jacket to create a transitional outfit.
Flat ankle boots are also the key to elevating clothes for women over 40 when running errands as they even look good with a pair of black leggings or flares. Dry cleaners + the DMV + Yoga + still looking cute for that catchup with your best friend from college?
Related Post: What To Wear For Yoga (From A Yoga Teacher)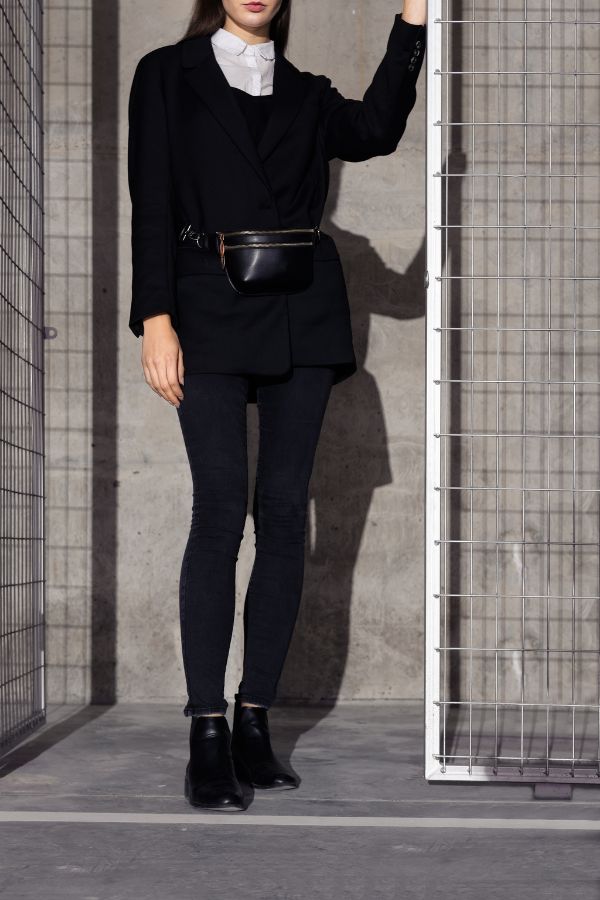 Opt for a taller ankle or mid-calf style as opposed to one that cuts off right at the ankle, which will give you more styling options.
Trench Coat
If you're still wearing a hoodie, oversized cardigan, poncho, or puffer vest on a cool fall or early spring day, you may be doing it wrong. This is subjective, I know, but seriously. One of the best style tips for how to dress over 40 is to dress appropriately for the weather. That means trench coats for transitional weather and rainy days. Trench coats come in all different budget ranges these days, so no one needs to shell out for the Burberry check unless it's already on your wishlist.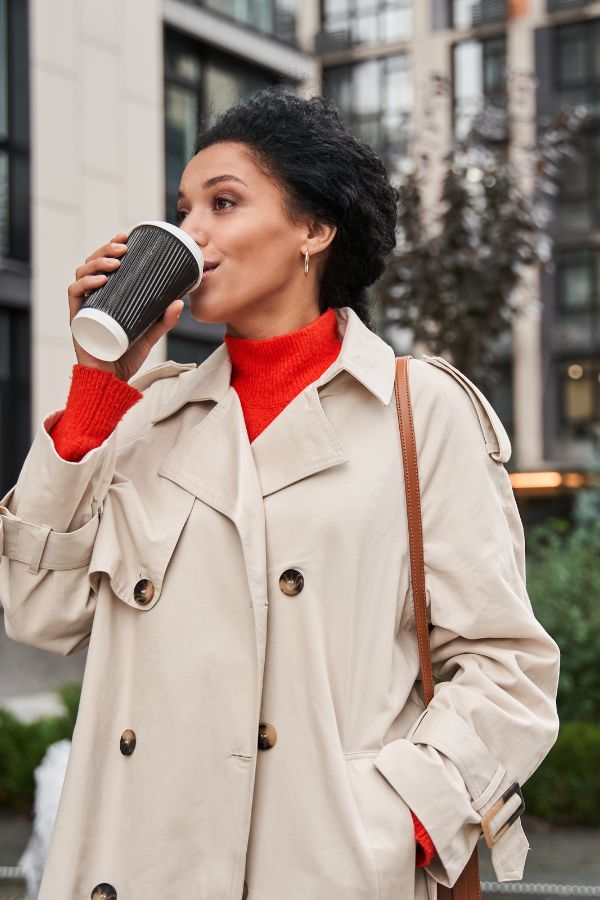 Many trench coats come weather-proofed for rainy days. However, if you're purchasing from a fast fashion or budget retailer, you'll probably need to purchase a water-repellent spray. Give your coat a good spray before the season each year especially if you live in a wet climate.
Sleek Baseball Cap
We all have those days when our hair just isn't happening and needs to be covered up. When you're keeping it casual, walking the dog, attending your son's soccer game, or picking up foliage at the garden center it's nice to have a sleek baseball cap that doesn't downgrade the rest of your look. Opt for something in all-black, faux leather, soft neutrals, or even a herringbone or tweed. Not only does it look stylish, but you'll look more expensive and put together (even when you feel anything but) in casual outfits for 40 year old woman.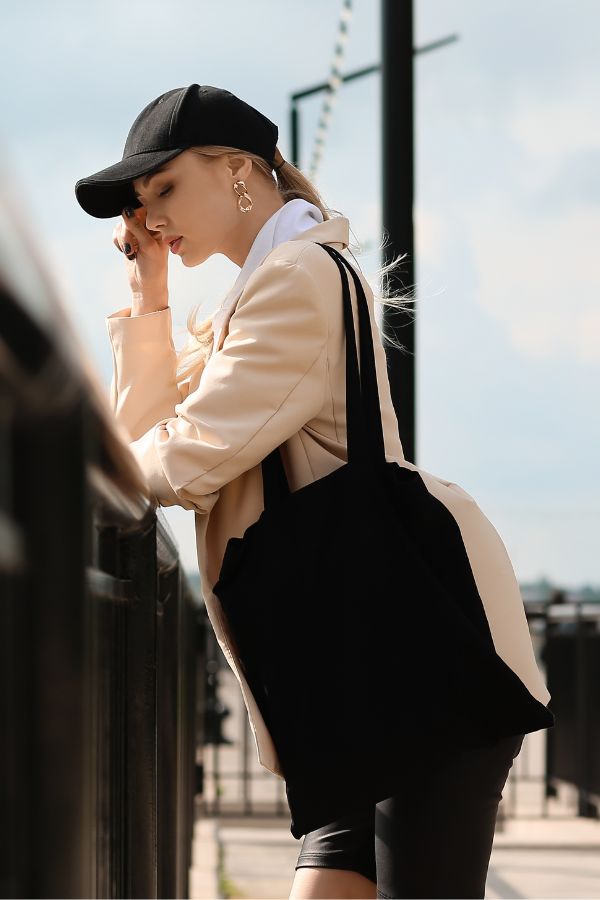 Big Sunglasses
Everyone seems to be talking about aging gracefully and what that really means. We're not going to dive into that, but one of the best ways to age gracefully is to protect yourself when you're out in the sun for a while. Big sunglasses are your best friend in this case. If you haven't already, spend time at a sunglasses store and find the styles that look best on you, and then go find similar ones in your budget range.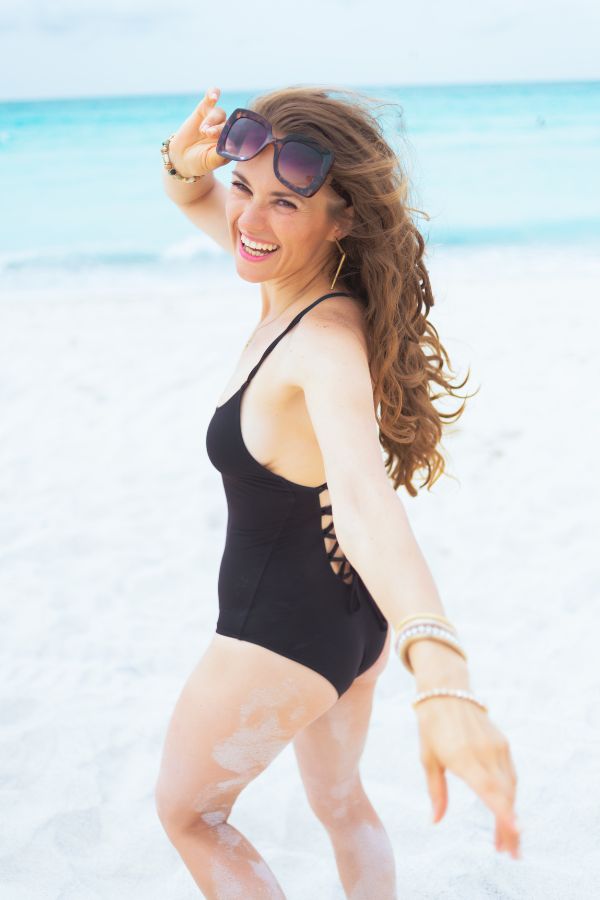 I recommend owning one pair of go-to classic sunglasses to wear year-round for how to dress in your 40s (and any age for that matter!).
Related Post: 5 Casual Summer Outfits You'll Wear On Repeat
Elevated Handbag
Out of all the clothes for women over 40 on this list, let an elevated handbag be your one investment piece. I use the word elevated to simply mean an item that's considered "treating yourself big time". One bag to rule them all, if you will. Whether it's that designer bag you've been dreaming of for almost a decade, a minimalist black satchel, or a one-of-a-kind piece from an independent artisan. Luxury accessories help upgrade a look even if the rest of the outfit is from Amazon. Plus, you get to wear them for life if you invest in a timeless or eclectic item.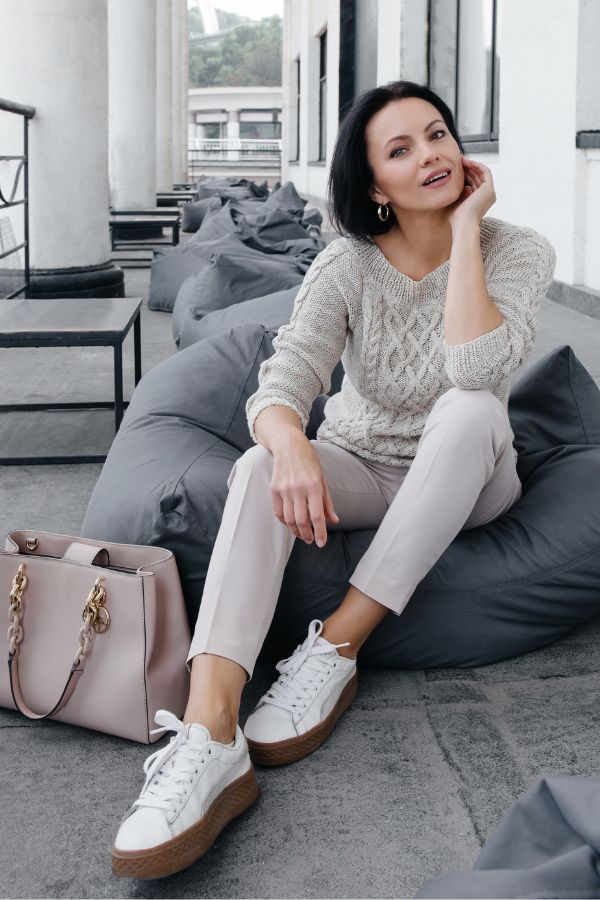 Fashion Over 40 On A Budget
These online clothing stores are excellent choices for clothes for women and fashion over 40 on a budget.
H&M is a global brand that offers everything from basics to wardrobe essentials to smart casual clothes and workwear. Get the most bang for your buck on their basic tees, tanks, and knitwear. I recommend going elsewhere for other items for clothes for 40 year olds.
Mango is one of the best stores on the high street for trendy clothes for 40 year old woman, as well as wardrobe essentials and chic workwear. Can a 40 year old wear a jumpsuit? Mango has plenty of classy chic styles for 40 year old women. If you're on a budget, definitely give this one a go.
Able is an American-based brand out of Nashville that was started by women and is made up of 96% women today. They work with ethical manufacturers to design quality pieces for women looking for simple, timeless, and boho clothes for women over 40.
If you're on the hunt for elevated outerwear without the elevated prices, check out Bernardo Fashions. From sleek puffer jackets to the quintessential trench, their pieces are both modern and timeless–everything fashion over 40 should be.
Petite Studio NYC is an independent brand that offers contemporary petite clothing for women over 40 (and all ages too). Find cute dresses and knitwear as well as business casual workwear for your wardrobe.
While tailoring is practically a dying art these days, Frey is a breath of fresh air. Based in Hong Kong, Frey provides digital tailoring and ready-to-wear wardrobe essentials for women without the extensive prices you'll find at other designers. No, you won't be bringing a suit home for $200; however, if you desire high-quality, lifetime pieces that fit you perfectly, this is where your investment should be.
Related Post: Best Places To Shop For Clothes Online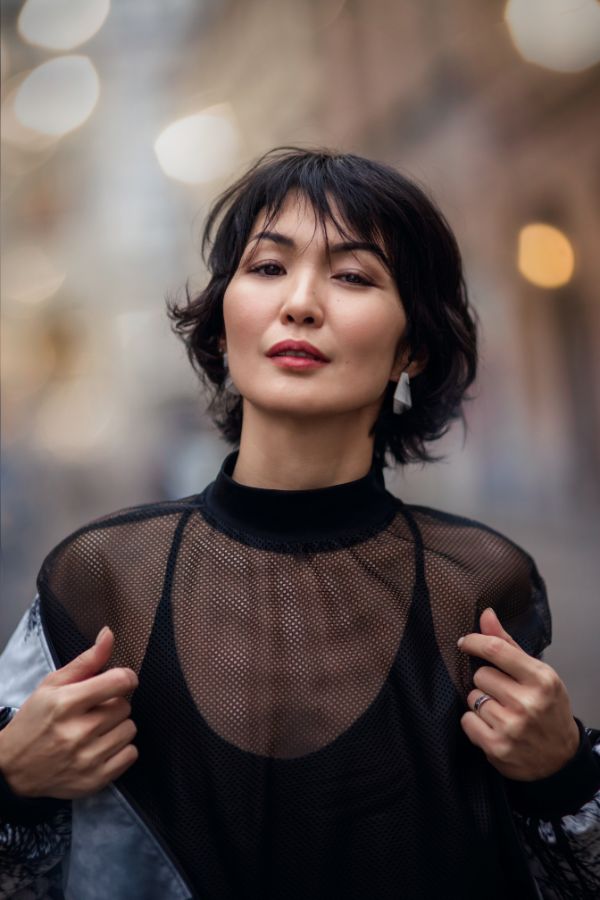 Designer Clothes For Women Over 40
These designer clothes for women over 40 are either at the premium or luxury level and provide amazing wardrobe essentials, investment pieces, and trendy items.
Theory is your one-stop shop for timeless wardrobe essentials, minimalist pieces, and chic tailoring. Perfect for the career woman and anyone looking to invest in a capsule wardrobe.
Heidi Merrick's aesthetic is California cool meets timeless lady. Find everything from elegant swimwear to tailored suiting, but her dress collection is the claim to fame. Prices are in the premium range, so well under actual designer labels these days.
Dia & Co. is leading the plus-size fashion space with its collective of in-house designers at both budget and premium prices. Find the latest trends and stylish clothes for women over 40 with their 11 Honore Collection and other premium designer labels.
Veronica Beard was started by two sisters-in-law and the style aesthetic that comes to my mind is "grown-up cool girl". From their classic "Dickey jackets" to their vintage-inspired trousers, find beloved pieces for the office or your day off.
Altuzarra is a luxury women's ready-to-wear and accessories brand. Find everything from sophisticated wardrobe essentials to statement dresses and bold prints for your beloved wardrobe.
Take your wardrobe planning to the next level with the Ultimate Wardrobe Essentials List, completely free to download and use on your mobile device or print out.
What's your go-to casual look as a woman in her 40s? Let's share secrets and elevate our style together! Comment below.
This post was all about clothes for women over 40.
Related Posts: