Don't know what to wear for yoga? This guide for the best yoga wear will help you show up to your first (or 100th) yoga class ready to flow in style!
If it's your first time, deciding what to wear for yoga can be intimidating. I've totally been there, and so has everyone else for their first yoga class. Take a deep breath. It gets much better from here.
After practicing and instructing yoga for over ten years, I've encountered every mishap in the book from ill-fitting clothes, to see-through pants, and everything in-between. I speak from experience when I say the most important factor when it comes to yoga clothes is comfort. If you aren't comfortable, you can't stay still, which is one of the hardest and most fundamental aspects of yoga.
In this yoga style guide, you'll learn what to wear to a yoga session, what to wear to hot yoga, what shoes to wear to yoga, and what not to wear for yoga.
This post is all about what to wear for yoga.
Best Clothes For Yoga Female
What To Wear To Yoga First Time
If it's your first time attending a yoga class, a lot may be going through your mind. The last thing you want to worry about is what to wear for yoga. These style tips will set the framework for a great class. Yoga outfits for women are given throughout the rest of this article as well.
Yoga is about breath, awareness, flow, and movements that are typically slower than a fitness class. However, the movement in a yoga class can include any series of standing, kneeling, squatting, sitting, or lying-down positions. You should also expect to spend time holding poses that are comfortable, challenging, or awkward. Even the final resting pose at the end of class, known as savasana or corpse pose, calls for total stillness.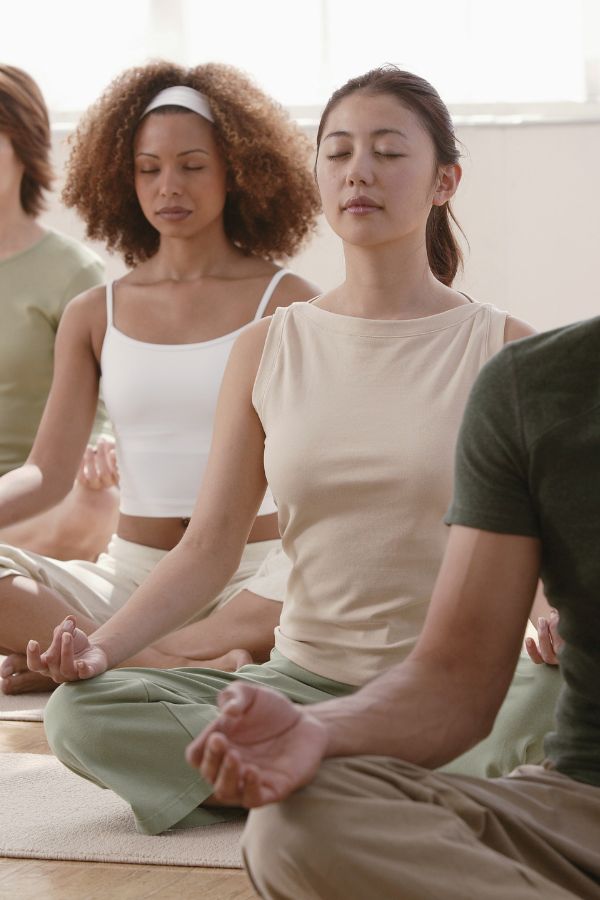 Because of the range of movement and stillness, it's best to wear yoga clothing that's comfortable to accommodate bending, stretching, and relaxing. You want to set yourself up to feel as relaxed as possible. Soft, stretchy materials that fit you properly are great for this. Avoid anything that requires you to constantly adjust because it distracts you and others in the class.
An important aspect of practicing yoga is the proper alignment of the body. As a beginner, slightly loose-to-fitted clothing helps you and your yoga teacher ensure you're in the pose safely and correctly. Avoid yoga tops and pants that are too baggy or too long. Make sure yoga pants are tapered or short enough so they don't drag on the floor or under your feet.
Related Post: 10 Stylish Loungewear Items You'll Want To Wear Out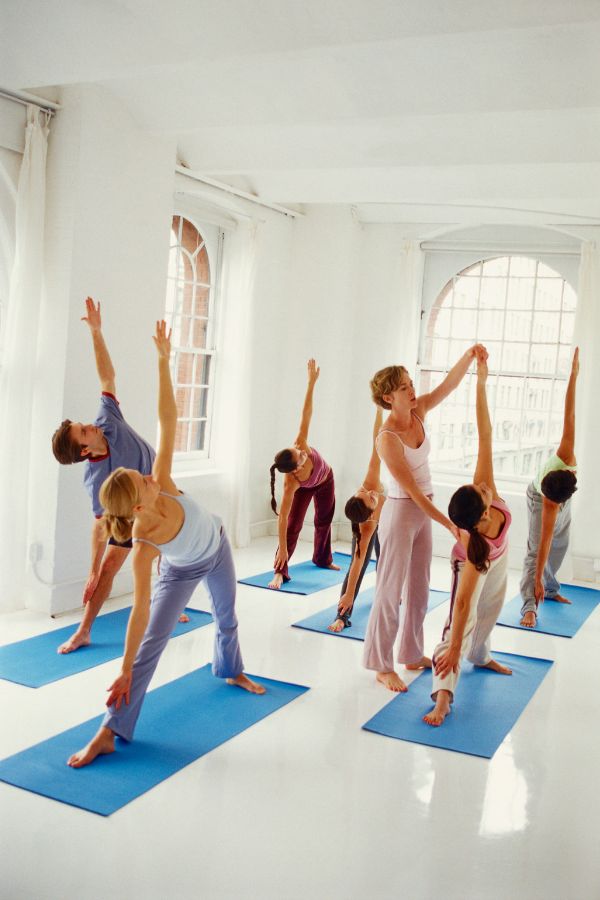 What To Wear For Yoga Session
The kind of clothes you wear for yoga depends on the style of yoga. If you're doing a low-key yoga class such as restorative or yin, opt for the comfiest clothing such as soft and stretchy tops and pants. Try the Women's Rib Longsleeve from KOTN in a luxe, jersey material, perfectly styled over a tank. The short-sleeve Necessi-T-Shirt from Aday is comfortable, loose, and perfect for warm days. The French Terry Wide Leg Modal Pant from Quince is soft and cozy, perfect for relaxing into poses on your mat.
If you're doing a beginner or gentle yoga class, choose something that's loose to semi-fitted, stretchy, and soft. You don't need anything tighter than medium compression for this type of class. Try the ultra-soft Featherweight Keep It Moving Tank and the Spacedye Practice High-Waisted Pant from Beyond Yoga.
For more intense classes with lots of movement and challenging poses, clothing that's equally comfortable, stretchy, and semi-fitted (clothing that doesn't fly over your head or needs to be adjusted) is best. The more intense and "athletic" the yoga class is, the more supportive you'll want your yoga attire to be. The Dylan Tank Bra and Compressive High-Rise Legging from Girlfriend Collective come in a range of sizes, and colors, and offer medium compression, which is perfect for an active yoga session.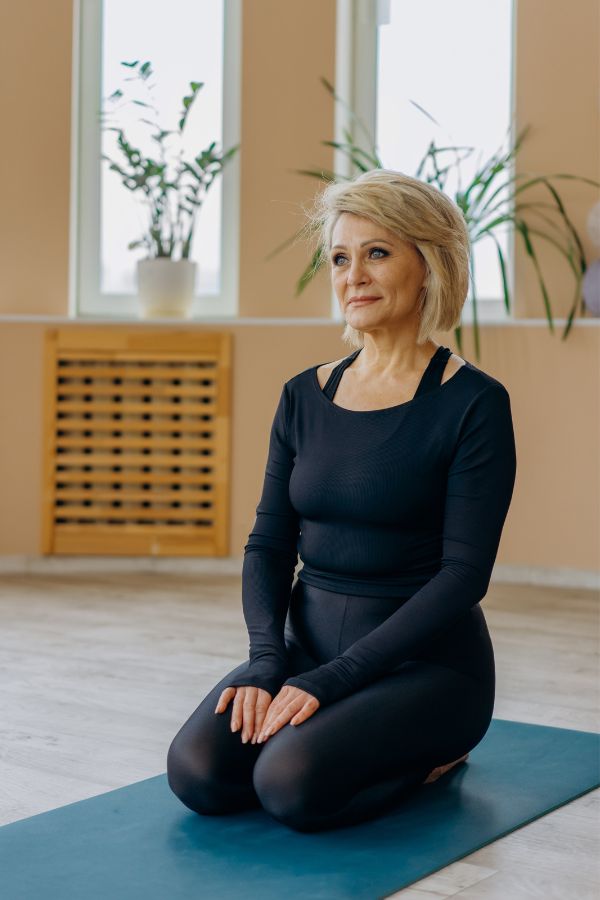 What Top To Wear For Yoga
The best yoga tops are ones that are fitted to semi-fitted, at least at the hemline. Yoga typically involves forward bending and other inverted poses where a loose top will fall over your head. For anyone that's done yoga before, you know how annoying that gets.
A simple fitted or semi-fitted tank is perfect for most yoga practices, like the chic Ribbed Tank Top from Uniqlo. Workout tops with a stretchy hem ensure your top stays in place (and no flashing anyone with your sports bra).
Additionally, avoid tops that are too low cut as all the movement could result in exposure, adjusting, or cause self-consciousness. Try the Align High-Neck Tank Top from Lululemon or the super cute Renew Seamless Muscle Tank from Athleta. Both pair well with high-waisted leggings or shorts.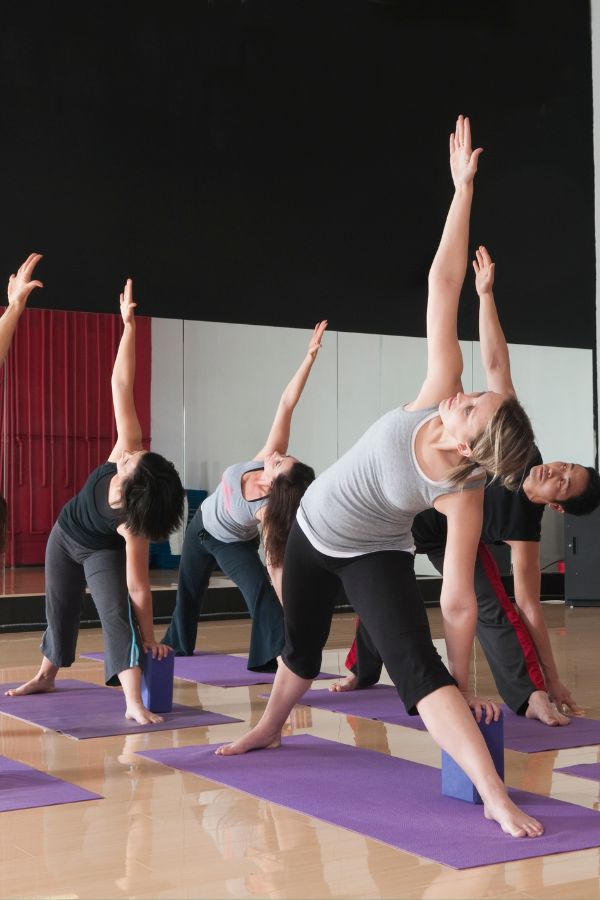 Unless you're attending a fast-paced flow or hot yoga class, opt for soft and stretchy tops that are medium-compression or less for what to wear to yoga. Yoga is about relaxing the body and that means deep belly breathing where your stomach hangs out like a buddha. If you're self-conscious (or you accidentally ate a double serving of tacos before class), opt for dark colors to help slim the body. The Muse Shelf Tank from Alala comes in a slimming corset-style, in black.
More intense yoga classes, with faster movements and deeper poses, may require medium-impact tops, like the Talon Tank from Marika. It's always a good idea to ensure your top will keep your chest in place when you're hanging in a downward-facing dog, headstand, or forward fold.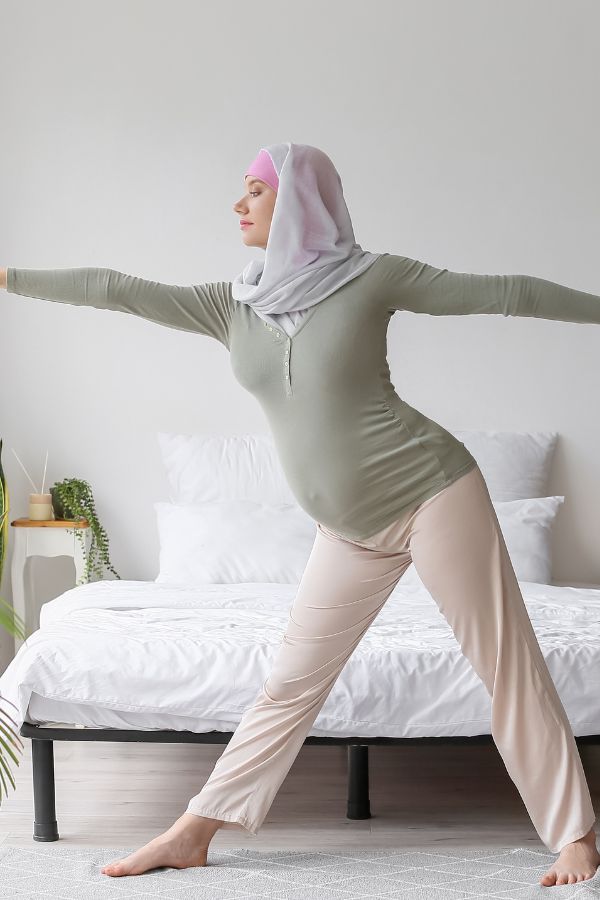 For those ladies looking for a long sleeve top for winter, I can't think of any classier top than the Featherweight Long Sleeve Crew Pullover from Beyond Yoga.
I do recommend you bring a long-sleeve t-shirt, cardigan, sweater, or sweatshirt to the yoga class if you tend to get cold. The beginning and end of the class start with stillness, and you might get chilly before your body warms up, and when it cools down. Make sure this is something easy to take off and on during the class.
The Simply Layer by FP Movement has a cutout in the back to showcase a cute sports bra or tank. The Shrug from Strut This is also a great option to keep your arms covered during the opening sequence.
Related Post: What To Wear To The US Open To Look Chic
What Pants To Wear For Yoga
The best pants to wear to yoga are ones that are comfortable and stretchy, and anywhere from loose-fitting to fitted. You'll be moving around, so yoga pants that encourage (rather than restrict) movement are key. High-waisted styles ensure everything stays in and there's no need to pull your pants up. Try the Crisscross Hourglass Flared Leggings from Popflex for a flattering fit. The Lotus Zen Ankle Leggings by Marika are a total vibe (and one of the most underrated brands for yoga clothing, IMO).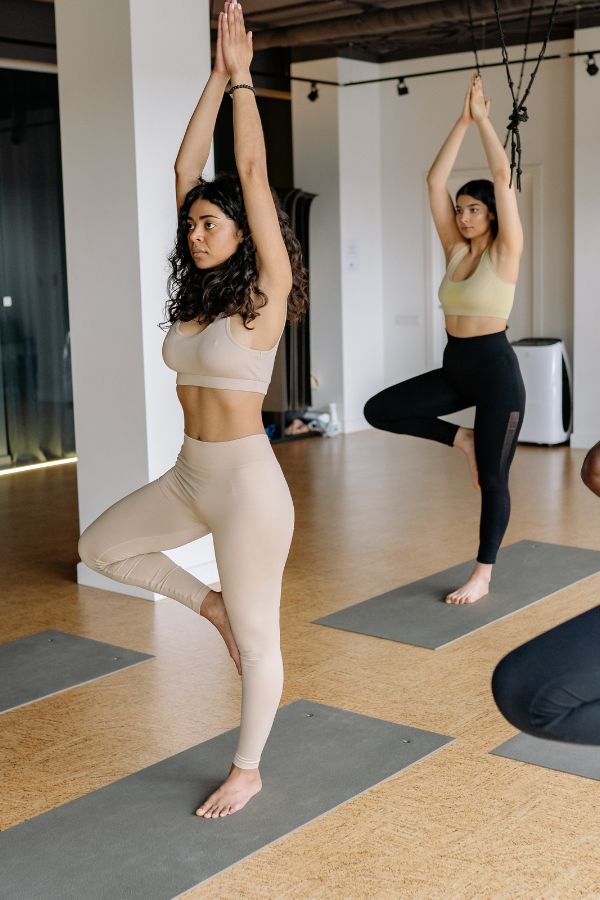 Another important aspect of what pants to wear for yoga is pants thick enough for doing squats and lunges. Ensure the material isn't too thin so that it shows your underwear in a pose when stretched. Be wary of low-quality leggings and pants, and always check in a mirror before leaving your house. The Muse Flare Pant from Alala is a luxurious pair of yoga pants designed for in and out of the studio (airport fashion, anyone?), and comes with pockets. Or try the ALLways Full Length Pocket Legging by tasc or the Women's UA Motion Ankle Leggings by Under Armour.
I also appreciate a pant that isn't too thin, so there's a bit of cushion for my knees, hips, and butt on the mat, although don't count on your pants to give you adequate cushioning. A slim pair of sweatpants is also helpful for those who have sensitive knees. Yes, you can wear sweatpants to yoga, and many have done so!
Pant hems shouldn't be longer than your feet, so they don't get in the way of your foot and the mat or when you are moving through poses. The Hareem Jersey Joggers from Boden and the Retrack Jogger from Everlane both look super comfortable without being too loose.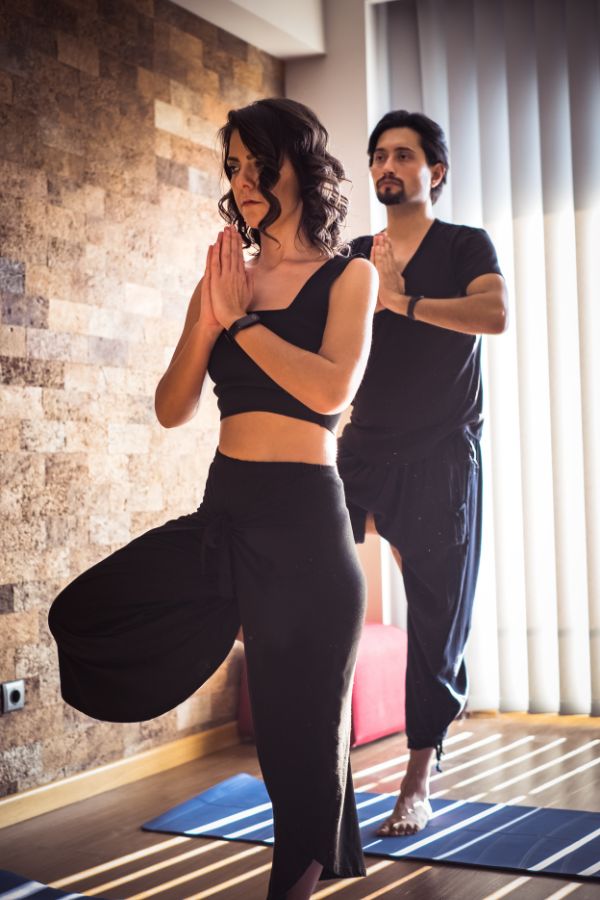 I personally love baggy, loose-fitting pants for yoga such as harem and palazzo pants–just make sure they won't get in the way of your alignment and mindful movement. The Bhakti Pants from Jala is a great style for any yogi, novice, or expert; and perfect for that tropical yoga retreat you've been saving up for.
Related Post: The Travel Wardrobe Capsule You've Been Waiting For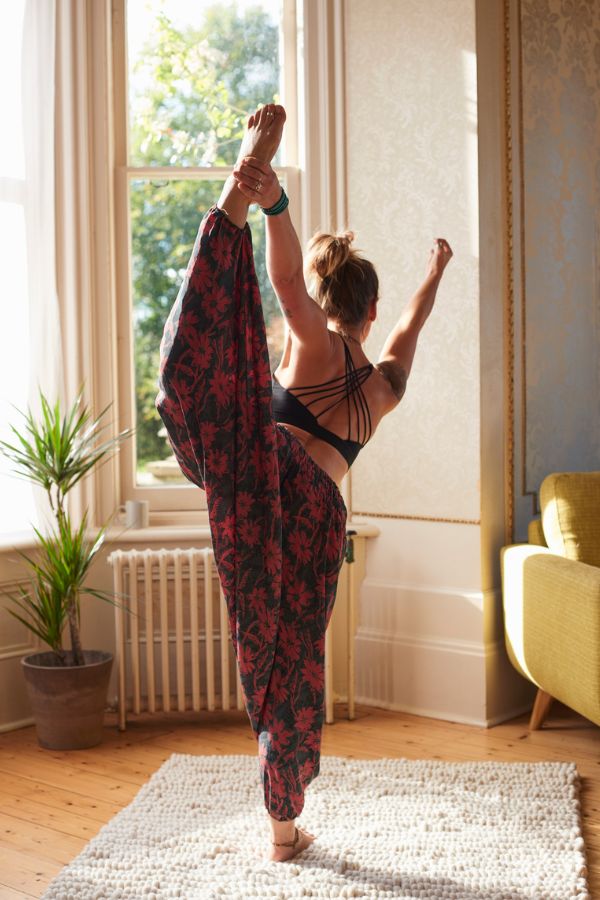 What Bra To Wear For Yoga
As mentioned earlier, yoga is considered a low-impact activity, so you don't need a high-impact bra. Depending on your chest size and the type of yoga class, you may go for something low-impact or medium-impact.
A low-impact sports bra is the way to go for low-key classes such as yin yoga and restorative yoga. Try the simple, but chic Tavi Bra with removable cups and criss-cross straps, or the strappy Pupukea Crossover Sports Bra from Jolyn, which will also work any yoga class. A stretchy bralette is an option for small-chested women, if you're not moving around a lot in class.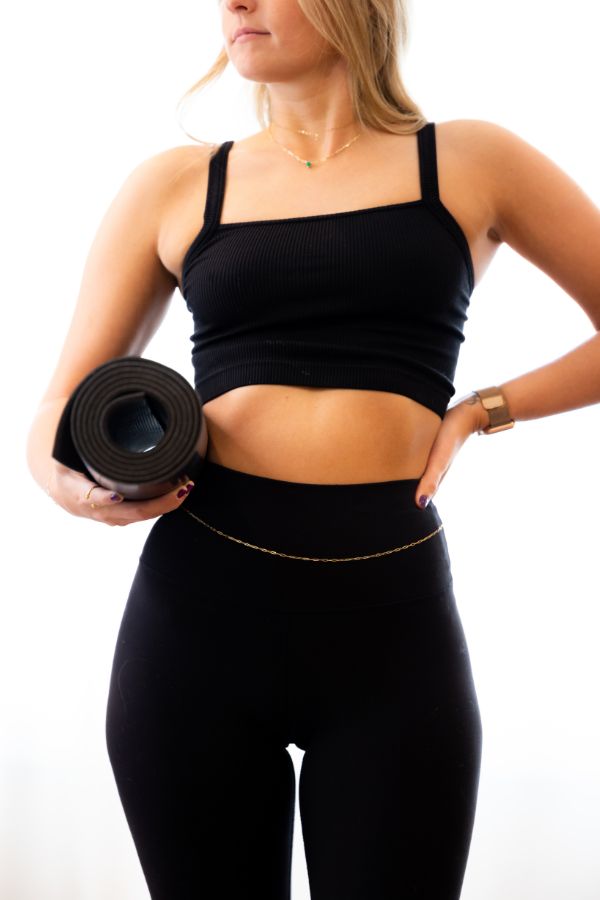 More intense classes such as Vinyasa, Hot 26, Power Yoga, Bikram, and Ashtanga would do good with a medium-impact bra as there is more movement and active poses. I can't help but smile at the Rally Stripe Tank Bra from Z Supply or try the ultra-soft Coreflow Medium Support Bra from Adidas.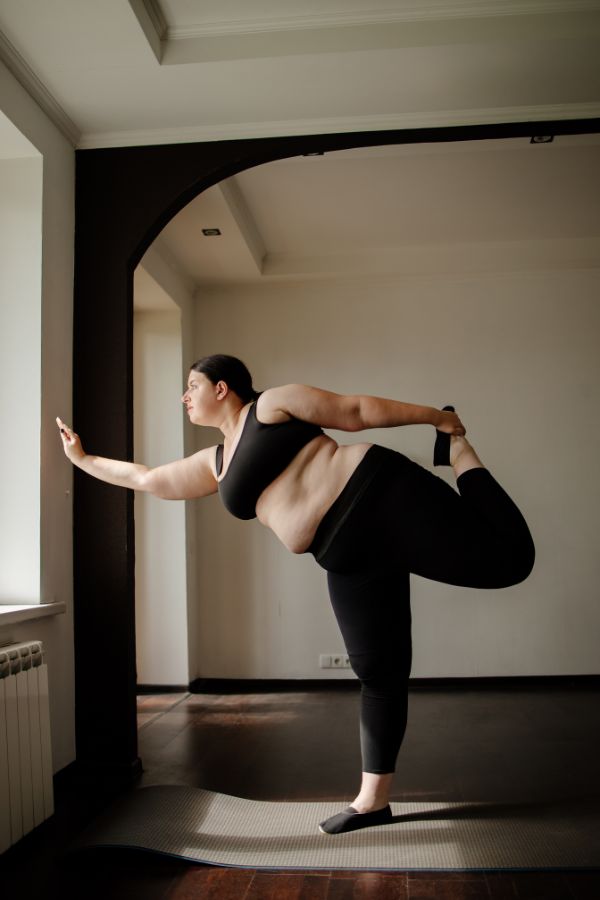 Yoga tops with a built-in bra are also good if you want to keep things minimal. The Icon Yoga Cami Crop Top from Asos 4505 is a cute and affordable option.
Related Post: What To Wear For 70 Degree Weather: 25 Chic Outfit Ideas
What Shoes To Wear For Yoga
If you're going to an outdoor yoga class or know you'll be practicing somewhere you can't be barefoot, then you'll want to wear a breathable shoe with a flexible sole and toe separators. Try the Vibram FiveFingers V Soul Indoor Training Shoe allows full movement of the feet without too much on the top of your foot.
Some people like to wear yoga socks to help them from slipping on their yoga mat. This can be helpful for beginners who are starting to develop the strength to hold inverted poses such as downward dog. It's also helpful for that new "sticky" mat you purchased that's actually very slippery (BIG SIGH). If you know, you know. The Yoga Socks from Abiram are sturdy and durable for all types of barefoot practices, or try the simple Grippy Studio Yoga Socks from Gaiam.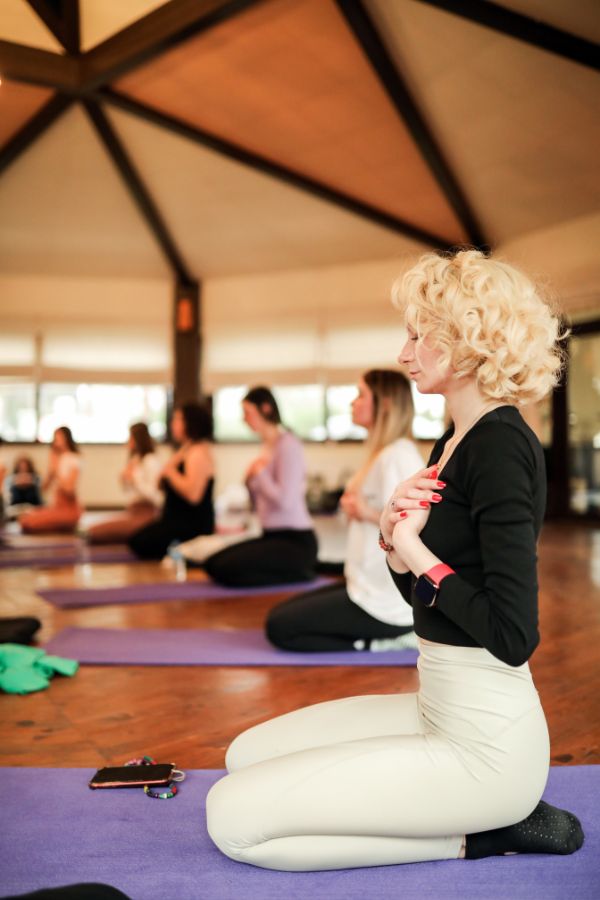 Indoor yoga classes don't require footwear, but you may still be wondering what shoes to wear for yoga, before and after class.
If you have the luxury of coming from home rather than the office, any type of shoe that fits into the athleisure category will work. Sneakers, slip-on sneakers, mules, shearling boots, and comfortable flats are perfect for going to and from the yoga studio. Some studios are tiny and there's not much space to put your shoes on, so the best recommendation is a shoe you can easily slip on and off. In the summer, a slide or flip-flop makes things very easy.
Related Post: What To Wear To The Beach | 20+ Stunning Beach Outfit Ideas
What Underwear To Wear For Yoga
Seamless panties or thongs are the best underwear to wear for yoga as there's less chance of it showing through your yoga pants. Wearing a dark color or dark-print yoga pants will also distract from any seams. Try the Airbrush Invisible Cheeky from ALO, the Seamless Supima Cotton Panties from Intimissimi, or the Invisible High-Rise Thong from Parade.
Also important is to make sure the underwear fits you–meaning it isn't too tight around the hips or butt. I know this can be tricky for curvy gals, which is why I recommend wearing a seamless thong or dark pants.
Related Post: I'm Loving These Styles For Pear Shaped Body
What To Wear For Hot Yoga
Hot yoga, Hot 26, or Bikram yoga is a whole different animal in terms of what to wear for yoga. Temperatures in the yoga room can reach 105 degrees Fahrenheit with 100% humidity for a Bikram yoga class, while a hot vinyasa class may be at 90 degrees Fahrenheit. Intense heat also raises the intensity of the yoga practice. In very hot classes like Bikram yoga, the less clothing the better. If the class is heated correctly, there's also no avoiding the sweat on your body.
The best clothes to wear for hot yoga are form-fitting, stretchy clothes, such as hot yoga shorts and a sports bra. Try Athleta's popular Conscious Crop Bra styled with the Booty Boost Active Bike Shorts from Spanx or The Do-It-All High-Rise Biker Shorts from Summersalt. You'll be sweating and your clothes will be wet, so you won't want to bother touching them or fixing them (or anything like that). You can also wear a sporty bathing suit if the bottoms are boy shorts. Even a sporty bathing suit top with fitted, running shorts works perfectly.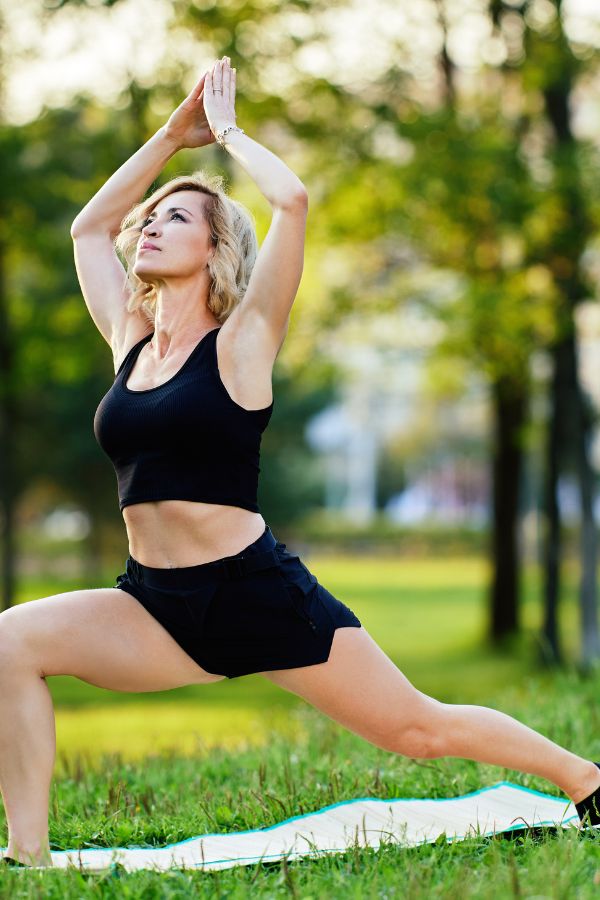 Another outfit I loved to wear to yoga in the winter was a matching sports bra and a pair of leggings. What's nice about leggings is you can't see the sweat, nor does it drip down onto the mat. ALO's 7/8 High-Waist AirLift Leggings are lightweight without being see-through and offer proper support for intense yoga sessions.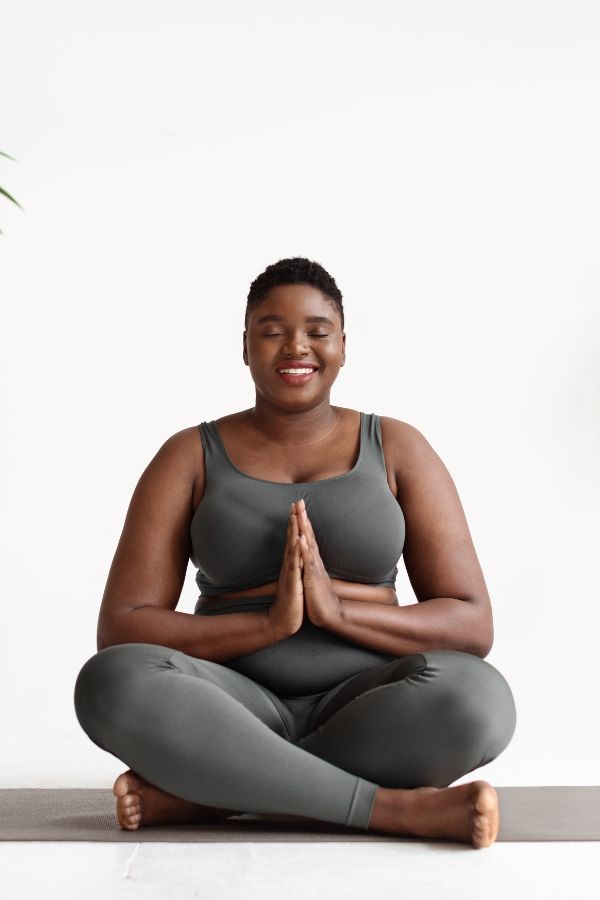 An athletic top with a built-in sports bra is also a great choice for hot yoga clothing, like the affordable Ribbed Workout Tank from ATTRACO. However, if you don't want that much sweaty clothing covering your body, go with a cropped top, or a breathable tank that styles over a sports bra like the Dry-Flex Open Back Tank from Fabletics.
Opt for smooth, stretchy (or Spandex-like) clothing as opposed to soft, cotton-like clothing that will easily show sweat and doesn't stretch as well when damp.
Related Post: Best Places To Shop For Clothes Online
What Not To Wear To yoga
I've alluded to some of the no-no's for what not to wear to yoga already, but here is the complete list.
Clothes that are too big or too small for you
Compression wear
Clothing that doesn't stretch
Pants or leggings with see-through material
Anything with a hood (the hood will fall down on your head when you're inverted)
Pants that puddle on the floor
Pants with lots of embellishments around the ankles, hems, waistband, or backside (these could dig into your skin when you're in a pose, such as snap buttons, or beads on waist ties)
Low-cut tops
Tops that tie in the back (the knot will hurt when you lay down)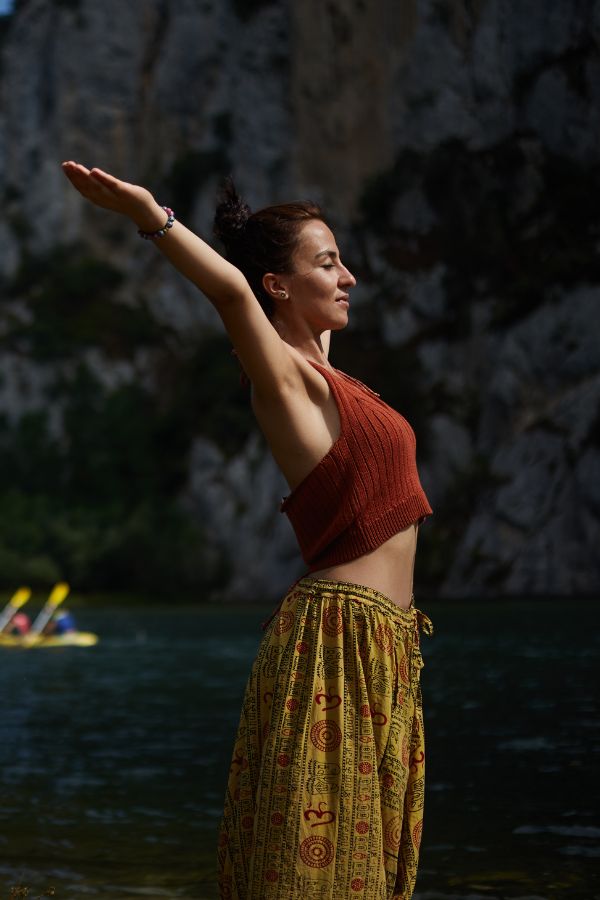 Low-rise leggings and pants (high-waisted is best for bending over)
Shorts that are too short
Baggy shorts (unless they're long like a Bermuda short)
Clothing you constantly have to adjust
Clothing you feel uncomfortable
Clothing that makes you overheat
Scratchy, itchy fabrics
Tight, long-sleeve tops as your main top (if you get too hot, you're stuck in it)
Jackets with zippers (zipper could be uncomfortable if lying down on it)
Skirts (unless it's a skort with tight shorts underneath)
Clothing that shows sweat easily if you'll be sweating a lot
Related Post: Fashion Advice You Need To Ditch In 2023
Affordable Yoga Clothes
Like any other type of athleisure and activewear, yoga clothes can be quite expensive. Here are some of my favorite places to shop for affordable yoga clothes that are under $75 a piece.
Jolyn is a swimwear and surf line that also offers a small collection of yoga wear. It's not extensive like some well-known activewear brands, but they offer stylish essentials that I wouldn't mind wearing on repeat to the yoga studio.
Gymshark offers activewear for all levels of fitness including seamless leggings, sporty essentials, slides, and more.
Aerie has a super affordable line of leggings, yoga pants, and other items perfect for the studio.
It would be silly not to mention Amazon for what to wear for yoga without breaking the bank?! The best part is that you'll have 1000+ reviews to guide you to the best yoga attire for you. I've been eyeing CRZ Yoga for their chic Butterluxe collection.
These days I love a nice, long yin session to slow down and ease tight muscles. Have you done yoga before? If so, how was your experience? Do you have a favorite style of yoga? Comment below!
This post was all about what to wear for yoga
Related Posts: