Planning what to wear to the US Open? This guide will ensure you show up looking stylish and classy as a spectator this summer!
Comfort is king at any sporting event and it's no different for what to wear to the US Open. There are so many options to put together a stylish outfit that makes you feel your best (and ensures you look good for all your social media followers too)!
Whether you prefer a simple, classic, trendy, or sporty style, this guide includes tips and the best outfit inspiration to wear to the US Open, day or night.
This post is all about what to wear to the US Open.
What To Wear To US Open Tennis
Is There A Dress Code To Attend The US Open?
The dress code to attend the US Open is typical of most sporting events: very casual. As long as you're decently covered in nothing offensive you should be good for what to wear to the US Open.
I know. I know. You're here for the FASHIONABLE aspect of the US Open (outfit inspo further down, I promise!). The great news is that you can have fun with your outfit because you don't necessarily need to "dress up" or "dress down". Keep in mind that you're in NYC with endless restaurants and bars so it's a good idea to style your look with the assumption of going out somewhere before or after the match. If you're in VIP or club seats, it's always good to look well-put-together, even in casual clothes.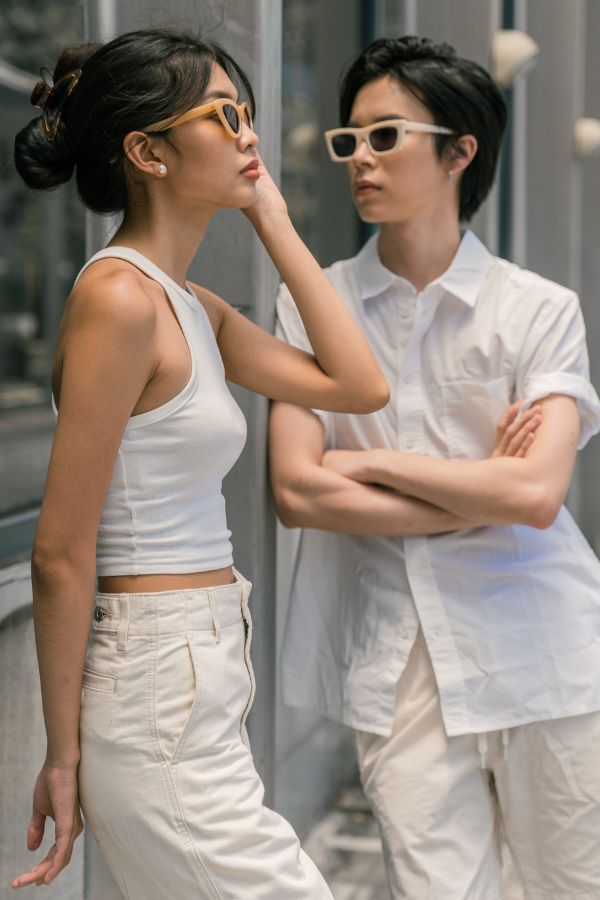 From a handbag standpoint, the US Open website indicates that bags "must not be larger than 12"W x 12"H x 16"L". So, don't bring a large tote or handbag unless you don't mind paying to store it in a locker outside the stadium. Also, pass on backpacks unless you're bringing a single-compartment drawstring bag.
With so much going on in the world these days, it's smart to check the US Open website the day before you attend to ensure there haven't been any last-minute policy changes, especially with regard to bags.
Related Post: What To Wear To Jury Duty, From A Fashionista
What To Wear To A Tennis Match As A Spectator
The following guidelines will ensure your US Open outfit is as comfortable as it is cute. The Grandstand, stadiums, and practice courts are all outside. It's late summer in NYC, so the weather is most likely hot and sunny.
Lightweight clothing in light colors is the best choice to stay cool. Natural fabrics such as linen, 100% cotton, and linen-cotton blends are my favorite choices because they're comfortable, but also more expensive looking than other materials. Tencel, hemp, flax, and rayon are also great choices for breezy, quick-dry fabrics. You can find tops, shorts, skirts, dresses, and pants in these fabrics in all budget ranges.
Synthetic fabrics such as polyester, Ponte, spandex, and materials that stretch trap both moisture and heat. If it's a sweaty day, you'll want a fabric that dries quickly, so the lightweight materials above are better suited to wear to a tennis match as a spectator.
Related Post: What To Wear To The Gym To Look Elegant
Make sure your clothing fits comfortably when sitting for long periods of time. Hot pants, cut-off denim shorts, and tight-fitting jeans should be avoided. Low-cut tops might reveal too much when you're bending over in your seat. Though, wear what you feel good in, of course.
If your seats are under the sun, you might want to wear or bring a hat. Straw hats are stylish and comfortable in the heat. A structured hat can even elevate your outfit. Sporty ladies can go for a solid ball cap that matches their outfit. A pair of sunglasses is also a must if you'll be sitting in the sun.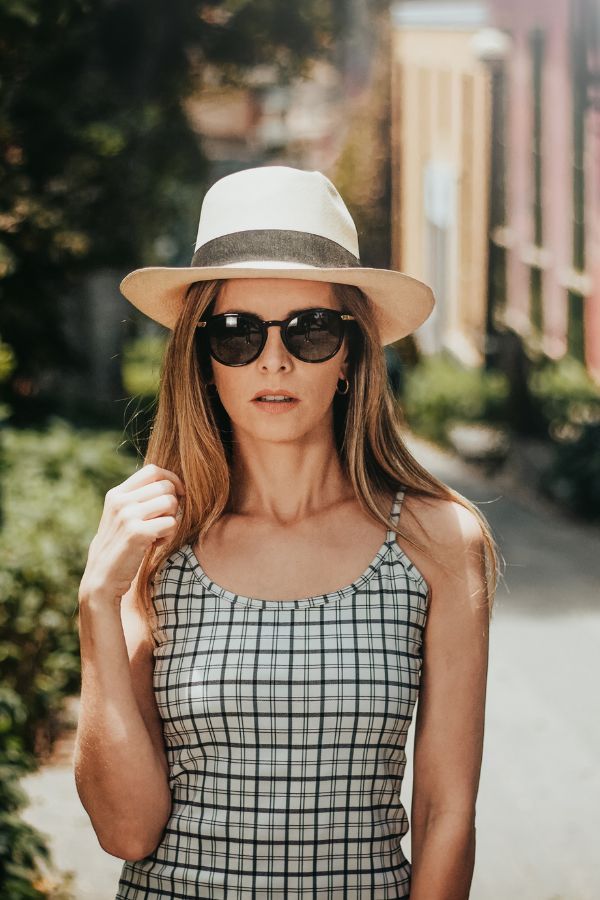 Your day (or evening) most likely includes a lot of walking, so comfortable shoes are a must! There's nothing more classic than what to wear to the US Open than a pair of white sneakers. They're a wardrobe staple and look stylish with dresses, skirts, and shorts! A casual pair of derby shoes are also a good option for those who want something a little dressier than sneakers. If it's too hot for shoes, a chic pair of sandals always does the trick. And of course, a classy pair of flats are minimal and feminine for a US Open spectator outfit.
What To Wear To The US Open At Night
The US Open spectator dress code is the same in the evening, so feel free to dress casually.
Evening temperatures cool down in NYC, so it's wise to bring a jacket or cardigan to wear to the US Open at night. Consider the jacket or cardigan part of your outfit, so it matches and creates a cohesive look whether you've tied it around your shoulders or just placed it on your lap.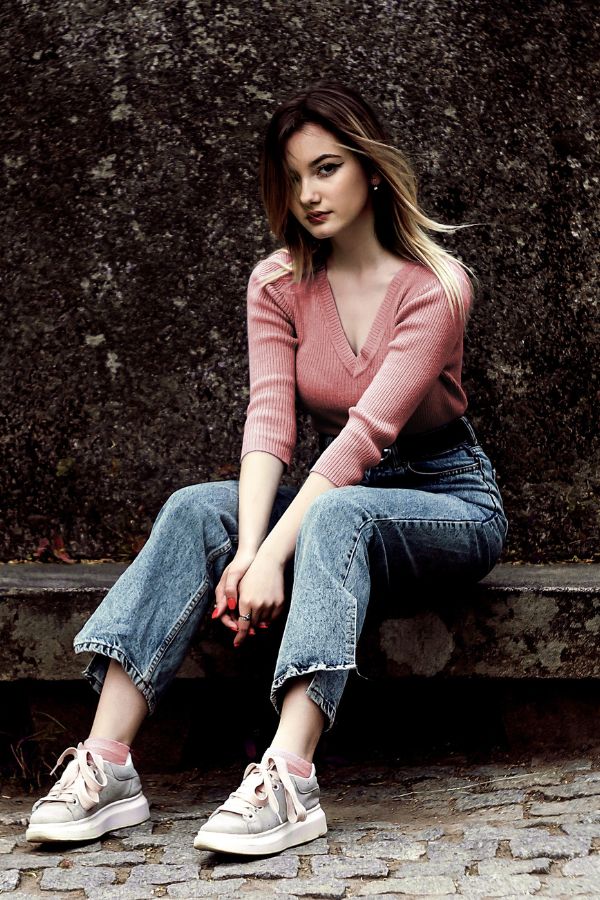 Blazers have become so mainstream these days, a lightweight style with a pair of jeans and a T-shirt is definitely appropriate for an evening tennis tournament.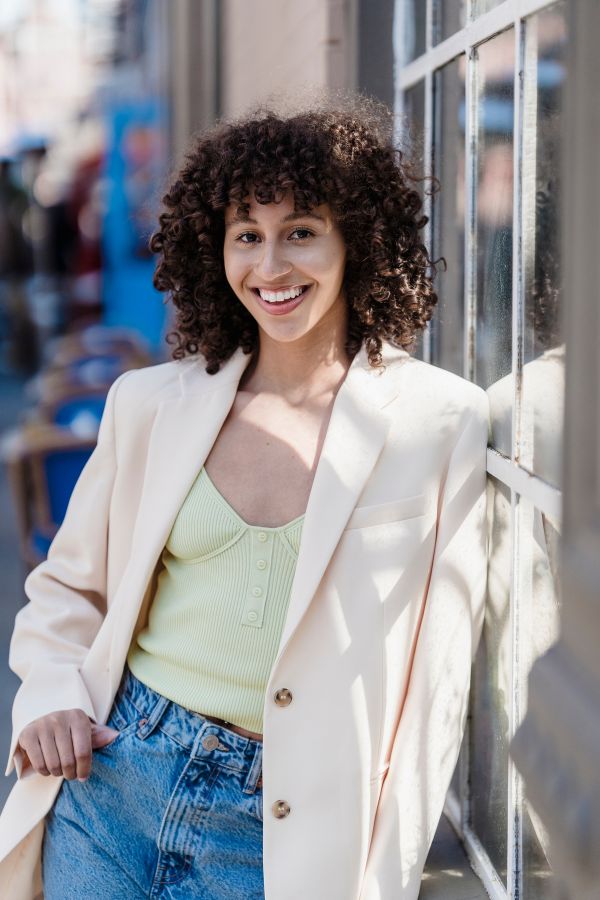 Opt for pants such as linen trousers or jeans, and ensure they don't drag on the floor. Cropped styles are great. Midi and maxi skirts are also good for covering the legs if you tend to get chilly, but still want to dress up.
The same footwear applies from classic white sneakers to stylish sandals to comfortable flats.
Related Post: 15 Perfect Bar Outfits For Your Next Night Out
Can You Wear Jeans To The US Open?
Yes, you can wear jeans to the US Open because the dress code is casual. Opt for a pair that's comfortable since you'll be sitting for long periods of time and also doing some walking. If you want to look elegant in jeans, skip the faded, distressed, and ripped styles. However, now is the time to wear your casual jeans out with the laidback dress code.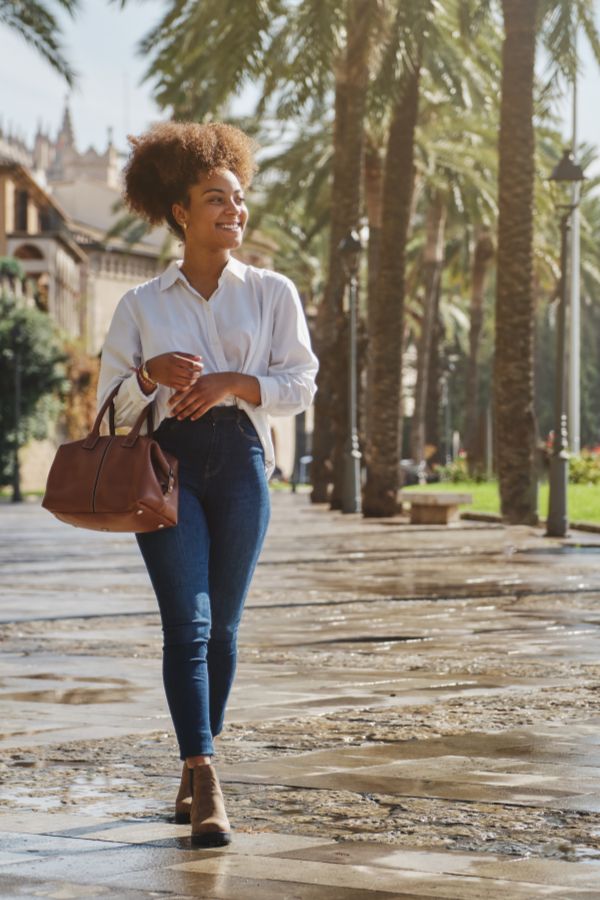 White and ivory jeans look the most classy paired with a cute top and a belt. All-black and dark blue jeans also look more elevated than the standard denim colors. Dark jeans are good if you don't want to risk stains from food and beverage and anything you might accidentally sit on.
However, nothing beats classic denim jeans than a straight-leg or tapered style with minimalist sneakers or sandals.
Related Post: Denim Style Trends | The Best Jeans For Your Body
Cute Outfits For US Open
Now, on to the most important part, cute outfits for the US Open!
T-Shirt + BELTED Linen Shorts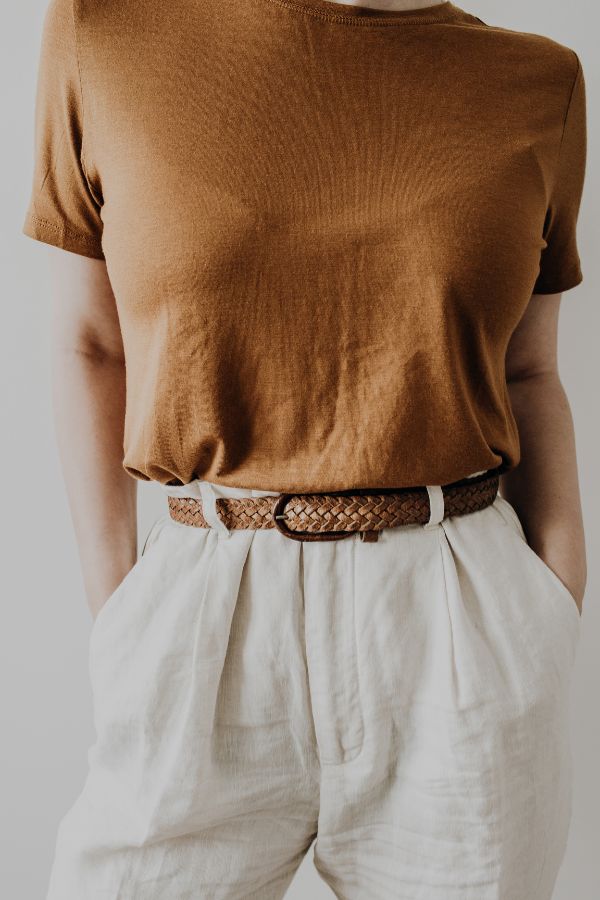 The Hijinx Tee from AYR is a drapey style in 100% cotton with thick, neutral stripes. Total yacht rock vibes, which are very palatable at a tennis tournament IMO. Tuck it into the beige Freddie Linen Shorts from Sophie Rue in a timeless length that's neither too long nor too short. Style with this gorgeous Woven Leather Belt by Madewell, sure to become a wardrobe staple, year after year.
Fitted Tank + Lightweight Skirt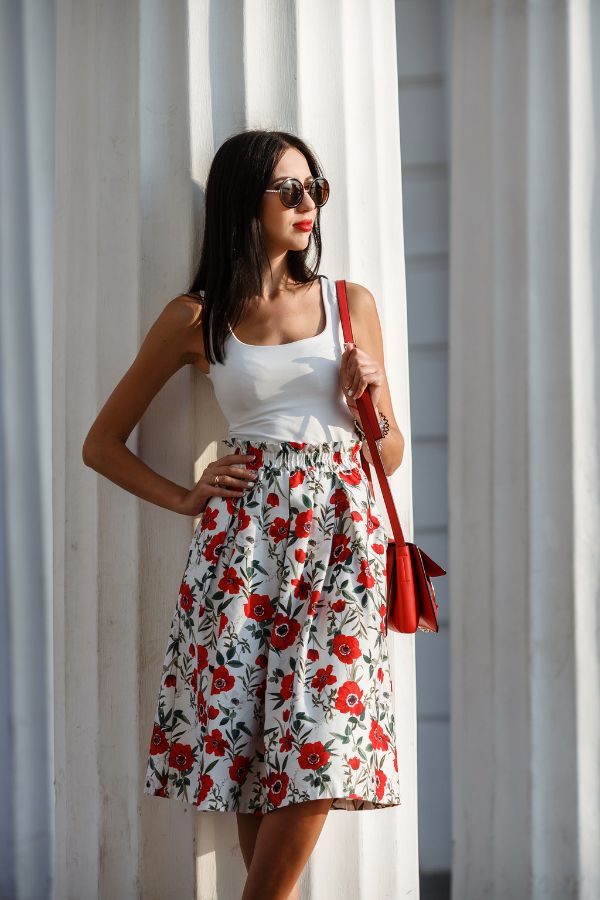 The Square Neck Tank from KOTN will for sure become one of your favorite, casual basics. Or opt for a tank with a built-in bra, like the Ribbed Minimalist Tank from ALO or the Vintage Rib Shelf Bra Tank from J. Crew. Tuck your tank into the Somerset Maxi Skirt from Anthropologie or the Reformation Taz Linen Maxi Skirt the perfect feminine touch to the outfit. For a hint of glam, add these chic sunnies, The Riley from FREYRS, the Beige Round Sunglasses from Chloe, or the Iconic Sunglasses from Z Supply.
Lightweight Shirt Dress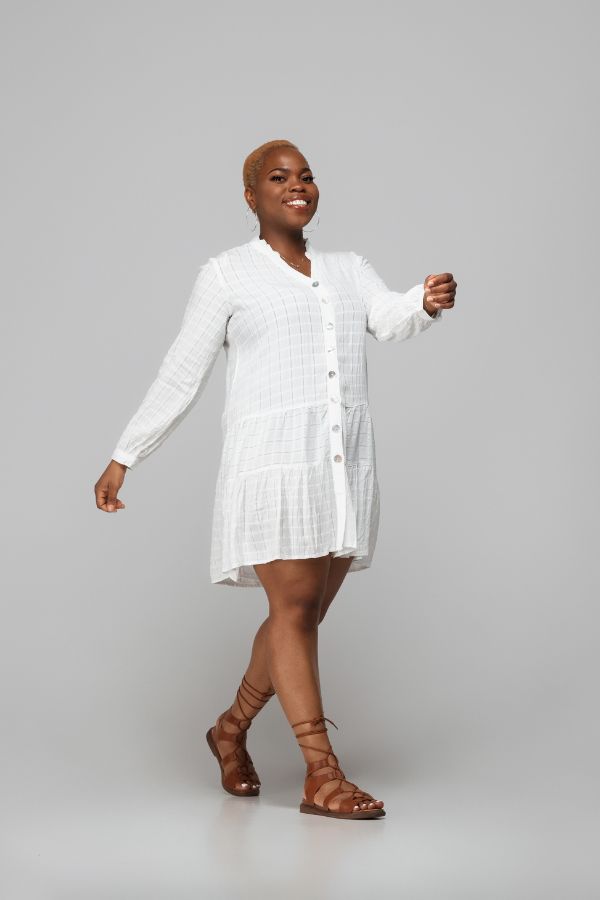 The Travel Dress from Heidi Merrick is so dope (I'm not sure who says that anymore, but it feels necessary ATM) and comfortable in a silk/hemp blend. Or try the Daytripper Shirt Dress from Everlane with a chic high-low hem. I also love the easiness of the Relaxed-Fit Short Sleeve Baird McNutt Irish Linen Shirt Dress from J. Crew. On a warm day, the Harper Leather Two-Strap Sandals from ALOHAS are the stylish footbed sandals of dreams! Don't forget the classic Arizona Big Buckle Sandals in cream from Birkenstock. Also, you won't be disappointed if you invested in this beautiful, packable UPF 50+ Visor from Eric Javits.
Oversized Collared Shirt + Cropped Jeans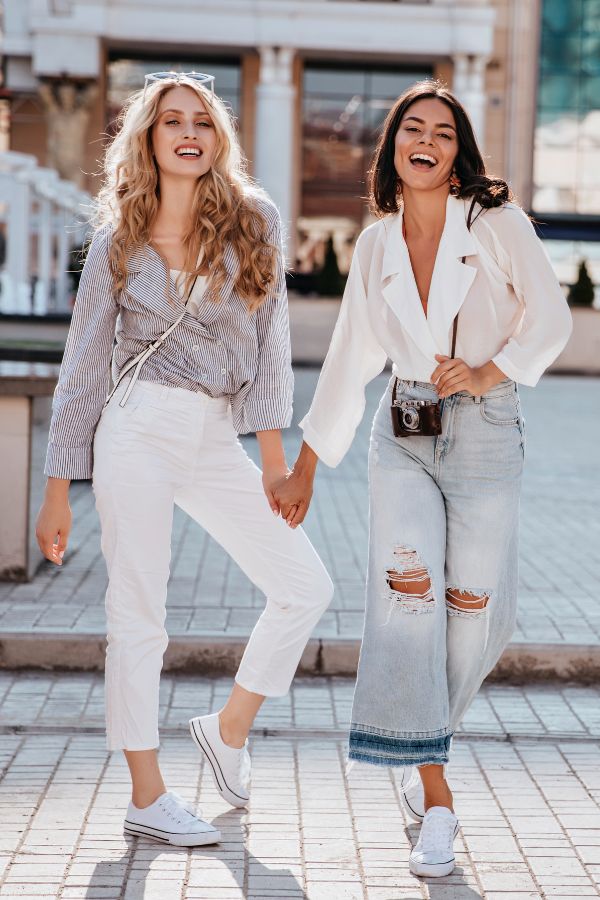 There's something playful about The Bennet Buttondown Sheer Shirt with the ability to layer a cute cami or bra top underneath for the latest trend. Try Everlane's The Drapey Square Shirt for a polished and effortless vibe. I can't get over how cute the Alexxis Jeans by AG Jeans are with a vintage wash and intelligently-placed distressing at the bottom-left hem. The OCA Low Sneakers from Cariuma are super cool, and comfortable, and come in so many colorways and fabrics.
Tank + Maxi Skirt + Denim Jacket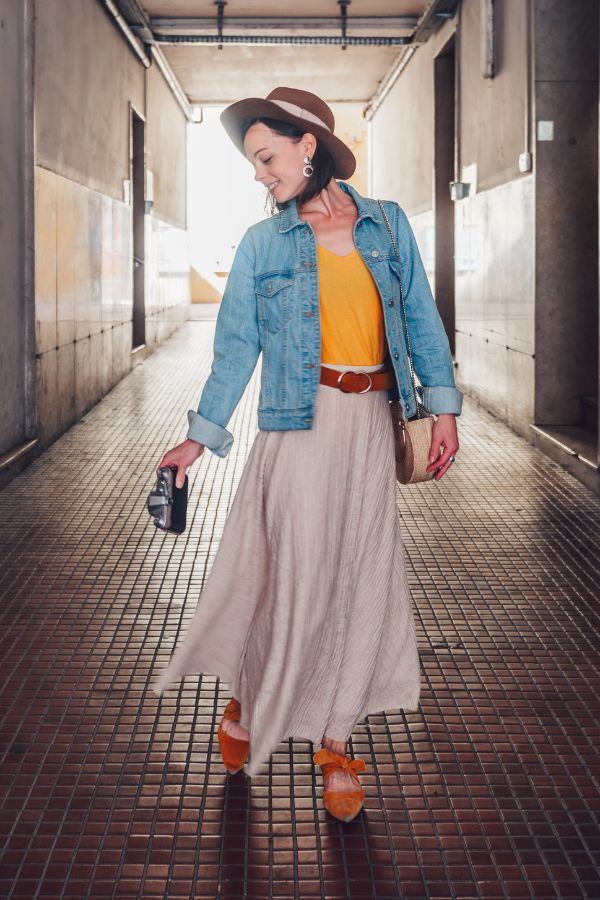 The drapey Cross Halter Neck Top by current air is relaxed but elegant. Style your top with the Runa Tiered Cotton Maxi Skirt from Modern Citizen, which also looks extremely cohesive with the Jocelyn Asymmetrical Ruched Side Sleeveless Tee, also from Modern Citizen. The Starling in Vegan Raffia by BIRDIES or the Tory Burch Seaside Oxford Espadrilles are the ultimate shoes for the woman who refuses to wear sneakers. I LOVE this minimalist take on a denim jacket with the Cropped Denim Jacket from Z Supply.
Matching Sporty Separates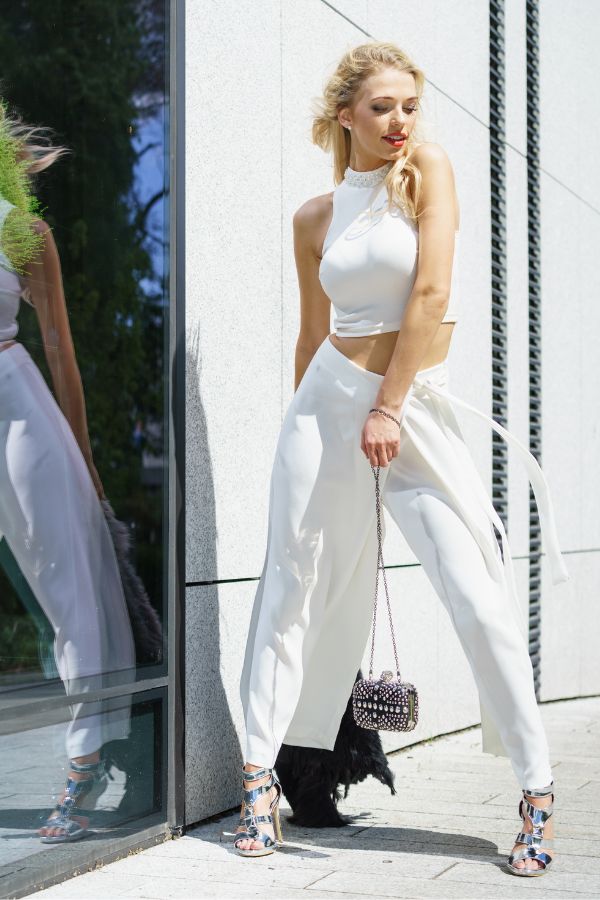 The elevated Jules Top from Marcella easily takes streetwear to the next level. The Slim Refined Stretch Cargo Pant from Banana Republic is lightweight and sophisticated, with a naturally tapered leg as opposed to a drawstring. Try something similar like the Easy Cargo Pant from Uniqlo or the Ginerva Cargo Pant from AGOLDE. Pair these with the stylish Mona Flatform Sandals from Steve Madden or the Vince Bowie Square Toe Platform Sandals.
Polo Vest + Denim Skirt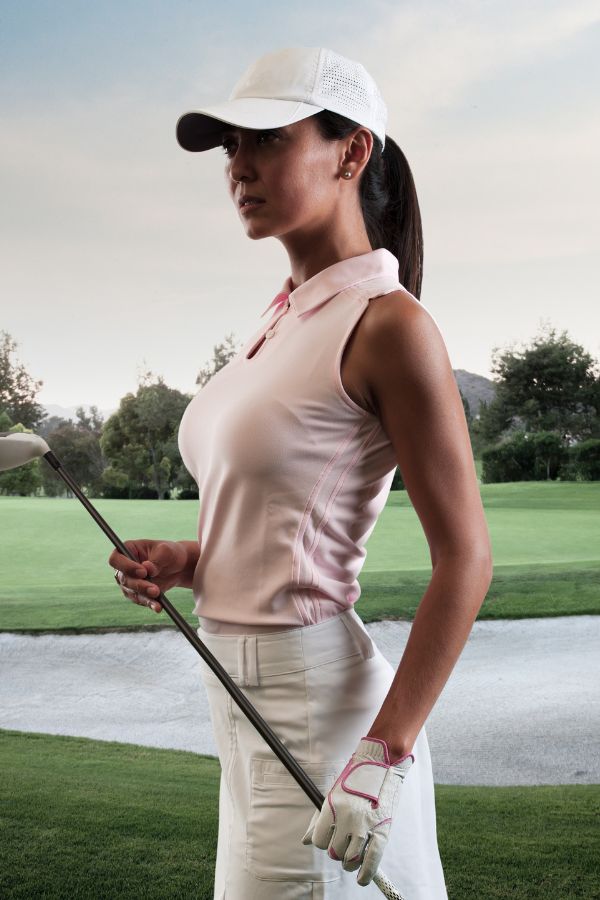 Leave it to Tory Burch's Performance Pique Pleated-Collar Sleeveless Polo to be just as stylish as it is functional. Or opt for more of a tank-style polo with the Norah Polo Tank by Michael Stars. Pair your polo top with the Frayed Hem Denim Maxi Skirt from Micas or the Denim Mid-Rise Maxi Skirt from Madewell, which have a middle slit, perfect for sitting cross-legged in your seat. And, don't forget a classic baseball cap, like this organic cotton one from & Other Stories and the sporty Le Weston Sandal from Frame.
Casual Matching Set
Try the Billie Linen Vest and the Milla Linen Shorts from Reformation, which also come in several other colors (and can be purchased separately). With a pair of white sneakers, this look is the epitome of casual chic. Turn heads in this stunning'90s-inspired Myra Knit Tank and the Miley Knit Skirt from Z Supply, and throw a denim jacket on top like the Otto Boyfriend Jacket from Favorite Daughter. Or go for a laid-back linen look with the Linen-Blend Shell Set Top and Linen Blend Tailored Ultra Wide Leg Pant from A+F. This outfit would not be complete without the simple (and OG Classic) Champion Sneaker from Keds.
This post was all about what to wear to the US Open
Related Posts: