Do you want to know the must-have clothes for women in their 30s? These important pieces and style tips will enhance your wardrobe and personal style in your best decade yet!
I've found there's a must-have list of clothes for women in 30s, having lived through most of this decade already. Your thirties embody important life changes, usually both physical and emotional. You learn to let go of toxic relationships while kicking the bad habits of your youth to the curb. Time seems to move faster while your list of responsibilities continues to grow.
You begin to learn the hard facts of adult life in your thirties, what works and what doesn't. The same is true about fashion, whether it's styling for your body type, dressing authentically, or making smart purchases. While all of this is going on, you need a core set of clothes you can rely on amidst everything else happening in your life.
This is that list. Functional. Timeless. And best of all, stylish.
Additionally, you will learn easy tips for how to dress, casual outfits, the best brands, and what not to wear for women in their 30s.
This post is all about clothes for women in 30s.
Best Clothes For Women In 30s
How To Dress In Your 30s Female
While your twenties were spent discovering, exploring, and experimenting, your thirties are a time of settling. Settling means narrowing your focus to your true wants and desires, and journeying back to your true self.
This is something to reflect in your style with a more strategic focus on wearing trends that you actually like and that make you feel good. Purchasing the latest trends is fun, but if that's all you wear, it's hard to determine your personal style. Personal style becomes important in your thirties as a result of the internal growth that's happening. It's less about what you're wearing and more about why you're wearing something, and every woman has her own reasons.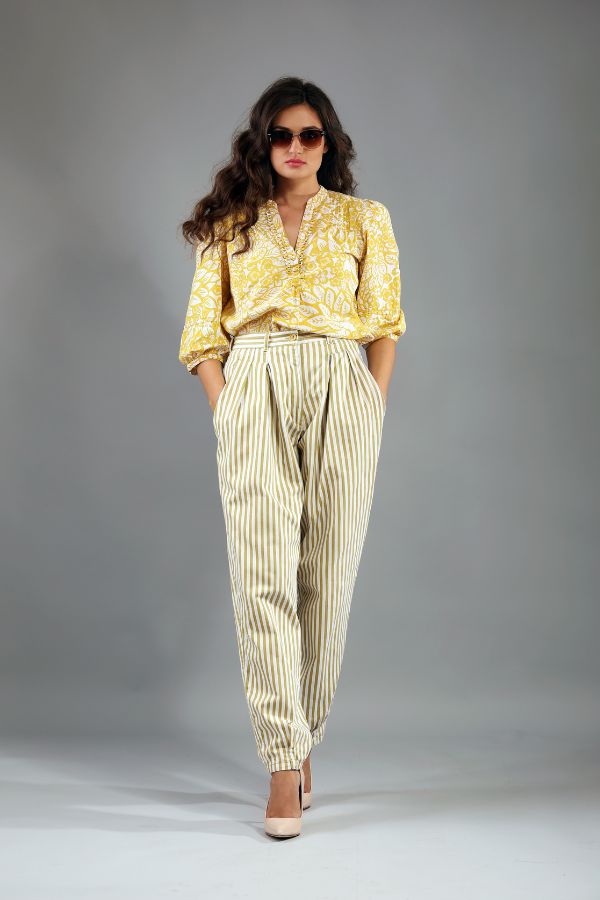 It's also a great time to begin investing in quality wardrobe staples that mix and match with your clothing, whether it's with trends or not. Timeless, simple pieces are easy-to-style clothes for women in 30s because of their versatility. You can easily make them "your own" with accessories and inventive styling.
Related Post: Wardrobe Essentials Women: The Complete Style Guide
Before making purchases, I recommend performing a wardrobe inventory. This is an exercise of going through your entire closet, examining all your pieces, and trying them on. You keep the pieces that look amazing on you and that you feel good about. Anything less than feeling and looking good needs to be discarded. There's a reason you find yourself gravitating toward certain items again and again. This exercise helps you remove the unnecessary clutter from your wardrobe and ultimately, your life. Try this out for yourself in the article below.
Related Post: How To Shop Your Closet The Right Way
How Can I Look Stylish In My 30s
A great method for how you can look stylish in your 30s is with a capsule wardrobe. A capsule wardrobe consists of simple, timeless pieces, using a neutral color palette, that easily mix and match together. Purchases are geared toward higher quality ("less is more" mentality) for lasting multiple seasons as opposed to trendy items that quickly wear out in style or value. You learn what works and what doesn't work in terms of your own style
The great thing about a capsule wardrobe is that you can wear it as a complete wardrobe or you can use it as a base wardrobe and add interesting accent pieces that reflect your style. There are no definitive rules. Instead, it provides an organized approach to dressing, so you have more space to get creative with a purposeful wardrobe that works.
Related Post: 12 Capsule Wardrobe Essentials To Jumpstart Your Style
A solid wardrobe plan is a next-level solution to master your style for clothes for women in your 30s. This approach dives deep into your wants, needs, and environment to help you create the wardrobe of your dreams while saving you money. If you suffer from having "a closet full of clothes but nothing to wear", this is the solution for you! Find the exact steps to do this in the article below.
Related Post: Wardrobe Planning: A Beginner's Guide To Your Dream Closet
Lastly, learn to dress for your body type. Your body shape may have changed since your twenties, so re-evaluating what style of clothes flatter you best is important. Every woman has a different body shape and clothes for women in 30s are about dressing to complement what you have. It's time to step out of shame and enter the best style decade of your life so far!
Related Post: 5 Petite Style Tips You Might Be Missing Out On
What Not To Wear In Your 30s
These are some simple guidelines for what not to wear in your 30s. It's not so much whether a certain style is okay to wear in your 30s, but more so the philosophy behind wearing the item.
Items that make you feel bad about yourself (Do you ever sigh when you take something off the hanger and force yourself to wear it because you spent money on it? Stop doing that, lady!)
Items that you don't like (I toss anything that gives me the slightest negative vibe)
Clothing you can't figure out how to style (Ask a friend for help before wearing out)
Clothing you only wear to appease someone else (dress for yourself instead)
Items that spark bad memories and trauma
Items linked to a dark stage in your life (it's time to disconnect from unhealthy frequencies)
Clothing that doesn't fit correctly or is too small or too big (have it tailored or donate it)
Stained, ripped, ruined clothing and accessories
Logos, logos everywhere (this is distasteful for any age, so limit your look to one visible logo or one monogram print)
Related Post: How To Find My Style In 5 Easy Steps
Casual Outfits For 30 Year Old Woman
Here are casual outfits using 10 key items every 30-year-old woman (and above) should own. These outfits are styled with clothing and accessories appropriate for a timeless or capsule wardrobe and will work with everything in a wardrobe. The most important thing is to take this inspiration and find items in the style and color that works for you.
Summer Wrap Dress
Everyone woman needs a summer wrap dress in a lightweight fabric. This piece is so versatile, whether you style it with heels for a date night, pair it with flats while traveling Europe, or as a beach cover-up in the summer. I recommend a linen or linen blend for an elevated, but effortless vibe.
Related Post: What To Wear To The Beach | 20+ Stunning Beach Outfit Ideas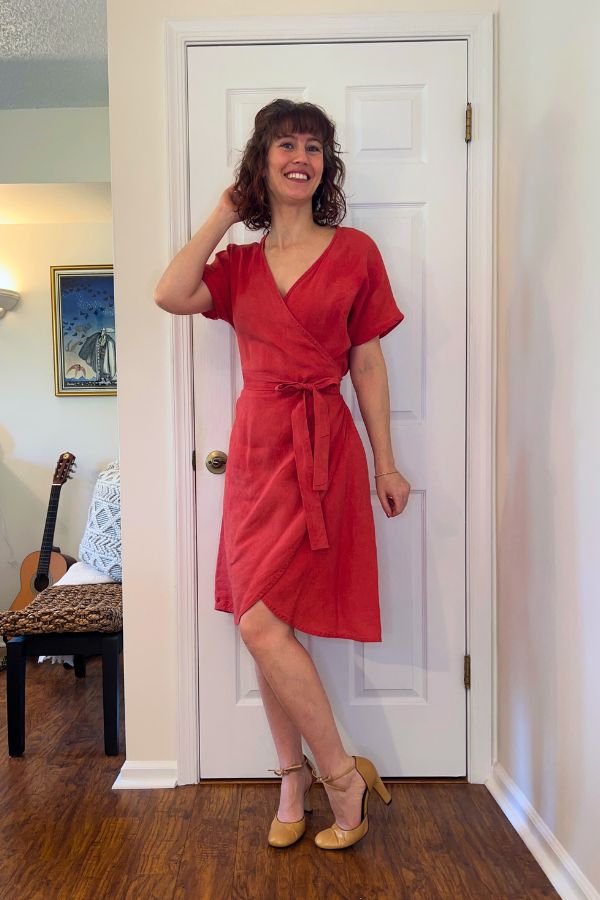 Casual Button-Down Shirt
If you want to dress like a mature woman, try a button-down shirt instead of a T-shirt. They're lightweight and comfortable and come in options from slim-fit, to classic, to boyfriend, to oversized. Style it over a basic tank and a pair of jeans or by itself with a pair of trousers. Use it as a layering piece in the summer. The best fabrics for a casual-elegant look are chambray, linen, Tencel, or cotton.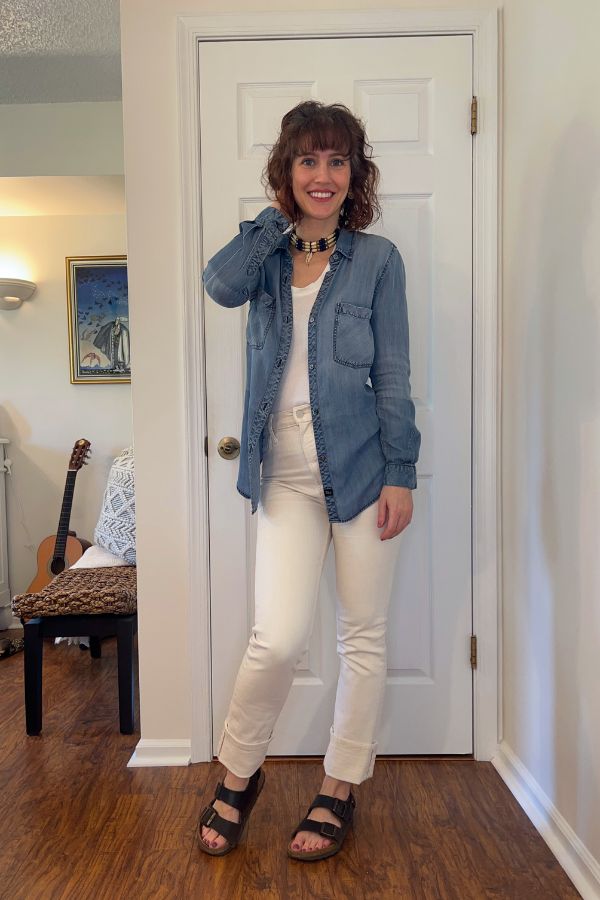 Simple Sneakers
Minimalist sneakers are the answer to every cute outfit where extreme comfort is necessary. A classic white sneaker looks polished against a summer dress or a maxi skirt. If you're not into white, try ivory, beige, or black. Go with the color you'll actually wear. A sneaker-like derby shoe is also a good option if you prefer a more upscale style.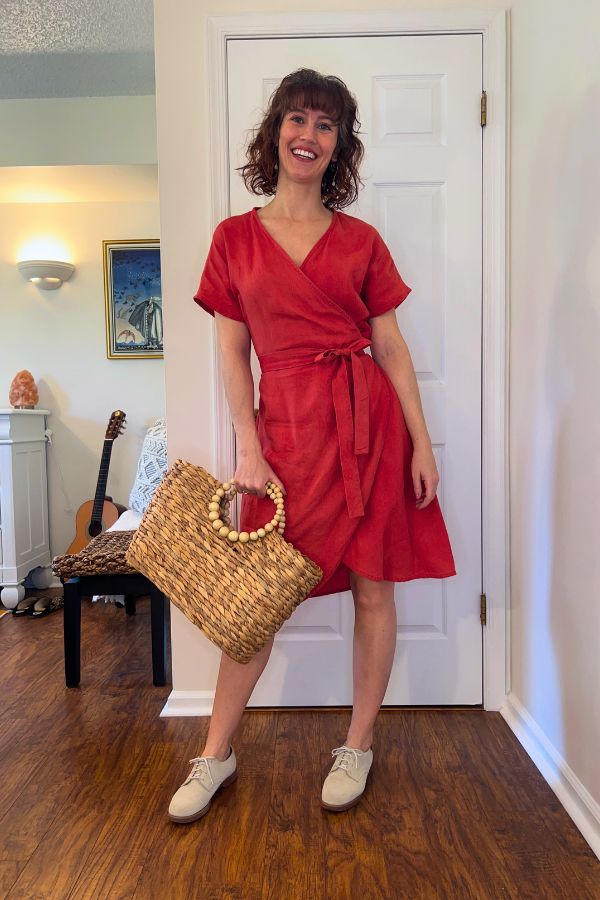 Suit Separates
It's important to own some form of a suit in your 30s. A suit can be expensive, but matching suit separates are a great option if you're on a budget. Plus, they don't need to be from the same store or brand either. All you need is a blazer and a nice pair of trousers in the same color and you have an outfit for a business meeting, interview, jury duty, or whenever.
Related Post: What To Wear To Jury Duty, From A Fashionista
Black is an obvious choice for a minimalist wardrobe, but beige, camel, navy, and gray are also perfect for a timeless look. Matching suit separates in bold colors are super chic, especially for going out and special events.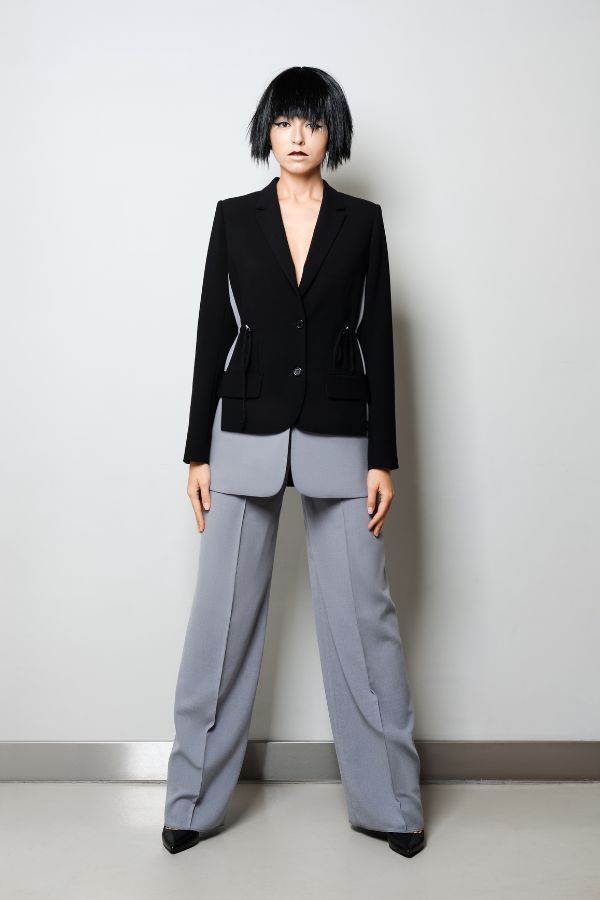 Elevated T-Shirt
An elevated t-shirt is a style hack for wearing a t-shirt without looking too casual. The fabric is what makes it elevated. While a standard t-shirt typically comes in cotton, modal, or jersey, an elevated t-shirt is made with linen, silk, or cashmere. These tops are great as workwear, but also my go-to's for creating stylish, casual looks. You'll never look sloppy or undone in one of these T-shirts and they are just as comfortable, if not more so!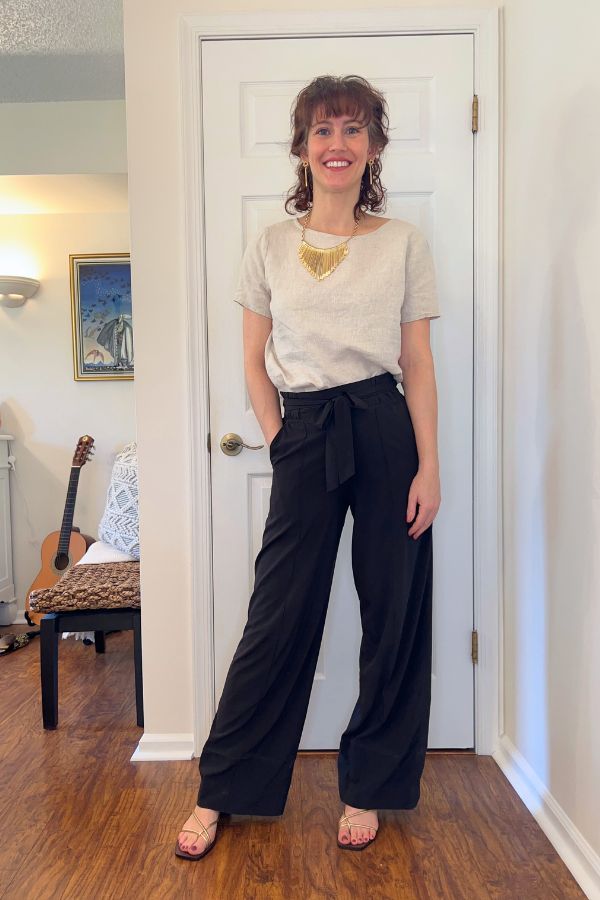 White Or Ivory Jeans
White jeans look more expensive than regular denim and are a great way to upgrade your style. However, many avoid them because of two things: the risk of staining and the outdated rule that you can't wear white after Labor Day (in the United States). What greater time to throw archaic rules and opinions out the door than during your thirties?! If you're worried about stains, purchase a budget pair.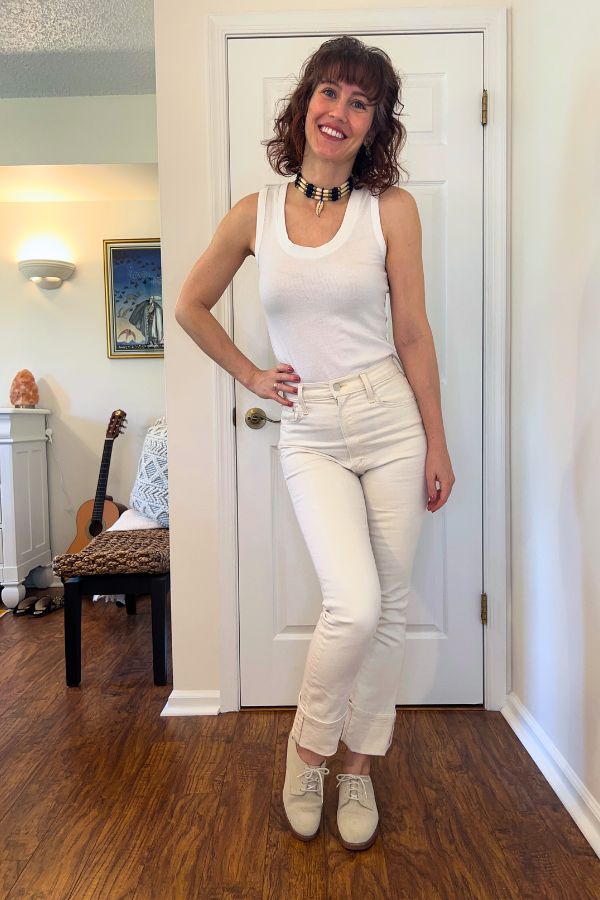 Riding-Style Boots
Riding-style boots give a timeless nod to equestrian fashion. They're functional in the cool weather to keep you warm, dry, and clean. They instantly elevate leggings and slim jeans but also can be styled with skirts and tailored shorts. Personally, I favor them when I'm going to an outdoor event where my shoes might get dirty, but I don't want to wear casual boots. For example, wineries, harvest festivals, farms, and anytime a grass field is involved. The Princess of Wales agrees with me, too.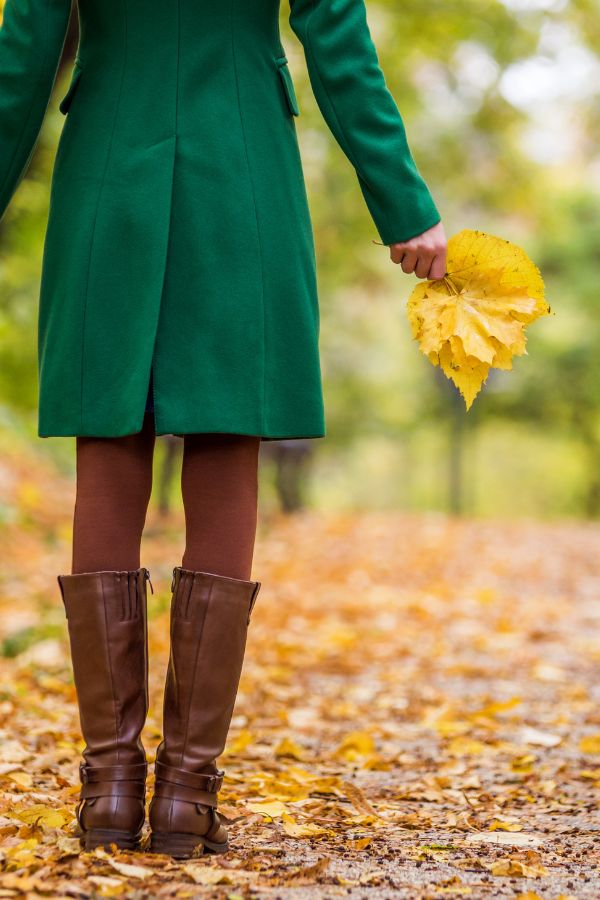 Casual Trousers
An instant way to start dressing classier and more stylish in your 30s is by swapping out your leggings, joggers, and sweatpants with a pair of trousers. Many of us were averse to wearing workwear outside the office, but that stigma has since retired thanks to the capsule wardrobe, elegant dressing, and quiet luxury. Belt a chic pair of trousers with a t-shirt and sneakers and you'll look better than most people at the grocery store this week.
Mid-Length Skirt
While mini skirts are in at the moment, it doesn't get more versatile than a mid-length skirt. Mid-length consists of knee-length or midi-length, depending on your preference. This style can be dressed up or down, and worn year-round. I personally love to belt my midi-skirt with a tank or cardigan. Also, mid-length skirts with tall boots are one of the most stylish (and easy) outfit combos ever!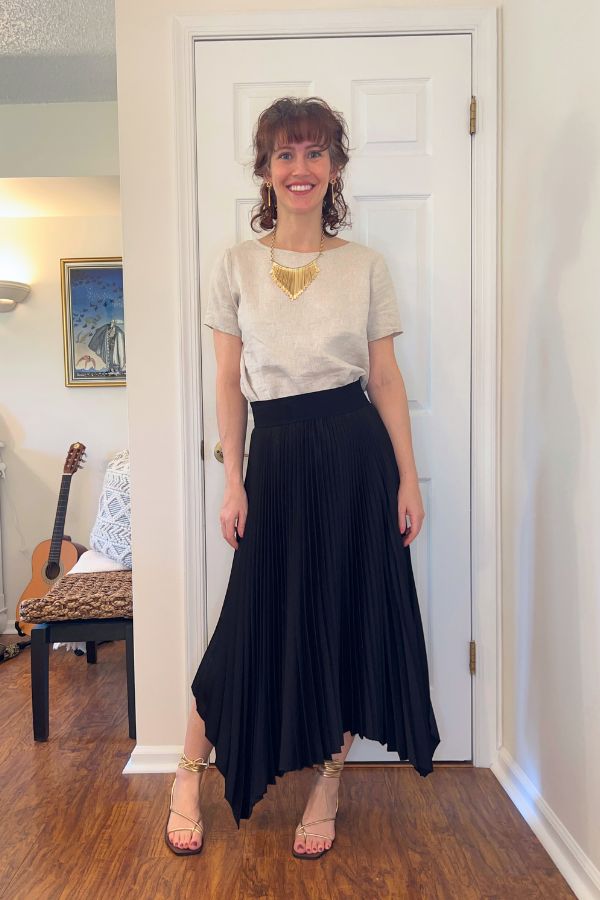 Waist Belt
You probably already own a hip belt, so a waist belt is next on the list. It's one of those accessories that completely makes or breaks an outfit, so only use one when it enhances or emphasizes your figure. Never style with a waist belt because you just want to wear it. That's what earrings are for, lol. A waist belt comes in handy when you need to create shape with a loose dress. A waist belt also dresses up skirts and shirt dresses.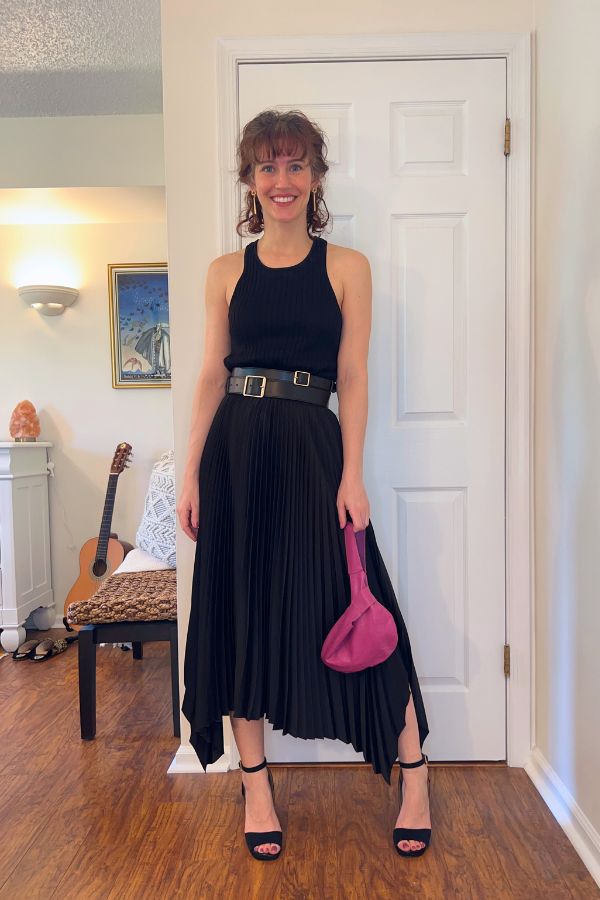 Clothing Stores For 30 Year Old Woman
What are the best brands for 30-somethings? These clothing stores carry a great selection of wardrobe essentials and trendy items that women in their thirties love!
Modern, trendy, and affordable. Mango is a global brand that offers the season's trends for the grown-up woman who wants to look classy. They also offer wardrobe staples if you're on a budget.
If you don't know about Everlane yet, they brought the concept of timeless, simple dressing to the masses with their impressive selection of wardrobe essentials. A great place to look for capsule wardrobe items.
Modern Citizen offers refined, elevated pieces that won't break the bank.
Looking for dresses to wear to a wedding, party, on holiday, or just because? MISA Los Angeles offers colorful, feminine styles that will have heads turning at any event.
Interested in conscious fashion? Urban Kissed offers a range of sustainable, independent brands that offer everything from footwear to sleepwear. Their knitwear selection is AMAZING.
Eloquii offers stylish and trendy styles for plus-size women, from workwear to casual looks.
Never Fully Dressed offers trendy and fun fashion, great for weekends, party events, and for the woman who loves to make a statement.
Moda Operandi is your destination for luxury clothing and accessories, from the who's who of fashion to new and emerging designers. Their feature to shop from trunk shows is SO GOOD.
Looking for more clothing stores for women in their 30s? Check out the article below.
Related Post: Where To Shop For Clothes | Best Online Clothing For Women
Take your wardrobe planning to the next level with the Ultimate Wardrobe Essentials List, completely free to download and use on your mobile device or print out.
This post was all about clothes for women in 30s
Related Posts: