Do you want to know how to shop for clothes effectively? This foolproof method for successful in-store or online shopping will seriously change your life!
Learning how to shop for clothes effectively is all about developing mindfulness before, during, and after the shopping experience. When it comes to fashion, we all want to shop for items that we actually want and need, within budget, and hopefully avoid the return process.
These shopping tips are simple tweaks you can make when you shop for clothes online or in-store to give you more control over the shopping experience and the outcome of your purchases. I use these in my daily life and continue to reap the benefits of time, money, and enjoyment.
This post is all about how to shop for clothes effectively.
Best Clothes Shopping Tips
I Need Help Shopping For Clothes
Admitting this to yourself is one of the best ways to learn how to shop for clothes effectively. Give me a moment to explain. Effective shopping is done when our focus remains on shopping for what we need (or what's on our shopping list). Deviating from that focus causes us to make impulse purchases and other unintentional mistakes.
Prior to modern times, shopping wasn't much of an issue, at least in terms of how to buy clothes you'll actually wear. People either made their own clothes or bought them solely based on what they needed. I'm definitely simplifying this, but the retail culture was rather straightforward until the turn of the 19th century when it began to take off within the wealthy European class.
The British television series, The Paradise (adapted from the novel by Emile Zola), demonstrates this through the eyes of a young, country girl who gets her first taste of the modern world through her job at England's first department store.
The modern shopping experience is full of beautiful, shiny objects, information overload, and a ton of empty promises. If you don't enter into it with a solid goal, you'll get lost in the wonder of new things. And I'm not gonna lie, that's fun and all, but it's only temporary when you have to deal with the bills, the unworn items in your closet, tops that just don't fit well, and still not knowing what to wear.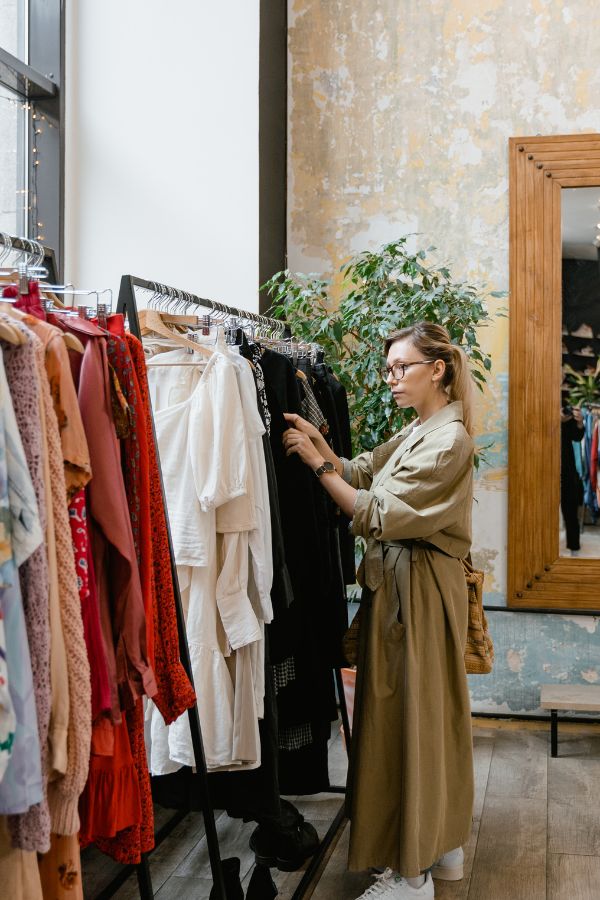 Let's talk about how you create and set your shopping goals.
Related Post: How To Buy Clothes You'll Actually Wear, Seriously
What Must Be Done Before Buying New Clothes?
Yes, there's pre-work that must be done before buying new clothes. And trust me, this is the best advice you're going to get for how to shop for clothes effectively. I used to be a shopaholic…a serious one, at that. I'm not anymore and this strategy (along with everything in this article) is what I use to be a savvy shopper. I enjoy shopping so much more these days, too.
Create A Shopping Wishlist
So, to get into these shopping tips, you'll first need to identify what you need to shop for. You may know already, which is great. Create a list on your phone you can access at any time. It needs to be a specific shopping list for clothes and accessories. Even if it's only one item you need to shop for, add it to the list. This is basically pre-paving and intentionally putting your needs out there.
I have a master shopping wishlist that includes every single item I either want or need. I've organized the list so that the items I actually need are prioritized in order, with my "just because" items further down the list. When it's time to shop I bold the items I'm specifically shopping for, so I know that's my focus.
Related Post: Wardrobe Essentials Women: The Complete Style Guide
I review this list a lot as my wants (and even needs) sometimes change, so I make edits. I'm so familiar with my wishlist at this point I've memorized the pieces I need and their priority, so that's always fresh in my mind when the opportunity or temptation to shop arises.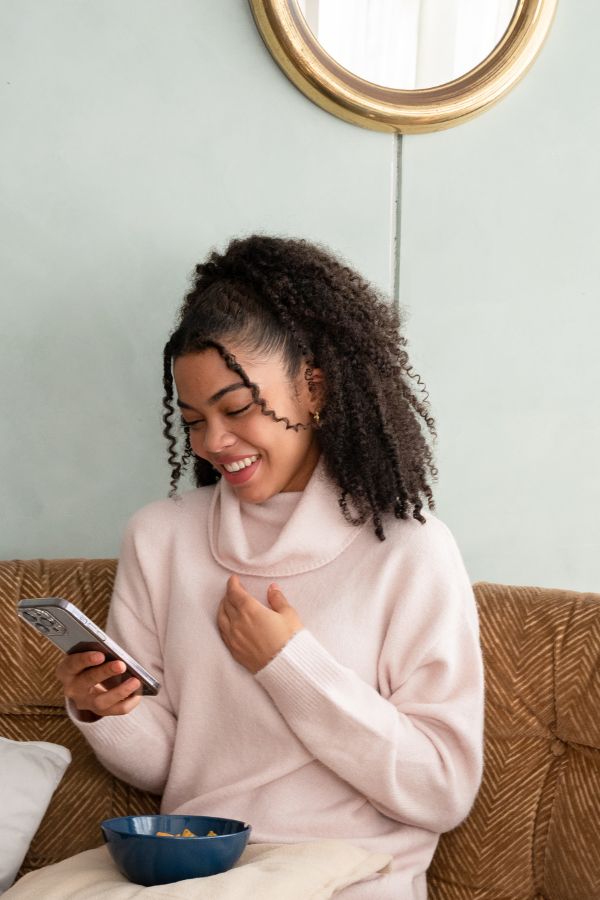 Important details to include in your wishlist in addition to the specific item:
Color
Style, fit, material
Is it something you need or just want?
Reason for the item
The maximum amount you're willing to spend on the item
Knowing these details and keeping them fresh in your mind will help solidify your shopping goal and keep you focused in case your mind starts to drift and make excuses for buying things you don't need. The mind is powerful, but when you come armed with the facts you can easily and quickly overcome its tricks (and also reprogram it).
If you don't know exactly what you need or how to routinely curate that list, I recommend performing a wardrobe inventory. Learn how to create a wardrobe inventory in the post below.
Related Post: How To Shop Your Closet The Right Way
Know Your Budget
If you don't know your budget when you shop for clothes, you shouldn't be shopping in the first place. Digital purchases and credit cards make it really hard to correlate that to the physical cash we have, so "out of sight, out of mind".
Budgeting apps like YNAB make this really easy by allowing you to set up different categories for your budget. It's the app I used to create and maintain my budget and it's practically saved my life.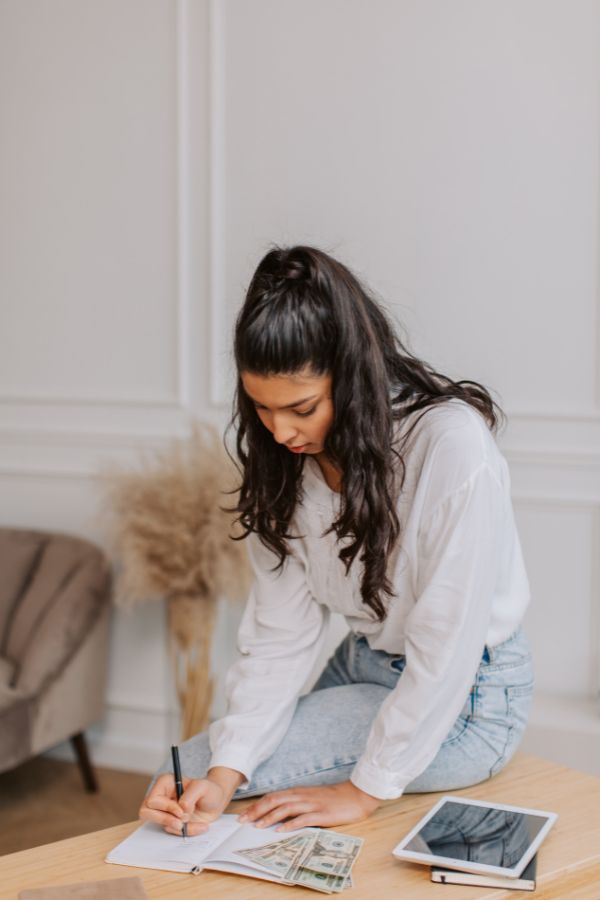 Whether you use a budgeting app or a spreadsheet, identify your budget for clothing and note it on your shopping wishlist, so it's front and center.
Know Your Size
This is important knowledge to have on hand when you shop for clothes online. How likely are you to grab a ruler and measure your foot upon seeing a beautiful pair of boots with the words "Last one left" on the two sizes you're in between?
Have all your sizing information stored in your phone:
Height in inches and centimeters
Weight
Bra size
Bust (IN/CM)
Waist (IN/CM)
Hips (IN/CM)
Shoe Size
Shoe Length
Shoulder (IN/CM)
Inseam (IN/CM)
Hand Length (for gloves)
Body Shape
Body shape is important. For example, are you closest to an hourglass or a rectangle…or are you between shapes? Being aware of your body shape will help you to filter out unflattering silhouettes when shopping.
Related Post: What To Wear For Apple Shape Body (And What Not To Wear)
Know Your Preferences
Noting down your likes and dislikes when it comes to clothing and accessories is key. Some of us have memories that go out the door when we're shopping for clothes, so having these accessible is helpful to avoid bad purchases. Likes and dislikes include styles, aesthetics, colors, fabrics, and even brands.
Once you've done this prep work, you're in the best place to shop for clothes. I store all of this information in my phone in Evernote, so it's really convenient to update on my computer or phone.
Shopping Tips For Clothes
Okay, it's time to enter the online (or real-life) store. Make sure you have all the prep work complete and easily accessible throughout the entire shopping experience. This is crucial when you try to shop for clothes effectively. Now, here are the things to consider when buying clothes.
Start With Your Wishlist
Pull out your shopping wishlist and start with the first item. That is your focus. If you happen to come upon other items that are on your list, open them in new tabs and come back to them later. It's important to stay focused on one item at a time rather than multitasking, which can cause you to make a mistake.
Perform your search for that item and review all the information on the website about the item. Ensure it aligns with the criteria in your wishlist such as fabric, maximum price, does it fulfill the reason you need it, etc. Be honest. Be selective.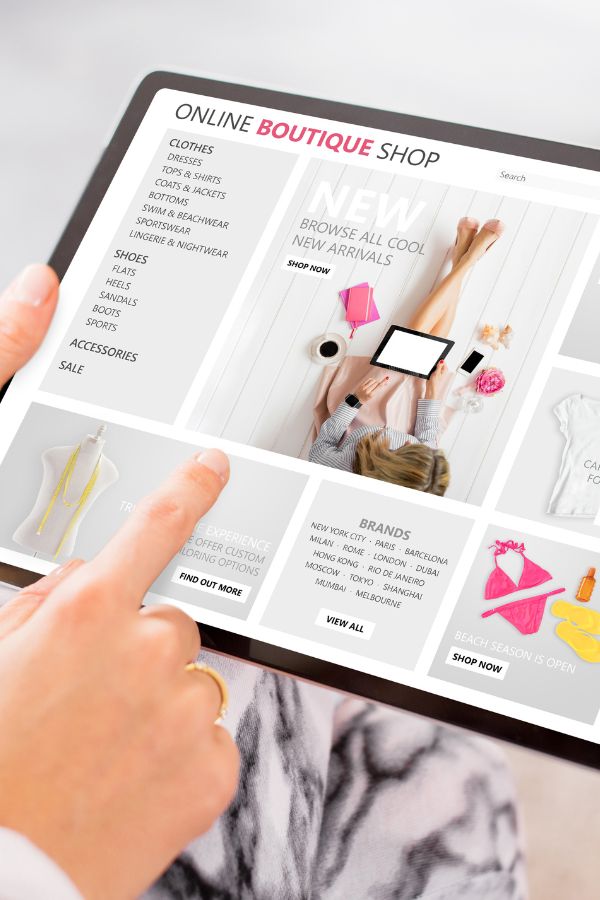 Explore your Options
Use a search engine to search for the item in the Shopping tab (e.g. "black v-neck cardigan with covered buttons"). Then, go to your favorite online stores and search for the item there. Open every potential option in a separate tab for review.
I usually end up with several browser tabs open with different options for a particular item I'm looking for. I compare these and use the process of elimination based on my shopping list criteria. If you're shopping in a retail store, be open to trying as many similar items as possible to set you up for the best fit (which can sometimes come as a surprise).
Related Post: Best Places To Shop For Clothes Online
Compare the different items in price, quality, and material. Is there a reason why a 100% synthetic sweater is more expensive than a sweater made with wool and cashmere? Are the brands on the same quality level? What do the reviews say?
Try The Item On
Take the same steps when you're in the store when trying the item on. Review your wishlist and criteria. Be discerning about how it really looks on you and how it makes you feel. Envision yourself doing something while wearing the item, maybe you're with important people. You can imagine this with an item in a shopping app as well.
What vibe do you pick up? Does it feel good? Be discerning. Be selective. If anything feels off, the item's not for you.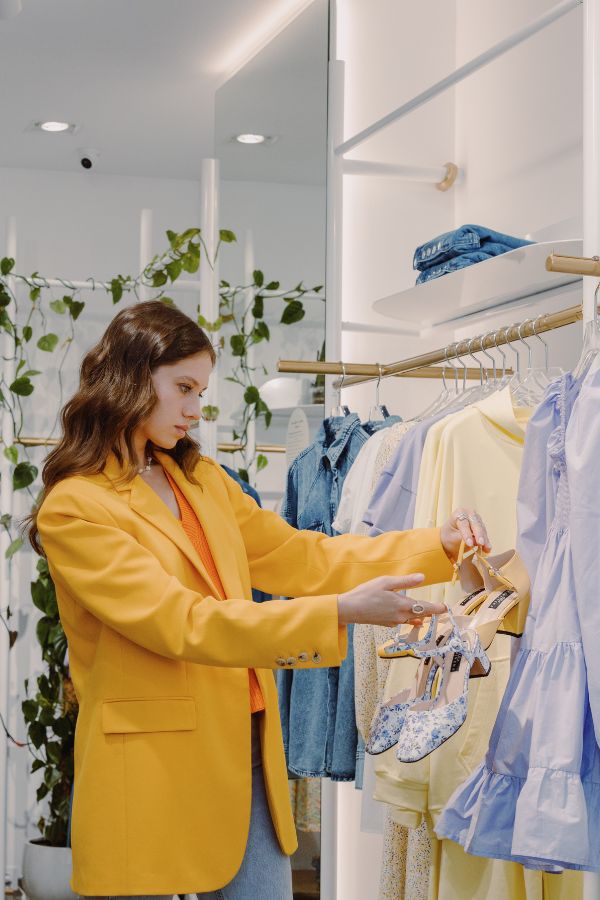 Does the material, style, and quality match what you'd expect from that brand or store? Does it feel like a deal or a rip-off? Would you be embarrassed telling someone what you paid for it? You never want to purchase something that causes you shame.
If you're trying the item on in the store, take a picture or video of yourself wearing the item. Then review it and consider how you look on camera. Store lighting can be deceiving, so getting another perspective will give you insight into whether it's a good match for you.
Stick To Your Wishlist
Continue the process with the other items on your wishlist. Do not deviate from the list. Anything else that grabs your eye is either not for now, or you open it in a separate tab and save it for last. Sticking to your wishlist only is exactly how to buy less clothes.
Related Post: How to Shop for Clothes Online – A Beginner's Guide
Remember your Budget
Always keep your budget in mind. Don't think of it as a negative, either. Think of your shopping experience like a game and find the most beautiful item you can within your budget. That's right. Every item you buy should be what you consider as beautiful and practically, if not completely perfect.
If you plan on having alterations made, make sure you consider those in your budget too.
Search For Deals
This is one of my favorite shopping tips to save money because you never know what the final price is going to be.
Use a search engine to find coupon codes for the website (e.g. Revolve coupon codes July 2024). Check the brand's social media to see if coupon codes are posted. Also, check your favorite influencers and content creators to see if they have any coupon codes.
Many online stores offer a discount for joining their email list or for making your first purchase using their mobile app.
Credit cards and banking apps also have shopping deals on certain websites and in-store. For example, "Spend $350, get $75 off". These are the best deals I've found across the board, so always check your credit card apps for deals before you make your purchase.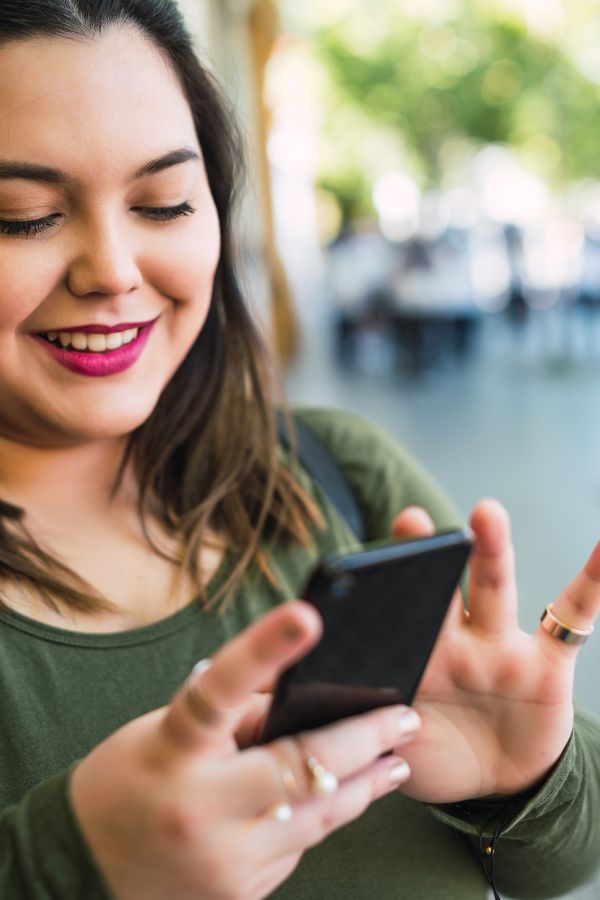 Coupon apps such as Paypal Honey and Rakuten offer coupon codes and points for purchasing through their apps, via browser extension. Accumulated points can be exchanged for gift cards to stores, basically free money and free stuff. I fully take advantage of these and have earned many free items from my wishlist that I wanted for fun (rather than needed).
Lastly, if you can hold off on purchasing the item for a few weeks, the website may send you a coupon in the mail. Like it or not, your address is most likely out there for these companies to send you stuff. Why not take advantage of it? This has the best chance of working for independent brand websites you've not purchased from rather than repeat retailers or large department stores.
How To Stop Shopping For Clothes
Here's my rundown of the best tips and tricks for how to stop shopping for clothes, how to shop for clothes sustainably, and how to shop for clothes on a budget (any budget). Some of these I've already gone into detail in this post, while others are simple strategies that work for the greater good of your wardrobe.
Only shop for items you need
Stick to your shopping wishlist
Keep a wardrobe inventory so you know all the clothes you already have (and avoid repeat buys)
Don't go shopping when you don't feel good (tired, hungry, mad, sad, missing someone, feeling needy, anxious, pressed for time, feeling anything negative)
FOMO (fear of missing out) is an illusion. The sooner you realize that the less you spend on unnecessary things, and the better your life becomes.
Stick to your budget
Don't go shopping when drunk or high
Don't immediately purchase after adding to cart. Wait a day, and then another day, and keep waiting until you either forget or the need to purchase goes away.
Don't click on social media shopping ads
Audibly tell yourself "No, you're not getting that" (there's so much power in spoken word!)
Limit the number of credit cards you have to what you need
Practice creating new outfits from your closet instead – play dress up!
Stop buying a new outfit for each event
Tell yourself that you don't need new things to feel good about yourself
Ask yourself "Do I 100% need this item? Why do I need it?" before purchasing. Consider whether your response is based on logic or fantasy.
Practice mindfulness and meditation. This can help to identify and heal trauma and underlying issues that drive impulse buying. I'm not a licensed therapist, but this has immensely helped me break free of bad spending habits, so I highly recommend it.
When you see an outfit or style you want, try to style clothes you already have and recreate it
When you feel the urge to spend, redirect your energy to something more fulfilling and uplifting, like painting, doing yoga, or walking your dog instead
Call a trusted friend for support to help talk you out of the purchase (accountability partner)
If you're out shopping, bring a set amount of cash or a debit card and leave credit cards at home to reduce spending
Related Post: How To Style Clothes You Already Have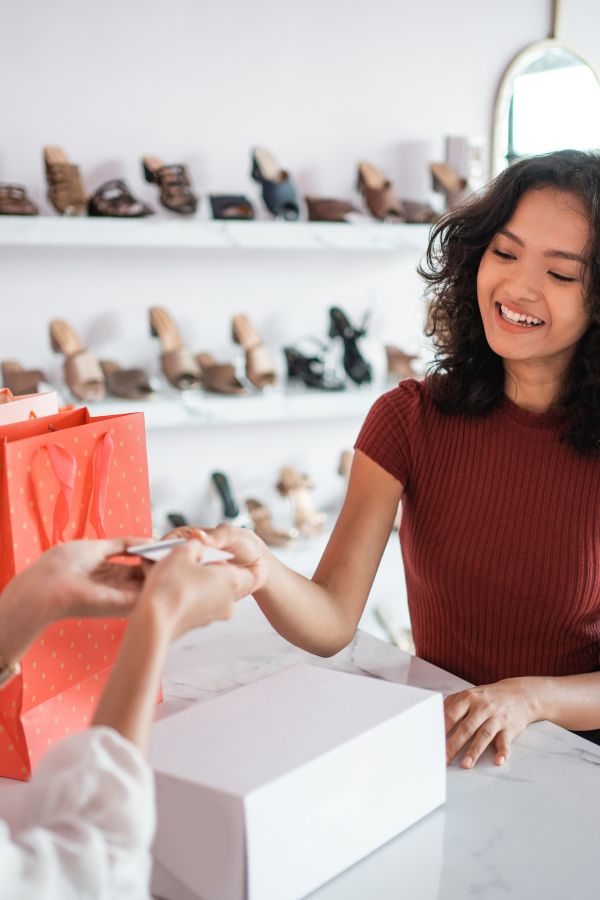 Learning how to shop for clothes effectively is more mind over matter and a constant practice to stay on top of. By utilizing the strategies above, you'll have success in curbing unhealthy spending habits, how to properly buy clothes, and how to buy less clothes. It's a journey, so a little change here and there will add up to you becoming a pro-shopper like you always envisioned.
This post was all about how to shop for clothes effectively
Related Posts: