Looking for a concert outfit this winter? This style guide will help you create the perfect winter concert outfit for your next night out!
If you know me, you'll know that styling a concert outfit for winter is one of my favorite things to do when it's cold outside. The process involves two of my most beloved things in life: fashion and live music. And as an avid concertgoer, I've styled more than a few winter concert outfits.
So, if you're looking to create a chic winter concert outfit, you've come to the right place. Whether you're heading to a winter country concert, a rap show, or your friend's album release party these concert outfits will make sure you show up in style. Plus, get the lowdown on the best concert bags to hold your stuff, so your experience is hassle-free.
This post is all about concert outfit winter.
What Do You Wear To A Concert In Winter?
The best concert outfit for winter is both stylish and functional. When deciding what to wear to a concert, you need to consider the following things: location of the venue, type of venue, climate, level of walking and activity, and where your tickets are located.
The venue's location. Where is the venue located? Is it in a safe area? Is there parking at the venue or do you need to find street parking? Is there a long walk from the parking to the venue? Do you have to wait outside of the venue to get in?
The venue itself. Is it outdoors or indoors? Is it a sold-out show and/or do they usually overpack the venue? Is there a coat check? How are the bathrooms set up?
Your tickets. Are they seated or general admission/standing room only? Will you have to climb stairs? What type of genre is the music and how will the crowd behave?
Your activity. Do you expect to stand, dance, or sit down during the performance?
Each of these questions will help guide you to the right concert outfit. If you're unfamiliar with the venue ask a friend or search for reviews online, so you're prepared.
Style Tips For A Winter Concert Outfit
Your outfit is breathable enough to dance in without overheating
Your outfit can be cleaned if someone spills their drink on it (or you don't care if it gets ruined)
Embellishments, accessories, and jewelry won't catch or snag due to jumping, dancing, or moshing
Shoes are comfortable for walking into the venue
Shoes are comfortable enough for hours of dancing
You can store your phone, keys, and any other personal items in a hands-free bag or pouch
Coat and outfit is warm enough to walk or stand outside the venue
Wear a coat you're okay with losing at the coat check or stashed somewhere (e.g. against the soundboard at MSG for a Phish New Year's Eve show)
If not using coat check, wear a coat you're okay staying in or tying around your waist or bag
Some of these factors might not apply if you have seated concert tickets. But if you're a general admission person who dances like it's their last night on earth, all of these factors will help you have the best concert experience possible.
Now let's get into the best outfits to wear to a winter concert.
Winter Concert Outfits
You can easily adapt these concert outfit ideas to the current items you have in your closet.
1. Sheer Top + Faux Fur Vest + Black Jeans + Ankle Boots
A sheer top is perfect for a winter concert, especially if the venue is packed and you'll be dancing. The faux fur vest is there for warmth, plus it's super cute layered over the sheer top. Black jeans are a wardrobe essential all winter long and easy to style with any outfit, as are ankle boots.
Related Post: What To Wear With Black Jeans | Style Look Book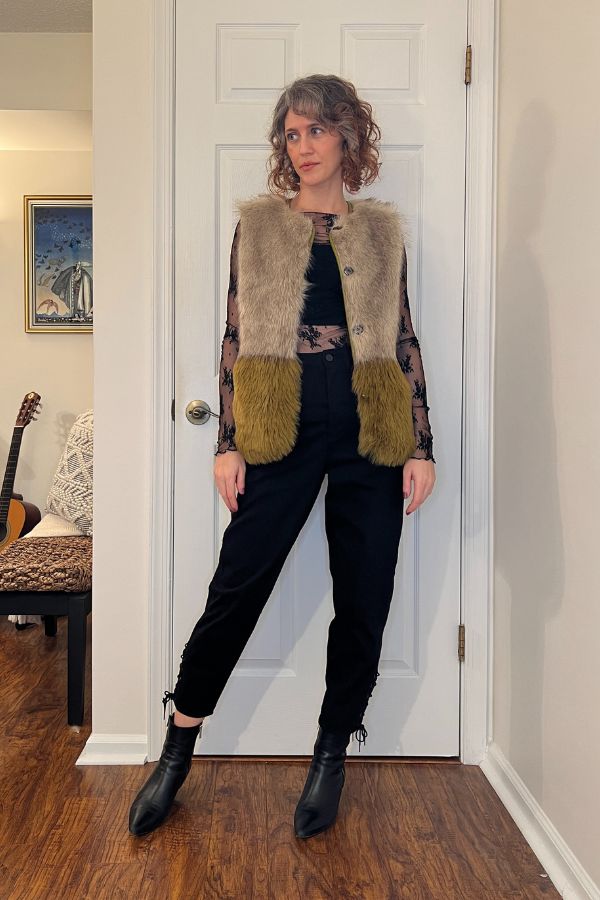 SHOP THE Style:
2. Stretchy LBD + Tall Boots
A long sleeve, stretchy little black dress is the perfect concert outfit for winter. Or make that sleeveless LBD work for you as a sexy concert outfit for winter by layering a fitted top or turtleneck underneath.
This is a great alternative to a sweater dress, which can often get too hot if you're stuck in the middle of a crowded venue. Stretchy cotton or jersey is very breathable, plus great for layering under so you stay warm enough. Tall boots keep your legs covered and look chic with a long dress.
Related Post: What To Wear Everyday | 7 Outfit Ideas To Try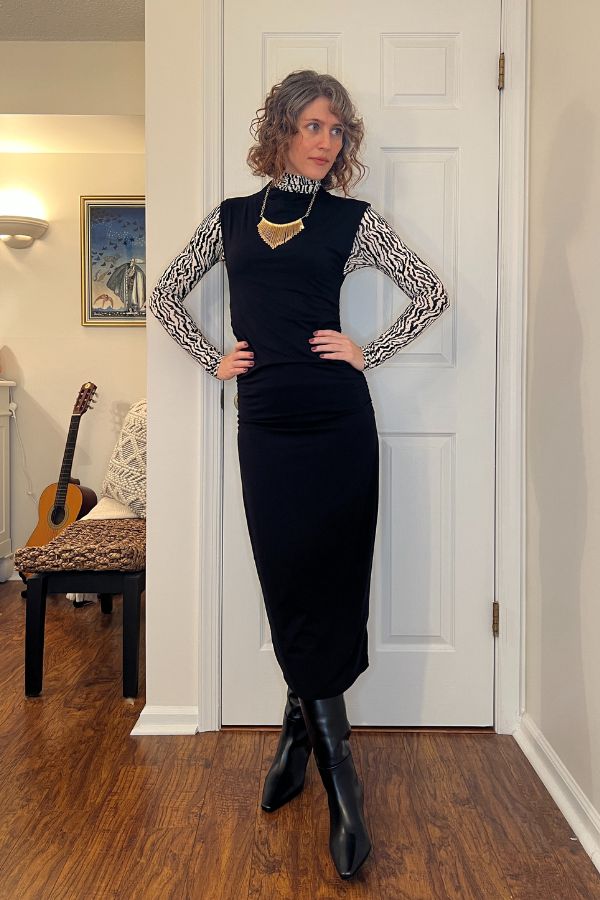 SHOP THE Style:
3. Blazer + Basic Top + Jeans + Ankle Boots
When isn't a blazer a good idea to wear to a concert? It provides a classy, elevated concert outfit with a pair of jeans without trying too hard. No need to stick to a black blazer if you have a collection of fun pieces–now's the time to rock that sequin blazer. Style with your best pair of jeans, a basic top, and a pair of ankle boots for an easy concert outfit.
Related Post: What To Wear To A Jazz Concert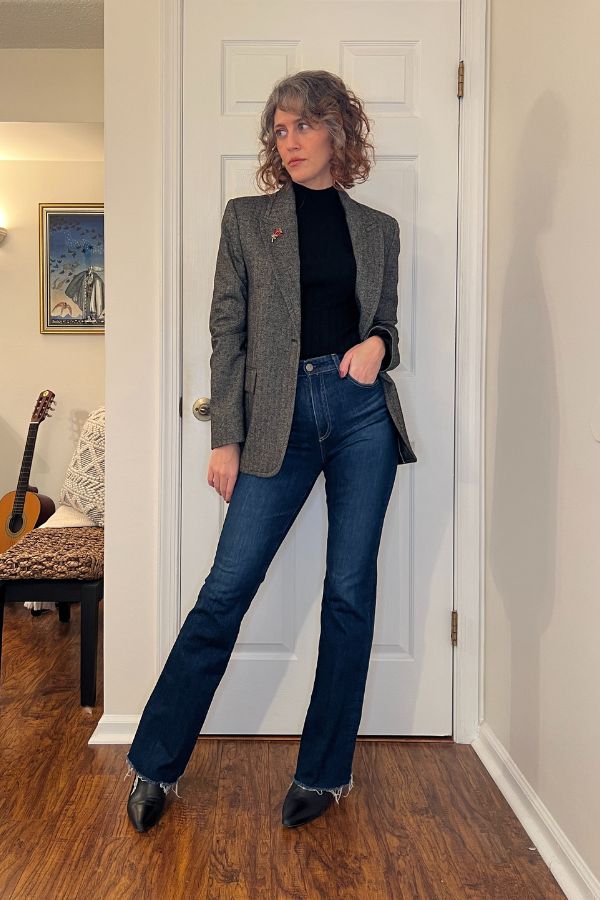 SHOP THE Style:
4. Leather Jacket + Band T-shirt + Skirt + Over-The-Knee Boots
My favorite way to wear band tees is with skirts these days. It provides a nice juxtaposition from the dressy/girly factor of the skirt. Plus, you get to show off your favorite band (or the cool merch you got from the concert you went to last week, hehe). Over-the-knee boots are a great option for a winter concert look with a shorter skirt so you don't have to show too much skin.
Related Post: How To Style Over The Knee Boots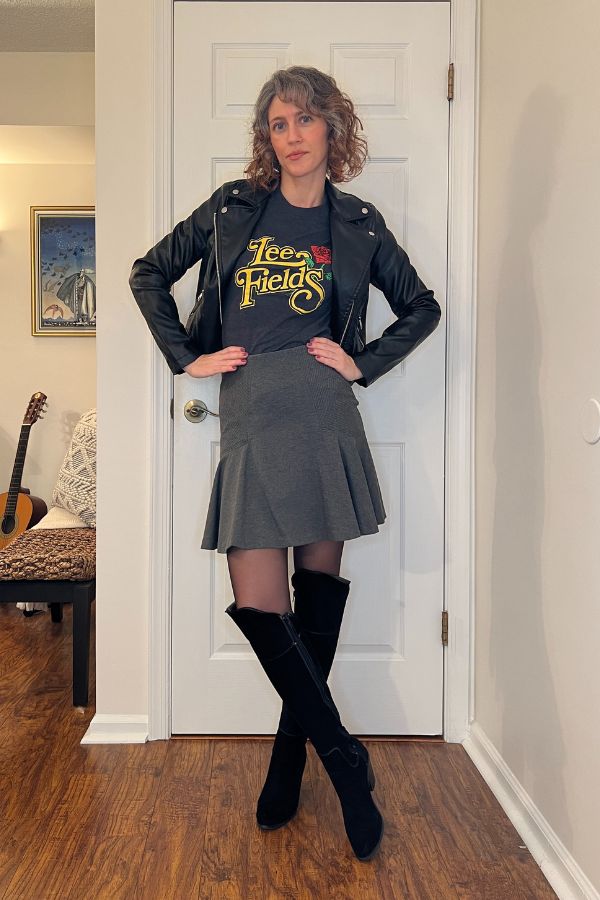 SHOP THE Style:
5. Striped Knit Top + Leather Pants + Oxfords
If you're looking for a rock concert outfit, any top with a pair of leather or faux leather pants will get you a cute, edgy look. A striped top is a classic piece that never goes out of style. Chunky loafers or oxfords are so on-trend for the winter season.
Related Post: Style Trends 2024: Everything You Need To Know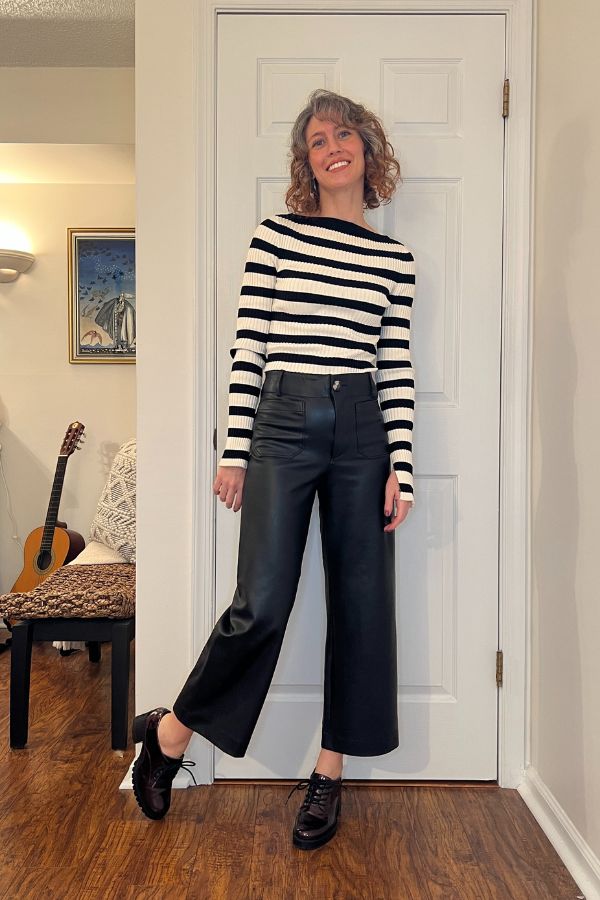 SHOP THE Style:
6. Fitted Turtleneck + Belted Maxi Skirt + Boots
Who doesn't love a flowy maxi skirt at a concert. They're great for dancing and twirling, provide airflow in a stuffy venue, and cover your legs when sitting. Styled with a simple turtleneck, it makes a very simple, but feminine concert outfit. I recommend adding a waist belt to elevate the outfit even more.
Related Post: How To Choose An Outfit That Slays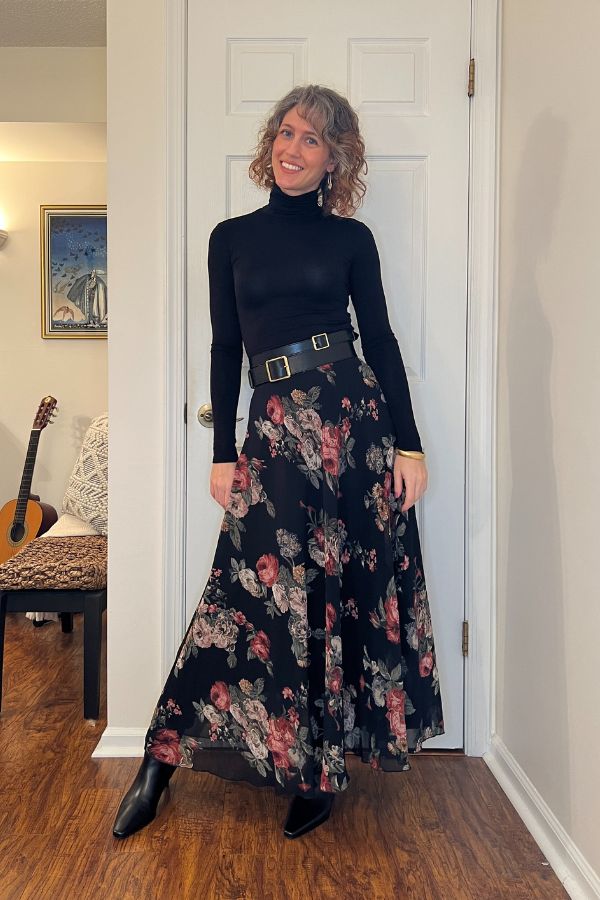 SHOP THE Style:
7. Knit Top + Vest + Cargo Pants + Combat Boots
I've said this elsewhere on WISW, but a vest just goes hand-in-hand with live music. Grab a waistcoat from one of your suit sets or vintage finds and layer it over a simple knit top. Add a pair of cargo pants, which are always on trend for a concert. Combat boots are the OG and best shoes to wear to a concert, IMO. Especially if you'll be in the crowded, GA section.
Related Post: 7 Stylish Outfits For Winter This Year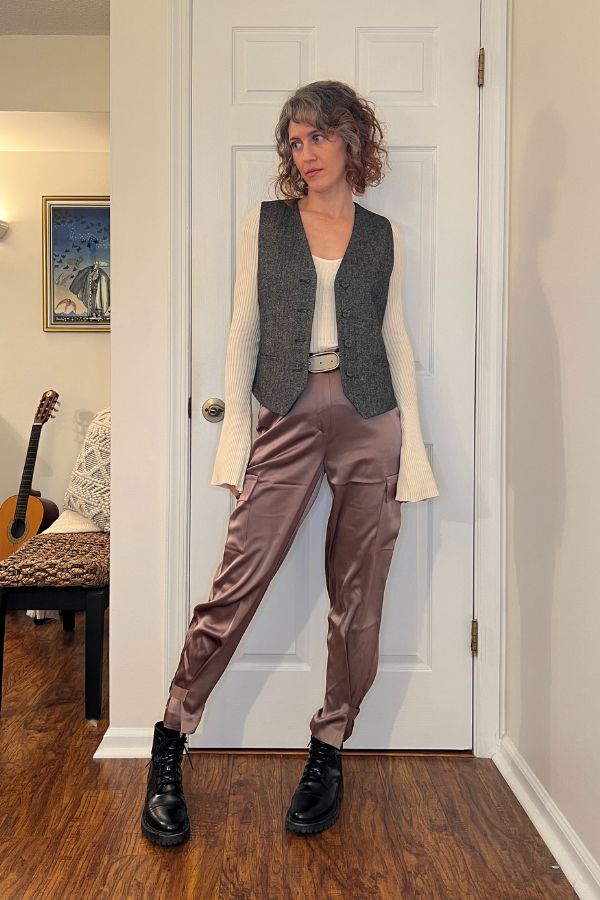 SHOP THE Style:
8. Printed Dress + Faux Fur Jacket + Tall Boots
A concert is where you can have fun with statement pieces without being too much. A patterned dress and a faux fur jacket are a stylish combination for an unforgettable concert outfit (and pictures at the VIP Meet and Greet party beforehand). I love winter florals; they're unexpected in a going-out outfit when it's cold. Tall boots are always the answer to wearing a dress in the winter and not having to worry about being too cold.
Related Post: How To Style The Perfect Slip Dress Outfit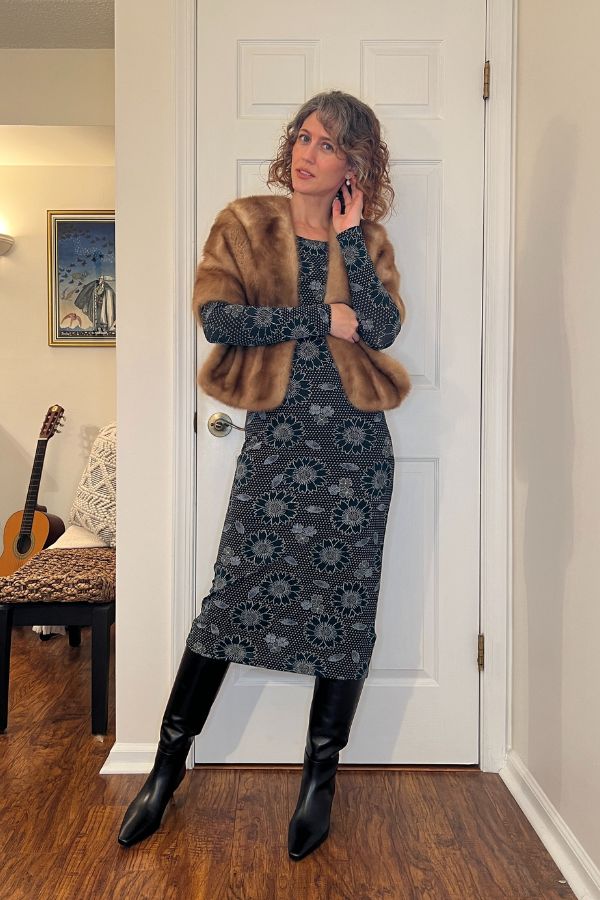 SHOP THE Style:
Best Bags To Wear To A Concert
Hands-free is the way to be when you're at a concert, no matter what season. Check out these stylish options to keep your stuff safe and secure.
This post was all about concert outfit winter
Related Posts: