Need to know how to style over the knee boots? Learn how to create updated OTK boots outfits in this complete style guide.
I've had so much fun learning how to style over-the-knee boots these past few years. I absolutely adore them. I don't know about you, but they're one of those styles that make me excited for cooler weather. Over-the-knee boots are a true wardrobe essential, in my opinion.
Regardless of what's trending, there's no way I'm giving this style of boots up any time soon. As long as there are falls, winters, skirts, and dresses OTK boots will have their place in my wardrobe.
In this post, you will learn all the different ways to style your OTK boots, from dressy to casual, and the best pairs of tall boots to purchase right now for your shoe collection. If you haven't explored the OTK boot style yet, you'll probably want to after reading this article.
This post is all about how to style over the knee boots.
How To Wear Over The Knee Boots
Are Over-The-Knee Boots In Style 2024?
Thigh-high boots are still in style for 2024, so no better time than to learn how to style over-the-knee boots. If you take a look in any of the most stylish stores online, you'll see pages of OTK boot styles ripe for purchase. These boots fit well into a capsule wardrobe, a trendy wardrobe, an eclectic wardrobe, and everywhere in between.
Keep up with the latest fashion trends for OTK boots by focusing on structural characteristics such as heel height, heel shape, toe shape, and the aesthetic of the boot (e.g. western style vs slouchy). The most classic styles will be an almond or pointy toe, low-medium heel (0.5-4 inches), and a block heel.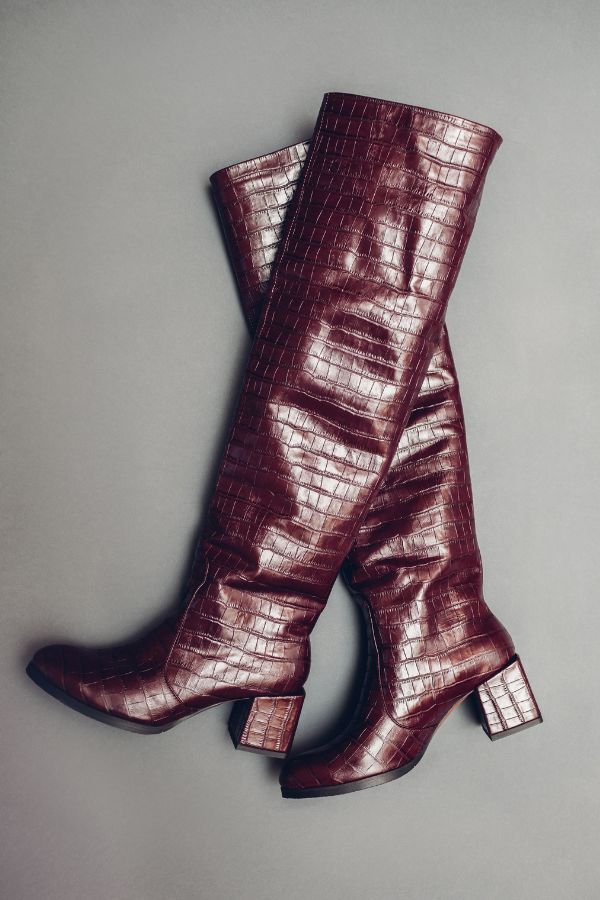 At the end of the day, the best pair of over the knee boots will be the ones you don't hesitate to wear. So, choose the heel height that's best for you, the color that harmonizes with the rest of your wardrobe, and the material that's most practical for your climate.
I list my top picks for thigh-high boots at the end of this post, so keep reading to find out.
How Should Over The Knee Boots Fit?
The most important aspect of wearing over-the-knee boots is that the shaft doesn't fall or droop down your leg. The top of the boot should fit or stay put over your thigh.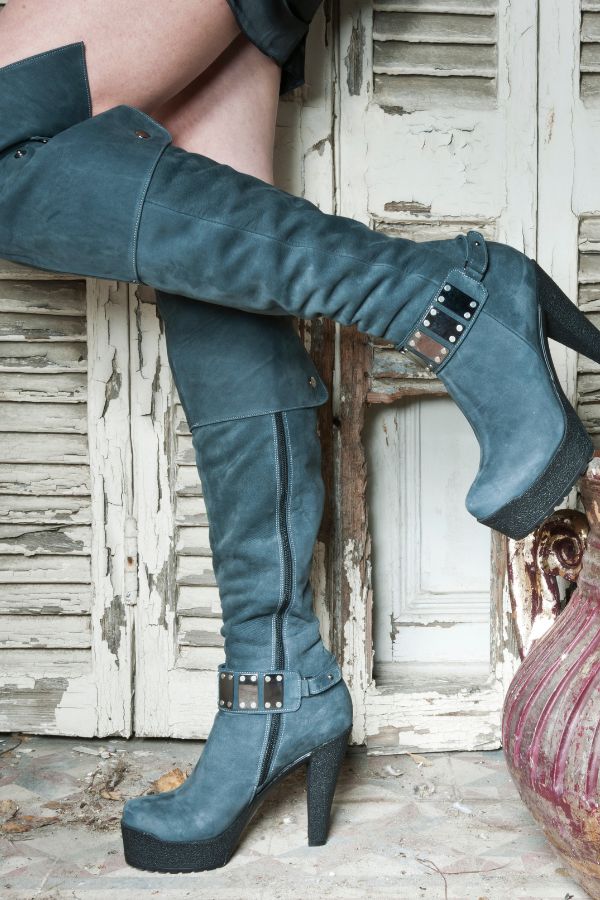 There are different styles of thigh-high boots: some are stretchy in their entirety while others have a more structured shaft made of leather and synthetic materials. Structured boots should stay up on their own while stretchy boots should stay put. Nowhere should the boot be so tight that it's cutting off circulation or causing discomfort.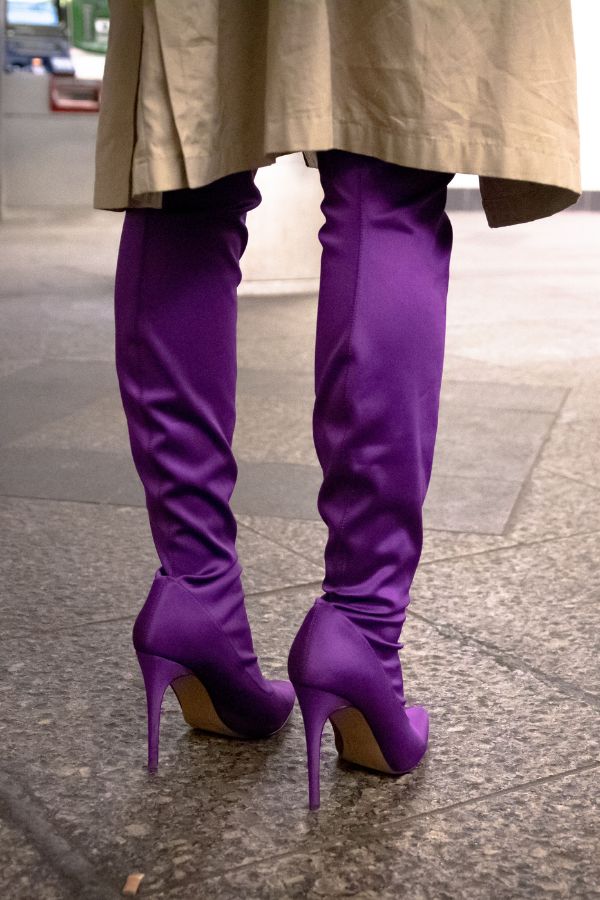 Be wary of (especially) budget brands that offer a somewhat stretchy boot that might not hold up. Read online reviews to see whether others have experienced drooping. It's always best to spend a little more to get a better quality boot; a droopy boot isn't attractive. Wearing a stocking or legging might help to keep a looser boot in place.
Related Post: 10 Elegant Style Tips To Look More Sophisticated
Styling Over-The-Knee Boots
There's one thing to remember when styling over-the-knee boots: they are a statement piece. Even if you're wearing an all-black outfit with black boots. Thigh high boots have been making a statement since the days of Pretty Woman.
Now, if this is something that scares you…I can assure you there are plenty of ways to style over-the-knee boots aside from how Julia Roberts rocks them in that movie. Though honestly, I quite like those boots. They're sexy. You can also tone down the sex appeal if that's what you want to do.
Back to the topic of statement pieces. In an outfit, statement pieces speak for themselves. You don't need much to support their wow factor. There are two different approaches to styling with over-the-knee boots and that depends on the rest of your outfit and the aesthetic you're going for.
1. OTK Boots As Your Wow Piece
This styling method for OTK boots is where you're truly invested in the boots as the star of your outfit. You style your boots with an outfit that shows a little skin between the bottom hem of your clothes and the top shaft of the boots. This shows off the length of your legs and can help elongate them as well.
Keep this look classy by ensuring you don't have too much skin between the boot shaft and garment hem. A few inches is good enough. Add stockings for a classier look.
The brighter, shinier, and more structured your boots are the bigger statement they'll give off. For example, patent leather, bold colors and patterns, spikey heels, and embellishments will attract more attention.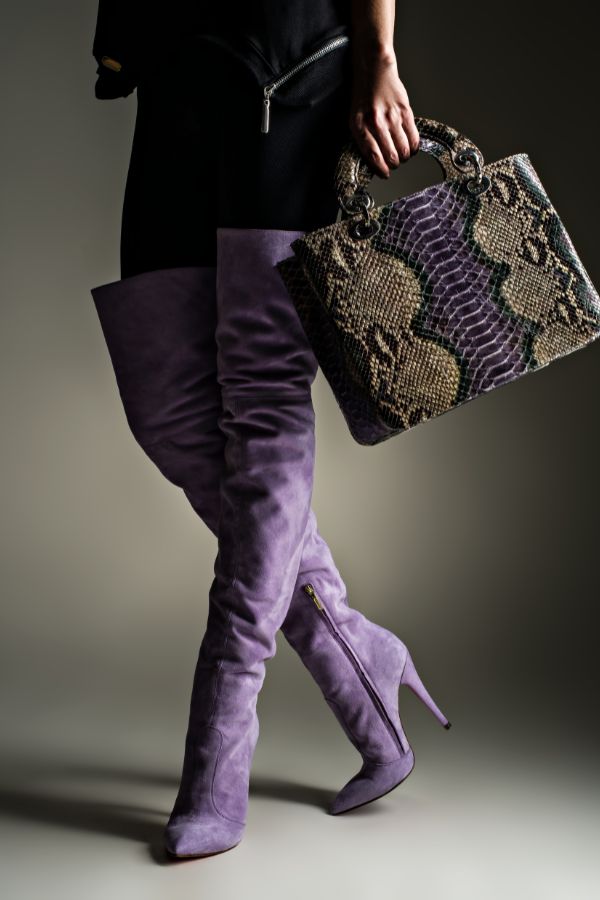 Softer materials and muted colors will tone down the statement. For example, tonal colors to match your outfit, neutral colors, suede, a lower heel, and minimalist designs.
When styling OTK boots as your wow piece, it's best to wear an outfit that allows the boots to stand alone as a wow piece (rather than a crazy flashy dress that tries to compete with them). The best outfits are both balanced and harmonious.
Related Post: How To Choose An Outfit That Slays
2. OTK Boots As A Complimentary Piece
This styling method for OTK boots is where the boots will compliment the rest of your outfit, but may not be the star of the show. You style your boots with an outfit without the skin of your legs showing. For example, tall boots with longer hems or over a pair of leggings or jeans.
Now, the boots will still make a statement because of their extreme height. However, they'll blend in with the rest of your outfit as opposed to purposefully standing out. Play with tonal or monochromatic outfits to create more softness, or go for a contrasting look with different colors.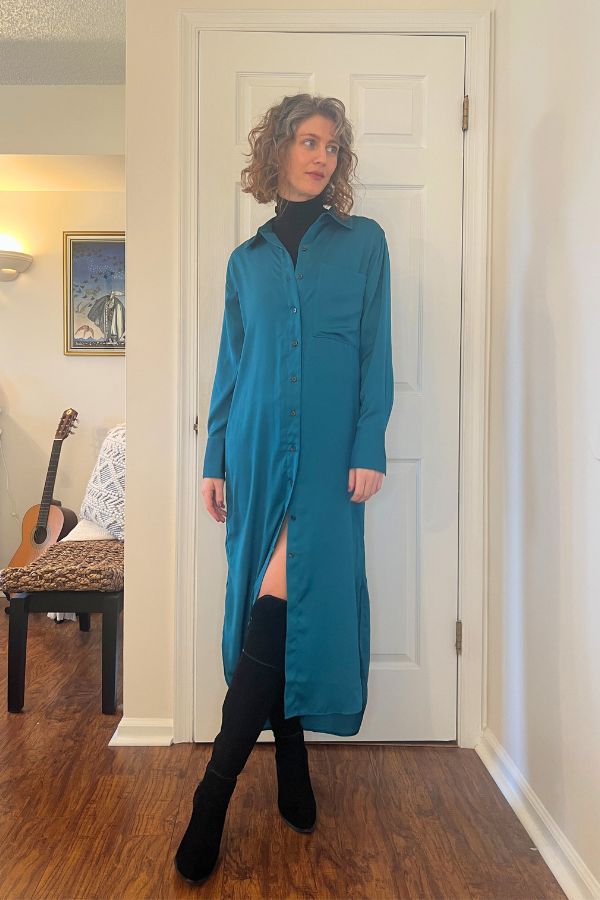 This styling method is the best way to wear thigh-high boots with a statement dress or outfit and allow the boots to be the supporting actress over your true wow piece or statement look.
Related Post: 15 Perfect Bar Outfits For Your Next Night Out
How Do You Rock Over-The-Knee Boots?
The most modern way of styling over-the-knee boots is to use juxtaposition. Juxtaposition is when you take two pieces with contrasting elements and style them together to create a balanced look. Yin-yang, if you will.
Balance tight OTK boots with an oversized piece such as a chunky knit that's long enough to be a dress. Pair leather boots with soft materials to balance the masculine/feminine aspects. Or style a sultry pair of boots with a cotton poplin shirtdress to balance sensual with classic. A slinky dress looks great with a structured pair of suede boots (contrasting materials).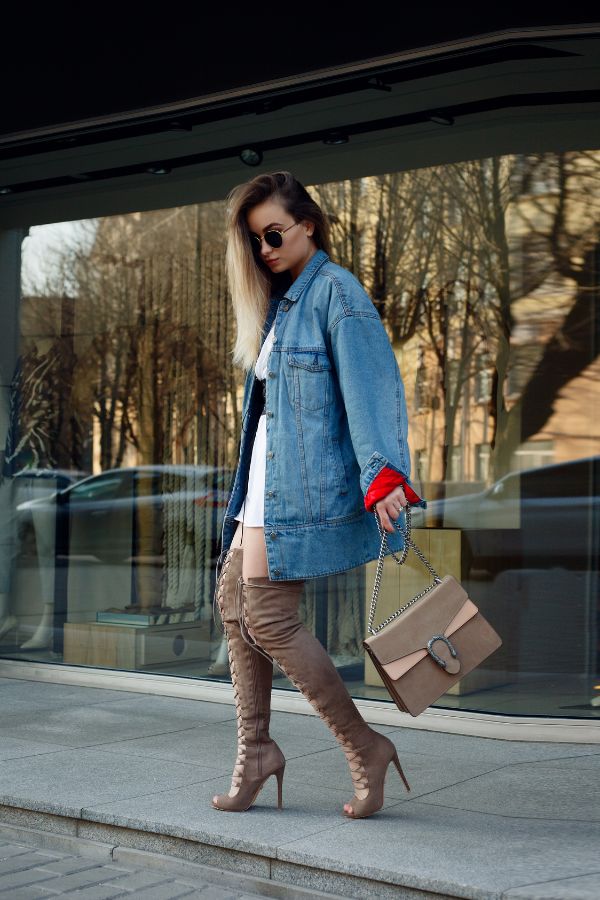 Juxtaposition is how you tone down the sexy factor of the boots, so they look great with different style types.
Related Post: How To Style Your Clothes Using Juxtaposition
How To Wear Knee-High Boots With Jeans
The best jeans to wear with OTK boots are stretchy, skinny jeans because they easily fit into the shaft of the boots without bunching up anywhere. I always keep one pair of skinny jeans on hand to style with tall boots.
Thigh-high boots look best styled with jeans in a similar intensity to the color of the jeans. For example, black boots look best with black jeans or another color of dark denim. This also helps create the illusion of longer legs, so it's a great option for petite women.
If you want to style your OTK boots with contrasting or lighter denim, opt for the sandwich method of styling, which is to match the color of your top to your boots. For example, a black top with a black pair of boots, and denim in-between.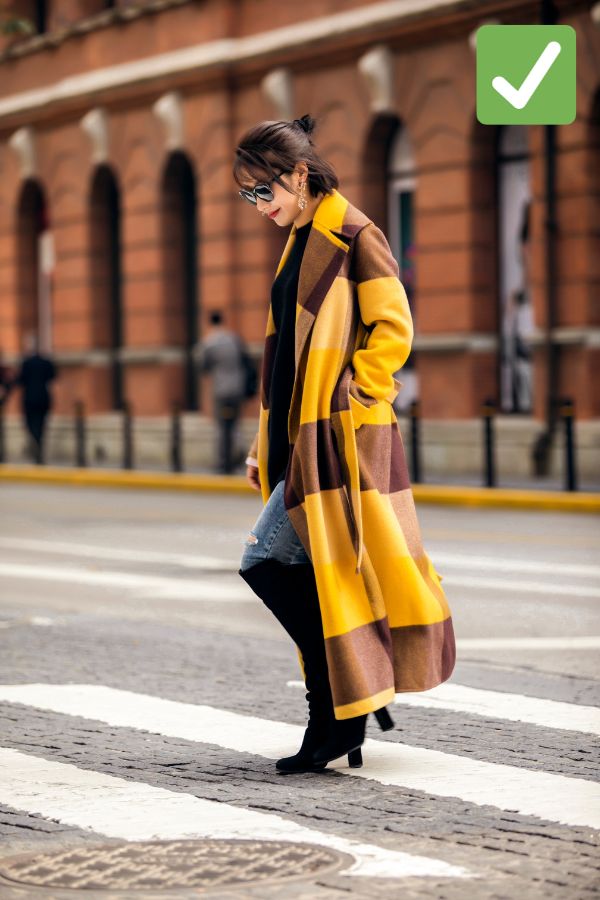 If you try to style three different colors (top + jeans + boots), your outfit might look choppy and randomly thrown together.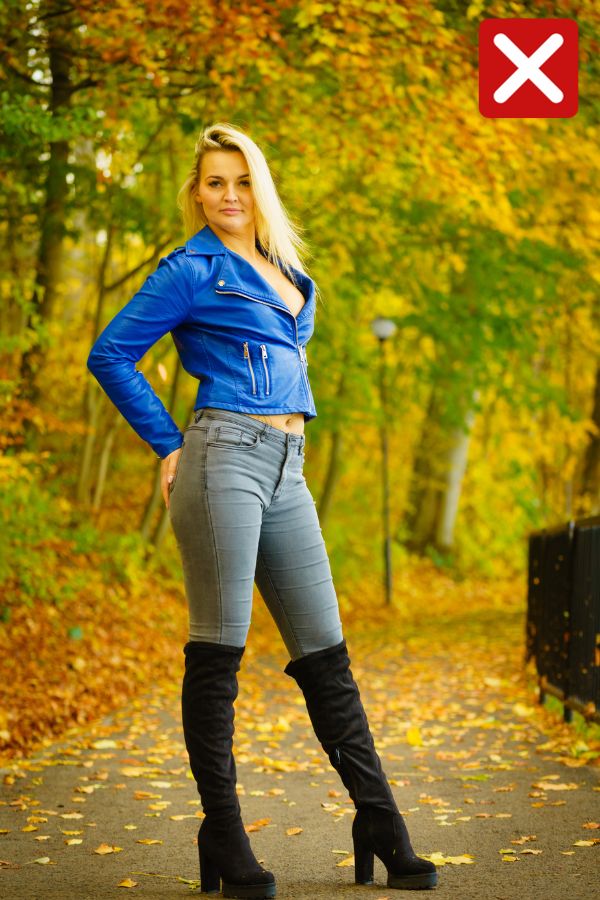 How Old Is Too Old To Wear Over The Knee Boots?
How do you wear over-the-knee boots at 40? How to wear over the knee boots over 50?
In a way that makes you feel both confident and beautiful. There are no fashion rules that dictate you need to be a certain age to wear over-the-knee boots. And if that's a rule you've made yourself, it's time to throw it away. You'll have much more fun on the other side with the rest of us fashion rebels.
Related Post: Must-Have Clothes For Women Over 40
That being said, the most elegant way to style OTK boots is using method 2; styling them as a complimentary piece to your outfit.
Matching your boots to the colors in your outfit, especially your pants is a great way to tone down the wow factor. Suede boots in soft, muted colors such as beige, gray, brown, and taupe look great with daytime outfits in the winter.
Opt for lower, block heels that aren't too chunky. Boot styles that are more fitted against the leg give a cleaner, streamlined look.
OTK boots are a great option for wearing dresses and skirts all through winter since they provide coverage and warmth for your legs. This is my secret weapon for how to wear over-the-knee boots to work (and how to wear above-the-knee skirts without looking too sexy at the office, hehe).
Related Post: Must-Have Clothes For Women Over 50
Another style tip for classy, over-the-knee boots outfits: If you style OTK boots with leggings, make sure your top covers your butt.
Pro-Tip: Sheer tights styled with over-the-knee boots will instantly enhance your look, no matter what your skin color. Black sheer tights + black boots are always a winning combination.
Now, let's get into some over-the-knee boots outfit ideas!
Dresses To Wear With Over-The-Knee Boots
Fit & Flare Dress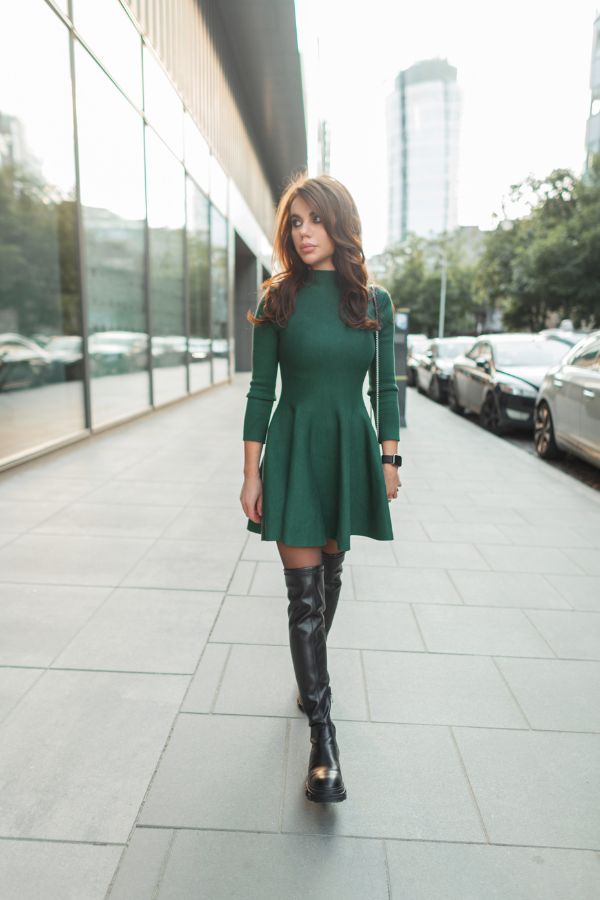 Sweater Dress
Thigh High Boots With Cocktail Dress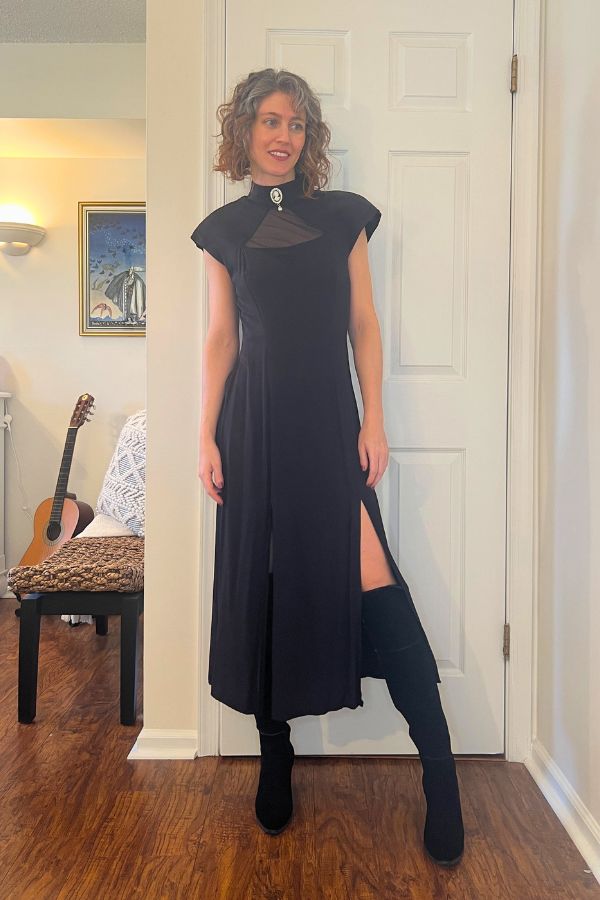 Dress + Oversized Blazer
Blazer Dress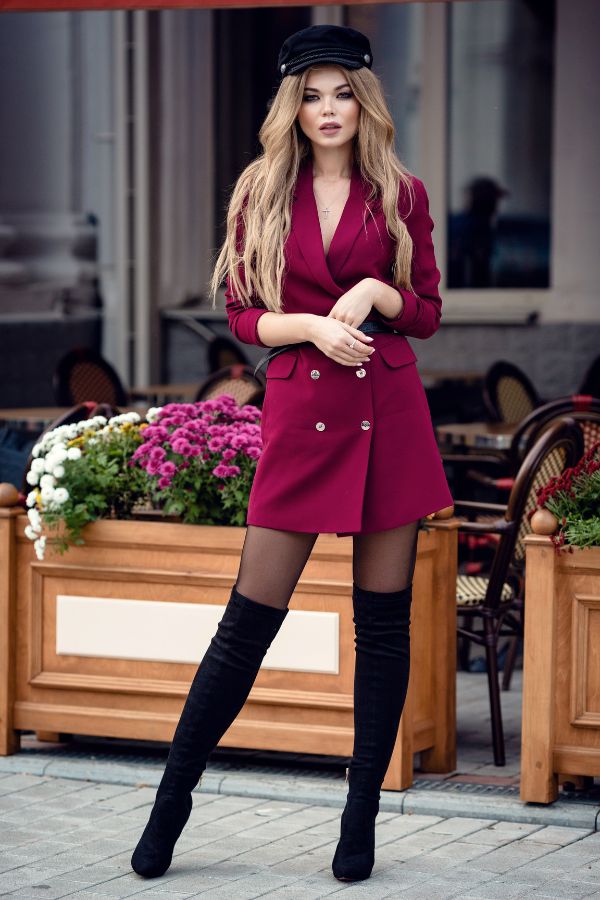 Shirt Dress With Over-The-Knee Boots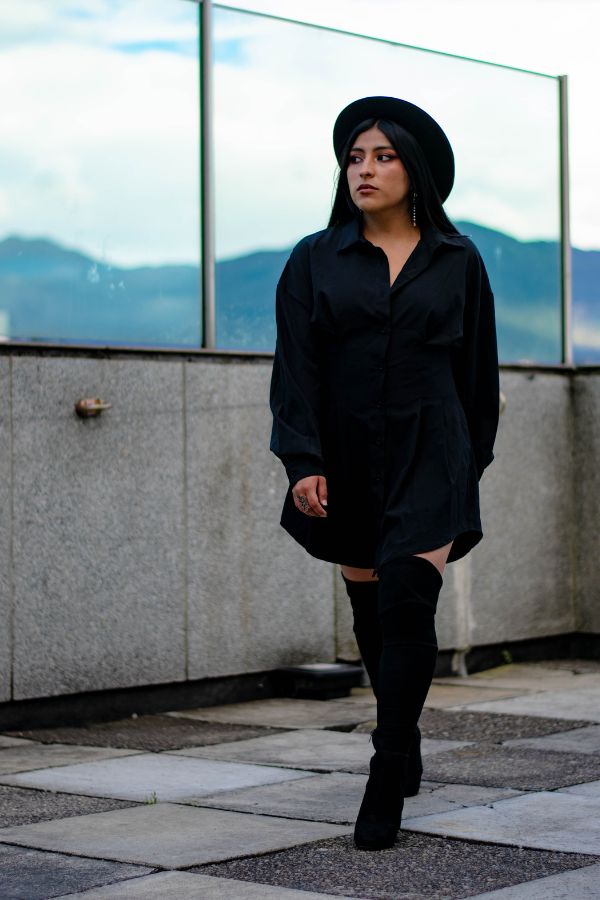 Cute Over-The-Knee Boots Outfits
Blazer + Fitted Top + Satin Pants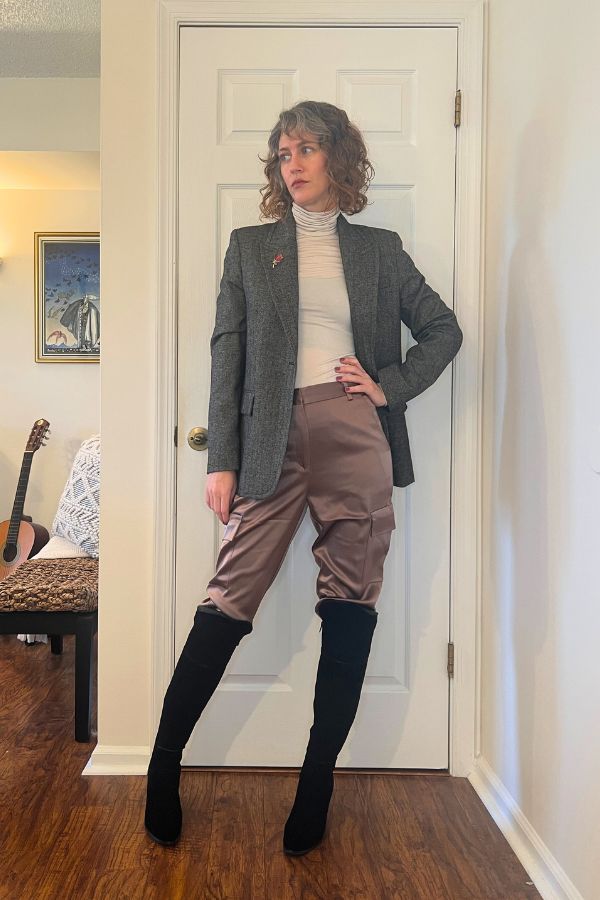 Leather Skirt With Over The Knee Boots
Oversized Button-Down Shirt + Thigh High Boots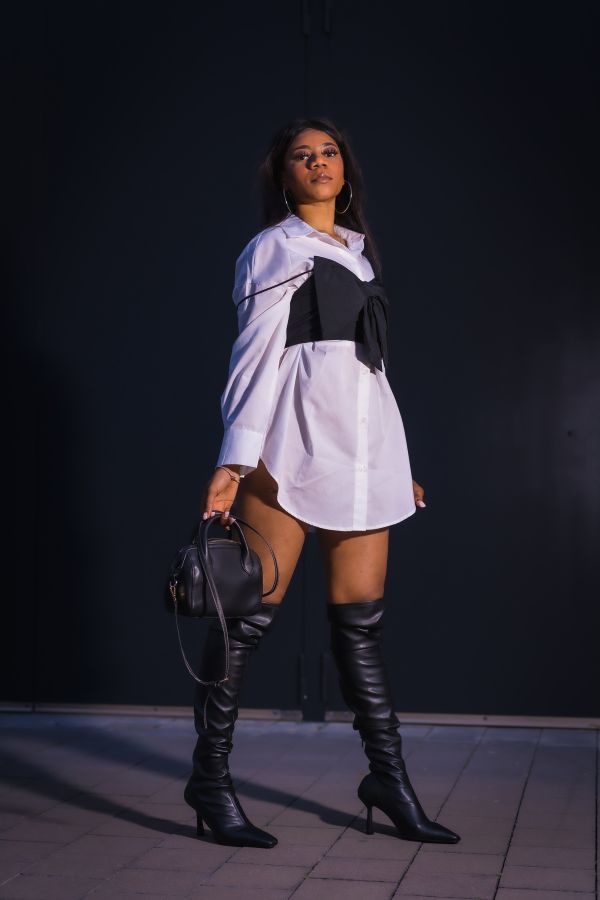 Casual Knit Top + Jeans
Black & White Skirt Outfit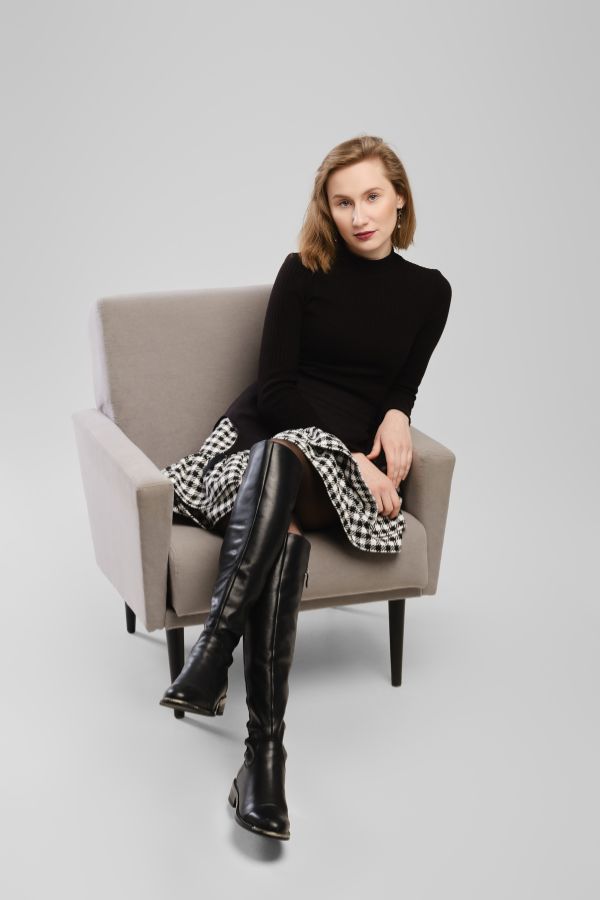 Elegant Matching Set
Tunic + Leggings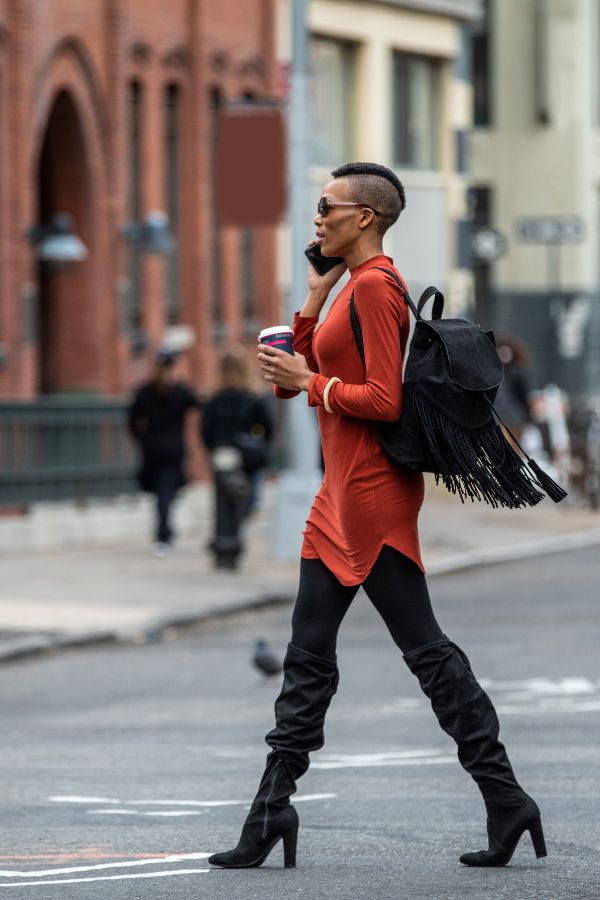 Denim On Denim
Preppy / Acadamia Aesthetic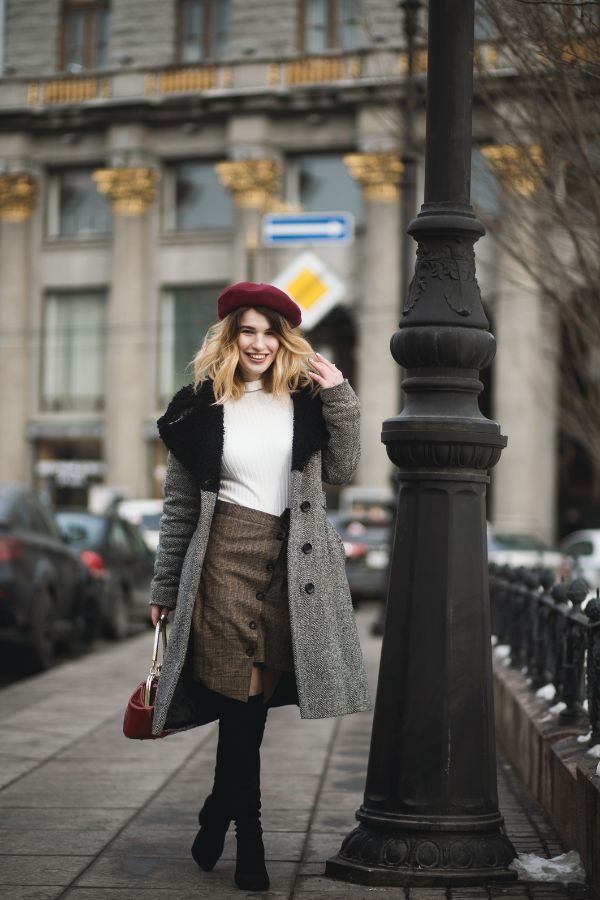 Sweater + Belted Skirt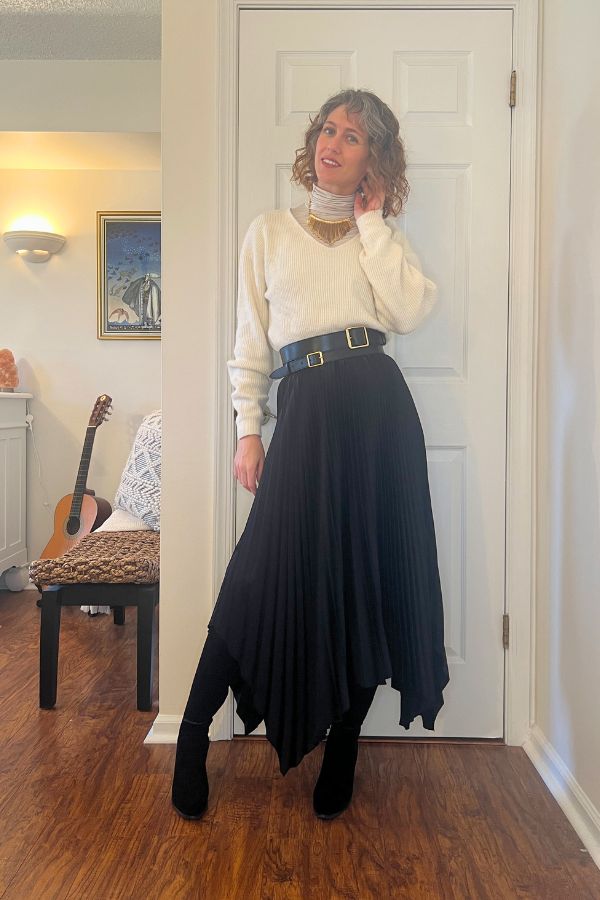 OTK Boots + Sweatshirt Dress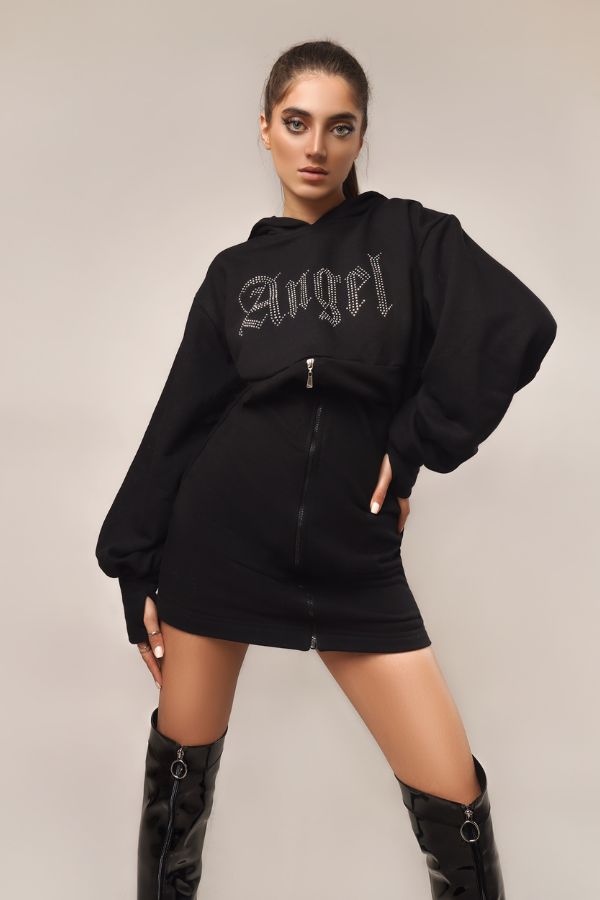 Leather Jacket + Denim Skirt + Tights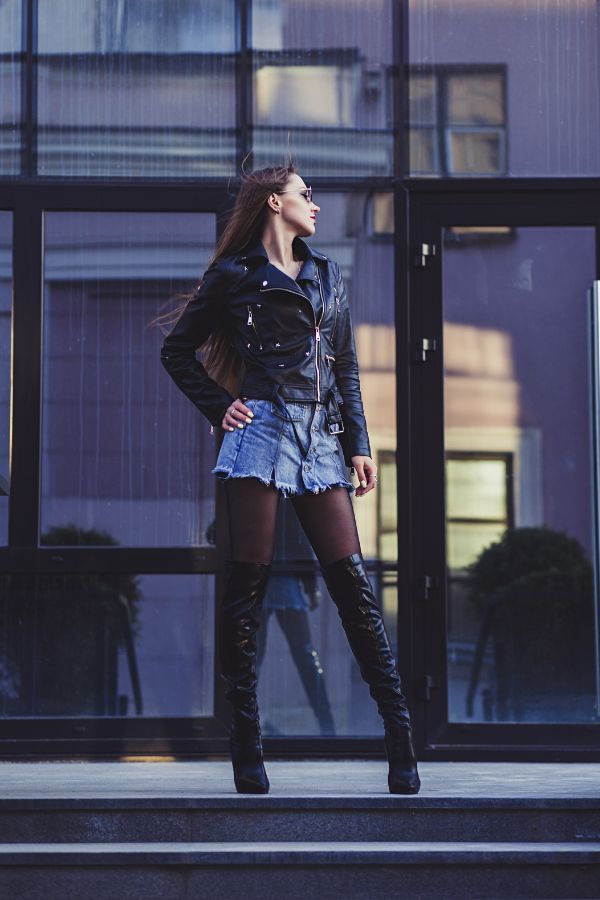 Best OTK Boots
Heeled Over-The-Knee Boots
Low-Mid Heel Over-The-Knee Boots
Flat Over-The-Knee Boots
Are you a fan of over-the-knee boots? What's your favorite way to style them? Comment below.
This post was all about how to style over the knee boots
Related Posts: