Do you want to know your style types fashion preference? Let's break down the different types, so you can determine your style preference right now!
Understanding your style types fashion preference is one of the first steps when you want to learn how to buy clothes you'll actually wear.
Knowing your favorite style of clothing enables you to make smarter purchases because you're focusing on buying what you like rather than what is always trending. Looking your best is about feeling your best and owning your style!
You will learn the different style personalities for better insight into your style preference and how to dress in a way that feels like you!
This post is all about style types fashion.
Best Style Types Fashion
1. Classic Style
You may favor classic style types fashion if you prefer timeless pieces instead of the latest fashion trends. Classic style embodies elegance and an emphasis on quality, investment pieces that are perfectly tailored to fit one's body. This style is about looking feminine and tasteful whether you're out to lunch, running errands, or going out at night.
Sometimes (erroneously) referred to as "old lady" style because of its conservative qualities, I can tell you this style is anything but "old lady"! Fashion icons such as the Princess of Wales (Kate Middleton) have helped change the reputation of a style once considered "old-fashioned" into something modern and sophisticated.
Classic style favors sustainability because you invest in clothing that you can wear for years. Keep this in mind when shopping. Invest in high-quality fabrics such as wool, cashmere, tweed, silk, linen, and cotton.
Look for slim-fitting pieces that flatter the shape of your body. Clothing should never be skin-tight, too revealing, or oversized. Tailor coats, blazers, and trousers to your measurements. Take your clothing to a tailor or dry cleaners to have it altered to fit you perfectly.
Ensure clothing is neat, wrinkle-free, and in good shape. Details are polished and refined.
Related Post: 11 Simple Style Tips To Always Look Good
Classic style plays with color and prints. Find the best colors for your skin tone and shop for pieces in those colors. Keep patterns simple–one per outfit. Patterns and prints should be timeless and not busy. Avoid neon colors and logos. Don't overaccessorize. Favor gold, silver, or pearl jewelry.
Pro-Tip: Don't be afraid to shop vintage as a classic! Etsy and other consignment stores have beautiful tailored coats and jackets for all budgets.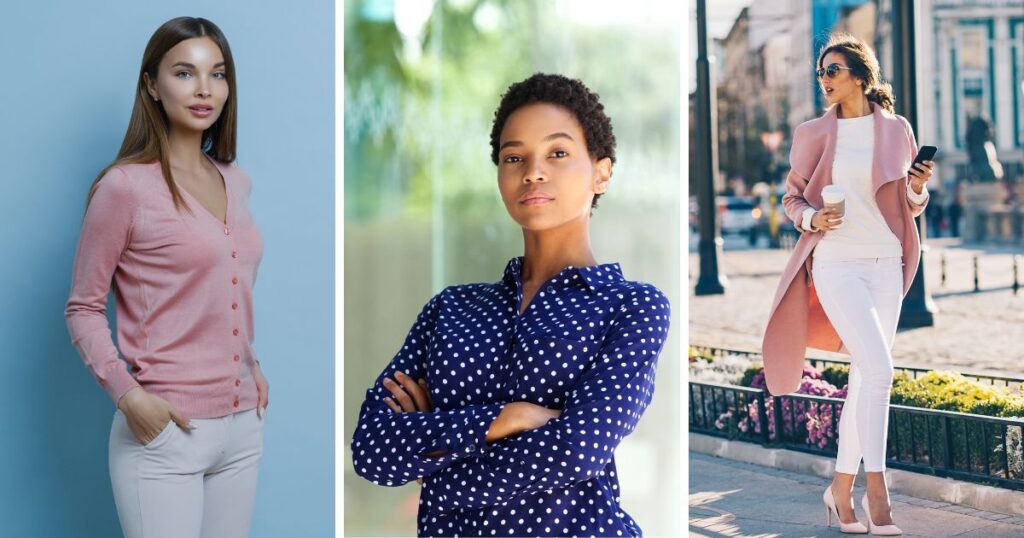 2. Types Of Fashion Styles: Feminine
You may prefer feminine style types fashion if you like to wear clothing that romanticizes the nature of being a female. Feminine style embodies both playfulness and softness in the shape, color, and details of clothing. This style is about looking youthful and in some style personalities, girly as well.
Colors, playful prints, and fun accessories are key in feminine style, as are dresses and skirts. However, women with feminine style can often dress quite differently from each other. Lizzie In Lace is my favorite feminine style personality right now. Her IG feed always brings a smile to my face.
Related Post: Style Trends 2023 | What You Need To Know
Bohemian (boho) Aesthetic
Bohemian aesthetic favors less structured clothing that emphasizes movement, such as long skirts, peasant tops, and flares. Patterns may include tribal, floral, or Far-East-inspired designs. Jackets, vests, and accessories may have fringe or tassels. Scarves are a vital accessory in one's wardrobe. Clothing can range from budget pieces to handmade to vintage to designer. Fabrics can be real or synthetic; leather or vegan depending on the woman.
Vintage Aesthetic
Vintage aesthetic favors well-fitted clothing with a nod to days past. Think lace, polka dots, ribbons, and bows. Dresses can be flirty in a pin-up girl style that shows off curves, shoulders, decollete, or legs. Cardigans with pearl buttons, pastel-colored tweeds, pumps, or ballet flats. It's all about having fun!
Romantic Aesthetic
Romantic aesthetic is all about the drama. Clothing is on the ethereal side with beautiful dresses in airy fabrics such as silk, chiffon, and lace. Pieces are dressier than boho style and colors can range from dark to light. Pair well-fitting pants and trousers with silk blouses. Florals and paisleys are your go-to prints.
If you prefer feminine style, take time to work on your casual looks and loungewear to ensure they embody your flirty personality as much as your other outfits. Don't go overboard with accessories. Learn what clothing cuts flatter your body shape to maximize your feminity.
Related Post: 7 Amazing Plus Size Style Tips To Look Your Best
Feminine style has me thinking about this song for some reason. I love this classic film and musical! If you haven't seen Flower Drum Song yet, you need to check it out!
3. Bold Style
You may prefer bold style types fashion if you like to make a statement wherever you go. Bold style embodies edginess and risk-taking with clothing shapes, fabrics, and colors. This style is about making an entrance and being remembered.
Bold style breaks any so-called "fashion rules" and lives in the moment. This style is aligned with fashion trends in that it wears them to the extreme, or it even drives the trends. Bold colors, wild prints, and different textures are signature qualities of the style. Interesting cut-outs, logos, and futuristic shapes can also make up a bold style.
Bold style brands can range from budget to luxury in the price range. If you're a bold, don't forget about your basics (especially in black and white) when styling.
Every bold outfit has at least one statement piece, whether it's the entire piece of clothing (as a dress), one item (fur jacket), or an accessory. A unique hairstyle or nail color may add to the aesthetic. Street style can go bold with sneakers, belts, and sweat outfits. For bold workwear, rock a deep-green tailored suit to the office. Have fun with leopard boots or velvet heels on a night out.
Because bold style is somewhat experimental, clothing can range in fit from bodycon to oversized. If you're styling with an oversized piece, balance it out with something more form-fitted (e.g. oversized blazer with slim trousers or super wide-leg jeans with a fitted top). Don't go overboard with colors, prints, or logos as it can look too busy. Aim for two statement pieces max, so your outfit isn't competing with itself.
Related Post: How To Look Stylish Everyday | Style Tips Every Woman Needs To Know
4. Eclectic Style, The artsy Fashion Style
You may prefer eclectic style types fashion if you like to mix and match different styles and aesthetics. Eclectic style embodies diversity and the curation of pieces from all different walks of life. This style is all about never wearing the same look as someone else.
Eclectic style is sometimes hard to pinpoint in someone because one day they may be dressed boho-chic but the next they're decked out in menswear. It may seem like they never wear the same outfit twice when in reality, the unique blend of different styles gives the impression they have an entire house full of clothes (which they very well may, no shame!).
Related Post: How To Buy Clothes You'll Actually Wear, Seriously
Eclectic style mixes new pieces with vintage finds and treasures one-of-a-kind pieces above all else. High and low brands are also mixed to create the perfect outfit. Theme dressing is also an aspect of an eclectic's style and you won't find them buying Halloween costumes because they already own everything they need. This style takes one's favorite fashion trends of all time and wears them with pride.
Eclectics should ensure their wardrobe has cohesion in color for the ultimate freedom in mixing and matching (versus too many "one-hit-wonder" pieces that only pair with one thing). Don't overaccessorize. Read all fabric care labels and handle special-care garments properly, so they last. Lastly, ensure you have the right basics and base layers to wear under your outfits in every season.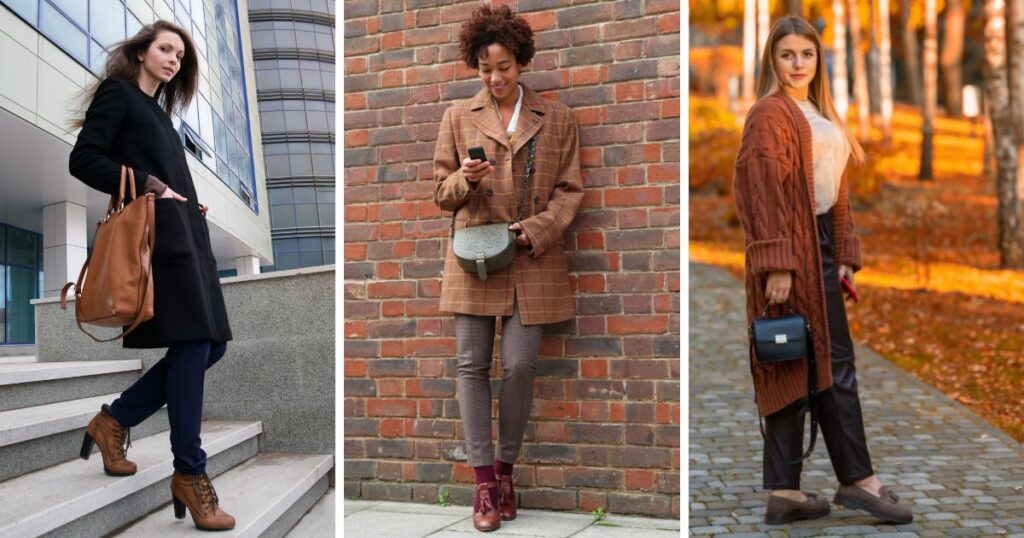 5. Glam Style
You may prefer glam style types fashion if you like to dress with bold sensuality. Glam style embodies the celebration of the female figure, with clothing that emphasizes one's best parts. This style is all about excitement and attraction.
Glam style is often associated with the Hollywood starlets of the 1930s and 1940s after fashion took a sharp turn away from the boyish cuts of the Roaring Twenties. The glam woman dresses fiercely and knows how to work her best lines. Luxe fabrics, feminine necklines, feathers, animal prints, and form-fitting clothing may make up the wardrobe of a glam woman. She accessorizes with jewels and just the right amount of sparkle.
Fabrics range from synthetic to natural, but usually utilize some type of synthetic blend to ensure curves are hugged. Blacks and jewel tones add the perfect amount of drama to a glam aesthetic.
A glam can dress up or opt for a more casual look with skinny pants and a body suit. Loungewear in chenille or velvet creates a sophisticated, wear-at-home look. Stretchy knitwear is perfect for tops and sweaterdresses.
Don't ever underestimate the value of a good pencil skirt; this style comes in every fabric and never ages. Pay attention to the quality of budget pieces in fabrics such as pleather, knitwear, and satins before purchasing. If it looks cheap in the photo or on the hanger, it will also look cheap when you're wearing it. Ensure you have proper undergarments and shapewear so your outfits aren't downgraded by a panty line or a bra strap.
Related Post: Fashion Trends Fall 2023 | Best Styles To Wear Right Now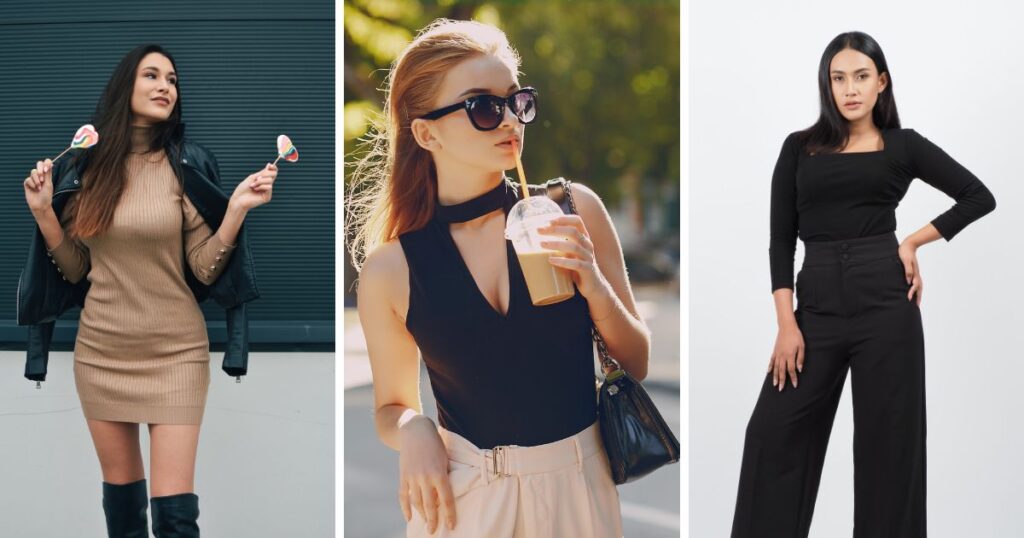 6. Chic Fashion Style: Simple
You may prefer simple style types fashion if your outfits revolve around hard-working basics. Simple style embodies a cohesive wardrobe, with versatile pieces that can be worn year-round. This style is all about 'less is more'.
Simple style continues to gain popularity in recent years due to the rise of the capsule wardrobe and the timeless fascination with 'how to dress like a French woman'. Ethics and sustainability are on the radar of many fashion brands. And, premium and luxury brands have added gorgeous capsule pieces to their mix, so this style can be worn well no matter what your budget.
Fabrics can range from natural to synthetic, but opt for natural fabrics and blends for a more expensive look. If wearing clothing from budget or high-street stores, ensure it's wrinkle-free and ironed or steamed. Because simple style is minimal with jewelry and accessories, it's important to ensure the outfit is on-point, with no loose threads, stains, or pills. Invest in quality accessories such as belts, handbags, and shoes to easily make your entire outfit look high-end.
Don't be afraid to wear colors other than neutrals. Find one color that looks great on you and work that into your wardrobe. Invest in a nice blazer and you'll have the perfect jacket to wear with anything–even leggings and jeans!
Related Post: Fashion Tips And Tricks | 8 Super-Chic Ways to Style Up Your Basics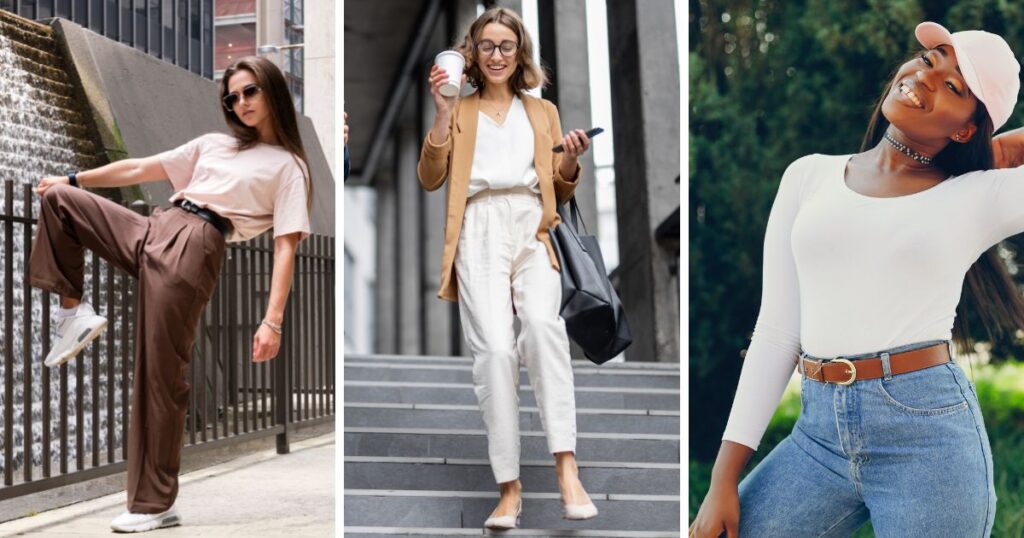 What's your style preference? Comment below!
This post was all about style types fashion
Related Posts: