Do you want to know the most essential French style tips for Parisian women? This guide will teach you the fundamental "rules" Parisian women use to look effortlessly chic.
The allure of French style tips isn't going away any time soon, and thank goodness!
A style that uses timeless pieces to embody femininity and carefree elegance is somewhat elusive to the rest of us women worldwide.
If you're like me, I've admired the French way of life for years now, since I visited Paris in college. The French aesthetic played a great part in refining my style throughout the years and continues to do so.
In this post, you will learn the best French-inspired advice to help you simplify your wardrobe and fine-tune your style to what makes you feel the best.
This post is all about French style tips.
Best French Style Tips
1. Classic French Style Clothing: Nail Down Your Basics
If there's one thing Parisian women seem to understand, it's to invest in a wardrobe of quality basics.
The foundation of every stylish wardrobe begins with the right set of basics. Each wardrobe basic should be carefully considered because your style preference and lifestyle are different from everyone else's.
For example, if you don't wear white t-shirts because you think they're too casual, then a white tee shouldn't be on your list of basic wardrobe essentials. Maybe a fitted black or navy T-shirt is better suited for you.
Another example: If you don't want to wear a blazer all the time, find a similar weighted jacket or structured cardigan that you'll be more suited to wear.
The set of basics you curate should complement your style interests and lifestyle. Your basics are versatile enough to mix and match throughout the year.
To add to that, one of the greatest French style tips is to purchase your basics in neutral colors such as black, white, beige, ivory, taupe, khaki, and navy. These colors mix and match very well together and allow the addition of bolder pieces to liven up an outfit.
The focus of classic French style clothing is on wearable pieces worn often. Make sure every piece you buy is something you love and fits your body well.
Some of the best stores to purchase basics are Amazon, KOTN, Madewell, AYR, and Aday.
Related Post: Where To Shop For Clothes | Best Online Clothing For Women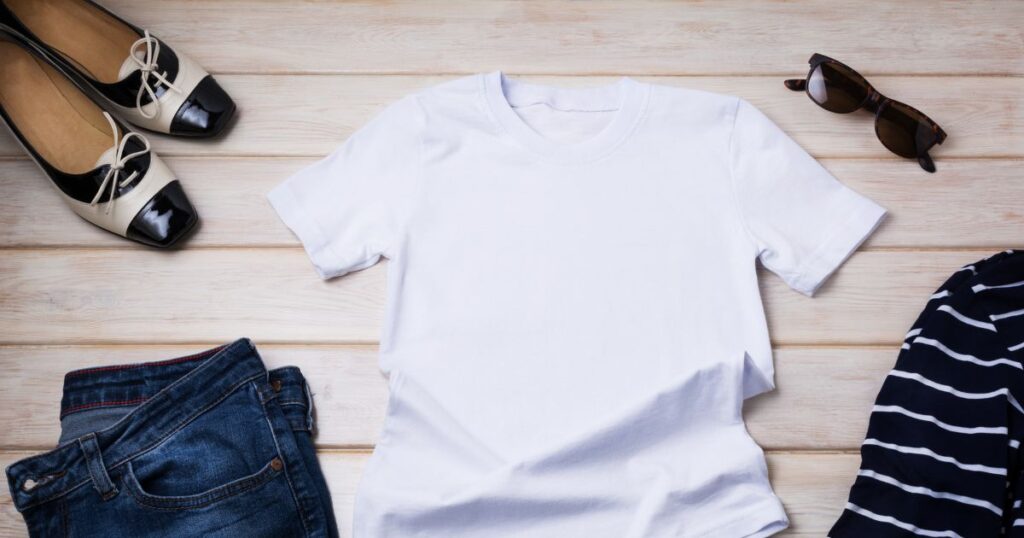 2. Invest in Fashionable Walking Shoes
Despite what Hollywood may tell you, not all French women walk around in stilettos on a daily basis. The Parisian way is all about blending style and practicality, especially if your main method of transportation is on foot.
Now, this doesn't mean you throw on your trainers (running shoes) and go out. Shoes are an important part of your outfit. Some would say the most important. You'll want to invest in some stylish pairs of shoes that can be worn with most of your wardrobe, depending on the occasion.
For four-season dressing, you need about four pairs of shoes, at a minimum:
If you're a shoe maven, three pairs may not seem like enough. However, one of the key French style tips is to think outside the box and purchase shoes that are versatile enough to be worn in many different environments and occasions.
Once you have your shoe necessities covered, then you can branch out with additional styles.
As mentioned before, these shoes should be carefully thought-out purchases that look good and feel good on you. You might need to hunt around for a pair of flats that don't pinch your feet or opt for looser-fitting loafers instead.
Of course, if you only wear heels, then purchase your shoes with a little bit of a heel on them.
My mom wears this incredibly chic pair of gunmetal oxford-style shoes with everything (and I hear they're very comfortable too!).
Remember, the best shoes for you are the ones you love and wear often.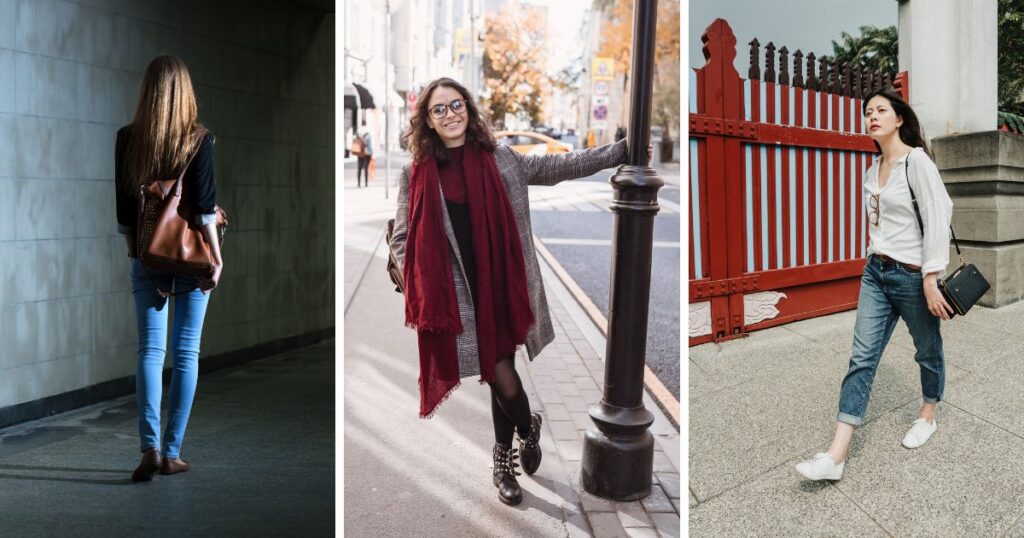 3. How To Dress Like A French Woman: Every Girl Needs A White Collared Shirt
Ah, the classic white collared shirt.
Its history apparently goes all the way back to a scandalous portrait of Marie Antoinette posing in her cotton undergarments.
The white shirt as we know it today didn't make its way into the typical woman's wardrobe until Hollywood starlets of the 1940s were seen in it.
From there it's been reinvented on the fashion runway countless times, which really speaks to the fact that it's never actually gone out of style. With so many ways to wear a white collared shirt, it probably never will.
The most versatile fit is slightly loose and in a cotton fabric that's thick enough to hide your bra underneath.
Don't know what to wear? Take one of the easiest French style tips and throw on a white collared shirt. You'll look classic and put-together, without looking too dressy or casual.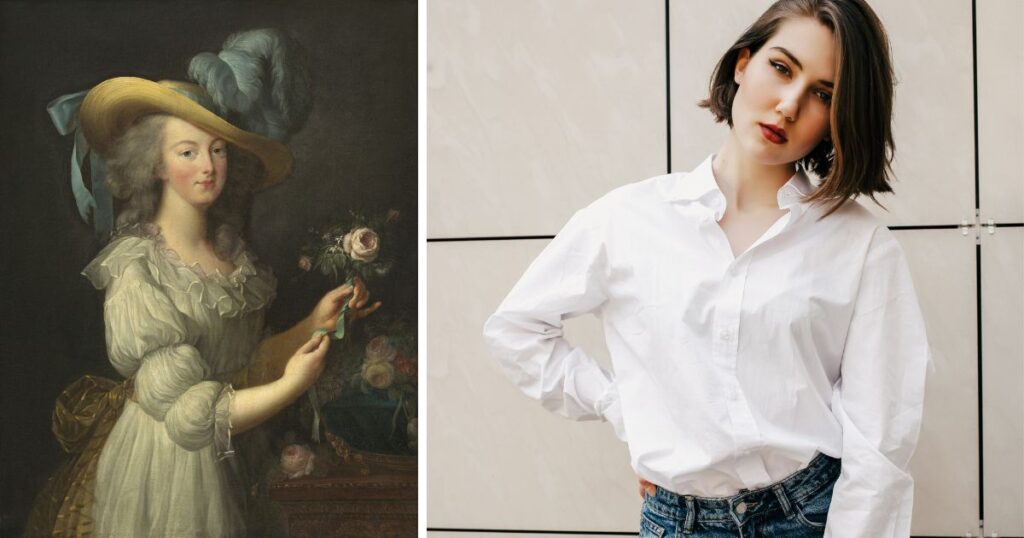 Find your perfect white collared shirt here:
4. Only Wear Activewear When You're Being Active
If you're used to wearing your gym clothes out and about, please read on.
Every item in a French woman's wardrobe has a specific purpose. Activewear is for being active, working out, or playing sports. Activewear is not for running errands or meeting friends for lunch.
The rise of athleisure has further blurred the lines of what clothing is appropriate to wear and when. To keep with the French way of dressing, I follow this easy rule:
If I wear this item during yoga, dog walking, working out, or when lounging around (you can fill in the blank with your preferred activities), then I do not wear it for other purposes.
This means I don't wear leggings, yoga pants, sneakers, or fleece jackets if I'm doing anything other than my deemed active activities. Notice how "lounging around" is considered part of my active activities. I revamped my wardrobe so most of my loungewear doubles as activewear. I can't say enough how important and cost-effective a versatile wardrobe is.
Ready to take one of the best French style tips on and skip the activewear for real clothes? Perform a wardrobe inventory and determine your go-to casual looks, so you no longer settle for sporting your sweats at the grocery store.
Related Post: How To Shop Your Closet The Right Way
5. French Style Outfits Keep Labels To A Minimum (Or Not At All)
The theme of all French style tips is a minimalistic, less-is-more approach. The personality of the woman wearing the clothes should be showcased by how she styled the clothes rather than the brand or cost of the clothes themselves.
As a child of the 1990s and early 2000s, showing off your logos was all the rage in school and I'm very happy I got that out of my system. Nowadays, I cringe at the stacking of brand upon brand upon brand. It just doesn't look good.
Take a hint from Parisian women and keep logos on the inside of your clothing. No matter how luxurious a brand is, showcasing its logo for all to see doesn't enhance the style of your look, especially if it's displayed all over the place.
Limit your outfit to one logo on one piece at a time. For example, if you wear a belt with a logo buckle, you've reached your displayable logo quota. If you wear a monogrammed bag, that's it as well. Keep the rest of your outfit logo-free.
If you want to stand out, choose a classy print or bold color instead of a logo.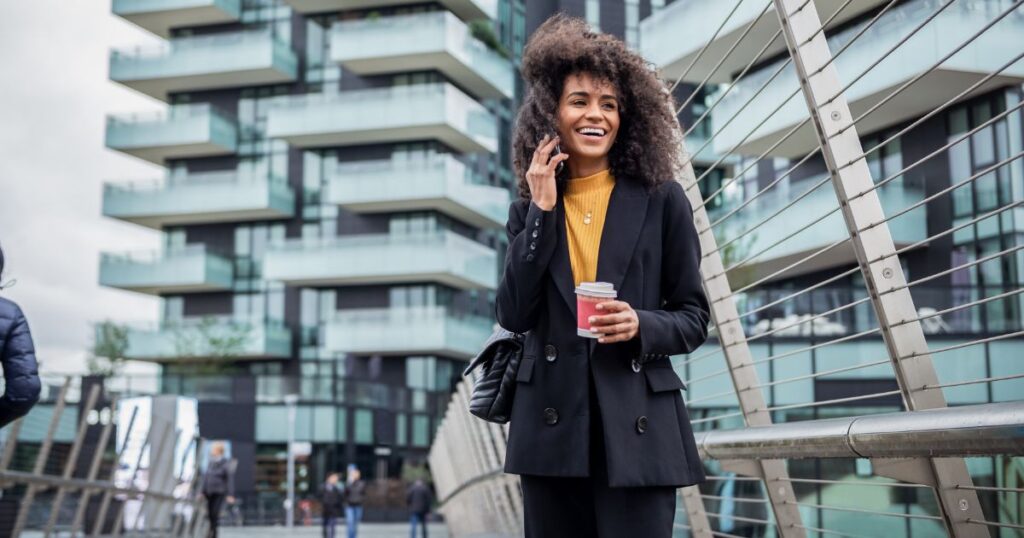 6. Be Mindful of Fashion Trends
French style is a lifestyle–not just an aesthetic. It's about being mindful of who you are, what you like, and what works best for you.
Chasing after every fashion trend won't create cohesion in your wardrobe or help you develop your personal style. It will create a lot of randomness in your closet and help empty your bank account, though.
Learn to study the fashion trends on the runways and how they translate into the ready-to-wear clothing and accessories sold in stores. Try on different items and be honest with yourself before purchasing.
Ask yourself these questions when studying a trendy item:
You don't have to stay away from trends, but you do need to discern what trends are right for you and what trends are a hard pass.
One of the smartest French style tips is to incorporate trends in a simpler way such as a trendy patterned scarf you can wear for decades instead of an expensive pair of pants lasting two seasons.
Get in touch with your true self and desires and you will learn how to transcend the trends with ease.
Related Post: Style Trends 2023 | What You Need To Know
7. FRENCH STYLE EMBODIES SUSTAINABILITY
Sustainability is one of the underlying themes of all French-style tips. Living purposefully with less waste can be best translated through your wardrobe.
Learn to transcend the trends, as mentioned above, and you will have more clothing in your closet that you want to wear and can also be worn for years.
Do research before making purchases and train yourself to stop impulse buying. Delayed satisfaction is one of the lost qualities of our generation, but it is certainly the most rewarding from my personal experience.
Related Post: How To Shop For Clothes Like A Professional Buyer
Only purchase items you really love and leave the "that'll do" mentality behind you. "That'll do" means you'll wear it once (maybe) and then forget it and hate on yourself when you see it gathering dust in your closet. No fun.
Live by the adage "quality over quantity". You don't need 10 pairs of black pants. You may need one or two pairs of black pants that go with everything in your closet and will last you several years.
Budget your money and save up for investment pieces. You'll look better and feel better knowing you bought something beautiful.
Shop vintage or secondhand stores for investment pieces. You can find items that are new or like-new for extremely good prices. Not to mention, items that no one else has (which is my favorite way to dress).
Decide which staples in your closet are worth investing in and which are not. For example, you'll only buy a basic tank top that's $10 and under, while $400 is your limit on an investment item like a blazer.
8. French Style Fashion: Care About Your Outerwear
One of the most essential French style tips is owning quality outerwear. Your outerwear is part of your outfit. It's the first thing people will see, so it says a lot about your style.
Outerwear is also meant to keep you warm and protected, so it's something worth researching and investing in. Outerwear should be some of the longest-lasting items in your wardrobe. If you choose your outerwear wisely and care for it properly, it should last you for years to come.
Related Post: 11 Wardrobe Staples Every Woman Needs In Her Closet
A long wool coat and a proper trench coat are key items in a French woman's wardrobe. Quality pieces like these can cost thousands of dollars. However, putting a little money aside each month for several years buys you a gorgeous coat you can wear for decades. Think of all the wasted money spent on cheap coats during that period.
Lastly, ensure your outerwear complements your wardrobe, so go for neutral colors such as black, beige, and camel.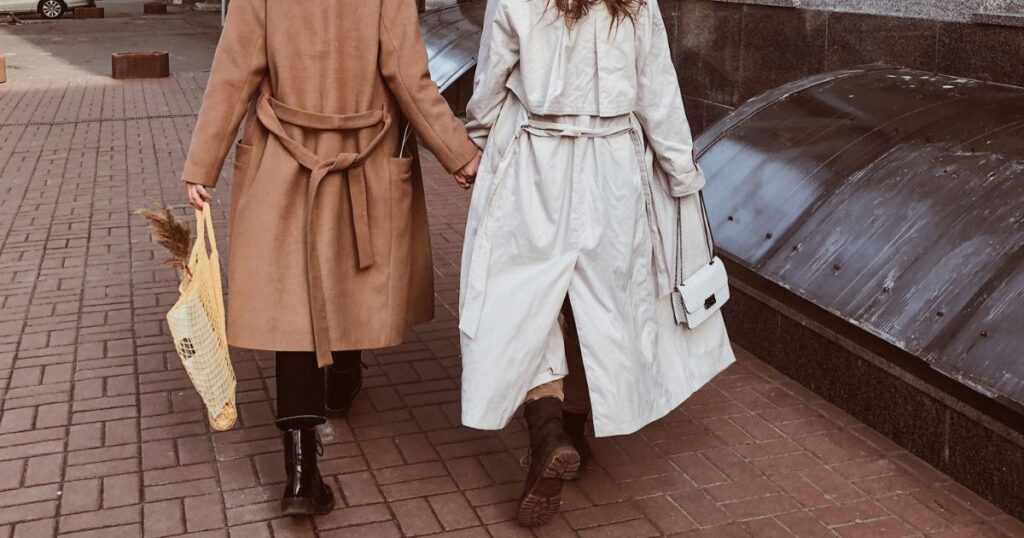 Find your perfect trench coat here:
9. Find Your Signature "Thing" And Rock IT
Whenever we participate in society, our personal brand is on display, whether we realize it or not.
From a French style standpoint, the aim of your personal brand is not to please others but to exude confidence in who you are (thus the effortlessly carefree vibe). Being confident and mindful of your identity indeed takes effort, but once you align with those truths, less effort is required to get dressed and style yourself in a way that feels right.
It's all about investing in yourself, rather than what others say to buy, do, or be.
Find your signature thing-what makes you uniquely you, what makes you happy, and what makes you feel awesome. When you put it on, it just feels right. It could be a color, a signature piece of clothing, an accessory, an aesthetic you always style, a scent, or a red lip.
Sometimes we already have a signature "thing" that others have noticed first.
For example, I used to always wear high heels because I loved them and they were also more comfortable with my high instep than flats. While I was pregnant with my daughter, I received a multitude of cards and other gifts that featured a pregnant woman in high heels. I found out through conversations with family and friends that it was considered a signature of mine, walking around pregnant in my high heels. It honestly made me smile.
If you don't have a signature thing yet, be patient. As you change and your style refines, I promise you, something good will emerge.
10. DON'T FORGET YOUR LITTLE BLACK DRESS
This list would not be complete without mentioning the 'LBD', the little black dress.
The little black dress has been the quintessential women's wardrobe staple for the last century. Birthed by Coco Chanel and made mainstream by Vogue magazine, a timeless achievement in fashion the female race will forever be grateful for. Coco Chanel gave us a few of those goodies (e.g. appropriating trousers for women!).
The little black dress is a well-fitting, short to midi-length dress that can be worn for a multitude of dressier occasions such as date nights, girls' nights, parties, holidays, corporate, and other events. It's the perfect dress when you don't know what to wear.
Related Post: 15 Perfect Bar Outfits For Your Next Night Out
It's appropriately sensual and feminine and perfectly worn on its own or you can liven it up with bold heels, jackets, or a clutch.
This is one of the first French fashion style tips I learned about while doing a project on the fashion of the 'Roaring Twenties' back in high school. And here I am writing about the same thing decades later. Fashion has always been in my veins.
Every woman needs a little black dress in her closet.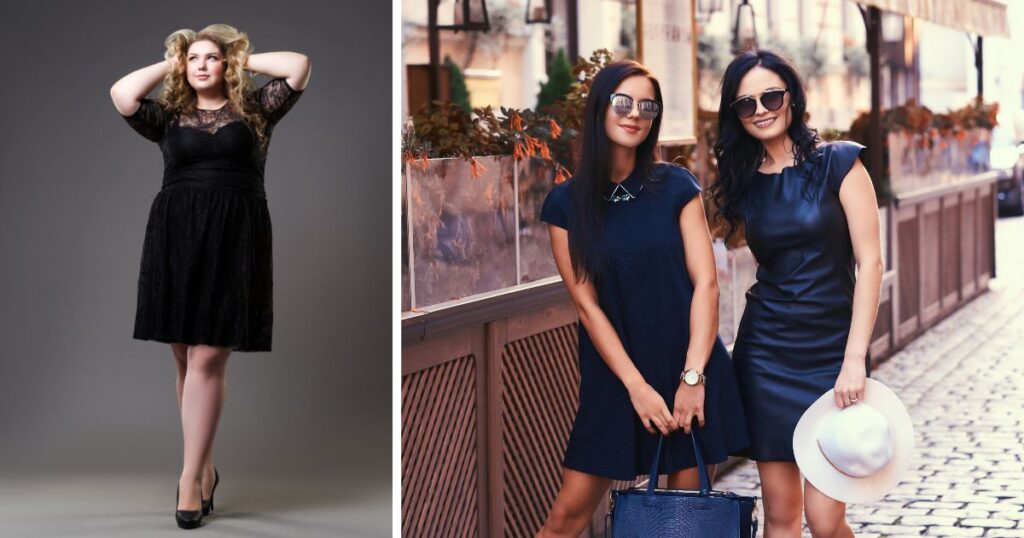 Find your perfect LBD here:
What's your favorite of these French style tips? Comment below!
This Post Was All About French Style Tips
Related Posts: