Do you want to know the best fashion trends for fall 2023? Learn all about the hottest styles from the runway and how you can translate them into your wardrobe right now!
Fashion trends fall 2023 runways marked a return to sleek and fitted styles with the nostalgia of Old Hollywood glam to the redefined suiting of Wall Street. Many of the year's feminine trends are still going strong, so layer your summer styles with fitted tees and blazers.
Come with me as we journey through this season's most desirable trends with smart tips and tricks for how to style them best.
This post is all about fashion trends fall 2023.
Best Fashion Trends Fall 2023
1. Old Hollywood Made New
The fashion trends of fall 2023 paid an ode to the nostalgia of the 1950s Hollywood glam. Think sultry femininity with figure-flattering evening gowns, bare shoulders, and decolletage.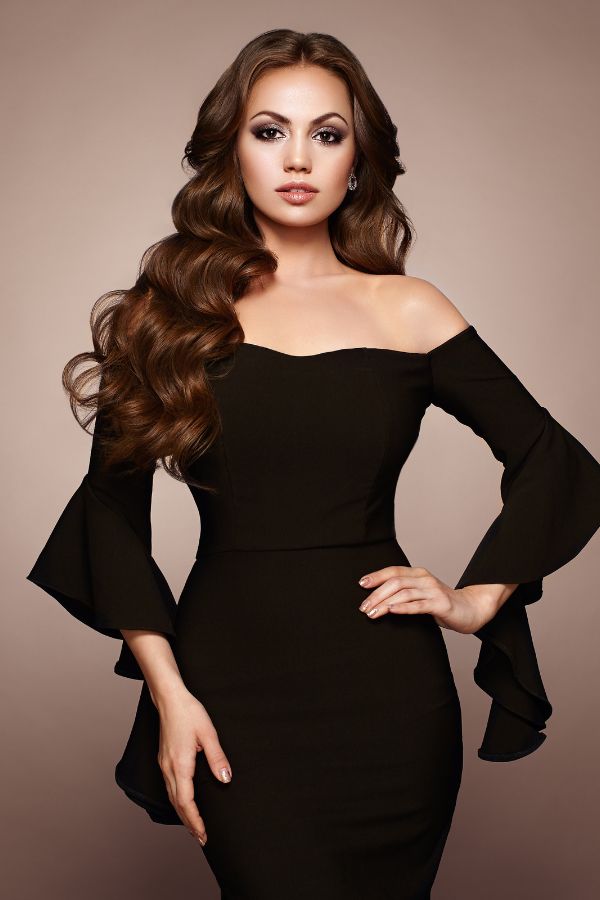 Look for styles that are fitted and structured to show off your curves, like bustiers, pencil skirts, and mermaid dresses. To enhance curves, try full skirts and waist-cinching styles, or use a belt. Opt for luxurious-feeling fabrics in silk, satin, lace, tulle, and velvet. Necklines can be daring with deep v-necks or sweetheart cuts, or show off your shoulders with tube tops and off-the-shoulder styles.
This gown is the perfect blend of modern meets glam. Pair it with a statement clutch for the ultimate evening look.
This fitted top from A.L.C. can be worn to the office with a pair of high-waisted trousers, a blazer, and a scarf–you can lose the scarf and blazer at the bar! For a budget option, try this body contouring corset tank from Express. It comes in three colors and pairs perfectly with denim or a flowy skirt (and any jacket will work as the top is fitted).
Not into low necklines? Look for a mixed-media top with a lace or mesh overlay that gives the illusion of a lower neckline, like the Oslo Mesh Top from Michael Lauren. Perfect to style up your basics with.
Don't forget embellishments – bows, ruffles, jewels, beads, or sequins – choose one of these as a statement piece or accent to your outfit so you don't go overboard. Unleash your inner glam goddess with the freshwater pearl Nora Choker from Cult Gaia. NA-KD's Three Layer Pearl Necklace is an amazing affordable dupe!
Where my glam ladies at? Read more about this style type in the article below.
Related Post: Style Types Fashion | What's Your Style Personality?
2. Fashion Trends 2023: Got Your Back
Runway fashion trends of fall 2023 remind us to 'watch your back'. In a good way that is.
Designers had just about anything you can think of adorning the backs (and behinds) of their looks from simple bows, edgy knots and twists, draped fabric, ruffles, and gathering. Let's not forget the wow factor of an open-back gown or top either.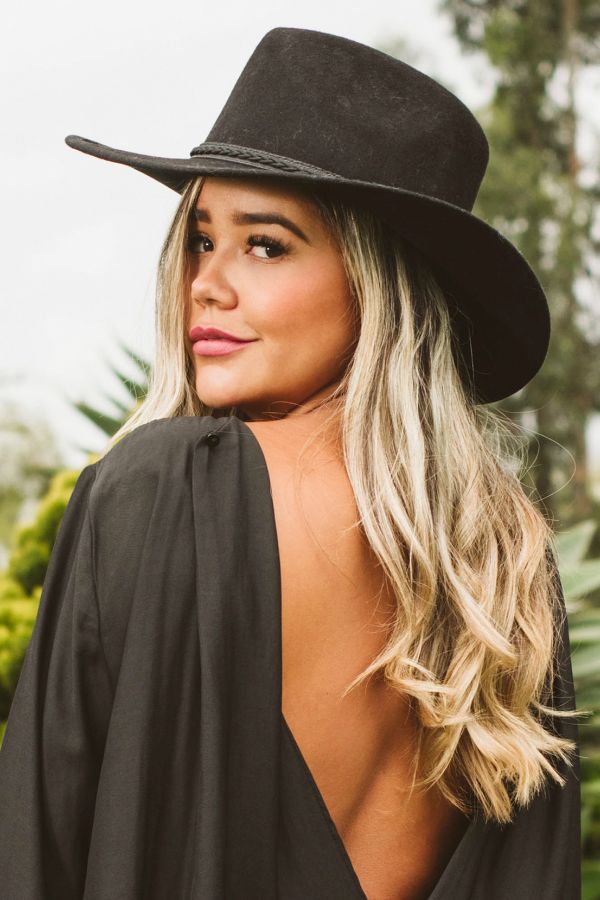 Emphasize this style in the fall with fitted blazers and cropped jackets with special detailing on the back. Look for styles like tie-back halters, wrap tops and dresses (tied in the back instead of at the side), draped blouses, or keep it simple and loosely tie the belt of a jacket behind your back, Parisian style.
Related Post: French Style Tips | 10 Essential Rules To Live By
Check out these amazing pieces to show off your back (a little or a lot!):
3. Peplum, Peplum, Peplum
In my opinion, peplum never goes out of style because the cut is incredibly flattering on so many body types. I call it one of fashion's secret weapons.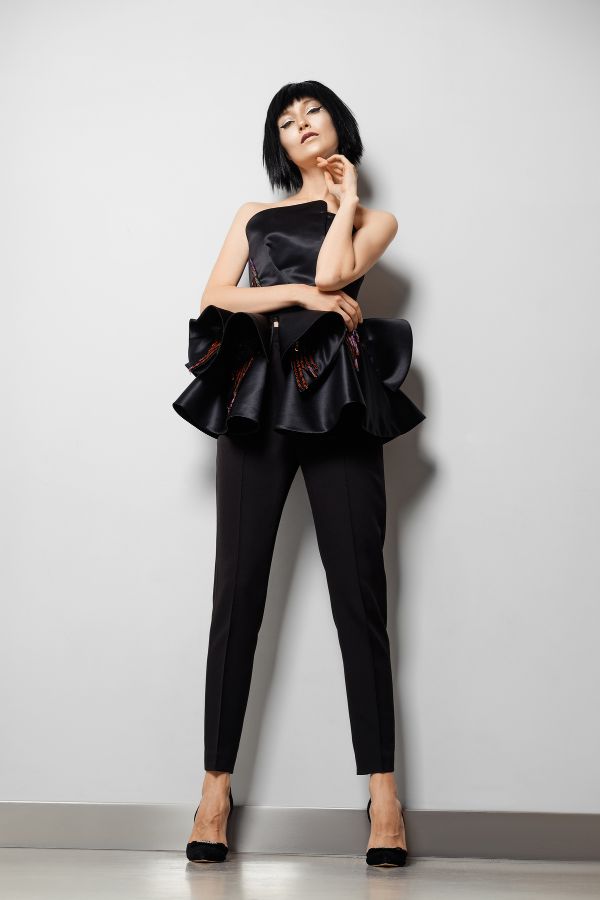 Peplum enhances the hips and trims the waist, so it's a perfect style to create curves in a rectangle, inverted triangle, circle, or oval shape. Hourglass and triangle-shaped ladies should find peplum that cinches at the smallest part of your waist without overemphasizing the hips.
Related Post: 7 Amazing Plus Size Style Tips To Look Your Best
The classic peplum top is ultra-feminine, but look out for peplum jackets, coats, dresses, skirts, and even trousers. Play with different styles to find what flatters your body the best. Dramatic peplum looks are the perfect answer to this season's less favorable (IMO) pants-with-skirts trend.
Check out these amazing peplum finds:
Hold onto your favorite peplum pieces too, because this style always comes back around!
4. Fashion Trends Fall: Wall Street Chic
With trousers now a mainstay in streetwear, the next obvious step in fashion trends in fall 2023 is taking on the full pantsuit. Runways kept the wide-leg pants trend strong but also included slimmer styles. However, jackets and blazers returned to more thoughtful, fitted styles. The focus this season for workwear and tailored fashion is on matching sets, rather than mismatched separates.
Related Post: Create A Work Capsule Wardrobe With Only 15 Items
While the runway showed extra-long trousers that bunched at the floor, my recommendation is to ensure your pants hit just above the floor whether you're wearing a heel, platform, or sneaker. Otherwise, they will get destroyed, and who wants that?
Related Post: What To Wear To Work | 5 Workwear Trousers That Will Complete Your Office Wardrobe
Every woman should own one pantsuit that's been tailored to fit her perfectly. If you don't, now's the time to shop around and check this off your list of wardrobe staples (or at least start saving up for one).
Designers also re-introduced shorts-suits (that is, a tailored jacket and shorts). While this look may not be office appropriate for most, it's definitely suitable for those looking to upgrade their street style. Try the Lido Italian Wool Bermuda Shorts and Lido Sculpted Italian Wool Blazer from Banana Republic, with tall boots for a modern twist.
Also included in this fashion trend is the return to the classic pump and fitted boot (as opposed to architectural heels and lug soles). I love a pair of pointed-toe shoes sticking out the bottom hem of a long pair of trousers…so sexy. Try the Mid Heel Pump from Tory Burch or the Vienna Kitten Heel Pump from Sam Edelman.
5. FuR Baby: Plush Winter Coats
Last, but certainly not least of this year's fashion trends fall 2023 is the plush winter coat. These coats are soft, warm, and luxurious looking regardless of their price tag. To me, this trend plays off the old Hollywood glam, as well. You can dress a fur coat down with cargo pants or wear it to a fall wedding for the ultimate posh aesthetic.
Related Post: What To Wear To A November Wedding
Pull out your vintage furs or hit the shops for a new faux fur, shearling, or sherpa coat. Long, short, or in a gilet or vest, this will be your statement piece of the season (and one to hold onto for many years to come!).
I'm also loving the Ribbed Vegan Fur Jacket from Bernardo Fashions in camel or black, perfect with bootcut pants. Or try the Milly Over Size Faux Fur Coat from Apparis with relaxed denim jeans. And, OMG, the Ted Baker Liliam Faux Fur Hip Length Coat is perfect for a fancy event! The maroon color of this coat is so beautiful! It also comes in ivory and the quality is next to none.
Want more information on the best fashion trends of 2023 and how to wear them? Check out this post: Style Trends 2023 | What You Need To Know.
What trend are you going to rock this fall? Comment below!
This post was all about fashion trends fall 2023
Related Posts: