Do you want to know the best-kept secrets for how to improve my fashion style? These three important tips will help you elevate your fashion sense and dress better!
The best strategy to improve your fashion style isn't found in the latest trends or designer clothing thankfully, although they can be fun! The answer lies within you, just waiting to be awakened.
Dressing for your personality is the best-kept secret for looking and feeling great.
In this post, you will learn the absolute best strategies to awaken your personal style, enabling you to dress better all the time.
This post is all about how to improve my fashion style.
Best Tips To Improve My Fashion Style
How To Dress Well As A Lady: Find Your Style Preference
Finding your style preference is one of the first ways to understand how to improve your fashion style. Style is all about what makes you "uniquely you".
If your clothing doesn't resonate with your personality, you won't feel good. You'll always feel like something's missing because you aren't being true to your authentic self.
As an independent female, always evolving and changing, don't be afraid to change your style to something that is more true to who you are.
The different style preferences are as follows: classic, feminine, bold, funky/eclectic, glam, and simple. You may resonate with one particular style or a few, but the most important point is that the style you wear makes you feel like you.
Classic Style
The classic style exudes elegance, femininity, and timelessness because it's reminiscent of the styles in the 1930s-1960s that are still going strong. It's a style you might think of when you have to dress well as a lady because it emphasizes quality investment pieces instead of fast fashion trends.
Fabrics consist of natural materials such as silk, wool, tweed, and linen. Clothing is tailored to complement the female body.
All details of a classic look are exquisite without flashiness or over-accessorizing. Fine jewelry pieces such as pearls, gold, and silver are worn. Quality and versatility allow a wardrobe of classic clothing and accessories to last year after year.
Ladies with classic styles are Jackie Kennedy, Grace Kelly, Kate Middleton, and Anna Bey.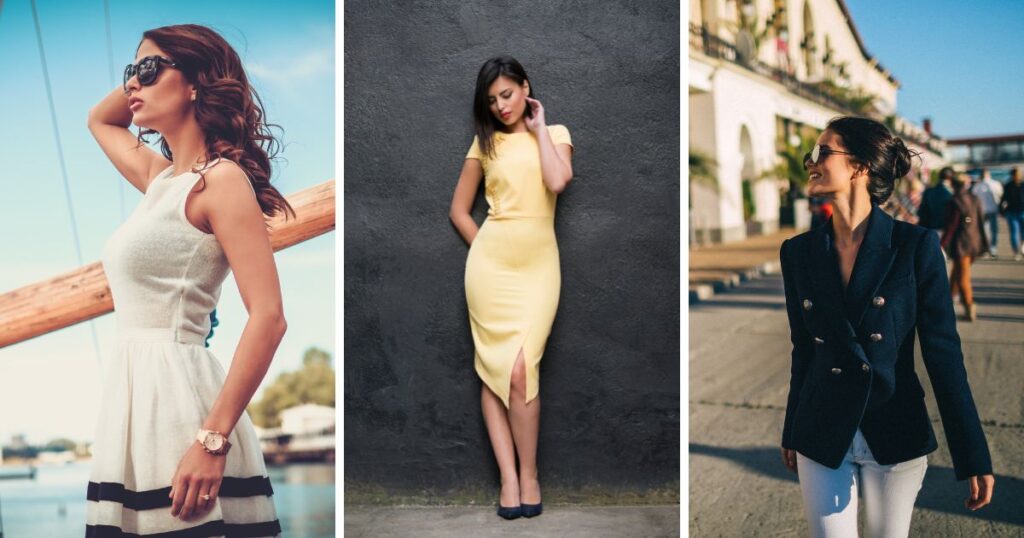 Shop my favorite latest classic finds:
Feminine Style
Feminine style is playful, romantic, and of course, girly. Clothing such as flowy skirts and dresses, ruffles, lace, pastels, and florals emphasize this style. Necklines are more youthful as this style can showcase trendy, classic, and vintage pieces. Cuts can be flowy or more bodycon for that sensual component.
Feminine style leverages accessories to add intrigue and romance to an outfit. Polka dots, bows, hearts, cute heels, and sheer fabrics are all part of the appeal of this style. Ballet flats and a scarf are also quintessential pieces that make up the feminine style.
Related Post: Style Trends 2023 | What You Need To Know
Ladies with feminine styles are Elle Fanning, Alexa Chung, and Kiera Knightly.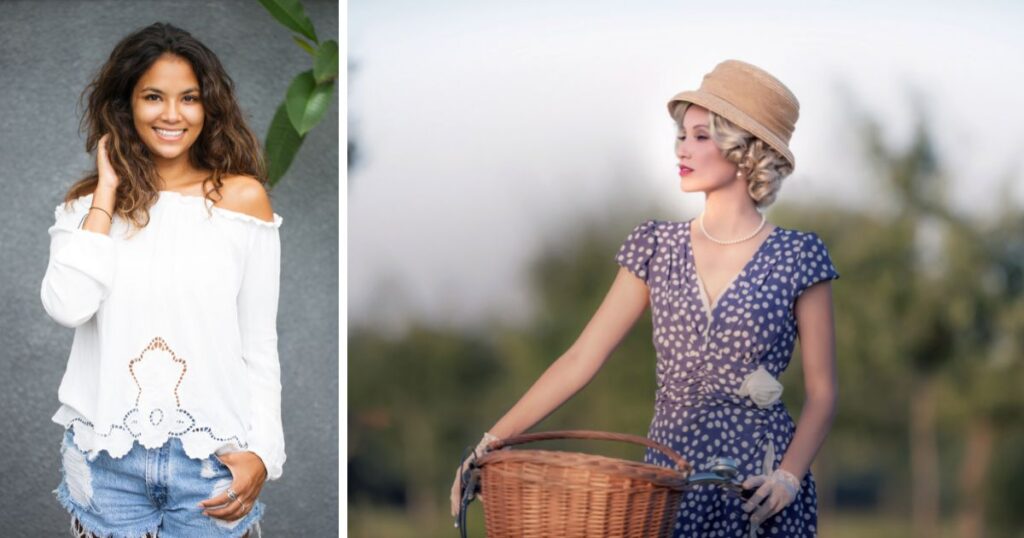 Shop my favorite latest feminine finds:
Bold Style
Bold style makes a statement. Whether it's bright colors, screaming patterns, unusual textiles, or Avante-Garde shapes, ladies who wear this style stand out among the crowd. Looks can be fierce, edgy, loud, or dramatic.
We all remember a celebrity who walks out on the red carpet with a bold look.
A bold style can be over-the-top with the entire look or it utilizes an item of clothing or accessory to add flair. Bold style can be sporty with on-trend sneakers or sweat outfits.
Ladies with bold styles are Cher, Zendaya, Solange Knowles, and Rihanna.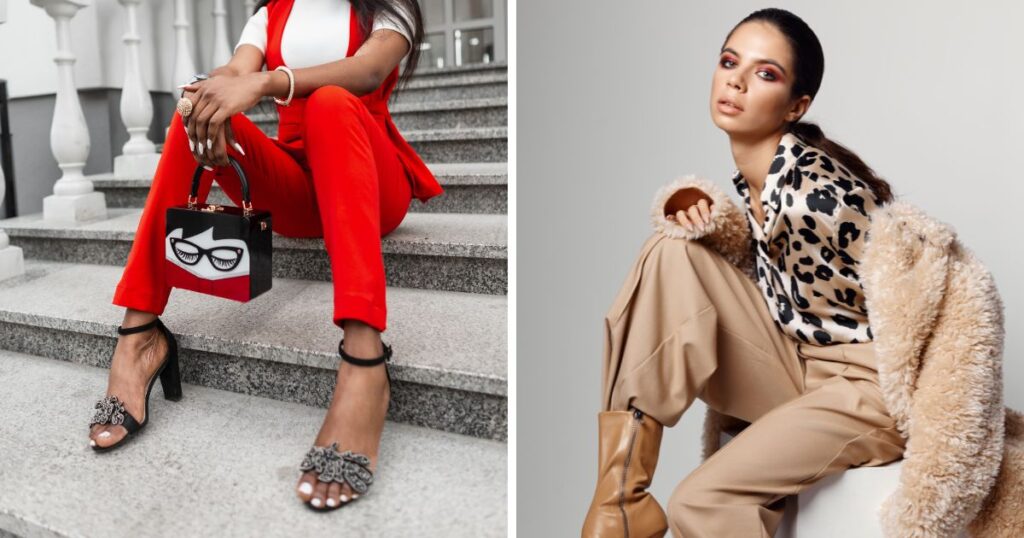 Shop my favorite latest bold style finds:
Eclectic Style
Eclectic style intelligently merges aspects of different styles to create looks that are unique. When it's hard to categorize someone as having a particular style, it's usually because they are eclectic.
My style preference is eclectic, evolving throughout the years. I experimented with trends during my teenage and adult years as I underwent considerable life changes and relationships. I moved toward boho/rocker chic in my early thirties because I needed to break away from my past and heal. Now, I improve my fashion style by only wearing pieces I love (with something vintage usually thrown in!).
Ladies with funky, eclectic styles are Olivia Palermo, Sarah Jessica Parker, and style icon Iris Apfel.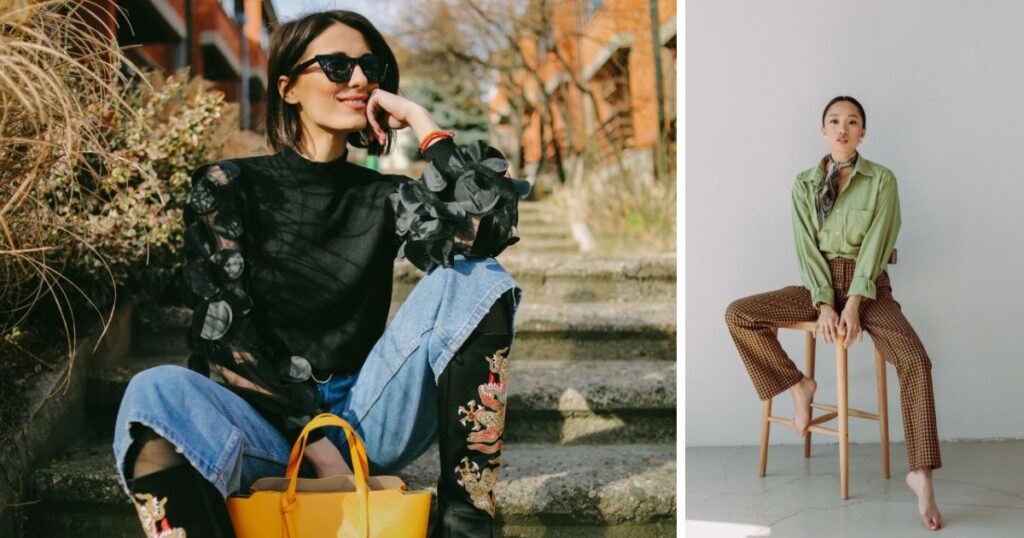 Shop my latest eclectic finds:
Glam Style
Glam style is the perfect mix of sensuality and bold elegance. Think "old Hollywood" with satins, velvets, diamonds, furs, sequins, and slinky fringe. Glam-style pieces emphasize the beauty of the female figure and also celebrate the essence of luxury.
Glam style can also be worn every day, with a velvet blazer or suit, faux fur vest, or dangly diamante earrings.
Ladies with glam styles are Diana Ross, Taylor Swift, and Adele.
I think back to my senior prom wearing a satin, Barbie pink mermaid gown with a sheer nude back detailed with large rhinestones. I could barely dance in it, but that dress was definitely a show-stopper!
Related Post: Fashion Trends Fall 2023 | Best Styles To Wear Right Now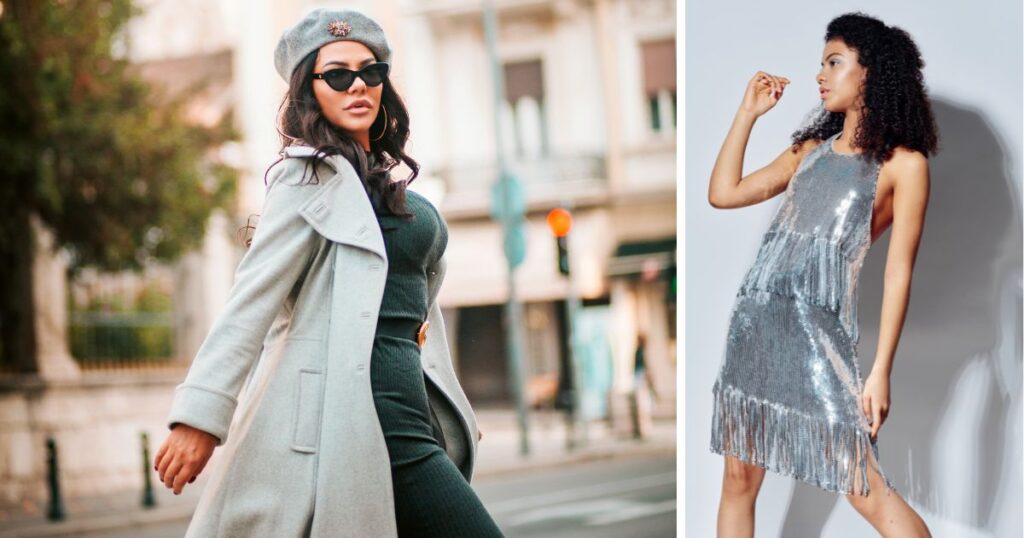 Shop my favorite latest glam finds:
Simple Style
Ladies who have simple styles are anything but basic or boring. Think of simple style like the iPhone-it may not have all the bells and whistles as other mobile phones, but what it does have performs exceptionally well (and looks ultra-chic).
Simple style isn't flashy or attention-grabbing. It's polished and effortless-looking with pieces that fit correctly, regardless of the aesthetic. Minimalist fashion is an incredibly chic form of simple style. Preppy fashion is a more traditional form of simple style. Let's not forget the carefree "French girl" look many women have adopted as well.
Related Post: French Style Tips | 10 Essential Rules To Live By
Trenchcoats, little black dresses, crisp white shirts, suiting, neutral colors, and turtlenecks can make up a simple style wardrobe. You can work with trends if they blend seamlessly into your look.
Ladies like Audrey Hepburn, Angelina Jolie, and Carolyn Bessette-Kennedy all know how to dress simple, but stylish.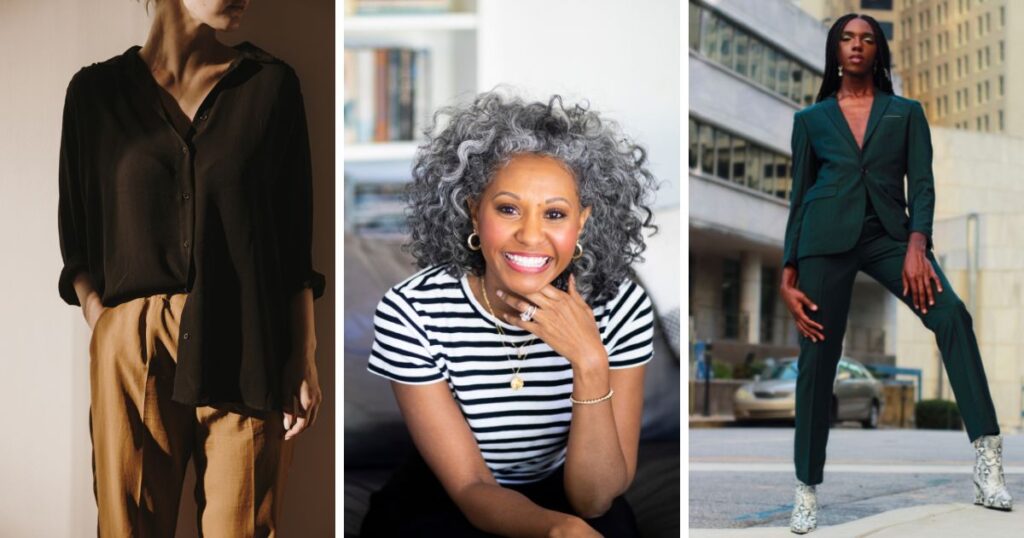 Shop my latest favorite simple style finds:
Related Post: Style Types Fashion | What's Your Style Personality?
How To Style Outfits: Get Dressed With Purpose
Living your life with intention means you're aware of what you're doing and why you're doing it. The same concept should be applied when you get dressed each day to help improve your fashion style.
If your purpose is to simply just throw something on, you'll never achieve the style you're looking for.
Here are some simple questions to ask yourself before pairing an outfit together:
Where am I going today/tonight?
What will I be doing?
Will I be physically active?
Who will I be with? Family, friends, colleagues, new people?
What type of event is it?
What's the weather like outside?
How long will I be wearing this?
How do I want to feel today? Confident, classy, sassy, youthful, etc.?
The answers to these questions will help determine the impression or mood you want to convey with your look. The idea is not to please or appease others but to become aware of how you need to dress to feel your best (even if you're lounging at home).
This method is extremely helpful when packing for a trip because you'll only pack what you'll actually wear.
Experiment With Looks Ahead of Time To Improve Your Style Aesthetic
Learning how to style each item in your wardrobe is one of the most important secrets to improving your fashion style. This approach requires a little work upfront that will pay off in dividends each season.
Experimenting with your wardrobe to create different looks will ensure you're ready for every occasion that arises. Experiments should include all items you could wear for that season, inclusive of accessories.
Take photos of your looks and organize them on your phone or into Pinterest boards with event-related categories such as:
Workwear
Running errands
Working out or running
Casual get-togethers
Holidays
Formal events
Date night
Family gatherings
Outdoor activities – fall
Outdoor activities – summer
Kid's school events
This activity will teach you how to style outfits by shopping your closet. This will also take the stress out of getting dressed and accessorizing because you'll already have a list of stylish "uniforms" to choose from.
Keep this list fresh by updating it each season or when you add an item to your wardrobe.
Even if you don't have the time to do this with your entire wardrobe, do this with a few items several weeks before a big event. If you have to alter an item in any way, you'll have time to do it. This approach will guarantee a look that fits, is clean, and is styled appropriately.
Pro-Tip: Take this approach even further by creating a wardrobe inventory to catalog every item you own.
What's your favorite style preference? Comment below!
This Post Was All About How To Improve My Fashion Style
Related Posts: