Looking for information about the soft autumn color palette? This guide will teach you all you need to know for a soft autumn wardrobe.
A soft autumn color palette is one of the seasonal color analysis classifications. Seasonal color analysis uses a combination of a person's skin tone, eye color, hair color, and feature contrast to determine their best colors.
Ever put together what you thought to be a great look only to have others asking you what happened and if you were sick? Yeah, me too. Honestly, it really used to annoy me because it was on days I thought my outfit, makeup, and hair were a slam dunk. After learning about color analysis and how the wrong colors can make you look washed out, these seemingly random (& unsolicited) comments from people finally made sense.
While color analysis has been around for centuries, it wasn't until American fashion designer, Suzanne Caygill, began using color palettes in her client practice and teaching seminars. By the 1980s there were several books published on seasonal color analysis as an advanced method for styling.
Finally, Carole Jackson's wildly successful book in 1980, Color Me Beautiful, made seasonal color analysis accessible to the everyday woman, with a simplified method to find your personal color palette.
In this post, you will learn about the soft autumn characteristics, how to determine whether you're a soft autumn, soft autumn color analysis, what colors to avoid, and soft autumn outfits.
This post is all about the soft autumn color palette.
Soft Autumn Color Analysis
What Is A Soft Autumn?
A soft autumn color palette is known for muted colors that lean towards the warm side of the spectrum. The colors of autumn and fall are warm, and earthy, and can be both deep or muted. From a chronological standpoint, soft autumn occurs at the beginning of autumn. This is the time when summer is tapering off, but the days are still longer and there's a softness in the air as opposed to the coolness of mid-to-late fall.
Soft autumn is the softest of the three autumn color palettes.
In contrast, a true autumn color palette falls in the middle of the season, with an array of traditional fall colors when the leaves are at their peak and pumpkin picking is in full swing. Dark autumn occurs towards the end of fall, with warm and deep colors of late-changing leaves, crunchy piles of fallen leaves, bonfire wood, and late afternoon shadows.
Soft Autumn Color Characteristics
The 12 seasonal color palettes are characterized by the following factors: hue, value and chroma.
A color's hue defines how warm or cool the color is. Warm tones have a yellow or beige undertone while cool tones have a blue or pink undertone. True hues are colors that are neutral, neither warm nor cool-toned, such as the primary colors red, yellow, and blue.
A color's value defines how light or dark the color is.
A color's chroma, or intensity, defines how soft/muted or bright/clear the color is.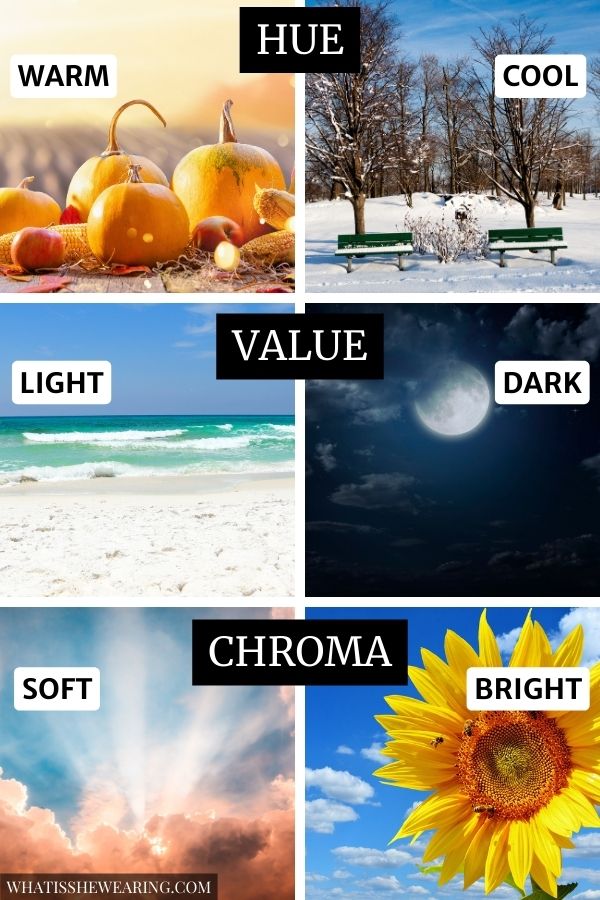 Soft autumn colors are warm, have a medium shade or value, and are soft and muted.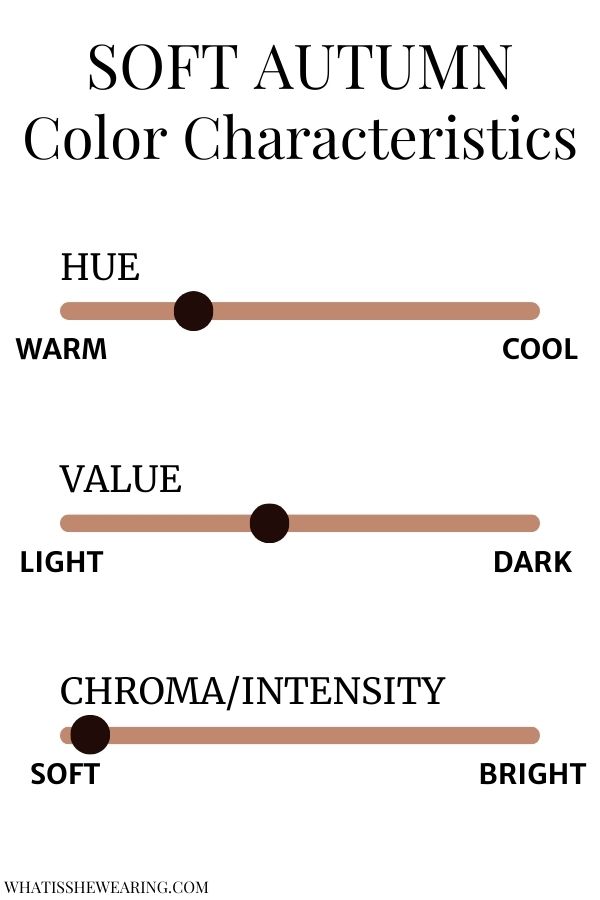 Soft Autumn Characteristics
There are several features that define a person who is a soft autumn. Generally speaking, soft autumns are classified as having slightly warm skin undertones, soft facial features that blend together (rather than contrast), and neutral to warm eye colors.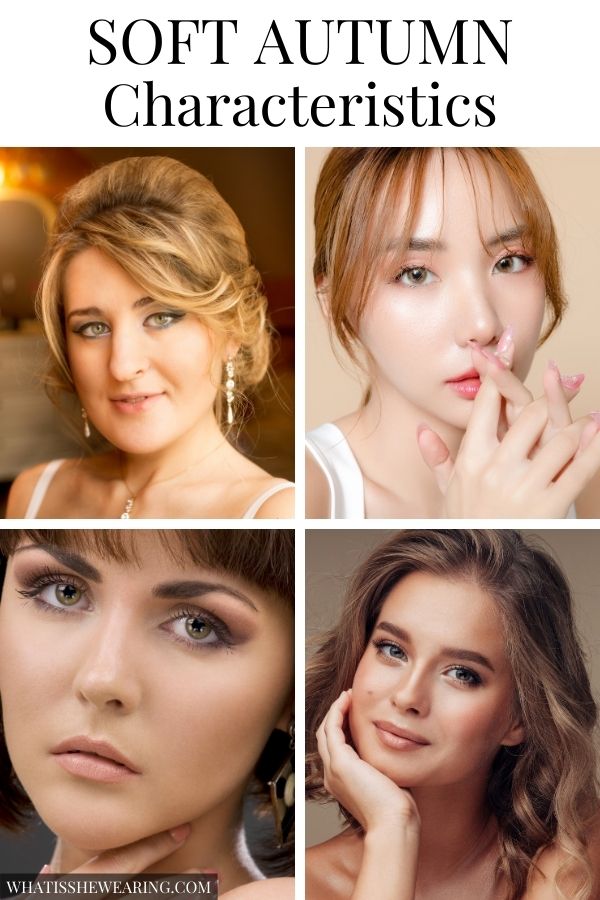 Remember, every person is unique, so if you're not an exact match to these features it doesn't mean you can't style with a soft autumn color palette. As I always say, experimentation in fashion is key to finding your best style.
Related Post: How To Find My Style In 5 Easy Steps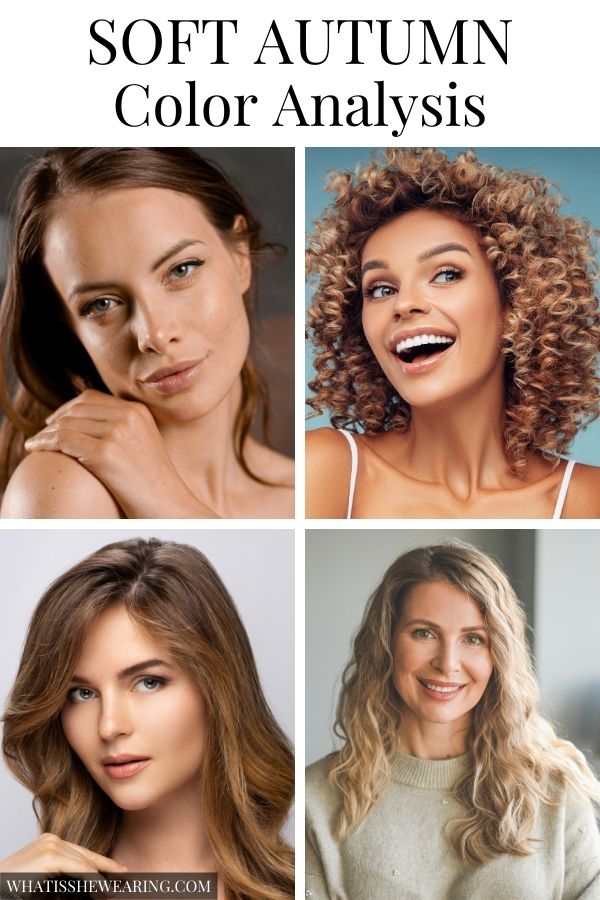 Soft Autumn Features: Skin Undertone
Since soft autumn is considered a warm season, a soft autumn's skin undertone is warm or neutral-warm leaning. Warm colors suit a soft autumn's skin tone better than cool colors.
You can perform the following tests to determine your skin undertone. Do these tests in natural light without wearing makeup.
Test 1: The Blank Sheet Of Paper
Hold a blank sheet of paper next to your face. Does it brighten your face or make it look dull? If it brightens, your skin's undertone is cool. If it dulls, your skin's undertone is warm. If you can't tell, you may be neutral.
Test #2: The Color Of Your Veins
Examine the veins on the underside of your wrist. Blue/purple veins indicate a cool undertone and green veins indicate a warm undertone. If you can't tell, you may be neutral.
Test #3: Gold Vs. Silver Jewelry
Compare holding of gold and silver jewelry against your face. The metal that shines and brightens your face is the winner. Gold jewelry looks best on warm skin tones while silver jewelry looks best on cool skin tones. If you're not sure, you may have a neutral skin tone.
Lastly, does your skin usually tan or burn out in the sun? Skin that tans easily is typically warm while skin that always burns is typically cool.
Related Post: What To Wear To The Beach | 20+ Stunning Beach Outfit Ideas
Side note: I score in the middle for the first three tests (meaning I can't tell either way) and my skin burns if I don't wear SPF, but also develops a nice tan. My skin has a neutral undertone.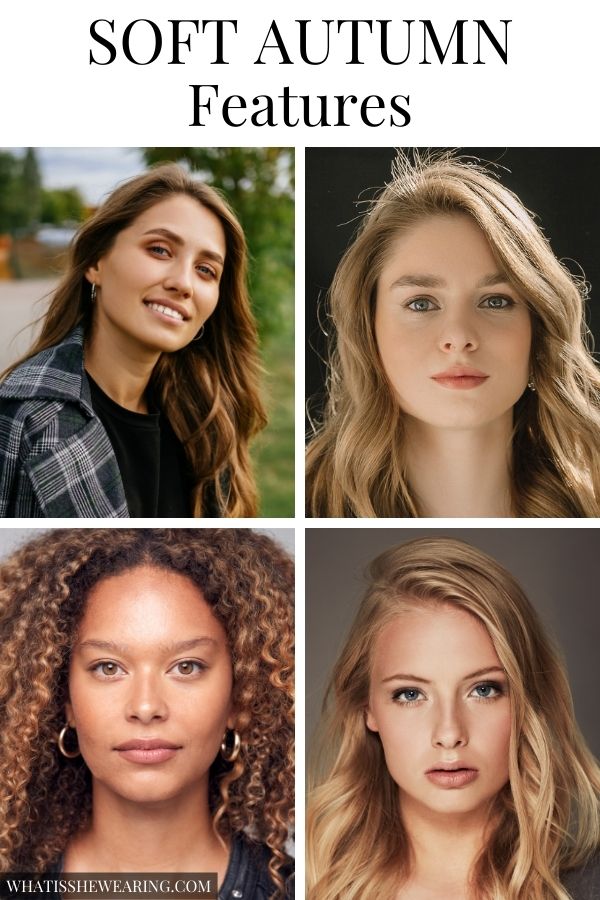 Soft Autumn Features: Eye Color
Soft autumn eye colors carry a soft, toned-down, or warm hue as opposed to bright, cool, and piercing. Colors can range anywhere from soft blue, blue-gray, blue-green, hazel, amber hazel, light brown, and medium brown.
Soft Autumn Features: Contrast
Because the overall characteristics of a soft autumn are muted, there's light-medium contrast when it comes to facial features. This means the colors and features of the face such as hair, eyebrows, eyes, and lips blend together, or are more tonal, as opposed to contrasting with each other.
Related Post: How To Style Your Clothes Using Juxtaposition
You can take a photo of yourself and edit it to black and white or grayscale to determine your level of contrast.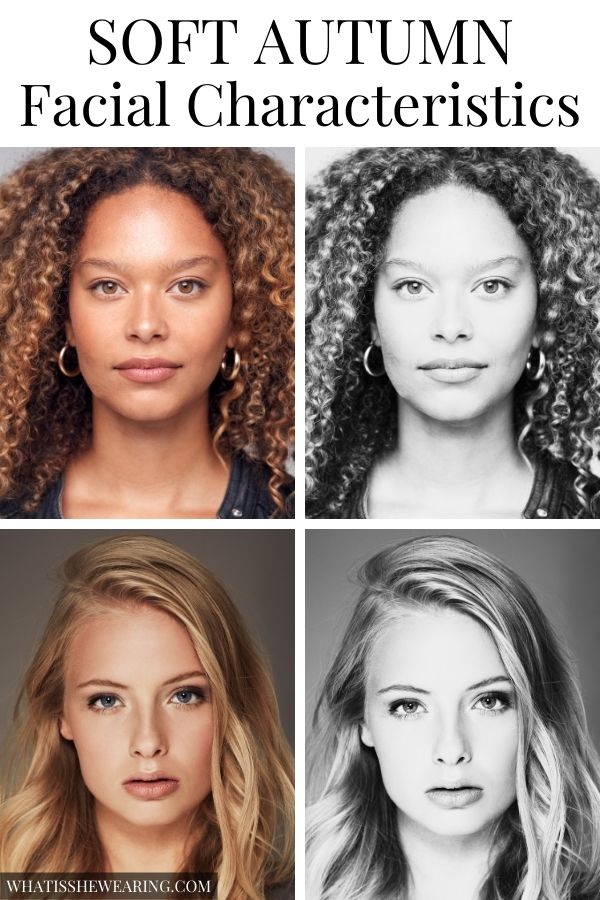 Soft Autumn Features: Hair Color
Your natural hair color is what's used to determine whether you're a soft autumn. Overall, hair color has warm undertones, develops golden highlights in the sun, and includes the following colors:
Dark brown
Mahoghany
Golden medium brown
Golden light brown
Golden blonde
Golden strawberry blonde
Soft Autumn Vs. Soft Summer
What's the difference between a soft autumn and a soft summer? The value of the hue. Soft autumn is warm-toned while soft summer is cool-toned.
These two color seasons are next to each other on the 12-season color wheel, which is why soft autumn isn't as warm-toned as a true autumn is. Still, this can be confusing if you're new to color analysis and trying to determine whether a soft autumn color palette suits you.
A soft summer has an undertone of gray in their eyes, a cool skin undertone, and their hair color has an ashy tone to it. Even their natural lip color is on the cool side, with a pinkish tint.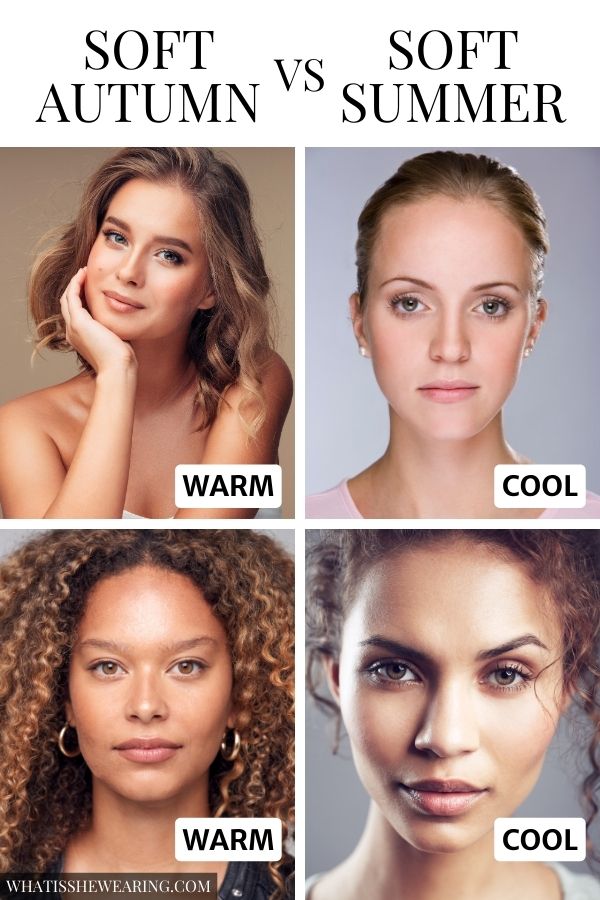 Soft autumns look best in muted, slightly warm shades while soft summers look best in muted, cool shades.
Related Post: Style Types Fashion | What's Your Style Personality?
Soft Autumn Celebrities
These celebrities have characteristics that classify them as candidates for a soft autumn color palette.
Soft Autumn Color Palette
The colors for soft autumn are slightly warm and medium-intensity, with the soft inspiration of summer. This color palette is subtle and beautiful, complimenting the features and complexion of a soft autumn. The emphasis is always on the muted, unsaturated versions of these colors as opposed to light, bright, or dark hues.
Related Post: The Secret To Elegant Classy Style
The following colors make up the soft autumn color fan at a high level:
Ivory
Beige
Cream
Greige
Taupe
Dusty rose
Mauve
Teal
Clay
Earthy browns
Warm pinks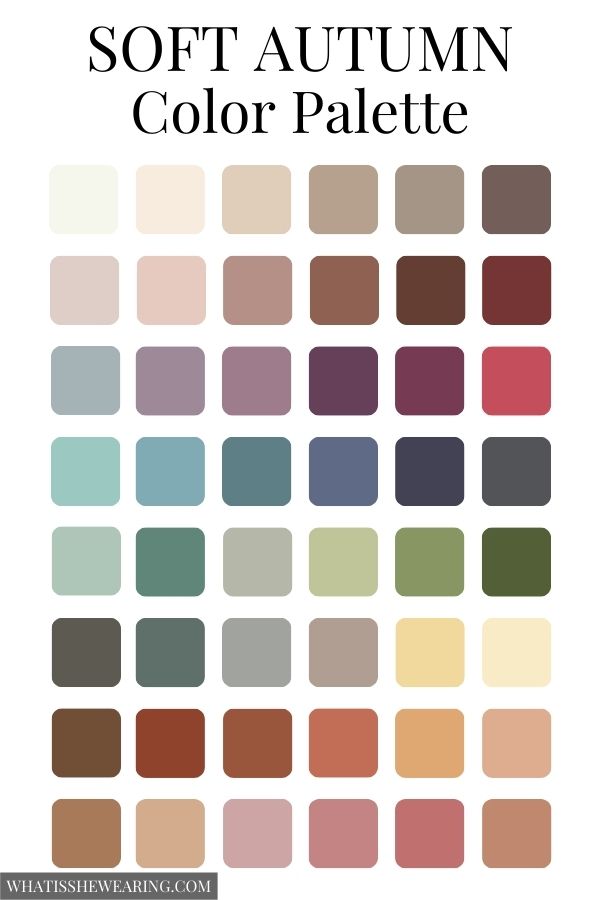 Soft Autumn Neutral Color Palette
When planning a new wardrobe for a soft autumn, muted neutrals are the way to go. Opt for soft, earthy tones with a slight warmth to them such as the following colors:
Ivory
Cream
Beige
Greige (beige + gray)
Khaki
Taupe
Clay
Warm, earthy browns
Muddy gray (this is a version of gray that almost looks like a dark khaki brown)
Related Post: How To Shop For A New Wardrobe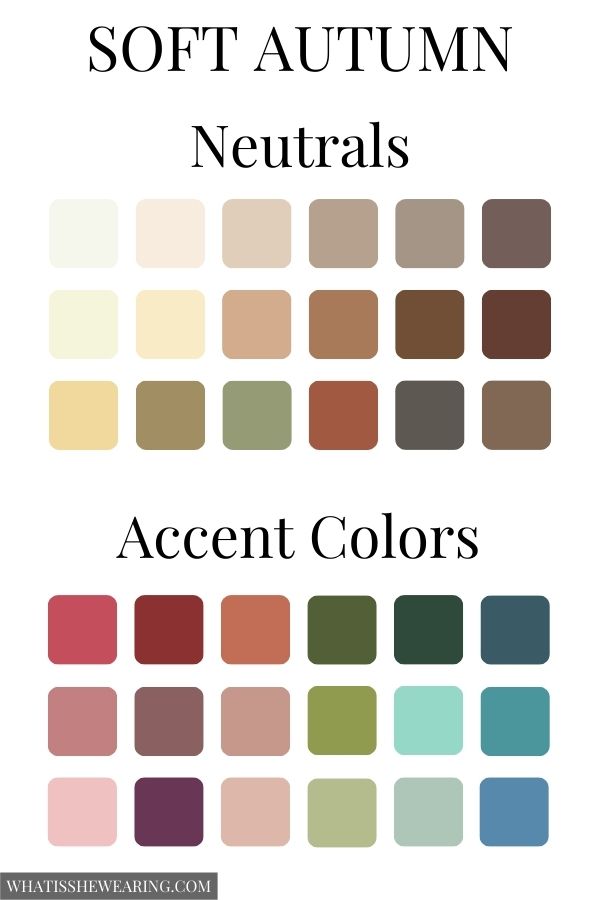 Because everyone's features are unique, the best way to find your favorite colors is through trial and error or with the draping technique. The draping technique is where you sit in front of a mirror or camera in natural light and drape a solid-colored fabric over your front area, like a scarf or poncho.
If your face looks drab, washed out, or blotchy, this isn't a good color for you. However, if your face looks bright and your skin tone is more even, you've found one of your best colors.
Related Post: 10 Elegant Style Tips To Look More Sophisticated
Soft Autumn Colors To Avoid
Because soft autumn's focus is on subtleness and blending, high contrast colors and shades should be avoided. This includes colors that are too cool, bright, light, or dark.
Unfortunately, the most classic neutrals aren't included in the soft autumn color palette: black, white, gray, and navy. Black is too dark, white is too bright and cool, gray is too cool, and navy is too dark and saturated. These colors are less harmonious with a soft autumn's skin tone and features, which can cause a washed-out appearance.
Traditional shades of primary colors, tertiary colors, and jewel tones are also too saturated and deep against a soft autumn's skin tone. Styling is all about cohesion and balance. Soft muted colors maintain the balance of a soft autumn while intense, bold colors throw off the balance.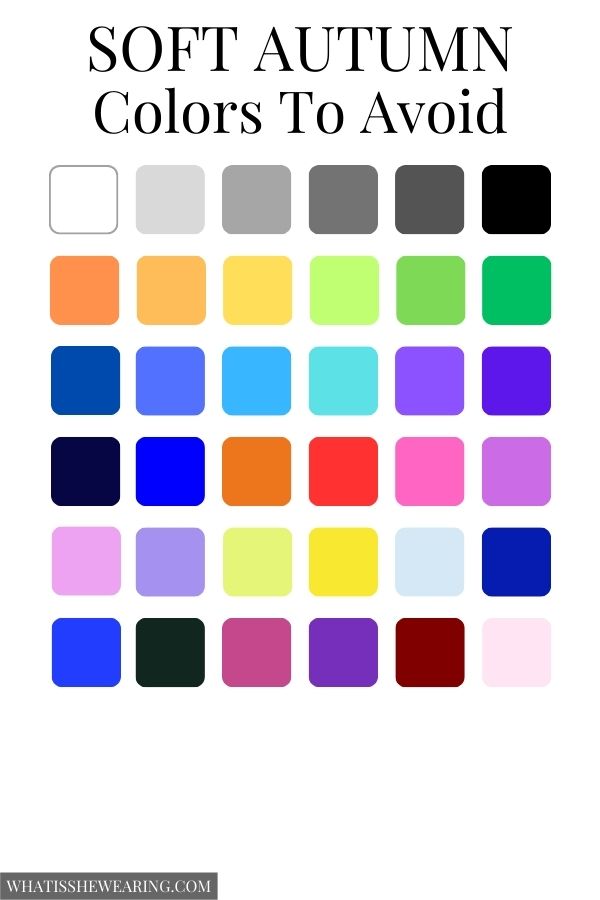 Additionally, light pastels and neons should also be avoided as these tend to be light, cool, or saturated. Anything stark and intense will not complement the subtle features of a soft autumn.
Related Post: 21 Everyday Fashion Tips To Elevate Your Style
Soft Autumn Color Analysis
The best method for styling a soft autumn is to go with a tonal or monochromatic color scheme. The blended aesthetic of a tonal or monochromatic outfit harmonizes with the soft autumn's low-medium contrast features.
Tonal Color Palettes For Soft Autumn
Let's look at some harmonious, tonal color palettes for a soft autumn. A soft blend of similar hues with a darker or lighter accent piece is a great method for how to put an outfit together. Choose two or three colors for your main outfit and one extra as an accent, such as in your handbag, shoes, scarf, or headband.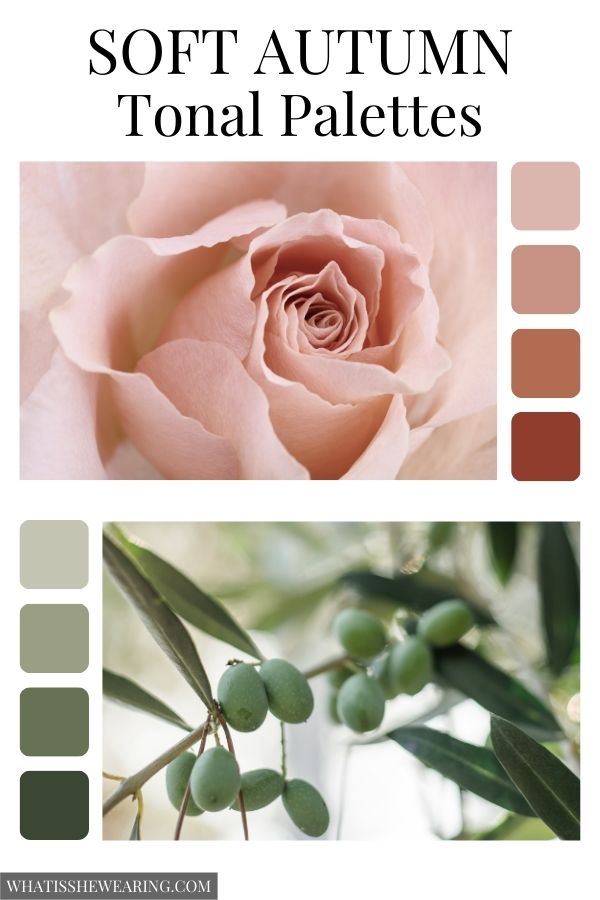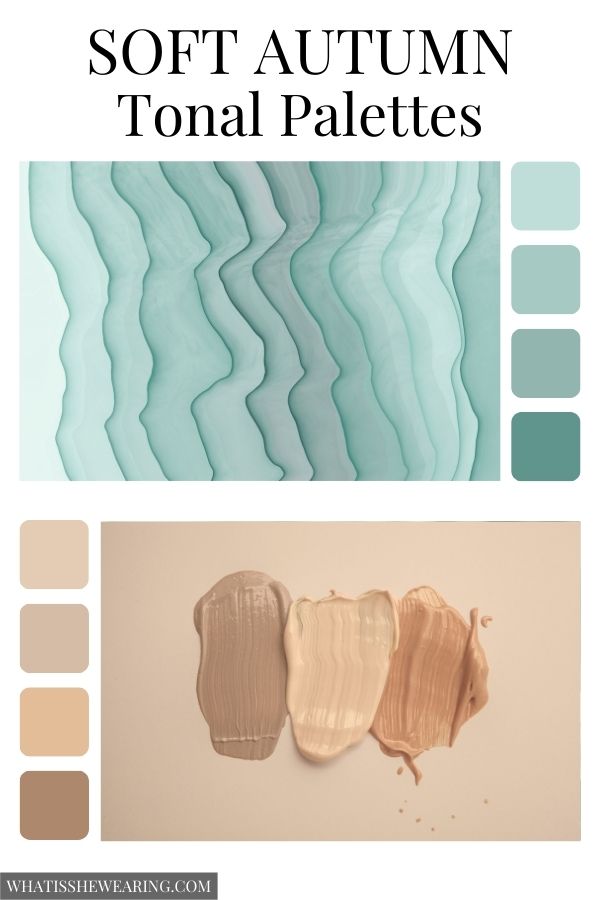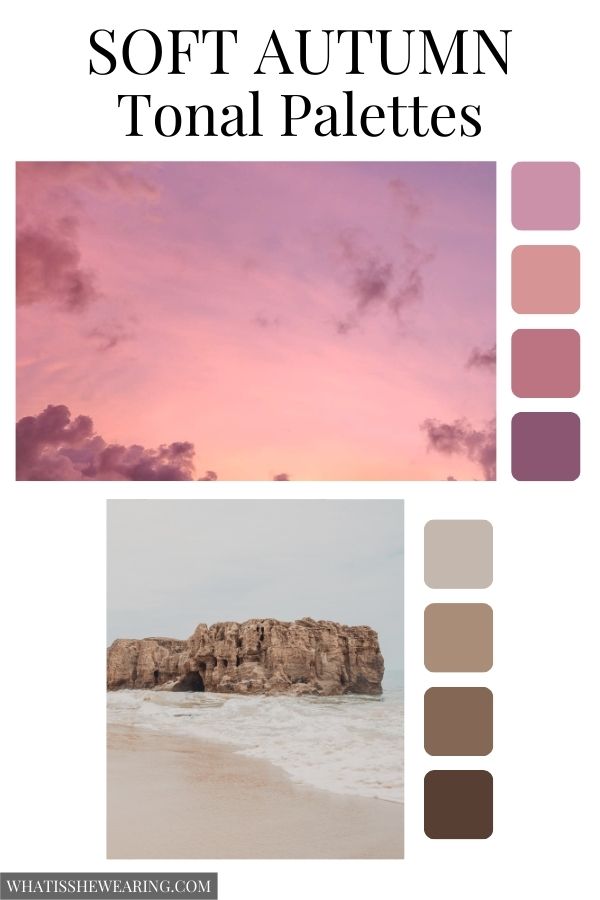 If monochromatic dressing, use these guidelines to style a neutral outfit:
Ivory instead of white
Beige instead of gray
Taupe instead of charcoal
Earthy brown instead of black
Muted teal instead of navy
Khaki instead of saturated camel
Related Post: How To Dress Simple But Stylish | 7 Easy Tips
Soft Autumn Personality
These color palettes also reflect the soft autumn personality. When dressing with different colors (as opposed to tonal or monochromatic), it's best to stick with three colors.
The rule of thirds is a design concept that presents a balanced and aesthetically pleasing look. Too many colors can cause your outfit to look busy, which goes against the soft autumn paradigm of subtle and muted.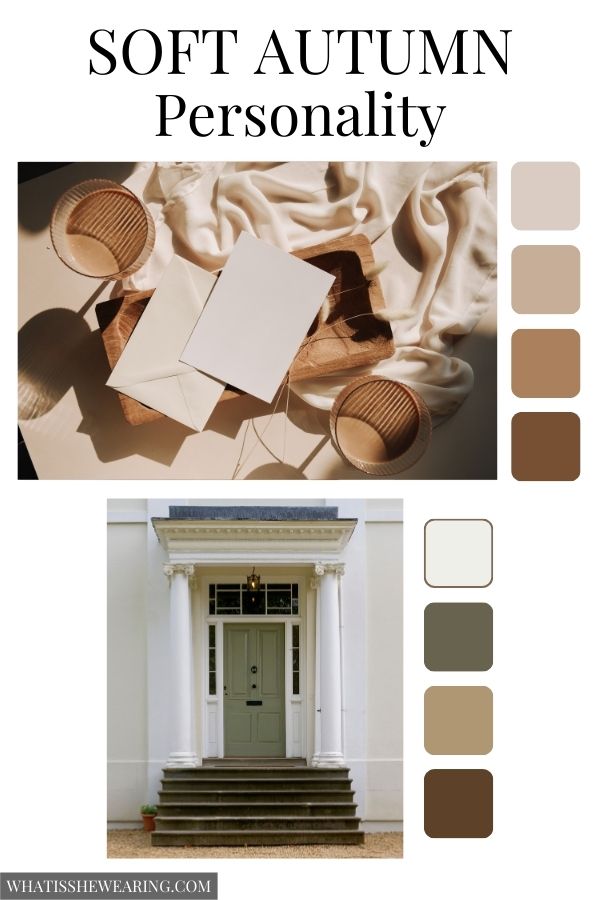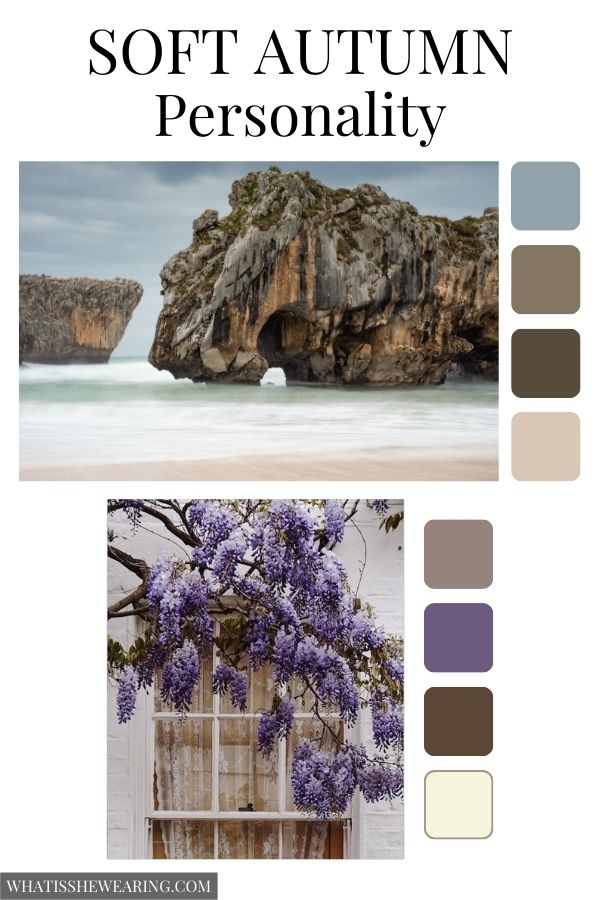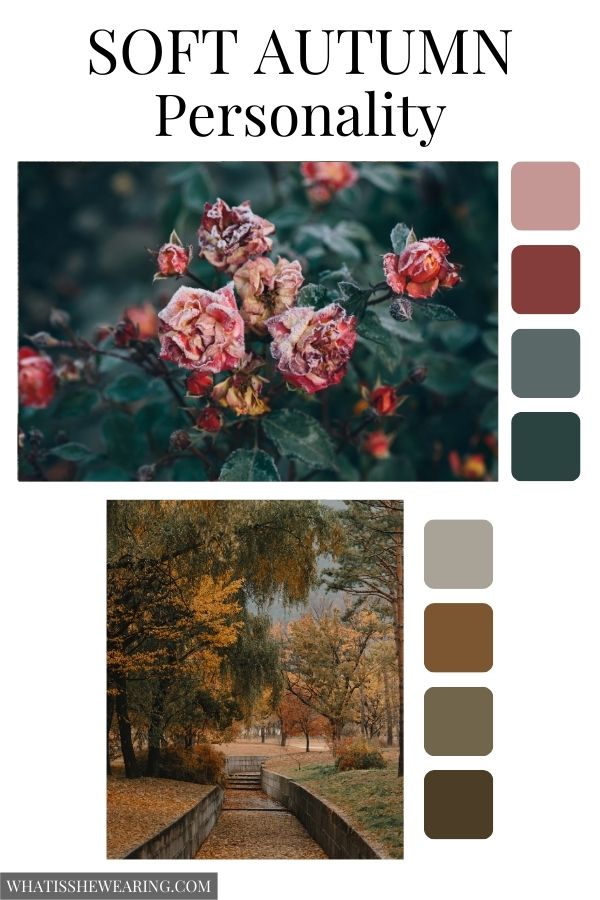 To style with neutrals such as a t-shirt, knit, or pair of trousers, swap out any of these colors with an off-white, ivory, or beige.
Soft Autumn Outfits
Soft autumn outfit inspiration includes different color schemes, styles, and prints to create a well-rounded wardrobe.
Soft Autumn Outfits Based On Color
Blue-green hues are the best when it comes to soft autumn blues. These look great styled with ivory, beige, gold or rose gold jewelry, and pearls.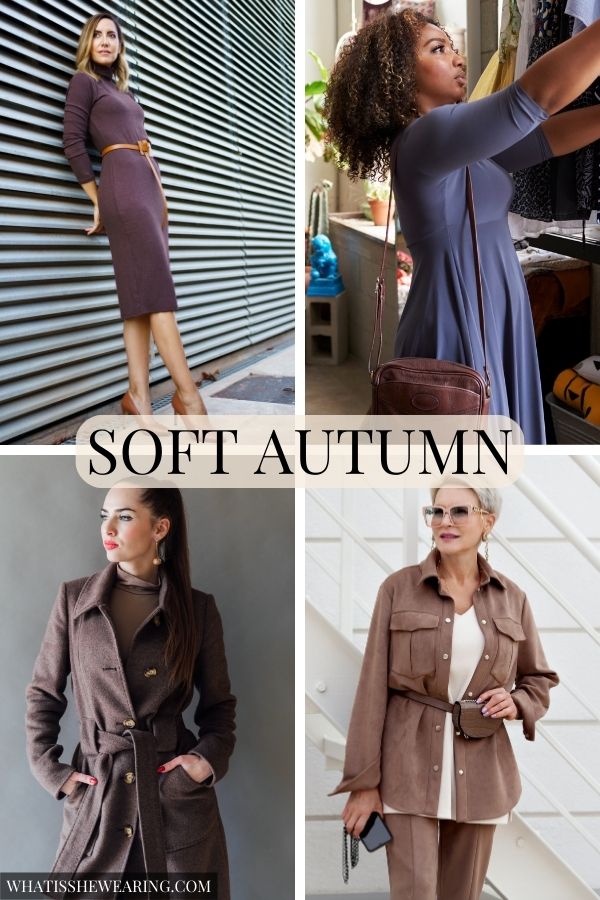 Brown, taupe, and purples look great with ivory, cream, beige, tan, dusty rose, gold jewelry, pearls, and tortoise shell.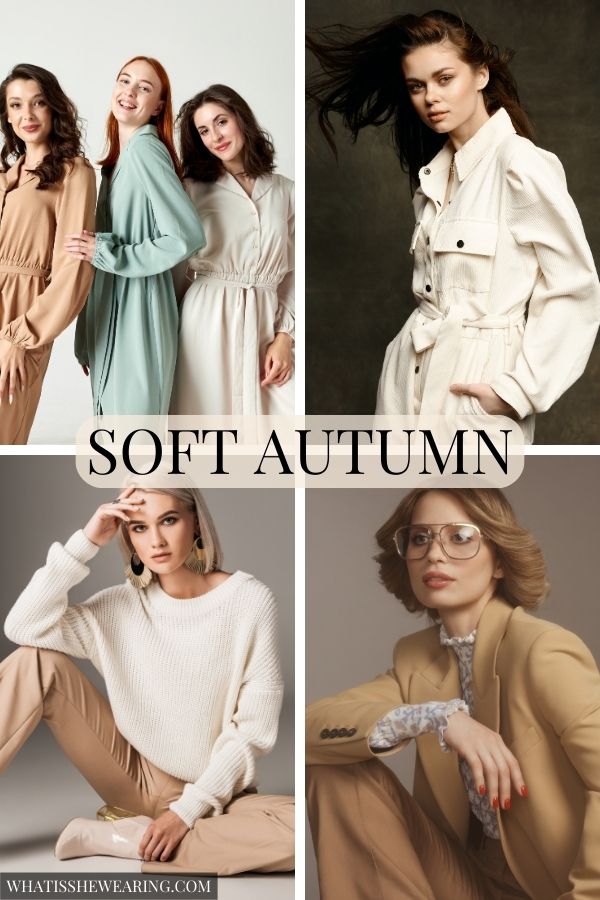 Soft autumn light neutrals look great styled with other neutrals, rose gold and gold jewelry, pearls, earthy browns, and the accent colors mentioned earlier to give them a pop. There are so many gorgeous neutrals in a soft autumn color palette, it's the perfect foundation for starting a capsule wardrobe.
Related Post: How To Start A Minimalist Wardrobe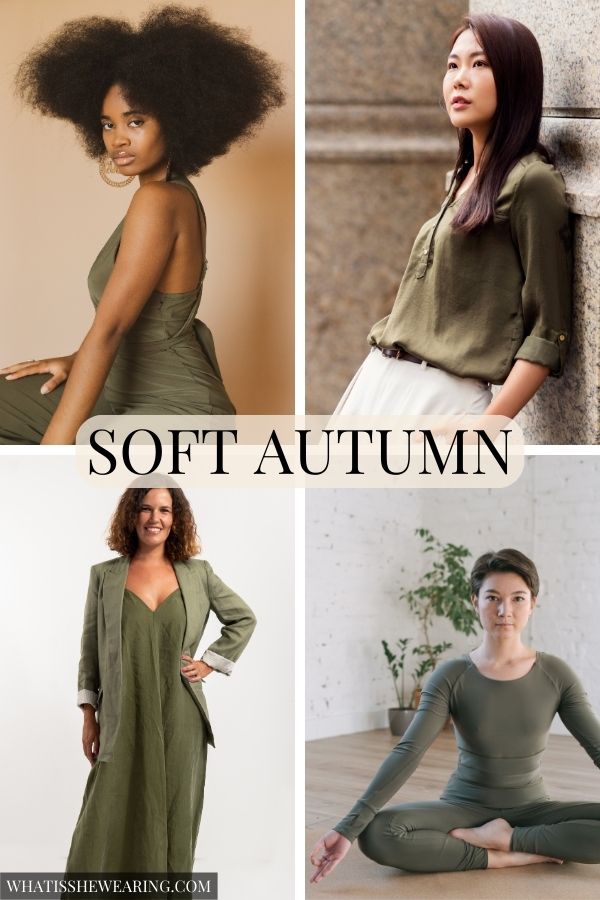 Earthy greens in olive or sage look amazing on a soft autumn complexion. These colors style with all neutrals and also look great when combined tonally. Add brown, beige, or tan accessories, tortoiseshell, and gold jewelry for a winning outfit.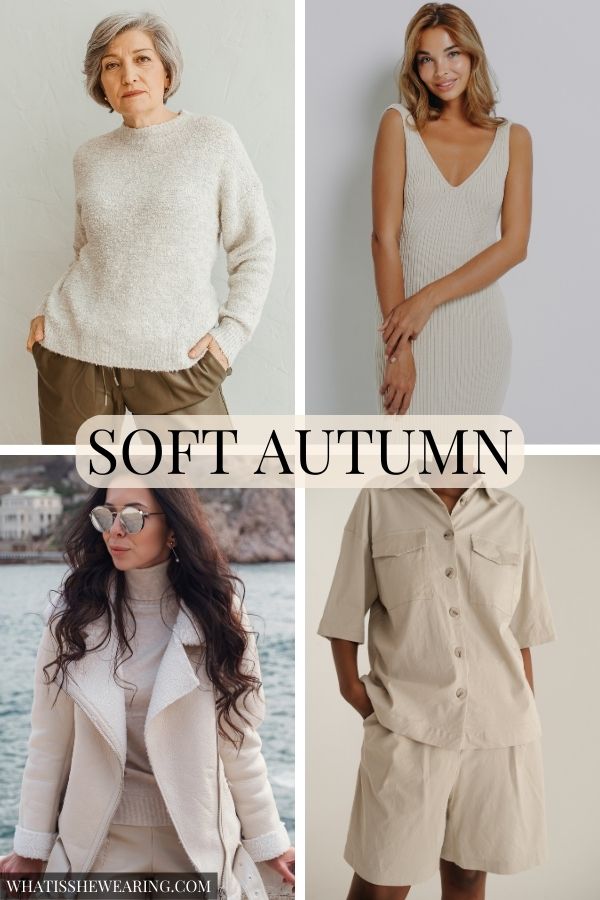 Beige looks chic styled on its own for a monochromatic or tonal outfit, but also plays well with other neutrals and soft autumn color schemes. Opt for beige instead of white for creating casual chic outfits.
Regarding soft autumn shoes, your go-to color is beige (as opposed to traditional black). Beige or a neutral skin color is universally flattering against all colors for footwear.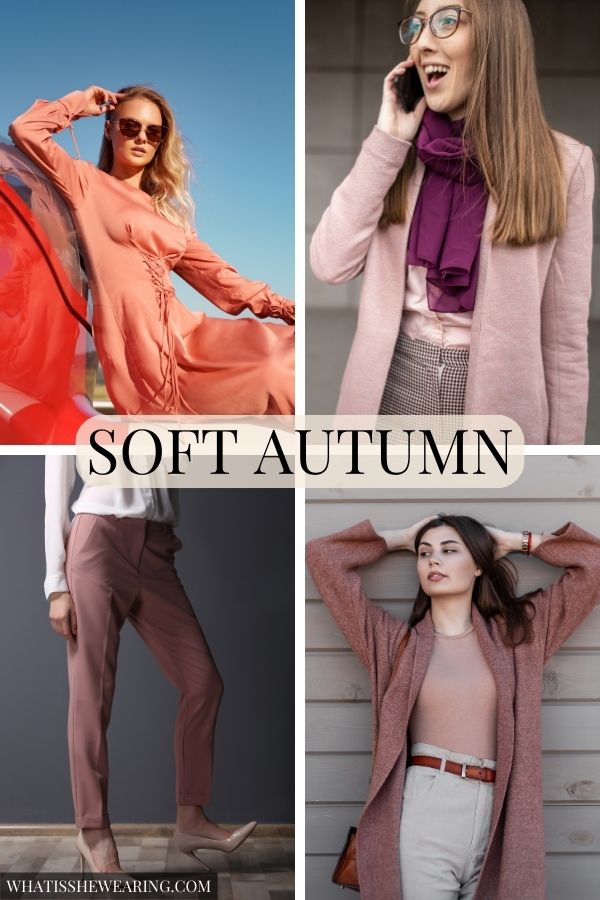 Soft autumn pinks style well with beige, ivory, cream, clay, pinkish-purple, taupe, and brown. Try adding rose gold jewelry to elevate your look.
Soft Autumn Dresses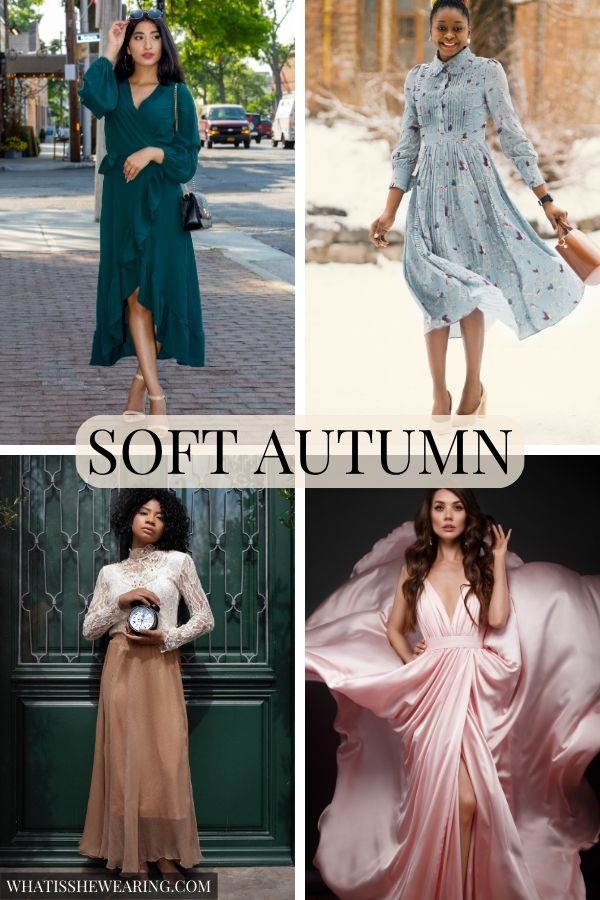 Muted hues are the most elegant on a soft autumn when it comes to dresses and skirts. If opting for a darker shade, like the teal dress shown above, style with lighter neutral accessories such as beige, to balance out the depth.
Related Post: How To Style The Perfect Slip Dress Outfit
Soft Autumn Prints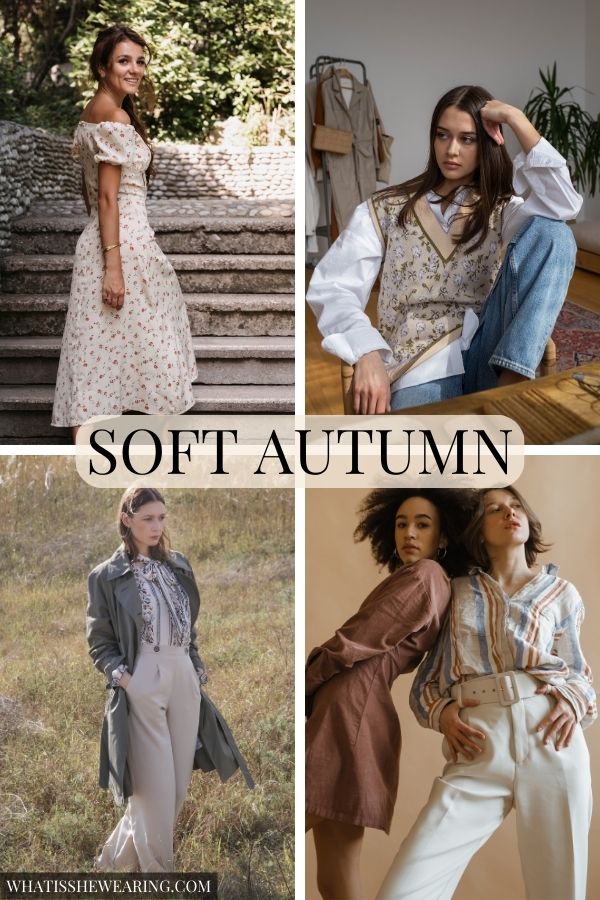 Keeping with the theme of soft and subtle, the best prints for a soft autumn are muted and slightly warm. Florals are wonderful because they embody the earthiness and softness of the aesthetic. These styles look amazing with neutrals to give your outfit some depth; or they look just as chic styled on their own.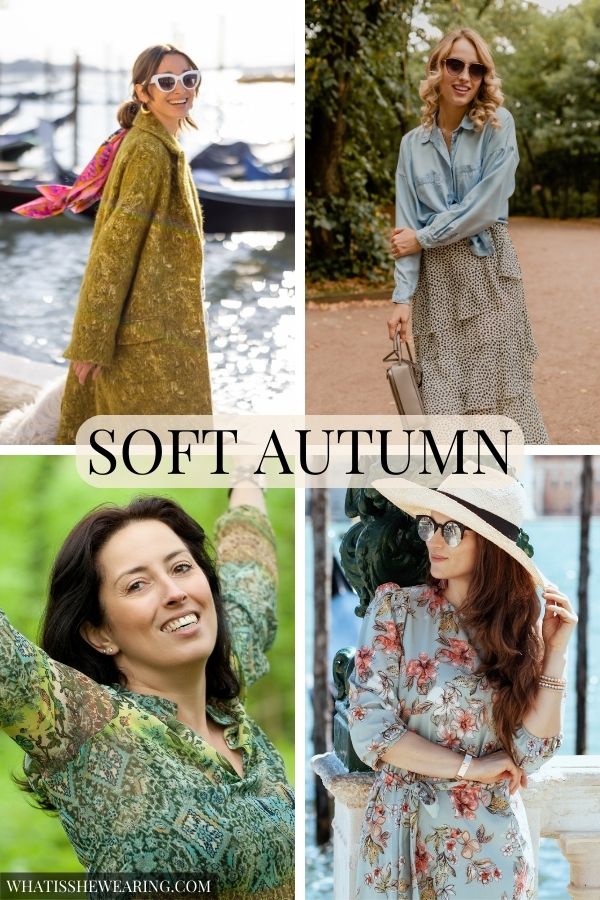 Tone down the intensity of a print by styling with a muted or neutral item. If you love bolder prints, try them in a sheer fabric to soften the intensity. And of course, a small accent piece in a bolder color or print is another way to get more versatility in your wardrobe.
This post was all about the soft autumn color palette
Related Posts: