Trying to decide what to wear to a pumpkin patch? Here are nine cute outfits that are equally stylish and practical for a day out on the farm!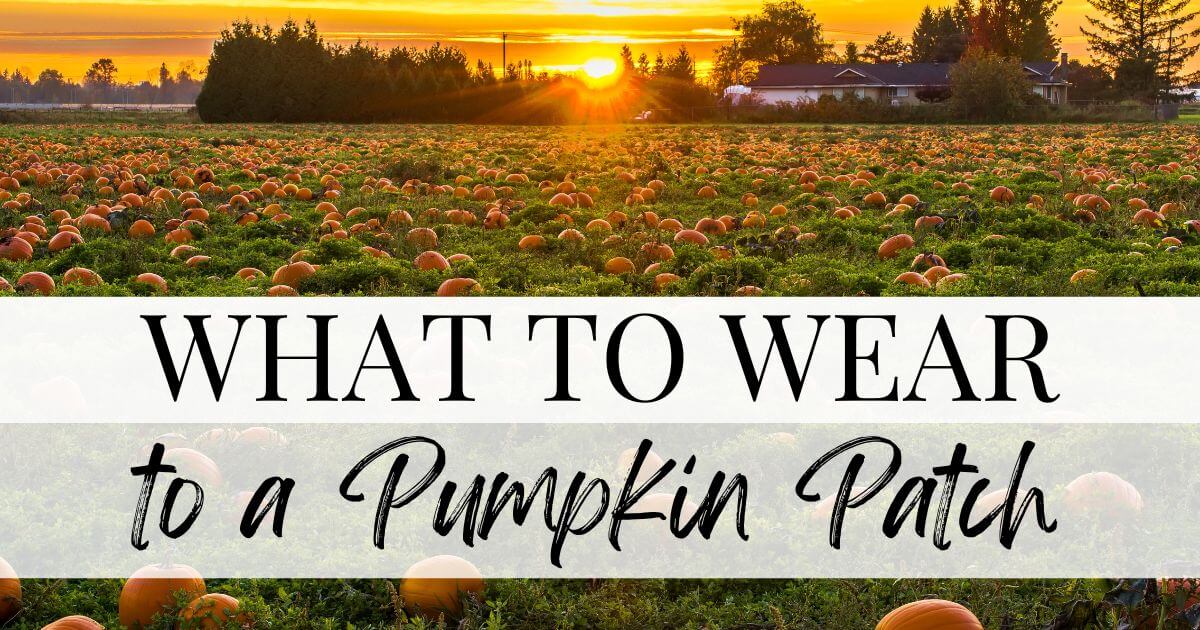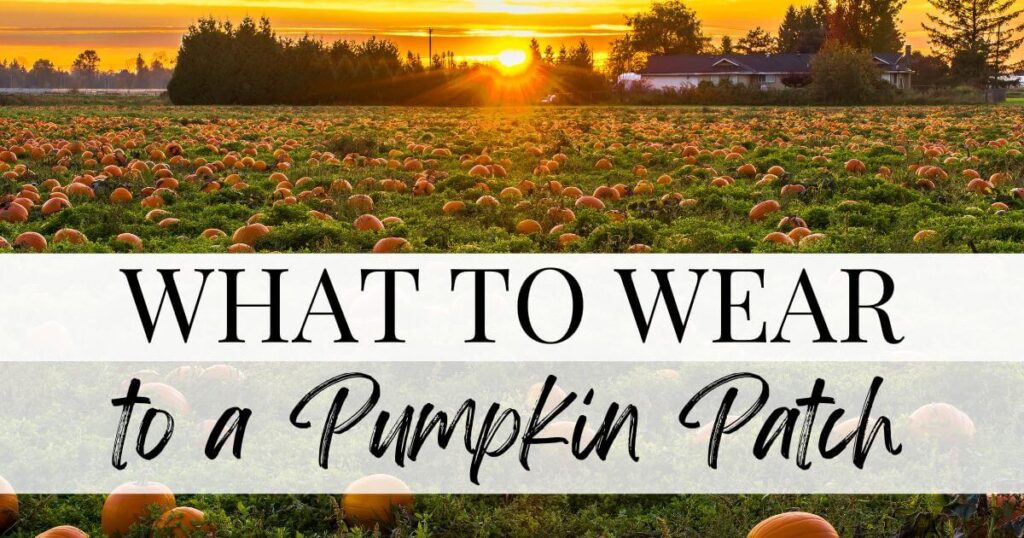 Good for you for deciding to venture away from traditional flannel attire for what to wear to a pumpkin patch. Although it's an obvious choice, you're looking for something different, right?
The perfect pumpkin patch outfit is comfortable, weather appropriate, and most importantly stylish for all those Instagram-worthy and TikTok-friendly moments.
Here are nine go-to outfits that don't look ridiculous for a farm, and will have everyone else wishing they put a little more thought into their own outfit.
This post is all about what to wear to a pumpkin patch.
What To Wear To A Pumpkin Patch Outfit Ideas
1. Knit Poncho, Slim Pants, Tall Boots
I can't think of any better time than fall to wear a knit poncho. A coat or jacket can be cumbersome when you're doing outdoor activities, but a poncho or cape is a perfect style in-between a sweater and a jacket.
Depending on the temperature you have the freedom to layer as much as you want underneath your poncho. I always recommend a good pair of thermals that hug your skin. Top those with a turtleneck sweater and a poncho over top and you're set for a but cool day.
If the temperature is milder, opt for a fitted long-sleeve tee underneath.
Ponchos look best styled with leggings, skinny jeans, or slim jeans tucked into a pair of tall boots. Ensure your poncho is longer and covers your backside for the most comfort and style.
Related Post: What To Wear In 50 Degree Weather | 6 Go-To Looks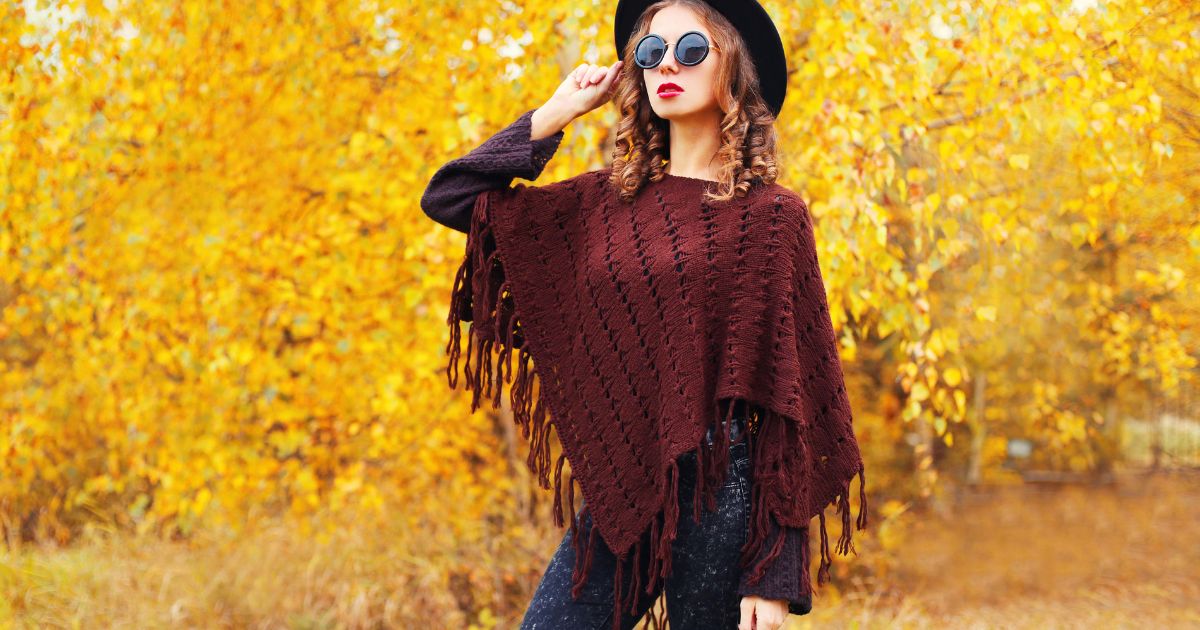 2. Basic Top, Jeans, Plush Jacket, Combat Boots
Pair together your most comfortable and stylish pair of jeans with a basic top (long sleeve, short sleeve, or tank). Top the outfit with a plush jacket. The jacket is the star of the show. This look enables you to be casual but also cute. I've never known a plush jacket to make anyone unhappy. Plus, your favorite band t-shirt looks good with it, too.
Related Post: What To Wear To A Concert | Best Concert Outfits For Every Season
Ensure the hem on your jeans is short enough so they don't drag on the ground. Opt for a cropped pair or tapered style that falls over your boot, but isn't too bunchy at the hem. Avoid super wide-leg jeans and bell bottoms, which might be annoying if you're running around a farm.
A pair of combat boots or flat ankle boots are your best bet for walking through a field.
3. Casual Dress, Ankle Boots, Hat + Optional Leather Jacket
What to wear to a pumpkin patch when it's hot? A casual dress that's loose or semi-fitted to keep you cool. Choose a style that's midi-length-knee length because you don't want your dress dragging on the ground or giving you a Marilyn moment on a windy day.
Boots will always be my shoe of choice for visiting a pumpkin patch due to the mud or dirt…and in case a pumpkin is accidentally dropped on your foot. Am I dreaming here? But seriously. That would stink. Any type of structured boot will work, and cowboy boots are always fun with dresses for that country aesthetic. A perforated leather boot that's breathable is good for warm weather, too.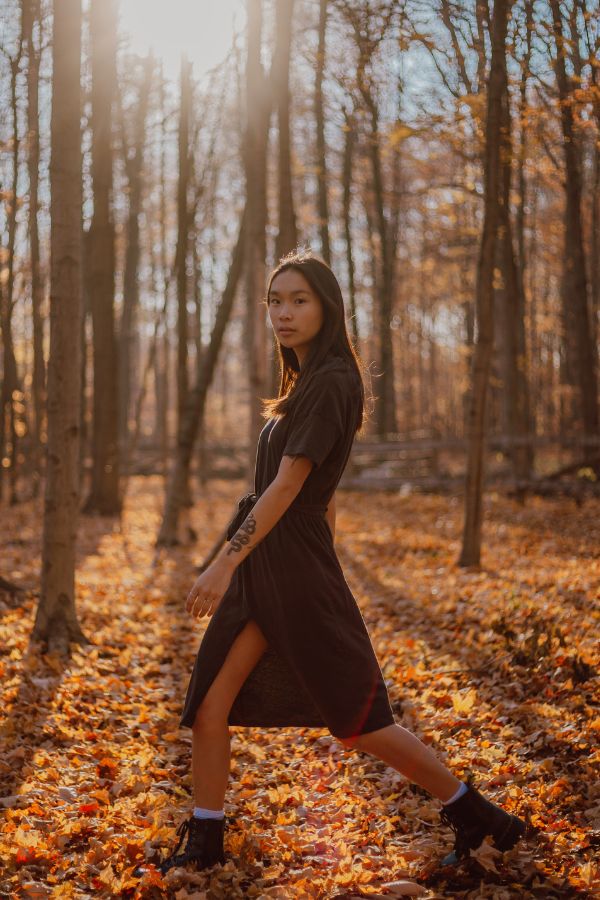 A hat is essential when you'll be out on a field with no shade on a sunny day. Opt for a wide-brim hat in wool on cooler days or a straw hat on hot days.
The leather jacket is only necessary if the weather calls for one…which is usually a yes in my neck of the woods.
Best colors to wear to a pumpkin patch? Fall-inspired colors such as orange, tan, brown, camel, mahogany, and red. Don't forget moody floral and autumnal prints. Avoid light colors that can get stained from carrying a pumpkin or a child with dirty shoes.
Related Post: What Dresses To Wear To A Wedding: Summer Edition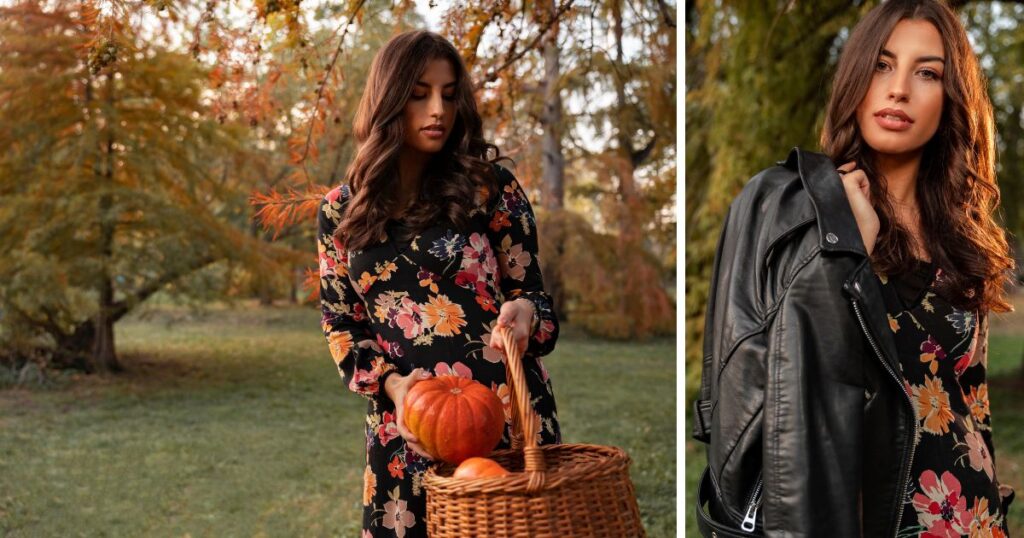 4. Black Knit Top, Black Jeans, Patterned Scarf, Chelsea Boots
For the ladies who love to wear black, here's your look for what to wear to a pumpkin patch. Keep it simple in a head-to-toe black outfit, including your boots. Add a contrasting scarf to give the outfit some pop.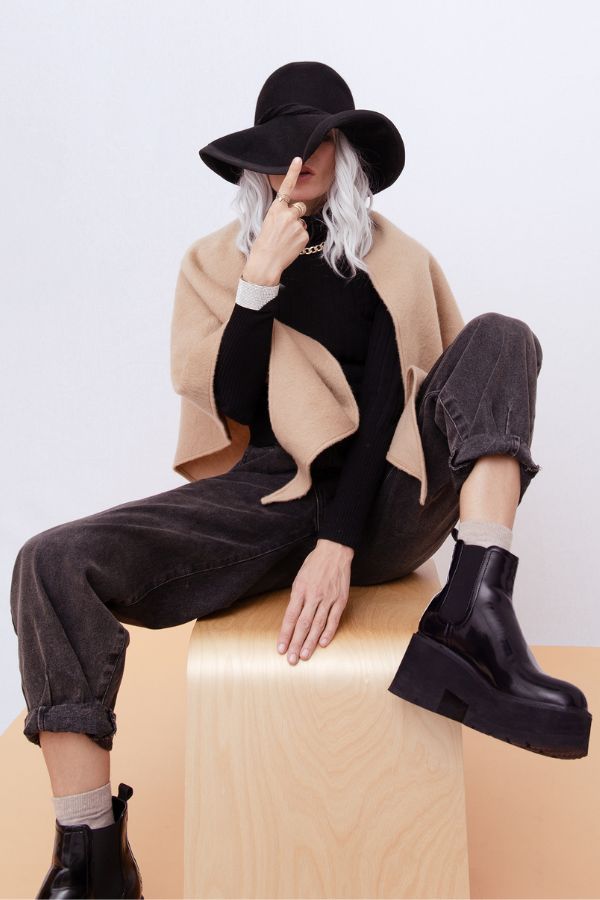 Try a patterned scarf to brighten things up a bit. This outfit is also perfect if you're heading somewhere else after the farm and don't have time to go home and change.
Related Post: 15 Perfect Bar Outfits For Your Next Night Out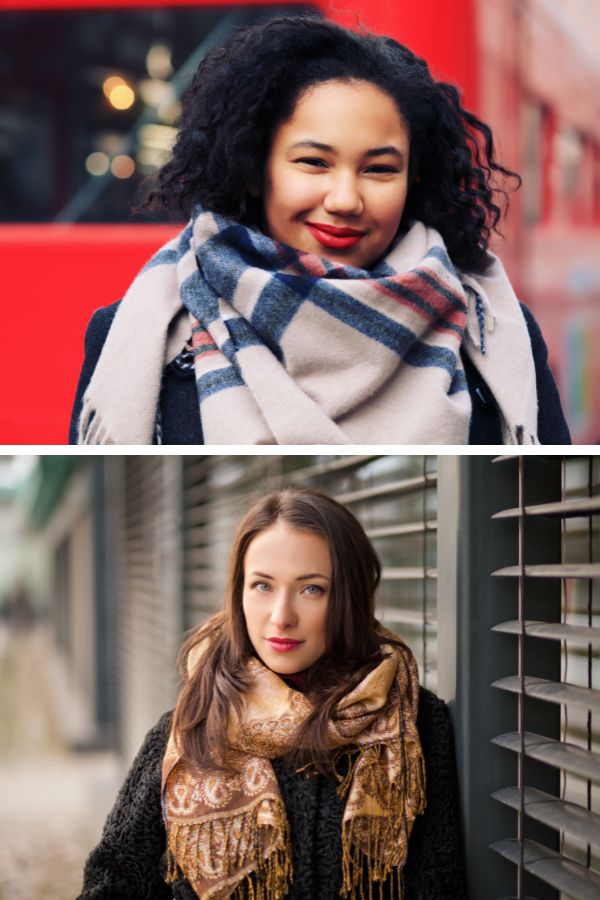 5. Cute Long Sleeve Top, Jeans, Boots, Skinny Scarf
This look's for mild days when you won't need a coat. Find a cute top that's at least semi-fitted or you can wear tucked in (to keep you covered if you bend over while searching for a pumpkin). Choose a pair of jeans that you can move around in (e.g. avoid low-rise styles unless you have another garment covering you from behind 🙂 ).
Skinny jeans look best with tall boots, but looser styles can do an ankle boot.
Top your look off with a cute skinny scarf for effortless fall vibes for what to wear to a pumpkin patch.
Related Post: How To Dress Simple But Stylish | 7 Easy Tips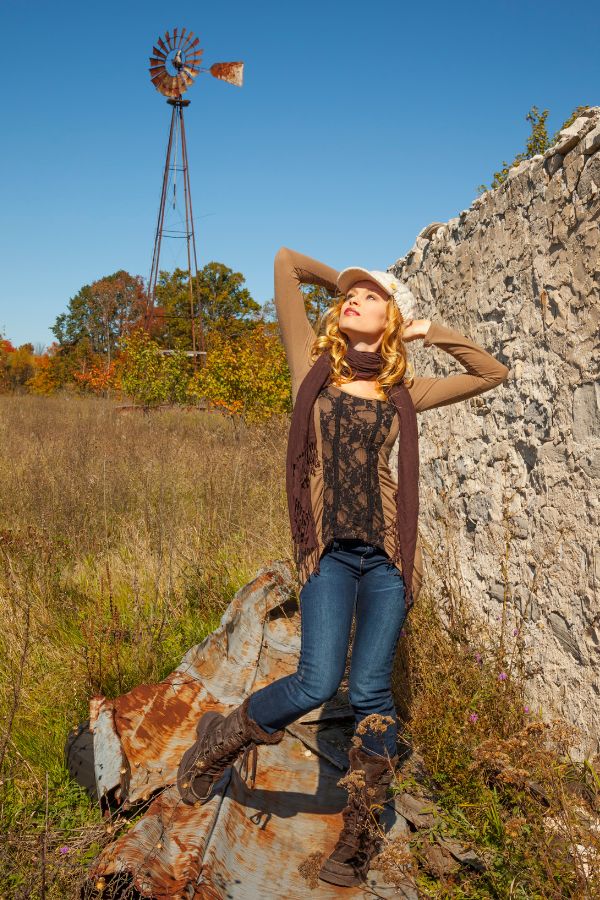 6. Striped Top, High-Waisted Jeans, Long Vest
What other print can you wear to a pumpkin patch that's not flannel? Look for a striped top or a variation of a Breton shirt in a darker color scheme. Add a long vest for warmth such as a fleece vest, shearling vest, or thin puffer vest. Puffer vests can look bulky, so opt for a slim style and layer up underneath instead.
Related Post: French Style Tips | 10 Essential Rules To Live By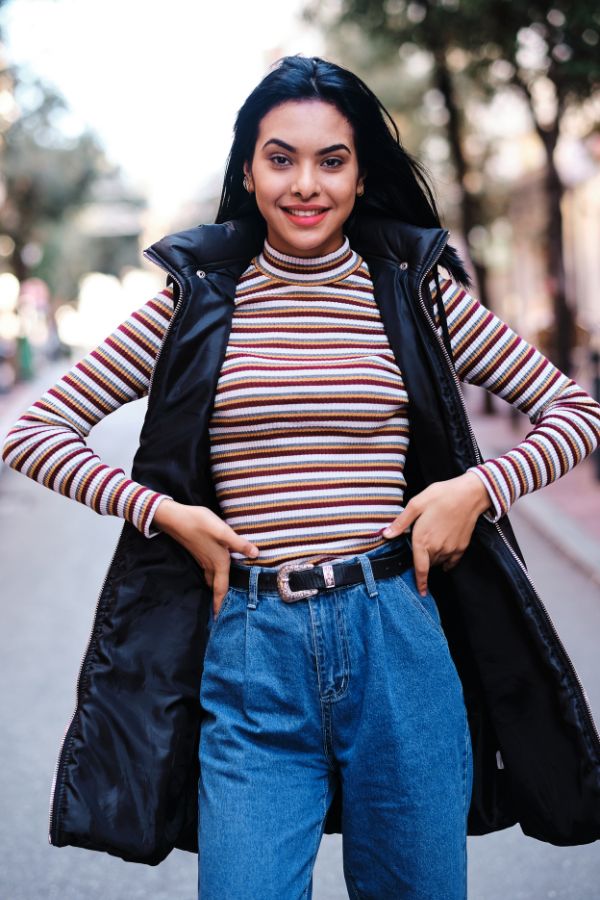 7. Lightweight Trousers, Loose T-Shirt, Footbed Sandals
This is another look for pumpkin patch outfits for hot weather. Choose a pair of lightweight trousers or cargo pants in a breezy fabric and style them with a loose t-shirt or tank that can be tucked into your pants. Linen, cotton, hemp, and Tencel are lightweight fabrics for hot days and they don't capture sweat like stretchy fabrics.
If it's too hot to wear boots, opt for a casual sandal that's structured to protect the bottom of your feet, like a footbed sandal.
A hat is always recommended for a hot weather day at a pumpkin festival.
Related Post: These Styles For Rectangle Body Shape Are So Flattering
8. Sweater, Wool Skirt, Wool Coat, Wellies
For the lady who always dresses with a dose of the English countryside, this look's for you! On cooler days, style a sweater with a wool skirt (knee-length) and a pair of knit tights. Add your favorite wool coat and wellies (or rain boots). This is great if it's rained recently or you don't want to get your shoes messy.
Rain boots come in so many cute styles these days and are perfect for wearing to a farm, winery, or field. Choose a cute knee-high sock for even more warmth.
Opt for a more casual style wool coat that can be worn open or closed. Add a scarf or hat as needed. Bring a change of shoes to head out for a bite and a drink afterward!
9. Dark Jeans, Short Tailored Coat, Riding Boots, SCarf
This last look is a great classic style for any fall activity. Dark jeans are a great option for the changing season. Short coats are appropriate before the temperature drops to winter. Choose a tailored coat that's semi-fitted for warmth and looks well put together. Riding boots are an elegant style of a tall boot, and are perfect for walking around in grass, dirt, or a field.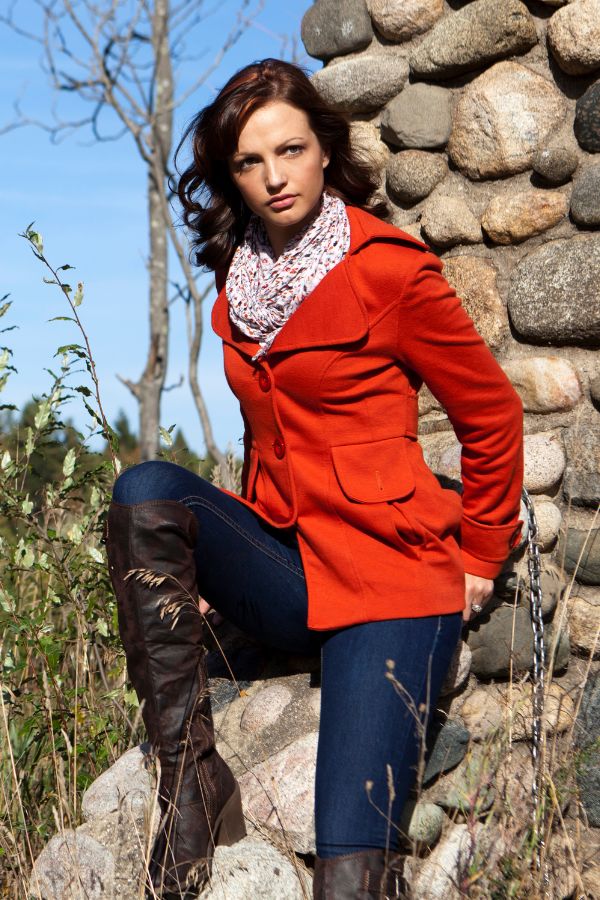 Don't forget a cashmere scarf to cozy up in if it's windy!
This post was all about what to wear to a pumpkin patch
Related Posts: