Are you looking for the perfect elegant outfits to level up your style? These classy looks are destined to become your go-to's when you want to look your best!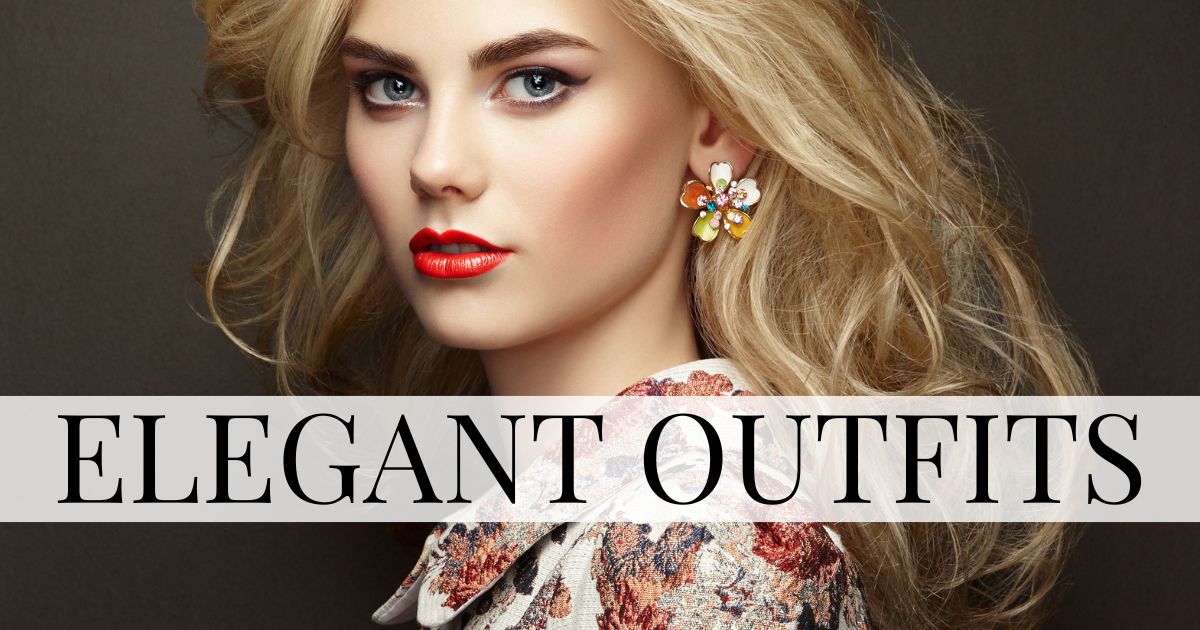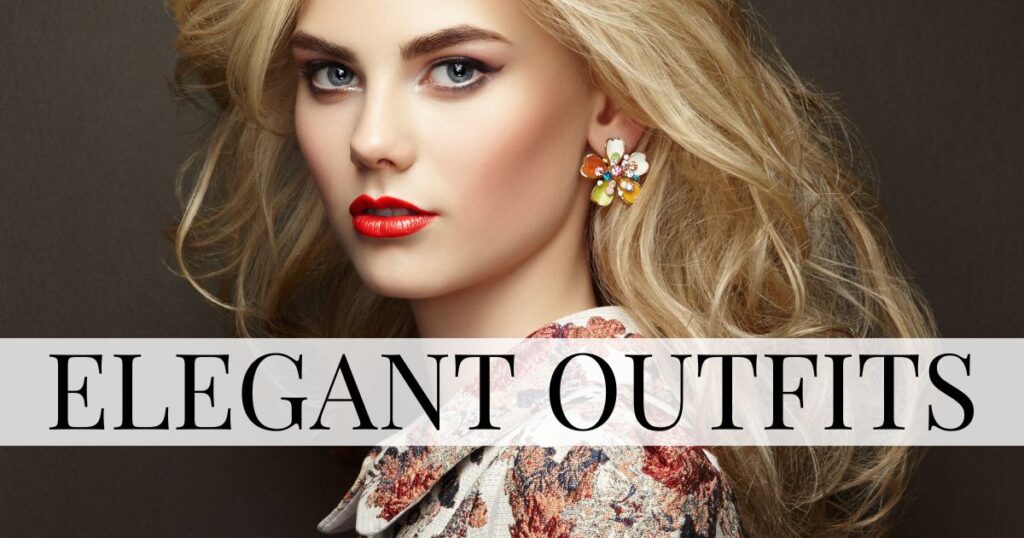 Creating elegant outfits is easy if you plan your wardrobe and make smart purchases. Elegant dressing requires daily practice around creating an overall elegant aesthetic in both casual and formal environments.
The best way to create elegant outfits is to have a set of go-to looks ready for any occasion that calls, be it casual, work, summer, winter, or travel. Here are five classic looks to jumpstart your journey into dressing elegantly every day.
This post is all about elegant outfits.
Elegant Outfits For Ladies
1. Elegant Classy Outfits: The Shirt Dress
If you're looking for one of the quintessential elegant outfits, look no further than the shirt dress. Shirt dresses have been around for over a century, but the biggest evolution was when Christian Dior introduced the "shirtwaist" dress with his New Look collection in 1947. A dress as versatile as the shirt dress can be worn day or night, with different accessories to dress it up or down.
The shirtdress is perfect to create elegant classy outfits because of the classic collar and neckline and the feminine A-line cut, which is flattering on most figures. Look for a shirt dress with a classic collar, buttons down the center, an A-line or cinched waist style, in a knee-length or longer cut.
Pro-Tip: Change the aesthetic of your look by swapping out the fabric tie on your dress and with a stylish waist belt.
A sleeveless shirt dress is perfect as a summer day dress or styled with a cardigan in the springtime. Long sleeves are best for fall and winter when you can fit a thin, insulating layer underneath, and a structured jacket on top.
Pair yours with pumps, flats, or sandals in the warmer months, or a pair of tall boots in the cooler months. Don't forget to add any of the following to your look as well: a handbag, hat, sunglasses, or neck scarf.
Related Post: What Dresses To Wear To A Wedding: Summer Edition
Elegant Shirt Dresses
Try this breezy cotton poplin shirt dress with a crotchet detail. It's in a classic white for spring and summertime, with a tiered skirt, pockets, sleeves you can push up, and a removable waist tie. Click here to view the Marlena Dress from MISA Los Angeles.
Oh my goodness…this olive green shirt dress is incredibly feminine with a midi-length pencil skirt. I haven't seen this shape before and this brand is known for its impeccable tailoring. Add a waist belt to emphasize your shape! Click here to view the Rome Dress by FREY.
I'm getting total goddess vibes from this long, maxi shirt dress with golden embroidery at the bottom. It's conservative, but feminine and classy with covered buttons and a tie waist. This would be perfect for tall ladies. Click here to view the Long Shirt Dress from Mango.
I love this classic blue and white striped shirt dress that wraps for a perfect fit. It's knee-length and has 3/4 blouson sleeves in a cotton blend. Flirty and elegant. Click here to view the Striped Shirt Dress from New York & Company.
Need a classic set of hoops to style with your dress? These thick hoop earrings are a fresh twist on the classic style. Click here to view the Curved Hoop Earrings from Micas.
2. Elegant Work Outfits: Camel Separates
The best method to create elegant work outfits is by steering away from the typical black pieces. Black clothing and the business world are best friends because it's versatile, safe, and doesn't show stains. Due to this a black pair of pants, a black blazer, or even a black dress isn't anything special when you're in the office.
Elegant outfits are anything but basic. Camel is a beautiful neutral color and softer against the skin than black. One of the tricks to creating elegant outfits is to wear light-colored neutrals as opposed to dark. Camel takes you somewhere in between and is extremely versatile to pair with neutrals, colors, and prints.
Related Post: What To Wear To Work | 5 Workwear Trousers That Will Complete Your Office Wardrobe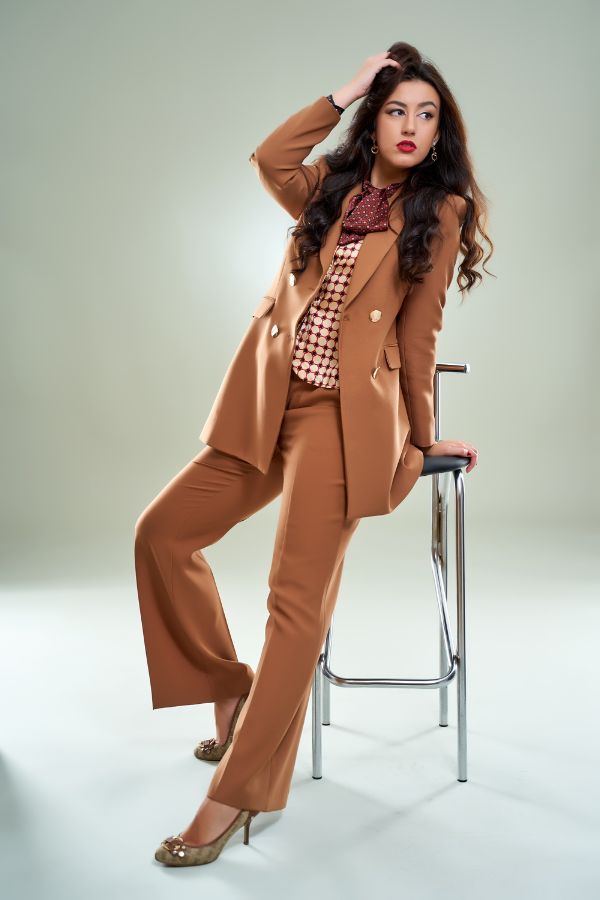 Depending on your hair color, skin tone, and undertone, you may look best in a warm camel or something cooler such as a tan. Shop around for the best color for you.
A camel jacket and a pair of flattering trousers create the most elegant look. Try a similarly-colored blouse underneath for a tonal look or a patterned silk blouse for contrast. Camel outfits look best with matching shoes in the same color family (do not go with black).
Elegant Work Set
This matching blazer and straight-leg pants are in a gorgeous camel heather wool that's breathable and stretch to fit perfectly. The blazer is semi-fitted with a classic lapel and notch collar that meets every dress code in the business world. Click here to view the Siena Italian Wool Blazer and Siena Straight Italian Wool Pant from Banana Republic.
The 365 suit set is perfect for my plus-size ladies. A covered button always elevates a jacket while the stretch twill fabric is breathable and comfortable. Click here to view The 365 Suit Patch Pocket Blazer and The 365 Suit Straight Leg Pant from Eloquii.
3. Elegant Winter outfits: All-White Ensemble
There's nothing that says elegant winter outfits like a set of winter whites. There's something pure and beautiful about freshly fallen snow and an all-white winter look creates the same vibe. White elegant outfits look expensive, regardless of what you paid.
Style a gorgeous white sweater or turtleneck with a pair of white denim jeans for a casual-elegant look. Layer a sleeveless knit top with a white cardigan and a pair of wool pants for a classy look for the office or a meeting. Add a white belt and a pair of white or beige boots to complete your outfit. Take your style to the next level with a matching winter coat and accessories.
Related Post: Wardrobe Timeless Essentials | 7 Chic Items You Need In Your Closet
If white makes you look washed out, try ivory or cream to create equally as elegant outfits instead.
Elegant White Outfits
This baby cashmere crewneck sweater in soft white is a timeless piece. Click here to view the Baby Cashmere Crewneck Sweater from Lily Silk.
This luxurious trapeze cardigan can be purchased in different lengths to suit your style. Click here to view the White + Warren Essential Cashmere Trapeze Cardigan.
Trousers jeans are some of the most elegant-style jeans out there. These have a high rise and a little bit of stretch for a flattering fit. Click here to view the True Love Wide Leg Trouser Jeans from Jessica Simpson.
These bright white straight-leg jeans are super high-rise and with a little bit of stretch so they don't grow on you! Click here to view the Perfect Vintage Straight Jean by Madewell.
If you're looking for a pair of jeans that's elegant enough to wear to work, going out, and comfortable to wear at home, these are the ones! Designed for the minimalist who doesn't want to deal with a bulky waistband or belt loops, these come in a cream color as opposed to white. Click here to view The Hockley Jean from MM.LaFleur.
4. Elegant Casual Outfits: Matching Linen Set
There's nothing more casually elegant than summertime and a matching set of linen pieces. Linen is extremely lightweight and breathable in hot weather. The fabric hangs loosely without clinging to your body. Because linen is a natural fabric it also looks more expensive than clothing made with synthetic materials.
Matching sets are a good approach to use to create casual elegant outfits. A linen set, consisting of a top and a pair of pants is extremely versatile. It works at the beach or pool, running errands, lounging at home, traveling, or dressed up with jewelry and nice sandals for a dinner out.
Linen sets come in all different colors, so choose your favorite! Tie a patterned silk scarf around a bun or ponytail to add a little pop to your look! Tuck your linen top into your pants (or belt it) for a polished look.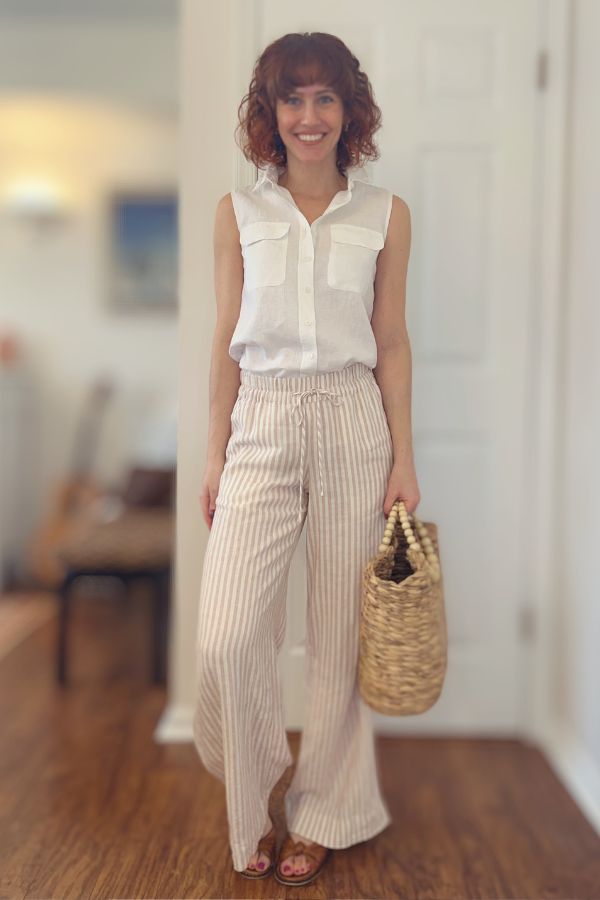 Although linen is known for its tendency to wrinkle heavily, it's best to iron or steam your garments before heading out the door.
Related Post: 7 Must-Have Wardrobe Room Essentials To Make Your Life Easier
Chic Linen Sets
Wow…these linen separates have me dreaming of the ocean right now. Far be it from me to recommend anything with the word "slub" in it, but this linen-cotton top is anything but sloppy. These cropped pants are so elevated, even with an elastic waistband. Plus they come in petite length! Click here to view the Slubby Crewneck Linen Cotton Pullover and Cropped Wide-Leg Organic Linen Pants from Eileen Fisher.
A brown linen set might not have been on your radar, but this rich chocolate color set paired with gold jewelry and a chic pair of sandals is unexpectedly elevated for a daytime outing or a warm summer evening. Click here to view The Pool Boy Linen Shirt and The Tourist Pant from AYR.
I love discovering beautiful budget finds like this kimono top and pants linen set in either a clay or black color. Wrap tops are flattering on all body shapes! Click here to view the Linen Belted Kimono & Pants Set from Forever 21.
Style your linen set with a gorgeous pair of oversized shades, like the Ella from FREYRS.
5. Elegant Travel Outfits: Stretchy Black Separates With A Cardigan
The best elegant travel outfits enable you to travel in style while being comfortable. Matching black separates like a sleeveless top with cropped, wide-leg pants are perfect for an airplane. The black avoids anything staining while the cropped pants won't touch the floor in the bathroom. Tie a cardigan around your shoulders that you can layer with when it gets cool in-flight.
This look is also great when traveling on land or sightseeing. I'm reminded of Marisa Tomei's character in the 1994 romantic comedy, Only You. This is a great movie to watch for a mix of elegant casual and elegant dressy style inspiration. The clip below shows her outfit, styled as a slinky black jumpsuit and an ivory cardigan–this is casual-elegant perfection to me!
Opt for stretchy separates in a polyester or blend for maximum comfort and style (as opposed to a cotton or lightweight jersey material that wrinkles and fades with washing). This outfit pairs with flats, boots, sandals, and even white sneakers depending on your preference.
Elegant Travel Clothes
This simple black shell tank has a keyhole opening in the back and a high neckline, no need to worry about leaning over to open your suitcase! Click here to view the Shell Tank from Banana Republic Factory.
A basic microfiber tank with a moderate scoop neck is a wardrobe staple year-round. Click here to view the Microfiber Tank from Chico's.
Here's the perfect elevated cropped pant for travel, work, or play. With a zip fly, belt loops, and stretch fabric for the lady who wants to look polished and feel relaxed. Click here to view the Sydney Wide-Leg Pant from J. Crew.
Looking for the perfect rib-knit cardigan? This company is known for its high-quality knits and this style is versatile enough to wear all year. Click here to view the Rib Knit V-Neck Cardigan from St. John.
This blouson-sleeve cardigan is so stylish and still appropriate for that tie-around-the-neck style. Click here to view the V-Neck Tight Cuff Knit Cardigan from Lattelier.
Looking for more elegant style tips? Be sure to check out this post to learn the most elegant colors, prints, styles, and advice on dressing classy: 10 Elegant Style Tips To Look More Sophisticated.
This post was all about elegant outfits
Related Posts: